10 Best Spreadsheet Software to Try in 2022
This blog includes the list of 10 spreadsheet software examples for 2022. Check which one's the best for you!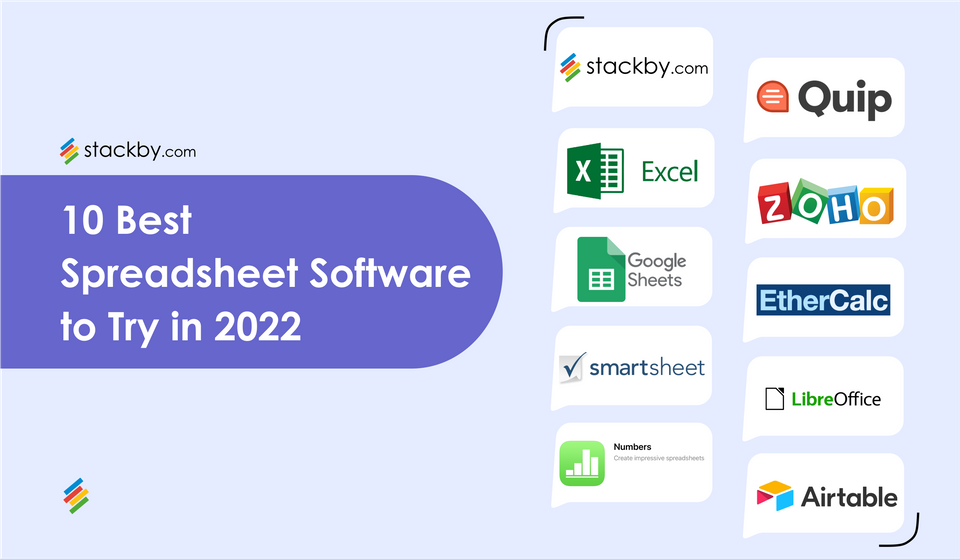 Many business owners, team leaders, and project managers look for spreadsheet software examples that can help them enhance their work processes. Data is the heart of every online business but it is of no use until it is organized in a meaningful way. This is why most businesses these days rely on spreadsheets software. A spreadsheet helps you visualize data so that you can make better decisions and measure your success.
Nowadays online spreadsheet softwares are taking over traditional spreadsheet applications. These softwares allow you to access your data from anywhere and make it easier for your team to collaborate on various workflows on a single platform.
Let's take a look at the 10 best spreadsheet software to try in 2022.
Microsoft Excel is most probably the oldest spreadsheet software available to date. It is an application suitable for beginners as well as novices.
Microsoft Excel supports graphical features like charts, shapes, clip arts, smart arts, and pictures. It also includes database features like pivot tables, slicers, data validations, grouping, sorting, and filtering. There are more than 300 in-built functions and more than 40 templates to get you started with managing your data.
Pricing: Microsoft Excel comes with Microsoft 365 subscription whose pricing starts with £3.80/month/person.
If you do not want to invest any money in spreadsheet software, try Google Sheets. All you need is a Google account and you can get started. Maybe this is why Google Sheets is used by approximately 2 billion users every month!
Google Sheets offers some extraordinary features such as you can send an email as you comment on a row, apply a color scale to draw attention to important data, add filters to view particular rows in the sheet, and apply data validation to ensure that the cells include only selected data.
Not only this, you can even lock data in certain cells and prevent someone from changing it by mistake. You can also connect Google Forms with Google Sheets and analyze and visualize your data easily.
Google Sheets also supports the translation of the text, importing data from a website or RSS feed and other sheets, and can even create QR codes. Last, but not least, you can extend Google Sheets with add-ons like Google Analytics to pull data into sheets and Supermetrics to pull data from Facebook, Twitter, and LinkedIn.
Pricing:  The features of Google Sheets are free to use up to 15 GB of storage.
Quip is another spreadsheet software example that combines documents, spreadsheets, and chat into one place. You can toggle between document and spreadsheet layout as you work. Quip allows you to embed spreadsheets into documents and turn your data into decisions. You can create documents in Quip where your whole team can collaborate in one place. Quip documents also support permissions and version history and can be accessed in offline mode.
Another interesting feature of Quip is 1:1 messaging and chat rooms that allow you to streamline all your workflows. You can start with Quip templates like Account Plan and Sales Playbook. Quip has more than 400 in-built functions and supports different keyboard shortcuts for easy workflow.
Pricing: The Quip starter pack costs around $10 per user per month. If you are a larger business organization you can choose $25 per user per month subscription.
If you are a MacBook user, you might be aware of Numbers spreadsheet software that comes pre-installed with it. Many users switch to Numbers from Google Spreadsheets because of its simplicity and flexibility. It comes with pre-defined templates to get you started with simple data organization tasks. However, it cannot be used for larger datasets.
Some recent features of Apple numbers are pivot tables to summarize, group, and rearrange data; radar charts to visually compare data, and quick filters to easily show and hide data. Apple numbers now also support instant translation along with the flexible collaboration of participants.
Pricing: Apple Numbers is free to use for anyone who has a Mac.

If you are looking for less cumbersome spreadsheet software, EtherCalc could be the one! Just like Google Sheets EtherCalc is free, open-source spreadsheet software that allows you to create spreadsheets in just a click. You can add collaborators and work together with all your team members in real-time, import a .csv, .ods, or .xlsx file, use the comment tab to ask questions, create forms, format cells or use functions.
You do not even need an email or signup to start using EtherCalc. However, one might find its interface a little old-school no matter how easy it is to access this spreadsheet software.
Pricing: EtherCalc is a free spreadsheet software which makes it one of the best options to consider.
ZohoSheets is another cloud-based spreadsheet software example that lets you create interactive spreadsheets online. You can track your progress, create checklists, and automate your everyday tasks. Your whole team can collaborate in real-time with Zoho Sheets, hold discussions, share comments and keep each other informed about the progress.
Zoho sheets bring a different security feature on the table with user-level locks and audit trials. You can share a certain part of your spreadsheet or the entire file based on your requirements. It also supports Microsoft Excel files and other formats, like .ods, .csv, and .tsv and is available in 23 different languages.
Pricing: You can use Zoho Sheets for free.
An alternative to Microsoft Office, LibreOffice is a free, powerful office suite to handle large data sets. It is an office suite that includes several applications like Writer (for word processing), Calc (for spreadsheets), Impress (for presentations), Draw (for vector graphics and flowcharts), Base (for databases), and Math (for formula editing).
Calc, the spreadsheet software of LibreOffice comes with all professional features like cell formatting, backgrounds, borders, and advanced built-in functions. It uses the advanced DataPilot technology which makes it easy to pull in raw data from corporate databases, and then cross-tabulate, summarize, and convert it into meaningful information. One thing that is missing from this spreadsheet software is real-time collaboration.
Pricing: It is absolutely free to use and therefore a popular alternative to Microsoft 365.
A dynamic workspace that allows businesses to streamline and automate their workflows, SmartSheet is a smart way to manage your business data and move forward. You can use this tool to create your own business workflows and monitor tasks.
SmartSheet supports Gantt charts, Kanban views, and forms to help organize your data. You can create real-time reports using dashboards, automate repetitive processes, and integrate with different third-party applications to get work done without switching from one app to another.
SmartSheet spreadsheet software is suitable for project management, operations management, healthcare and life, higher education, financial services, construction, and many other relevant online businesses.
Pricing: The pricing for SmartSheet starts from $7 per user per month.
Airtable is workflow management software that is used to organize and automate your business workflows. With Airtable, you can bring all your data to your fingertips and synchronize everything across your organization. Some of the most impressive features of Airtable include :
Views: to visualize your data in multiple ways
Automations: to streamline the repetitive tasks in your workflows
Synchronization: to ensure real-time collaboration amongst teams
Reporting: to visualize data and surface the most important information for decision making
Interface designer: to create interactive interfaces so that every team member can access the information they need easily
Templates: to start creating custom workflows in no time
Clearly, Airtable is more than a simple spreadsheet software than Microsoft Excel or Google Sheets. However, the learning curve is much larger than these simple spreadsheet software tools.
Pricing: Airtable comes with a free plan for small teams. But, if you need more features, the paid plan starts from $10 per month/per user.
Our last spreadsheet software example is Stackby. It combines the power of databases and flexibility of spreadsheets to help you organize your data and build your own custom solution for your teams. You can use Stackby to streamline your workflows, automate redundant tasks, and collaborate with your team in real-time. Here's how Stackby can help you achieve everything you need from a spreadsheet software:
Organization: includes 25+ column types to help you build your table the way you want. It allows for filtering, sorting, searching etc. more effectively.
Visualization: to help you visualize data beyond a table using Forms, Calendar, Kanban, and Gallery views. You can create multiple views of the same table, and share it with the right team members with different permission access.
Column level API Connectors: to bring data from favorite services right inside your tables, natively.
Automation: to allow you to automate redundant, manual tasks via Slack, Microsoft teams, Google sheets and more.
Collaboration: to allow you to work with your team in real-time with chat, checklists and reminders.
Integrations: to allow you to connect your tables with 2000+ third-party apps and access data in one place.
Stackby includes some innovative features like checklists, reminders, de-duplication, conditional color formatting, conditional forms logic, advanced permissions, revision history, locked views, and more to help you manage your data and enhance your team's productivity the best way possible. It has more than 300 pre-defined templates for marketing, sales, human resources, real estate, advertising, operations, project management, and many more.
Pricing: Starting with Stackby is absolutely free. Currently, Stackby is running a special annual deal where instead of paying monthly $9 per user per month, you can keep using Stackby at a fixed renewal price forever, starting at $99/3 users annually. Try it for free today.
Read more: Spreadsheets VS Database: Everything You Need to Know
Which Spreadsheet Software are you Choosing in 2022?

We have introduced you to advanced, mediocre, as well as the easiest spreadsheet softwares to try in 2022. Now, you can decide and choose the one that matches your business requirements.
If you are thinking about Stackby then start here for free! Check out our video tutorials or schedule a call from our customer success manager for a detailed demo.

Enjoying these posts? Subscribe for more