5 SEO Templates to Supercharge your SEO Research & Save Hours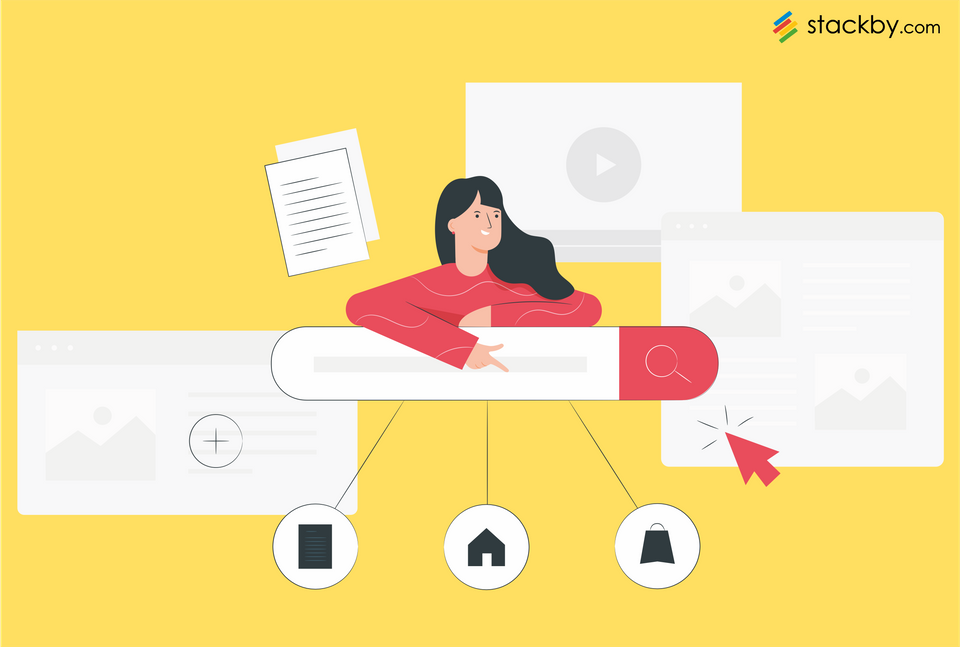 Let's face it, SEO research takes a lot of time. Be it keyword research, backlink analysis or competitor analysis, usually, it takes hours together. Even when you get the right data, a considerable portion of time is spent in putting down that data into a sheet in order to make it consumable.
Wouldn't it be nice to update this data in just one click? Manage everything in one place?

What if I told you that you can do all your SEO research on a spreadsheet directly without shifting between SEO tools. Today, we'll show how you can use Stackby's SEO templates to execute and automate different parts of your SEO research. Let us see how -
Connecting with SerpStat
For most of the examples below, I am using SerpStat. You're free to choose any tool of your choice. You just need to keep in mind before using it you need to authenticate it first.

To connect SerpStat, just click on the API connection on the homepage. Then just search for SerpStat and click on Integrate. To connect it you need to enter the API key from your SerpStat account. That's it. You're connected.
1. Automate your keyword research

Every SEO plan starts with keyword research. It is by far the most crucial part of SEO. You can't afford to get this wrong. You need to target the right keyword in order to see results from your SEO efforts.  

Let us see how to do keyword research inside Stackby. First, create a new workspace. Then click on the new row (the plus sign) and select SerpStat under "Connect to an API or service".  You'll find three options under the service. For keyword research, you need to choose "Get keywords overview".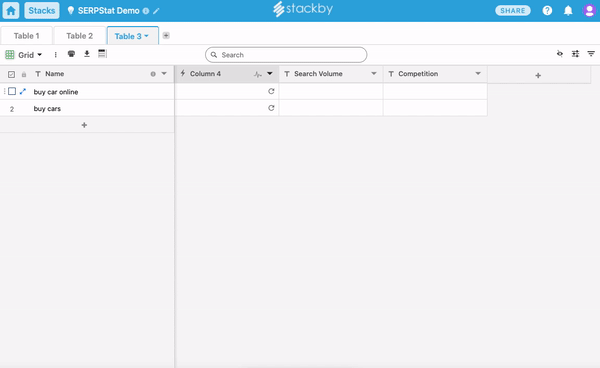 After you map your API with the keyword column, just click on the refresh button and the details will show up. You can also bring other data from an in-built data explorer to populate your columns in real-time.


2. Competitor Analysis

Whether you're starting out or established, competitor analysis is very critical for SEO. It helps in two important ways - to stay ahead of your competitors and discover new keywords to target.

But you don't need to use the tool every time you want to do a competitor check. With Stackby everything can be easily tracked in one place and updated in a few clicks. No need to go through the hassle of shifting through multiple tools and updating the data manually.

You can easily find stats like the number of organic keywords keywords, backlinks, ads and more.


We currently support SerpStat with support for SEMRush and Ahrefs coming soon.
3. Internal Link Tracking

Internal linking is very underrated. But for most SEOs, it's a hidden gem. When done right it can help you quickly climb up the search rankings.

But how do you track internal links?

A lot of companies don't track their internal linking and here's where all the problem starts. In order to make most of the internal linking, you should have all the internal links with the keyword mapped somewhere.

That's where Stackby helps you. You can use it to track all the internal links in an easy to use spreadsheet platform. You can also group it depending on the keyword. This way your complete team can track and manage internal links at one place.

It will help you boost newer pages and stabilise the rankings of old pages. Try our free template and start tracking internal links today.


4. OnPage SEO Checklist Template

It's very important to follow the best SEO practices to ensure you always rank higher in SERPs. But it's easier said than done. To ensure you don't miss out on anything you need to create a checklist that you can follow whenever you publish a new page.

Using Stackby you can easily create a customised checklist and assign it to your team. This will ensure your team is following it before publishing any SEO page. You can also use it to identify gaps in your progress and take actions accordingly.


5. Page Speed Analysis Template

Among hundreds of Google ranking factors, one of them is the page speed. Since it's directly tied to user experience, it's more important than you think. Imagine going through a slow website. It's terrible right?

So what can you do to keep a check on your page speed?

Well, we have an easy solution for you. You can use Stackby to track and manage page speed right on a spreadsheet. With direct integration with Google Page Speed, you can track advanced metrics on a single sheet. This will help you to keep a check on the page speeds for all your important pages.


Benefits of using Stackby

Here are a few benefits of using Stackby for your SEO research -
Save time - No need to shift between applications to find data. Use multiple tools using APIs inside the workspace.
Collaborate effectively - Easily assign tasks on the sheet and share it with your team under a few clicks.
Integrations - Stackby seamlessly integrates with Zapier, Serpstat, Google Analytics and many other tools.

Conclusion

I hope you found the above templates useful. Honestly, SEO doesn't need to be time consuming. You just need to use the right tools. This way you can get a lot of manual tasks and research can be automated.

Try Stackby for your SEO research for free.