Starting with YouTube SEO? Here is All You Need to Know!
In this article, we talk about everything related to YouTube SEO. From its importance, to the different things you need to do top optimize your videos, to the tools you can use to do this. We also talk about how can you use Stackby to assists in optimizing your YouTube videos as well.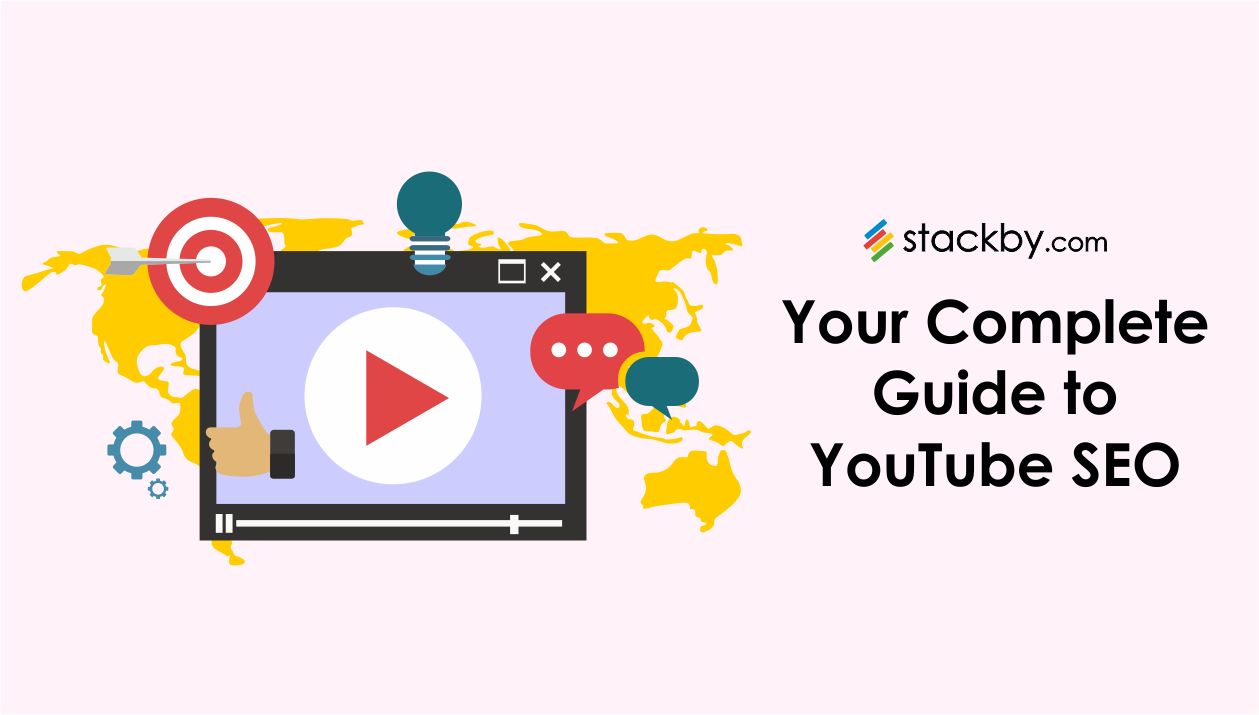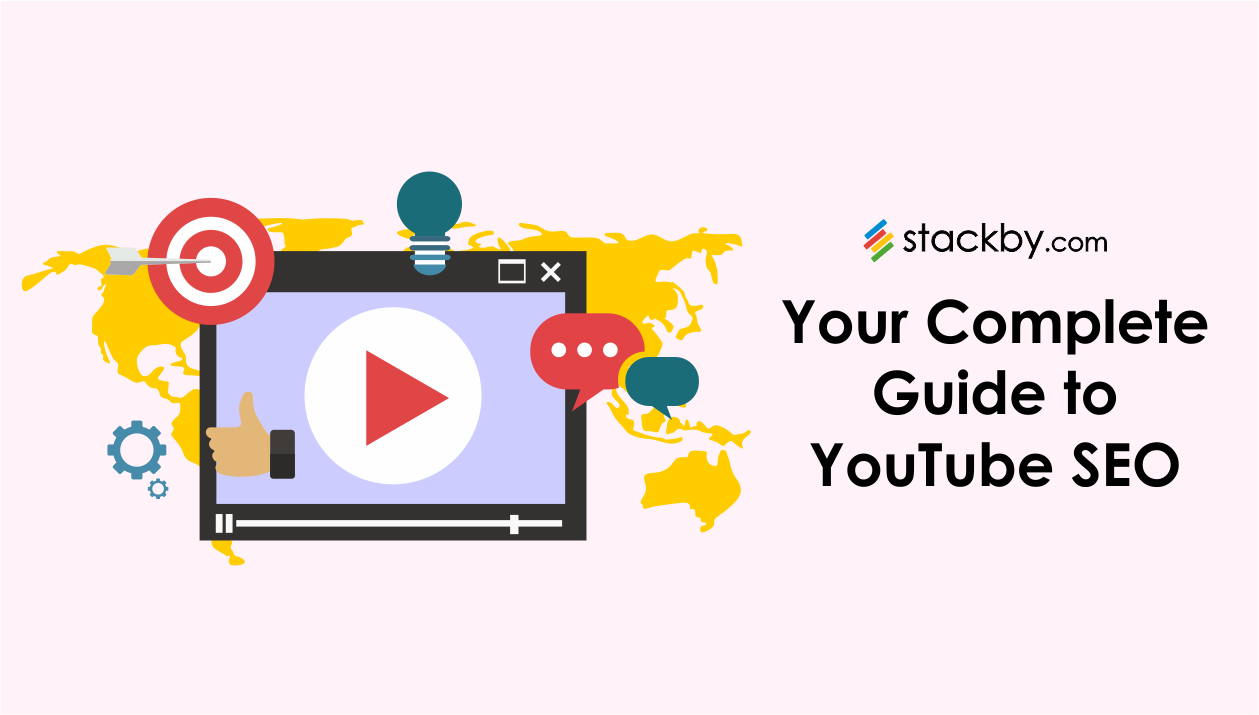 Have you been searching the internet for 'how to grow on YouTube'? And is it miraculous that you are finding ads of the same everywhere, even on YouTube? YouTube follows behind Google and stands as the second most popular search engine, with nearly one billion daily visitors.
YouTube's popularity stems from the fact that it is one of the most effective ways to reach a large audience. Especially when it comes to visual representation, YouTube has a large scope, irrespective of what kind of content you want to post.
A basic fundamental of creativity is that of 'show, don't tell,' and YouTube embodies this fundamental wholeheartedly. Wishing that you could skip through an article and still get value out of it? Nearly impossible. But with videos, it is entirely possible.
Why is YouTube relevant?
Keeping all that aside, here are the few important factors covered by YouTube that prove to be the reason for its popularity:
Improve SEO- Video content has a larger scope than any other form of content. It is shared across social media platforms with larger convenience; is favoured by Google and other search engines. Sharing videos on YouTube with good names, tags, and descriptions is a great way to increase your search engine ranking.
Promotion and branding- Video is a quick and efficient way to get your message across. People react well to visual stimuli, and video is a great way to capture the emotion and mood of whatever you're selling. It becomes a powerful tool of storytelling marketing.
Better illustration- Video is an excellent way to illustrate ideas that are difficult to convey in words. Many educational videos have come up on YouTube, and students favor them worldwide for a visual representation of concepts that are more convenient in understanding said concepts.
Wider audience- YouTube is not only the most popular video website in the world, but videos are also extremely shareable. You watch something you like and just need to send it across to your friend circle, then this reality is just a click away. According to Invideo, YouTube has 2 Billion monthly active users, and 30 million daily active users.
Works well even in low budgets- Money has just entered the chat! There are many professionally created videos on the internet, but not every video requires a six-figure budget. With minimal video equipment, you can quickly and easily produce successful videos of lectures, presentations, and more.
Mobile-friendliness of YouTube- With more than 50% of the world population owning smartphones, video is an excellent way to reach out to them. YouTube is well-suited to mobile devices, and that makes so much sense in a mobile-driven world.
Do You Even Need to SEO Optimize your YouTube Channel?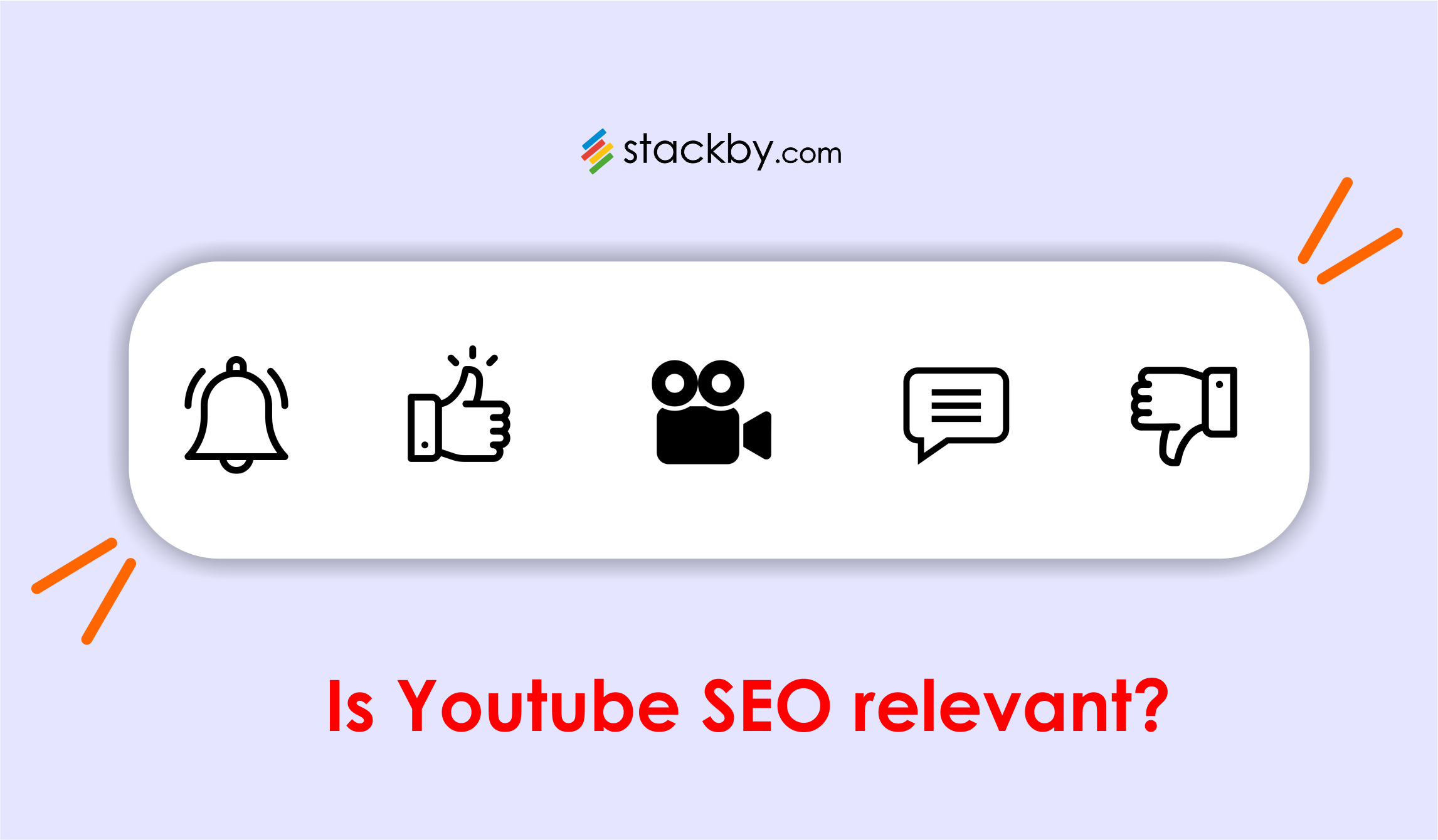 Search Engine Optimization [SEO] is a digital marketing term widely used by businesses in the digital era. As businesses continue to grow or enter the arena as newbies digitally, SEO optimization is one of the tools that help their websites to rank high in search engines and gain traffic. While as citizens, we hate traffic, as netizens and business owners, this traffic is loved.
We can sense the confusion. What is the relation between SEO and YouTube? Isn't it supposed to be related to written content?
We don't know where you read this, but NO!
SEO is associated with anything and everything digital. And we'll be reading about the relation between SEO and YouTube in this article and try to understand how it can be used to a YouTuber's advantage.
What is YouTube SEO?
SEO which stands for Search Engine Optimization, is the digital tool or strategy to gain good quality and quantity of organic traffic to your website. The myth that goes around SEO is that it can only be utilized for written content. But that is not true. SEO can be and is utilized for design and visual content as well.
So yes, there is a relation between YouTube and SEO, and we weren't bluffing.
Even though YouTube SEO is very similar to search SEO, there are still slight differences between the two. YouTube SEO has the similar function of boosting the ranking of a YT video. Like any other search engine, YT also seeks to serve qualitative content to its users.
However, YouTube SEO is different from search SEO in the terms that YouTube's algorithm uses different ranking signals than Google. YouTube has told us that its algorithm follows the audience. YouTube's algorithm is designed to show users the videos they are most likely to watch & engage with.
For this to happen, the YouTube algorithm also ranks videos based on different factors such as video quality, content, etc. Thus, YouTube SEO refers to the process of optimizing your images, playlists, and channel so that they appear high in YouTube's organic search results for a specific search question.
YouTube SEO can help you increase important metrics like follower count, brand recognition, website visits, and revenue, just like it can help you increase your website traffic, conversion rate, and revenue.
Typical tasks in this optimization phase include:
Making your video descriptions and meta descriptions more optimized.
Closed captioning is a method of adding closed captions to images.
Selecting the correct keywords .
How does the YouTube algorithm work?
The ranking of videos is determined by several variables, including how well the title, definition, and video content fit the viewer's question. We also look at which videos have had the most engagement with a question to make sure they're easy to find for viewers
Some fundamentals metrics that YouTube uses to rank videos are:
Rewards video interaction over clicks by ranking videos based on relevance to a user
Thinks about how the definitions and meta descriptions relate to the needs of your users
Takes into account how many videos a particular user has viewed on your channel
Analyzes the user's search history to gauge the kind of videos the user prefers
It also analyzes the velocity of a creator's videos after it's published to see how many of the creator's subscribers watch it
Considers the creator's subscriber count
We need to delve deep into these fundamentals as these are converted into specific criteria YT uses to rank a creator's videos.
YouTube Ranking Factors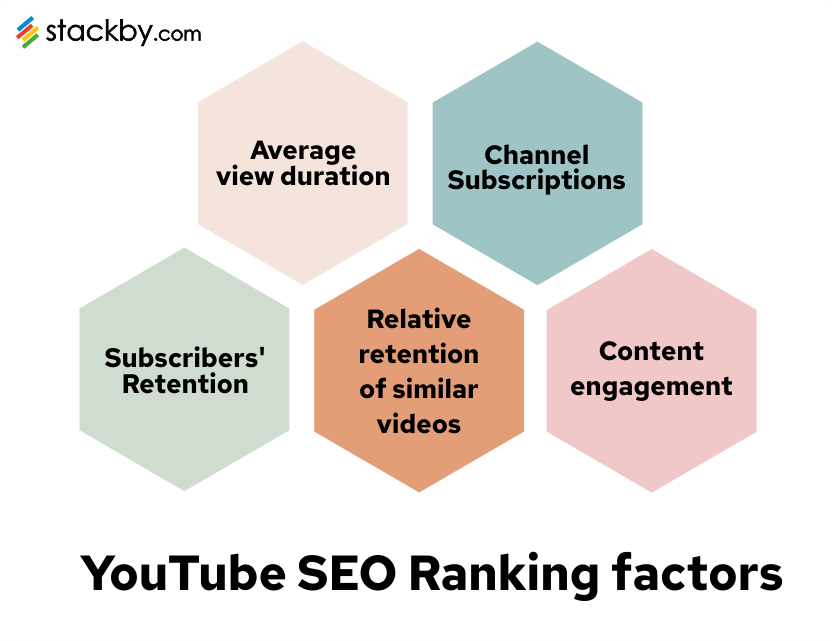 As mentioned above, YouTube has its fundamentals based on which its algorithm ranks YT videos for a user. Backlinko took it upon themselves to analyze 1.3 million YouTube videos and come up with factors that, according to them, form the core of the ranking algorithm. Some of the most important factors include the following:
1.   Average view duration
Longer videos perform much better and are ranked high instead of shorter videos. There are so many platforms that facilitate the presentation of short videos, but YT favors longer video content.
The cumulative display time of your video divided by the total number of video plays, including replays, yields the average view duration. This metric assesses how well the video engages viewers. If your video fails to attract viewers, they will easily abandon it, leaving you with a low average display time.
Simply put, average view duration is more or less the duration average people watch your videos for.
YouTube's Head of Creator Marketing Communications, Eric Meyerson, explained the importance of average view duration  in 'YouTube: Why we focus on Watch time'. It is obvious that YouTube is competing with television for your watch time, and for that YouTube optimizes all the promotional video algorithms with videos that keep people on YouTube longer. This is why Average view duration is extremely important.
A low average display time indicates that viewers don't prefer your video because they are jumping straight to some other channel. Is that a reason why they are avoiding you too? Think about it
YT does not just rank a video low because it bores its users. YT prefers to keep their users hooked to YT for hours, which isn't going to happen if they keep jumping from video to video.
2.   Channel Subscriptions
Being a YT creator can have unexpected results. You could be making someone happy without even realizing it. And when you constantly add value to your viewers, they are willing to subscribe to you and be devoted supporters. They've publicly stated their support for your brand, content, and values.
They're also very likely to be your evangelists. Subscribers are also valuable to your channel because YouTube will notify them when new videos are uploaded and feature them on their homepage.
This means they'll watch your videos more often, which will result in more views. Subscribers often watch twice as much content as non-subscribers. Therefore, the more subscribers you have, the more video watch time you'll get.
The Subscribers Report on YouTube displays which images, places, and periods gain and lose subscribers. This information will show you which video topics your subscribers enjoy and where you can look for new subscribers.
3.   Audience retention
The number of viewers who watch and leave your video at every moment is shown in audience retention. Since these videos can successfully catch viewers' attention, YouTube elevates videos with high audience retention in their search rankings and recommendations.
In short, YouTube loves videos that keep people on their audience for long periods; and they have recently confirmed that audience retention still remains to be a big part of their algorithm, hence ranking.
Your future video plan will be influenced by audience retention. The most interesting parts of your video could be the best video topics for the future. Furthermore, viewing your video during periods of low interest can reveal what elements are likely to bore your audiences, allowing you to exclude certain elements from current and future videos.
There will be two graphs in YouTube's viewer retention report: an absolute retention curve and a relative retention curve. The absolute retention curve depicts how well your videos keep viewers interested. And relative retention compares how well one of your videos holds audiences against all other YouTube videos of similar length or content.
4.   Relative retention of similar videos
This is another factor. You are already aware that rarely any content is unique; only your way of presentation is. Searching YT for a specific topic, more than 1000 videos will pop up. YT also ranks videos based on similar videos as yours and their retention level. Are your videos retaining more viewers? Then you are ranking better than other channels.
5.   Content engagement
Marketers can get a lot of useful qualitative data from comments, shares, likes, and dislikes. It's no secret that YouTube favors videos that keep their viewers interested. And video "likes" are a strong indicator of commitment. After all, likes are a crowdsourced way of gauging how the YouTube community receives your video.
Comments- The emotional impact of your video on audiences can be captured in comments. Comments are the second way viewers can showcase their likes or dislike for your content after the like/dislike button. And while comments are mostly mismatched because there are always positive and negative impacts your video can have on diverse people, YT compares them and ranks your video accordingly. If your comments are positive, you can expect more people to be watching such positive content.

Subscriptions- The average number of people who watch your videos over a given time is referred to as unique viewers. This metric is extremely useful in determining the size of your target audience. And when over time, you deliver them quality content, they become unique subscribers. The subscriber count is another major factor based on which your videos are ranked.

A video that attracts many new subscribers is a sure sign of quality, to put it another way. A higher subscriber count portrays YT's imagery that your videos are loved by people, no matter how long or short, what the content is. It has the power to make people subscribe to watch more of you and your content. That's good enough for YT.

Shares- Shareable content always does better than unshareable content. One of the biggest drawbacks of using social shares as a ranking signal is how easily they can be manipulated. Anyone can give someone a few dollars in return for 100 Facebook shares of a piece of content.

On YouTube, however, this is not the case. YouTube knows the users share video content and share it, unlike sharing content via a webpage's social sharing icons.

Likes/Dislikes- YT profits off of the time viewers spend on their platform. So if your video keeps them hooked and they like it, YT is making a profit. And video "likes" are a strong indicator of commitment. After all, likes are a crowdsourced way of gauging how the YouTube community receives your video.

Videos with a large number of likes are more likely to be of good quality. High-quality videos often produce other ranking signals that YouTube considers essential (such as audience retention).

Click-through rate- The ability of your video to prompt people to watch it after seeing it on their homepage, recommendation section, or trending section is measured by its impressions click-through rate. A high click-through rate indicates that your title was convincing and that your video's subject resonated with many specific YouTube audiences.

The impression click-through rate normally spikes right after you post your video because your subscribers will see it at the top of their home page and most likely click on it. Your click-through rate will decrease and then stabilize as soon as your video has spread beyond your core audience.
You can always track all of the YouTube channel metrics with Stackby's template. It comes with column-level API integration, which lets you pull in all the data in real-time in your stack.
Keywords Research & Importance
Keywords and keyword research are intricately linked to SEO practices. Professionals research upon keywords, and these are the ones that are strategically placed in all articles to optimize them. These keywords are not something that you are unaware of, quite the opposite. As a netizen, these are the words you would use to search for results on the web.
Keyword research holds the key to better optimization of all forms of content, especially written formats. Keyword research can be equated with the search engine ranking of your page. There are a few notable points that can convince you of the importance 'keyword research' holds.
Brand awareness, providing vital information, and from the point of view of the ranking objective, keywords are the fundamental key of high ranking.
Keywords aid your content from the traffic perspective as well. If a user is searching for 'red satin dresses' but you don't show up in those results even if you have what they want, your keyword game is weak. Your page won't show up at the top, no matter the quality of your product.
Users use these keywords to find results, and they click on the top-ranking results, but how will they do that if they cannot find you?
You can track your keywords in real-time with Stackby's Keyword research template. You can directly fetch metrics like search volume, CPC, keyword difficulty, and more from Serpstat or from any tool of your choice using APIs. You can also group your keywords using labels, or collaborate with your team!
How can You Improve YouTube SEO? Here are some tips!
But YouTube and Google are independent of each other, and YT uses an entirely different algorithm to rank its content. So YouTube SEO is a variant of Google SEO. Keeping this in mind, there are also variations in practices and strategies.
YouTube SEO usually entails optimizing the videos and meta descriptions and thumbnails, tags, transcripts, CTAs, and connections. YouTube SEO strategies, if applied strategically, can immensely help your brand awareness, web traffic, and rankings.
Creating and Publishing Content
Create quality content
The most effective content is that which is both entertaining and insightful. This is true for any type of content marketing, but videos that both educate and entertain are typically the most popular.
You should upload a mixture of burst and evergreen videos in particular. For a short time, burst videos will be all the rage, bringing you instant hits, but they will fade away as time passes. Evergreen videos are those that will receive archival views and will remain valid indefinitely. If at all possible, strive to produce mostly evergreen content.
2. Appeal for subscriptions in video
The number of your subscribers is another metric based on which YouTube ranks your videos. Every unique viewer can be turned into a unique subscriber. Increasing your subscriber count is thus important. It is a long process, but it reaps innumerable advantages.
Remind your viewers to subscribe to your channel if your videos add any form of value to their life. Don't be shy, ask some more! If you're already doing this and seeing no results, try showcasing the value you are providing your viewers and why you are worth subscribing. You can talk about the next video you are working on and describe your work as important, not just to you but to people who are watching.
Interact with your audience, update your channel art to make it interactive and attractive.

3. Encourage viewers to comment.
Comments showcase your viewer's likes and dislike about your video content, and it acts as feedback. Encouraging subscribers and your audience to comment is more like making them vote for or against you. It takes some effort, but you, as a creator, get value out of it.
How can you encourage your viewers to comment? Try asking questions. YouTube engagement is very similar to any other social media engagement. You ask thought-provoking questions, or you provide mind-blowing content.
4. Choose appropriate & catchy thumbnails
Instead of allowing a video thumbnail to be created at random, create a custom one for each video. Increasing the CTR of your YouTube videos by using annotations and related photos as custom thumbnails (click-through rate). A custom video thumbnail with a minor annotation will inform your viewers about the content of your video.
5. Create playlists
This is one of the factors that no one notices. Creating video content collections that lead viewers through a sequence of videos that connect is a heart-winner. This is a way to provide a compilation of content in one place.  Playlists encourage viewers to keep going to the next video to follow the sequence, and YouTube loves creators who can keep the user on their platform for hours.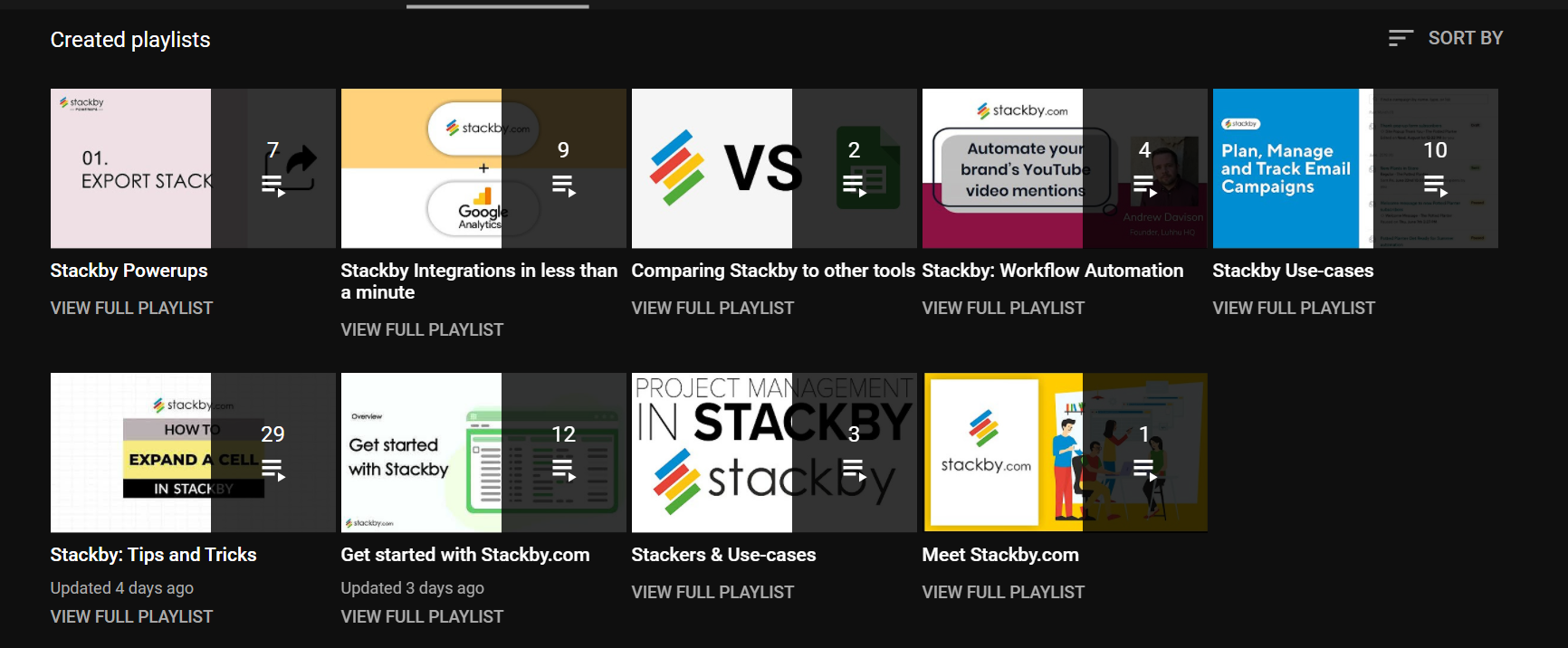 6. Add cards and end screens
Cards add a white box with a brief explanation to the upper right-hand corner of your video. When the viewer clicks on the card, they will be taken to a page with even more detail about your connections.
End screens appear only at the end of your videos and can be added to the final five to ten seconds of your material. After your user has finished watching the original video, end screens have a logical direction for them to follow. These two are great promotional tools.
Here is an example: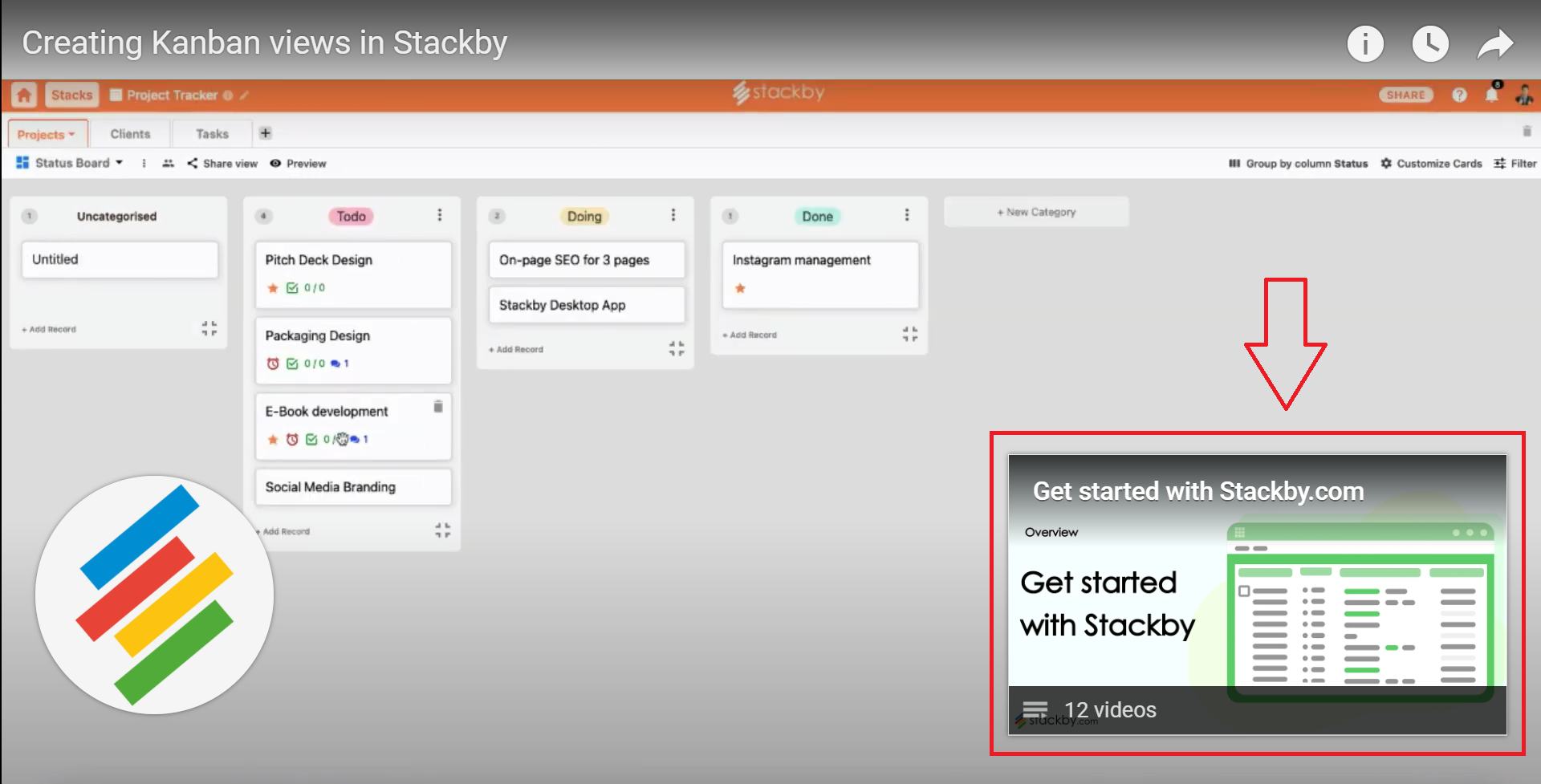 7. Add closed captions
Closed captions and subtitles are another way to improve your YouTube SEO by increasing the amount of text that can be crawled on your videos. Increased user interaction, an improved viewing experience, higher search rankings, and greater web accessibility are advantages of adding subtitles or closed captioning.
Here is an example of  one of the videos from Stackby's YouTube Channel: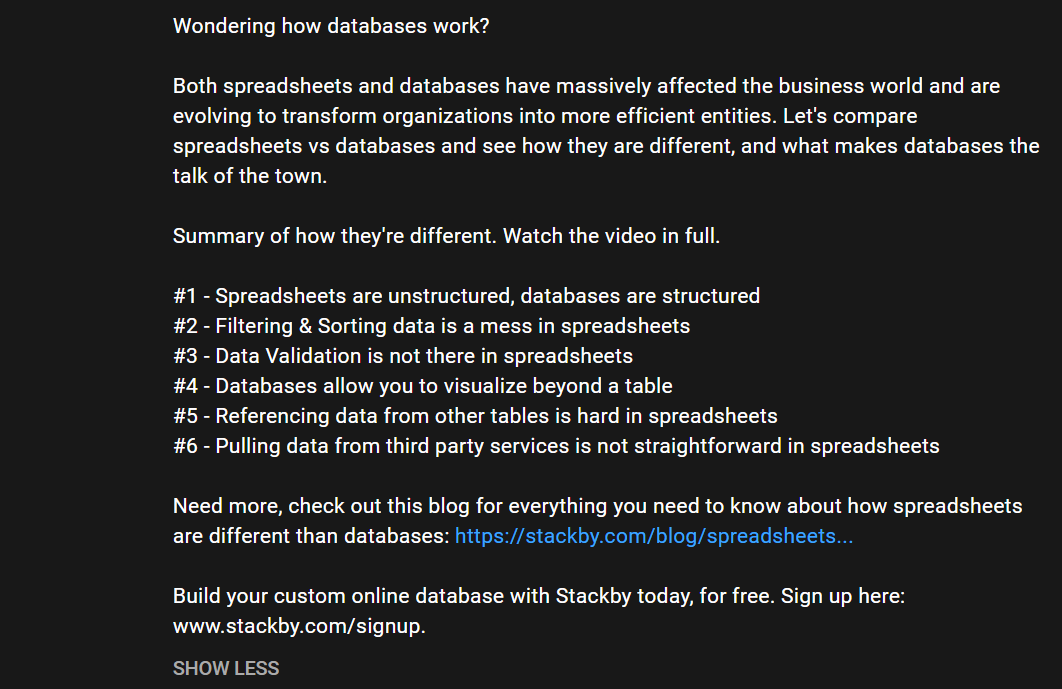 Distribution
8. Create an email list
Email marketing is one of the top marketing techniques used globally because of the ease of communication. Creating an email list through YouTube is not that hard. Provide your viewers a lead magnet. A lead magnet is a valuable reward that you give away for free in exchange for your YouTube viewers' email addresses.
Lead magnets usually provide a small but powerful piece of downloadable content, such as a free PDF checklist, journal, create eBook, whitepaper, premium video, and so on.
9. Publish on social media
Social media makes sharing easier. And content rolls around so fast on social media that it can reach a wider audience.
10. Embed videos
Embedding videos on your website can improve your site's Google search rankings. In terms of YouTube viewers, you're putting your video in front of the people who are most likely to be interested.  
SEO Optimization
11. Target Keyword in Video Title
Once your video comes up, either on your subscribers' home page or on a search result, your thumbnails and your video title are the first two visible things. Focusing on the latter aspect, the video title holds the key to two questions: what and for whom?
Your video title tells your viewer what the video is about in the most compact manner one can. It is as compact as a chemistry formula. Titles can make the difference in your click-through rate (the number of people who click to watch your video after it's shown on their feed).
Since the video title is such an important aspect of the whole youtube process, using keywords in your title is one of the top recommendations. An industry study found a direct correlation between video titles and the ranking of the video.
The fun thing about keywords is that they can be weird sometimes. Weird how? Sometimes keywords don't make sense: they can be without prepositions or punctuations. But it is recommended that keywords be used word-to-word, without any changes.

12. Enhance Tagging
Tags' impact on SEO varies by platform, but tags are particularly useful on YouTube. They assist YouTube in determining the topic of your video and are another way for YouTube to direct your videos to a relevant searcher's question.
To optimize your video, you only need five to ten tags per video. Make your targeted keyword the first tag to increase the chances of your video appearing in searches for that keyword. Add a few broad terms after the specific, linked keywords.

13. Optimize description with keywords
A summary is useful both on the website and on search networks. It offers a rich snippet whenever your video appears in search results outside of YouTube. YouTube is nice because it offers users a lot of space for video descriptions—up to 5,000 characters!
The most critical aspect of the YouTube summary is the introduction. These first few lines appear in the search results, so placing keywords in these two or three sentences can help quickly explain what's in the video and why people should watch it.
Talk about how to add #hashtags in the video and make the first paragraph or top of the fold relevant.
The area provided for description is also your sole opportunity to send people to a landing page or download an app. This implies providing them a CTA. Use this space to explain how people can learn more about your business through other sources and give them a link to click on!
14. Include focus keyword in a raw file name
This is purely self-explanatory. Before you upload any videos to YouTube, you should decide on a target keyword for the video. YouTube crawlers can't physically view your video to see whether it applies to your target keyword, but they can infer meaning from reading the file name and the code that comes with it.
For example, your default video name might be '20210510.mp4'
But if you rename it to 'youtube_seo'; you are telling YouTube what the video is about.
15. Analyze engagement reports
YouTube analytics can be used to monitor your progress against clear goals, such as increasing subscribers or video views, and to figure out what works and what doesn't. Analyzing engagement reports can be beneficial in certain areas.
A site would give you insight into which video has done better, what kind of content produced by you is more liked, and then you can create what your audience likes. You can also track your YouTube brand mentions automatically with Stackby.
YouTube SEO Tools
YouTube ads are almost certainly worthwhile, but there are other tools you never knew you needed when it comes to YouTube SEO. These tools can make your life so much easier. Either when you are trying to find what your next video should be about or when you want to track user engagement, these YouTube SEO tools can be the difference between life and death.
Some popular tools for different tasks are:
Content that is 'YouTube-able' comes in various shapes and sizes; the trick is to find yours. Google Trends is a good place to start. To do so, type in your search term, select 'YouTube Search,' and then select a geographic area, category, and time to narrow down the results. For each topic you search for, Google Trends also provides a list of related queries and maps that show audience interest across regions. If necessary, you can also download, insert, and share all of this information. And it is completely free to use!
You can also use YouTube autocomplete for advanced keyword research, either directly on the site or through a dedicated keyword research and analysis tool like Rank Tracker. Rank Tracker allows you to get keyword ideas from YouTube's recommendations and highlights important metrics, including search volume, predicted visits, and competition. The paid version of this tool starts at $124.
When it comes to YouTube SEO, optimizing your video content is just as important as optimizing the content of your web pages. The difference is that there's no time to waste. The metadata optimization deadline is 48 hours after your video goes live. TubeBuddy is a browser extension that helps with names, descriptions, tags, annotations, cards, and other aspects of channel management.

If you have incorporated the tool into YouTube, it'll give you useful insights into all of the YouTube videos you watch. By retrieving any video's tags, you can increase your organic scope. TubeBuddy also offers optimization advice and recommendations to help you expand your channel. Their paid plans begin at $9 per month.
VidIQ is a channel management toolkit that works as a browser extension, showing key statistics on all YouTube videos you open, allowing you to conduct fast competitor research and perform advanced analytics on any video you find.

The 'Most Viewed' feature of the tool allows you to compare and contrast YouTube's most popular videos. You may add unique competitor channels and compare them to your own for more intelligence. You will see which activities you can consider implementing to improve efficiency by conducting your own 24/7 channel audit. Their paid plans start from $ 7.50 per month.
When defining the channel's strengths and weaknesses, YouTube Analytics is simply the best. Knowing all about your audience, the content that draws them in - and keeps them there - as well as the videos they want to share will help you sustain and expand your YouTube presence.
Fetching mentions of your video and keywords is simple with a social monitoring tool like Awario - simply enter your video's URL to set up an alert. Awario will help you add individual search operators, merge groups of keywords, apply additional language or country filters, and much more. Their paid plans start from $29 per month.
Managing YouTube Video Production & Reporting in Stackby
With the help of Stackby and its pre-designed templates, you can not only manage YouTube Video Product, but also Video Reporting.
Video Production for YouTube can be a complex, layered, and chaotic process involving a number of elaborate steps. However, with Stackby's Video Production Planning and Tracking Template, you can simplify the entire process easily. This template will enable you to keep track of all your YouTube videos in one place.
Using Stackby, you will be able to import all the data relevant to your YouTube videos to one single easy-to-use platform. The API integration facility of Stackby allows users to track the status of their videos in real-time. You can record the title, description, duration, etc. of your video.
In addition, it is also essential to track the performance of your YouTube videos to evaluate if your video production strategy is one the correct path. Using Stackby's templates, you can get real time updates of the number of likes, dislikes, comments as well as the total number of views for each of your videos in the same place.
Stackby's YouTube Channel Metrics Template is the go-to solution to manage your YouTube channel and track its performance. You can report on all the videos of your channel using one simple interface. This template will let users import details such as video count, subscriber count, view count, and other metrics that will help understand video performance.
Clearly, Stackby offers a wide range of custom-made features to help you manage YouTube Video Production and Reporting.
Conclusion
With YouTubing becoming a global pastime and a lucrative line of work, video optimization is a skill that any marketer should learn - and learn quickly. YouTube SEO is neither fast nor easy, but once mastered, it can be extremely profitable.