3 easy ways to get started with Remote Work
Align your team communication, choose the right remote work tools and automate your processes - it's that easy, so are the tools.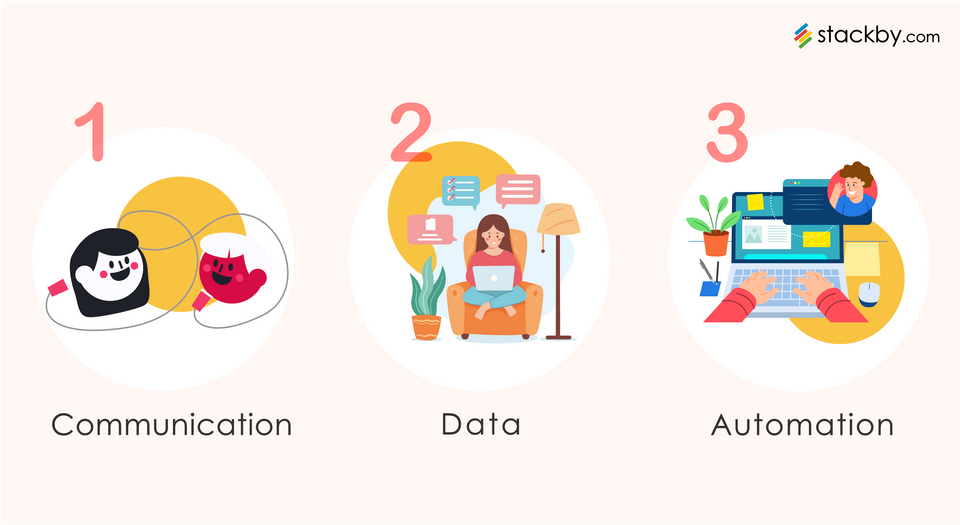 Republished from the Startup India Blog
One of the biggest challenges small business owners and startups face is time. It really doesn't wait for anyone, you know.
Remote work is real, globally. If your team has never fully jumped into working remotely, the transition isn't always easy. Running a business is difficult and time-consuming enough even when you're not facing a pandemic.
Aligning communication with your team, and managing your data and processes in a single place are the two most important elements to get started with remote work.
But what if you can automate it and take it to a new level in your team?
It's one thing to have remote work tools in your arsenal, but it's another to make them really work for your team. One of the most-effective ways to make it work is to automate it, so you can be on top of your daily chaos, stay in sync with your team, and save time instead of losing it in doing manual work.

Align your team communication
For distributed remote teams the ease of flexibility is just one side of the coin. There are challenges too. Distributed teams often lack a sense of oneness with the in-house team. This often results in a feeling of loneliness for the remote worker. Oftentimes, there are also issues related to trust and conflict due to a lack of transparency that comes from remote working.
Collaboration and communication are both the catalyst and the solution to these challenges. Real-time communication and collaboration are the keys to the success of remote working. The best remote working companies know the importance of overcoming these challenges.
Quick check-ins, communicating via Slack or Microsoft Teams, team stand-up sessions, digital water-cooler meetings/activities, such Zoom or Hangout meetings can help align your team communication. It's important to bring everyone to the same page.
Choose the right remote work tools
There are tons of software out there -- spreadsheets, project management tools, CRMs and what not. Choosing what works for your team is critically important to manage your data.
Here are top 3 remote tools you can consider in your team -
Communication tool for remote work -- Slack
Communication or rather the lack of it is what causes the biggest issues with remote working. Important instructions getting lost in the melee of emails, chats, and texts are commonplace. That is where Slack comes in with its channelized communication features. It's like WhatsApp for Business.

It helps you create individual channels (groups) to communicate. Maybe have one for a teammate, team or project, or simply create your digital water-cooler channel here to create that camaraderie. The best part about using Slack is that you can integrate Slack with thousands of applications like Google Calendar, Stackby, Google Drive and more to send notifications, reminders or alerts.
Pricing:

They have 60% discount for Indian companies.

Standard: $2.67/per person/per month, billed annually
Plus: $5/per person/per month, billed annually
Data management and collaboration platform for remote work -- Stackby
Remote companies and teams have a difficult time keeping track of projects and tasks -- both as a team as well as individually. Often companies depend on spreadsheets or multiple applications to do this.
Stackby is a tool that helps you manage your workflows and databases on a single platform. It is easy to use as a spreadsheet, so your remote work teams do not need specific training to work on it. You can start for free and then grow with your team.

Few benefits of using Stackby:
25+ unique column types to organize and manage your data, your way. Easy as a spreadsheet
Automate processes and data entry by pulling live metrics from various apps directly in your columns
Collaborate from anywhere with your team in real-time on individual rows, create checklists, set reminders, slack actions and more
One-click import from Excel or Google Sheets
Visualize your data in different layouts -- Table, Kanban, Calendar and Custom Forms
100+ templates across your different functions, to get started in minutes
Integrations with Slack and Zapier
Pricing:
You can start a free trial and then go to one of the paid plans or sign up on the offer below for registered Indian startups.
Personal: $5/user/mo ($4/user annually)
Economy: $9/user/mo (INR $8/user annually)
Business: INR $18/user/mo (INR $16/user annually)
Offer for startups as a part of Startup India plan:
All DPIIT-registered startups in India that are part of the Startup India plan, get 3 months free access to Stackby for the Economy Plan. If you are a registered Indian startup, please avail the offer here.
Also we are offering free access to registered NGOs and Non-Profits working on COVID-19 relief efforts. If you are one or know one, please ask them to fill a form here and we will help them set it up.

Video Conferencing Tool for Teams for Remote Work -- Zoom
Zoom is a video-first unified communications platform that is used for meetings, training, webinars, and even those informal team meetings and activities that make the whole world your office. They have top-notch video quality and are adopted by 1000s of companies worldwide.
Pricing:
Basic: Free
Pro: $14.99/mo/host
Business: $19.99/mo/host (minimum of 10 hosts)
Enterprise: $19.99/mo/host (minimum of 50 hosts)
Pricing upgrade during COVID-19:
Zoom has lifted the 40-minute limit on meetings with more than 2 participants, providing unlimited time to collaborate.

Other remote tools to use include:
Collaborative Calendar Management Tool for Remote Work -- Google Calendar
Appointment Scheduling Tool for Remote Work -- Calendly
Collaborative File Storage Platform for Remote work -- Google Drive
Automate your work
We cannot stress this enough - the key elements to going the remote way are to align your communication as a first step, and manage your data/process as the next. Both are equally important. That said, automation is possible in both cases.Here are the top remote work automation tools that we love and use. You can use them to streamline your work processes and stay connected, regardless of where you are.
Automation tool for Remote Work -- Zapier
Time is money. Automating tasks is the key to saving time. Zapier is a third-party service that allows end-users to integrate the web applications they use. Zapier allows you to integrate 2000+ tools that automate your workflows.
Zapier lets you create Zaps. A Zap is an automated workflow that connects your apps and services together. Within Zaps, you can add triggers and actions.

A trigger is an event that starts a Zap. For example, if you want to send a text message each time you receive an email, the trigger is 'new email in inbox'.

An action is an event a Zap performs after it is triggered. For example, if you want to send a text message each time you receive an email, the action is 'send a text message'.

Pricing:
Free: $0, free forever (100 tasks/mo)
Starter: $19.99/mo, billed annually (750 tasks/mo)
Professional: $49/mo, billed annually (2000 tasks/mo)
Team: $299/mo, billed annually (50,000 Tasks/mo)
Company: $599/mo, billed annually (100,000 Tasks/mo)
Some popular zap connections that you can create by integrating Zapier to Stackby are:
To summarize, 3 things are vital for you to keep your business moving forward as you embark on your remote work journey with your team:
Align your team's communications
Choose the right tools for remote work
Take a step further and automate your work
Stay safe during these testing times and keep the momentum going!