Build your Lead Lists in seconds
Build your lead lists in seconds using native integrations of Stackby to Hunter.io, Clearbit and FullContact. Find emails, verify them and enrich your leads with relevant data, all within seconds.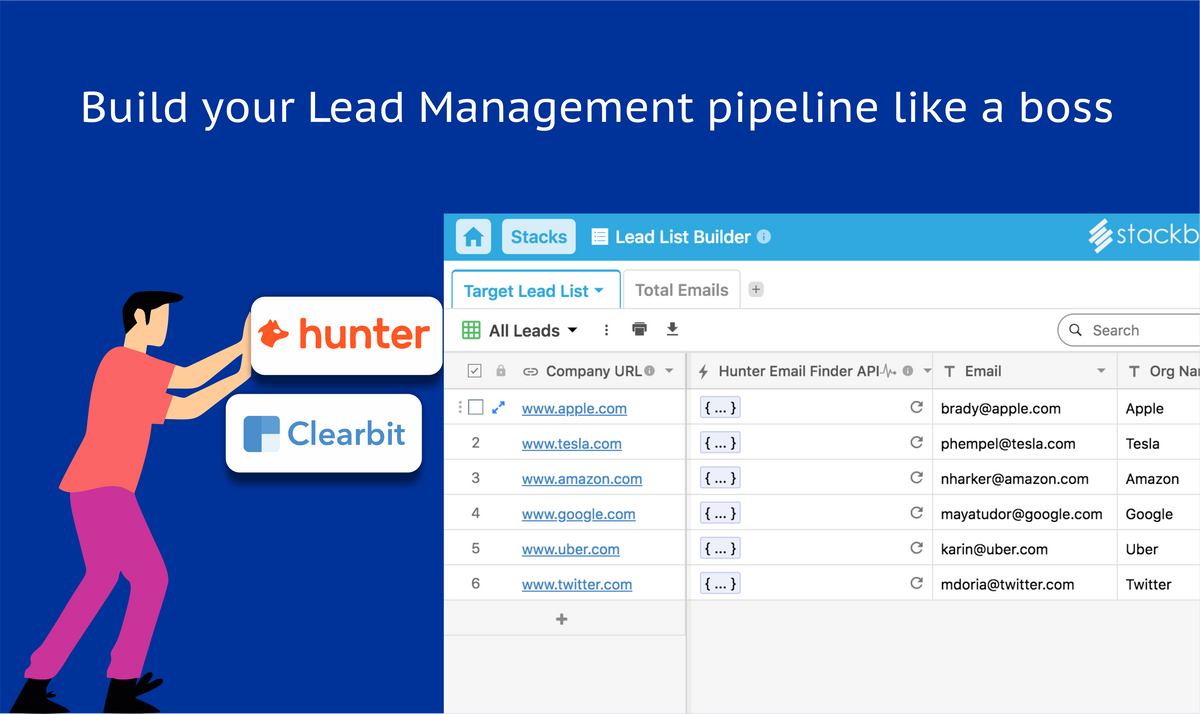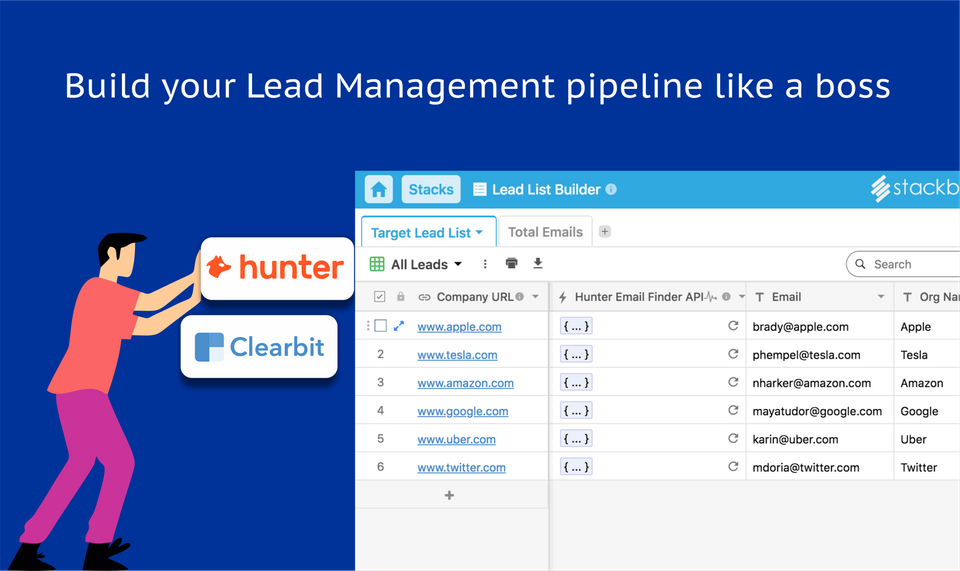 For companies that are looking at generating leads, creating accurate lead lists is crucial. Despite all the hype and hoopla surrounding social media, email marketing remains one of the most reliable methods for lead generation (after all there were 3.8 billion email users in 2018, and is set to go up to 4.4 billion by 2023). And that can happen only when you have email addresses through which you can reach out to these prospects.
Companies try all the tricks in trade to get these lead lists so that their marketing team is continuously replenished with a new list of prospective leads every now and then. From websites to inbound marketing to landing pages to webinars to buying lead lists to having teams to generate lead lists, the sources are simply endless. But is there an easier way out?
API Integrations for Lead Management and CRM
With technology advancing, we have API integrations helping us get to this goal. An API is a software intermediary that allows two applications to talk to each other or rather allows you to fetch information from one software to another. Historically speaking, good information from web services is available just for developers. But with Stackby, you can access those APIs via data explorer without writing any code and still pull in information automatically.
Companies like Clearbit, Full Contact and Hunter.io have comprehensive lead generation databases that have made the task of generating lead-lists easier. Log in, do a tester, buy the product that you want and generate your lead lists. There, that is easy, right? But what if you get a chance to make the entire process of lead prospecting a cakewalk? Yeah, with Clearbit, Full Contact and Hunter.io APIs that you can easily integrate on Stackby.
Stackby for automating your lead generation process
For those who came in late, Stackby is an API-first collaborative database platform, that you can customize the way you want. It allows easy integration with Clearbit, Full Contact and Hunter.io for your lead prospecting activities. It is not just easy prospecting with a click on Stackby. It does away with manual data entry (that's a BIG time-saver for you). It is super easy to use. But then Stackby has never been about big training sessions or complex maneuvering. It is as easy as using a spreadsheet. So even the non-technical people in your team can use it without any training – the just need to log on to their spreadsheet skills.
Stackby + Hunter.io
Coming back to integrations, Stackby integration with Hunter.io is easy. All you need is your Stackby account and Hunter.io API key that would allow you to access the prospecting data. Here is how you can do it:
Sign-up/Log-in to your Hunter.io account, go to your dashboard and to the account navigation bar on the top right-hand side and click on API from the drop down menu to get the API  key (it allows you a show/hide view of the key) and copy it.
Log in to your Stackby account, go to the settings of the Workspace that you want to configure the key, select API Configuration, add a new integration for the API, paste your API key and click on save (note: You need to integrate the key into the workspace not the stack).
Now that you are done with configuring the lead prospecting API, let's take a look at how you can pull the data. We will take a look at how you can integrate Hunter.io and Full Contact to Stackby.
Hunter.io API helps you pull leads per domain. You can also verify your lead list with its Email Verifier product. The best thing is that you can add both APIs -- Domain Search as well as Email Verifier in the same stack. Now that you have added Hunter.io to the stack here are the next steps:
Go the stack and keep the first column as the base (here it will the domain address) for collecting your data.
In the second column connect to the Hunter.io Domain Search API and rename the column, select the API rich field as the column property and choose Hunter.io as the API and within that the Domain Search service and select the domain column as reference.
Add in the domain name of the company that you want to prospect, click on the refresh arrow and you see the API work its magic on the stack and the data start filling in the consecutive columns (you get to decide which data you want to access by selecting it from our data explorer) -- just make sure you change the column names and property beforehand; repeat with other columns.
Stackby + FullContact
There are slight variations in the way you set up Stackby's integration for FullContact. As with every API provide, signing up for the Full Contact API is essential.
Signing up/Logging in to your FullContact account takes you to your Full Contact Account dashboard where you can navigation to get your API Key - click on it
FullContact will ask you to name the API key and once you do that, you get the key and the option to copy the key
Copy the key, log in to your Stackby account, go to the settings of the Workspace that you want to configure the key, select API Configuration, add a new integration for the API, paste your API key and click on save
The next steps for pulling in the data is similar to Hunter.io and you can configure the data that you want to pull in the same way.
There you are ready for your lead prospecting.
The Benefits
For companies that need to constantly create innumerable contacts to reach out to, Stackby's Clearbit, Full Contact or Hunter.io integrations is the answer to their lead prospecting and the benefits are many:
You automatically get a prospect's details such as company name, email address, designation and role, domain, company description from the website, industry, Alexa Global Rank, the number of Twitter followers, Twitter status updates, location, etc., directly onto your stack, and rest assured the accuracy is ensured at all times
It allows you to simply bring on a company's entire list of available email addresses by just adding a domain name or whatever selection you make as a base for your information
The data is safe from manual errors that happen while entering into a database or an Excel file or a spreadsheet
It enhances all-round productivity – more leads, error-free data and accuracy, leaving your team to work on other high priority tasks such as lead distribution
The biggest benefit is something that is actually worth its weight in gold – the data that was downloaded gets updated with just a click of the refresh button – you can choose how you want it – either for an individual domain or all together, or for all contacts at once
Not just that, you can also combine it within our Sales CRM stack, customize it to your needs and manage your complete sales cycle with ease
Want to get a feel of how you could build your lead generation pipeline like a boss. Sign up for Stackby.
Meanwhile, happy prospecting!