Manage your Video Production Planning and Tracking like a Breeze
Plan and manage your video production campaigns, collaborate with your team and automatically bring your video metrics in real-time with YouTube API integration on Stackby. All in a single place.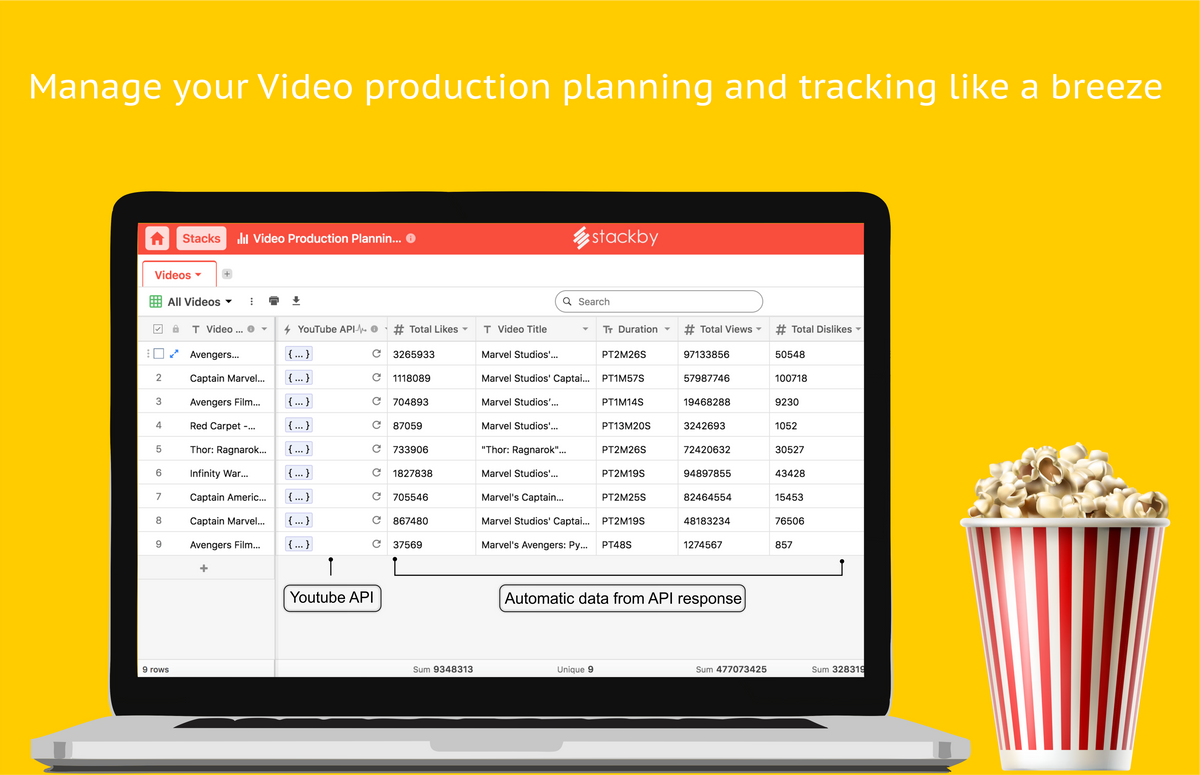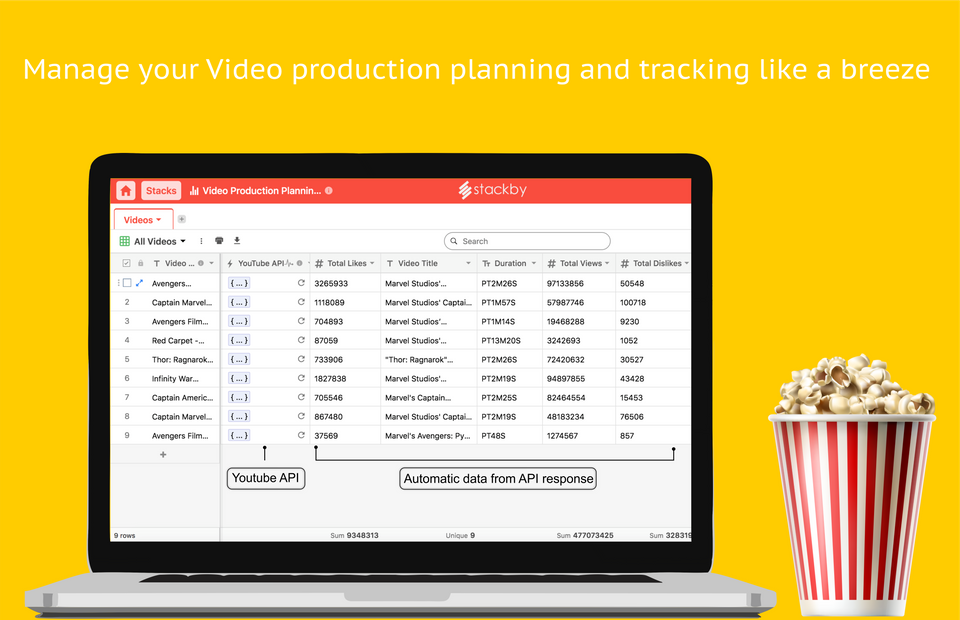 There is a good reason why videos are becoming all-time favorites for everyone from the common viewer to marketers to video production companies. Just check out these facts and figures for YouTube:
There, that was YouTube. Here are a few more statistics that is bound to get you interested:
Even as the above statistics impress us, video production planning and management is best known for the chaos that surrounds the entire process. Even the best-managed video production teams have been known to come up with a few hiccups now and then. Most of them happen simply from the sheer number of people involved in the process and the way the entire process is handled. This means that the process is managed on spreadsheets or different software/tools that doubles the running from pillar to post to manage a single video.
Each step in the video production process -- from the pre-production stage to the post production stage has its own share of issues when managed on different tools or spreadsheets. Even if your team is competent, what could elevate their level of efficiency to the next level?
For one, it would be great to have the entire team collaborate in real-time at a single place. A place where each person involved in the video project is aware of the status of the production stage they are working on. Next, having the entire process from pre-production to post production on a single platform vs. different tools would be the best time and efficiency booster. It would bolster you team to heights of productivity. Stackby helps you achieve this and more.
Stackby is an API-first customizable collaborative database platform that you could also use as a workflow for your team and is as easy to use as a spreadsheet (that means absolutely no coding or training needed).
It helps you plan, manage, track and collaborate on your video campaigns, in single platform. The benefit is that you get to know what stage of the production you are in, allows you to make changes to your strategy, planning on the go and tracking your YouTube video metrics in real-time,  making your video production process a breeze.
We also have a video production template that you can easily copy and use once you have logged in. Do you need to add a little more to the template? Feel free to do so. Add more tables or columns -- whatever suits you -- to create a comprehensive video production workflow or create your own workflow.
Now for the database part of Stackby. Given the popularity of videos, it is not surprising that everyone wants to have a piece of the video marketing pie. The secret to great video production is deciphering the success of your strategy from the analytics. Video analytics are becoming more prevalent (36% businesses use intermediate or advanced analytics to measure performance).
So what exactly is this video analytics? It is the monitoring of video streams in near real time and can identify attributes, events or patterns or specific viewer behavior via video analysis. It also helps discern trends, patterns, and incidents and enables users to analyze, organize and share any insight from the data to make smarter, better decisions. It helps everyone who is involved with video production -- from a media company to a production house to an agency to a video marketer or a video marketing team in a company or a start-up to a vlogger and is indispensable when creating strategies.
The entire process from video planning to production that includes team collaboration to release management to tracking the analytics fits into a circle -- one that is dependent on the other at all times. For companies involved in video production -- be it agencies, video production houses, video marketers, vloggers to start-ups -- all these steps work at different levels and involve different teams. Stackby brings it all together.
Video Metrics Automation Is the Key to Awesome Video Production Strategies
Stackby also allows easy integration with YouTube for your video production tracking. So you are not only planning your video, but also tracking the post-release analytics on Stackby. Making changes to your video production strategies would be quicker and easier if you manage the entire video production process on Stackby. Planning your myriad videos and their strategies, teams/agencies that you will be working with and collaborating with them in real time, ensure timely releases and its management and once that is done, pull in the analytics data automatically.
Setting-Up Stackby Integration with YouTube API
Integrations are easy on Stackby as it involves zero-coding and training. To start with the integration, you need to have a Stackby account. Sign up on Stackby if you do not have one. Here are the next steps to integrating YouTube Analytics API v3 on Stackby. You will also need the YouTube Analytics API key that would allow you to access to post-release data. Here's how to access that:
Sign up or log in to your Google Developers Console, click on Credentials from the navigation bar on the side, select the 'Create Credential' option and then the API Key option within that
Copy the API key, go to the API Services Library, search for YouTube API v3 and enable it; log in to your Stackby account,  go to the settings of the workspace that you want to integrate with YouTube API (you could copy and use the template or create a new one)
In the Workspace settings, go to API Configuration, add a new integration for YouTube, paste your API key and click on save (note: You need to integrate the key into the workspace not the stack)
Pull in your YouTube video metrics in real-time
Now that you have set up the integration, here is how you can pull in your data:
Go back to the Dashboard, select the stack that you want to work on, click on the 2nd column, select the option to change column property and connect with the YouTube API
Rename the column (only if you want), then select 'API' as the column property, configure third-party API and pull data (you will be asked to do so)
Choose the YouTube API from your account, select video details within that (suggestion: select the unique video ID as a base), and add unique video ID from the YouTube link of the video for which you want to see the analytics
Click on the refresh arrow in the second column -- you will see the YouTube API pulling in data automatically and adding it to the relevant column (you get to decide which data you want to access by selecting it from our data explorer); repeat for other videos
What's More?
You can also keep an eye on your competition as well by tracking their video analytics to tweak your video production strategy -- all on the go. It is as easy as creating another column to track their statistics. The biggest plus you get to save on the time required for manually updating the analytics data. This, in turn, means faster data management and quicker turnaround time with your end-to-end video production workflows.
To know more about how you can streamline and track your video production projects sign up on Stackby.
Happy Video Planning and Tracking!