How to build a Custom Applicant Tracking System (ATS) in Stackby
If you're an HR manager, part of an HR team or running an HR agency, learn step by step on how you can create your custom applicant tracking system using forms and database and manage your entire recruitment process.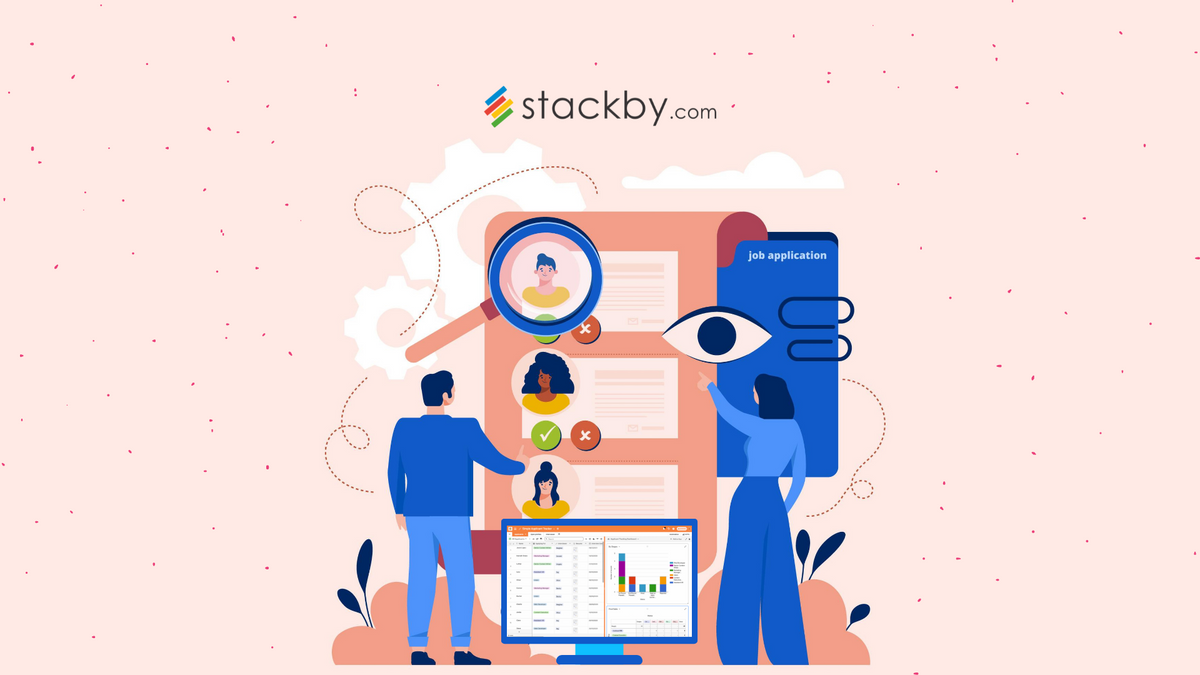 Are you an HR manager, an HR professional, or an entrepreneur who has the tedious duty of tracking the recruitment process? If so, then you should read this.
Imagine, piles of resumes on desks, emails flooded with candidate data, and the constant fear of losing track of the right candidates. With a traditional recruitment process, finding the right candidates for your organization can be difficult, turning into a chaotic mess.
Well, fear not, because today we're going to dive into the world of applicant tracking systems (ATS) and show how to build your own custom ATS with Stackby. This will be a game-changer, believe me!
What is ATS?
An applicant tracking system (ATS) is like a digital assistant for hiring managers. It makes it simpler for you to administer job applications and locate the best candidates. Think of it as a digital file cabinet that contains all the cover letters and resumes, making it easier to look for specific candidates or qualities.
For example, the ATS may immediately filter out all other job applications and display just those with suitable programming skills if a firm needs to recruit a software developer.
In a survey carried out by the software review site Capterra, 94% of recruiters and hiring managers stated that their applicant tracking system (ATS) helped improve their hiring procedure.
Also one of the research published by SHRM (Society for Human Resource Management), stated that companies who use ATSs cut the time it takes to fill vacancies by an average of 12 days.
Advantages of an ATS:
Centralized Data Repository: An applicant tracking system (ATS) enables you to compile all candidate data, resumes, expectations, and more in one location, eliminating the need for scattered paperwork and communications.
Enhanced Collaboration: Your recruiting team may work together, provide and receive feedback, and make decisions together.
Eliminate manual data management: You can automate your ATS like sending emails as a candidature status changes.
Better hiring Decisions: It provides data-driven decision-making, which improves recruiting results, by utilizing data analytics and tracking metrics.
Compliance and Security: An ATS makes sure all regulations are followed and protects private information about applicants.
Creating an Applicant Tracking System:
It could seem challenging to create your own custom applicant tracking system, but with the right tools and advice, it can be easy to get started. Stackby, a comprehensive collaboration and database management tool, provides a simple alternative for developing your own ATS.
Simplify your hiring process by centralizing candidate information, resumes, and communication in one place.
Tailor your hiring workflow to fit your organization's unique requirements and preferences.
Save time and effort with automated candidate screening based on specific qualifications and skills.
Foster efficient collaboration among hiring team members with task assignments and progress tracking.
Build a valuable talent pool by organizing and storing candidate profiles for future positions.
Seamlessly integrate with popular job boards to streamline job posting and application management.
Provide applicants with a positive experience by enabling easy submission and application tracking.
Make data-driven decisions and improve recruitment strategies with valuable analytics and reporting features.
Scale your hiring processes and adapt to changing requirements as your organization grows.
Ensure compliance and data security by securely storing and controlling access to candidate information.
Customize Your Applicant Tracking System by Stackby:
With Stackby, you may modify your ATS to meet the specific needs of your business. Stackby's platform is comprehensive and scalable, allowing you to track candidate profiles, resumes, interview dates, and even automate email alerts. No more hair-pulling over spreadsheets. No more wasted hours scrutinizing unqualified applicants.
Steps to Create an Applicant Tracking System in Stackby:
Step 1:
Create a table in Stackby to track the relevant details for the applicants like Name, Phone, Email, Resume, Applying for, and more. You can use the Simple Applicant Tracker Template by Stackby.
Step 2:
Create a custom applicant tracking form using the Stackby form layout and share or embed it on your website or careers page. This form will allow applicants to submit their information directly into your Stackby tables in your ATS.
Step 3:
Once the new applicant comes in via the forms, you can track statuses, notes, key dates, interview scores, ratings, and more in the table using different column types. This will help you manage and organize your applicant data effectively.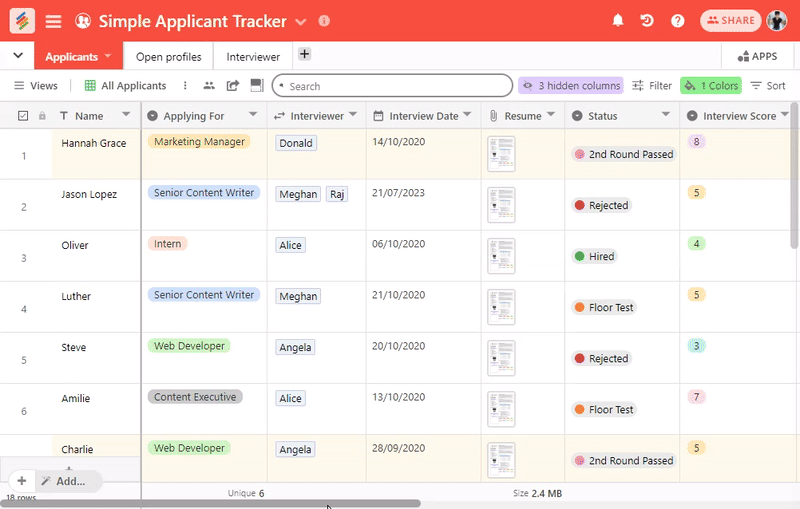 Step 4:
Create separate tables for Interviewers and Open Profiles in Stackby. Link records from these tables with the Applicants to measure key performance indicators (KPIs) and track the progress of each applicant, open profile, and how interviewers are doing.
Step 5:
Collaborate with your team by using checklists and reminders in Stackby. These features will help streamline the hiring process and ensure that everyone is on the same page.
Step 6:
Automate your hiring process by setting up status change email reminders. You can integrate Stackby with Zapier or similar automation tools to send automatic email notifications when the status of an applicant changes.
For example:
Automation 1: If the applicant status changes to 'Schedule an Interview', a pre-built email will be automatically sent to the applicant with your interview calendar link.
Automation 2:  If the applicant status changes to 'Rejected', a pre-built rejection email will be automatically sent to the applicant.
Step 7:
Create custom applicant tracking dashboards in Stackby to measure key hiring goals and metrics. These dashboards will provide a visual overview of your hiring process and enable you to make data-driven decisions.
Video Guide
Stackby's comprehensive applicant tracking system guide tutorial provides a step-by-step walkthrough, to streamline your hiring process and effortlessly manage candidates with efficiency and precision. Check out the video below:
Conclusion:
Having an efficient Applicant Tracking System is a game changer for organizations looking to recruit and retain top talent in a competitive employment market. An ATS becomes an essential tool in your recruiting resources by organizing data, enhancing cooperation, and improving the applicant experience.  Start streamlining your hiring process today and take a leap toward efficient and successful recruitment. Sign up for free on Stackby today.