(How to) Build your Personal CRM in Minutes
A CRM or Customer Relationship Management is the heart of every growing business today. This article tells you how you can build & use personal CRM to track your contacts and life.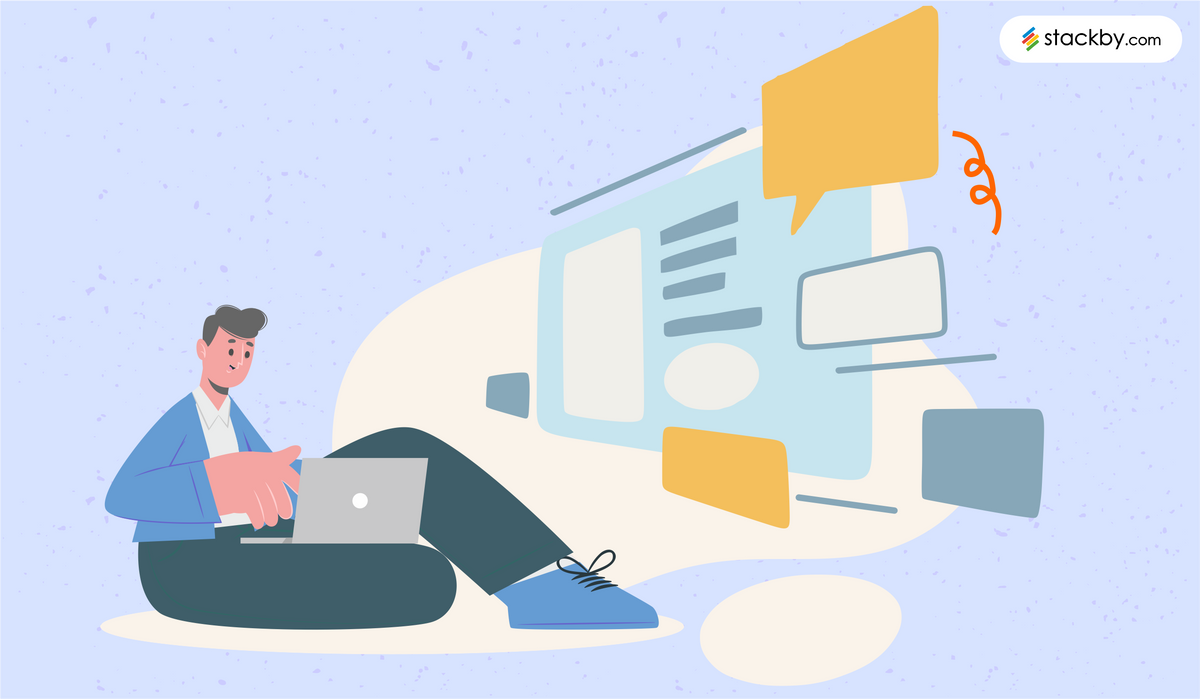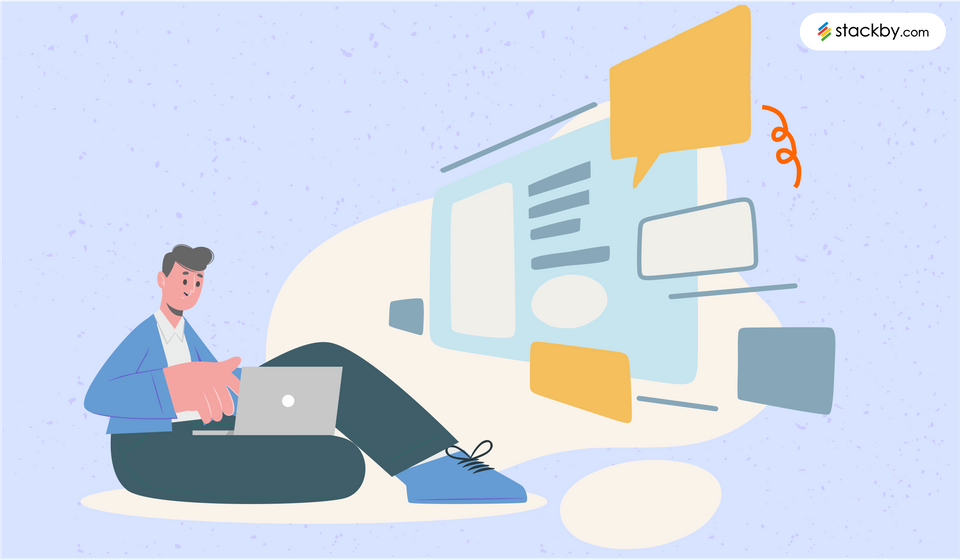 A CRM is a tool used by business owners, sales executives, digital marketers and finance teams to manage their customer relationships.
This means organising the lead scores, keeping customer details, identifying the most valuable accounts, managing workflow, and other business processes. The list is quite long!
In other words, a CRM allows a business to manage its customer relationships and business processes in one place.
Now, imagine using such software on a personal basis. It would be just like sorting every piece of your life.
In this article:
Features of Personal CRM
A personal CRM tool can be used by individuals to manage their personal as well as professional matters. For instance, you can organise all your contacts in one place, keep a record of your conversations, take note of everyone whom you have met and always be ready for the next step in your life. Sounds interesting? Let's take a deeper look at the features of a personal CRM.
You can replace all of your business cards and keep a record of all your contacts, events and addresses
You can track your business workflows (sales, marketing, analysis, social media) and grow your business
You can save all your client data in one place, track the last meeting, add notes and organise clients based on their location
You can create a personal calendar and set reminders so that you never forget a friend's birthday again
You can keep all the records of your big family and ensure that you stay connected with them
You can keep track of all upcoming events and make sure you get a reminder to attend them
As you can see a personal CRM can help you keep a track of all your personal as well as professional relationships.
Benefits of Using a Personal CRM
If you are not yet convinced by the astounding features of a personal CRM, here are some of the benefits of using a personal CRM that will encourage you to start using one right after you finish reading this article.
#1 Never miss anything
Sometimes life gets so busy that we forget to keep a check on little yet important things. You might have written an email to send to a client but totally forget about it due to other tasks. You might have wanted to wish a friend on their birthday but it just slipped out of your mind.
A personal CRM would never let you miss out on anything in life, whether it is personal or professional. With a personal CRM, you can easily arrange your personal and professional calendars, set reminders and receive notifications. This will help you keep up in every sphere of your life.
#2 Complete organisation
A personal CRM allows you to organise your life! You can keep all your contacts (phone numbers, addresses, email ids) in one place. Moreover, you can separate your personal and professional contacts to make sure that you do not accidentally email your client about a surprise party at your house. You do not have to keep looking for your journal, notes or pages on your ergonomic ergonomic desk. Everything that you need can be stored in an organised manner in this tool.
#3 Time saving
Time is money. You might have heard people saying that often. So if you are wasting your time finding the phone number of a sales executive that you met at a conference last week, you are just wasting something quite valuable to you. It might halt all your other tasks for the day and keep you behind in meeting your goals.
But, with a personal CRM, you can save yourself from losing time and relationships. Just one click and you can find the details of anyone whom you have met in your lifetime.
#4 Streamlining all communications
Have you ever got lost in the list of your text messages while looking for an important business text? We all have been there and we know that once we have that phone in our hand, we tend to get distracted. But, we can prevent it all by using a personal CRM.
A personal CRM allows you to keep all your communications in one place. Even if it is a phone call record, a text message, email, or a social media post. This way you can find what you are looking for at any instant without getting distracted or stressed.
Who Needs a Personal CRM?
Everyone! Yes, everyone can use a personal CRM to organise their lives. It does not matter how big or small your circle is. However, to help you 'fit in', here is a list of who can use a personal CRM.
Business owners (Entrepreneurs or Solopreneurs)
Business development teams
Freelancers
Side Hustlers
Passionate networkers
Marketing teams
Small and medium enterprises
Individuals who want to organise their contacts
Build Your Custom Personal CRM With Stackby
So now that you know how life-changing a personal CRM could be for you. Let Stackby help you create one. Using Stackby is easy, simple and fun. Moreover, it is free to use! You can create any CRM in just a few clicks without typing any code. If you already have some data stored in spreadsheets, you can import that to Stackby and synchronise all of it in one place.
Let us see how you can create a personal CRM in Stackby from scratch! To help you understand better, we are taking the example of organizing and tracking all clients and relations.
Step 1: Copy your Stackby Personal CRM template
Step 2: Decide the fields of your CRM
Step 3: Organize all your data and link tables together
Step 4: Automate CRM leads and bring via Google Contacts (Zapier)
Step 5: Let it build automatically
Let us break down all these steps.
Step 1: Copy your Stackby Personal CRM template
To begin with, copy your Stackby's Personal CRM template from the template gallery. This template could be used as a starting point to build your own personal CRM.
To copy our pre-built template to your Workspace, simply go to Stackby -> Templates -> Pre-built Templates and type Personal CRM in the search box. Click on the Personal CRM template and then click on Copy Stack to add it your Workspace.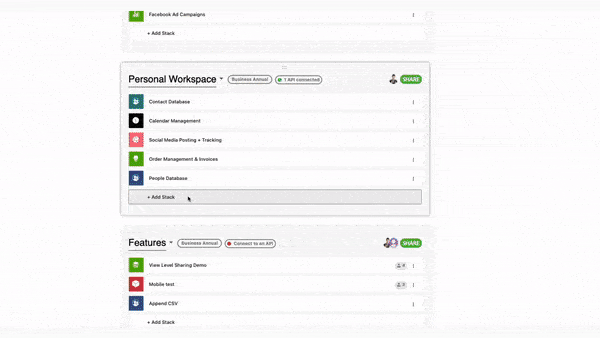 Step 2: Decide the fields of your CRM
Now, it is advised that you decide what you need to include in your Personal CRM or what you want to track. For instance, if you look at the Stackby Personal CRM Template to organize and track all clients and relations. It uses the following fields:
Name
Title
Location (Separate table)
Phone
Email
Last Meeting
Notes
Current Employer (Separate table)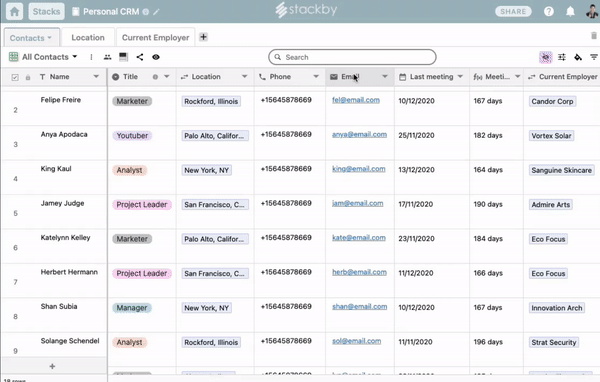 Step 3: Organize all your data and link tables together
Stackby gives you options to link two or more tables together and create one to many relationships. Consider our pre-built template. Here we have created three tables: Contacts, Location and Current Employer. We have linked the Location and Current Employer tables in the Contacts sheet.
To link a table to a column of another table click on the 'Change Column Property' of that column. Then, from the list of column types select 'Link to another row'. It will allow you to link that column to other table rows.
Linking your contacts to their locations and current employers will make it easier for future search-ability of your contacts as and when you need it.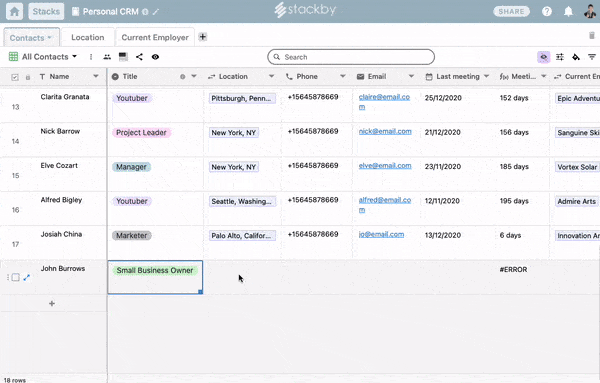 Step 4: Automate CRM leads and bring via Google Contacts (Zapier)
To automate the lead tracking process, you need to use a service like Zapier. Don't worry, it does not require coding! Zapier lets you send info between Google Contacts and Stackby automatically. So, with the help of Zapier whenever a new contact will be added to your Google Contacts, it will automatically create a row in Stackby. Here's how:
Authenticate Google Contacts + Stackby
Pick Google Contacts service - New or Updated Row as a trigger, which will kick off your automation
Choose a resulting action in Stackby - Create a new row
Select data you want to send from Google Contacts and map it to columns in Stackby
Step 5: Let it build automatically
Your work is done here! Once you have set up the automation, all the columns will be filled automatically. Whenever a new contact will be added to your Google Contacts, it will automatically create a row in Stackby Personal CRM. Then, you just have to add their status, auto or manual link them to employers & location table and you can keep finding the time to work on other things.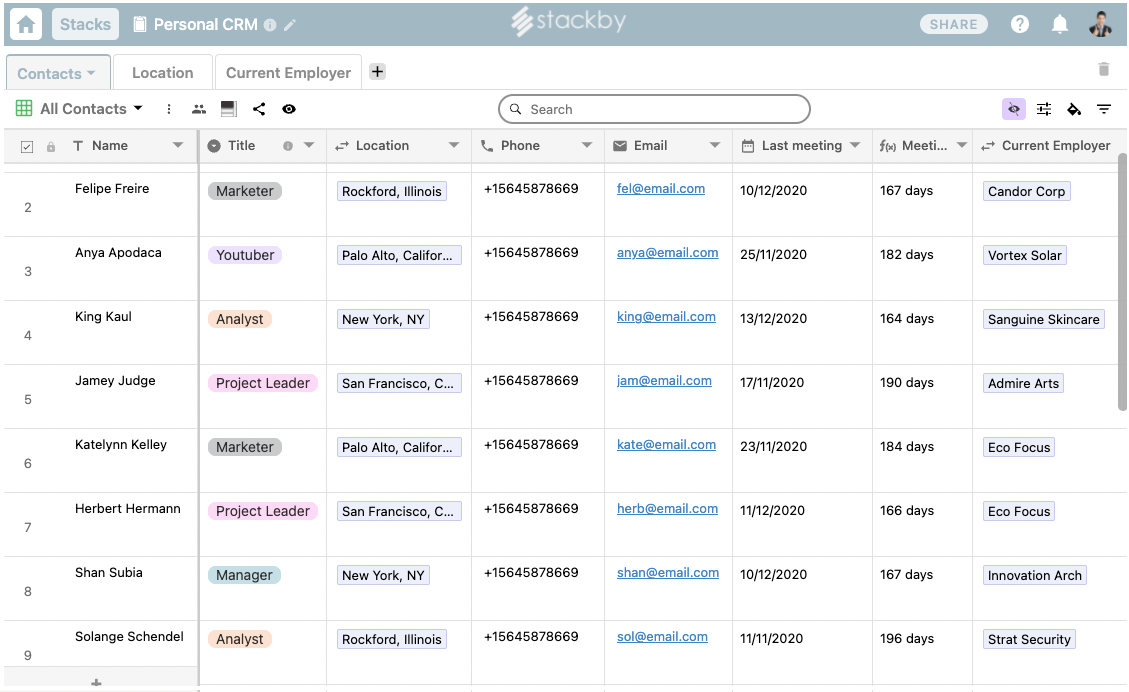 Not ready to create a personal CRM from scratch?
Use Stackby Personal CRM Template as a starting point and learn how to create spreadsheet-based CRM solutions. You will be thrilled to see how easy it is to create a CRM. This Personal CRM template helps you organize and track all your clients and relations. From entrepreneurs to small business owners, freelancers or anyone who wants to organise their client data can use this template.
Here's what you can do in this template:
Record the details of your clients
Track their title or profession
Store their contact details like email address and phone number
Track the date of your last meeting
Track how much did it pass till last meeting
Keep notes about your meetings
Record the location of each contact
And, much more! So, wait no more and start exploring the FREE Personal CRM Template by Stackby. You can make as many changes as you want in this template and experiment with the plenty of functionalities that Stackby has to offer.
Never miss a relationship. Life is too short for that.
So, are you ready to change your personal and professional relationships forever with a personal CRM? Sign up for free on Stackby and create one in less than 5 minutes.