(How to) Create your Custom & Automated Marketing KPI Tracker
Are you tracking the right Marketing KPIs for your clients or your business? Why not create a customised and automated template that lets you track the right marketing KPIs from Google Analytics and Google Search Console all in one place? Learn how.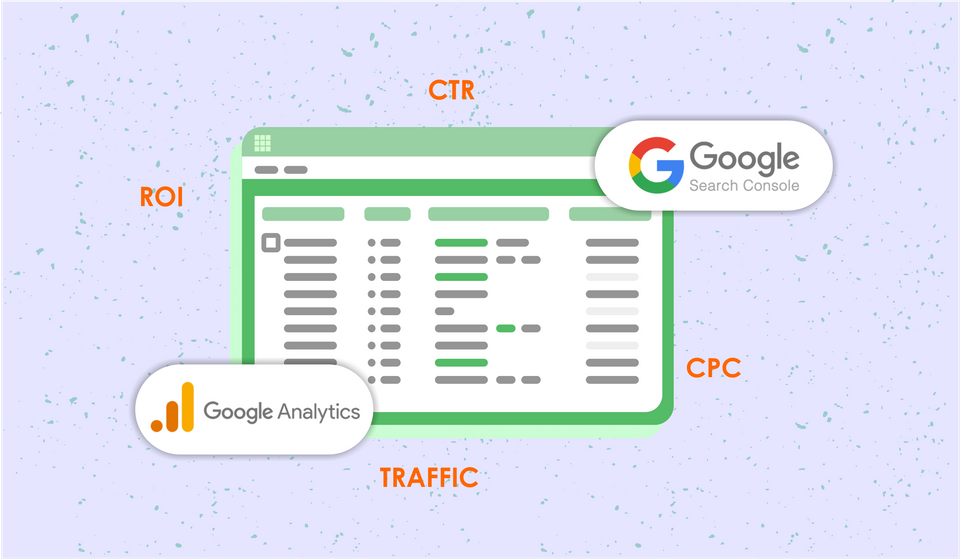 If you are running an online business, whether big or small, you must track your marketing KPIs. Marketing not only allows you to strategically share your products or services with your niche audience but is also a great way to tell people how terrific your business is. But, do you know that almost ​​57% of marketers are challenged with optimizing their next-best-action marketing decisions? Maybe because they are not tracking the right marketing KPIs.
Marketing KPIs or Key Performance Indicators are specific, quantifiable goals that help marketers monitor the success rates of their marketing campaigns. KPIs are fundamental to adjusting your marketing decisions. By measuring the right KPIs one can not only measure the effectiveness of their marketing efforts but can also reinforce their marketing strategy for the long term.
Here are some important marketing KPIs that every marketer must track:
ROI: Return on Investment
Traffic
Goal conversion rate
SEO impressions
Site visits
Bounce rate
CTR: Click-through Rate
CPA: Cost per Acquisition
So, how can one measure their marketing KPIs? Well, you do not have to look further as this blog post is going to solve all your problems. Today, we are sharing with you an easy guide on how to create a custom & automated marketing KPI template in Stackby that enables you to monitor all your important marketing KPIs in one place. It features both Google Analytics and Google Search Console APIs.
Let's get started!
Spreadsheet-Style Database Workflow Template for your Marketing KPIs

Stackby is a collaborative platform that allows you to create spreadsheet-database hybrids so that you can create your own workflows. With Stackby, you will be able to create a spreadsheet-style database workflow template for tracking your marketing KPIs in one place. You can connect this template with third-party API connectors such as Google Analytics, Google Adwords etc and bring in all your data to Stackby for automatic tracking. This means you do not need to check your Analytics accounts again and again to measure your KPIs.
Here are some distinguishing features of our marketing KPI template that will ease your workflow:
#1 Structure Data
Stackby allows you to structure data in the form of a spreadsheet-like database. This means you can list all your marketing campaigns, manage your projects & tasks, collaborate with your team and gather data related to each one of them on your Stackby template. The structuration of data is made possible in Stackby through more than 25 column types. For instance, number, short text, long text, attachments, ratings, duration, checkbox and so on. Each column type helps you customize how your data will be visualized and validated in specific columns.

#2 Put things in Context (concerning your Marketing Objectives)
Every business has its own marketing objectives. For example, some marketers might be looking for ways to promote their brand while others would want to focus on lead generation. Finding new customers, retaining existing customers, building brand awareness, growing digital presence, increasing sales or revenue are some other common marketing objectives adopted by different businesses. With Stackby you can create your marketing KPI template based on your marketing objectives. This means you can solely focus on the KPIs that are related to your marketing goals and leave the rest.

#3 Automate Data Collection
With Stackby you do not need to worry about manually updating your Stack every time. Stackby allows various third-party integrations where you can link Stackby columns to popular API connectors to pull information, use services or push information and that too without writing any single line of code. For instance, you can connect Stackby to Google Analytics, Facebook Post Insights, Google Search Console, SEMRush, SharedCount, YouTube Analytics and so on. You can also link Stackby to Google Contacts, Google Spreadsheets and different databases like MySQL to bring in data directly to your Stack using integration apps like Zapier.
Why use Stackby to track Marketing KPIs
#1 Flexibility
Sometimes managing data can be a hassle for marketing teams. Every team member has their own task for which they need different data from the whole database. For example, one team might be working on Search Analytics while the other team might be working on Traffic Analysis. Each team would have their own goals to look after. Stackby gives them the flexibility to view data as per their choice using Stackby views. This means zero data redundancy and real-time data collaboration all in one platform.
#2 Accessibility
Stackby can be handled by non-technical users like a breeze since it involves zero coding. With Stackby, marketing teams can work from remote locations and still collaborate in real-time to complete their projects. If you are a marketing agency, you can share your Stacks with your clients in just one click and collaborate with them in real-time from anywhere. Stackby simply takes collaboration to another level through the following ways:
Stackby users can comment on individual rows of the stack and enhance their collaboration on projects.
You can also mention your team members/clients using "@" followed by their names.
You can create reminders on each row and get them in Stackby, Slack or Microsoft Teams.
Stackby also allows you to receive notifications on Slack whenever any updates occur in your Stack.
Stack creators can set up different permissions for different users, Stacks or even Workspaces.
You can stay on top of all changes happening in your Stack through the revision history feature.
You can share a Stack by embedding it in your blog, webpage or even in another app that you use.
#3 API Connectors & Automation
Stackby fully supports no-code automation. Not only can you plan and organize your campaigns and experiments but also pull rich data automatically from popular marketing services such as YouTube, Facebook Ads, Google Analytics, Ahrefs, Clearbit, Hunter.io, LinkedIn Ads, Twitter, and more using native column API connectors and pre-built API functions. You can also send messages through SMS, WhatsApp and Slack and automate your workflow. Last but not the least, you can also schedule columns and bring in data automatically.
#4 Consolidation of Data from Multiple Sources
Whether it is Google Spreadsheets, MySQL, Google Calendar, Slack, Gmail or Google Contacts, Stackby lets you bring data from various sources to your Stack and manage your workflow from one place. With Stackby integrations with Zapier and Integromat, you can connect to more than 2000 third-party applications and build automated workflows without any hiccups. Stackby powerups include a unique feature where one can import data from Microsoft Excel and Google Sheets to create a new stack or in an existing table.
This means that with Stackby you can bring all your data from different applications and create a consolidated, easy to use, spreadsheet-like database and make it easier for your marketing teams to collaborate on projects.
Create your Custom Marketing KPI Template

Now it is time for some action! Let us show you how you can create your custom marketing KPI template using Stackby in less than five minutes without any code. To begin with, you can use our pre-built Marketing KPI Tracker Template from Stackby One. For those who don't know, Stackby One is a community where anyone can publish their own Stackby templates and share them with the world.
What do you get in this template?

As you can see, the marketing KPI tracker template gives you a heads-up on how you can easily track all your marketing KPIs in one place. You can list all your marketing campaigns in the first column, for instance, brand awareness, conversion campaigns and so on. You can also state the objectives for each marketing campaign to monitor the important KPIs accordingly. You can also mention the start and end dates of the marketing campaigns along with their dimensions such as location, device type and so on.
Here are two very important things that you get with this template:
#1 Hybrid KPI Tracker by bringing data from Google Analytics & Search Console
You can integrate this template with two different yet important platforms. One is Google Analytics and the other is Google Search Console. With Google Search Console API you can track some important metrics like SEO impressions, SEO Percent CTR, SEO Keyword Positions, SEO Clicks and so on based on the different dimensions such as country and device.
With the Google Analytics API, you can track some important metrics like the Number of New Users and Total Number of Users based on the different View IDs of your Google Ads Campaigns. You can also track the metrics related to sessions such as the Number of Hits and Bounce Rate. Last but not least, you can also track the goal conversions using metrics like Goal Conversion Rate and Revenue.
You can refresh the data columns at any time by clicking the refresh icon or setting up an automation that will refresh your data in regular intervals. We will discuss their details in the further section of this blog.
#2 Automated KPI tracker based on real-time data via Formulas
Once you bring the core data from Google Analytics and Search Console, you can then use formulas to automate some of your important KPIs. For instance, you can easily calculate the total number of customers based on the goal conversion rate and the number of goal completions from Google Analytics. This data would change automatically when your Google Analytics data will be refreshed and new data will be fetched in your Stack. All you need to do is monitor the changes in the data!
Easy 4-Step Guide on How to Use our Marketing KPI Tracker Template

Step 1: Copy the template from Stackby One
First, go to Stackby One and copy the Marketing KPI Tracker Template to your Stackby workspace. You can do that by simply clicking "Copy Stack" on the top-right or the bottom-right corner of the template.
Step 2: Connect your workspace to Google Analytics and Google Search Console
To connect Google Analytics with your Stackby workspace, you need to do this: Go to your Stackby account -> Click Integrations -> Find Google Analytics -> Click Integrate. It will require your API key.
To integrate Google Search Console with your Stackby workspace, you need to do this: Go to your Stackby account -> Click Integrations -> Find Google Search Console -> Click Integrate. It will also require you to enter your API key.
Once you have connected to these applications, you can use their API connectors to bring in data from the applications to your Stack. Let us see how in the next step.
Step 3: Bring your Marketing KPIs Automatically in one sheet

To bring in data from Google Search Console to your Stack do the following:
Create a new column of type API and select Google Search Console as the API.
Then, select a search console service and reference columns as required. For instance, "Search analytics from the website" search console service and start date, end date and dimensions as reference columns.
It will fetch data from the Google Search Console into the new column that you have created.
Click on the data icon and the data explorer will open that will display all the search console metrics such as Clicks, Impressions, CTR and Position. You can select the metrics important to you and create columns to display data on your stack.
Similarly, you can bring in data from Google Analytics and display it in different columns as CPC: Cost per Click, CTR: Click-Through Rate, CPM: cost-per-thousand-impressions, RPC: Revenue-per-click, Ad Cost, Impressions, Ad Clicks and so on.
Step 4: Setup once and Automate

Once you have set up your Marketing KPI Tracker, it is time to automate your workflow so that the process of tracking KPIs becomes much easier. You know that you can refresh the data columns at any time by clicking the refresh icon. But, Stackby also gives you an option to automate this process.
This means you can set the date and time when data from Google Analytics and Google Search Console should be fetched automatically from the applications and updated in your Stack. To do that just follow these steps:
Go to your API connector column. You will see a small clock icon over it.
Click on the clock icon and a pop-up will appear asking you to create an automation.
Click on "Create Automation". Another pop-up will appear asking you to set the day and time of the automation.
Enter the day and time of automation. For instance, every 3 days at 16:00.
Click "Schedule" and the data from the connected API will be refreshed as per your automation.
This way, your marketing team would not need to manually refresh the data every time they sit to work on the project. They will know when they are going to find the refreshed data and can work accordingly.
Check the following video on how to build an automated Marketing KPI Tracker step by step:
What Do You Think?
Is tracking Marketing KPIs easier with Stackby? If yes, then wait no more and sign-up with Stackby for free and start working on tracking your marketing KPIs instantly. Stackby gives you the opportunity to organise your data in a better way along with the power to automate your workflow. It does not matter what your marketing team size is, you can collaborate in real-time on Stackby, consolidate data from multiple sources and automate your marketing KPI tracking process.