Your Complete Beginners Guide to Managing Facebook Ad Campaigns
Everything you need to get started with Facebook Ads (and ofcourse how you can use Stackby to manage it!)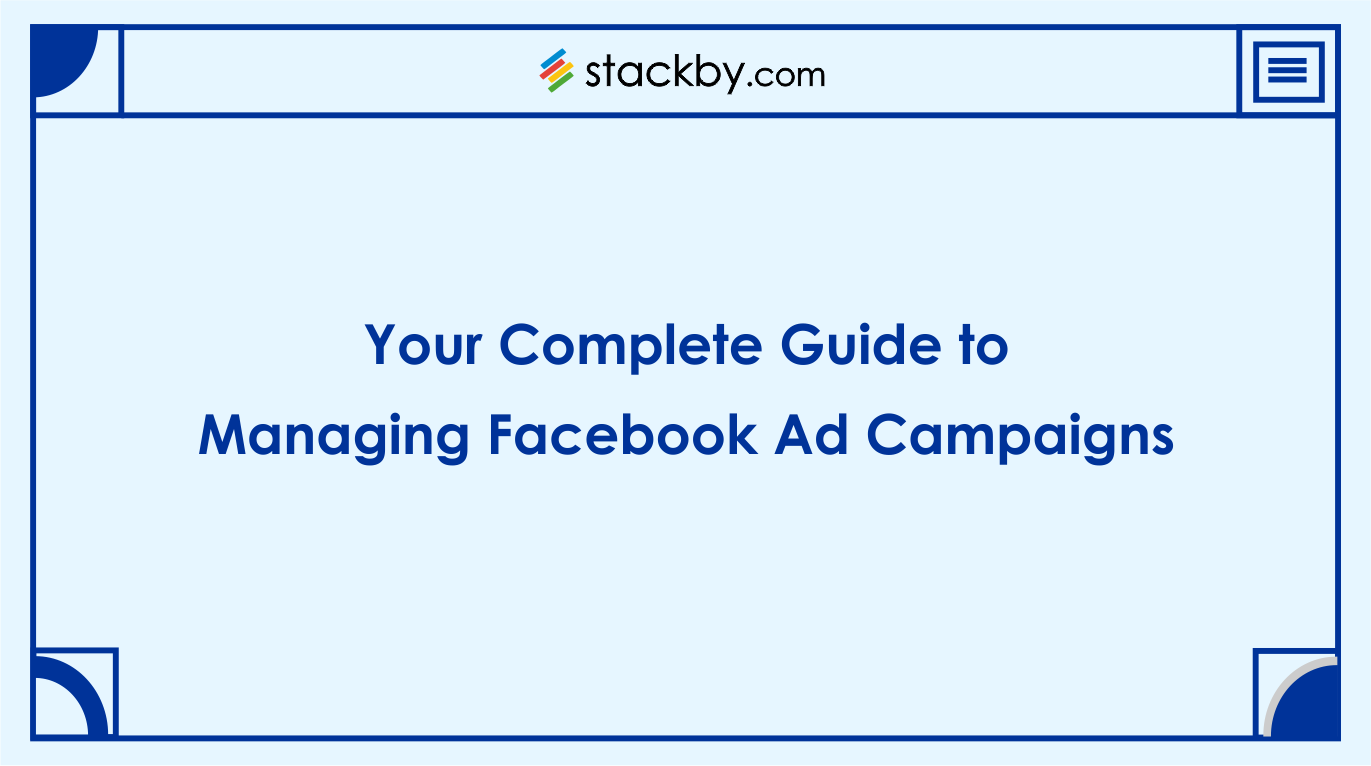 With a user base of more than 2.8 billion monthly active users, Facebook remains one of the most highly used social media platforms today. With the click of a single button, you can market and promote your product or service to millions of potential customers.
The user base of Facebook is continuously growing, despite the development of other social media platforms. Companies and advertisers across the globe have advocated continually for Facebook's advertising opportunities.
Do you know that almost 92% of social marketers are using Facebook for advertising?
With such a large user base, Facebook does seem to be the easiest way to reach all kinds of customers.
Facebooks Ads, again, are one of the best ways to do so.
Advertising campaigns on Facebook may seem simple, and, to a large extent, they are. However, your team must understand how to leverage the benefit of Facebook advertisements properly.
Many companies even opt to pay for Facebook ads to get their posted ads seen on the platform more easily and prominently. If you are investing your time and resources in advertising on Facebook, you must develop a proper strategy and follow it through to get your money's worth.
Facebook allows its users to target audiences through self-serve tools, and it gives them an analytics report that tracks the performance of each ad.
It is quite easy to get overwhelmed by the number of options and settings available on the platform.  To get the maximum return on your investment, your team needs to develop a deep understanding of how the platform works in all its dimensions.
Here, we have provided you with a detailed guide on creating and managing your Facebook Ad campaigns. We will tell you everything you need to know about Facebook ads to get your campaigns up and running.
What you will learn in this guide
Why to use Facebook Ads?
There are a lot of reasons why you should spend your time and money on Facebook ads. With the wide range of social media platforms available today, it is easy to get distracted and invest in everything. However, this tends to reduce your chances of a successful return.
Amongst all the available platforms, there is one that any marketer cannot ignore, that is, Facebook. From the wide audience access to its cost-effective nature, Facebook advertisements offer several advantages.
Facebook ads cost a fraction of what other online marketing channels cost. In addition to this, they offer immense customization and creative control over your ads.
As an added advantage, the targeting capabilities of Facebook are quite exceptional. Starting from behaviors, interests, and demographics to connections, age ranges, languages, locations, you can leverage these targeting capabilities and layer them upon each other to ensure that you're getting rid of any questionable and out-of-market clickers.
With the help of Facebook, you can also find new and qualified leads easily. Using the feature called 'lookalike audiences,' Facebook will search and reach new people who are similar to that audience and, therefore, likely to be interested in your business.
Whether it's acquiring new customers or building brand awareness, Facebook ads help many large and small businesses grow online.
How to set up your Facebook Advertising Account?
Setting up a Facebook Ads account is easy if you follow certain basic steps.
You can start by creating a Facebook page for your business (if you don't already have one).
Once completed, you can create a Business Manager account that will allow you to run ads for that page for your business.
You should also install Facebook Pixel that allows Facebook to identify people who have visited your website. It can then create custom audiences composed of those people.
From the 'Audiences' option from the assets column of the Business Manager platform, you can create and save audiences that are most relevant to your brand.
Facebook Ads Manager is the primary tool that can be used for creating and analyzing your Facebook ad campaigns. In other words, it allows you to plan, create, manage, report, and measure everything related to your ads on Facebook.
You can also plan your Facebook ad campaigns effectively in Stackby and collaborate with your team to manage your campaigns effectively.
Creating the ad involves a simple step of selecting 'Create Ads' from the drop-down menu in the upper right corner of your business page.

How to set up a Facebook Ads Campaign?
The entire process of creating effective and high-converting Facebook ads is quite simple. Your Facebook Ads need three parts to be successful: a campaign, an ad set and the actual advertisement. All of these parts make up the campaign structure.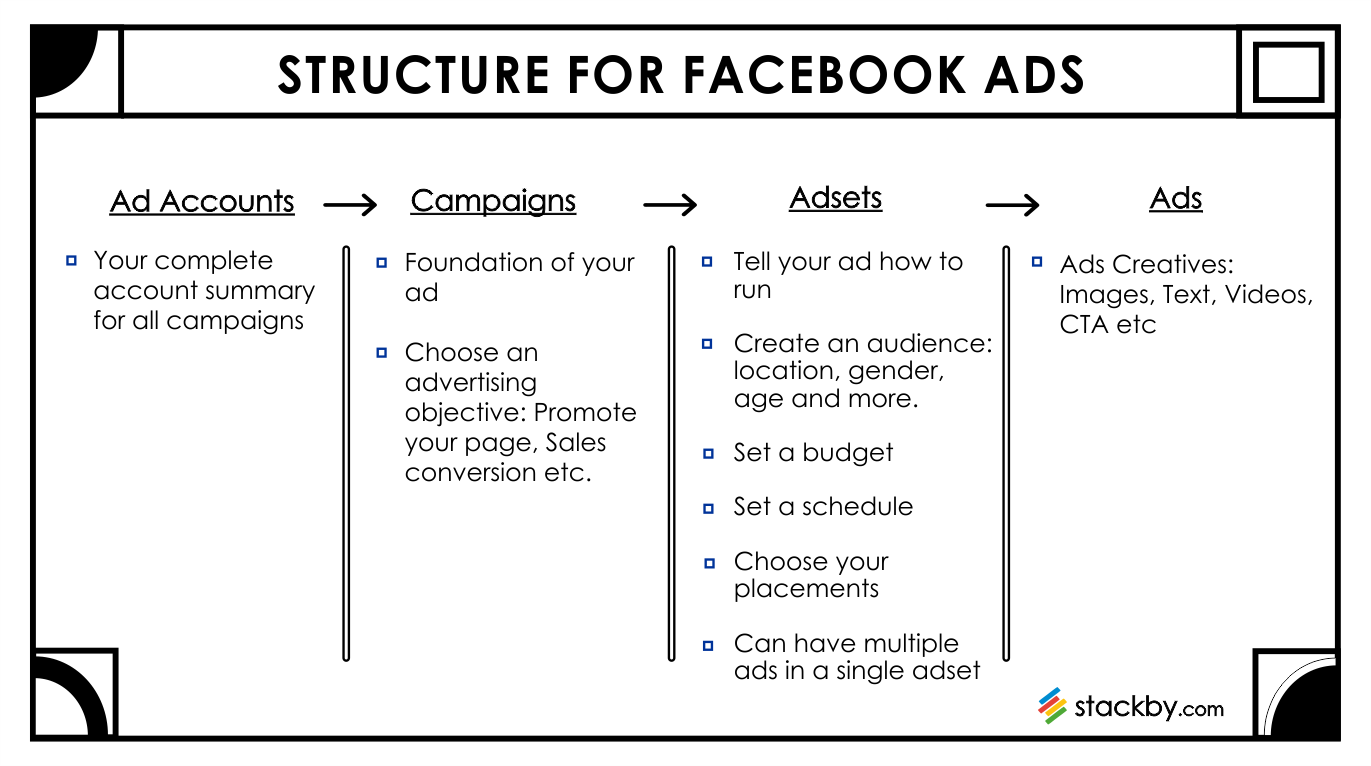 At the campaign level, you get to decide the objective of running the ads - what is your end goal? Like maybe driving more traffic to your website, or getting more leads.
At the ad set level, you get to define your targeting strategy. You can set different parameters like budget, targeting & schedule. At the final ads level, you create visuals like pictures or videos that will drive the audience to your end goal.
As already described above, you can use Facebook's Ad Manager to simplify the process. Here, I will describe the entire process step-by-step.
1. Develop your strategy
Before you get started with the Ad Manager or any other feature, you need to develop a proper strategy for your ad campaign. To take advantage of the multiple features available, you need to formulate a strategy that leverages your team and the company's strengths.
Without a well-planned strategy, you might end up with an ad campaign that does not meet any of your requirements or target anyone in particular. This can lead to wastage of precious time and resources.
Now, the question arises. What are the aspects you need to cover as part of your strategy? To simplify the process, we have listed a few questions below. All you have to do is answer each one and develop your strategy accordingly.
What are the products or services that you are planning to promote in this ad campaign?
Who is your target audience?
How will they use your product?
What is their pain point, and what objections will they have?
Which stage of the funnel are they in?
Do you want leads, brand awareness, site traffic, sales, or something else?
This list is not exhaustive. You can add and subtract according to your requirements. Although many of these aspects will be discussed in detail in the upcoming steps, creating a basic strategy will help you get started and provide you with the right direction.
You won't be able to create strong and effective ad campaigns without a proper game plan. You can also make use of Stackby's Campaign Management Template.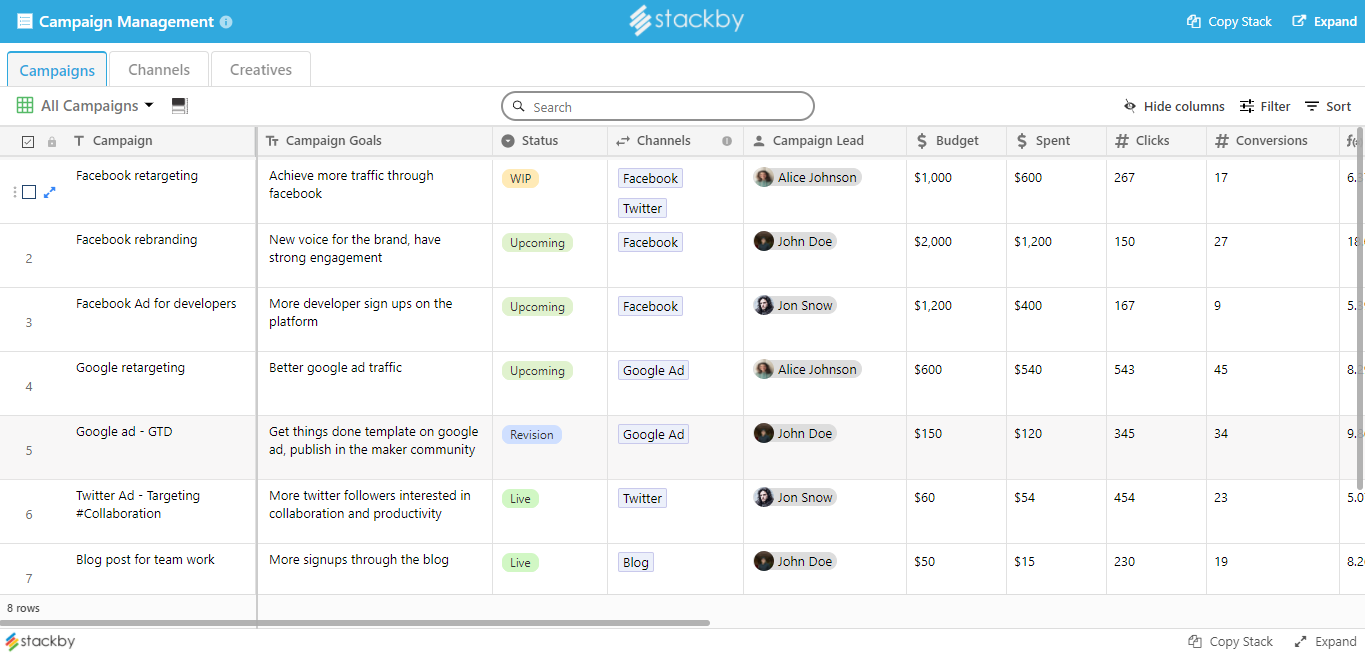 2. Set goals for your Facebook Ads
Setting goals for your ad campaigns is a crucial step. You need to take some time to think about why you are advertising and what you aim to achieve. If you set proper goals ahead of your campaign, you will easily measure the success of your ad campaign.
This step is also important because it will allow you to set your objectives later in the process.
Here, we have listed some examples of goals companies set for their Facebook ad campaigns.
Generate new leads.
To increase the level of traffic to the company's site from Facebook.
To increase attendance during the event or conference.
Boost engagement on the Facebook page of the company.
Increase awareness of the new product.
Increase the reach or extent of the website's material on the platform.
Consider a company that wants to increase the downloads of its mobile app via Facebook ads. The company can set a goal for 200 downloads in the first 20 days.
3. Get started with Facebook Ads Manager
We have already given you a brief idea about Facebook Ads Manager earlier. Any ad campaign that you run should be with the use of Facebook Ads Manager.
You can get access to the same via a direct link at facebook.com/ads, or by clicking 'Manage Ads' in the drop-down menu on your Facebook account, or by clicking on any of the CTAs on your company's Facebook page.
Getting an idea about the complete structure of the Ads Manager will help you run an effective campaign. You can easily navigate the menu on the left corner of the page.
Now start by clicking on the 'Create Ad' button, which is present at the right-hand corner of the page, and start with your ad campaign.

4. Choose your Objectives
Now, the real work on the ad campaign begins. The first thing you'll need to do is set the objectives for your campaign.
Moreover, selecting the right objective is important because Facebook will optimize the ad placements based on your objective. There have also been many instances where selecting the right objective can lower the CPC and improve your results.
In creating the ad campaign, you will reach a page where you have to choose the objectives for your campaign. Facebook provides you with multiple different ways of approaching your campaign, grouped into three different categories, as given below.
Awareness – Under this category, those objectives are included, which can help generate interest in the company's product and service, boosting your posts, promoting your page, reaching people near your business, increasing brand awareness, increasing your reach, etc.

Consideration – This covers those objectives that get potential customers to think about your product or service and search for more information about it. Simply, it means that it gets installations of your application, raises event attendance, gets views on your video, sends people to a destination on or off Facebook, generates leads for your company, etc.

Conversion – These objectives encourage and motivate people interested in your product to purchase and use your product and service. It simply gets people to claim your offer, increase engagements on your app, promote your product or service, get customers to visit your shop, etc.
Once you've carefully selected your objective according to your company's requirements, you will be asked to give a name to your campaign.
5. Define and customize your target audience
A good campaign has a strong idea of the audience to be targeted.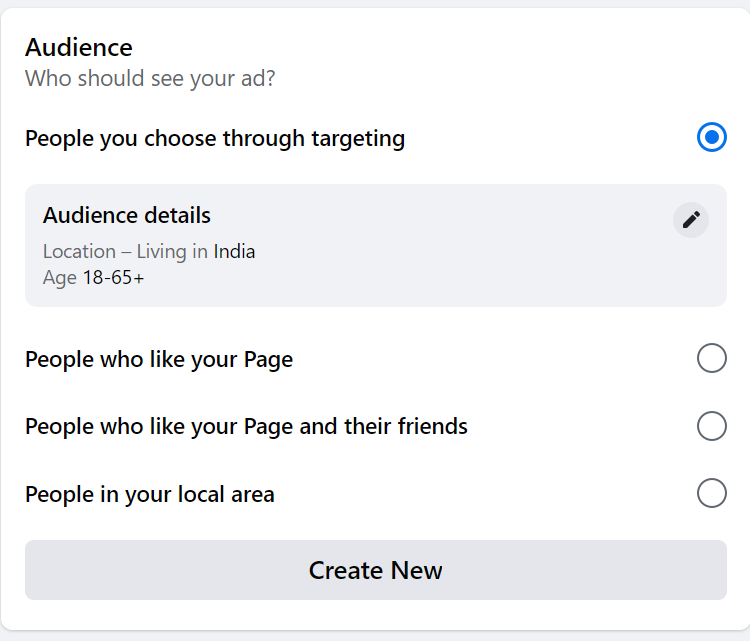 You can customize the audience to be targeted based on a few factors given here:
Location, including the country, state, city, zip code, and address.
Age
Gender
Languages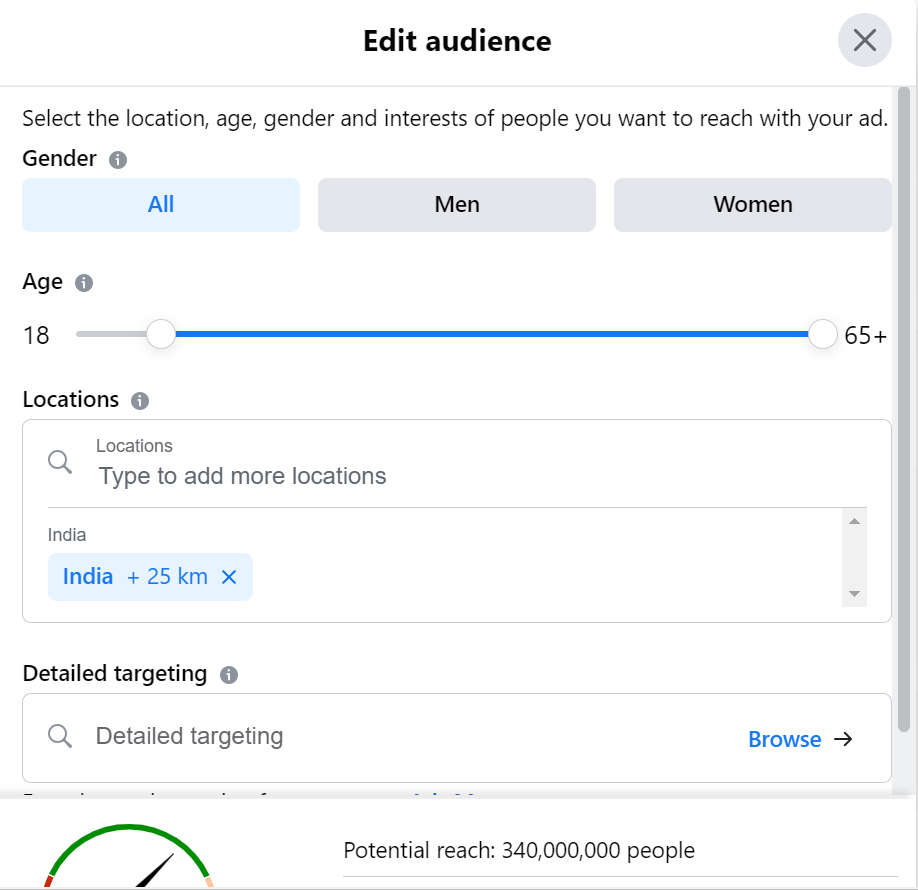 Interests are determined by the user's activity on Facebook, the pages and posts they've liked, and other closely related topics.
Behavior, which encompasses purchase behavior, intent, device usage time, etc.
Connections, under which you can display your advert to everyone or just the customers connected to Buffer.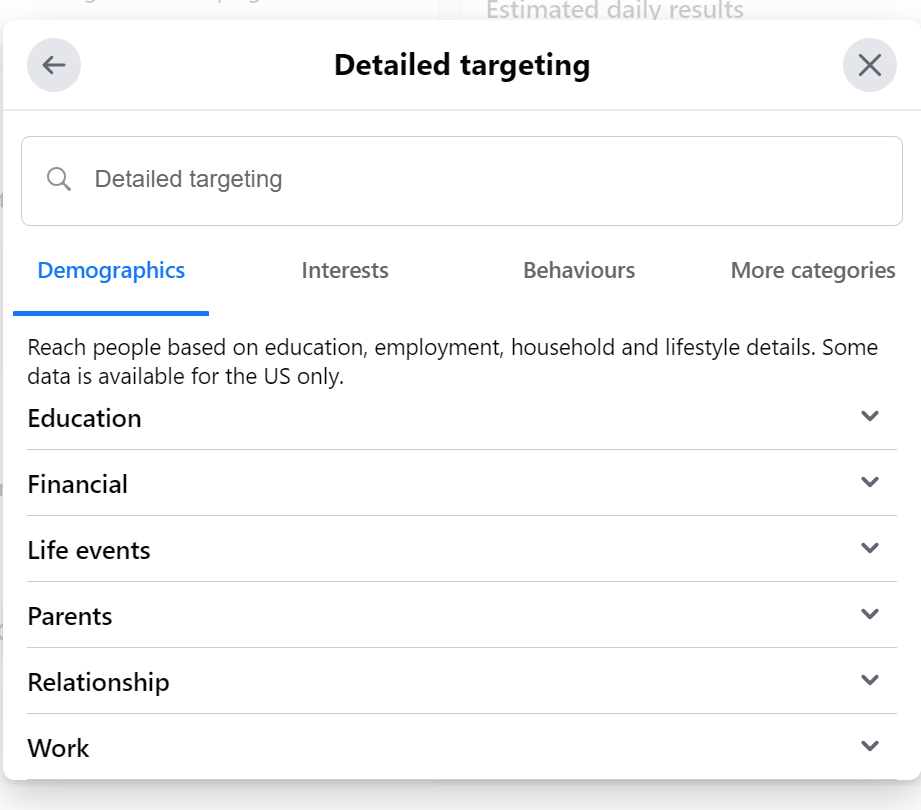 You can also modify the settings to add or exclude certain users who have subscribed to specific pages, events, or applications. In addition to the above, there is the option for custom audiences. Under this, you can reconnect with users who have already interacted with you in the past.
Using custom audiences, you can target specific users from your email list or users who have taken certain actions on your site.
The option for lookalike audiences allows you to replicate qualities from your custom audience.
6. Set your budget
Setting your budget early in the process will help you allocate your resources to different tasks properly. It will give you an idea about the maximum amount of money you can spend on your ad campaign.
There are different options available under the budget settings of Facebook. The daily budget defines the amount you will spend each day, while the lifetime budget is the maximum amount you will spend during the entire lifetime of the advertisement.
Here, Facebook also allows you to schedule your ads. You can either have your ads run indefinitely or schedule them to start and end on certain dates. It also has the option of day-parting, which allows you to run your ads only at certain times or on certain days of the week. You can choose the option that best meets your requirements.
You can also choose if you want to optimize your ads. Keep in mind that Facebook already has some default settings here. You can choose to work with the inbuilt settings themselves or change them manually according to your requirements.
However, be careful and only choose to change the settings if you're familiar with the platform and have a reason for doing so.
You can choose to change what you're bidding on, if you want to spend your ad budget as quickly as possible or spread it out over time, and if you want to set a cap on your bids.
7. Create your advert
Now that you have completed all your initial settings, set your target audience, and allocated your budget, it is time to get started with the actual making of the advertisement.
The time has come to think creatively to create an ad that will appeal to your chosen target audience and fulfill your goals and objectives set earlier in the process.
Concerning the text, you will get the option to write a maximum of ninety characters. This will appear just above the video or image you display in your advert.
You have to set a catchy headline, choose an image or video, write the body text or content, and so on. This is the stage where effective collaboration and proper team effort will produce good results.
Here, we have described two ways that can be followed for creating an advert. You can either use an existing post or create a new advert altogether. Let's give you an idea about each of these methods.
i. Creating an advert using an existing post – Your choice of method depends on the type of advert you are creating. For many adverts, such as a boosting post, you can create your advert using an existing post that has already been posted on your company's Facebook page.
To accomplish this, visit your Facebook Ads Manager dashboard. Here, you have to choose the option 'Use Existing Post' to create an ad using an existing post.
Next, you have to choose the page you'd like to select a post from and pick the particular post from that particular page that you want to use as your advertisement.
ii. Creating a new advert – It is not always feasible to use an existing post to create an advert. In most situations, you have to design a new advert specifically tailored to your goals and objectives and is within your allocated budget.
To create a new advert, all you have to do is follow a few simple steps. The first step is to select the format that you would like to use for this particular advert. Choose the format you think will work best for you and display your ad in the best possible way.
Currently, Facebook offers six different formats for you to choose from.
Carousel – A carousel ad is a format that shows several 'cards,' each with a different image and the ability to link to a different destination. The ad objectives that allow carousel ads are brand awareness, app installation, lead generation, conversions, etc. This format will enable you to create an advert with two or more scrollable images or videos.
Single Image – Here, you can create up to 6 variations of your advert using a single image. You can use it to boost a post, promote a page, get more leads, get more website visitors, etc.
Single Video – As the name already suggests, you can create an advert with one video using this format.
Slideshow – Here, you can create a looping video advert with up to 10 images. You can use this format of a slideshow of photos to tell a story. You can create the slideshow yourself or use the slideshow creation tool available in Facebook Ads Manager.
Canvas – If you want to tell a more immersive story by combining images and videos, you should choose the canvas option.
Collection – Here, you can feature a collection of items that open into a full-screen mobile experience.
Your choice of available formats to choose from will depend on the objectives you set in the earlier steps. There were three broad categories to choose from – Awareness, Consideration, and Conversion.
While each ad format has its advantages, video ads and carousel ads generally have some of the highest engagement and CTR rates.
The next step is extremely important. Once you have selected your ad format, you need to add the actual content to it. This includes any photos, videos, images, etc. The right photo or the right video can help shape your advert in a way that attracts more potential customers.
As a result, you have to take your time and think carefully before deciding which image or video to use. Keep your goals and objectives in mind while executing this step. You want your ad image or video to be such that people want to click on it.
At the bottom of the creative section, small details are easy to miss, though very important. These include multiple sections where you can put copy, along with CTAs and URL descriptions. Using the right copy in the right place can improve your ad performance significantly, and the CTA button will help drive conversions.
8. Choose your ad placements
You can choose the placements, apps, and devices you want your ad to be shown on. Put in simple words; you will be able to choose the locations where your advert will be displayed. You can choose mobile-only, desktop-only, or both desktop and mobile.
There are multiple options available under Facebook (Feeds, Instant Articles, In-Stream Videos, Right Column, Suggested Videos), Instagram (Feed and Stories), Audience Network, and Messenger.
You can run ads with all placement options selected, or you can disable or enable only certain ones. However, Facebook recommends using the default placement options depending on the objective you have chosen in the earlier steps.
This will allow Facebook to optimize placements for you to get the best possible results and highest possible returns. In case you want to choose yourself, Facebook also provides you with several recommendations depending on your objective.
For example, it recommends Facebook and Instagram to increase brand awareness, get views on videos, get people to install your app, etc. On the other hand, it recommends just Facebook for increasing engagement in your app.
9. Place your order
If you have followed each of the steps carefully until now, your advert is ready to be displayed. Now, all you have to do is post it. To submit your advert, you have to click on the 'Place Order' button, which is present at the bottom right-hand portion of the page.
Facebook will first review that ad that you have submitted before it goes live on the platform. Don't worry. You will receive a notification from Facebook once your ad is live.
Monitor Your Ads
Your work is not done after your ad is live. Now, you have to monitor all your ad campaigns carefully. This will help you understand and analyze if your current ad strategy is getting you the required results.
You can automatically track your Facebook Ad metrics by connecting a column in Stackby to Facebook Ads API and bring real-time information about your campaigns, adsets, ads and even complete account. You can then refresh each of those metrics in real-time or auto-schedule it to run periodically.

Some campaigns might see an increase in CPC after the frequency gets too high, and others may start at a significantly higher CPC than you'd expect.
With the help of Facebook Ads Manager, you will be able to monitor each detail of your ad campaign performance starting from the CPC, CPM, CPP, CTR, Reach, impressions to the frequency, relevance scores, and several actions taken, etc.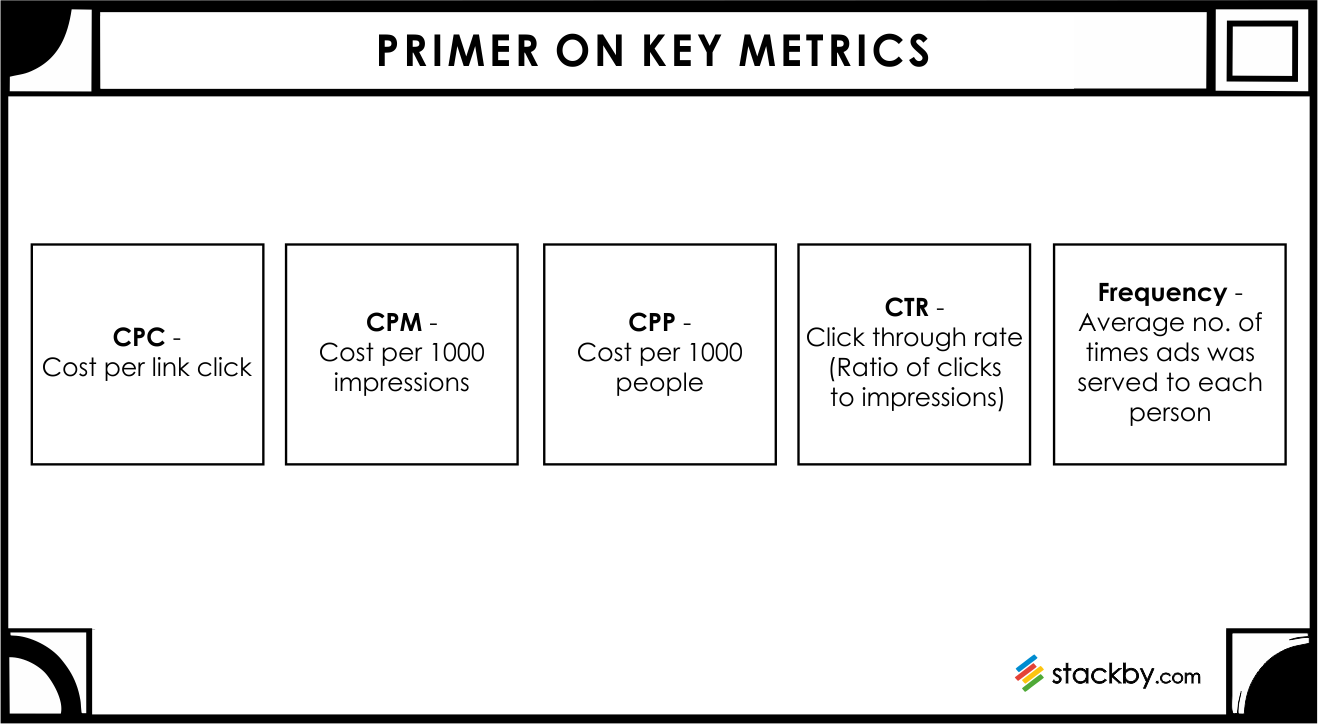 Monitoring and analyzing these metrics will help you gauge the strengths and weaknesses of your ad campaign and make the necessary corrections for future campaigns.
You can also connect columns in Stackby to Facebook ads API to bring real-time information about your CPC, CTR, Impressions, Spend - right from your spreadsheet.
Check out this comprehensive Facebook Ads Template below and copy it to your Stackby workspace to start using in less than 2 minutes.
Conclusion
If you follow each of the steps as given carefully, you will easily run a successful Facebook ad campaign. In this era of digital marketing, Facebook advertising is here to stay. So, research your competitors, get inspiration from different sources, and develop your company's own unique and creative ad campaign.
Sign up free on Stackby and plan, manage and track your Facebook Ad Campaigns effectively.