Get your free Excel spreadsheet for business expenses [2023]
An excel spreadsheet for tracking business expenses, can keep your finances in budget. Get free excel business expense templates for your business.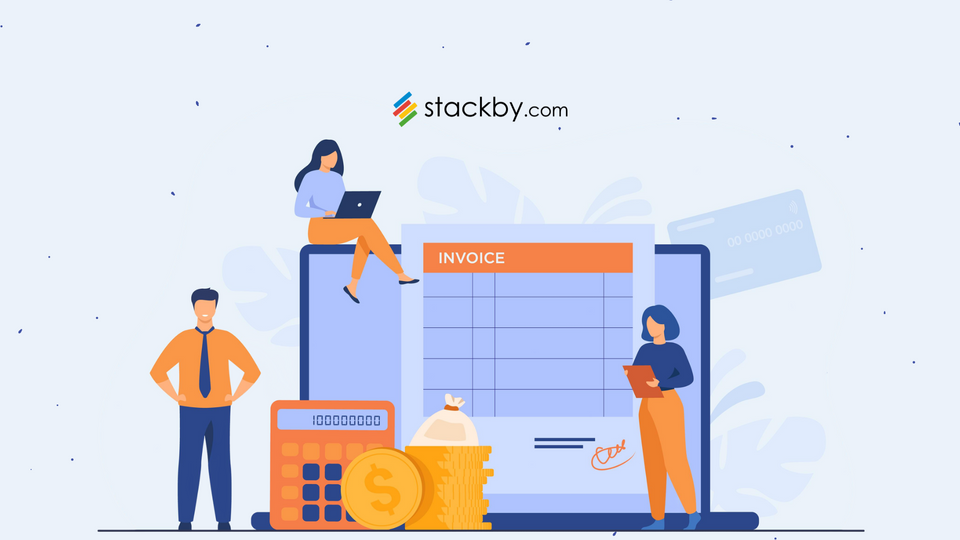 An excel spreadsheet for tracking business expenses, can keep your finances in budget. Keeping finances in order is vital for any business, large or small. So much so that companies that can afford it set up a dedicated accounting department and employ experts trained in the art of managing finances and keeping books. Of course, small and midsize businesses might find this to be a tall order, especially when just starting out. When you're looking to cut down on superfluous costs, even hiring an accountant or bookkeeper might seem like an unnecessary expense.
At the same time, what other options do you have as a business owner if you want to maintain your books with ease? Spreadsheet software like Microsoft Excel are great for storing and managing numeric data about your business, particularly when tracking business expenses. The next step is to figure out how to leverage Excel's features to do that. This is where Stackby comes in handy with free Excel Spreadsheet templates to track business expenses.
What is a business expenses spreadsheet on Excel?
It is an Excel spreadsheet that enables you to track, record, and easily view your business expenses. It answers the five important questions about the money that goes out of your business: exactly what is going out, who is spending it, where or to whom it's going, why it's being spent, and how, or which payment method is being used.
There are a variety of business expenses your company could incur, and corresponding business expense spreadsheets as well. Here are some common expenses that businesses across industries incur:
Advertising and marketing
Travel or transport
Bank charges
Education or training
Payroll
Interest on loans
Sales commissions
Legal fees
Software tools
Rent and utilities if you use a physical office space
A specific spreadsheet will give you a detailed look at one aspect of your expenses, while others could give you more general information on overall spending. For example, you could have an expense spreadsheet that only tracks and records travel expenses incurred during business operations, like money spent on transport, stay, and meals. This will help you when reimbursing employees for travel out of their own pockets, and keeping separate spreadsheets offers you more flexibility over tracking expenses as well.
A monthly or annual expenditure spreadsheet will record all travel expenses incurred during the time period under one heading, without showing specifics.
Both kinds are important for a business owner to maintain, as you need to have visibility of both the nitty-gritties as well as the overall financial picture.
While there may be numerous kinds of business expense tracking spreadsheets, they share some common features like:
Columns to fill in headings about the data like the date, vendor name, unit cost, total spent, payment method, expense description, etc.
Rows to fill in the data about each expense item
Excel formulas that automatically calculate total expenses, average, etc.
Why do you need an Excel spreadsheet for business expenses?
Businesses now have a variety of tools to choose from to track and record business expenses. There are several reputed bookkeeping and expense tracker apps in the market, and they are usually the most convenient option for businesses as they come with several useful features.
These include sync with bank accounts, credit cards for your business, and expense report generation, among others. These automate many functions, such as having to manually input the expense data every time, and reports give you better insights to make decisions. Some popular applications are Zoho Books, Quickbooks, Mint, Expensify, and more.
But the problem with expense tracker apps is that they are often way out of the price range that small and midsize companies can afford. They could also end up being quite inaccessible to first-time business owners who need to learn how to use them properly. Sometimes, your business may not have the requisite size or number of employees to warrant getting a subscription. But that doesn't mean your business won't have expenses to report and manage.
That doesn't mean you have to rely on outdated traditional methods like manually maintaining ledgers and books. Using a business expense spreadsheet on Excel is the ideal middle ground between these two options, since the software is relatively simple to use, and inexpensive as well. Free Excel templates provide you with a simple outline to stick to, as well as flexibility to modify them to fit your business.
Still not convinced? The next section gives you a list of advantages and benefits of using an Excel spreadsheet to manage your business expenses.
Benefits of using an Excel spreadsheet for business expenses
Here are the key benefits:
Better financial decision making
Getting a good idea of your business expenses will help you when making decisions about your business' finances. For example, if your business deals with local vendors to procure stock, you could compare what you spend on those vendors with an approximation of what you would spend if you went to the wholesale market for the same goods. That way, you have more information at your disposal when deciding whom to go to the next time you procure goods.
Greater visibility
Expense tracking spreadsheets give you greater visibility over your spending and keep all records in one place. Instead of trying to track down all your different expenses in separate books, files, and hastily scribbled notes, enter them into an Excel spreadsheet to record and access them all in the same location.
Saves money and time
Running after employees and manually crunching numbers is a colossal waste of time when you have a business to run. With a standardized expense tracking spreadsheet, you have all your expenses showing up in one place, and built-in formulas to do your calculations for you.
Identify errors or unusual expenses easily
Keeping track of expenses under different columns or by using dedicated expense spreadsheets enables you to spot suspicious increases or changes easily. For example, if you record $200 as warehouse expenses every month, but it suddenly increases to $500 the next month, you will spot this with ease in your warehouse expenses spreadsheet. This helps you notice and look into instances of unauthorized spending as well.
Tax deductions
Many small businesses are unable to take advantage of tax benefits and deductions that they are actually eligible for. That's because they don't track expenses well, and cannot calculate how much they could potentially save via deductions. With expenses recorded in one place, you can easily perform calculations in Excel to figure out if you are eligible for tax benefits and save money that will go back into the business and help it grow.
Maintain financial health
It's true that small businesses do have a high risk of failure within a short time period. But this isn't alway due to a lack of market for their offerings. They might make a good income, but it often gets squandered away because of financial mismanagement, cash flow issues, poor planning or strategy, and similar reasons. Tracking expenses in a standardized, effective way like a business expense spreadsheet reduces the risk of the above issues from occurring, and gives your business more chances of succeeding and maintaining good financial health.
Examples of Excel spreadsheets for business expenses
1. Basic business expenses spreadsheet
It's not necessary to go for a complicated spreadsheet with seemingly endless sets of columns, subcategories, and formulas. If what you want is simply one secure place to store all your expense information, all you need is a skeleton or a basic expenses spreadsheet. You could start with a simple set of columns - Date, Description, Payment Method, and Amount spent.
But if your business operations are slightly complex and you feel the need for more functionality and tools, go for different spreadsheet templates.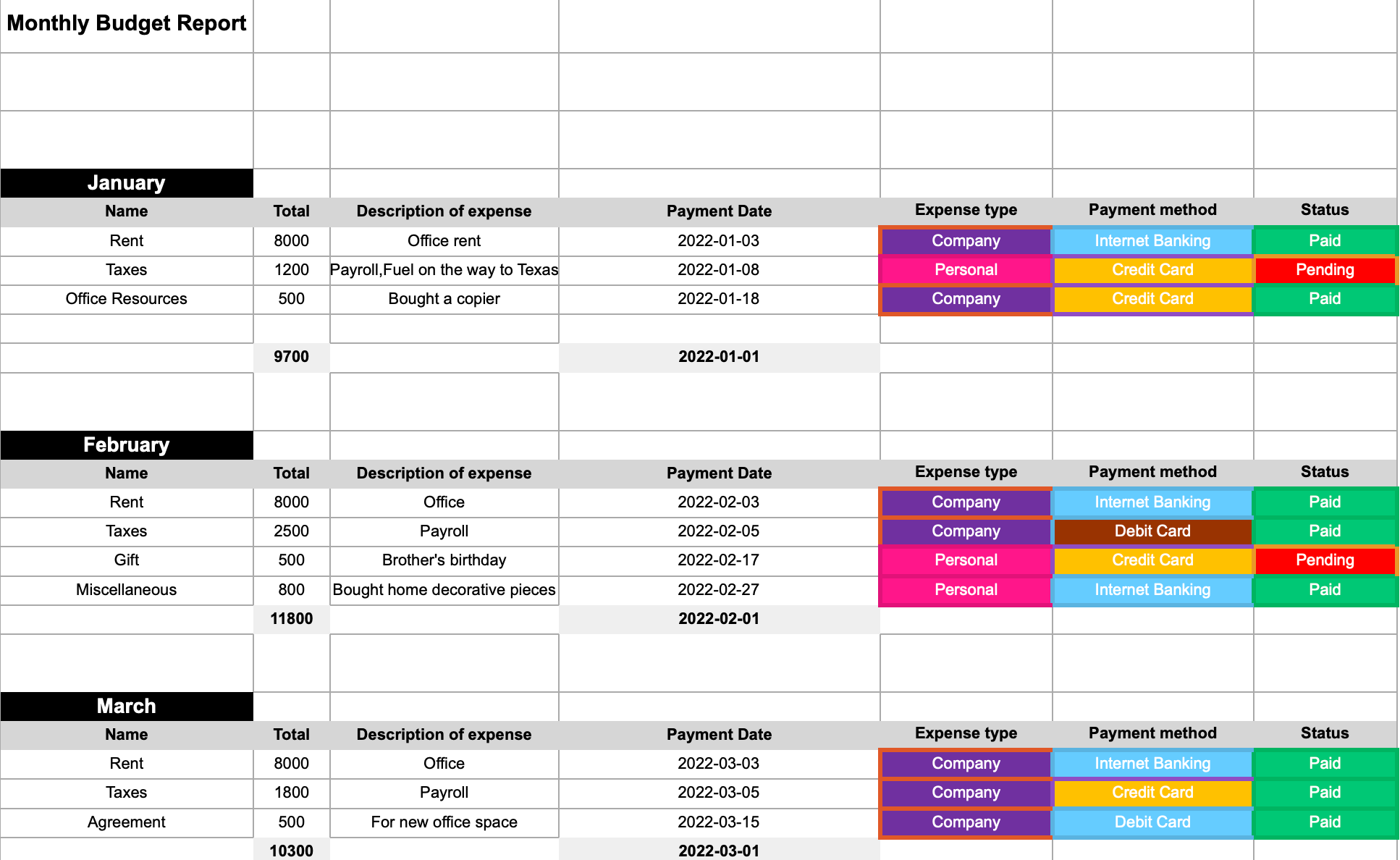 2. Monthly business expense spreadsheet
This kind of spreadsheet gives you a higher level view of your spending, and also comes in handy when deciding on a monthly budget for your business. Looking at past months' expenses, you can gauge how much you should allot for the coming month. This spreadsheet will include columns for each month of the year, rows that show both income and expenses for easy comparison and analysis, and rows that summarize the flow of money in and out of your business.
These spreadsheets are particularly useful for companies that are just starting up, as they get clearer about how and what to spend for the near future.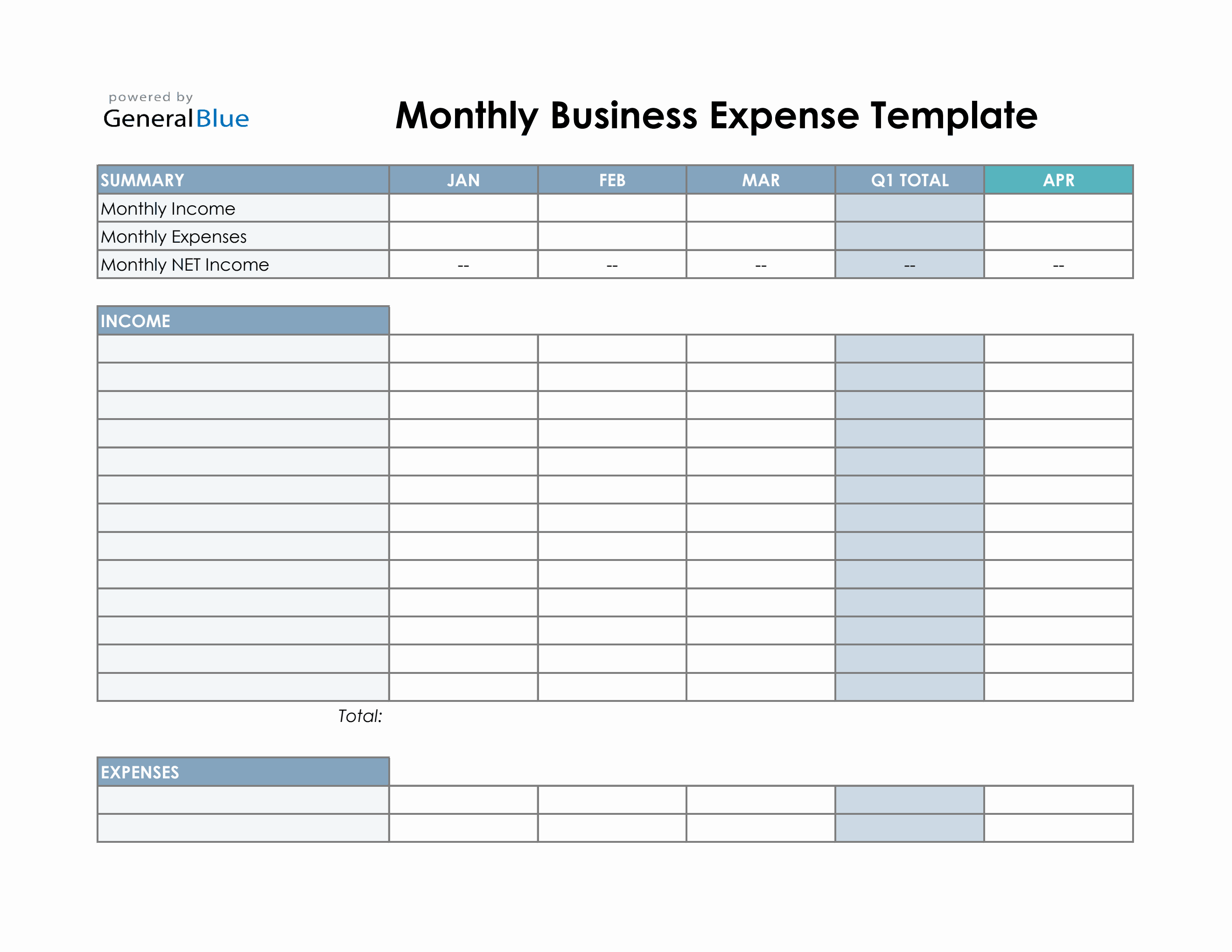 3. Annual expenses spreadsheet
An annual expenses spreadsheet displays both income and expenses recorded over the course of the year. Any kind of business will find this spreadsheet highly useful no matter the size, especially those that take on long-term projects or make transactions spread out over many months.
Stackby's excel spreadsheet for Business expenses template
When it comes to tracking all your business or personal expenses, Stackby got you covered. Our budget and expense tracking templates are highly customizable that fits the needs of any business - for a large enterprise to a small restaurant in town. And if you're looking to take your workflow to the next level, import your excel to Stackby.com and work in Stackby directly. Not only you'll get a highly customizable spreadsheet but also superpowers of a relational database.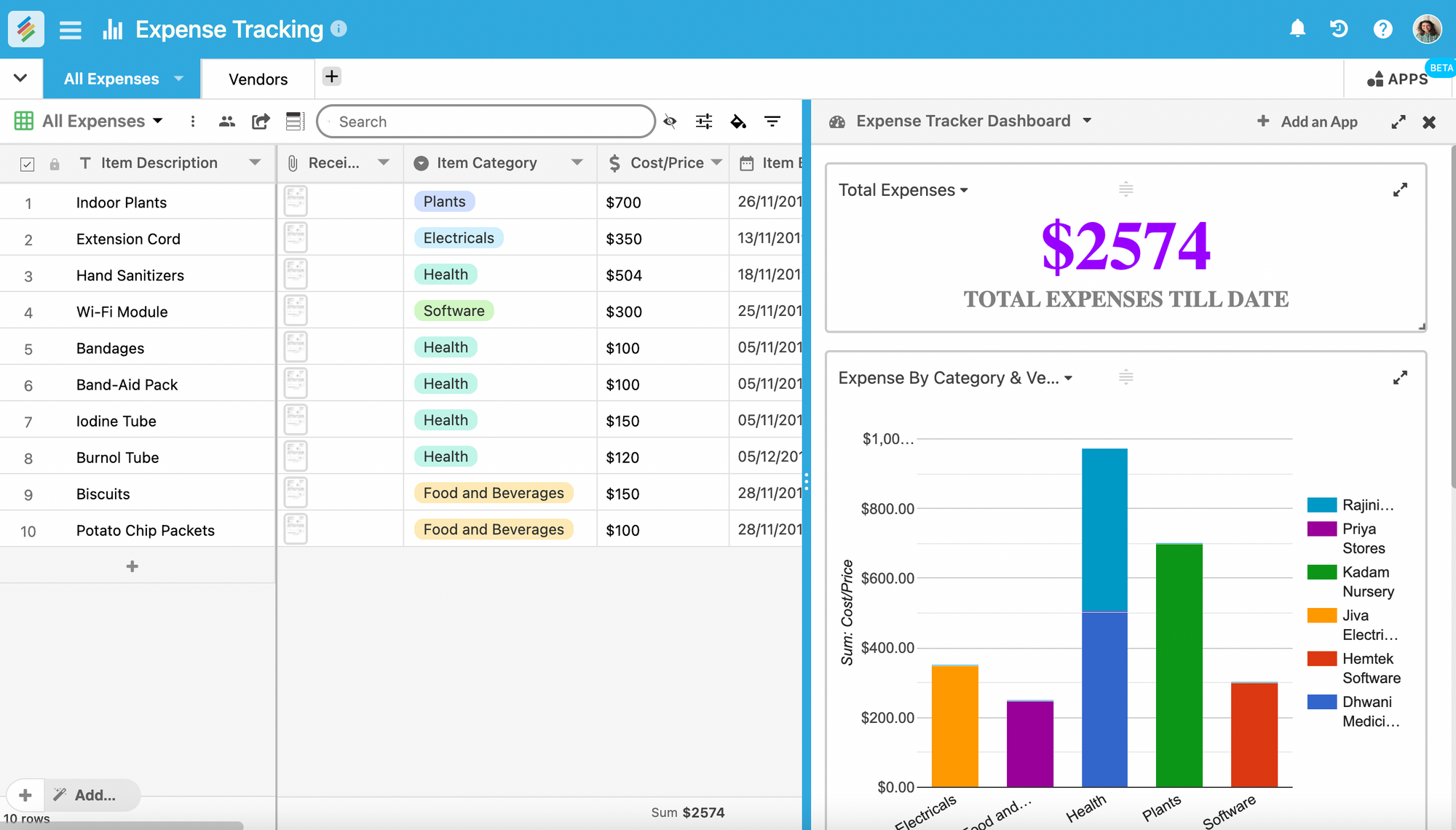 Here are some of the advantages of using Stackby to manage your expenses:
1. More Structure & Organization
With Stackby.com, you can give more structure to your data using rich column data types. Add invoices using attachment column type, add dropdown options to segment in categories, add relational column types such as Link to connect rows across tables and do automated lookup & aggregation to create expense KPI trackers.
2. Better Visualization
Use Stackby.com to create powerful views of your table data, not only you can see it in a grid but also in kanban to manage category wise spending, calendar to track due-dates or even add expense information via native forms.
You can also build custom dashboards that contain all key expense information. Add charts, pivot tables, goal trackers and gather better insights about your business expenses & budget.
3. Collaborate with anyone, from anywhere
Stackby is a cloud based, work management platform which means you can collaborate with your team from anywhere in the world. You can prepare your expense trackers for your team in the USA, while you're working remotely in India.
4. Save time with Automations
With Stackby, you can easily setup automations on reminders on individual expense record until they complete the task, or send documents to the right people. You don't need to go back & forth on email to get expense information or any updates from team members - Stackby takes care of it with in-built commenting and checklists features.
Related templates
For more template inspiration, check out some additional templates below:
Monthly Budget Template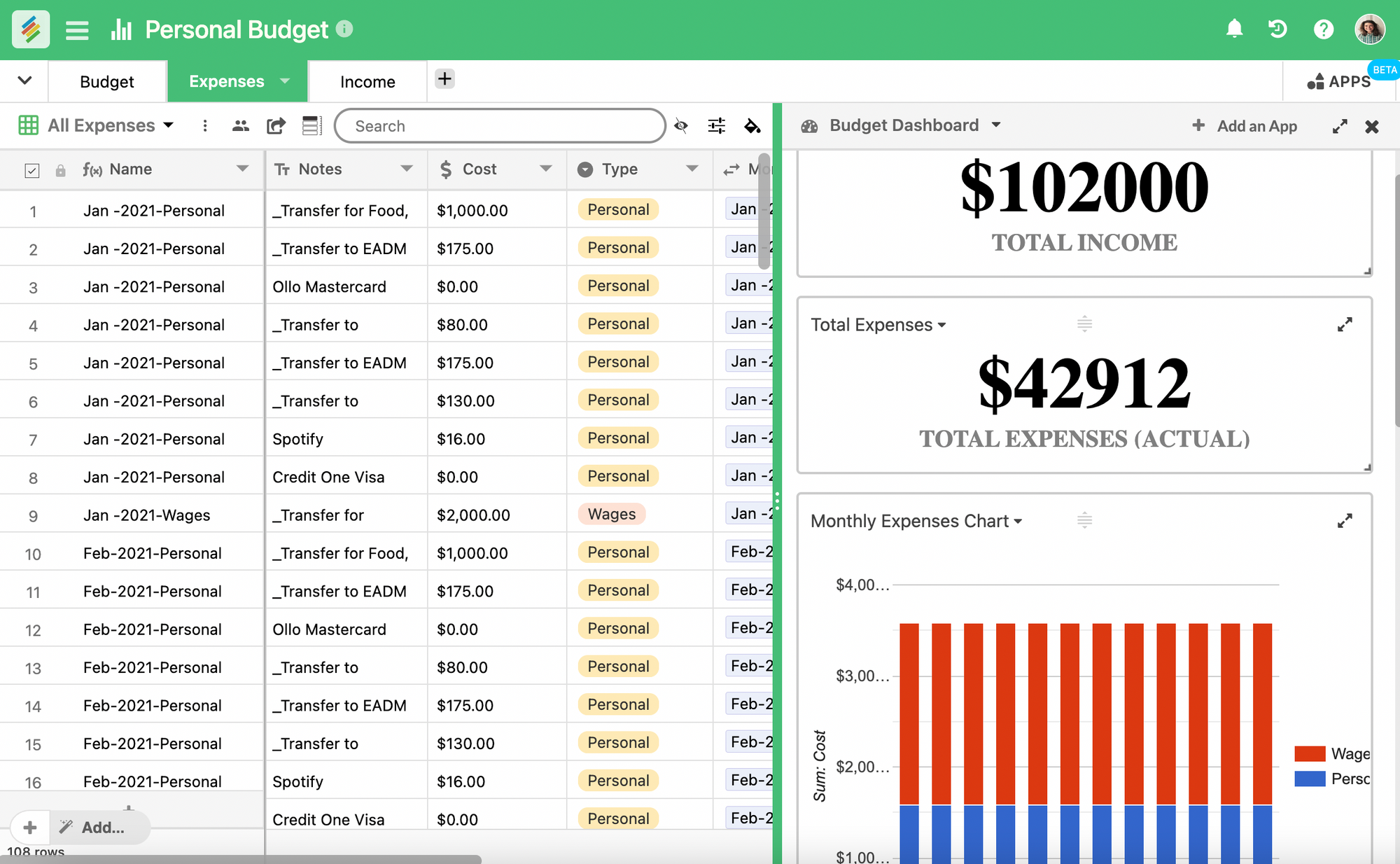 Our monthly budget template will help you take control over all your finances (both personal & business). Like all the templates, it's easy to use, completely customizable and provides right context for both income and expenses against the actual budgets. It gives you complete picture of your financial situation month on month.