Smartsheet Review 2023 - Features, Pricing and Alternatives
Looking for a work management tool to manage your data and work? Check out our honest Smartsheet review with key features, pros, cons and suggested alternatives.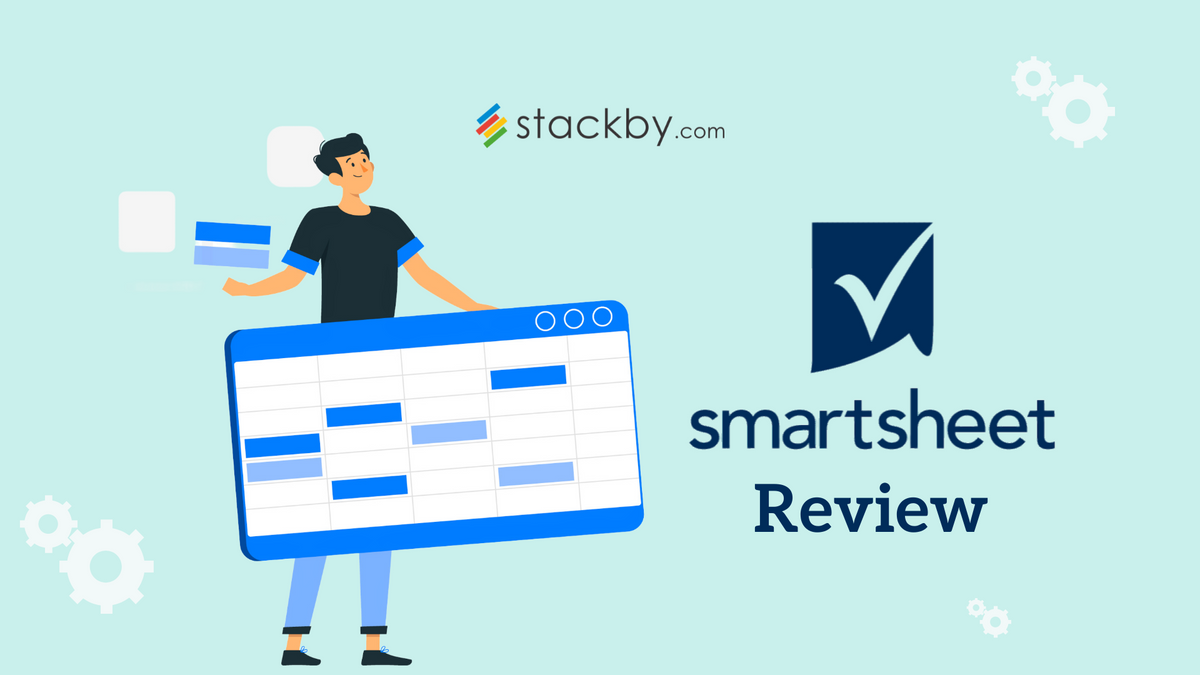 Overview
To manage large-scale projects, organizations these days are constantly in the lookout for comprehensive project management tools with streamlined workflows, enhanced collaboration, and task management features. Smartsheet, a cloud-based spreadsheet tool with project management and collaboration features, has emerged as one of the popular choices for teams and companies.
Launched in 2006, Smartsheet has quickly established its position in the market boasting a user base of millions worldwide. But is Smartsheet really an effective solution for your business needs, especially if you want to scale it?
Let's find out in this blog which will provide an in-depth review of Smartsheet, exploring its key features and applications, highlighting its pros and cons, and analyzing its pricing plans. We will also talk about an alternative to Smartsheet - Stackby - and compare both tools to help you make an informed decision.
What is Smartsheet?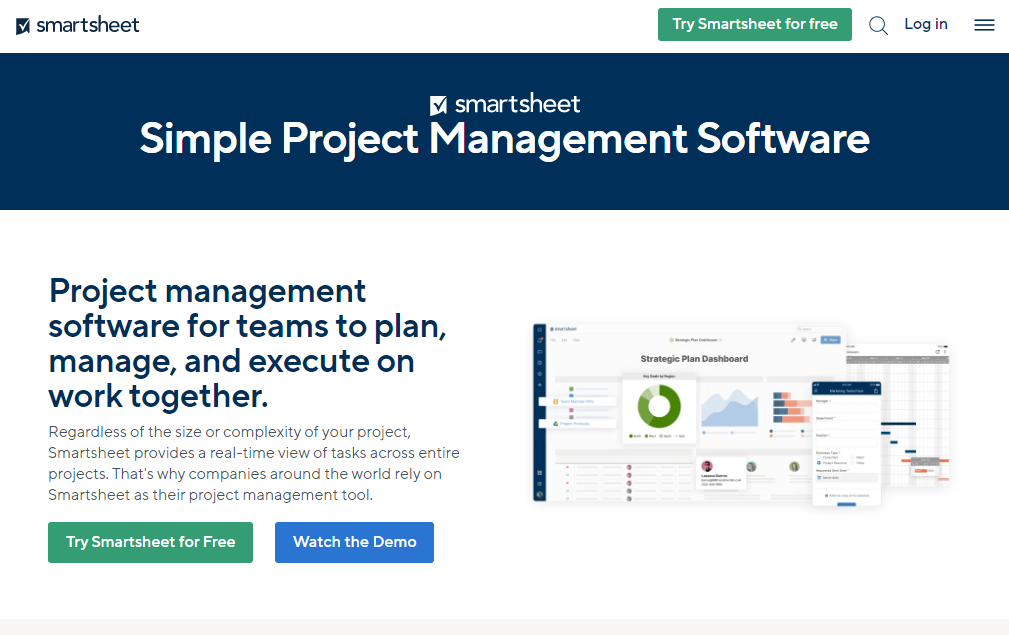 At its core, Smartsheet is a powerful cloud-based project management tool with a spreadsheet-like interface that enables teams to collaborate, plan, and execute tasks efficiently. It's a no code platform that helps teams assign and automate tasks, track progress, organize calendar and collaborate with stakeholders.
Smartsheet offers features like templates, forms, reporting dashboard, views, etc. making it a versatile tool for streamlining various business processes from IT, Project Management, Content Management, to Program Management and HR. While its flexibility allows for a fully customizable workflow, its features can also make it difficult for users to fully grasp the product.
Smartsheet Key Features
1. Spreadsheet-style Interface
Smartsheet's spreadsheet-style interface makes it familiar for users, who are used to working on Google and Excel Sheets, to get started. It enables easy data organization, collaboration, and visualization.
2. Project Management and Collaboration
Smartsheet offers numerous features to enhance project management and collaboration. Users can create and assign tasks, set deadlines, track progress, and share project updates in real-time. The platform's collaborative capabilities facilitate seamless communication and foster teamwork across teams and departments.
3. Automation and Integrations
Smartsheet excels in automating repetitive tasks and integrating with popular business tools. Users can create automated workflows, set alerts and reminders, and eliminate manual data entry with various integrations, including G Suite, Microsoft Office 365, and more. This functionality enables organizations to streamline their processes and ensure data accuracy.
4. Data Insights and Visualization
With Smartsheet's powerful reporting and analytics features, users can gain valuable insights into their data. The platform offers customizable charts, graphs, and dashboards, allowing teams to visualize project metrics, track key performance indicators, and make data-driven decisions.
5. Mobile Accessibility
Smartsheet's mobile app enables users to stay connected and productive while on the go. Whether it's accessing and updating project information or reviewing and approving deliverables, the mobile app ensures that teams can collaborate and manage tasks from anywhere, at any time.
Pros and Cons of Smartsheet
Pros:
User-friendly interface and familiar spreadsheet functionality
Robust project management and collaboration features
Automation capabilities to streamline workflows
Seamless integration with popular business tools
Comprehensive reporting and data visualization options
Mobile accessibility for on-the-go productivity
Cons:
Steeper learning curve for new users because of its complex set of features.
Can't set up relationships between tables.
Does not autosave data changes.
Pricing tiers may be expensive for small businesses or individual users
Advanced features like dedicated encryption keys and automation bridges are exclusive to the paid Business and Enterprise plans as paid add-ons.
Pricing Plans
Smartsheet offers various pricing plans to cater to the diverse needs of businesses and individuals. The pricing tiers include Free, Pro, Business, and Enterprise.
Free: Designed for single users or small teams, this plan offers basic project management features with two sheets, 500 MB storage, and integration with limited tools. It's beneficial for individuals to get started and get used to the tool.
Pro: Priced at 7$ per user/month, billed yearly, this plan is ideal for growing teams. It provides higher project management functionality and automation options, unlimited sheets and viewers, 20 GB storage, and a wider range of integrations.
Business: The business plan is priced at 25$ per user/month, billed yearly. It is geared toward larger organizations offering advanced features with high security and compliance, unlimited editors, 1TB storage, advanced forms, and more.
Enterprise: The Enterprise plan offers customized solutions tailored to organizations with complex needs, with additional features such as single SSO, premium support and dedicated account management. Pricing is available at request.
Smartsheet Applications
Smartsheet finds extensive use across various industries and departments. Here are some of the best use cases of Smartsheet:
Project Management: Smartsheet excels in managing projects of all sizes, organizing tasks, tracking progress, and collaborating with stakeholders.
Marketing Campaigns: With Smartsheet, marketing teams can plan and execute campaigns, manage budgets, track deliverables, and analyze results.
Data Management: Smartsheet's spreadsheet-like interface simplifies data organization, enabling teams to manage and analyze large datasets effectively.
Content Production: Content teams can utilize Smartsheet to coordinate editorial calendars, manage content creation workflows, and ensure timely publishing.
Data Insights and Analytics: Smartsheet's reporting and visualization capabilities empower teams to gain valuable insights from their data, driving better decision-making.
Introducing Stackby: An Alternative to Smartsheet
While Smartsheet offers a robust suite of features, one alternative worth considering is Stackby. Like Smartsheet, Stackby is a powerful cloud-based collaboration platform that combines the functionality of spreadsheets and databases and offers advanced automation, reporting, and collaboration features. Here's an overview of Stackby's key features:
No-Code Interface: Stackby's no-code and intuitive interface empowers users with no technical background to create custom workflows and databases easily.
25+ unique column types: Stackby boasts over 25+ unique column types like dropdowns, buttons, attachments, ratings, progress bar, and more.
Relational Databases: With link, lookup, and aggregation column types (along with conditions), you can easily link across tables and create relationships.
Views & Granular Permissions: Stackby has 6+ views like Grid, Kanban, Calendar, Gallery, Forms, and Updatable Forms with granular user permissions like personal views, individual view sharing as editors, and more.
Automation Capabilities: Stackby allows users to automate repetitive tasks, set reminders, and send notifications.
Extensive Integration Options: Stackby seamlessly integrates with 50+ API connectors and 5000+ apps and services, enabling users to connect data across multiple platforms.
Versatile Templates: Stackby has a library of over 300+ pre-built templates for different use cases, simplifying the process of getting started.
Intuitive UI/UX: With its user-friendly interface and highly customizable workflows, Stackby ensures a smooth and seamless user experience.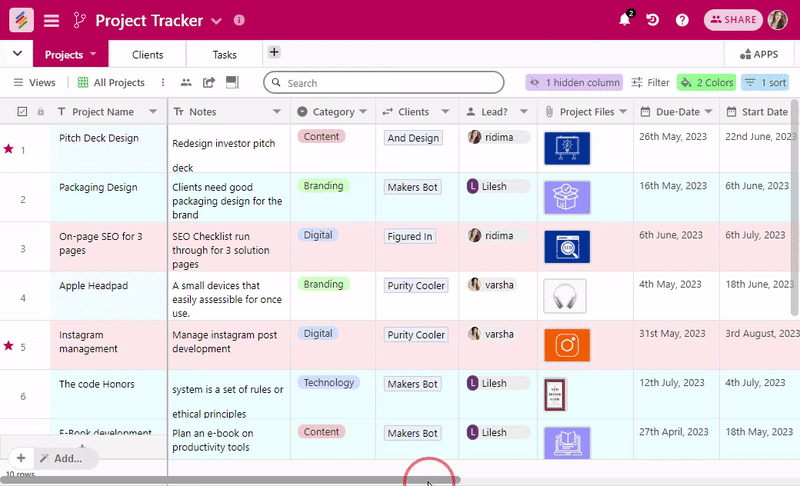 In comparing Smartsheet and Stackby, both tools share similarities in terms of no-code cloud-based spreadsheet interface, collaboration, automation, and data management. However, Stackby differentiates itself with its relational database features, extensive integration options, powerups, and versatile customizable templates. Here's a comaprison between the two tool:
Conclusion
In conclusion, Smartsheet offers a comprehensive suite of features that make it an excellent choice for project management and collaboration needs. Its spreadsheet-based interface, automation capabilities, and data visualization options provide users with powerful tools to enhance productivity and drive results.
However, for users seeking a more flexible and customizable solution with a no-code interface at an affordable pricing, Stackby presents a strong alternative worth exploring. With its robust features and user-friendly design, Stackby helps users to build custom workflows as per their requirements, integrate with various tools, and manage data effectively.
Ultimately, the choice between Smartsheet and Stackby depends on your specific requirements and preferences. So, evaluate your needs, consider the pros and cons, and make an informed decision based on what will best empower your team to achieve success.