Google Sheets Vs Excel: Which is better for you? [2023]
Using spreadsheets to manage your data and workflows? Understand the key differences between Google Sheets & Excel and which one is better for you in 2023 & beyond.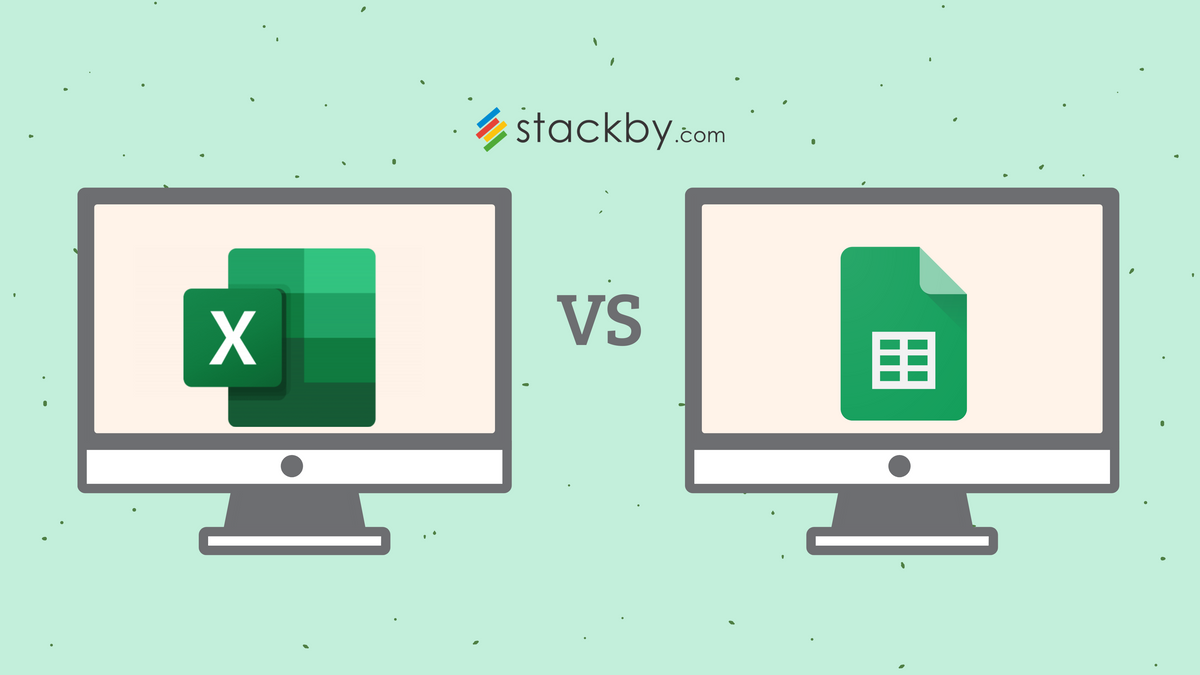 If you asked someone five years ago where they stood in the Google Sheets vs. Excel debate, it would be like comparing apples to oranges. Today, Google is rolling out updates to Sheets at lightning speed and rapidly improving its features, while Excel has boosted its cloud-based features and collaboration. But just because it's a fairer fight doesn't mean the winner is clear. So instead of asking which is better, let's ask:
Which is better for your needs? Let's dive into it.
Excel vs Google Sheets gives us the similarities and differences between Microsoft Excel Spreadsheets in Microsoft OneDrive and Google Sheets in Google Drive.
Both Excel and Google Sheets have mostly similar features such as data in tabular form i.e. rows and columns, formulas functions and calculations. However, the main difference is that the latter provides links that the owner can share with other users so that they can view, read or modify the table.
Google Sheets and Microsoft Excel are two of the most popular spreadsheet applications available. Both have their strengths and weaknesses, and which one is better for you ultimately depends on your needs and preferences. In this blog, we compare Google Sheets and Excel and Stackby with exploring their differences to help you make an informed decision.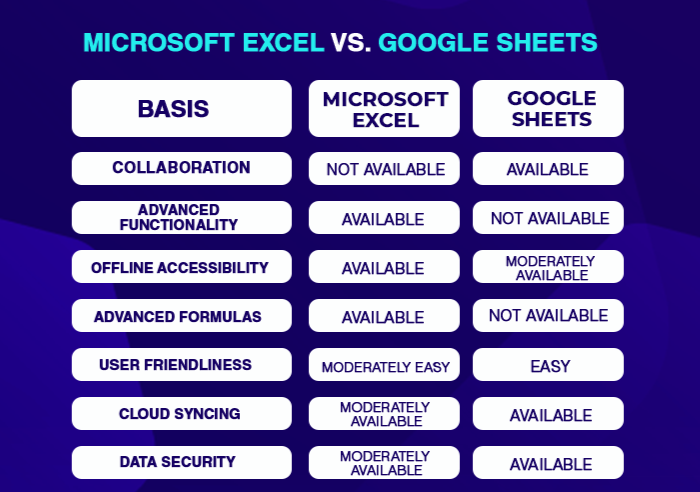 Source: Syntax
People around the world use spreadsheets every day. Even though Microsoft Excel and Google Sheets stand out because they are widely known and used, there are several spreadsheet applications out there such as Stackby, which is a hybrid spreadsheet-style database. All these programs are great and serve their purpose well, but when you take a closer look, there are some key differences.
If you're wondering which spreadsheet application is better for your needs, this Google Sheets vs. Microsoft Excel vs. Stackby comparison can answer all your questions.
What makes one better than the other?
Is it features, access, price, collaboration, or something else?
To help you decide which is best for you, we break these categories down in our comparison
Google sheets vs Excel - FAQ

1. How do Google Sheets and Microsoft Excel compare in terms of features?  
Google Sheets and Microsoft Excel offer a wide range of features, including the ability to create and format spreadsheets, use formulas and functions, create charts and graphs, and collaborate with others. However, Microsoft Excel has a wider feature set than Google Sheets, including more advanced data analysis tools and more formatting options.
2. Can Google Spreadsheets and Microsoft Excel be used interchangeably?  
Google Sheets and Microsoft Excel share similar basic functions and features, so it's possible to use them somewhat interchangeably. However, there may be compatibility issues when transferring data between the two applications, and some of Excel's advanced features may not be available in Google Sheets.
3. What are the benefits of using Google Sheets?
One of the biggest advantages of Google Sheets is its ease of use. Because it's cloud-based, you can access your spreadsheets from anywhere with an Internet connection and collaborate with others in real-time. Additionally, Google Sheets is free to use, while Microsoft Excel requires a Microsoft Office subscription.
4. What are the benefits of using Microsoft Excel?  
Microsoft Excel offers a wider range of features and functions, such as advanced data analysis tools, more formatting options, formulas, and better support for large data sets. It is also the industry standard for spreadsheet applications, so many companies and organizations require Excel skills.
5. Which app is better for personal use?  
For personal use, Google Sheets is a better choice because it is free and available on any device with an Internet connection. It also has many basic functions suitable for personal use, such as creating budgets or tracking expenses.
Which should you choose?
Google Sheets vs. MS Excel debate is such a divisive topic that you can find many strong opinions. But the truth is that Google Sheets is still catching up with Excel, and so far it's doing a pretty good job. The competition is quite tight at this point whether it has to do with the features built into their design – online collaboration, storage, and backup – versus offline reliability, muscle power, and number of formulas.  So at the end of the day, it's up to you which side you fall on.
Why is Stackby better than Excel or Google Sheets?
Stackby combines the versatility of a spreadsheet with the power and reliability of a relational database to provide a solution that fully meets your business requirements. You can also connect to the best business APIs and create custom processes and business solutions. The great thing about Stackby is that there is no obligation to learn or have coding expertise.
Stackby also includes pre-built templates across different functions like Marketing, Sales, HR, Operations, etc. Anyone can use Stackby to manage their business for free. As your business grows, you can upgrade to one of our premium plans and access all essential features.