Best Online Spreadsheet Database Software in 2023 & beyond
Spreadsheets aren't databases. But here are best online database software that's as easy to use as spreadsheets.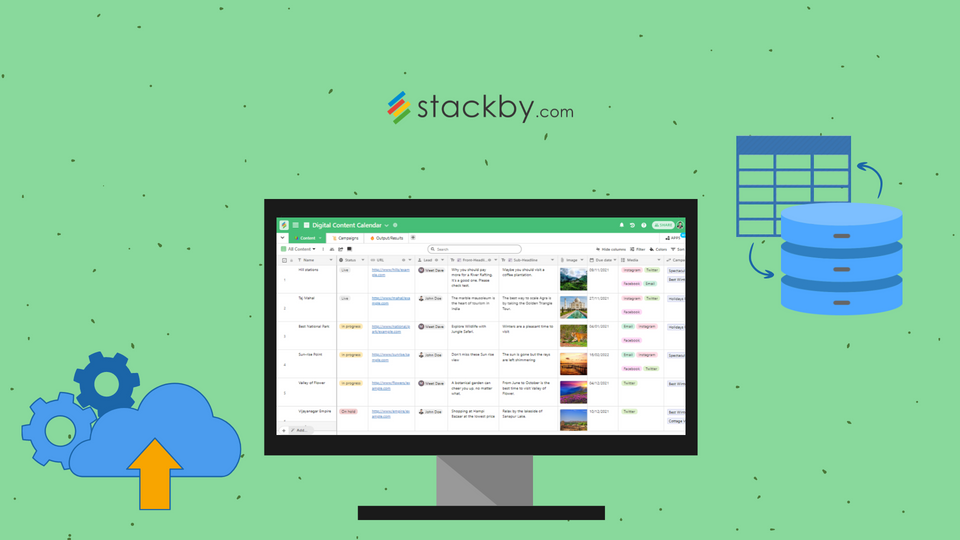 Today, efficient remote workplaces are essential, and the way to achieve this is by making all processes—including spreadsheet creation and editing—online. Employees desire unlimited access to their papers from any location and on any device. This is only viable if the online spreadsheets are accessible, allowing anyone with access to the file to make mobile edits.
Spreadsheets were developed to assist with business finances, but they are used for much more than just managing budgets and expenses. They are essential to every department and are capable of completing activities that reduce waiting times, enhance workflows, and increase productivity.
Excel that is cloud-based or online can serve as a central location for your team to work together on projects and monitor progress. To know who is working on which tasks and their present status, you may also utilize conditional formatting and data validation lists.
The top Excel alternatives are listed below so that your team can work and cooperate more effectively.
Which Option for Spreadsheet Software Should I Pick?
There are more options when selecting a spreadsheet program than simply selecting the first result from a simple Google search. You have a wide variety of possibilities to choose from because there are so many options on the market. You should think about your needs before selecting a spreadsheet software alternative from the many options accessible. Even though practically all spreadsheet software tools have the same functionality, some of them have extra features that make them better suited for a certain requirement.
The Benefits of Online Databases
There is a lot more to databases than just plain rows and columns. Databases can be used to manage processes, keep track of newsletter subscribers, manage stock and inventories, and more. Therefore, keep reading if you're interested in learning which internet databases are worthwhile. We'll discuss a few alternative possibilities.
A complete cloud-based workflow management tool is Stackby. It is as easy to use as a spreadsheet, works like a database, connects quickly to more than 2000 apps, and is completely customizable for your company. There is no requirement for training to begin or no coding needed to set up a workflow.
It is a versatile online database platform based on a relational database model. This means that the data in Stackby is organized into tables, with each table representing a different type of data and each column representing a different attribute of that data. Relationships are then used to connect the tables, allowing for more complex data modeling and querying.
Since Stackby is an API integration platform it is easier and faster to create new APIs. It also provides an interface through which all of the different APIs can feed the data required by your business apps. This makes it much easier to expand your business operations without incurring additional costs.
Once data is imported into Stackby, users can create custom dashboards to gain insight into their data and metrics. These dashboards can be customized to display specific data that is most relevant to a user's needs and can be easily shared with team members or clients.
Teams from a variety of departments, including marketing, sales, human resources, product management, project management, advertising & creatives, etc., may use it to organize their work, manage their processes, collaborate in real-time from any location, and keep track of their data.
To organize, manage, and automate their work in their unique ways, more than 20000 firms utilize Stackby globally.
A free online spreadsheet and database features are combined in Airtable. This spreadsheet is unusual. It is easily customizable and its fields can accommodate a variety of content types. Barcodes and photos can be immediately added to your worksheet.
One of the best Work OS utilities is Airtable, which is made for users who want to manage their everyday operations in database form. It resembles a combination between Excel and Trello. The software will be helpful to those who work in marketing, project management, advertising agencies, and product experience teams.
Grid (similar to Excel), Calendar, Kanban, Gallery, and Form are the five main views available in Airtable. Block is a distinctive feature that the app also offers. It enables you to combine and match various elements from the five main tools to build a process dashboard that precisely meets your requirements. Airtable has excellent customer service and a big template collection that is organized by industry.
Google Tables is a work-in-progress program that has the potential to one day elevate Google products like Drive, Docs, and Gmail.
It still feels like a very light Airtable, though, for the time being. Inter-table connections and automation bots are available with Google Tables. Although there are many integration options created when connecting bots to webhooks, only a few of these integrations are currently natively supported. Even while it's awesome that Google is releasing this tool, it's a good idea to use it sparingly because the company has a bad habit of discontinuing some of its most cutting-edge features.
With Notion, you can link spreadsheets and other documents to create databases that are always evolving. What exactly is a database, and why would you want to enter your data into Notion rather than a Google Spreadsheet?
In our case, a database is a collection of connected spreadsheets. Other software can also be used to construct linked spreadsheets. Still, Notion handles it all in just two clicks instead of the aforementioned Google Spreadsheet's convoluted calculations, frequently failing scripts, and hours of Stack Overflow reading. The main benefit of Notion is that you can build databases without any programming experience, which you may use as a productivity tool or CRM to keep track of your spending.
Data from Notion can be arranged into Calendar, Kanban, and Gallery views in addition to being shown as vibrant tables. Beyond spreadsheet functionality, various views are offered. I prefer to use a filtered spreadsheet to manage my content production calendar. I don't need to look over the entire monthly calendar because I only work on one or two pieces at once. Not the case with the Task List, where I list both completed and pending tasks. The Kanban view, often known as the board view, is useful in this situation.
Another document-focused tool that has many characteristics with Notion is Coda. However, Coda is more concerned with documents than notes. Although it's a small distinction, it's essential to how individuals utilize Coda. Coda differentiates itself from Notion by providing several integrations and more formatting possibilities for its dynamic tables, but it still falls short of Notion's elegant and slick design. You may see data in Code in a variety of ways, apply filters in a variety of ways, save these filters for later, and share them with the team using this robust yet straightforward database software.
Excellent, no? Additionally, you may use data to plot a wide variety of charts, including bar and area charts, as well as to make sorted lists in Code.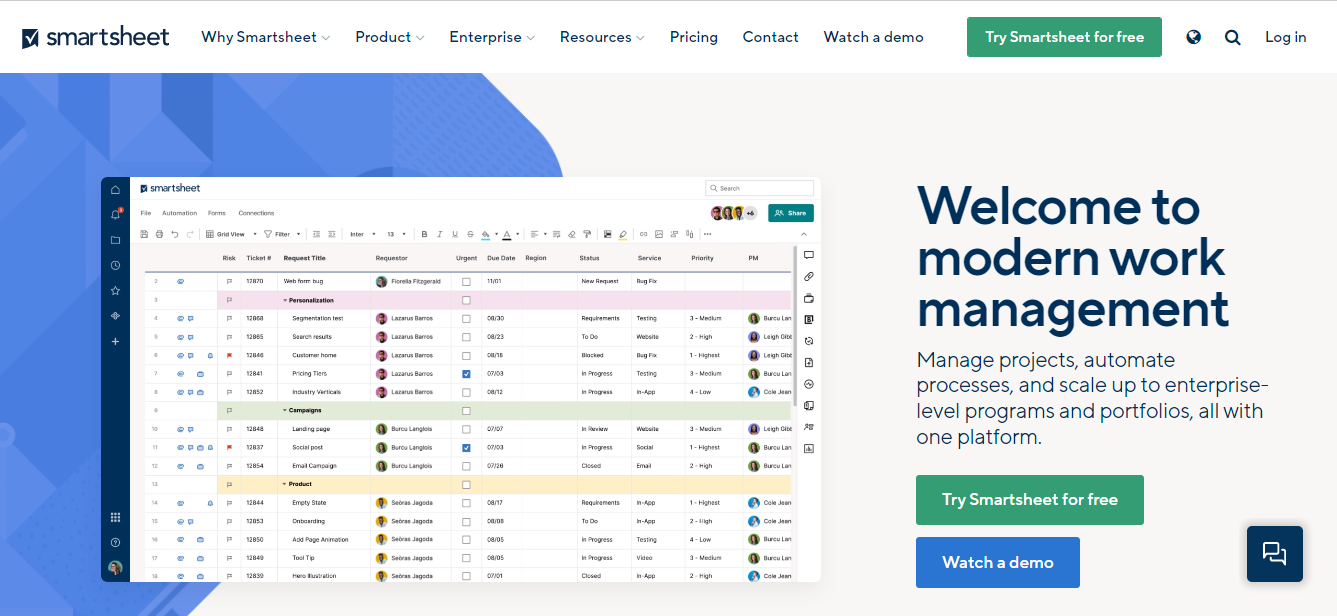 Fans of spreadsheets will probably feel more at home using Smartsheet. Similar to how spreadsheets work, it allows you to insert columns and rows. And the sophisticated features nevertheless have a spreadsheet-like appearance and feel in Smartsheet. A lot of what teams do with Smartsheet can also be done with simple spreadsheets. There are many instances of users pushing spreadsheets to the limit, and Smartsheet appears to have understood this and developed a better tool for them.
An effective and user-friendly online spreadsheet is Smartsheet. Using templates, you may start right away. You can work together with coworkers on Smartsheet because it is an online tool. Using any browser, device, or operating system, you can access this program's central repository of notes, comments, files, and data on Smartsheet. Users of G Suite value its compatibility with Google Drive, Calendar, and Gmail. Use Gantt charts in Smartsheet to visualize your project if you enjoy using them.
This once-free spreadsheet now has a free trial period of 30 days and subscription options.
A well-liked project management tool is ClickUp. It has a simple interface, is simple to use, and provides helpful communication features. The lack of enterprise functionality and the absence of client administration tools, such as CRM or billing, are common criticisms of ClickUp. If you've been trying to find a ClickUp as a substitute. View, often known as the board view, is useful in this situation.
You can create a wide range of integrations and applications with the ClickUp API to personalize your ClickUp experience. A specialized application that shows your ClickUp tasks in a Kanban board format. A connection with your preferred task-management program that would let you send jobs to ClickUp. A tool to monitor your productivity and long-term goal progress. A bot that may respond to inquiries regarding the tasks and workflow in ClickUp. A program that generates jobs automatically in response to particular events or triggers.
Businesses using MS Office 365 Professional will find Microsoft Lists to be extremely useful. Of course, Microsoft has long provided databases and spreadsheets through Excel and Access, but Access can be challenging to use, and spreadsheets have restrictions. You can combine the capability of a database with Excel's usability by using a spreadsheet-database tool like Microsoft Lists. You also receive all the additional advantages that come with this kind of technology.
Conclusion
Since no two organizations are the same, we made an effort to offer software for enterprises of all sizes and financial ranges in this review. With this information, we hope you're one step closer to selecting the online database tool that's right for you.
You can always start for free on these tools to set up your workflow but you might find a paid plan would better suit your needs eventually. So, be sure you have a solid notion of the capabilities you anticipate needing from your spreadsheet-database program - whether it's data management, automation, reporting, real-time collaboration, and more.