Databases vs Spreadsheets: Everything You Need to Know [Updated 2023]
In this article we will tell you everything you need to know about Spreadsheet VS Database. From their individual usability to their importance, and ease of use - we cover it all!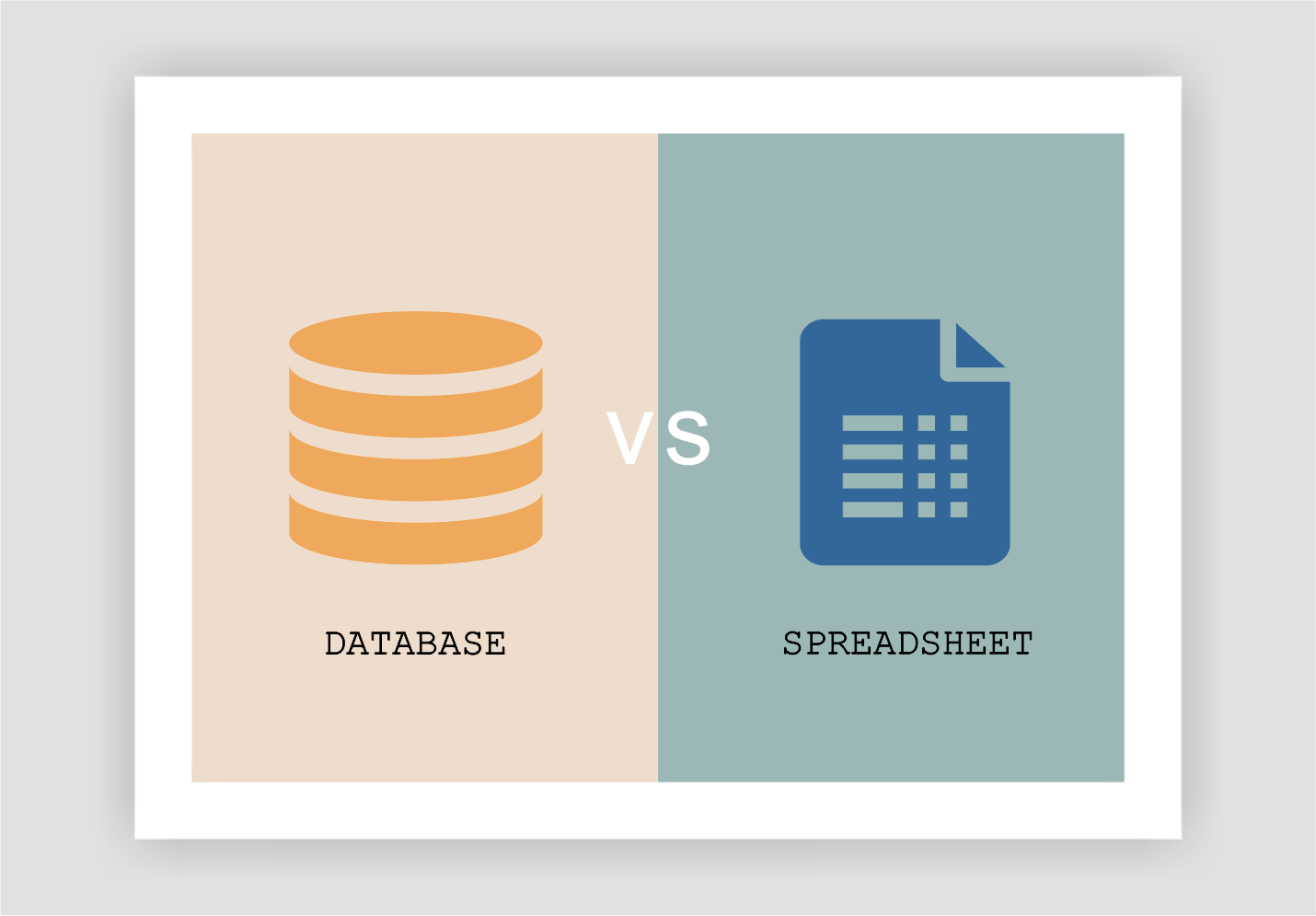 In this article, we will tell you everything you need to know about Database vs Spreadsheet. From their usability to their importance, and ease of use - we have covered it all!
A lot of people still use spreadsheets to keep track of their work, or tasks. A lot of people have switched over to databases a long time ago. Is there anything wrong with using any of them? No.
It is nothing, but a choice.
But, this also raises an interesting question - Is your choice teaming up with your requirements and proving to be efficient?
Realistically, there is no problem using a spreadsheet on an individual basis. Here, you are the only one using, accessing, and making any kind of changes in the data.
But, is it still efficient when you move to a team? Or maybe an organization? Is the spreadsheet enough for managing all your data?
Data Management is a vital part of an organization that helps in growing the organization and running its operations effectively.  As businesses grow, the amount of data – inventory, sales, human resources, etc., becomes a valuable resource for the organization.
Use Free Excel Spreadsheet for your Business Expenses 2023
And in times when workflow management, project management, and automation are the priority, will the spreadsheet even be able to keep up?
This of course triggers the age-old dispute: Database VS Spreadsheet.
But first, let's start from the basics.
What Is A Spreadsheet?

Microsoft Excel Spreadsheets no longer have a limit of 65,000 rows; and According to Microsoft, there is a maximum of 1,048,576 rows and 16,384 columns!
Google sheets, which is a part of the G suite, also comes with a limit: one single spreadsheet can have a maximum of five million cells, and you can only import cells with less than 50,000 characters.
Google Sheets Vs Excel: Which is better for you? [2023]
A Spreadsheet is a simple program used to record vast information in a single, organized location. They can successfully manage to replace paper-based systems in the business world. Users can interact with these sheets primarily through cells that are arranged in rows and columns.
The key feature of a spreadsheet is to interact with other cells by applying a formula. It has a wide range of uses – from basic arithmetic calculations to complex business decisions. It also offers visualization through charts and graphs that make data easy to analyze.
From financial planning to data modeling, from time tracking to payroll management, spreadsheets solve all such problems by evaluating and managing data. Besides taking time and effort, it helps the management to make informed decisions.
What Is A Database?
The database is an organized collection of all the data. But what is it arranged for?
It has an interface that is quite complex for beginners, but it compensates for the same by offering more reliable features that enhance data integrity. The database is managed by Database Management System (DBMS).
It serves as an interface between the database and the users or programs to easily update and manage how information is stored and organized.
Databases have evolved dramatically since their inception. From hierarchical and network databases to easy-to-use cloud databases and self-driven databases, it has continued to break ground when it comes to managing, evaluating, and manipulating essential data.
Database vs Spreadsheet: Key Differences

Both spreadsheets and databases have massively affected the business world and are evolving to transform organizations into more efficient entities.
However, one of the main differences between spreadsheets and databases is their nature of operation! Spreadsheets are more static, and databases are relational.
Here's an interesting video highlighting the key differences between spreadsheets and databases:
An easy example of this will be how spreadsheets show you all the information all the time; however, with databases, you can pull out the information you need at the moment!
To know more, let us see some of the key differences between the two!
Relational Databases vs Spreadsheets: Fundamentals
The spreadsheet is an electronic document in which data is arranged in rows and columns in a grid that can be manipulated for calculations. Cells can easily refer to other cells. However, they are likely to dwindle in the growing business scenario. This is because they do not respond to change.
As more and more information starts to accumulate, they become inefficient. You have to manually enter new information into cells every time there is a new input.
Databases have a relational model approach that allows users to directly declare what information the database contains and what they want to know.
It provides a direct method to evaluate data and take queries from users' end. The basic idea here is to offer users the collection of predicates over predicate variables.
Here, a predicate is a logical condition being applied to rows in a table, meaning it could be either true or false. It describes constraints on the different values accordingly.
Verdict: Spreadsheets are comparatively easier to start with, and more familiar, but they might give you a hard time when the values tend to increase rapidly or with large data. Databases might be complex to start with but are strongly recommended for easier access and larger data management!
But if there's an easy-to-use spreadsheet-style database like Stackby, things become much easier.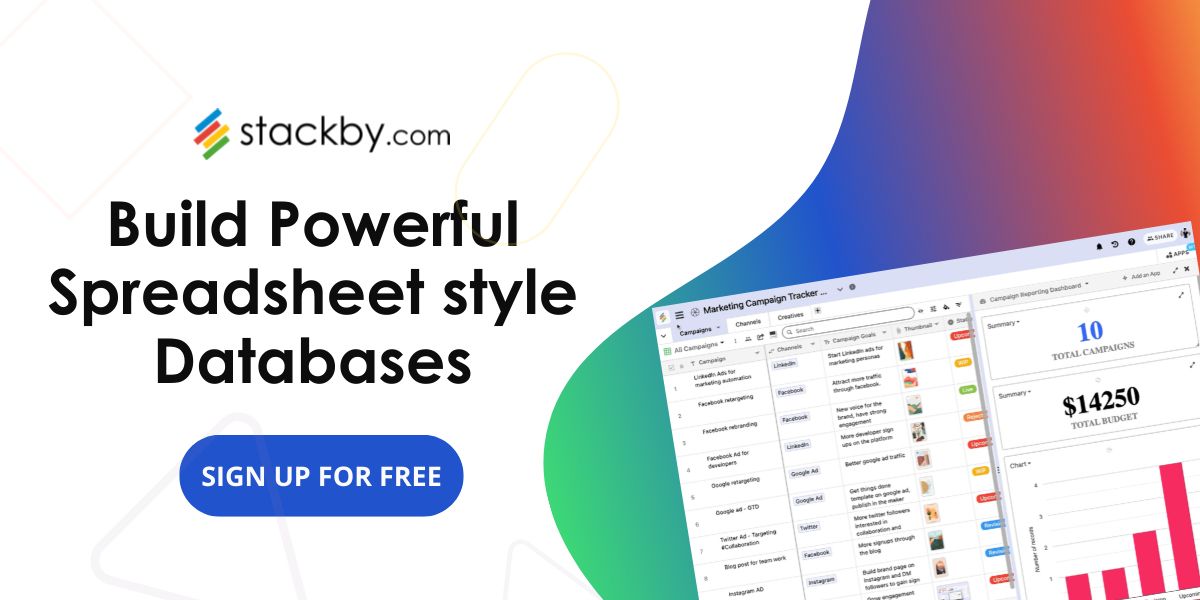 Relational Databases vs Spreadsheets: Technology
The most popular spreadsheet application is Microsoft Excel, which is a part of Microsoft office. It offers more and better functions than any other spreadsheet software, one of them being a quick access toolbar for pinning the functions that you might need to access often.
Another advanced-level spreadsheet software that has taken attention over the years is Google Sheets. Besides some regular functions, it offers certain google specific tools such as google translate for translating cell contents and google finance for evaluating real-time financial information.
Some of the less popular but equally effective spreadsheet software are Zoho Sheets, Smartsheet, Sheetgo, etc.
Database technologies include Microsoft Access, Oracle, MySQL, and SQL Server. These are all the parts of the already mentioned DBMS program. While all four are widely used in the business industry, MySQL holds special popularity.
It is also the DBMS behind the top web-based applications, including Uber, Facebook, Twitter, Airbnb, etc. It is the most demanding data management software in the e-commerce industry.
Verdict: Both technologies come with equal pros and cons. Nothing can beat the convenience and cost-effectiveness that excel spreadsheets can provide. Still, one has to use database technology to cater to large and complex data that will save time and energy and prevent organizations from making erroneous decisions.
Relational Databases vs Spreadsheets: Purpose of Data
Spreadsheets are an organized way to sort and rank data for after use by the organization. It helps to store, organize data and present it in understandable formats. It makes simple and complex calculations to define and present data.
It is used to compile information such as invoice records, employee data, including name, information, salary updates, etc. small shopkeepers can also maintain inventory records.
It is the most cost-effective form of storing and managing and storing data. Sometimes spreadsheets might not have formulas at all, then formatting and hyperlink capabilities become the sole purpose of spreadsheets.
The database is designed to manage large bodies of information. Its primary goal is to store and manage data conveniently and effectively. It provides users with a process of defining, constructing, and manipulating the data for various uses.
Not only this, but you can add different and unique data types in a database like attachments, dropdowns, ratings, images, etc.
Apart from this, the database also ensures the safety and security of data. This software is mainly used in Banking; Airlines, reservations, and schedules; University, for registration and grades; Human Resources, for employee records, tax reductions; Sales and Manufacturing, for inventory records, production, supply chain, purchase, etc.
Verdict: We cannot say that there are no similarities between databases and spreadsheets. Both spreadsheets and databases have a similar function of storing data, but the interface provided by the database can surely help larger organizations. The vast amount of information can be easily stored and managed in the form of tables; a spreadsheet, on the other hand, can look like chaos with voluminous information on record!
Relational Databases vs Spreadsheets: Data Volume
Spreadsheets are more like your to-do lists, setting goals, making short-term plans, collecting data, manipulating it, adding new inputs, analyzing them, etc.
They are used for crunching numbers and storage of single list items.
The list of clients, weekly sales and purchases, biodata of employees, etc., can be easily recorded and stored. The limit on characters in excel cells and the display limit (1024 characters) in each cell act as a drawback of storing data in the spreadsheet.
Generally, larger organizations that have large amounts of data use a database as their storage space. The number of tables will not be larger than 15, but almost 99% of the data can be stored in one big table.
The database requires no duplication of data, and also the changes made to the data do not corrupt the programming. Business managers can access the database from anywhere in the world, and hence it promotes data integrity.
Verdict: While a database offers ease of sharing and reporting a large volume of data, spreadsheets act as a quick solution to short-term goals. Although easy to use, spreadsheets can also be a disaster for management because of the risk of human errors.
All information is added manually to the spreadsheet, and a single mistake in entering a number or an incorrect formula might put all efforts into naught!
Relational Databases vs Spreadsheets: Data Integrity
Data integrity is defined as the maintenance, accuracy, and consistency of data throughout its compilation, evaluation, and usage. In simple words, it refers to the reliability of data when different people make two or more updates; to assure that updated data is error-free.
With cloud storage solutions like Google Drive, Microsoft One Drive, and Apple iCloud, anyone from the organization can contribute to the spreadsheet simultaneously.
It promotes real-time access to data, and if anyone updated the data, they could add it to the spreadsheet while someone else is formatting it. But as already mentioned, there is always a chance of human error in spreadsheets, which hampers data integrity.
The Database increases organizational accessibility to data, which further helps the management share data across people quickly and effectively. The database also prevents information inconsistency, which also mitigates errors and promotes data transparency.
When work is done productively, effectiveness and efficiency follow, and the Database takes care of the same and the ease with which it can be used. This is one of the main differences when it comes to database vs Excel.
Verdict: Spreadsheets definitely can't beat Database in this arena. While Spreadsheets are still evolving and trying to be at par, Databases have already been exceeded by offering an interface that empowers quick decision-making by making data more accessible, reliable, and free of error. Now, let's move on to our next point of the spreadsheets vs databases debate!
Relational Databases vs Spreadsheets: Accessibility and Presentation
Data expressed in cells might be intimidating and understandable to only the person who recorded data and numbers into the spreadsheet. Spreadsheet applications like Excel comprise tools for data visualization.
You can take an existing data set, which is sorted, ranked, and filtered, and then present it within a chart, bar graphs, and pie charts of different types.
It comes with all the aspects of its respective display, type, labeling, and colors. These charts give the data analyst helpful insights into the data. With a glance at the bars, you can predict the data for the given period.
These features make a spreadsheet program ideal when you want to visualize a bigger picture in the form of a report or as a part of a presentation.
On the other hand, a Database is already a compilation of data in the form of tables. Unlike spreadsheets, a database does not give options for charts and bar graphs. The basic design and structure of the database are called data models. It collects conceptual tools describing data, data relationships, data semantics, and consistency constraints.
However, relational databases - which are more prominently used in the markets - do offer different views which triumph the purpose of charts and graphs. It gives an easier insight into the data you need to retrieve, and better access, according to your requirements.
Stackby offers 6 different views:
Grid View
Kanban View
Gallery View
Calendar View
Custom Form
Accessibility of data has already been talked about before. Sometimes a spreadsheet can be used by only a single user, whereas a database does not compromise accuracy even when more than one user is consecutively making updates. This empowers data integrity, which is hard to achieve in spreadsheets.
Verdict: Bar graphs and charts are, although a pleasure to the eyes and make evaluation easy, it takes a lot of effort to do that manually, and it is only effective when done for a smaller volume of data. The database is quick and makes sharing of data easy, but you need to enter advanced-level data into the table's fields and records.
Relational Databases vs Spreadsheets: Connecting to Third Party Services

Our last point on databases vs spreadsheets makes databases a clear winner! There might be times when you'd like buttons to create a salesforce lead, send a message at Slack, or maybe import those ad analytics to make a quick decision about your next strategy?
With loads of work that need to be tracked and completed in a short time, it is quite important to have all the data you need regarding a single objective in one place. This is where third-party services come into play and acquire an important role.
Traditional spreadsheets fail to provide these third-party services to the users. They do not allow users to integrate other applications within the sheet for more accessible use.
Google Sheets is an exception. Apps Script is an application development platform that creates business applications to integrate with G Suite. It lets you write codes for various Google services, like Gmail, Google sheets, etc. to automate the workflow or interact with the external services.
However, let's face it - not everyone knows how to code, and not everyone wants to learn how to code.
Databases not only allow you to connect with third-party services, but also make them more accessible. Stackby's native API integrations come with a No-Code Policy, which makes it easier to use and more accessible.
Stackby is not only linked with multiple business applications, it also allows you to link your columns to APIs to import data in real-time.
Creating a Marketing Campaign and Tracking it in a Spreadsheet vs in a Database

Marketing Campaigns, Sales Campaigns, or any campaign are some of the most important aspects of any business. Let's create and manage a marketing campaign in both spreadsheet and database and see the difference.
Tracking your marketing campaign is an important aspect since it helps you determine whether you should alter your existing plan or start afresh. Tracking not only gives you statistics to comprehend how successful the campaign is, but it also helps you to understand the mistakes you might be making.
A Marketing Campaign tracking and management spreadsheet will look something like this:
In this spreadsheet, you can easily edit cells, add or delete the rows & columns, hide them or search for the appropriate keyword's required data. You can create multiple sheets targeting different kinds of marketing campaigns in the same spreadsheet.
For example, you can create a Facebook Ads tracking sheet, a retargeting sheet, etc.
Now, a marketing campaign tracking and management database, structured in a tabular form with a template, will look like this:
With Stackby's Campaign Management template, you can track the status of every single marketing campaign separately. You can also check the amount you have spent to date on each campaign.

You can keep track of the number of clicks, conversions & conversion rates. You can also calculate the average CPA.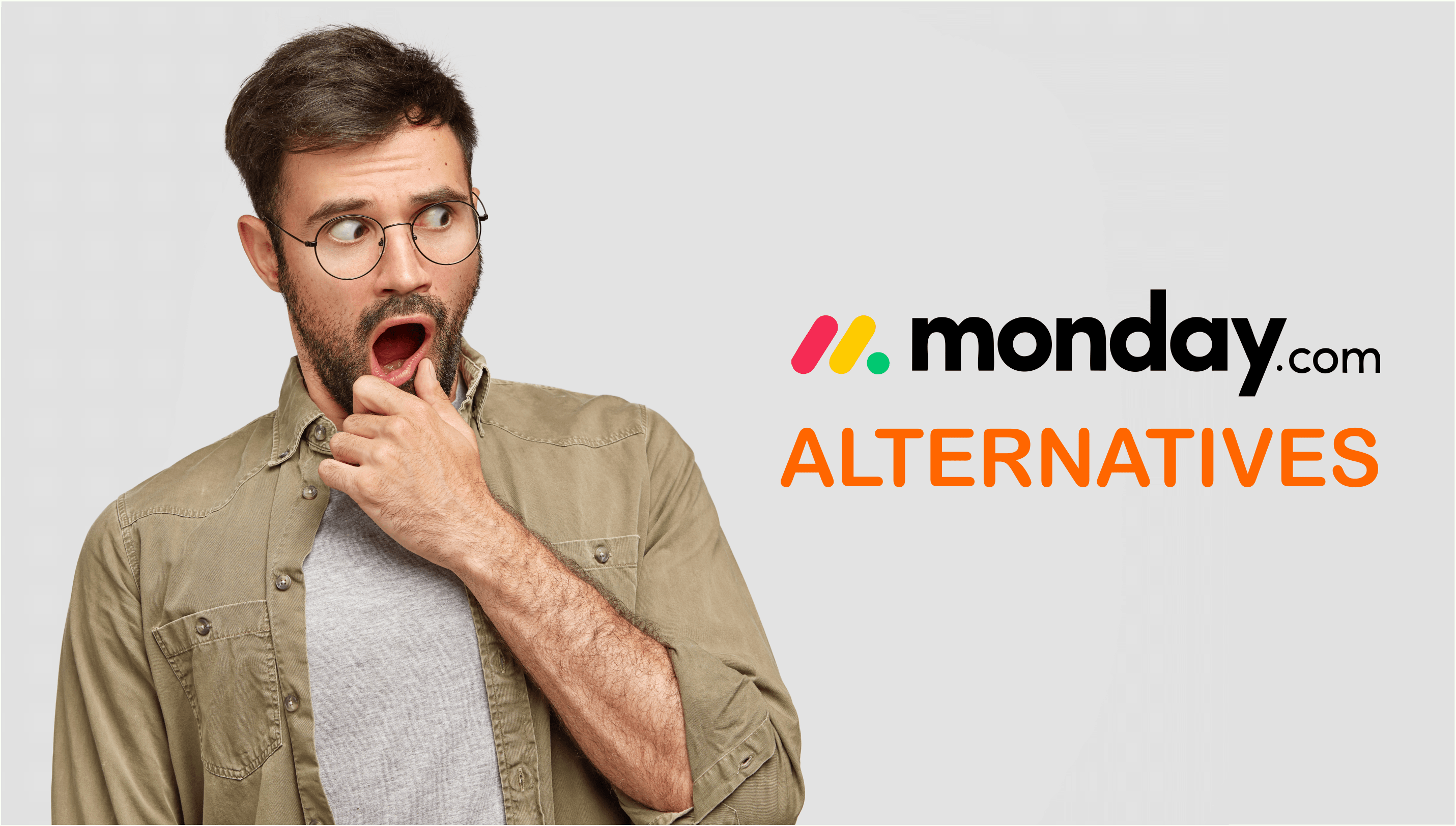 Final Thoughts
Using the right kind of software to manage and store data is an important decision for any business to run smoothly. It makes an organization cost-effective and spares a lot of time.
While Google Sheets and Google Drive have made a huge step forward in the case of spreadsheets, the self-driven Databases seem like a wave of the future. The final choice depends on the need and level of business you are into. This blog post on databases vs spreadsheets was our effort to highlight the common similarities and differences between databases and spreadsheets and what would be ideal for businesses these days.
Sign up and manage your data in a better & easier way with Stackby now!
Frequently Asked Questions

1. Is a database the same as a spreadsheet?
No, a database stores data in the form of records while a spreadsheet stores data in the form of a cell. A database can also contain relational data (data connected through several tables) which spreadsheets cannot.
2. What are the similarities between a database and a spreadsheet?
Both spreadsheets and databases can be used to store data. We can manipulate data as per our requirements, perform calculations, and generate reports using spreadsheets and databases.
3. What is the difference between Excel and database?
When it comes to databases vs Excel, databases are more powerful software as they can store large amounts of data, form relations between the data and ensures complete data integrity and consistency. Data is much safer in a database than in an Excel workbook.
4. How do I convert an Excel spreadsheet to a database?
You can use Microsoft Excel Importer powerup in Stackby and use it to import an excel file to create a new stack or import it to a table. This way you can convert your excel sheet into a database in just one click!
5. Is Stackby a database?
Yes, Stackby is a spreadsheet-like database that helps you collaborate with your whole team on one platform and streamline all your business workflows. It provides features like spreadsheets automation, third-party app integration, creation, organization, and visualization of data in an easy, secure and faster way.