Top 10 Ninox Database Alternatives in 2023
Looking to build a custom database for your business and struggling with Ninox database? Check out the top 10 alternatives to Ninox database to power your work and life.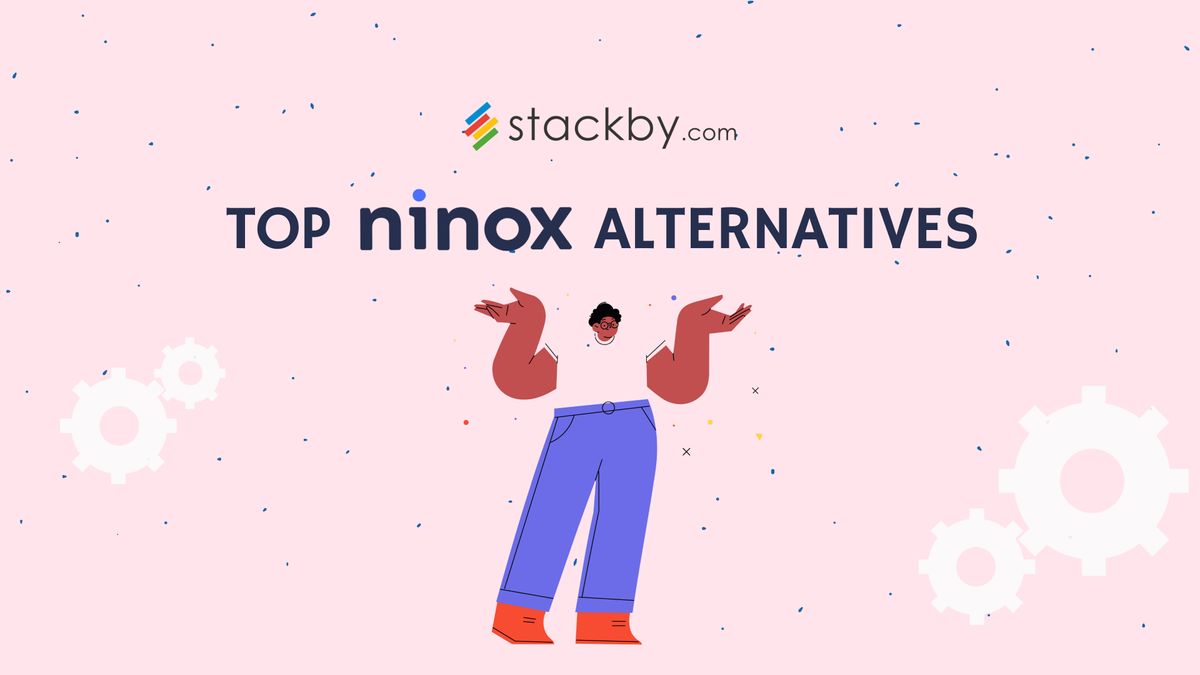 The world of app development is rapidly gaining traction, and businesses are on the lookout for faster and more budget-friendly ways to bring their ideas to life. That's where No-Code app development steps in, providing a swift and cost-effective solution for creating, delivering, and managing apps and user experiences.
Among the array of No-Code platforms emerging to facilitate this, Ninox, a popular choice in the No-Code arena, has made waves with its impressive features. But as they say, variety is the spice of life.  Hence in this article, we're going to explore other Ninox Database alternatives.
What is the Ninox Database?
Ninox Database is essentially a digital file cabinet for your data. It's a software that lets you organize, save, and manage data in the same way as you keep documents in folders.
Just Imagine running a small bakery. You can use Ninox to create a digital order book. It lets you add and track orders with customer names, pastry types, and delivery dates. Ninox organizes this data for easy access, helping you find orders, check deliveries, and spot popular pastries.
In a nutshell, Ninox Database is your digital assistant for keeping your information in order, whether it's for a bakery, a school, or any other kind of business.
Key features of Ninox:
Ninox Database undoubtedly has a number of exceptional features that set it apart and make it a popular option for enterprises.
User-Friendly Interface: Ninox's drag-and-drop interface makes it ideal for users with varying technical expertise. You do not need to be a coding expert to use this database.
Collaboration Made Easy: By enabling smooth project collaboration across multiple users, facilitating seamless teamwork.
Cross-Platform Compatibility: Since it's cloud-based, you can manage your data whether you're at your desk or on the go as it works with so many different platforms and devices.
Tailored Templates: It offers an extensive range of customizable templates for a variety of business uses, from CRM, project management to inventory tracking. These templates serve as a solid foundation for your database.
Best Ninox Alternatives in 2023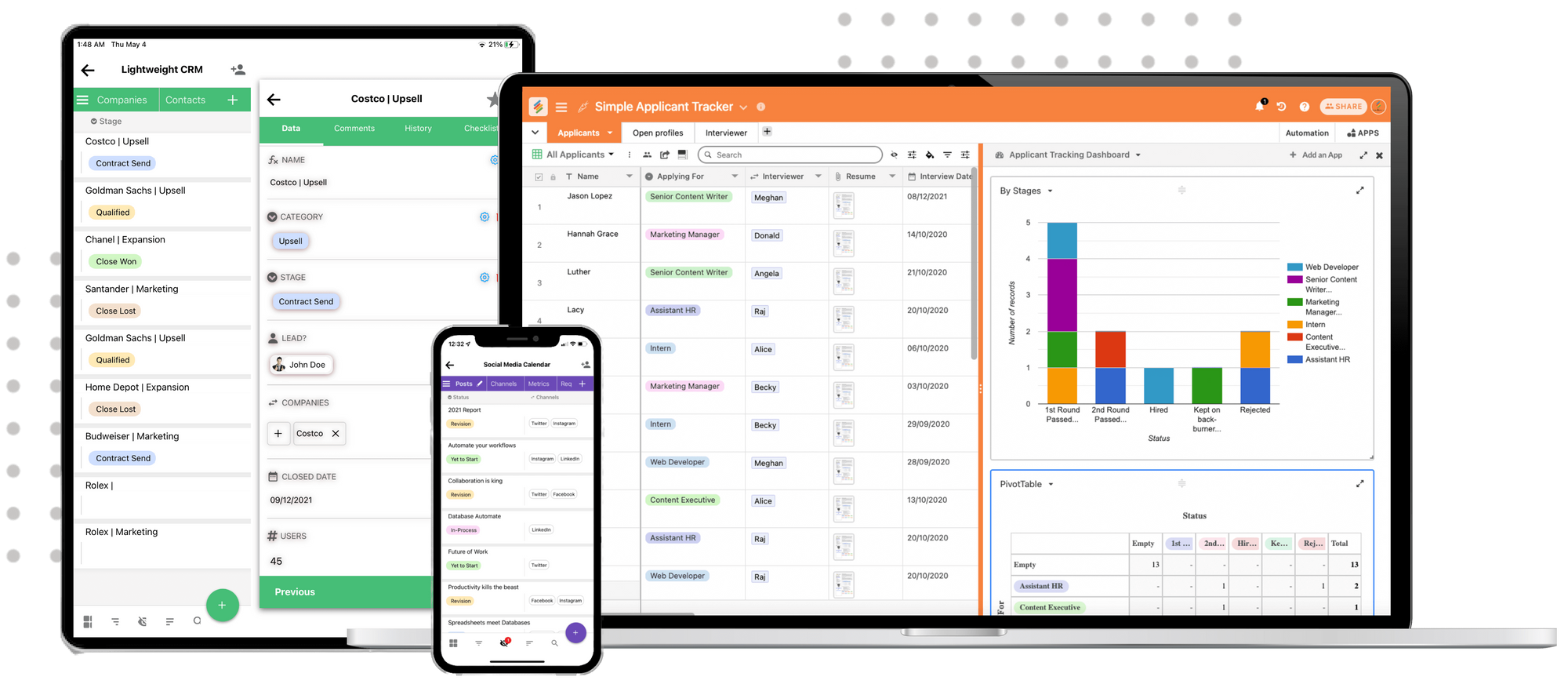 Stackby is your one-stop platform for project collaboration and data management. With its customizable spreadsheet-database hybrid tables, you may arrange your data exactly how you want it. Stackby automates data-related tasks including project tracking, marketing, inventory management, lead organization, and more.
Features:
Advanced Block Functionality: Stackby introduces the concept of "Blocks," which are like building blocks for your data. With Blocks, you can effortlessly create customized solutions for various business needs, whether it's project management, CRM, or inventory tracking.
Versatile Data Views: Stackby offers a range of data views, including Grid, Kanban, Calendar, Gallery and Forms, allowing you to visualize your data in the way that best suits your needs. This flexibility sets it apart from traditional spreadsheet tools.
Automated Workflows: Stackby enables you to create automated workflows without the need for complex coding. With its intuitive interface, you can set up triggers and actions to streamline processes and save valuable time.
App Marketplace: Access a marketplace of pre-built apps to extend Stackby's functionality.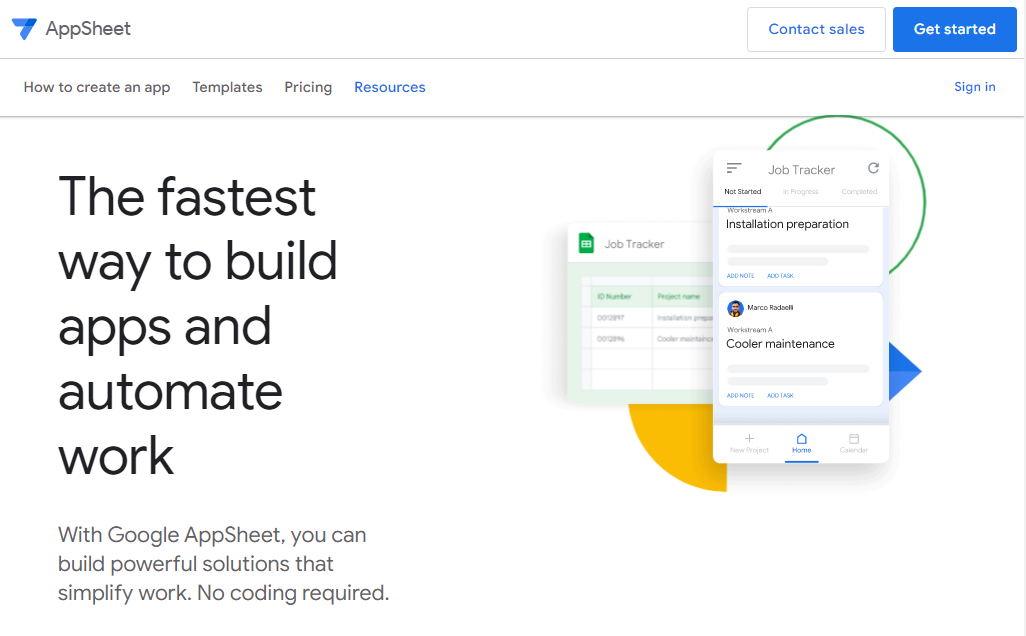 AppSheet enables consumers to easily and powerfully transform their data into apps without needing to learn programming. It's a popular platform for citizen developers, allowing them to quickly create innovative applications. AppSheet may assist you in developing data-driven apps for optimizing business operations or improving customer experiences.
Features:
Data Integration: Combines information from different places into your apps to make them stronger and more flexible
Real-Time Updates: Keep your apps up to date with the latest information so your users always get the newest data.
Cross-Platform Compatibility: Create apps that are accessible across several devices and platforms.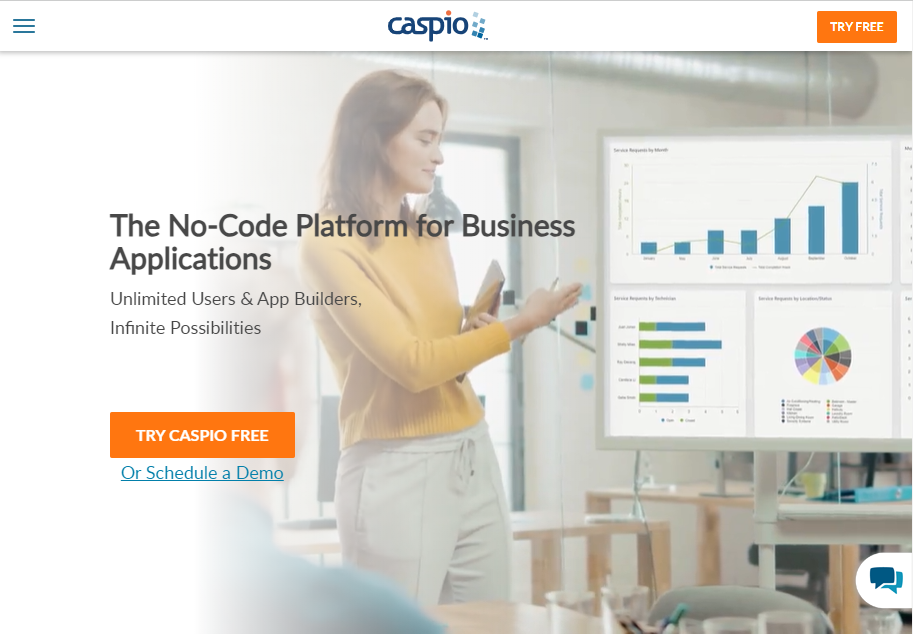 Caspio bridges the gap between databases and applications with its low-code platform. It makes it easy to build web apps without needing lots of coding. It connects databases and apps smoothly. It's suitable for businesses because it's secure and can grow as they need.
Features:
Scalability: From small projects to enterprise-level solutions, Caspio scales to meet your business needs.
Built-in Security: Ensure data security with features like role-based access control and compliance adherence.
Data Reporting: Generate insightful reports and dashboards to make data-driven decisions.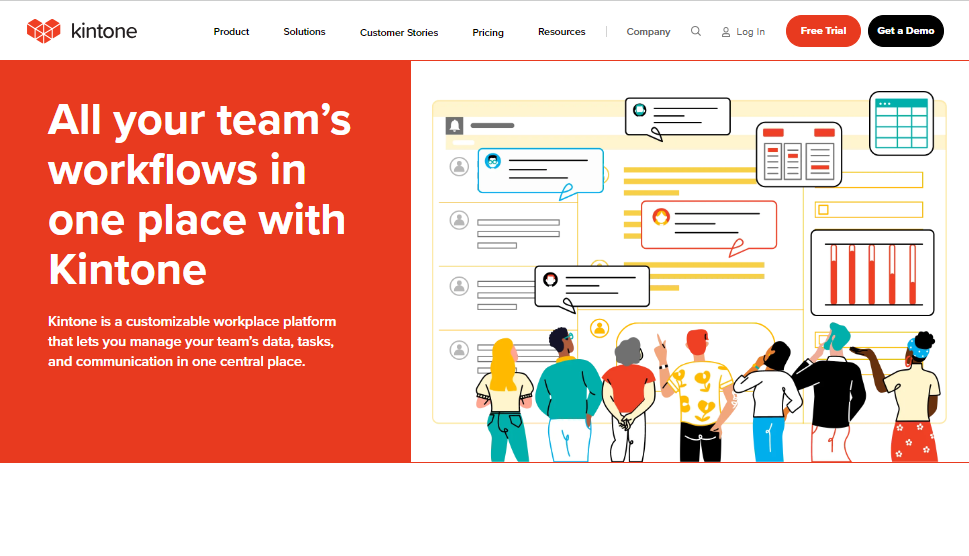 Kintone is like a teamwork tool, a powerhouse of data management. It provides a collaborative workspace where teams can build, customize, and automate apps and workflows. With Kintone, you can empower your team to work more efficiently and effectively.
Features:
Customizable Workspaces: Kintone offers a collaborative workspace where teams can build and customize their apps and workflows.
Workflow Automation: Automate repetitive tasks and streamline processes, increasing efficiency.
Real-Time Updates: Keep your team in sync with real-time data updates, enhancing collaboration.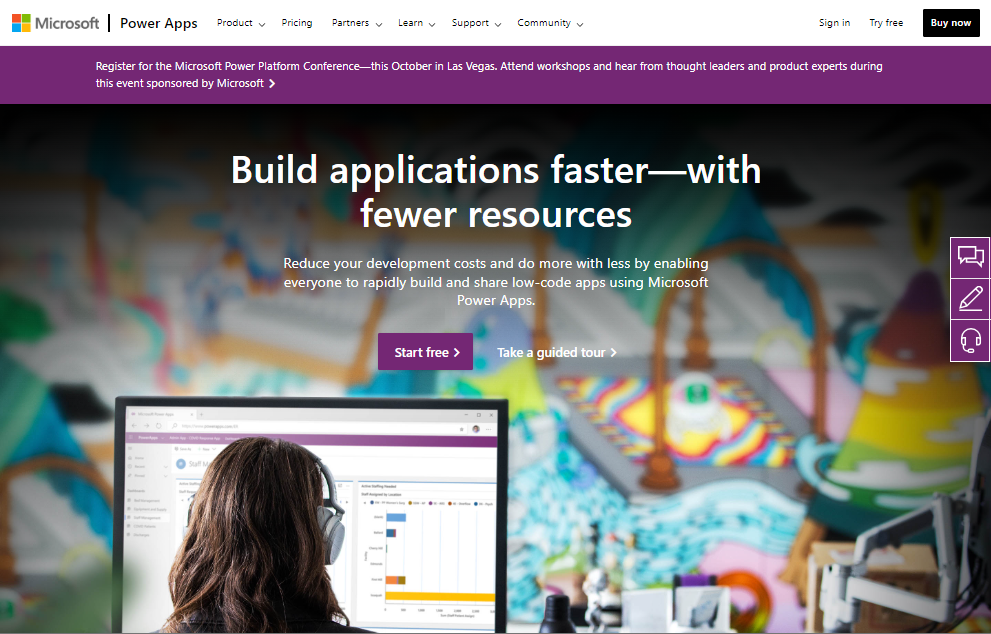 Quickbase is like a strong tool from Microsoft that helps make computer apps that fit with your other Microsoft stuff. It's great for making programs with less complicated steps and using smart computer skills to do things automatically. If you use Microsoft things a lot, PowerApps is your key to making cool new computer stuff.
Features:
Microsoft Ecosystem Integration:  PowerApps easily works with other Microsoft tools, so it's good for people who use a lot of Microsoft stuff.
AI-Powered Apps:   Use smart computer skills to make programs that do things by themselves and give you smart ideas.
Cross-Platform Compatibility: Build apps that work on web, mobile, and desktop platforms.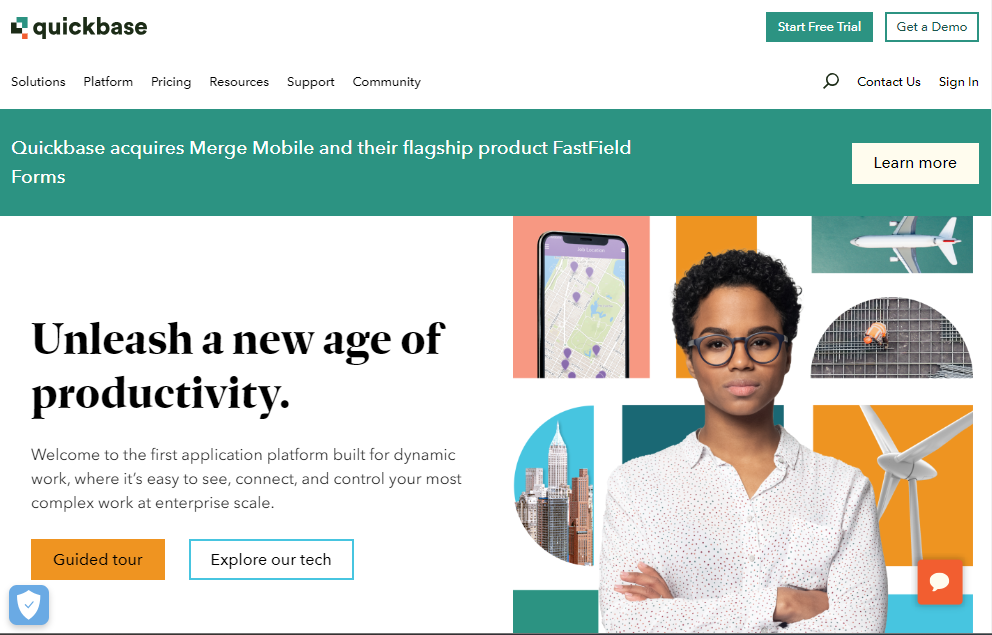 Quickbase is like a super tool for your data. It gives you an easy way to work with your data and change it however you want. You can use it to make things with data that fit exactly what you need. Plus, it can do jobs for you and work with other apps too. Quickbase makes handling data super easy.
Features:
Customizable Applications: Quickbase lets people create their own special computer programs that fit exactly what they want, even if they don't know much about coding or making software.
Mobile Access: You can use QuickBase on phones and tablets, so you can do your work and see your information no matter where you are.
Templates: It offers pre-built application templates for common business processes, helping users get started quickly.
API Access: Developers can use Quickbase APIs to further extend and customize their applications.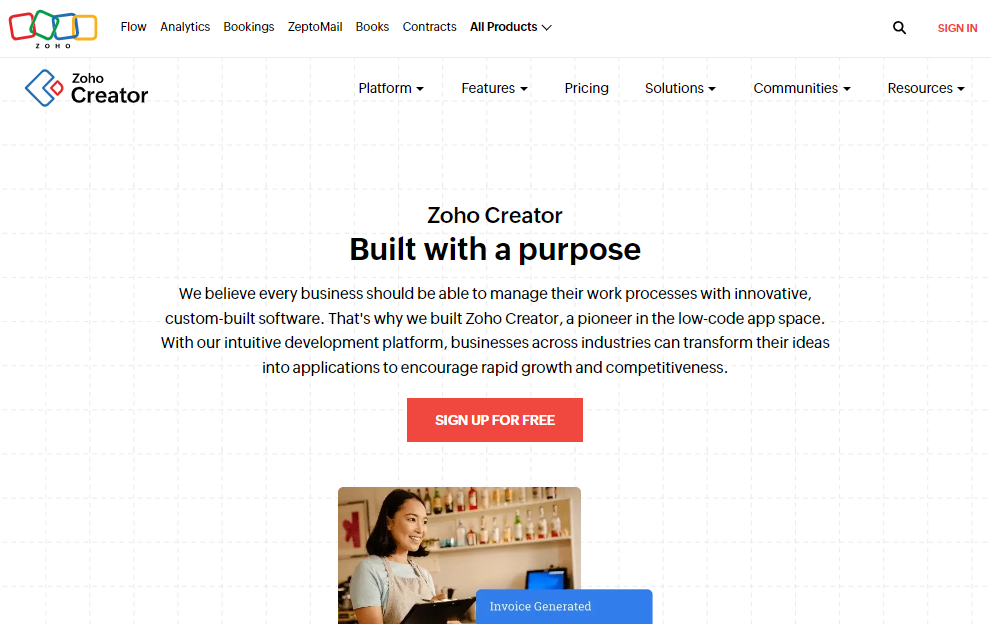 Zoho Creator is the artist's canvas, and your data is the masterpiece waiting to be painted. It is like a special tool that helps you turn your clever ideas using information into real things. With Zoho, you can make your own special computer programs, make tasks happen automatically, and learn important things from your information. It's a tool that gives you the power to think of new ideas freely.
Features:
Drag-and-Drop Interface: It has an easy-to-use interface that allows you to create forms, fields, and processes by dragging and dropping items.
Data Import and Export: Data may be easily imported and exported from a variety of sources.
Offline Access: Some versions of  Zoho Creator versions may include offline access, allowing you to work even while you are not connected to the internet.
Collaboration Tools: Real-time collaboration with team members makes project collaboration easier.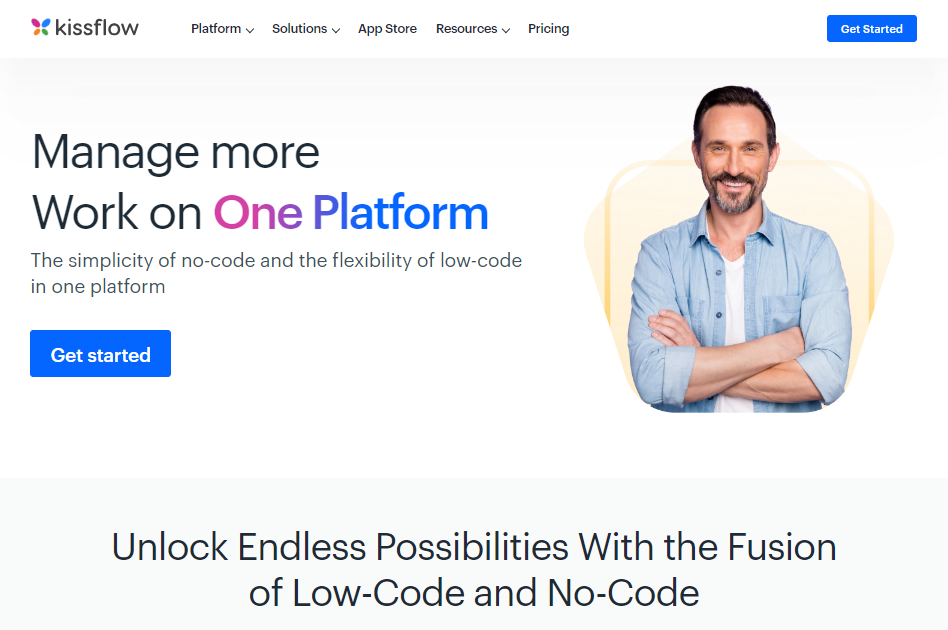 Kissflow is really good at making work easier with data. It makes hard stuff simpler and does tasks automatically. This helps teams work together and handle projects better. With customizable forms and integration capabilities, Kissflow is your partner for efficient workflow management.
Features:
Boards: Gain thorough project control with customizable boards that may be adapted to your specific requirements. Easily keep track of projects, tickets, and cases.
App Builder: Easily create advanced business apps utilizing no-code and low-code technologies, allowing you to design enterprise-level applications without substantial coding knowledge.
Reporting and Analytics: Take advantage of data-driven decision-making by gaining significant insights and quickly creating reports that give vital information for educated decisions.
External Portals: Expand the reach of your core apps by enabling other users to access them, promoting cooperation and accessibility beyond the bounds of your organization.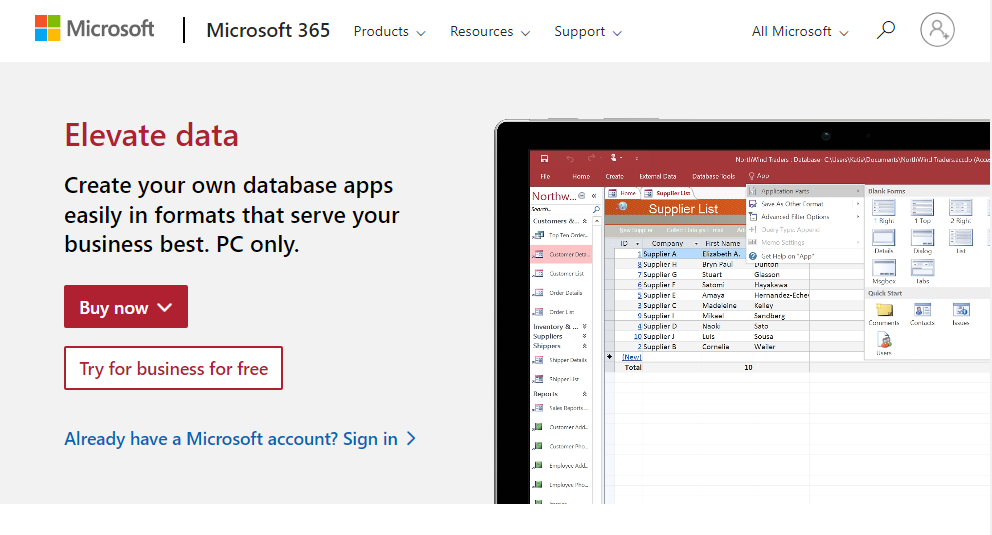 Microsoft Access is a traditional database system that provides a familiar interface for those used to Microsoft products. It manages data storage, retrieval, and reporting with ease. Its VBA compatibility enables custom automation and functionality, making it a popular choice among many.
Features:
VBA Support: Visual Basic for Applications (VBA) is a tool available in Microsoft Access. It allows you to make special things happen in your Access program and automate chores. You may, for example, create buttons that do specified tasks when clicked.
Cloud Capabilities: Access is compatible with SharePoint and Microsoft 365. This implies you can collaborate on your database with others even if you aren't in the same location. It's similar to collaborating on a project online, and you can also preserve your database on the internet.
Web Apps: You can create web applications using Access. These are similar to unique websites where users may access your database from any place, such as their phones or PCs. It's similar to sharing information on the internet with friends or coworkers.
Simple Data Import: You may quickly import data from other sources, such as Excel, SharePoint, or other databases. This makes it simple to save all of your data in one location, similar to a treasure chest where you keep all of your valuables.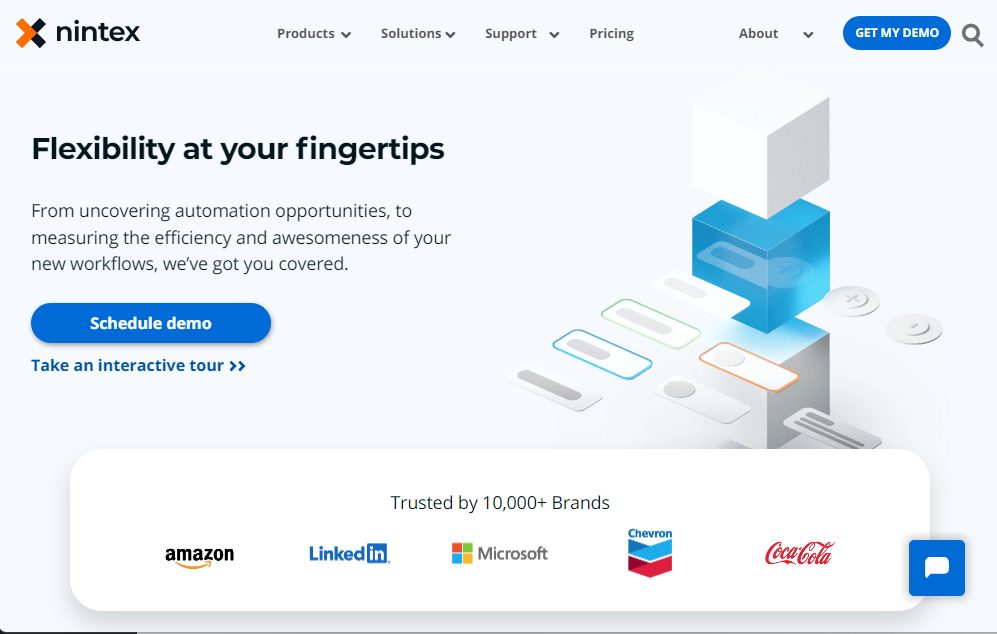 Nintex's simple visual design interface enables you to create effective business processes based on real-world scenarios. You can utilize integrated business logic and state machines to automate messages throughout your team's workspace, collaborate on content, and create a more advanced and efficient automation solution.
Features:
AI and Machine Learning Integration: Nintex utilizes AI and machine learning capabilities to improve decision-making and automate more complicated activities.
eSignatures: Nintex is frequently coupled with electronic signature solutions, allowing for the review and signing of documents inside processes.
Integration Capabilities: Nintex enables organizations to link their processes and data by allowing seamless connection with a wide range of apps and services, including SharePoint, Salesforce, Office 365, and others.
Workflow Templates: Nintex offers customers a library of pre-built workflow templates to get started.
Conclusion:
In the dynamic world of database management, having options is a treasure. Each of these Ninox Database alternatives offers a unique approach to data management, catering to a wide range of needs and preferences. So why not consider Stackby as your trusted companion? With its versatility, user-friendliness, and robust capabilities, Stackby stands ready to assist you in charting a course toward efficient, organized, and data-driven success.
The decision is yours, and Stackby is here to help you unlock the full potential of your data journey.
Sign up for free today and get started with 14 days business trial to experience Stackby's capabilities firsthand.