How Can You Combine CRM and Project Management?
In this article, we will talk about CRM and Project management - why are they important, why should you combine them and how should you combine them? Read on to find more!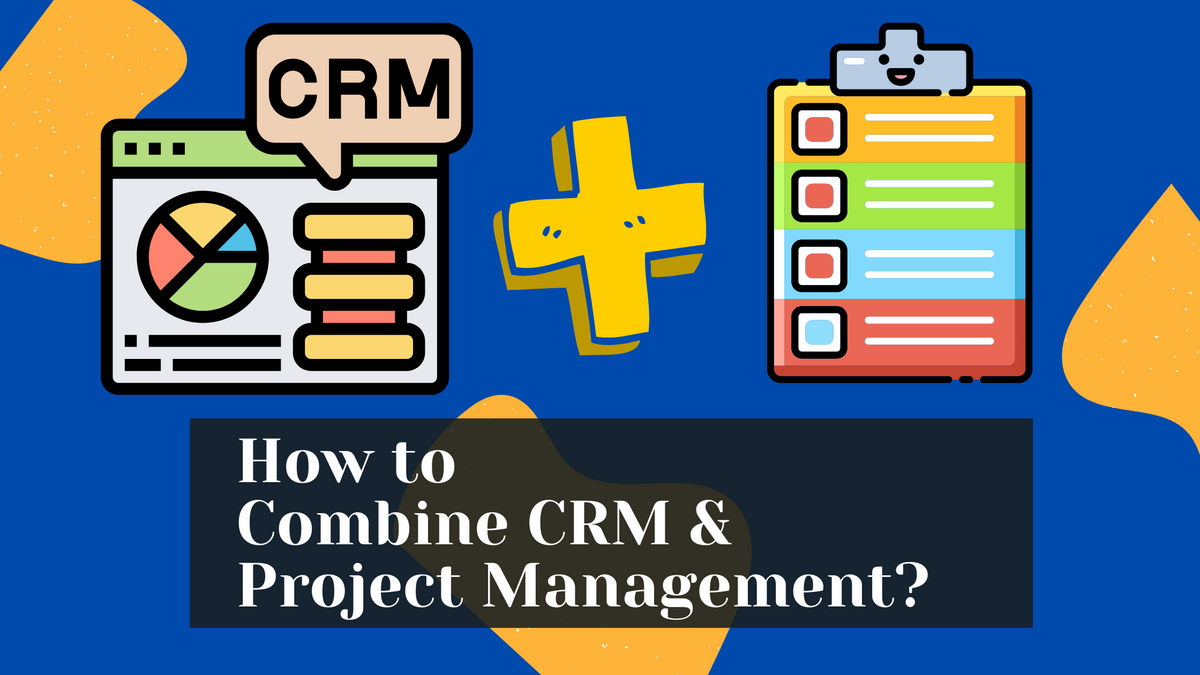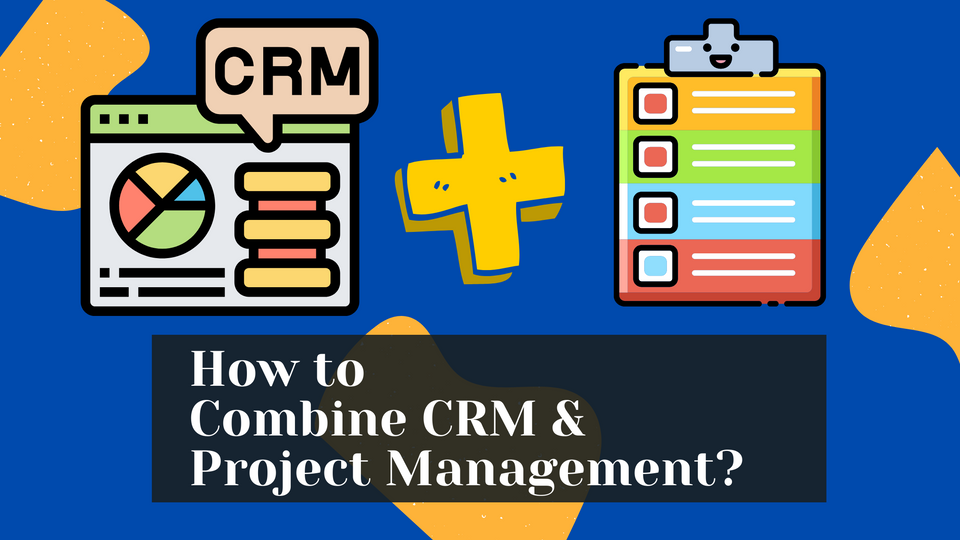 Are you looking forward to combining your CRM and project management to make it all come together?  
Uh, yes! But how? And why should you even do that?
It wasn't very long back when businesses claimed that the key to keeping customers coming was in the quality of their service or their products.
But people move on, and things change.
Other than these two, there is one more vital factor to consider now.  
Customer Relationship management. Fortunately, you can now manage your relationships with your customer with customer relationship software.  
From 2008 to 2021, there has been a staggering increase of 75% with businesses using cloud-based CRMs. And the market is expected to reach over $80 billion by 2025, making CRM the fastest growing software market.
On the other hand, project management uses specific skills, knowledge, tools, & techniques to deliver something of value to people.
But, only 58% of organizations fully understand the value of project management.
Interestingly, it is proven that companies that invest in some of the proven project management practices wasted 28× less money because of their strategic initiatives.  
And with an increase in the agile project management approach, more and more companies are using project management software regularly.
So, even though CRM helps you to nurture your relationships with your clients, you also need to manage various projects, resources, budgets and other aspects to make sure that you meet your customers' needs.  
Just combine both CRM and Project management.  
CRM and Project management, when gelled together, conveniences the producer as well as the consumer creating a win-win situation for both parties.
If you're finding it hard to deal with accounts and products and budgets being scattered and consuming an unwantedly large space in your office and mind, then this blog is for you! It is ever so often asked how to combine CRM and project management? You can easily sign-up with Stackby and solve this problem today!
We are here to guide you with the merging and answer your questions while also looking into the pros and cons that come with it. Let's get started!
Table of Content(s)
What is Customer Relationship Management?
CRM is the acronym for Customer Relationship Management. It is the process that focuses on managing and maintaining your relationships with your clients and customers.
The main function of the CRM is to develop, retain and acquire customers. You can read more about it here.
Related: Check out these free sales and CRM templates by Stackby!  
What is CRM software?
CRM software is software developed to help companies manage & nurture their customer relationships.
CRM software gathers information on the consuming habits of the customers from various channels and stores them in one place. The information may contain the purchase histories, personal information acquired legally and consensually and recorded the customer's consuming patterns and habits.
And while we do agree that CRM and project management need to work together, they also have their differences:
What is the Difference Between CRM and Project Management?
While both CRM and project management are important to any company, it is easier to understand the need to merge them when looking at their differences. These are the differences between Project management and CRM:
Function
CRM helps you connect with your customers and attend to their needs, demands and complaints. It establishes trust between the buyer and the seller.
On the other hand, PM is centred around planning, organizing, executing, and completing business projects to meet the needs of the customers. It is a function that takes place within the firm and requires the collaboration of several departments to create a sale-worthy product/service.  
Target Audience
CRM usually proves useful for sales, marketing, client relationships and other such external business elements.  
Project management is more company/brand focused. This means that project managers, finance departments, and employees involved in the projects will usually find PM to be useful.
Objectives
The main objective of CRM is to retain customers, relatively drive sales growth and manage the client-service provider relationship, be it with present or potential customers.
While the goal of PM is to develop the procedures of the project, planning, regulating and monitoring the project, tackling any obstacles that may arise within the project and guiding the working teams to successfully deliver a sellable project (product/service) within the set time frame and budget.  
Period Of Procedure
While CRM deals with the brand's consumers, they are required to function all the while the company operates.
However, PM is required to function during the determined time frame of the project, thus making its span variable.
Despite their differences, it is obvious that CRM and PM share some common goals, objectives, and functions. It's almost like they're the two sides of the same coin. Nevertheless, you may have noticed that the requirement of one cannot be fulfilled by the other.
However, maintaining these managements separately may give rise to several technical difficulties and extra expenses for the firm. This is why it becomes necessary for CRM and PM to simplify the company's job by joining forces.
Related: Check out these free project management templates that help you stay productive all day!
Why Should You Combine Your CRM and Project Management Software?
While combining your CRM and PM software into an all-in-one tool is entirely up to you, several factors will be affected due to this change. This is why you should combine your CRM and project management software:
Simplifying management: With all the accounts for CRM linked with the project management, it simplifies handling and makes it easier to look for records.

Simplified and transparent work process: The work process is made transparent since the records of one department is also accessible by the other. This transparency ensures accuracy in calculations.

Advanced reporting and generating more sales: With more information available on the table, reports generated display detailed reports. This also helps the departments target issues with more accuracy and solve them accordingly.

Easy information sharing across the company: Since each department is pushed to break the silo, information sharing flows more smoothly. This ensures the harmonious working of all the departments.

Security and mobility: The transparency and improved workflow that comes with the combination of CRM and PM leads to improved security when making decisions and during sales. The project becomes less uptight and open to improvements that would not have been possible within the bounds of only CRM/PM.

Cost-effective: The greatest benefit is the reduction of the cost that comes with managing two different departments. The surplus can always be deployed into some other channel, thus leading to effective management of finances.
Related: Want to build a custom Project tracker? Here's how you can do it!
What is the Combined Function of CRM and Project Management?
There may be differences and similarities between CRM and project management, but it doesn't change that they serve different functions, each fulfilling its uniqueness.  It can be said that these are two sides of the same coin. Here's an insight into how using them together will maximize your output:
Ensuring alignment between project management and sales: The combined use of CRM and Project management ensures that departments are aware of each other. This allows you to continue towards your objectives without misunderstandings.

Quality control: The customer feedback received works wonders since the management and CRM merged will constantly develop their products and services to deliver them in the best possible quality to the customers.

Ensures an organized work process: Work is organized when each department aligns its objectives with one another. Since no clashes in any decision making arise, the firm can function systematically.

Providing a complete overview: Merging CRM and project management results in an improved management system. This provides you with a complete overview of the project, its deliverance, its feedback from customers. With the help of this, you will find it easier to break down issues and fix them without disrupting other segments of the project.

Establishing control and order throughout other departments: CRM does not stay limited to sales with the merging; project management establishes the necessary relationships throughout the firm that deals with the project. This makes it easier for the CRM department to convey their customer's concerns to the other departments and improves communication within the firm.
Related: Best Project Management software for businesses in 2021
How to Select the Best CRM and Project Management Tool?
Now that we're through with the benefits of using a combined CRM and project management technology, it is a good time to look into the selection of appropriate software that fits into your business model.
The features of a perfect CRM and project management software allow you to work flexibly and serve both CRM and PM functions. Therefore, while selecting your software, be sure that it meets the following criteria:
Provides complete visibility  
A good all-in-one software provides a complete overview of your work. The technology should be able to present a visual document of your project's timeline, right from the planning to the last step of collecting feedback.
Effective management of sales pipelines
The software should present a proper visualization of the whereabouts of the sales and its status. This includes generation, lead nurturing, checking sales qualification, etc. An effective all-in-one platform should be able to track all of these pipelines.
Provide an efficient means of communication
The multipurpose platform should be able to improve intra- and inter-firm communication. Messages and decisions should be easily conveyed from one department to another to break the silos. This also means that every employee involved should be able to present their two cents in the form of attachments, documents, comments and various other means.  
Availability of data-oriented insights
A good CRM+PM platform should be able to produce detailed data-driven reports. The software should be able to back the project and sales analytics so that the company can track their performance alongside the response of its consumers.
What are some CRM and Project Management Software Combination Tools?
Stackby: Stackby is the perfect solution that provides you with all the necessary tools to track the progress of the project in real-time while also managing your customers. You can create checklists, spreadsheets, set reminders and collaborate with the involved teams. It is user friendly and suitable for agile tracking and backups. The best part is that it is all customizable!

Apptivo: This is a cloud-based CRM software that offers several collaborative tools that allows you to streamline the communication among projects and the consumers of the products. It is adjustable and especially compatible with small businesses.

Insightly: Insightly is another solution that is suitable for small businesses. This allows you to view project progress both in a pipeline and milestone manner. It is helpful during startups since it is available in several free and pocket-friendly versions.

SugarCRM: Another good option for CRM project management would be SugarCRM. This provides up to ten user licenses that allow companies to control all your projects and their progress. SugarCRM customers have always been a fan of how easily customizable the features are.

TaskRay project management for salesforce: This is an app backed by the salesforce platform (cloud). It links your sales data and analytics making your workflow much smoother. Salesforce dependent companies may especially find this to be an attractive deal.
Conclusion
Lastly, A smart businessman knows how to avoid unnecessary spendings by allocating his resources to the right channels. The average savings made by combining CRM and project management into one platform comes up to at least 20% every year.
The availability of these software has maximized the efficiency and shed light on the need for a harmonious functioning system within the various departments of any business. Sign up with Stackby today to combine your CRM and project management!