Best Project Management Software for Businesses [Updated 2023]
In this article we will talk about how project management is a beneficial and necessary practice to make your daily tasks easier. We have also given you a list of the best 10 Project management software available in the market, and how they can help you.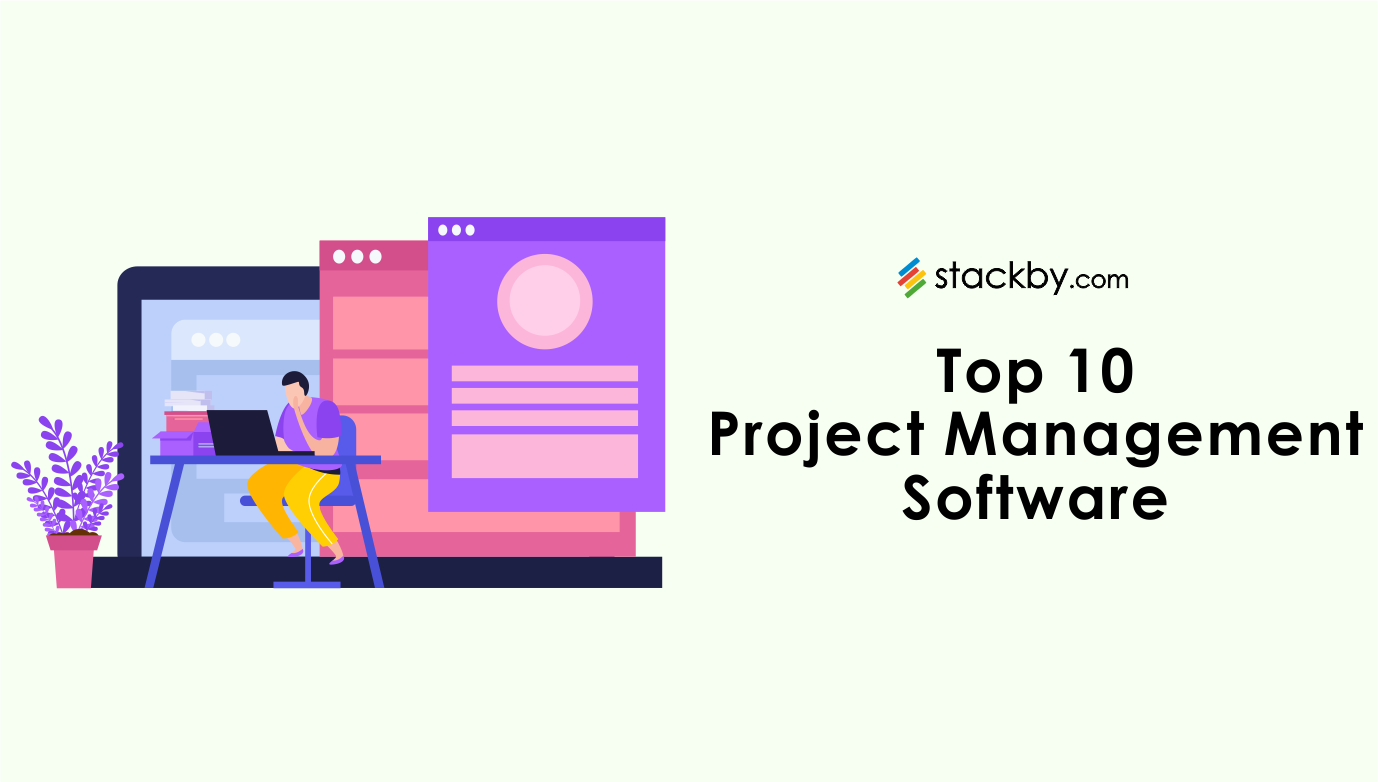 Did you know that organizations that invest in Project management waste 28 times less money as compared to the ones that don't?
Interestingly, 8 out of 10 project managers believe that project portfolio management is becoming a crucial factor in influencing a business's success.  
But only 23% of the organizations are using project management software.
Where do you stand? Is Project management still as time consuming as ever for you? Are you still trapped in the whole updating the excel sheet and following up with every team member's cycle?
I think it is time to move on.
Now, you can easily automate your project management, and have the complete overview of your project in a single glance with the right project management tools. And when it comes to business, you should make sure to have the best project management software.
The good news it there is a hoard of awesome options to choose from! The bad news is, that it can be quite challenging to find the best ones out all the mediocre options. In this article we will be explaining you about project management, its importance and the best tools you can find in the market.
What is Project Management?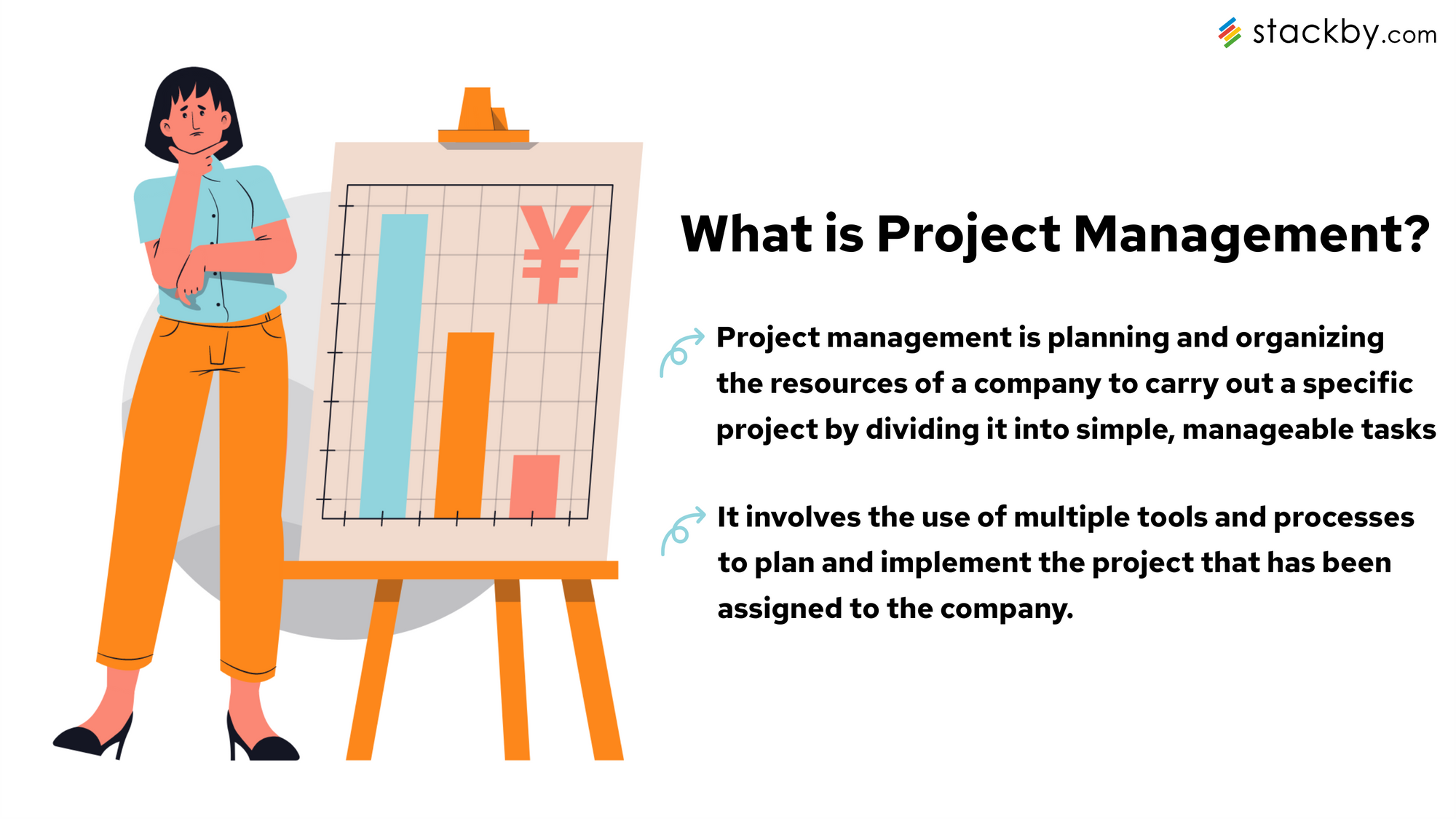 Project management is planning and organizing the resources of a company to carry out a specific project by dividing it into simple, manageable tasks. It involves the use of multiple tools and processes to plan and implement the project that has been assigned to the company.
It involves analyzing different tools and techniques to determine the best possible strategy for project execution. The chosen strategy or path should fulfil the goals and objectives of the given project within the set deadline requirement.
From the development of software to building a building, a project can be of any type. You need to formulate a detailed plan for the given project. You also need a team where each member has a specific role to play and is responsible for different aspects of project delivery.
Also see: How can you manage your projects with Stackby?
Now that we know what project management is, let's answer another important question.
Why is Project Management important?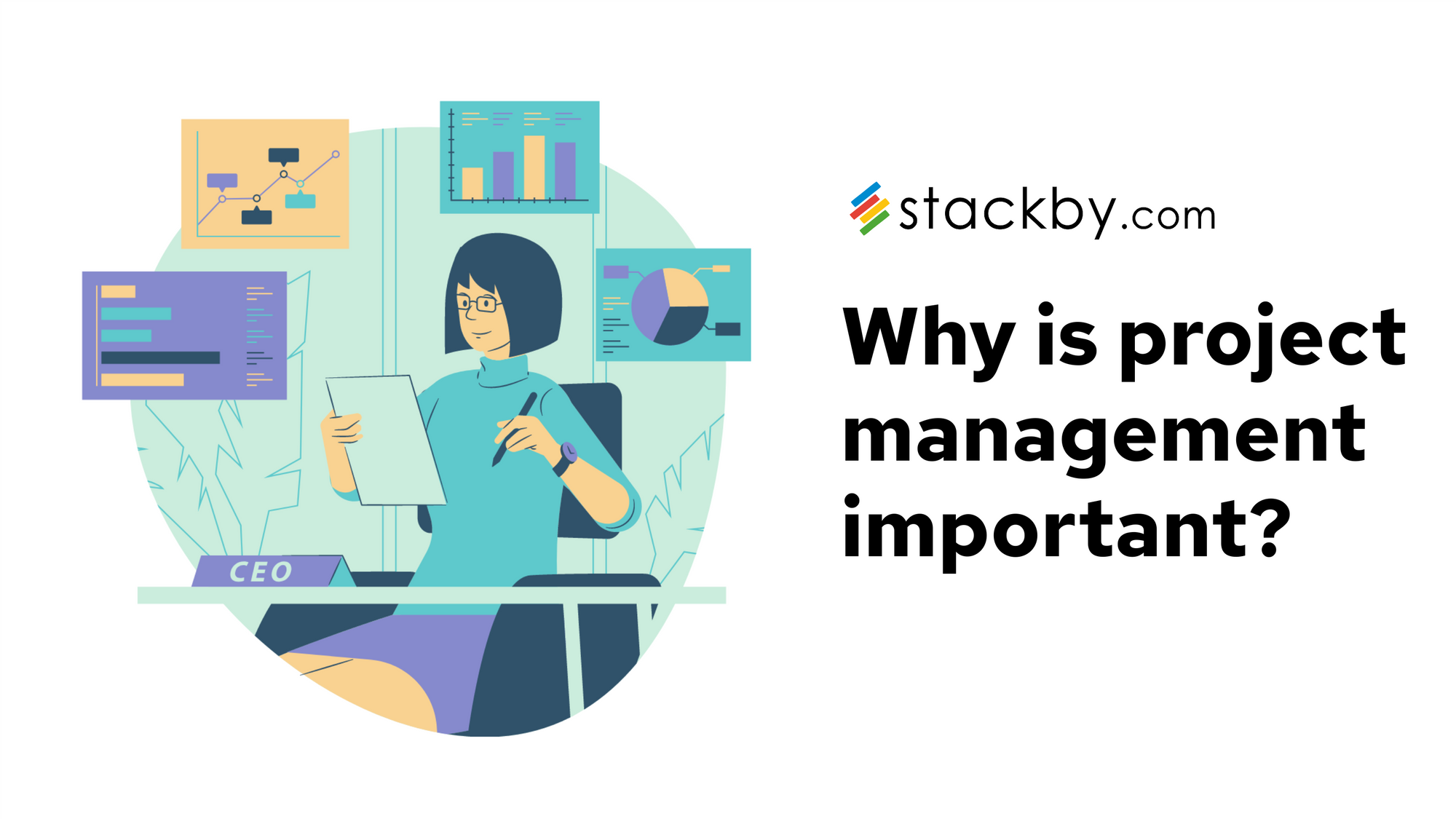 A well-defined and planned project management strategy is the foundation of successful project implementation. Overlooking the importance of proper project management can prove to be extremely costly for the company.
Besides, project management is not simply about setting and allocating a budget or tracking the set deadlines. It is a comprehensive activity that takes each minute detail of the project into account.
A project undertaken by a company is often complex and involves several variables and stakeholders. Project management becomes very important due to the following reasons given here.
Project Planning – To accomplish any goal or objective, you first have to plan it. Under project management, you are required to set up realistic and measurable goals, allocate a budget, and set a timeline.

Focus and Objectives – It's difficult to accomplish anything if you don't know the goal and objective behind it. This is where project management comes in. It gave an overall picture and the expected result of the project.

Strategic Alignment – Project management helps align the goal of the project with the business strategy. It helps drive organizational strategy and ensures that the given projects are taking the institution forward.

Quality Control – Meeting the deadline and the allocated budget is not enough. You also have to ensure that certain requisite product or service standards are met. Project management aids in the quality control and enhancement process.

Cost-Effectiveness – Proper project management will help eliminate unnecessary expenses and reduce the overall cost of your project. It will result in the optimal utilization of resources and reduces the possibility of risks in      implementation.    

Encourage Teamwork – Collaboration among team members is the key to the success of a project. Project management helps accomplish the same in a structured and defined manner.
Who needs Project Management?
Project management gives direction to the project implementation process. Organizations with a high project failure rate lack a proper and dedicated project management section.
From a start-up venture to an established multinational organization, everyone needs project management in some form or the other. Under normal circumstances, project management has the following five steps –
Ideation: This step involves discussing the basic idea behind a project, its feasibility, and the elements necessary to execute it.
Planning: In this step, you plan the course of your project and layout each detail.
Delegation: The tasks are delegated, and the team starts working.
Monitoring: This is a continuous process that helps you track project implementation.
Wrap-Up: It is now time to close the project.
Why do you need Project Management software?
The most basic use of project management software is to assist project managers in project implementation. With multiple projects being implemented simultaneously, it can be not easy to keep track of everything. In addition to this, you must coordinate with your team to get the work done on time.
Project planning, resource allocation, budgeting, collaboration to reporting, and project management software take care of everything.
Planning Process – A project management software uses the current AI technology to accurately predict how long it'll take to complete the project, keeping in mind the budget, resources, and schedule.

Automation – Advanced project management software can automate several tasks related to project planning and implementation. This is especially useful in case of repetitive tasks. Automating repetitive tasks helps save time.

Resource Management – This software allows its users to track their expenses and manage their resources in one place.

Pipeline Forecasting – A project management software gives an overview of the current status of multiple projects and their position in the pipeline at the moment.
   
Team collaboration – This software is designed to facilitate team collaboration and teamwork. It allows team members to communicate with each other, discuss tasks, share the workload and ideas.  

Reporting – A project management software helps managers monitor the project's progress and create detailed reports on the same.

Enhanced customer satisfaction – Advanced management software promotes efficient customer relationship management.
You can also check out: Stackby's Project Management Tutorial
How to choose the right Project Management Software?
Considering the vital role played by project management software, you must pick the one that meets all your requirements. However, each team is different, and one size cannot fit all.
While selecting your project management software, you should start by outlining your needs. Answering the following questions will help in the process.
Did your current solution fail? If yes, why?
What are you looking for in the new software?
Who is going to use it?
After you've answered all the questions, start looking for alternatives. Once you've narrowed them down to a few, test them and evaluate the same against your needs. The next step is to consider the cost of the alternatives. Taking all the factors into account, you can pick the perfect project management software for your company.
Top 10 Project Management Software in 2021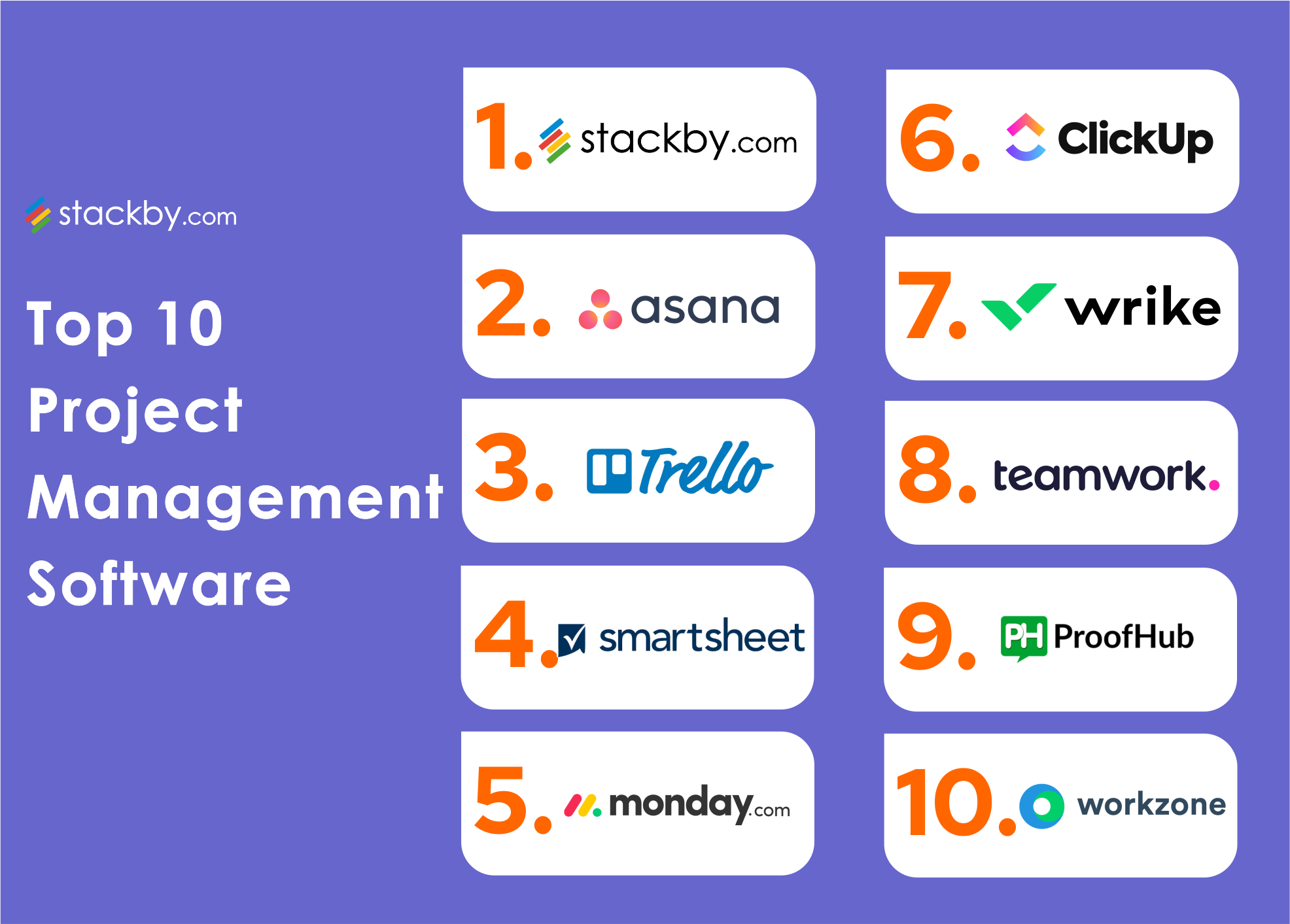 Here's a list of the top 10 project management software to help you in the process.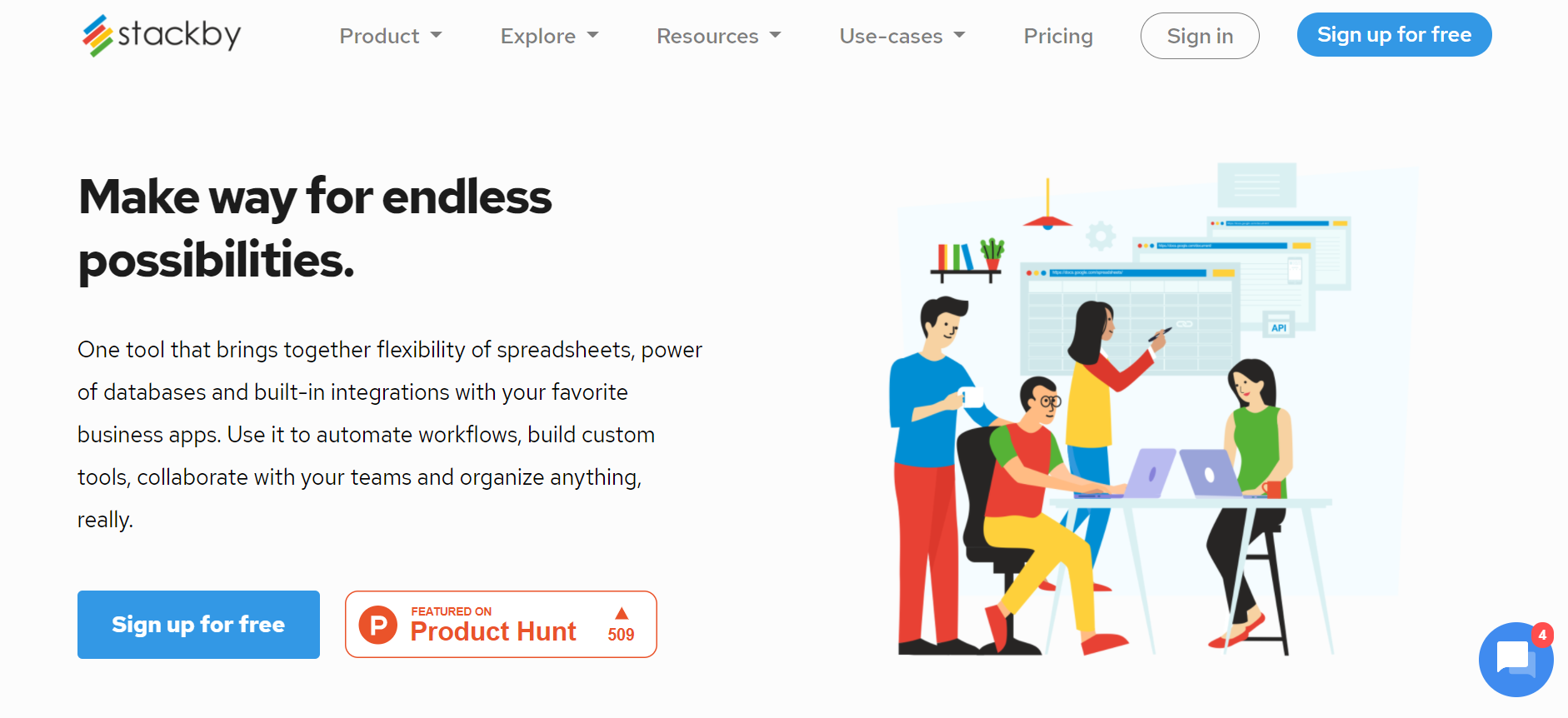 Stackby is a spreadsheet-database hybrid project management software that will meet all your requirements. This software allows its users to structure and manage their projects in their own way.
It facilitates seamless collaboration among team members and enables users to create checklists on individual records. You can even set reminders to ensure that the work is done on time. You can set and track project milestones and deadlines using Stackby.
One of the most attractive features of Stackby is the API integration facility. This allows users to connect to third-party services Intercom, Google Analytics, PageSpeed, MailChimp, Facebook Ads, Google Ads, etc. and automatically pull and analyse data from the same.
You can update the same data and track the real-time information by simply clicking the refresh button. Stackby offers a wide range of pre-built templates to its users.
They can use these templates and customize it according to their requirements. The data can be viewed in the form of Grid, Kanban, Calendar, Gallery, and Forms. You can choose your view according to your current requirements.
It has been designed for technical and non-technical users. Users can communicate and collaborate with their team using comments, checklists, reminders, etc.
You can use it on the web or as an app or Chrome extension too.
Stackby is a trusted project management partner of a number of clients. Here are some of the reviews of Stackby by users: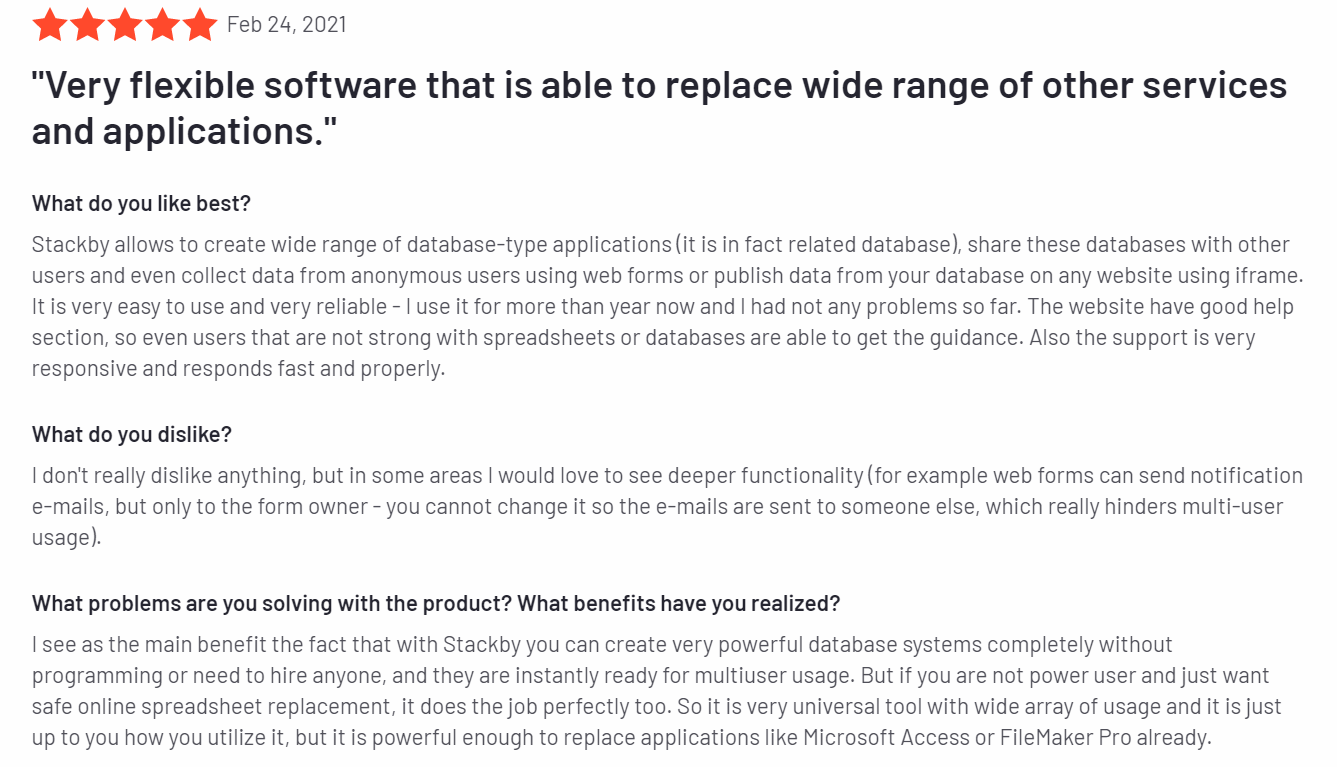 Pricing – Stackby offers a free trial to its users for 7 days. It offers a Personal Plan for $5 per user per month, an Economy Plan for $9 per user per month, a Business Plan for $18 per user per month. It also has an Enterprise Plan with scalable pricing.
2. Asana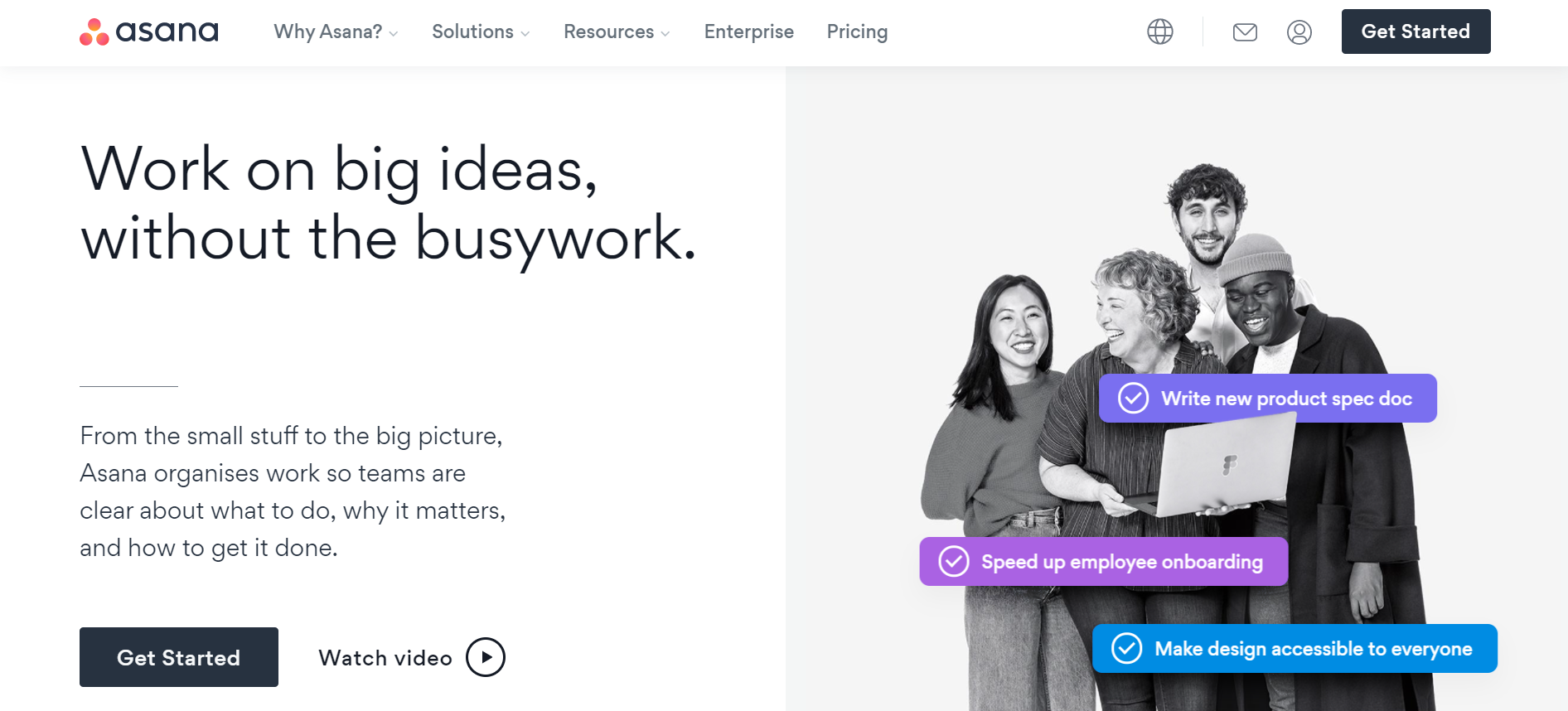 Asana is another widely used project management software. This all-in-one software can be used by professional, experienced users as well as new non-technical users easily.
Asana facilitates seamless communication among team members with built-in communication tools. It allows the user to break down a vast project into simple, manageable tasks and organize the files, documents, and other relevant material in one place.
With this software, you can create a visual timeline of your project and keep a close track of what is left to be done. You can schedule and reschedule your tasks according to the changing requirements.
Asana is also used for customer relationship management. You can store and update customer personas and create marketing plans with maximum reach. With the time and expense tracking feature, you can keep track of your budget and due dates.
You can also connect your Asana account to Google Drive, Dropbox, etc. Asana has a wide range of pre-built standard forms that can be used to collect and record information.
Pricing – The Basic Plan of Asana is completely free for up to 15 team members. It also offers a Premium Plan for $10.99 per user per month, a Business Plan for $24.99 per user per month and an Enterprise Plan for large organizations.
3. Trello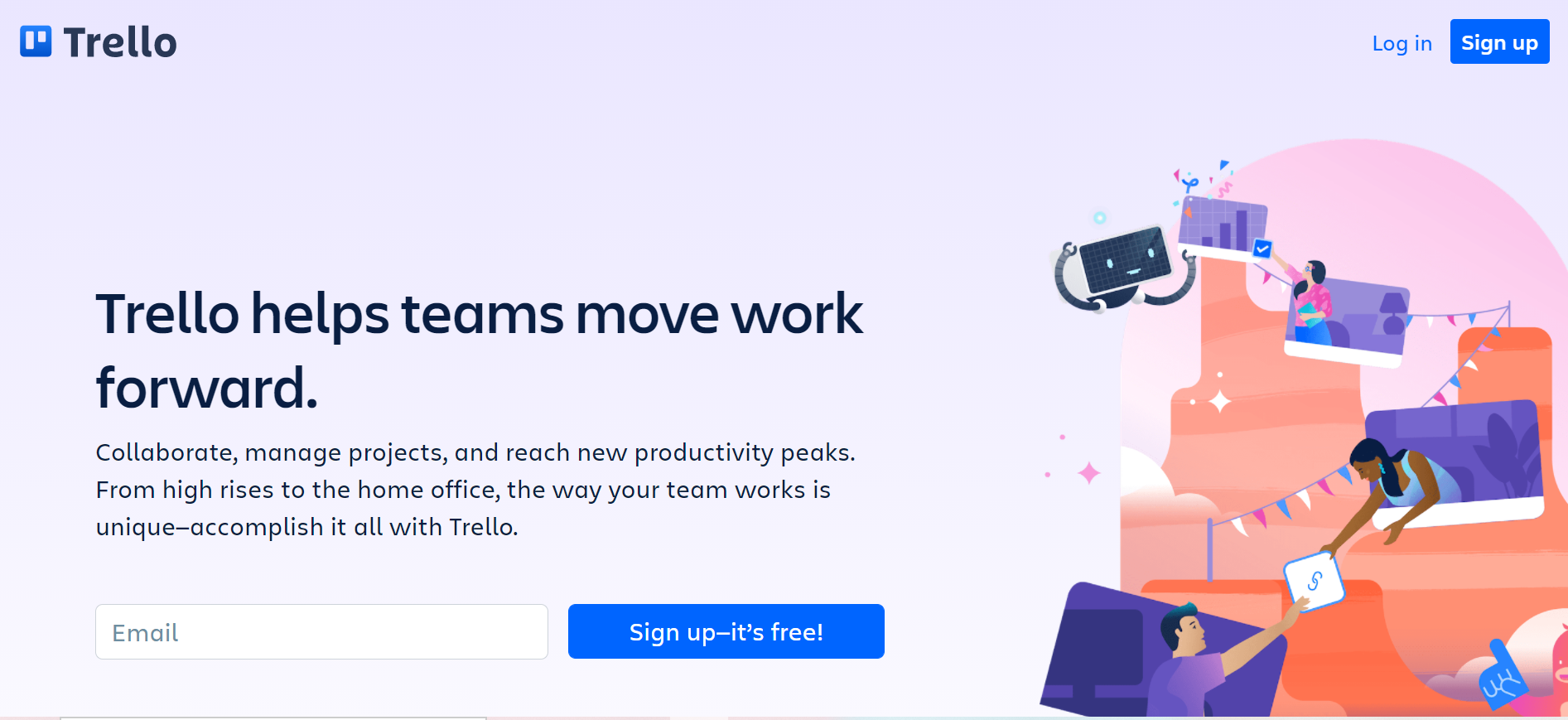 This easy-to-use platform is also a preferred choice for project management. It allows its users to streamline their workflow and enhance their productivity easily.
There are several situations where multiple teams are working on multiple different projects. Keeping track of each detail can be quite chaotic. However, with Trello, you can create different boards for different teams, jobs, and projects.
You can even set deadlines, reminders, and alert notifications to ensure that the project is completed on time. Trello has a dedicated voting system that employees can use to support or disapprove of a particular decision.
Trello allows users to display the data in the form of cards. You can drag and drop each section as and when it is needed. You can also get a detailed and quick overview of the front and back cards.
This simple and easy-to-use project management tool is available for desktop and mobile users.
Pricing – Trello offers a free plan with limited features. Besides, it offers a Business Class plan at $10 per user per month and an Enterprise plan at $17.50 per user per month.
4. Smartsheet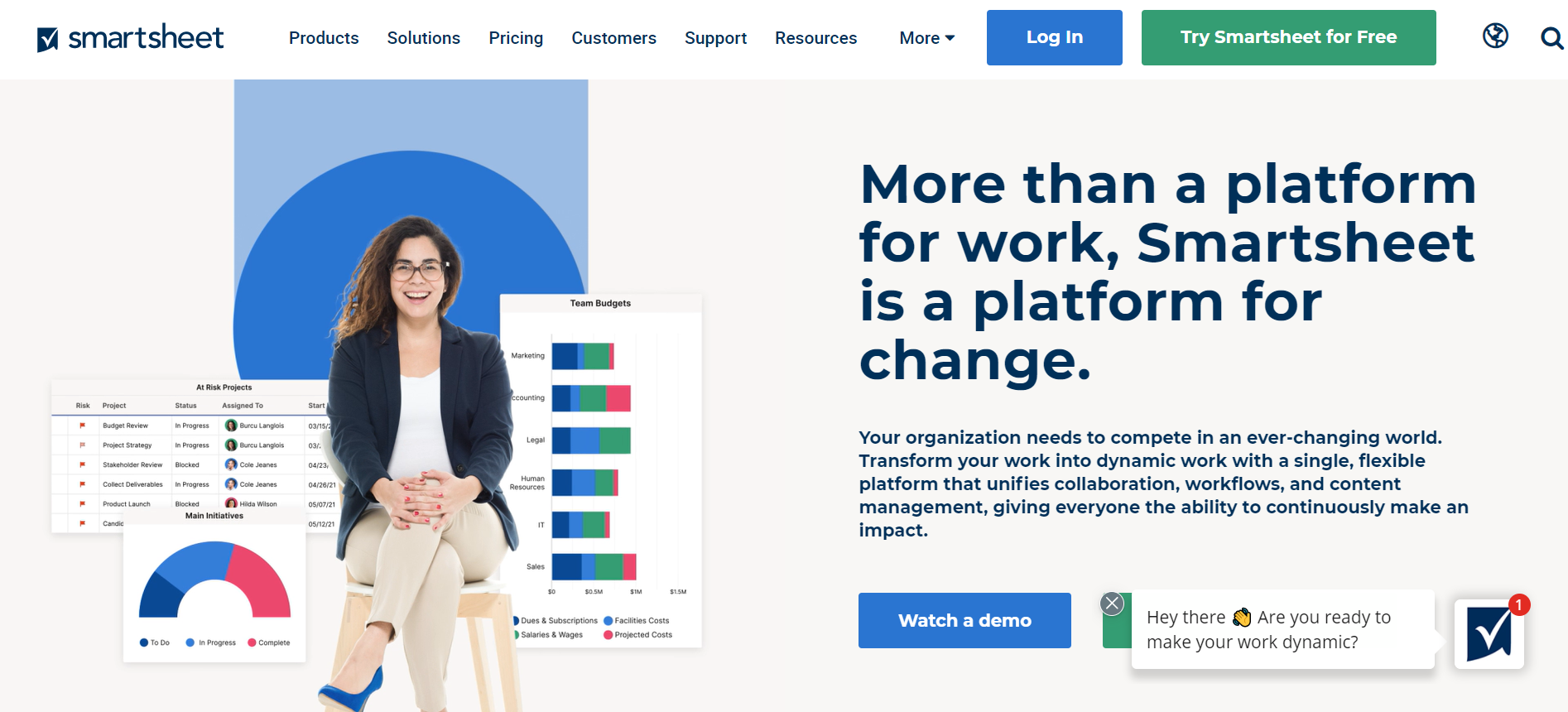 Smartsheet is a project management software that is perfect for effective team collaboration.
You can manage and track your project updates on a single interface and get real-time updates concerning your project tasks. Smartsheet also allows you to upload files and folders directly from Google Drive, OneDrive, DropBox, etc., into the system.
You can keep track of your team members and monitor the work allotted to them along with its progress. You can also automate repetitive project tasks using this tool. The Activity Log here allows you to track the various aspects of your work.
Smartsheet is available in both the desktop and mobile version.
Pricing – Smartsheet offers two different sets of plans, namely Standard and Enterprise. Under the former, it provides an Individual Plan for $14 per month and Business Plan for $25 per user per month. On the other hand, it also offers an Enterprise Plan and Premier Plan.
5. Monday.com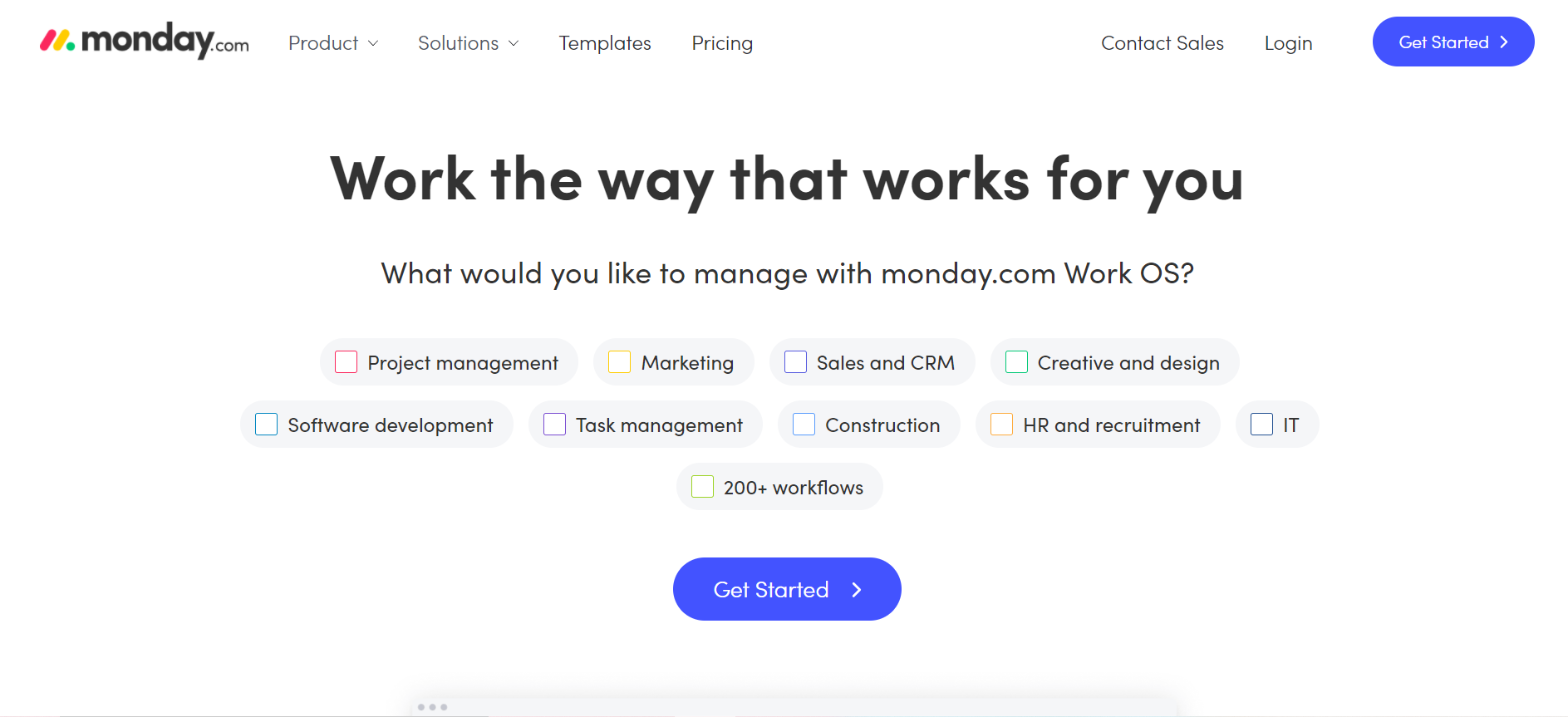 Monday.com is a project management tool that allows users to organize plans and projects and manage multiple projects simultaneously.
This project management software will let you set up restricted access. This will allow you to control the amount of information each member of your team has access to. Monday also seamlessly integrates with other third-party services such as Zapier, Google Drive, DropBox, etc.
Monday comes equipped with a wide range of visual and engaging templates customized according to the specific user's requirements. You can even create your templates.
The software works on an open-source framework. This allows users to create their integrations and add other features and customizations as they need. It also lets users add third-party agents and freelancers and work together.
Pricing – Monday offers a preliminary plan that is completely free. It offers a Basic Plan for ₹600 per seat per month, a Standard Plan for ₹750 per seat per month, and a Pro Plan for ₹1200 per month.
6. ClickUp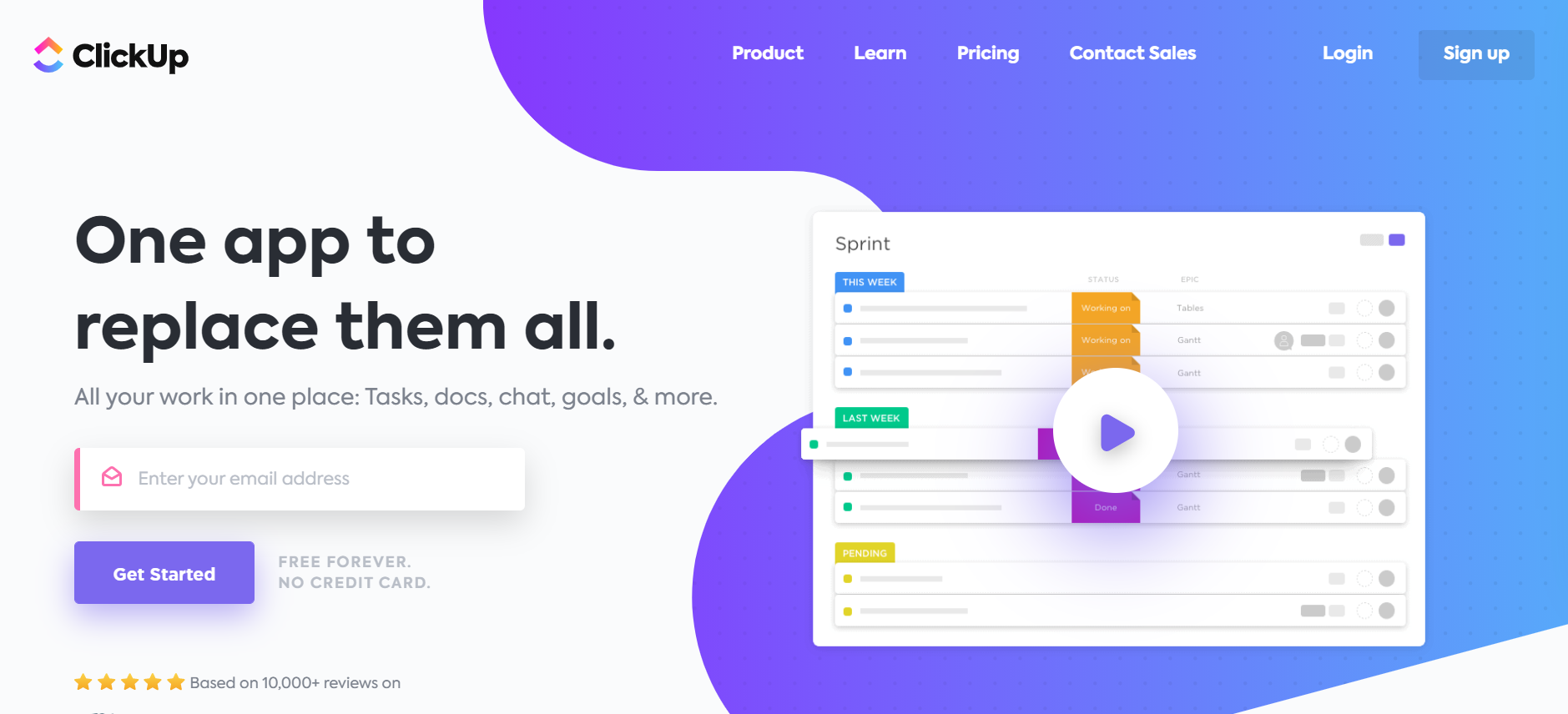 With the project management software ClickUp, you can track all your projects on a single interface.
Used by companies across the globe, this software allows users to design a workflow for the project. You can use ClickUp to track the entire project process from start to finish. It will help you manage your resources and ensure their optimum utilization.
The data entered in ClickUp can be viewed as a List, Gantt, Box, Calendar, and Board. In addition to this, the software offers more than ten customizable views. For team collaboration, ClickUp enables users to comment on a document or task, assign action items, chat in real-time, share files and folders, etc.
You can view your entire project at one glance on a dashboard. To keep the project on track concerning the deadline, you can set clear project expectations for your team members, coupled with time estimates. You can also track the time spent on each task.
Pricing – ClickUp offers a free plan and an unlimited plan for $5 per member every month.
7. Wrike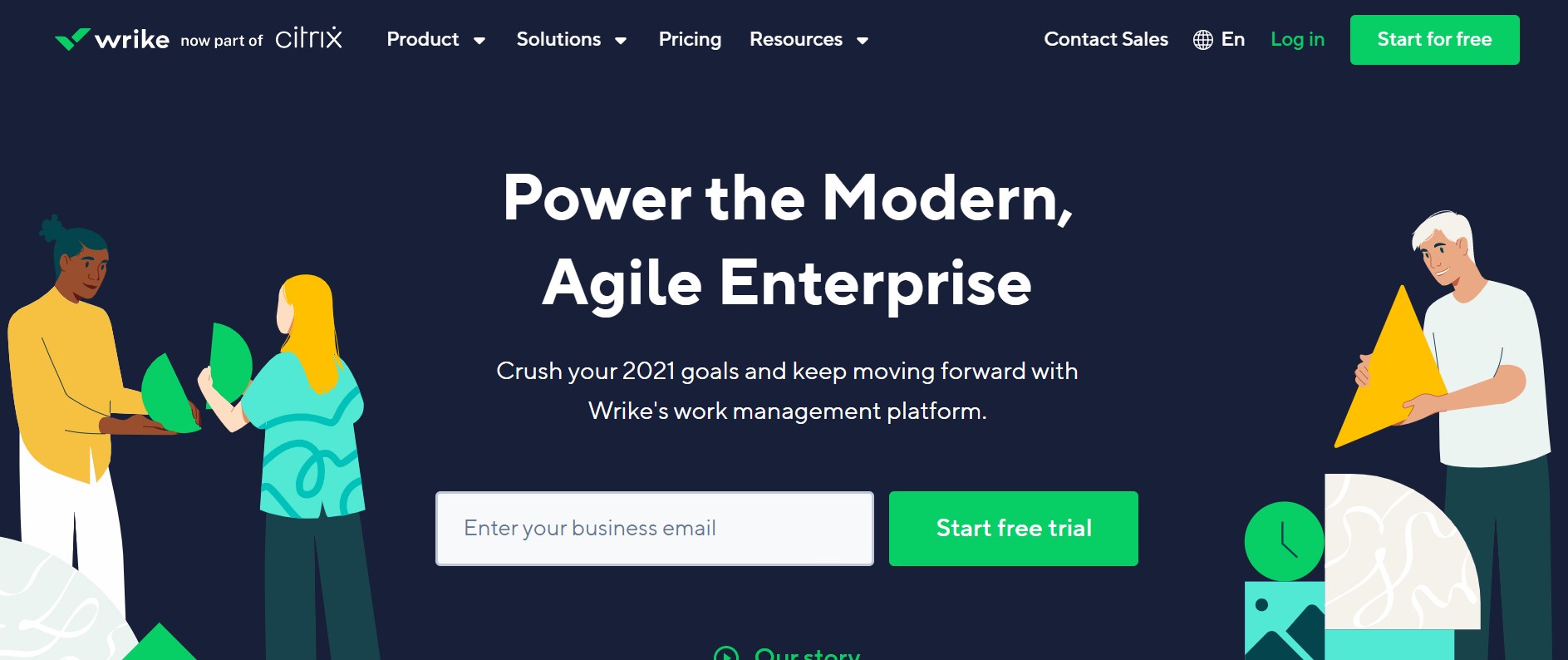 A project management software with a creative interface, Wrike is also a popular option.
It allows the members of a team to work as one. It provides them with the exact tools they need to accomplish their task. You can create customized dashboards for project overview and generate forms to request information.
You can facilitate better collaboration in Wrike by sharing files, tasks, and reports instantly. Wrike allows you to make decisions in real-time with all the latest information. You can get 360-degree visibility of your efforts and subsequent outcomes. Using this software, you can showcase your progress and work to your stakeholders in an organized manner.
Pricing – Wrike is completely free for up to 5 users. For 5, 10, 15 users, Wrike offers the Professional Plan for $9.80 per user per month. For 5-200 users, it offers the Business Plan for $24.80 per user per month. The Enterprise Plan is for unlimited users.
8. Teamwork

Teamwork is a workflow and project management software that allows users to create customized workflows in a way that is comprehensive as well as simple to understand.
You can manage multiple projects in one place and check the work progress using different in-built tools. Checking the project status is as easy as clicking a single button. You can assign tasks to your team members and keep them accountable for the same.
Teamwork allows you to track the time taken to accomplish a particular task. By tracking each member's workload and time, you can forecast their burnout limit and plan your future projects accordingly.
This will also allow you to judge which team member can take on more work and utilize your available resources optimally. Teamwork can also be integrated with a commonly used third-party application such as Slack, HubSpot, Google Drive, Zapier, DropBox, etc.
The project management software is easy to use with an interactive interface.
Pricing – Teamwork offers a range of different plans according to user requirements. The software has a free plan followed by a Pro Plan at $10 per user ever month. The Premium Plan is for $18 per user per month. Teamwork also offers an Enterprise Plan.
9. ProofHub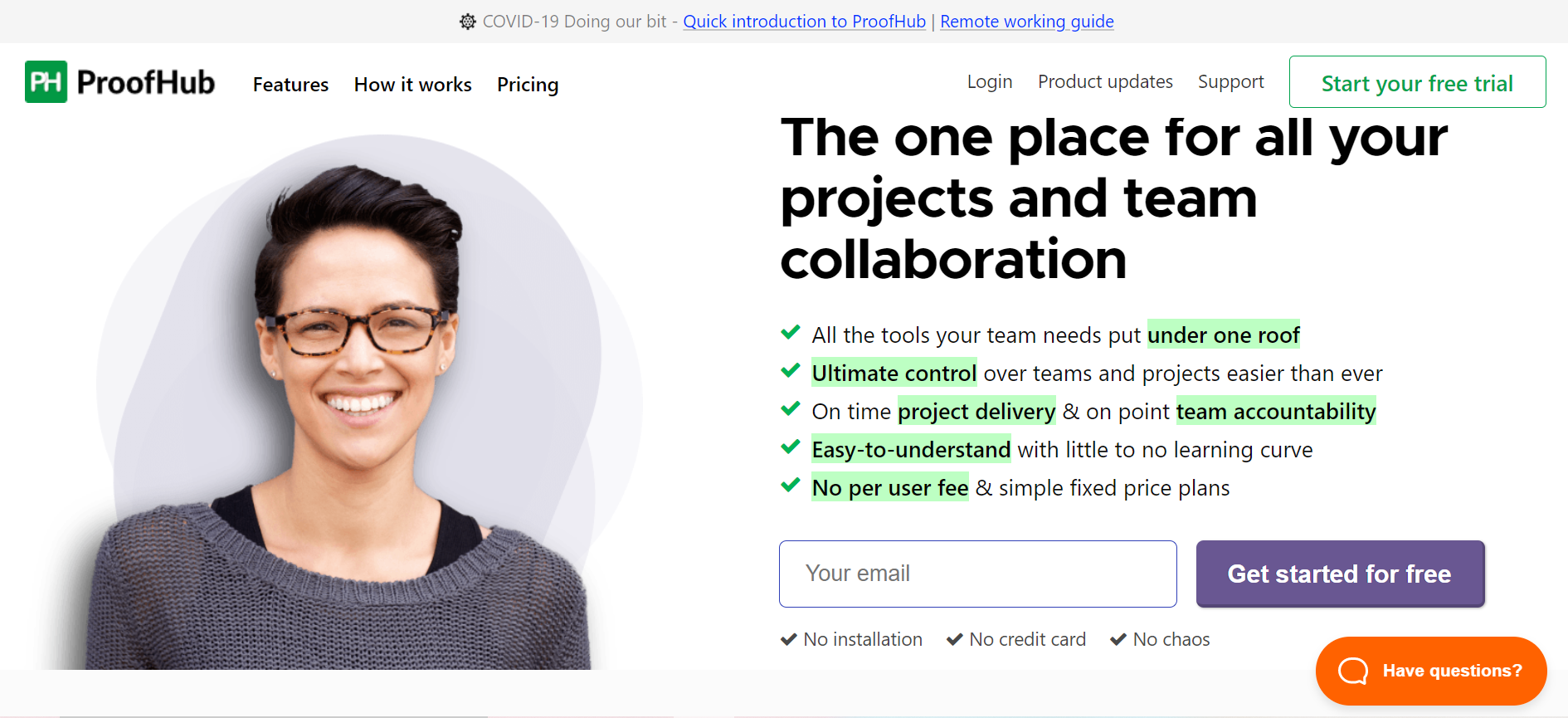 ProofHub is an all-in-one project planning and management software. It gives you complete control over all your projects in different departments.
This software stores all the required tools in one place and ensures the timely delivery of projects. Technical and non-technical users can use it with little to no coding experience. The interface of the software is easy to understand with a minimal learning curve.
You can empower your team to manage their work by displaying the project data in the kanban mode in the form of cards. Team members can drag and drop their tasks from one stage to another and track their progress.
You can prioritize the tasks by setting different deadlines, labels, and time estimates. The software timeline will allow you to visualize each aspect of your project to ensure that they fit seamlessly.
With ProofHub, you can also store all your files and folders in one place to ensure easy access to all the team members.
Pricing – ProofHub does not charge any per-user fee. It offers an Essential Plan for $45 per month and an Ultimate Control Plan for $89 per month.
10. Workzone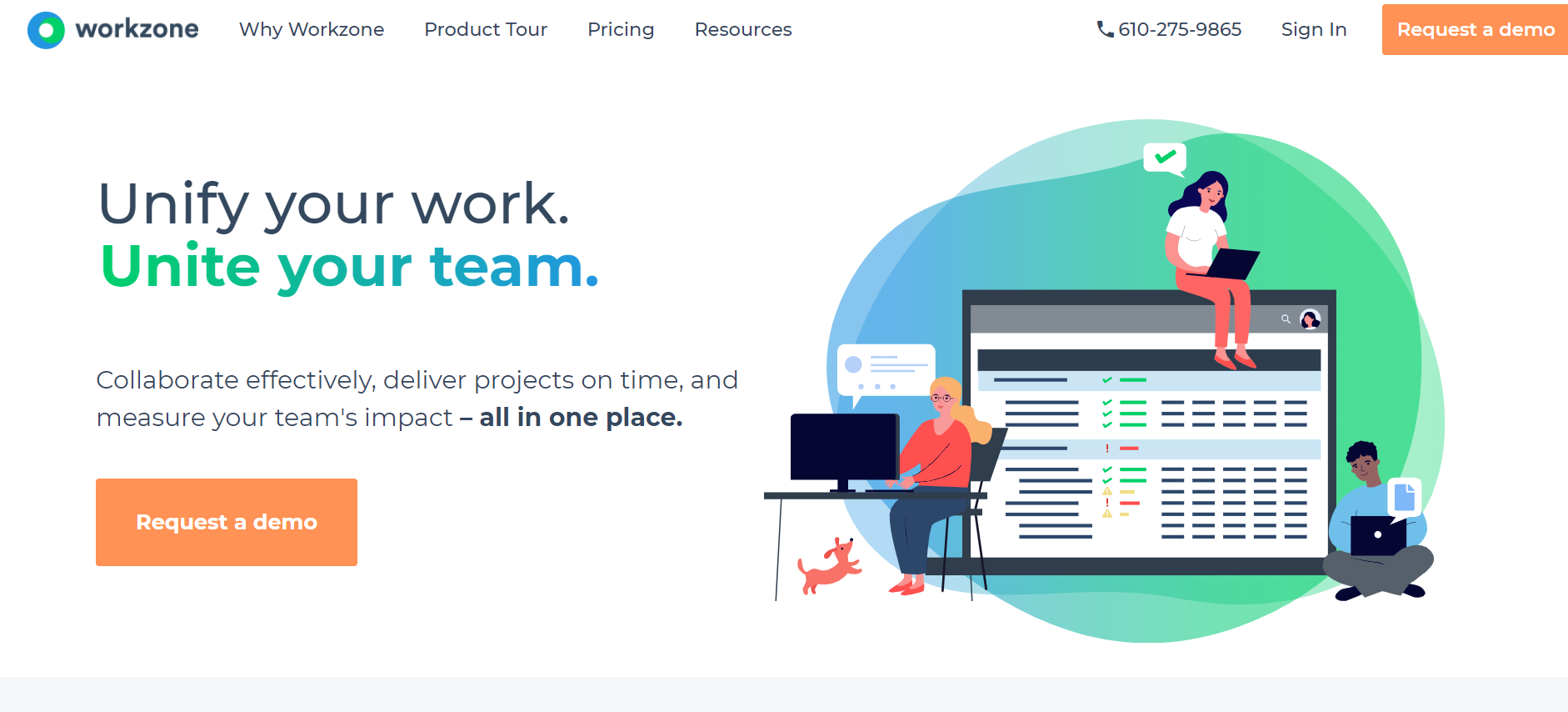 You can manage your projects and the tasks within the same with the project management software Workzone.
Workzone will help you evaluate multiple projects and the current status of each one. This will highlight where you are falling behind and how you can reschedule your tasks to ensure timely delivery.
You can manage your team and their respective workloads to ensure that no member is working over or under their respective capacity. Workzone also allows you to share and approve documents online.
You can create personalized to-do lists and send automatic reminder emails to ensure that your entire team stays on track concerning their daily and weekly work. Each document and task section has its own comments area that allows you to add the required comments whenever necessary.
Your Workzone account can also be integrated with multiple third-party applications to ensure the flow of information from one place to another.
Pricing – Each plan offered by Workzone comes with unlimited training and support facilities. The project management software offers a Team Plan at the rate of $24 per user per month, a Professional Plan at the rate of $34 per user per month, and an Enterprise Plan at the rate of $43 per user per month.
Conclusion
Project management software are the new and efficient way to keep up with your team and track its progress in real-time. Gone are the days of following up with everyone for every small task. Assign tasks in the software, and hold them accountable for all those missed deadlines easily!