13 Best No-code Tools for 2023
Gartner predicts that 70% of application development for enterprises will move to low-code/no-code by 2025. Learn about top no-code tools to build your custom workflows and applications in 2023 & beyond.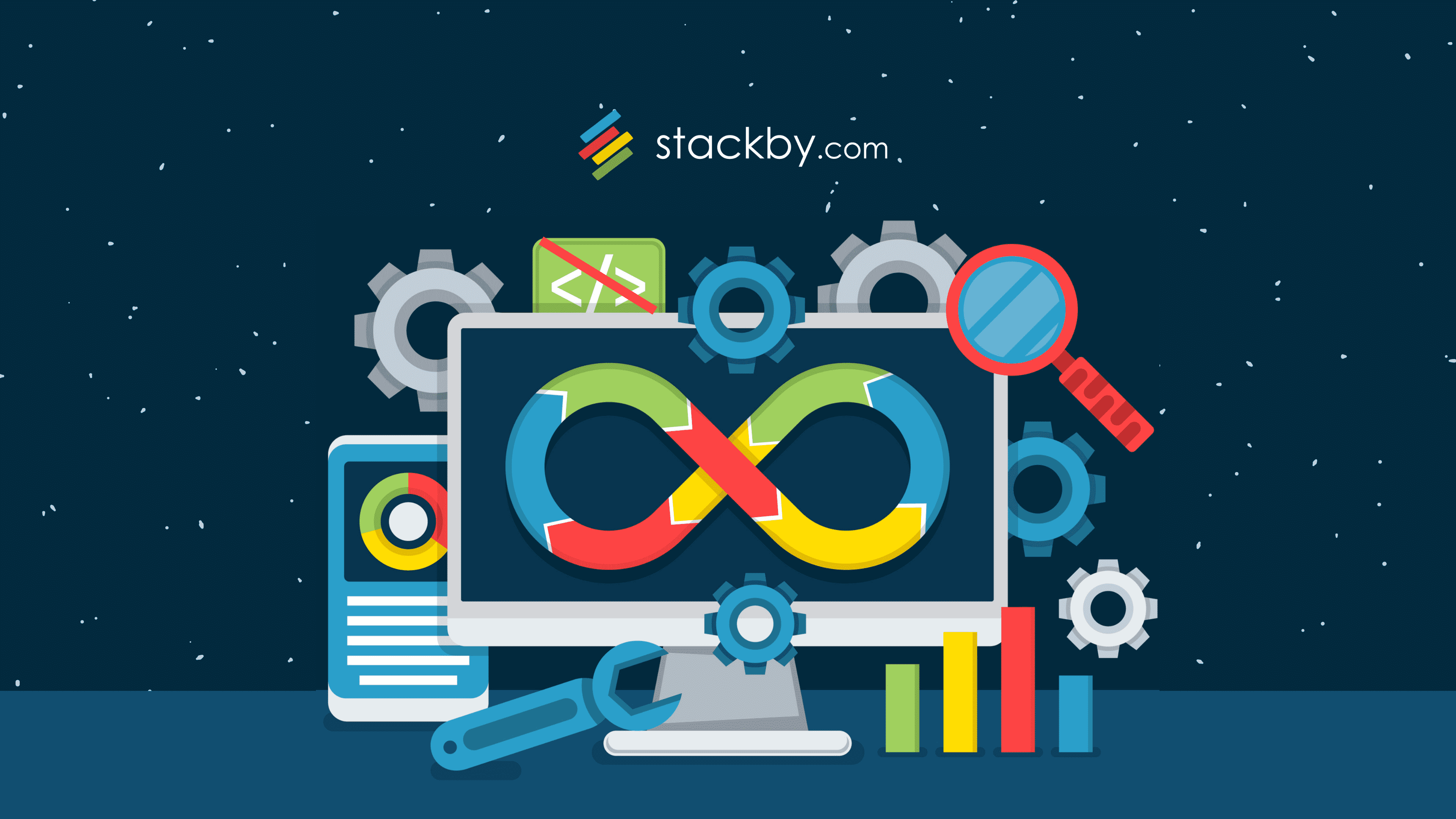 Introduction
Gartner predicted that by 2025, 70% of enterprises will use low-code/no-code tools to build applications and manage their workflows.
Have you ever wanted to develop a website, automate a process, or make a mobile app but were terrified to think about coding? But do not worry, for no-code tools are coming to save the day!
No-code tools do exactly what they say on the tin: they let you create unique solutions without the need for coding expertise. They are made to be straightforward and user-friendly, making it possible for anyone to develop digital products that were previously only available to those with coding knowledge.
No-code solutions are a game-changer in today's environment when digital products are becoming more and more crucial for businesses of all sorts. They enable entrepreneurs and small business owners to build specialized solutions that meet their unique demands without having to fork over a fortune to hire developers or acquire coding skills.
You might now be asking what these no-code tools are specifically and how they can benefit me. That is precisely what we are here to discuss. We'll introduce you to 13 of the top no-code tools for 2023 in this article.
We can help you with any project, whether building a website, workflow automation, or mobile app development. These technologies, which range from Stackby and Zapier to Carrd and Webflow, span a broad spectrum of use cases and are made to be simple to use even by those without coding skills.
So grab a coffee (or your favorite beverage), settle in, and get ready to explore the world of no-code tools. Who knows, you might just stumble onto the ideal instrument to advance your company!
Let's get started with our ranking of the top 13 no-code tools for 2023: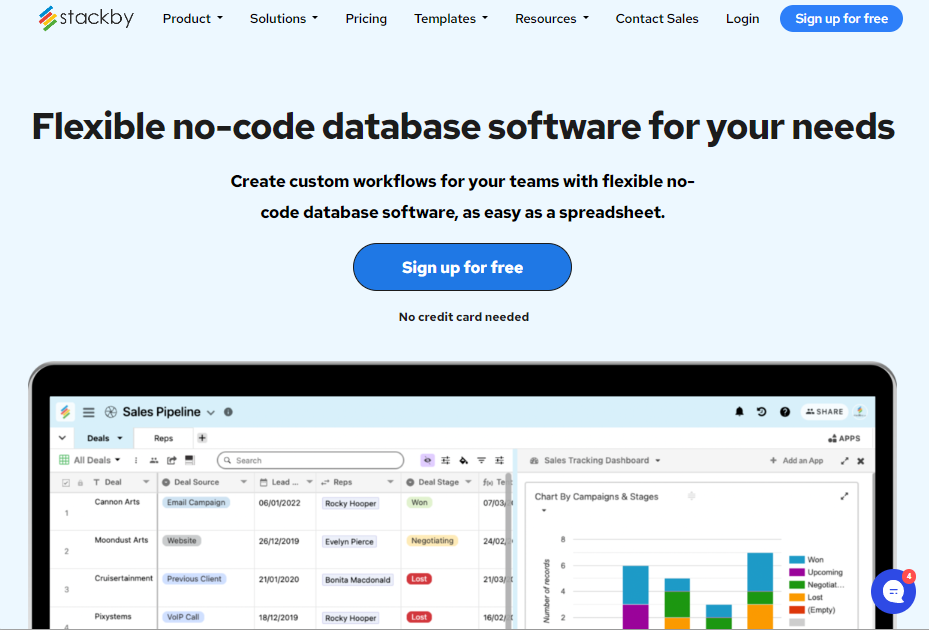 The comprehensive, no-code platform Stackby allows users to create editable databases and spreadsheets. Users can effortlessly construct their own no-code databases, create complex workflows, track projects, and manage their data and processes with its user-friendly interface without writing a single line of code.
Stackby is a flexible solution for any business due to its support for API connections with popular platforms like Google Analytics, Facebook Ads, Youtube, Google Search Console, and more.
With over 300+ no-code database templates, you can start within minutes and customize your workflow according to your requirements. You can even import data from Excel or Google Sheets and convert it into a database in minutes.
You can even use the Developer API to use Stackby as a lightweight no-code backend database and build MVPs, web portals, and more on top of the Stackby data.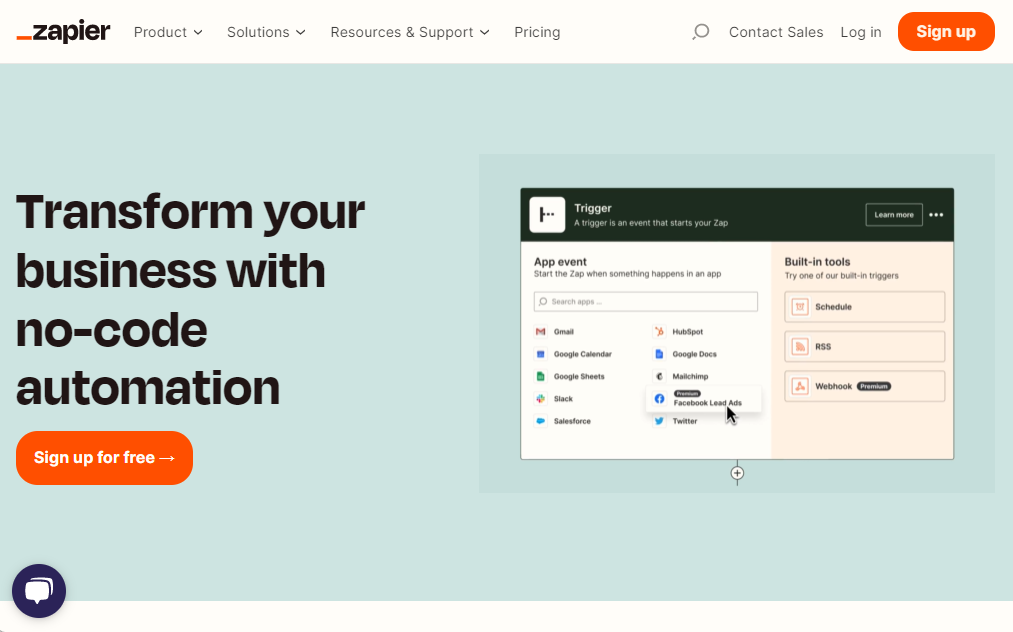 With the help of the well-known no-code automation platform Zapier, users may connect various apps and services to construct workflows. Automating tedious operations like sending emails and updating spreadsheets is possible with Zapier.
Zapier is a wonderful alternative for any company looking to optimize its operations because it supports more than 3,000 apps and services.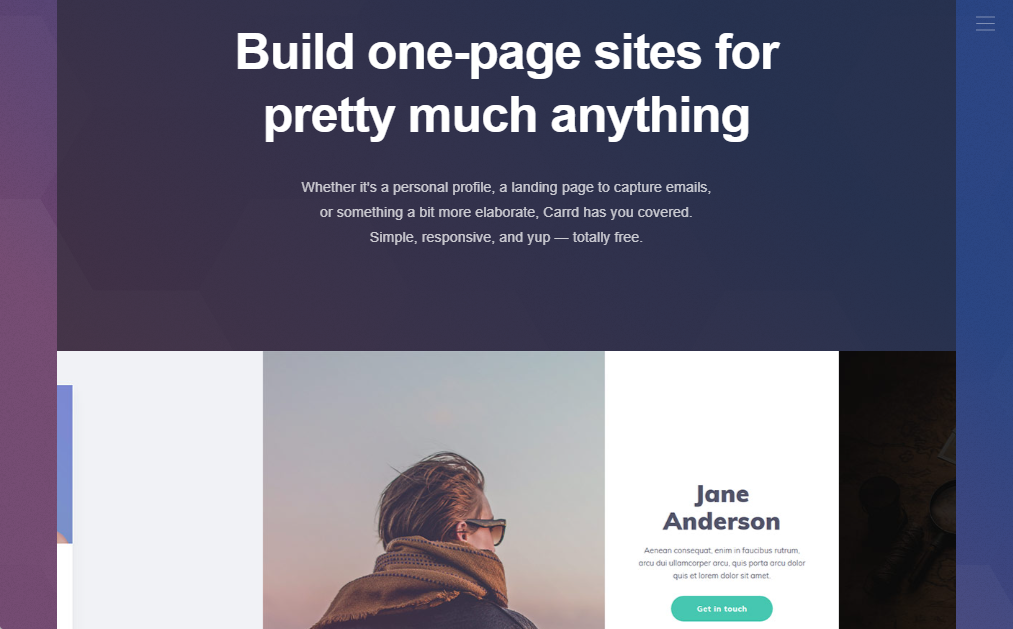 Without any prior coding experience, anyone can design straightforward, responsive landing pages using Carrd.
It's an excellent solution for startups and small enterprises because users can quickly develop and deploy their landing pages using the straightforward drag-and-drop interface.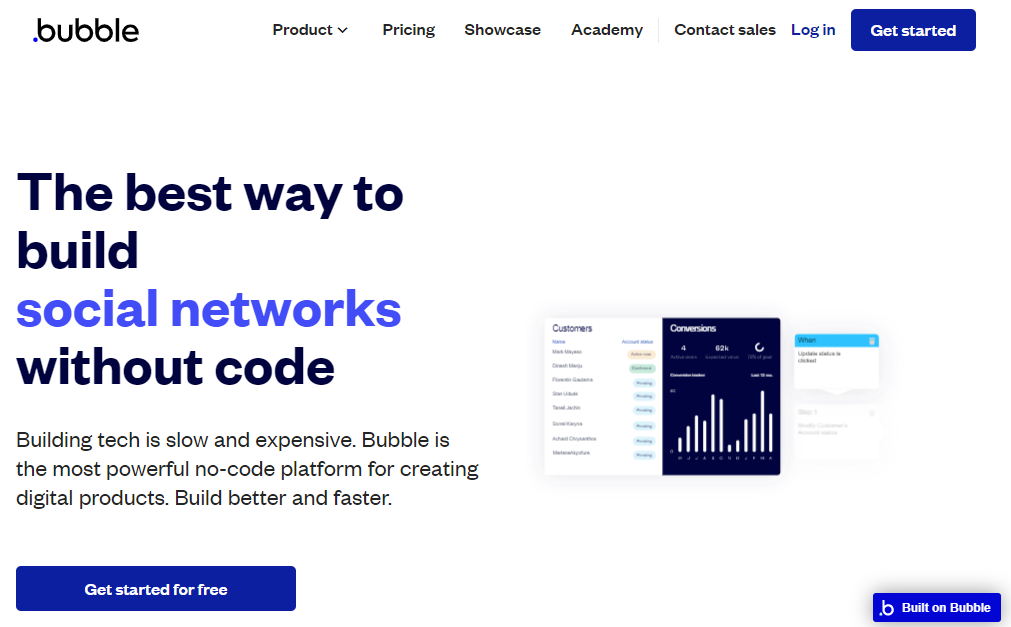 With the help of the no-code platform Bubble, users may create web applications without any coding experience. Users of Bubble can design unique workflows, including third-party services, and do much more.
Bubble is an effective tool for companies of all sizes because of how simple it is for anyone to construct complicated web apps using its visual interface.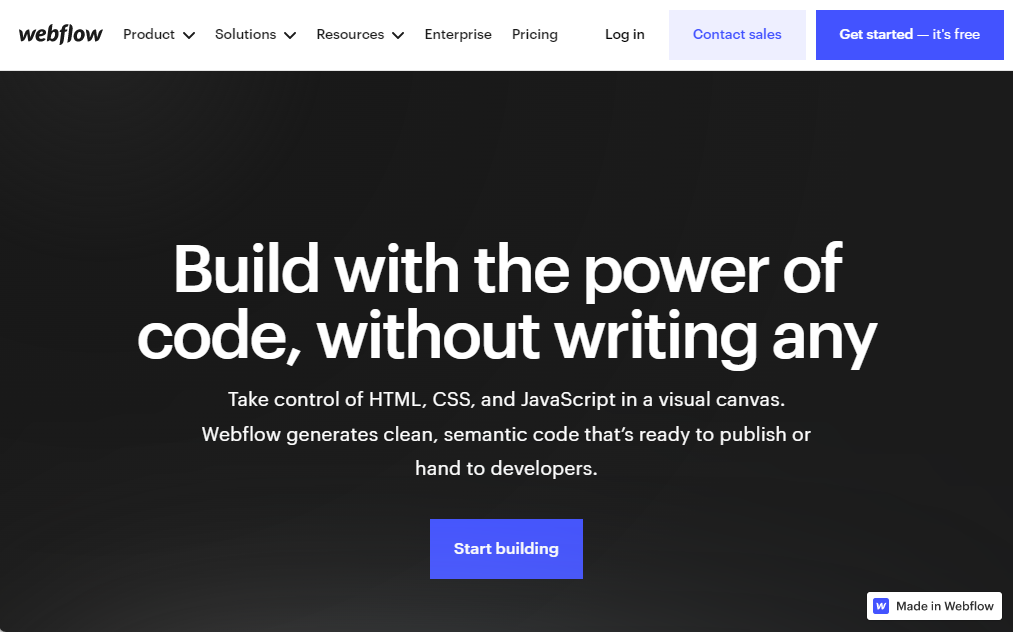 A no-code technology called Webflow enables people to make responsive websites without having any programming experience. Users may simply customize their website appearance, add animations, and more with its drag-and-drop interface. Webflow is a flexible solution for any company wishing to develop a website because it also allows interfaces with well-known services like Google Analytics.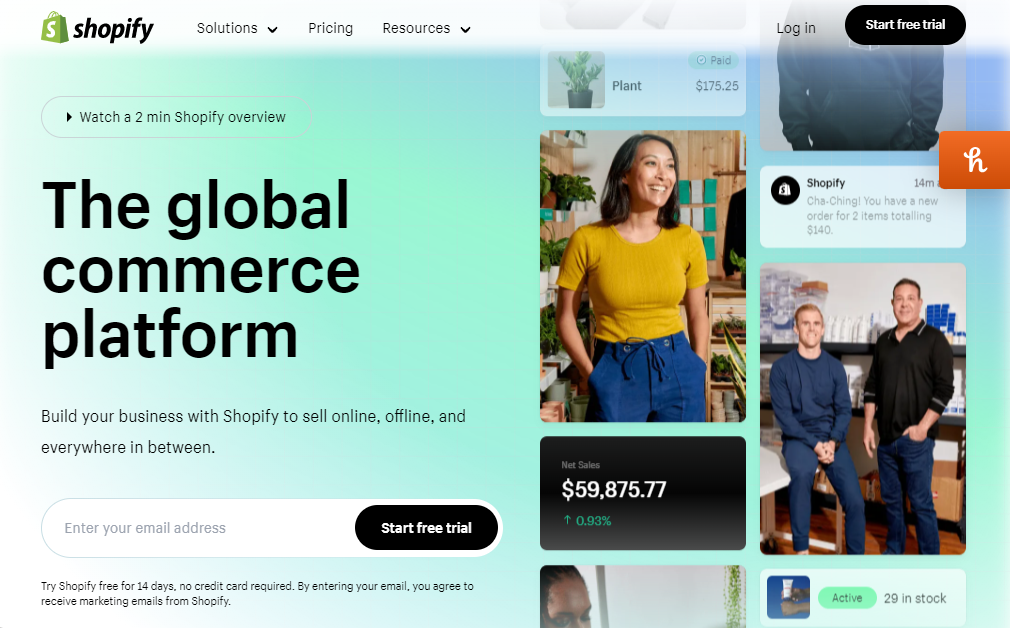 Users can construct online stores using Shopify's no-code e-commerce platform without having any programming experience. Users can handle orders, personalize their storefronts, and more with Shopify. Shopify is a potent tool for any company trying to sell goods online because it allows integrations with well-known platforms like Facebook, Instagram, and Google Shopping.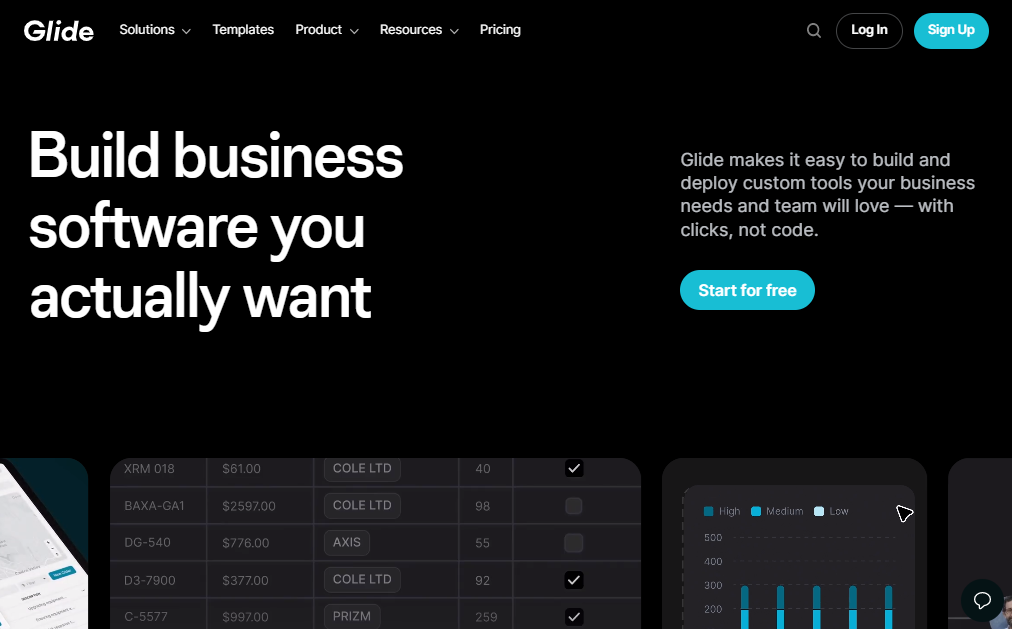 Without any prior coding experience, consumers may create mobile apps using the Glide platform. Users can design unique workflows, integrate with outside services, and more with Glide. Glide is an effective solution for companies of all sizes because of how simple it is for anyone to construct complicated mobile apps using its visual interface.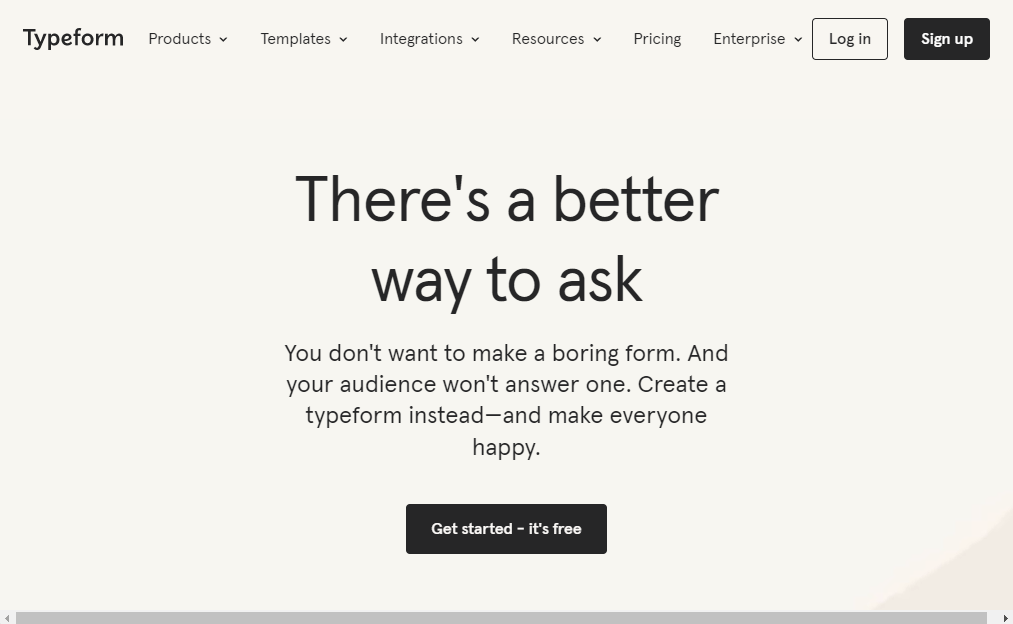 With the help of Typeform's no-code platform, users can easily construct interactive forms and surveys. Users may simply construct custom forms, collect replies, and more using its user-friendly interface. Typeform is a flexible tool for any business thanks to its support for integrations with well-known platforms like Google Sheets and Zapier.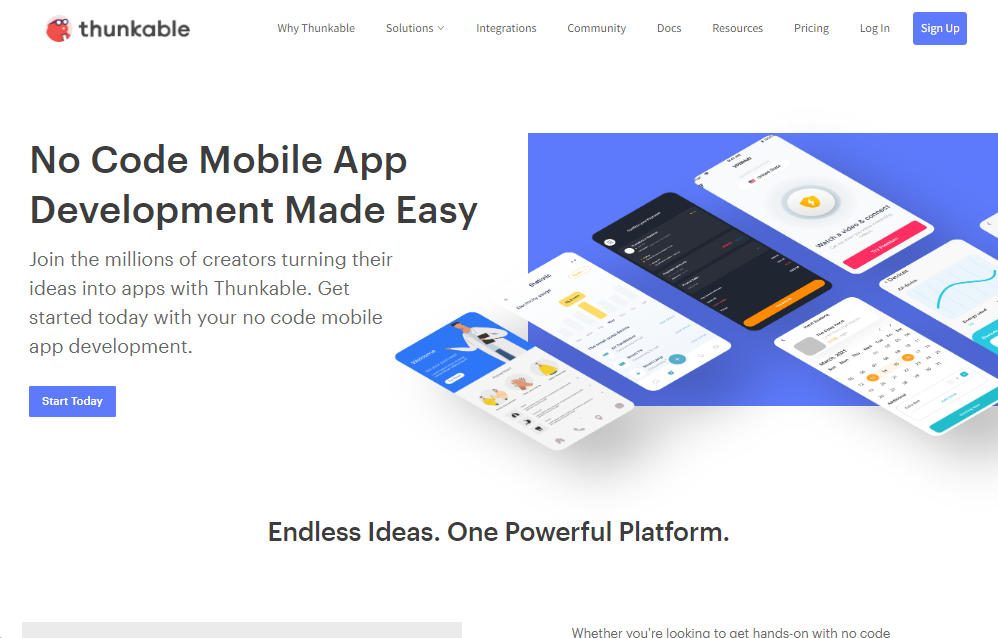 Without any prior coding experience, anyone may create mobile apps using the Thunkable no-code platform. Users may design unique workflows, interface with outside services, and more with Thunkable. Thunkable is an effective solution for organizations of all sizes because of how simple it is for anyone to construct complex mobile apps using its visual interface.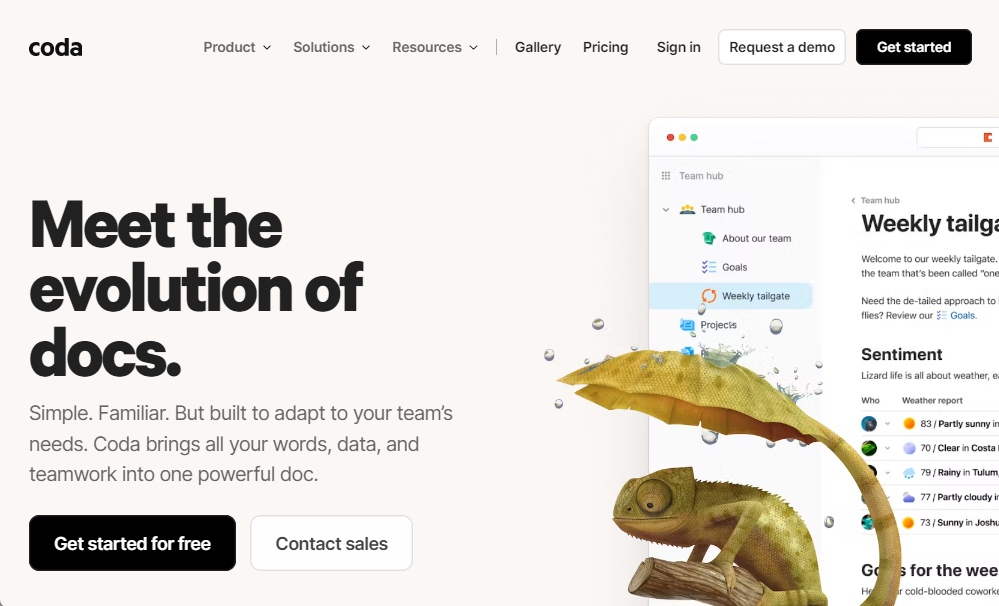 Coda is a versatile no-code platform that enables you to develop strong web apps without any prior coding experience, as well as interactive documents and spreadsheets. It integrates the features of Google Docs, Trello, and Excel to provide an all-in-one project management and team collaboration solution.
To make your documents more interactive and user-friendly, Coda makes it simple to include interactive components like buttons, forms, and dropdown menus.
Coda's user-friendly interface is among its most noteworthy benefits. Without writing a single line of code, you can build intricate workflows, automated processes, and integrations using the platform's drag-and-drop editor.
Additionally, Coda provides a variety of templates, including product roadmaps, meeting schedules, and CRM systems, to aid you in getting started quickly.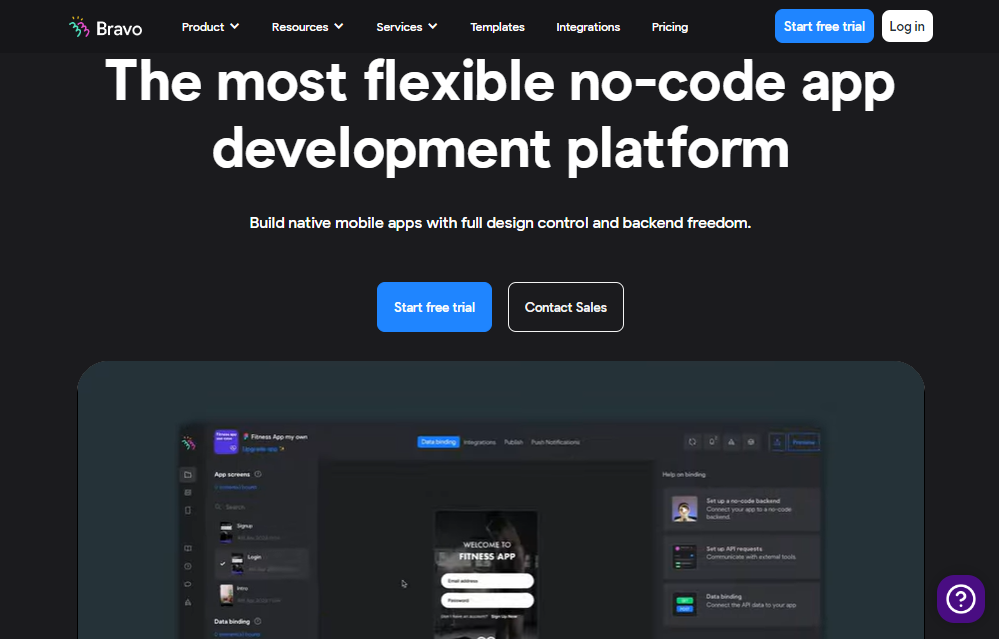 Bravo is a no-code solution that enables you to construct completely functional mobile applications. You can use the platform's drag-and-drop editor to create your app's user interface, add features and functionality, and test it across several devices. Bravo allows you to build cross-platform apps that function flawlessly on iOS, Android, and progressive web applications.
Bravo's intuitive interface empowers developers to swiftly design and construct apps without sacrificing quality. With its broad selection of features and benefits, Bravo Studio provides a comprehensive solution for businesses looking to streamline their mobile app development process.
The real-time preview function of Bravo enables you to see how your app will function and appear on various devices as you create it. To track user behavior and gather insights into how your app is functioning, Bravo also interfaces with a broad variety of third-party technologies, like Google Analytics and Mixpanel.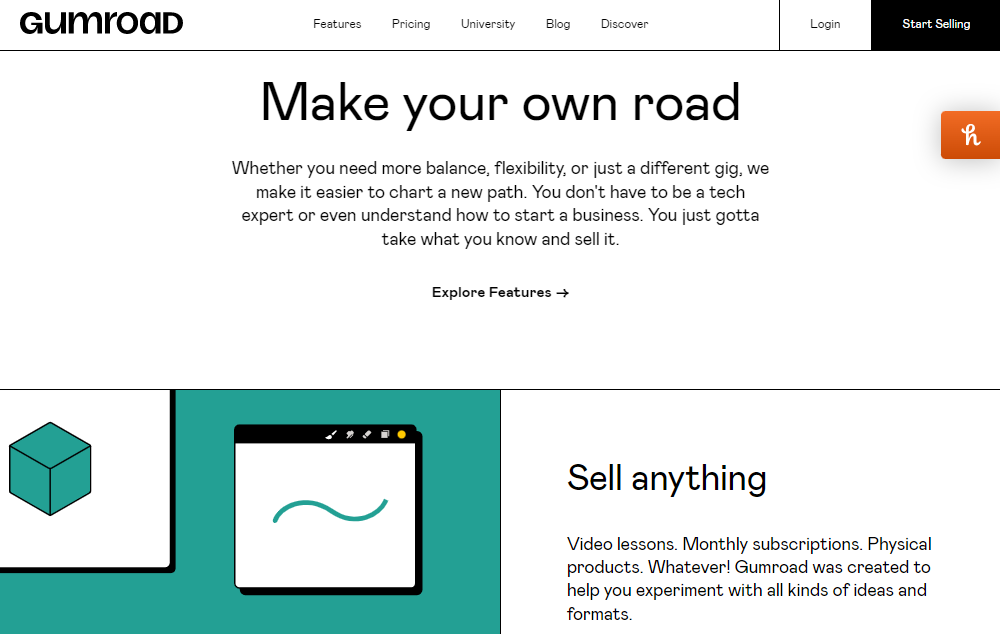 Gumroad is a no-code platform that allows creators to market their digital goods to their target markets. The platform has an easy-to-use interface that makes it simple to develop and sell digital products like music, e-books, and courses.
You can concentrate on producing excellent content since Gumroad handles all the technical facets of selling digital goods, including payment processing, download links, and customer service. It makes it very easy for you to sell your work and interact with your audience directly.
The built-in marketing capabilities on Gumroad let you advertise your items and grow your following right from the platform thanks to the platform's email marketing connectors with well-known services like Mailchimp and ConvertKit as well as social media integrations with Twitter and Facebook. Gumroad further offers analytics and sales tracking solutions that let you keep track of your sales and maximize your marketing initiatives.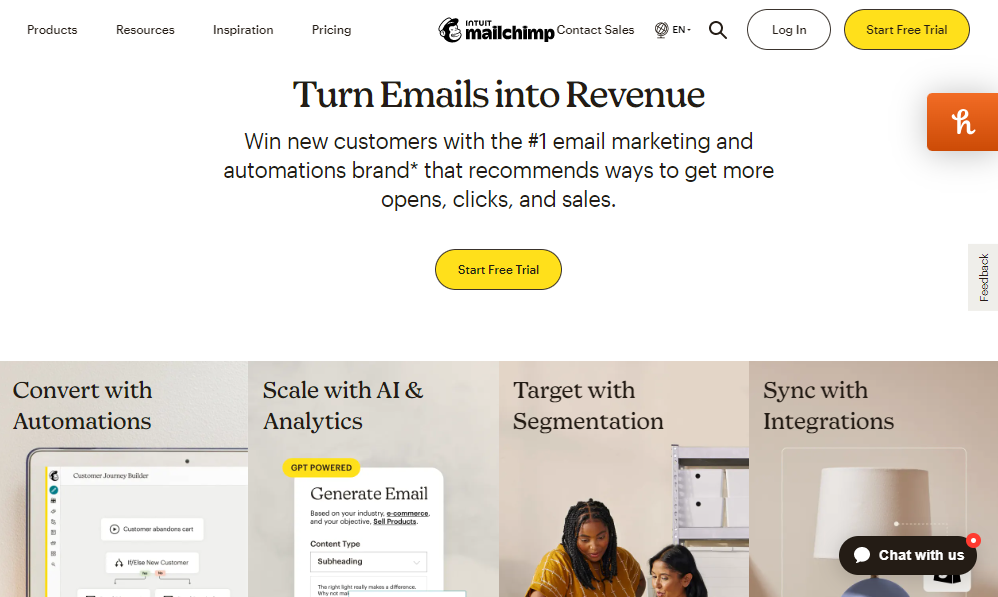 The no-code email advertising platform from MailChimp makes it simple to create and distribute eye-catching emails to those who subscribe. With the platform's user-friendly drag-and-drop editor, you can simply customize emails with images, text, and other design elements without any prior coding knowledge.
MailChimp provides a wide range of email templates for newsletters, product updates, and event invitations to aid in your early start. You can create automatic email campaigns that send follow-up emails, welcome emails, and reminders for abandoned shopping carts based on user behavior. Additionally, MailChimp offers thorough analytics so you can monitor the success of your campaign and refine your email marketing strategies.
Being one of the oldest email marketing software, Mailchimp is a 21-year-old notable tool due to its extensive features that cater to different audience groups - startups, small businesses, developers, and agencies. While Mailchimp boasts the highest market share among email marketing platforms, like any tool, it also has areas where there is room for improvement.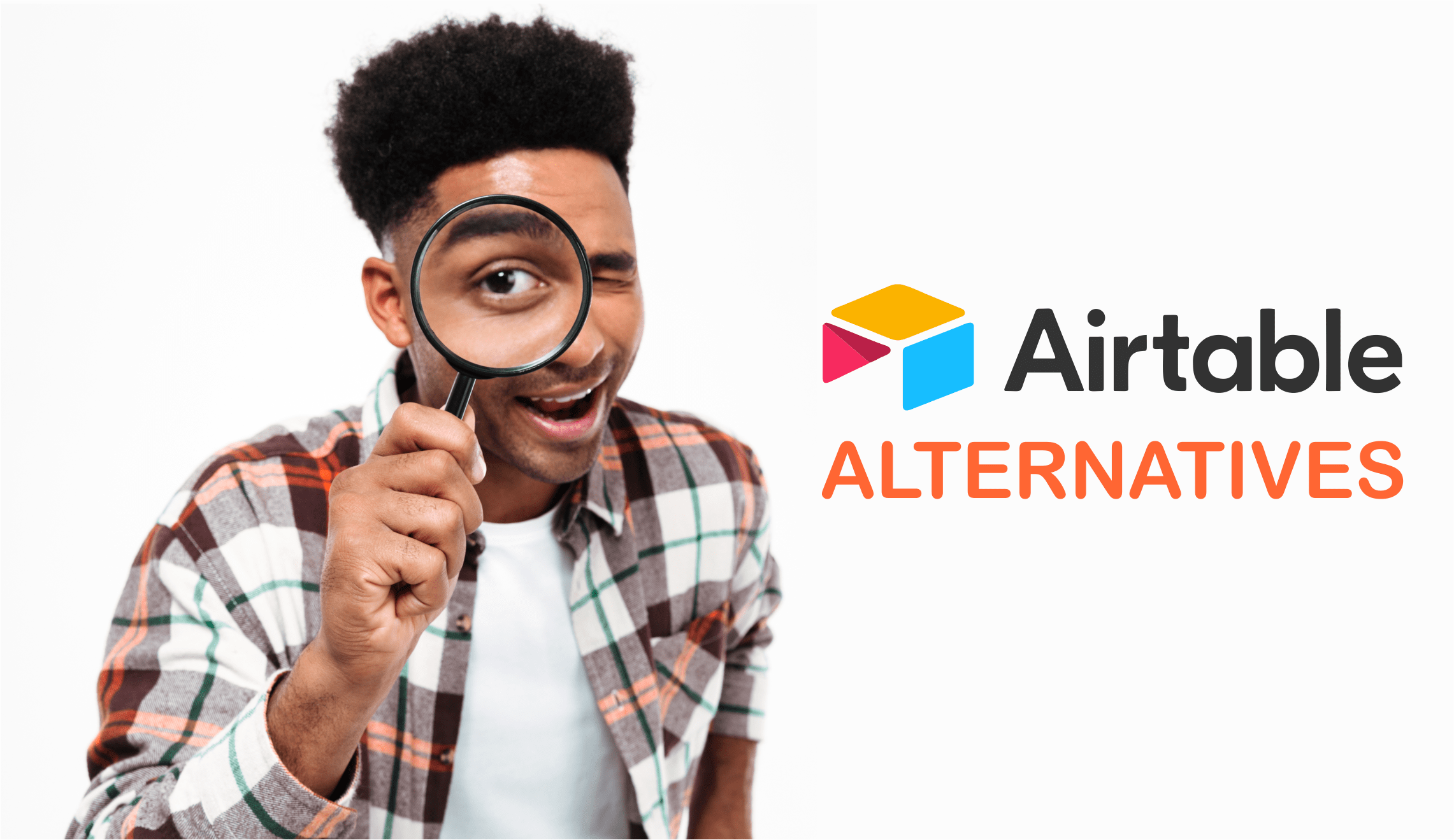 Conclusion
No-code technologies are swiftly changing the digital landscape by enabling anyone to build unique solutions without having to have a deep understanding of coding. The 13 technologies we've covered here can be used for a variety of tasks, including creating websites, automating processes, and managing databases. With the help of these tools, entrepreneurs and small business owners may design solutions that are unique to their particular needs and free up critical time to concentrate on their primary corporate goals.
By enabling anyone to build their website, automate workflows, or design a mobile app without needing to pay a developer or learn to code, no-code solutions have democratized the creation of digital products. The several effective no-code tools that are currently available include Stackby, Zapier, Carrd, Bubble, Webflow, Shopify, Glide, Typeform, Thunkable, Coda, Bravo, Gumroad, and MailChimp, to name just a few.
There is a no-code tool out there for everyone, whether you're an entrepreneur trying to create a minimal viable product or a small business owner looking to optimize your operations. You can make your ideas a reality and grow your business with the appropriate tools. Why not try out one of these no-code tools and see what you can come up with?