7 Best Database-Powered App Builders [2023]
Looking to build your own custom workflows & applications that powers from your database? Here are the 7 best tools that allow you to build your own apps, powered by your data.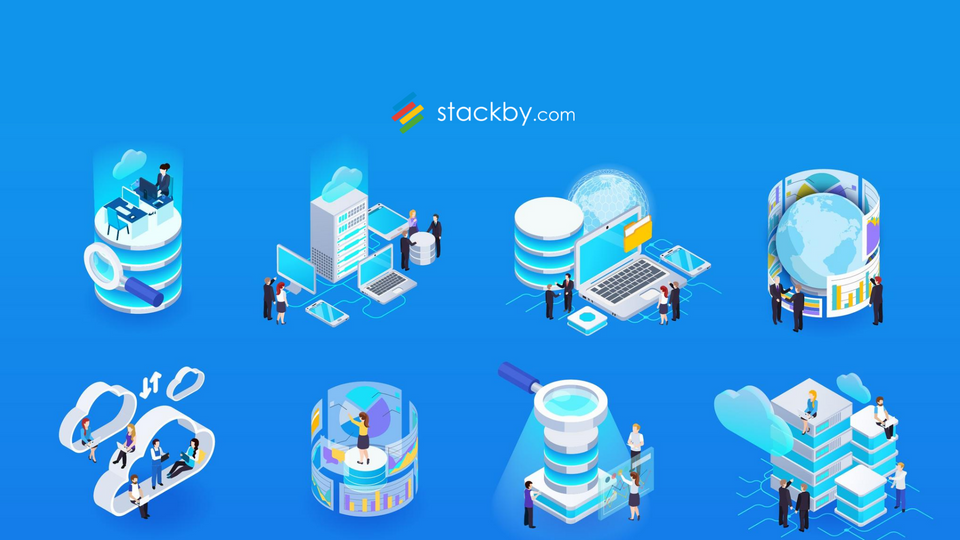 Introduction
Most businesses today recognize the value of a good database tool and the worth of managing data efficiently.
Of course, those who are used to whipping up spreadsheets in a flash on Google Sheets or Excel might not prefer making the move to a database. It would come with a learning curve and additional costs, but in the long run, a database enables you to do more than just store your data in one place.
An ideal database tool lets you actually do things with the data you collect - identify relationships and connections, perform analysis, create reports, and present them to stakeholders.
What makes database application builders different from your regular old DBM tools or spreadsheets? Well, a database app builder is a tool that helps you create a database application for your company without having to write code. The end goal of a database app is to come up with a way for your end-users to access your data using a UI, or for other applications to use, via APIs.
While a regular database tool allows you to enter queries to retrieve only specific data in similar categories, a database-powered app builder can create dashboards and visual representations for your data, which makes it easier to view, comprehend, and present in front of people. You can also easily create internal applications that use the database in some way, like forms or workflows.
Why Use a Database-Powered App Builder?
One of the main attractions of creating your own apps using a database-powered app builder is that it saves on costs. When launching a new project, for example, you might need to purchase several off-the-shelf commercial software solutions just to manage different aspects of the project. That comes with licensing fees and initial set-up costs.
The other option is to create your own applications from scratch, but this means hiring competent software engineers to write code and develop a decently functioning app from square one. This takes time and you might need to hire more qualified employees to get it done the way you want. Instead, going for a low-code or no-code tool like a database-powered app builder means that you get a tool that anyone can use, and which is built to cater to your business requirements without having to customize it too much.
Databases have evolved over the decades, and they don't just store and retrieve data. Here are a few ways in which database apps are helping industries make the best use of their data:
CRM
CRM or Customer Relationship Management is a pillar of every successful corporation today. Databases have the ability to function as a top-notch CRM app for your business, keeping track of customer records, from sales to marketing to customer service. They help you save on costs and cultivate more meaningful connections with clients.
Accounting
Databases are incredibly useful for accounting purposes since they record all financial transactions involving your organization, and you can retrieve the necessary figures to create balance sheets, and year-end reports, generate invoices and do cost breakdowns and comparisons.
Web Apps
In today's age of e-commerce and widespread online shopping, businesses worldwide have recognized the need to cultivate and maintain a solid online customer base. A crucial step is to create a database that records your entire inventory and all customer transactions and records.
Features of a Great Database-Powered App Builder
Here are some features that a great database-powered app builder should ideally have, and which you can use as a point of comparison:
Ease of use: Is the user interface simple, clean, and easy to understand? How seamlessly does it guide you through the app? And most importantly, how good is the troubleshooting for when you run into blocks or confusion?
Flexibility: Does the tool have the capabilities to work across departments? Can it handle different teams' workflows and needs?
Pricing: Does it offer a free plan? How good are the free plans? Is it worth upgrading to paid plans when you need to scale?
Data visualization options: What are the different ways in which you can visually display your data? Is there a good range of options? Does it allow you to create your own templates?
Integrations with other tools: How well does the data app work with other tools in your roster? Does it integrate with both internal and external apps? Does it offer native integration support or do you have to use external tools?
Scalability: Can you start with a small workflow and scale it as the usage grows? Can you share it with your team and other stakeholders with right permissions and access?
7 Best Database-Powered App Builders

Now that you have a frame of reference by which to judge different tools, let's start off by looking at some of the most popular tools in the market and comparing their features, offerings, and pricing plans.
Stackby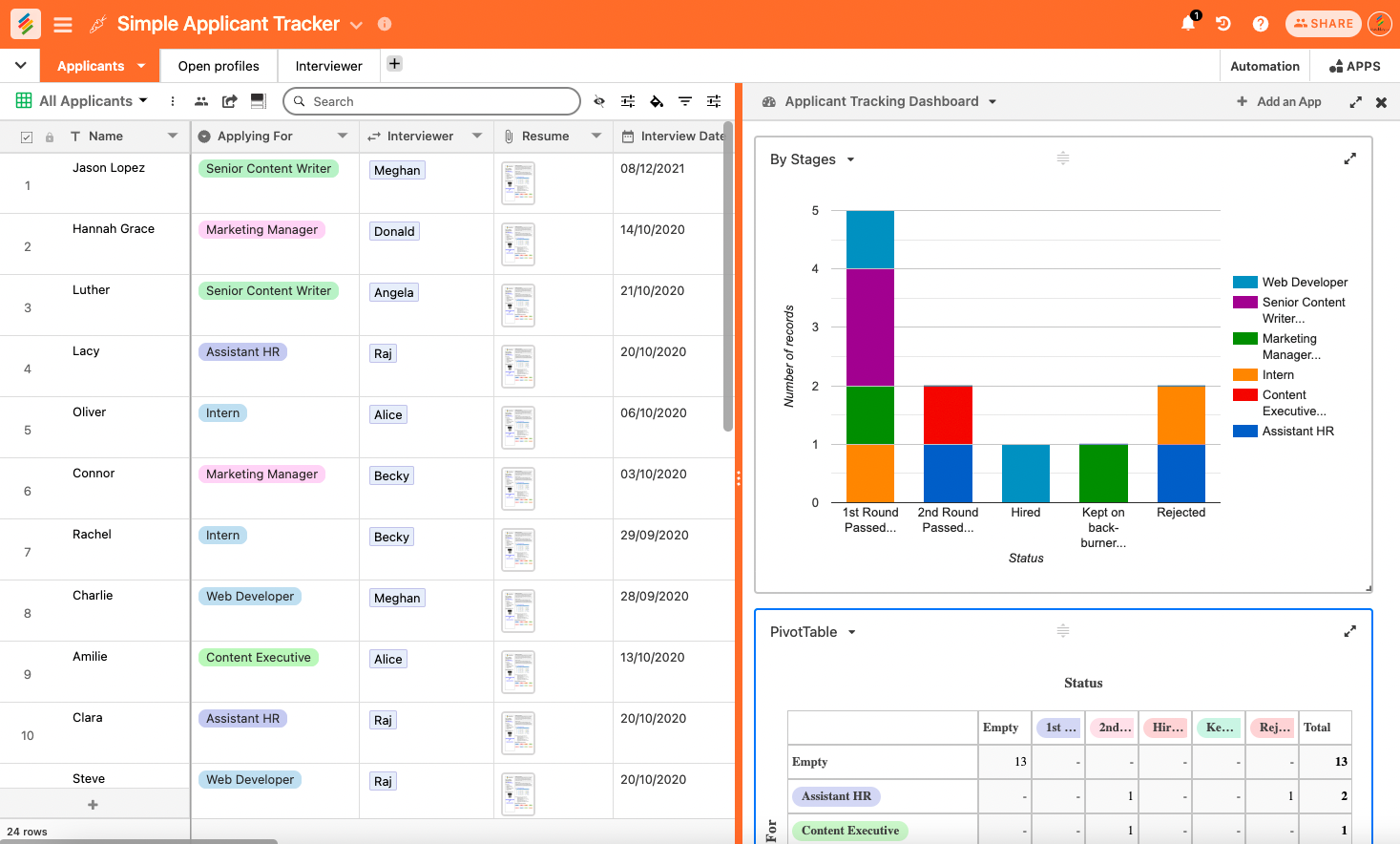 Stackby is a database platform that allows for real-time collaboration and keeps all your data, teams, and workflows in one place. The no-code, spreadsheet-style databases are easy to use and intuitive and do not need any coding or training to use.
Stackby automates tedious tasks like manually updating your database or pulling data into tables. It also allows you to visualize your data in the way that is most convenient for you, from Kanban to the calendar, grid, custom forms, and more.
You can build your database from scratch or just import it from external spreadsheets like Excel or Google Sheets. You can also connect your database columns to third-party APIs to pull data automatically in your tables or even automate your workflows by integrating with over 3000 software and apps.
Users find that Stackby leads in templates (over 300), ease of use and the number of integrations it offers, and better ease of inputting data when compared to its competitors.
Pricing
The free plan is suitable for individuals or small teams but only includes up to 10 stacks. The personal plan starts at $5/user/month, while the team plans start at $9/user/month. Most popular are their no-brainer annual, bundled plans built for teams of all shapes and sizes (from 3 users to 100+ users).

Zoho Creator
Zoho Creator brands itself as a low-code tool that helps users create custom software for their businesses. Zoho enables users to create custom apps for different devices, comes with pre-built integrations, and is a BI and analytics creator that works with data spreadsheets to create visual charts and generate AI-powered insights.
A great feature is a number of templates to choose from – like vendor management, property management, restaurant management, etc. All of these come with a high level of customization, but it does take some time and considerable effort to set it all up. If you prefer to have more freedom to personalize your apps, this is an advantage, but there is a considerable learning curve for first-time users.
Pricing
The free plan only allows for one user to create one app, and the paid plans start from $25/user/month.
Podio
Podio's main selling point that distinguishes it from other tools is its emphasis on collaboration and project management. Podio also defines itself as a tool to create low-code business apps. It comes with different views for managers and team members, displaying pending tasks, data relevant to the project, and the project status.
Podio gives you an overview of not just your data, but also tracks the progress of your project and collaborative efforts, which is a highly useful feature. While their landing page boasts of automated workflows and advanced dashboards, these features only come with the more expensive paid plans.
Pricing
The free plan only includes up to five employees. Paid plans start from $11.20/month, and premium features come at $19.20/month.
Smartsheet
Smartsheet basically helps with work management at the enterprise level – with a focus on project management that is flexible according to your needs. You can create views, dashboards, reports, and workflows that suit each department like IT, marketing, etc.
The interface is comfortable to use especially for users of spreadsheets like Google Sheets, and the flexibility of the platform is its major advantage. Users report that the free plan is quite limited to use and that some functionalities may not be robust enough for large-scale operations. External integrations are also an issue, and you will have to rely on integration tools for this.
Pricing
Paid plans start at $7/month, but the app-building capabilities only come with their Enterprise plan at a custom quote.
Google Appsheet
Google Appsheet clearly defines itself as a tool that builds solutions to simplify work processes with no code needed. It uses AI to convert the data you upload into a simple app that is easy to use and customizable. It also includes features like automated workflows and integrations with Google Workspace apps, as well as external apps and databases.
AppSheet allows you to spend as much time as you want to build and modify your app, and applies charges only when you want to launch it. It offers flexibility and a familiar interface, but setup takes time and a bit of a learning curve to get over.
Pricing
The paid plans start at $5/user/month to actually deploy an app.
ClickUp
ClickUp labels itself an all-in-one platform that functions as a hub for different users to plan and collaborate on tasks, docs, sheets, and more. Its advantages are its easy-to-use interface, intuitive design, a large number of customizable tools, and more.
Some cons are that it does have a steep learning curve, and users may be reluctant to make the change from their existing tools. Other cons reported are that it can be slow to load and update data, and buggy as well.
Pricing
The free plan allows for only 100MB of storage, and paid plans with unlimited storage start from $5/user/month.
Airtable
Airtable is yet another platform for creating business solutions with zero coding necessary. It works on the basis of spreadsheets, which adds to its familiarity and ease of use, but has app-building and collaborative features. Its biggest plus point, according to users, is its seamless interface and intuitive app builder. If you are looking to upgrade from basic spreadsheets, but don't want to jump into a highly complex tool, then Airtable is a great choice. Its collaboration capabilities aren't very extensive, and the free plan has a pretty low limit to what you can do if you work with a lot of data.
Pricing
Free plans are available, and paid plans start at $10/month/user.
---
Now that you know what to look for in a database-powered app builder, and how to evaluate its features and capabilities, it's time to select the right one for your business. An app that's constantly improving and affordable is your best bet if you're a smaller-scale organization that wants great functionality that's worth the price. Try out the free trials to see which tool appeals to you the most, and make the best decision for your business.