5 Steps to a Solid Marketing Management Process for Your Team
If you are planning to build a successful and reputable business, marketing management is a must. This blog post gives you 5 steps to build a solid marketing management process for your team.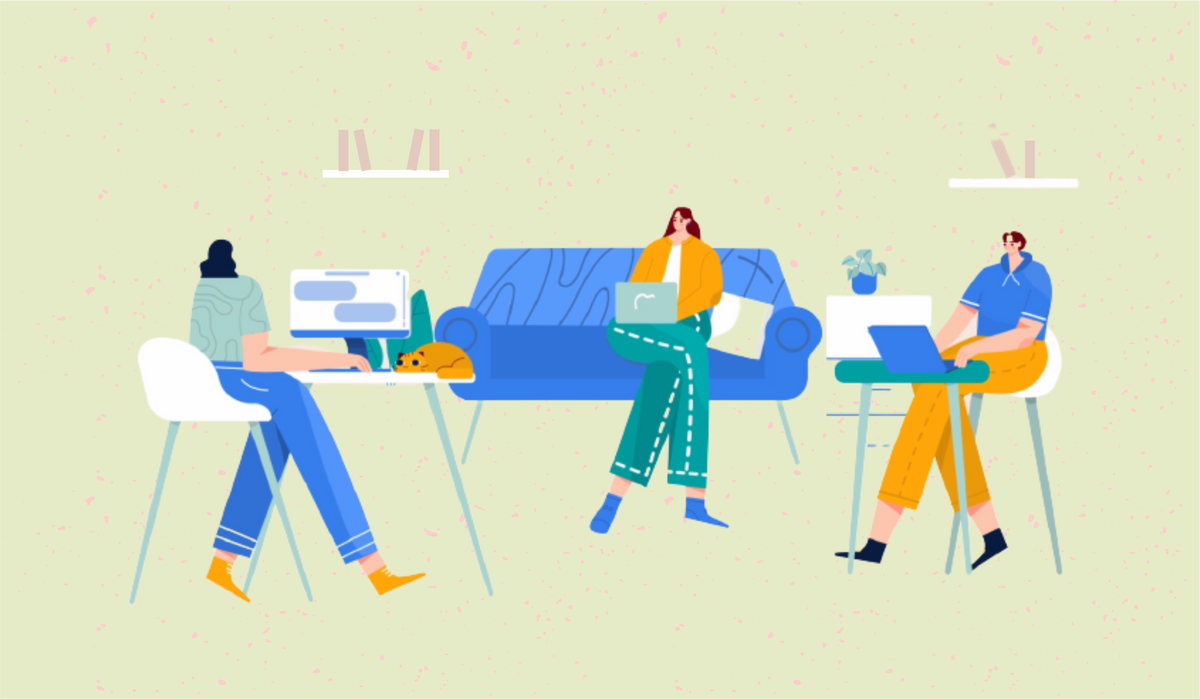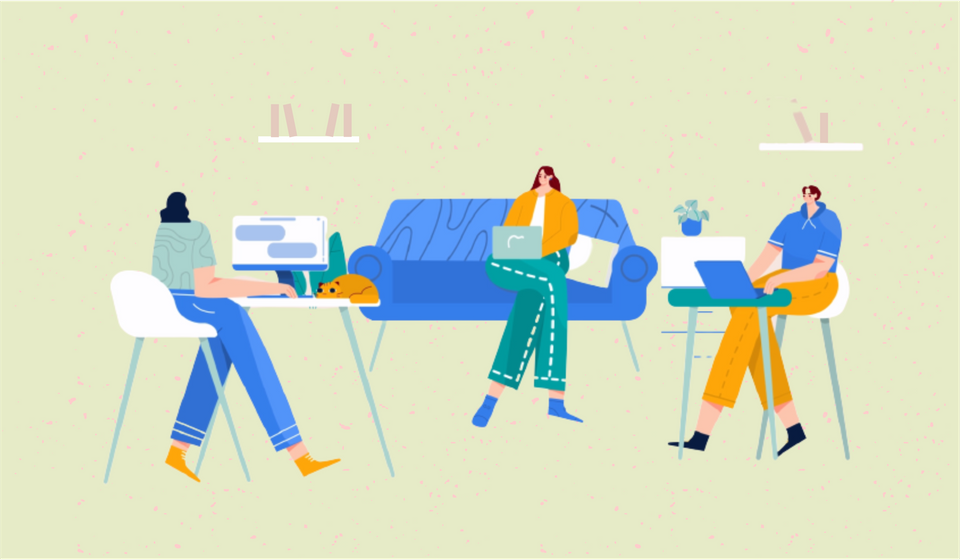 What is the Marketing Management Process?
Marketing is no doubt one of the most essential aspects of a business. But if you want to stand competent amongst highly thriving competitors, you need proper marketing management. It is a process of controlling your marketing aspects. It not only includes setting goals for the company but organizing the marketing plans, making decisions, and meeting the customer's needs.
Nowadays, data-driven marketing management has become of much importance. Today, businesses aim at tracking all the important marketing metrics that help them understand their customers better and ensure that they are connecting with the customers at the right time. Data-driven marketing management benefits marketers in a plethora of ways, such as:
Gaining clarity about the target audience
Building stronger connections with the potential customers
Uncovering the best channels for promotions
Ensuring personalization in marketing
5 Steps to Build a Solid Marketing Management Process for Your Team
Step 1: Analyze
You begin the marketing management process by analyzing who your audience is and where you stand amongst your competitors. These are the two important criteria for ensuring your success. Conduct market research and find out who your target audience/ customer is, what are their needs, problems, and how you can provide them the right solution.
Not only this, you need to understand what your competitors are doing, what is working for them, what is working for you, the areas where they lack and the areas where you lack, and so forth. This can be done by tracking the right marketing KPIs to understand whether your previous marketing efforts are meeting the goals. If not, then what else you must do to reach your business goals by improving those KPIs. Some important marketing KPIs are:
Click-Through Rate
New Users from the Campaign
Conversion Rate
Cost Per Lead
Traffic to Lead Ratio
Stackby's Competitor Analysis Template is the best ready-to-use tool for businesses to understand their weaknesses and strengths. You can estimate your sales and returns by keeping track of the competitors. You can identify the current and upcoming marketing trends and strengthen your marketing management process.
You can also do website traffic analysis using Alexa API.
Step 2: Plan Goals
A good marketing management process should be full of details. Just creating a strategy of how you are going to promote your business is not enough. You need tactics, clear goals, and details to make all the difference.
For example, if a restaurant owner wants to promote their business, they just cannot ensure that by having the best-tasting food. They need specifics such as email marketing, social media posting, return visits, the number of customers every month, and so on.
Stackby understands creating a marketing plan could be quite overwhelming at times. This is why we have created an easy-to-use, free marketing plan template. Now, you can keep track of each initiative in one place, track KPIs in real-time, and much more.
Step 3: Use Campaign Planning & Tracking tools
A good marketing management process needs commitment and not just involvement. Therefore, organizing regular meetings would not suffice. You need to track every move of your team towards your goals. You need to assign every task to specific team members and hold them accountable for the results.
In this step, Stackby comes to your rescue by providing you with a variety of templates to plan and track your marketing campaigns. With Stackby, all your team members can collaborate and monitor all marketing activities in one place.
Stackby's marketing campaign tracker is one such template that helps you keep track of various aspects of your marketing campaigns. You can set goals, assign tasks and streamline your marketing management process. Not only that you can also gather important metrics related to your marketing campaigns at the same place.
Step 4: Implement Automation
If you want to use your resources efficiently and enhance the productivity of your team, you must automate the marketing management process. For example,
If you are doing performance marketing, automate your campaign reporting
If you're a content creator on Youtube, automate your video reporting and channel
If you're an SEO marketer, analyze your keywords, backlinks, traffic, and more
If you are an eCommerce marketing analyst, automate your Google ecommerce reporting including tracking e-commerce translation, e-commerce product, e-commerce refund
If you are handling web marketing, automate web analytics reporting with Google Analytics, Intercom, or Google Search Console
Marketers have an array of things to consider, from building the brand image, promoting products, handling customer queries, finding leads, and whatnot. Amidst all these tasks, if there is a way to do tasks like sending emails to the leads automatically, recording the details of new leads, or measuring your site ratings, half of their workload diminishes. Not only this, using automation in marketing management makes it easier for you to focus on the right KPIs at the right time.
Stackby lets you connect columns with different third-party apps such as Google Search Console, Google AdWords, Facebook Ads, YouTube Analytics, Google Analytics, Ahrefs, and many more using native API connectors.
Step 5: Monitor & Report
The last step for a solid marketing management process is monitoring every marketing effort and reporting the results. This way you can make sure that everything is falling into place. You can check whether your objectives are being met and if not, then you can optimize the marketing management process to get the desired results.
With Stackby, you can create automatic reporting tools to collect the right metrics from third-party applications like Google Analytics, Facebook Ads, etc. You can bring data from these third-party applications directly to your tables in one click using our in-built data explorer.
Not only this, you can set time-triggered automation that will populate your tables periodically with real-time data while you attend team meetings or work on other important tasks.
2 Templates for Effective Marketing Management Process
Amongst the many effective marketing management templates from Stackby, here are the two most useful ones that will make it much easier for your team to work upon the marketing process. These templates are completely customizable, making it easier for you to blend them as per your business requirements. Let us explore them more.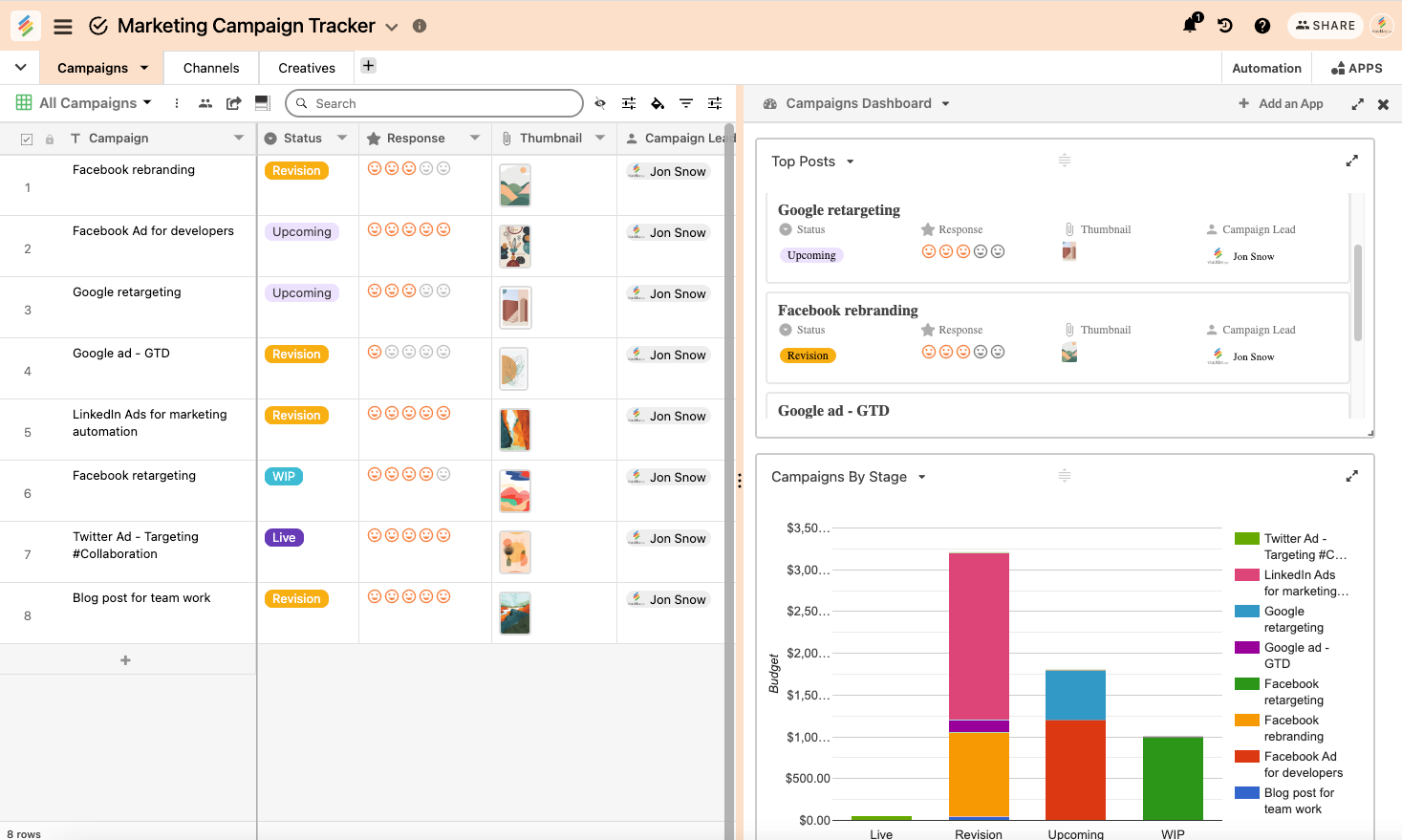 An effective marketing campaign can change the face of your business in no time. But, if you aren't managing the campaign well, you are missing a lot of optimization opportunities. Our marketing campaign management template helps you to keep track of multiple aspects of your campaigns easily. SEO agencies, marketing teams, and startups can use this template to keep track of key marketing metrics like the number of clicks, spendings, and conversions.
Social media management is the heart of every marketing campaign. But if you are not planning your social media marketing activities, all your efforts might be in vain. Stackby's social media calendar template is the best management tool for marketing teams that enables them to measure their current social media efforts, track the important metrics like post title, graphics, type of post, concept, channels, publish date, likes, etc. and create a custom social media workflow for your business.
Create a Solid Marketing Management Process with Stackby
Just conducting meetings with your team and comparing the results would not bring you the desired results. You need to create a process that covers every aspect of marketing for your business. Bring your team together at one platform so that they can keep a close eye on the marketing activities. Try our marketing management templates right away, streamline your workflows and automate your marketing management process in no time. If you haven't joined Stackby yet, sign up for free today.