Airtable Review 2023: Features, Pricing and Alternatives
Looking for a spreadsheet-database hybrid to manage your data? Check out our honest Airtable review with key features, pros, cons and suggested alternatives.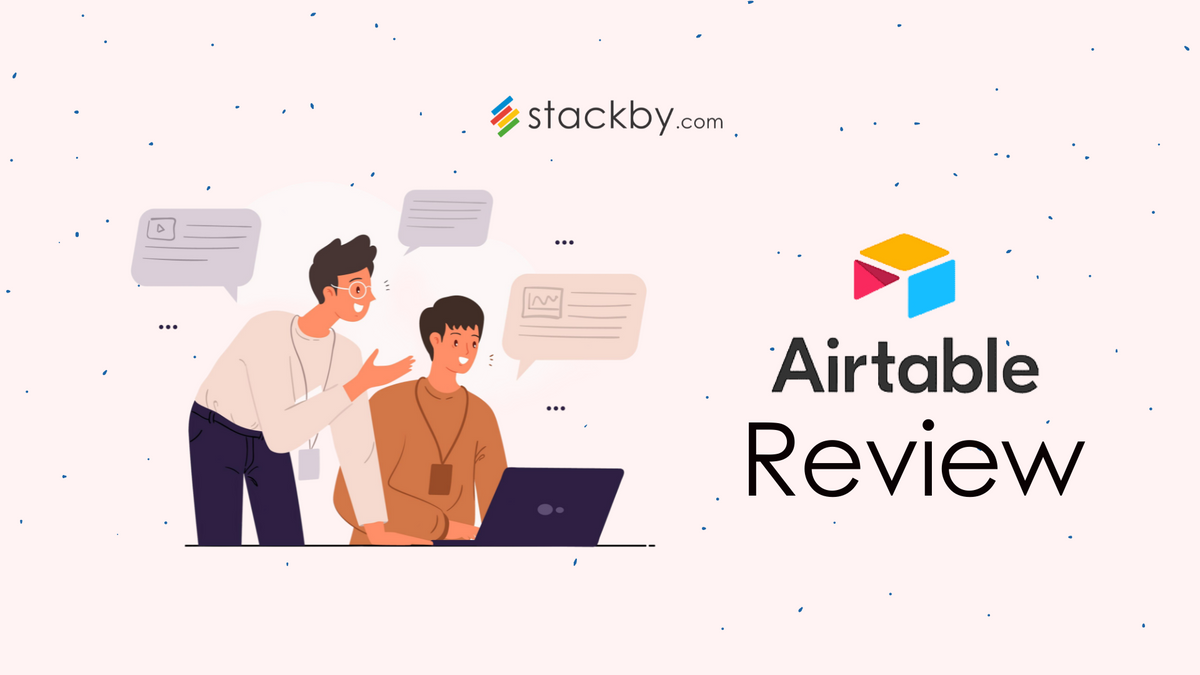 In today's rapidly evolving work management landscape, businesses require flexible and intuitive tools to streamline their processes. This is where Airtable comes in as a powerful tool that combines the functionality of a spreadsheet and a database. With its versatility and user-friendly interface, Airtable has gained popularity in various industries as a go-to work management solution, currently serving over 250,000 organizations worldwide.
In this blog, we will explore the various features of Airtable, its pros and cons, pricing options, and more. We will explore how Airtable caters to the needs of different industries and target markets, and also discuss Stackby as a compelling alternative.
So, let's get started and discover the potential of Airtable as a versatile tool for your work management needs.
What is Airtable: an Overview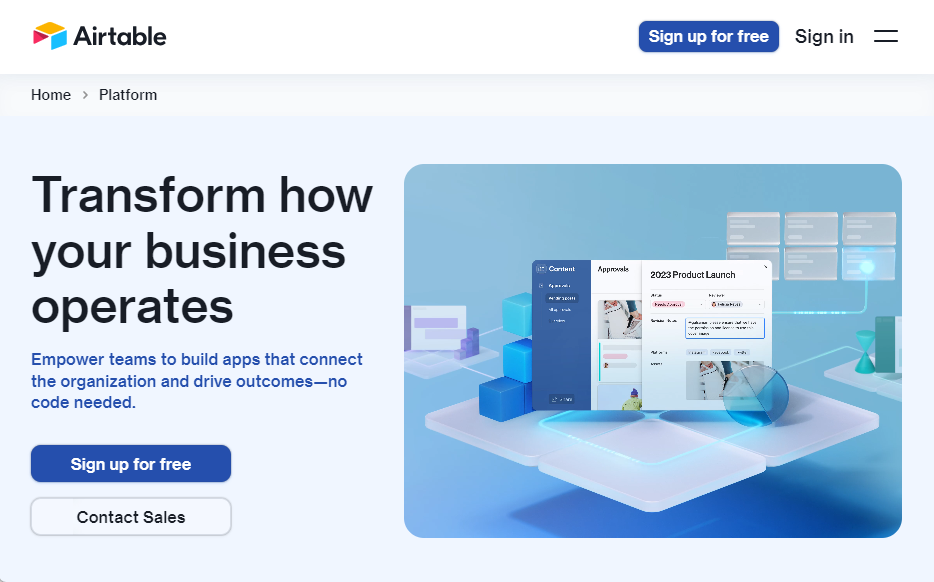 Airtable is a cloud-based tool that combines the functionality of spreadsheets and databases, providing users with a powerful platform to organize, manage, and analyze their data. It offers a no-code solution that allows users to easily create and customize their own databases, making it highly flexible and adaptable to different use cases.
One of Airtable's key aspects is its ability to link data between tables, allowing users to establish relationships and connections within their datasets. This enables seamless collaboration and data sharing among team members, enhancing productivity and efficiency.
Airtable also offers a variety of views, including grid, calendar, gallery, and kanban, giving users the flexibility to visualize their data in a way that best suits their needs. It integrates with popular apps like Google Drive, Slack, etc. enabling users to seamlessly import and export data.
With its intuitive interface and user-friendly design, Airtable empowers users to take control of their data management without the need for complex coding or technical expertise. Whether it's organizing projects, managing customer data, or tracking inventory, Airtable provides a versatile solution that can be customized to fit the unique requirements of any business or individual.
Key Features and Benefits of Airtable
Airtable offers a wide range of key features and benefits that make it a powerful tool for organizing and managing data.
1. Organizational Templates: Airtable provides a variety of pre-built templates from project management to CRM to marketing and content management. These templates offer a convenient starting point and can be customized to fit specific needs.
2. Rich Field Types: With Airtable, users can create custom fields with different data types such as text, attachments, checkboxes, dates, and more. This aids in easy organization and categorization of content.
3. Views and Filtering Options: Airtable offers multiple views, including grid, calendar, gallery, and Kanban, to visualize and organize data in different ways. Users can also apply filtering options to focus on specific records or criteria, improving data analysis and productivity.
4. Record Linking: Airtable allows users to establish relationships and link records between different tables. This feature enables a more holistic view of data that helps in creating complex, interconnected databases.
5. App Integration: Airtable seamlessly integrates with popular apps such as Google Drive, Slack, and Trello, allowing for effective communication and collaboration. This integration eliminates data silos and streamlines workflows, making it easier to share, import, and export data.
Airtable: Pros and Cons
Pros
1.User Interface: The platform offers a user-friendly and intuitive interface that makes it easy for individuals and teams to navigate and organize their data effectively.
2. Adaptability: With its drag-and-drop functionality and customizable templates, users can personalize their workflows and create databases tailored to their specific needs.
3. Communication: Users can collaborate in real-time, making it convenient for multiple team members to work together on a project.
4. Integrations: Airtable enables seamless integration with popular apps like Google Drive, Slack, Zapier, and a robust API for streamlined data exchange and automation.
5. Views: Users can switch between different views, such as grid, calendar, gallery, and Kanban, to visualize and organize their data in a way that best suits their requirements.
Cons
Despite its many strengths, Airtable does have some cons to consider.
1.Pricing: One potential downside is the platform's pricing. While Airtable offers a free plan, more advanced features and higher usage may require upgrading to a paid subscription, which can be costly for some users, starting at $20/user/month (paid annually).
2. Lacks Project Management features: Other than chat, you cannot really collaborate much on individual rows, say like adding checklists or reminders.
3. No Native API Connectors: You cannot connect Airtable to any third party API connectors to bring data directly to your tables. You always have to rely on third party services to do it.
4. Granular Permissions: You cannot share individual views to your team members as an Editor.
5. Learning curve: While Airtable's interface is user-friendly, beginners may find it difficult to fully grasp all of its features and functionalities and create complex workflows.
6. Data Security: As with any cloud-based service, concerns about data security and privacy might be a consideration for businesses dealing with sensitive information.
7. Mobile App Limitations: Compared to the desktop version, Airtable's mobile app doesn't have all the features that may hinder users who rely heavily on mobile access.
Airtable Pricing Structure
Airtable offers several pricing options, from a free plan with limited features, to paid plans with more advanced features and increased usage. The flexible pricing structure allows users to select the plan that best matches their needs and budget, making Airtable a versatile solution for both small and large teams alike.
1. Free Plan
The Airtable Free Plan is suitable for individuals and small teams looking for a user-friendly project management tool. It includes:
Unlimited bases
1,000 records per base
Maximum 5 editors
1 GB of attachments per base
100 automation runs
Interface Designer
2. Team Plan
The Team Plan is the perfect option for small to medium-sized teams looking for a collaborative tool. Billed monthly at $24 per user/per month and annually at $20 per user/per month , it offers a wide range of features and benefits. It includes:
Everything in Free plan, plus:
50,000 records per base
25,000 automation runs
20 GB of attachments per base
Standard sync integrations
Extensions
Gantt and timeline view
Expanded color, formatting, and calendar options
Snapshot history and locked views
Unlimited collaborators per base
In terms of limitations, the Team Plan does not include access to the Airtable desktop apps for offline functionality, which may be a drawback for users who frequently work in areas with limited internet access.
3. Business Plan
Airtable's Business plan is tailored for larger teams and departments looking for advanced features. Priced at $54 per user/per month billed monthly and $45 per user/per month when billed annually, this plan provides enhanced collaboration tools and increased storage capacity. It includes:
Everything in Team, plus:
125,000 records per base
100,000 automation runs
100 GB of attachments per base
Premium sync integrations
Verified data
Two-way sync
Admin panel
SAML-based single sign-on (SSO)
4. Enterprise Plan
The Airtable Enterprise plan is specifically designed for organizations looking for a scalable and flexible tool with features and benefits tailored to their requirements with enhanced security controls to ensure data privacy and protection. It's pricing is available on request but it's around $75-$100/user/month. It includes:
Everything in Business, plus:
500,000 records per base
500,000 automation runs
1,000 GB of attachments per base
On-premises sync integrations
Enterprise Hub
Enhanced security and admin controls
Enterprise API
Extension and integration management
Audit logs and DLP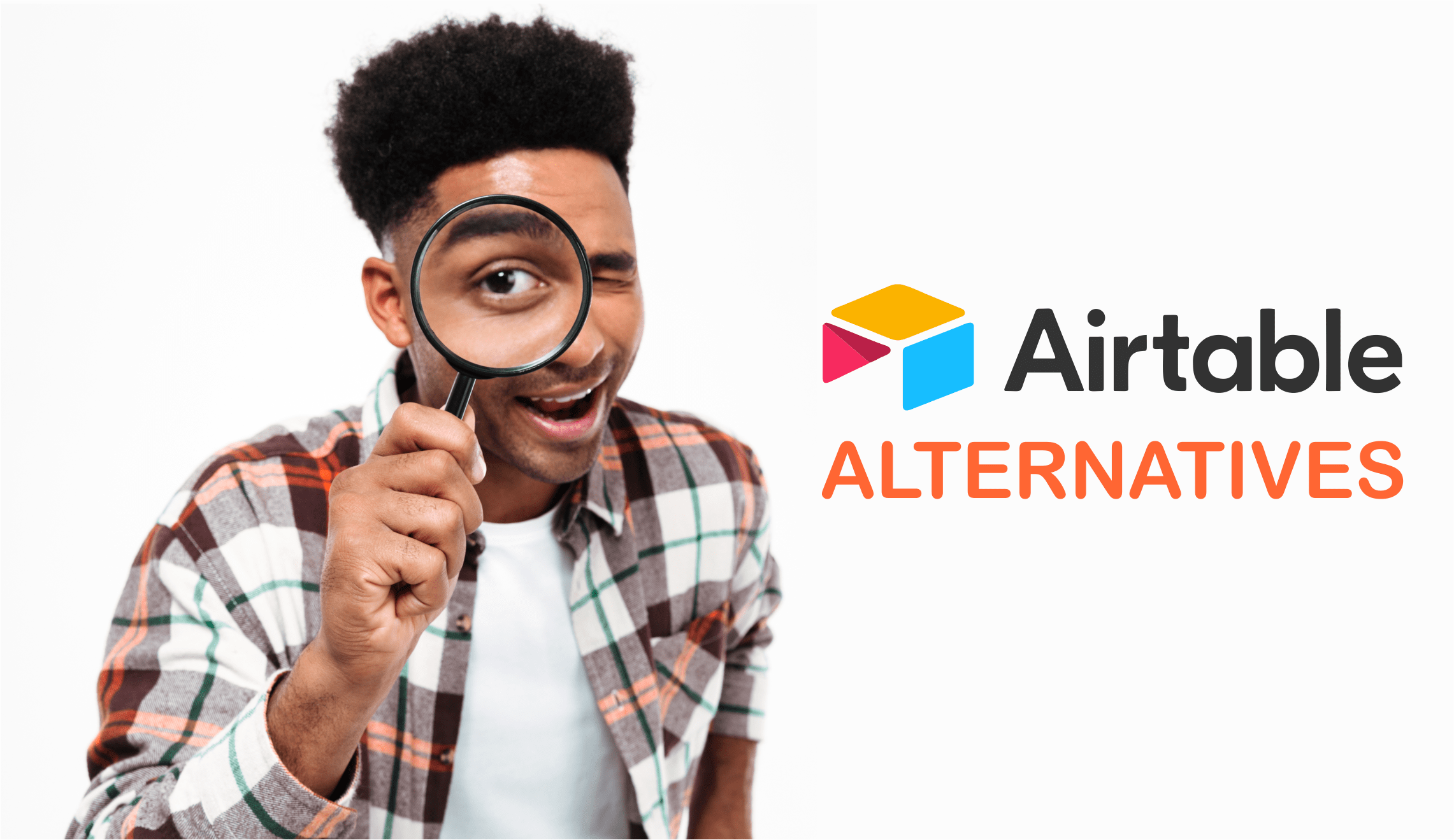 Airtable Applications
Airtable's flexibility and customizable features make it suitable for various use cases, including content pipelines, project management, CRM, events planning, and more, making it an invaluable tool for businesses across different industries.
For example: Airtable allows teams to effectively manage the entire content creation process from collaboration on content ideas and planning to creating, and publishing.
Here's another example: If you are managing a project, you can organize tasks, track team's progress, and manage deadlines in real-time.
To make data access even more convenient, Airtable offers a mobile app. This allows users to access and update their data on the go, ensuring seamless collaboration and productivity from anywhere.
Airtable vs Stackby: A comparison
When it comes to versatile and collaborative data management tools, Airtable and Stackby are two popular options that often come up in conversations. While Airtable is a well-established platform, Stackby is quickly gaining traction as a powerful alternative.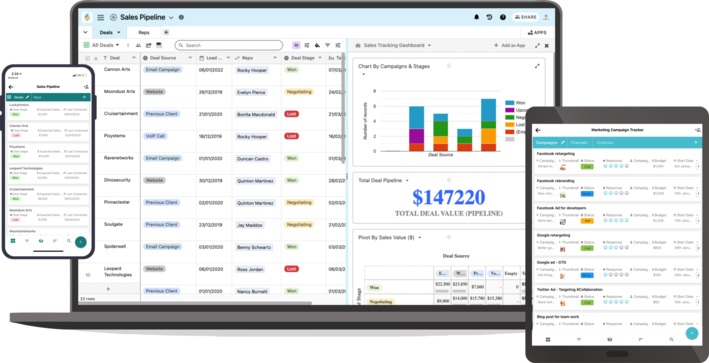 Both Airtable and Stackby offer a range of features and functionalities that allow teams to organize and manage their data effectively. They both provide customizable databases, flexible templates, and powerful collaboration tools. However, there are some notable differences between the two platforms.
Here, we'll compare Airtable and Stackby in terms of their features, functionalities, and pricing.
While Airtable and Stackby share similarities in terms of features and functionalities, they cater to different needs and excel in different areas. If you're looking for a feature-rich and competitively priced solution, Stackby may be the better choice. Remember to consider your specific requirements and use cases when making a decision between the two platforms.
Airtable Reviews
Here are some Airtable reviews on Capterra and G2:
"It has helped our workflow evolve to increase efficiency."
"Airtable is the platform that helps me put all my data together and linked"
"Powerful and flexible collaboration tool"
"When there is a large data set, X and Y axis headers are condensed in a totally unusable way."
"Overall, I find Airtable to be a decent platform but think it requires vast improvements to become more user friendly."
"The data storing limit of Airtable for the free users was a bit of a drawback , as the enterprise plan was extremely costly."
Conclusion
In conclusion, Airtable is a powerful tool that offers a range of features. However, it does have limitations in terms of its project management capabilities. For users looking for a more comprehensive solution, Stackby is a great alternative.
Stackby offers advanced features and collaboration tools that are specifically designed to meet the needs of project teams and individuals, making it a valuable asset. Additionally, Stackby's pricing structure is competitive, making it an attractive option for businesses of all sizes.
With its user-friendly interface, responsive customer service, and commitment to improving compatibility, Stackby is a reliable choice for businesses looking to streamline their project management processes.
To get started with Stackby, users can sign up for free and take advantage of the 14-day free business trial, allowing them to explore all the features and functionalities before making a commitment.