Top 12 Google Forms Alternatives to Know About in 2023
Using google forms to create your custom forms? Try out these 12 best alternatives to Google forms to supercharge your workflows today.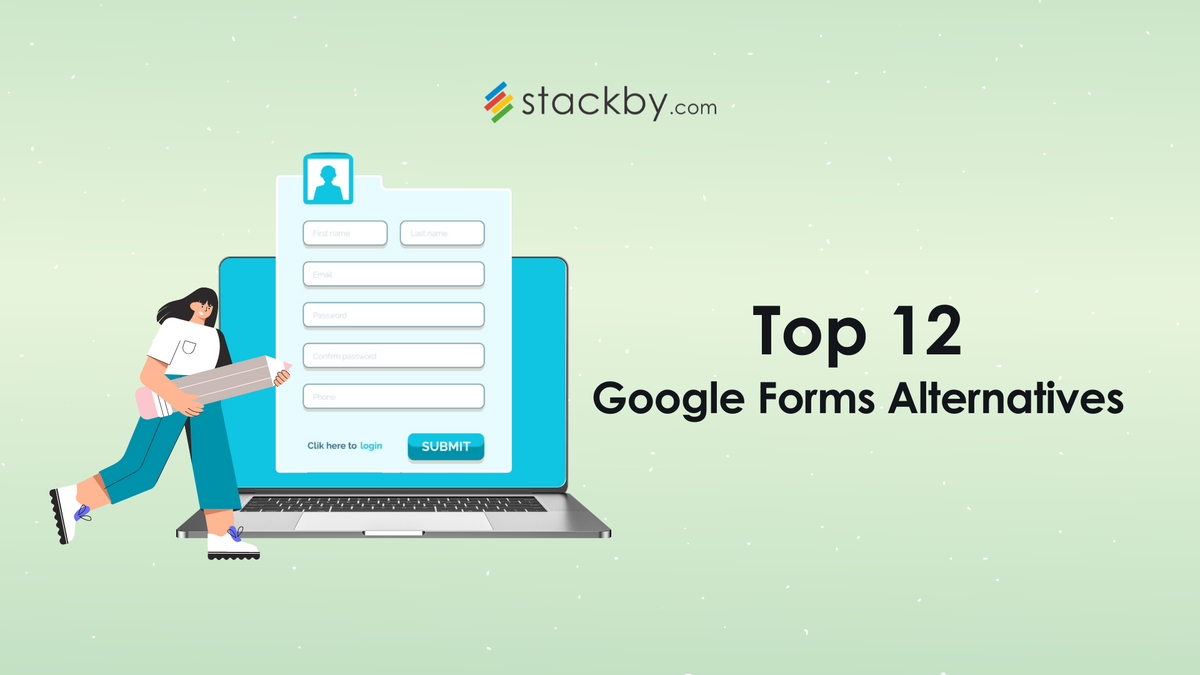 Are you tired of using Google Forms and looking for a change? Or does Google Forms fail to cater to your business objectives? If you answer yes to these questions, it is high time to transition to some other best options available in the market.
Here, we will discuss some of the best Google Forms alternatives worth trying in 2023.:
What are Google Forms?
Google Forms is a free web-based application provided by Google that allows users to create, distribute, and analyze online forms, surveys, and questionnaires.
This versatile tool enables individuals and organizations to easily design digital forms, share them via web links, and subsequently gather and evaluate responses and data.
It comes with the following features:
Responses tab
Conditional logic
Form sections
Field-type options
Different templates
Various question types
Why Do You Need to Search for a Google Form Alternative?
Below are listed a few common problems that you are most likely to encounter while using a Google Form:
You cannot collect payments through your form.
Respondents cannot consider uploading files as they fill out their mobile or web forms.
As it has restricted styling options, you will face difficulty reflecting your brand.
You are unable to assign forms to your team members in this case.
Limited integration with 3rd party apps.
And this is why the role of the best alternatives comes into play:
List of the Best Google Forms Alternatives
1. Stackby Forms
Stackby Forms is a view on Stackby that allows you to build and share custom forms in a snap. Along with creating forms, you can even use these forms to collect responses directly in your tables. It means you can manage everything from your table instead of depending on multiple platforms.
Along with normal forms, Stackby also has updatable forms that not only allows anyone to submit a new response but also edit an existing response from the table by selecting from the pre-filled records. These type of forms are best used for internal teams that are on the field, collecting and updating information.
Using this, you can quickly gather information, do surveys, get responses, and analyze responses for data insights and reporting, making Stackby Forms a fantastic alternative to Google Forms.
Key Features:
Stackby Forms seamlessly blends into the Stackby platform. It streamlines the process of building forms and gathering responses. So, whether you are a new user or a seasoned professional, using forms can prove to be intuitive and seamless.
Stackby Forms offers advanced conditional logic capabilities, enabling you to dynamically display form fields based on the responses submitted in previous columns.
Building custom and updatable forms is a breeze with Stackby. You have the flexibility to prefill specific columns in your form by simply providing the form URL.
Stackby introduces a robust password protect feature for Updatable Forms, ensuring added security and control over access to your forms.
Stackby Forms provides real-time access to collected data and automates actions like sending tailored confirmation emails or integrating with other apps to enhance workflows, eliminating the need for manual data entry.
You can even add your logo, cover image or background color to your form and write a message for people who fill it out. So you can tailor your form to look and feel the way you want.
You do not need coding skills to use these forms, as Stackby is a no-code platform. As a result, it becomes easy for anyone to make a form.
Stackby's hallmark collaboration features extend to Forms. It allows you to collaborate seamlessly with team members on form creation, response analysis, and more.
Pros:
It allows you to save time because you do not have to switch between different places. It's all right here in Stackby.
The chances of mistakes from wrong typing are considerably lower in this case as the answers go straight into your table.
You can make various forms, like feedback forms, job applications, etc.
Cons:
It can be challenging to master the more complex functionalities.
Steps to Build Advanced Forms:
Step 1: Create Your Form Structure with Table Columns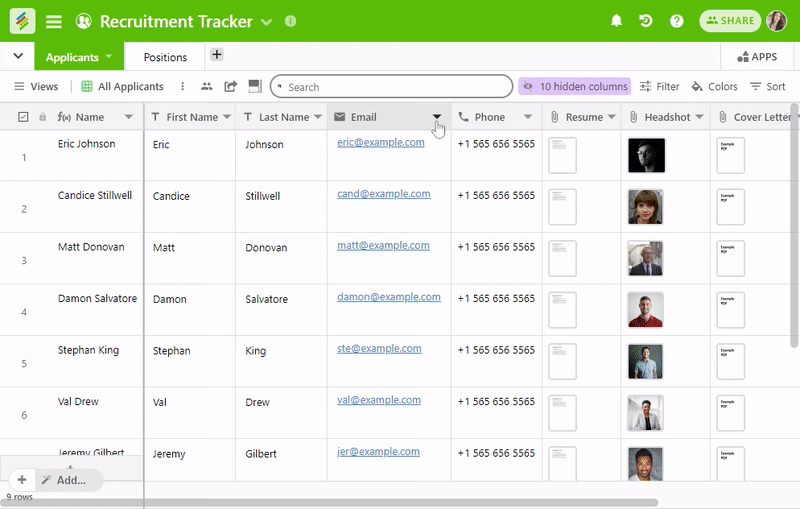 In this case, you just need to start with your table. Each column title becomes a form fields. Only change the title of your question and choose the type of answer you want, like a text or a checkbox.
Step 2: Drag and drop columns to create a form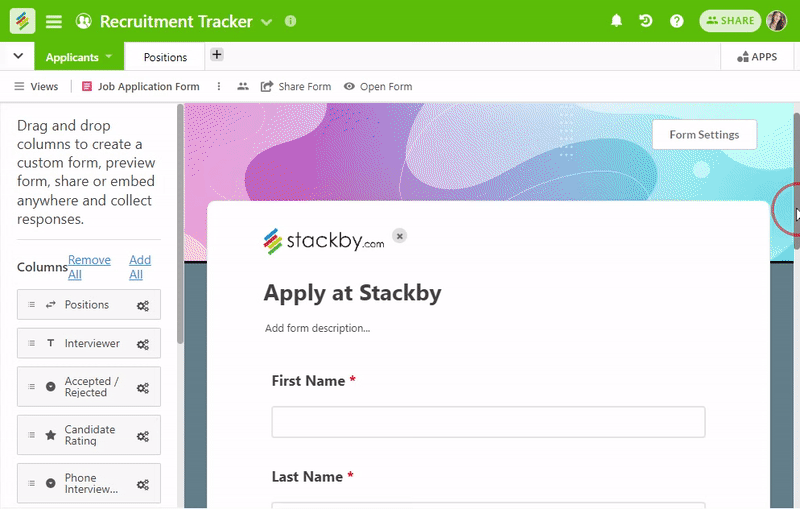 In Stackby, you get the option to use 25+ unique column types that helps in the generation of custom form, typically through drag and drop and linked to your table.
Step 3: Embed or share the form link anywhere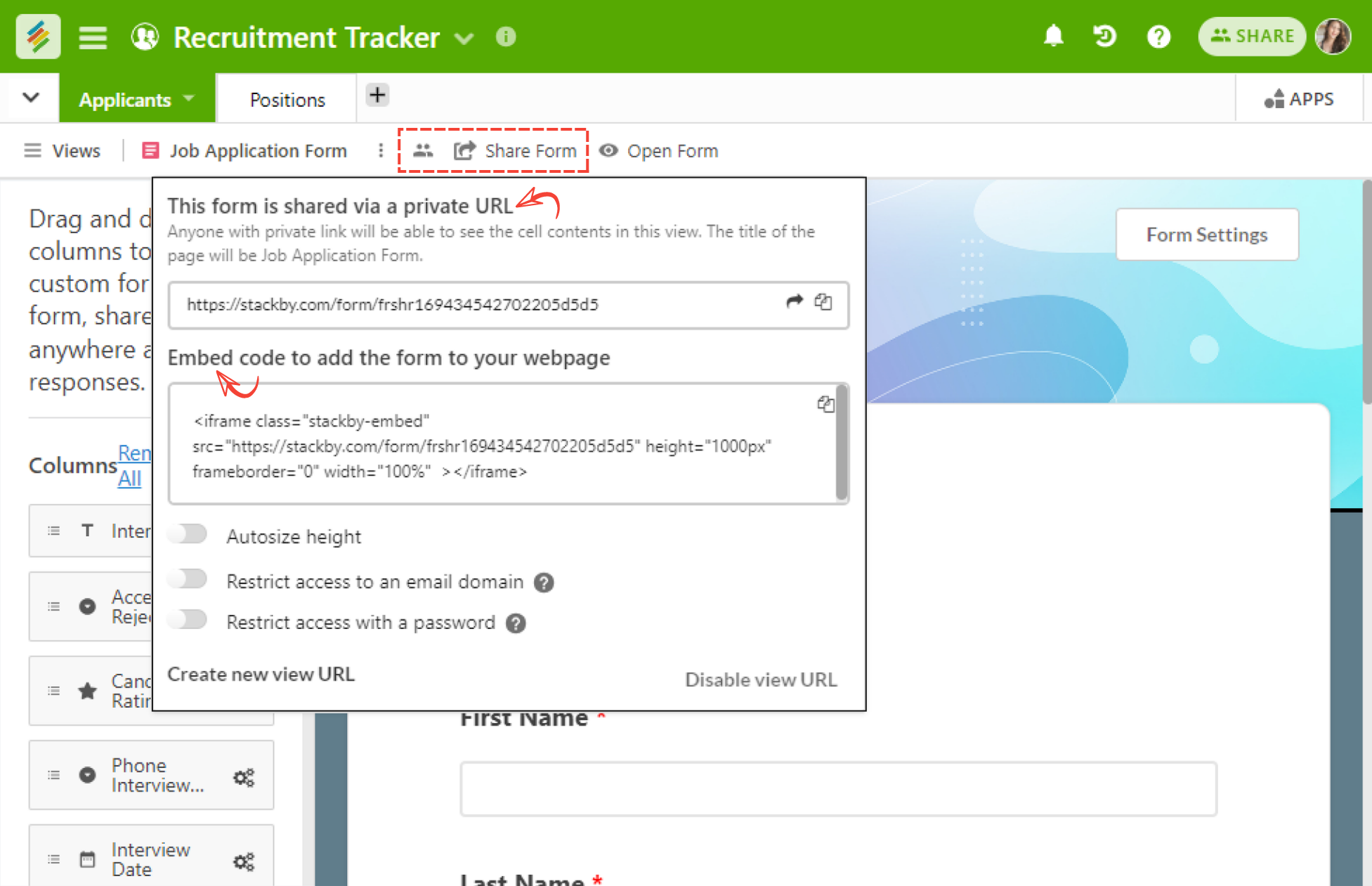 As a part of the next step, you need to generate a preview or an embed link for your form. After that, you can add it to your website, blog, and landing page to gather responses quickly.
Step 4: Bring responses directly in your table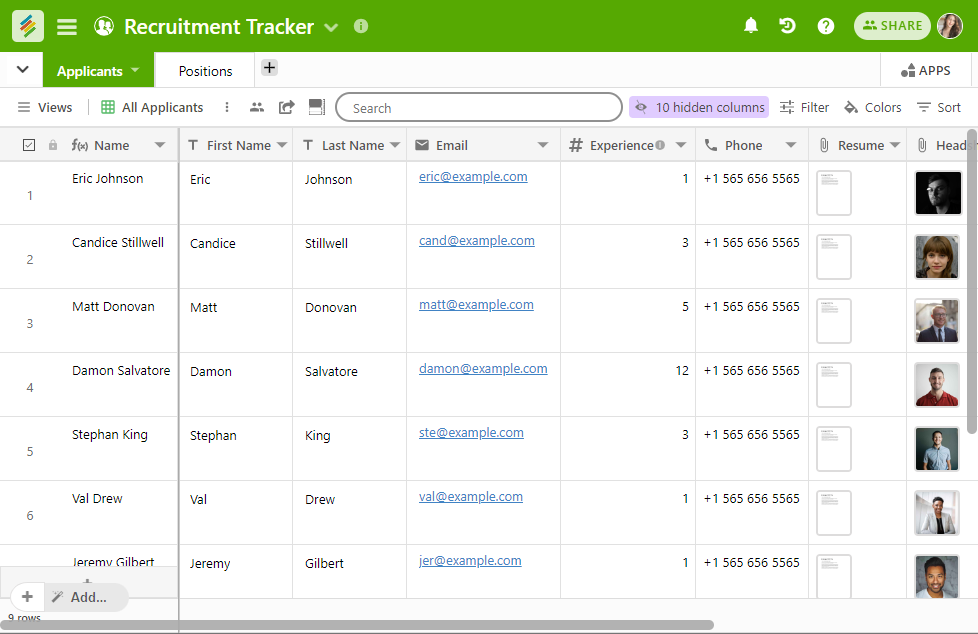 In the final step, all your form responses will be directly collected in your table. Now, you can set statuses, work with collaborators, and assign tasks for smooth management of things.
Use Cases of Stackby Forms:
Are you curious about what forms you can build on Stackby? If yes, consider checking the below-given templates that can help you to get started in a few clicks:
Campaign Requests
Visitor Management
User Feedback Tracker
Marketing Campaigns
Maintenance Requests
Job Applications
Pitch Submissions
and a lot more.
So, what are you waiting for? Start building your custom forms on Stackby today to elevate your workflows to a higher level.
Ratings:
Another name in our list of Google Forms alternatives is Typeform. It is known for its engaging conversational forms, offering a unique approach to data collection. Its sleek design and logic jump make for interactive experiences, though the free version has limitations.
Key Features:
Conversational form layout for a personalized user experience.
Integration of multimedia elements such as images and videos.
Conditional logic to show or hide questions based on user responses.
Pros:
Modern and visually appealing design options.
Great user experience on both desktop and mobile devices.
Cons:
Limited functionality in the free version.
Ratings:
Paperform is a well-known Google Forms alternative that helps you in building tailored solutions. With a focus on aesthetics and multimedia integration, this tool allows you to create visually appealing forms. While it offers versatility with conditional logic and payment options, higher pricing might be a consideration.
Key Features:
Rich text formatting options for customized form appearance.
Integrated payment processing for e-commerce and event registration.
Advanced automation and integrations with various third-party apps.
Pros:
Highly customizable and aesthetically pleasing form design.
Wide range of templates to jumpstart your form creation.
Cons:
Can become pricey with advanced features and larger teams.
Ratings:
Wufoo simplifies form creation through its drag-and-drop interface and ready-to-use templates. While it's user-friendly and offers payment integration, design customization options might be limited.
Key Features:
Drag-and-drop builder for quick form creation.
Robust reporting and analytics tools for data insights.
Integration with payment gateways and other apps.
Pros:
User-friendly interface suitable for beginners.
Extensive form templates library for various use cases.
Cons:
Lacks some advanced features compared to other alternatives.
Ratings:
G2: 4.2/5
Capterra: 4.4/5
With a wide array of customizable templates and powerful features, Formstack empowers users to create highly tailored forms for various purposes, from surveys and registrations to payments and data collection. Its user-friendly interface and robust integration capabilities make it a top choice for businesses and organizations.
Key Features:
Workflow automation to streamline processes.
HIPAA compliance for sensitive data collection.
Conditional logic and calculations for dynamic forms.
Pros:
Great for businesses that require HIPAA compliance.
Advanced features suitable for complex form needs.
Cons:
Learning curve for utilizing advanced features effectively.
Ratings:
Integrated with Microsoft 365, Microsoft Forms facilitates collaborative form building. It's user-friendly and works well for simple forms, but lacks advanced features compared to specialized tools.
Key Features:
Integration with Microsoft applications like Excel and Teams.
Real-time collaboration and feedback.
AI-driven insights for data analysis.
Pros:
Easy accessibility for Microsoft 365 users.
Familiar interface for those already using Microsoft products.
Cons:
May lack certain advanced features offered by standalone form builders.
Ratings:
HubSpot Forms are tightly integrated with HubSpot's CRM, enhancing lead tracking and management. These free forms, like Google Forms, let you build as many forms as you wish. While it provides personalized interactions, it requires reliance on the HubSpot ecosystem.
Key Feature:
Integration with HubSpot CRM for centralized data management.
Smart fields that adapt to known visitor information.
Lead generation and tracking capabilities.
Pros:
Ideal for businesses already using HubSpot CRM.
Simplified lead management through integration.
Cons:
Limited functionality for businesses not using HubSpot CRM.
Ratings:
Zoho Forms is another popular name that we have added to our list of Google Forms alternatives. This tool offers a comprehensive suite for creating forms and automating workflows. Its advanced logic and integration within the Zoho ecosystem are strong points, but some features might require technical knowledge.
Key Features:
Integration with Zoho's suite of business applications.
Offline data collection through mobile apps.
Advanced automation and approval workflows.
Pros:
Well-suited for businesses utilizing Zoho's ecosystem.
Offline data collection is beneficial for fieldwork.
Cons:
Might be overwhelming for users unfamiliar with Zoho's suite.
Ratings:
Jotform's broad template library and widget options make it versatile for various needs. Its rich templates and multi-device accessibility are assets, but the free version comes with limitations.
Key Features:
Extensive widget library for specialized form elements.
Collaboration features for team-based form creation.
Integration with various third-party applications.
Pros:
Wide range of form customization options.
Robust third-party app integrations.
Cons:
Some advanced features might require technical expertise.
Ratings:
Formsite emphasizes customizable forms with design flexibility. It's suitable for design-conscious users and provides secure data collection, although intricate design customization might require effort.
Key Features:
Advanced security options for data protection.
Seamless integration with payment gateways.
Conditional logic and branching for interactive forms.
Pros:
Strong emphasis on data security.
Suitable for businesses requiring payment integration.
Cons:
The interface might feel less intuitive compared to some alternatives.
Ratings:
The next name on our list is Feathery, a fantastic form building software for advanced logic. It is more than an ordinary form builder. It is a solid tool that connects scattered databases, streamlines your login processes, and builds complex flows.
Key Features:
Easily integrated with Zapier.
Comes with advanced logic capabilities.
Lets you add new Feathery form responses to the rows of Google Sheets.
Pros:
Create flows that help enhance connections between your applications.
Offers you intuitive no-code controls.
Cons:
Ratings:
Fillout is a user-friendly alternative to Google Forms, offering an intuitive and seamless platform. With its streamlined interface and customizable features, it helps users to collect insights easily.
Key Features:
The free plan of this tool allows you to collect 1,000 responses in a month.
Edit colors, typography, and the basic layout.
Tailor cover and ending pages to offer a better user experience to your audience.
Pros:
Straightforward to use.
Allows you to easily add logins and payments to forms.
Cons:
Basic submission reports.
Ratings:
Concluding Thoughts
After reading this guide, we are sure you have a clear idea about all the available alternatives. All the tools that we have enlisted in the above section have the potential to effectively cater to your form-building needs and help you to achieve the things that Google Forms cannot.
Out of the above-discussed options, one tool that stands out is Stackby Forms, known for its real-time data collection, customization options, and intuitive integration capabilities.
So, be ready to transform your form-building experience by trying your hands on Stackby today! Create your form today for free.