Top 10 Free Coda Alternatives [Updated 2023]
Let's talk about 10 free Coda Alternatives that you can use to organize your data, your way.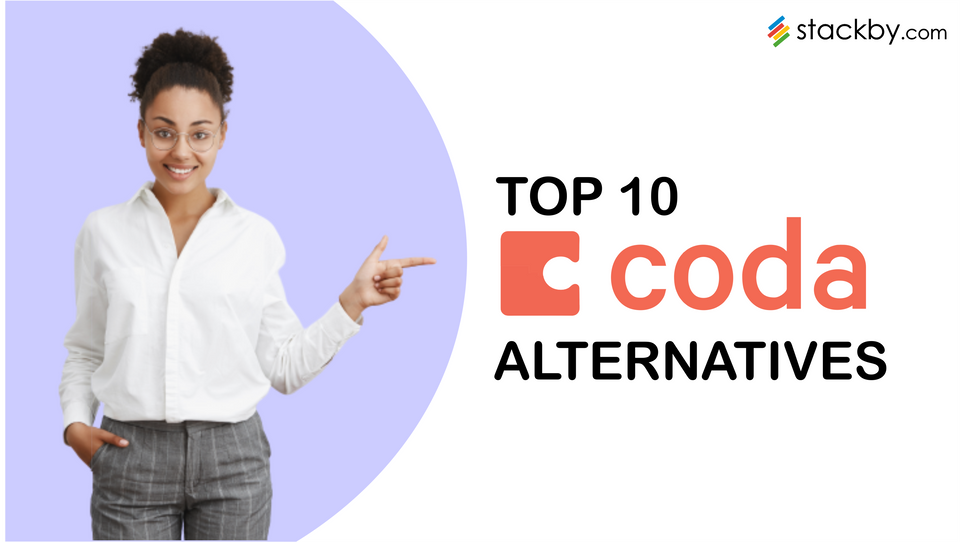 Versatility and Productiveness are one of the top boxes for any software checklist in the market. When choosing software to manage your data, you look for ease of use and how well you and your team can work with it.
There are not many software in the market that do it as well as Coda. But there are some downsides to it, like less intuitive formulas, lack of APAC support, or the inability to email charts and images without third-party support.
And even though we agree that Coda is one of the types of software in the market, I think I am not the only one who wants to know better alternatives?
Also check out: Top 10 Airtable Alternatives in the market.
Why do You Need Alternatives to Coda?
Coda is a new generation document that brings words, data and team together at one platform. It comes with building blocks like tables with relational functions and buttons that take actions. Coda is also a real-time collaborative platform that helps remote teams to keep track of work. It comes with multiple API integrations and is one of the most flexible tools.
Cons:
But there are some downsides to Coda that make it almost difficult to work with. According to some popular online reviews:
No 1:1 spreadsheet mapping.
Unintuitive formulas.
Lack of support and resources, lots of self-learning.
Needs improvement in scalability
Also check out: The top 10 best alternatives to monday.com.
Some other opinions along the same wavelength are:


As you can see, there are quite some points on the downside of Coda. And this might, or might not be, one of your reasons as well. Luckily, we have already compiled a list of the top 10 free coda alternatives in the market. Have a look!
Top 10 Coda Spreadsheet Alternatives
Looking for the best available alternative to Coda? We have compiled a list of the top 10 available alternatives to Coda. Have a look!
Stackby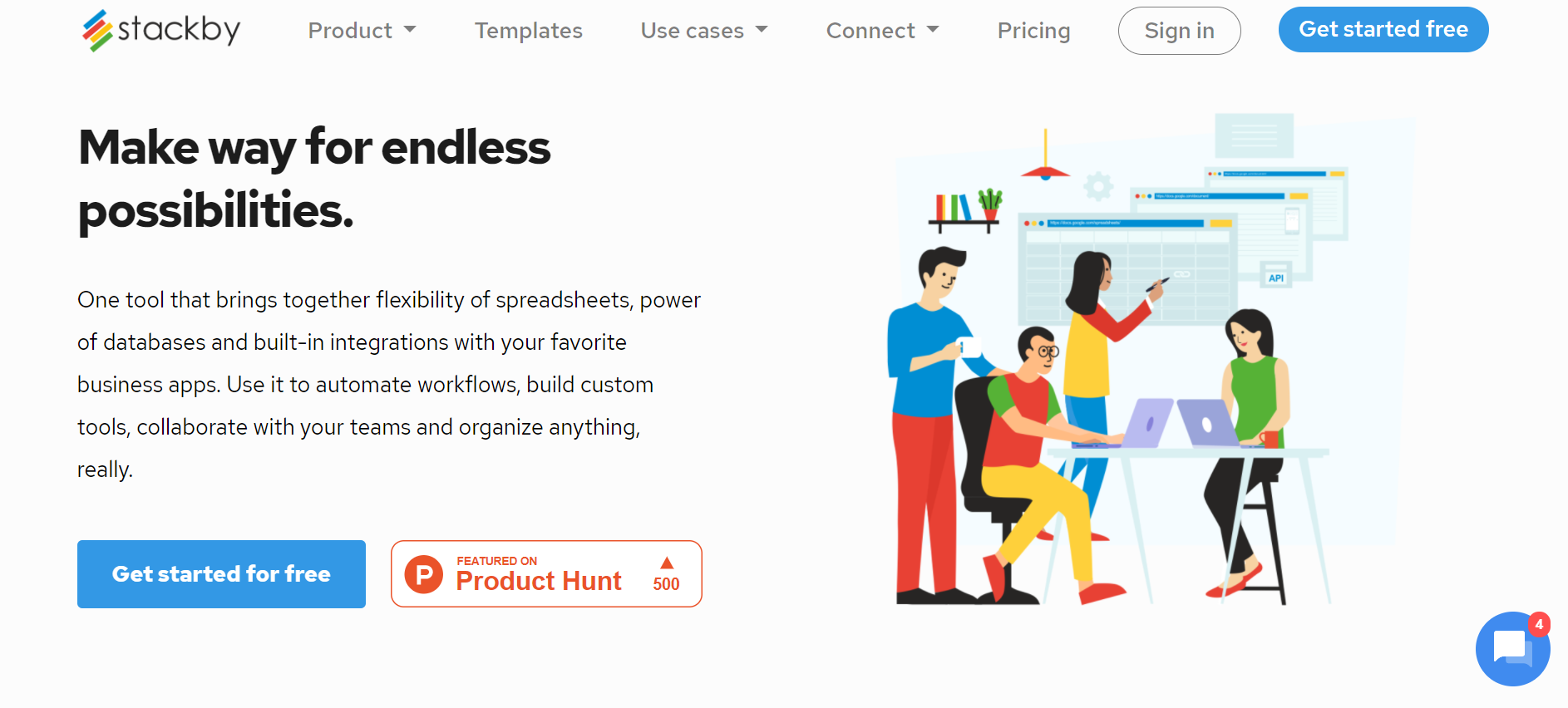 Stackby is one of the best alternatives to Coda. Stackby combines the familiarity of a spreadsheet-style interface with the utility of a database to give you the perfect spreadsheet-database hybrid!
This collaborative workflow management tool provides its users with features similar to Coda and improves its innovative additions. You can create and organize your data in customizable and easy-to-use spreadsheets and collaborate with your team members in real-time.
Stackby offers a wide range of pre-built templates to its users. From sales, marketing, operations to HR, you can find a template for every department of your company in Stackby.
In addition to this, Stackby's Column level API integration facility makes the workflow process even easier than before. Stackby allows you to integrate its templates with third-party applications using a unique API key and pull in data directly to the spreadsheet.
You can connect Stackby to several applications, including Google Calendar, Integromat, Moz, SendFox, Facebook, Clearbit, MailChimp, YouTube, Facebook Ads, Google AdWords, etc.
Stackby offers multiple views including Grid, Kanban, Calendar, Gallery, and Forms. You can choose your view according to your current requirements.
You can automate your repetitive tasks and plan and organize daily and weekly work easily. This software is available on the web as well as an app. You can even find a Chrome extension of the same.
Pricing – Stackby offers a free trial to its users for 7 days. It offers a Personal Plan for $5 per user per month, an Economy Plan for $9 per user per month, a Business Plan for $18 per user per month. It also has an Enterprise Plan with scalable pricing.
Also check out: How to choose a stack from the template gallery?
Asana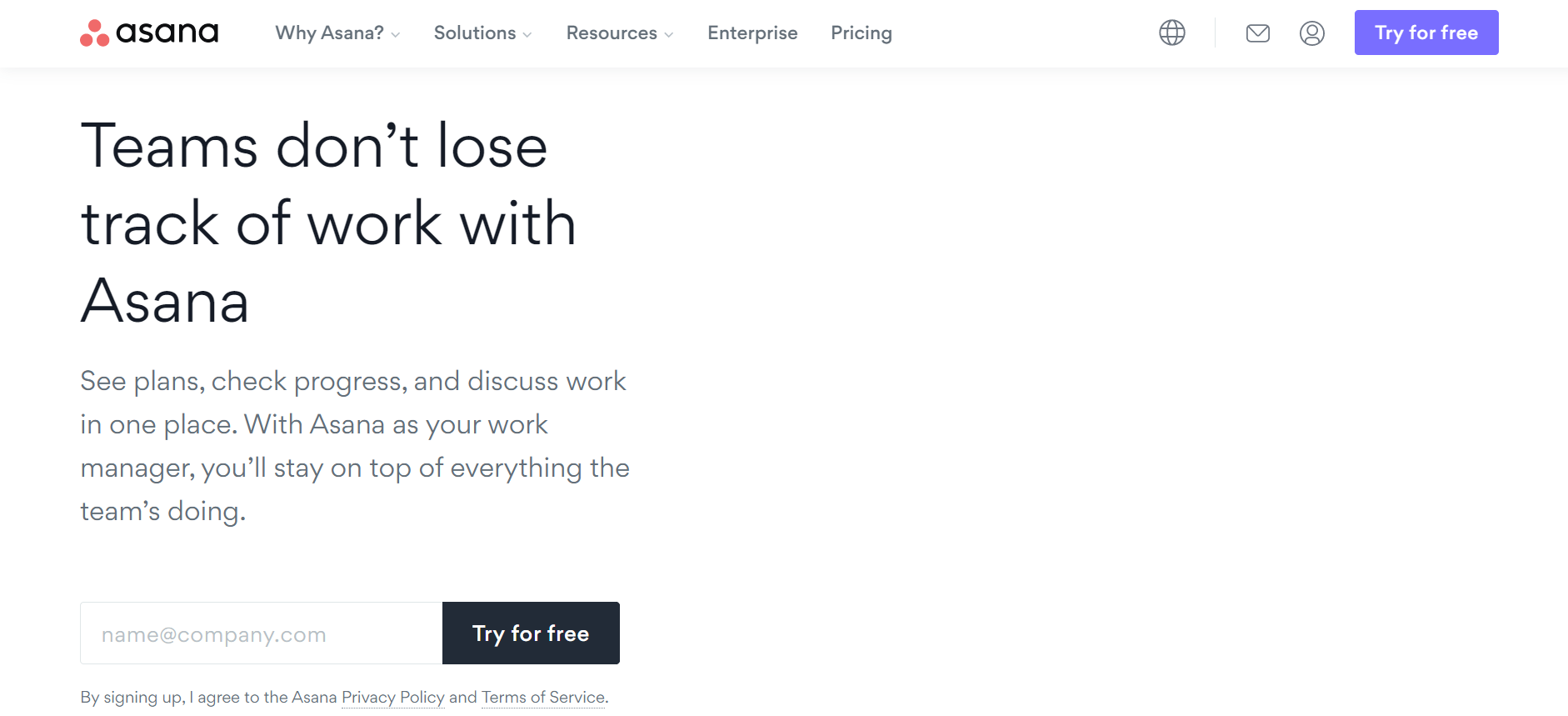 Asana is an all-in-one project management tool that is extremely easy to use. Suitable for beginners and advanced professionals, Asana can be used even if you have no coding experience.
Asana enables its users to organize and manage multiple projects at the same time. Asana will enhance your organizational efficiency to a substantial extent and allow you to collaborate with your colleagues and team members.
You can break down your project into simpler and manageable tasks. Using Asana, you can organize your goals, tasks, plans, files, and documents on the same platform and share them in one go.
Its Timeline view allows you to track task duration, while its Workload view will give you an idea of the work distribution and team capacity. Under Goals, you can set, track, and manage organizational goals easily.
The in-built conversations tool allows you to communicate with your team members and add comments whenever necessary. You can also connect your Asana account to Google Drive, Dropbox, etc.
Asana has a wide range of pre-built standard forms that can be used to collect and record information for various sources.
Pricing – The Basic Plan of Asana is entirely free for up to 15 team members. It also offers a Premium Plan for $10.99 per user per month, a Business Plan for $24.99 per user per month, and an Enterprise Plan for large organizations.
JotForm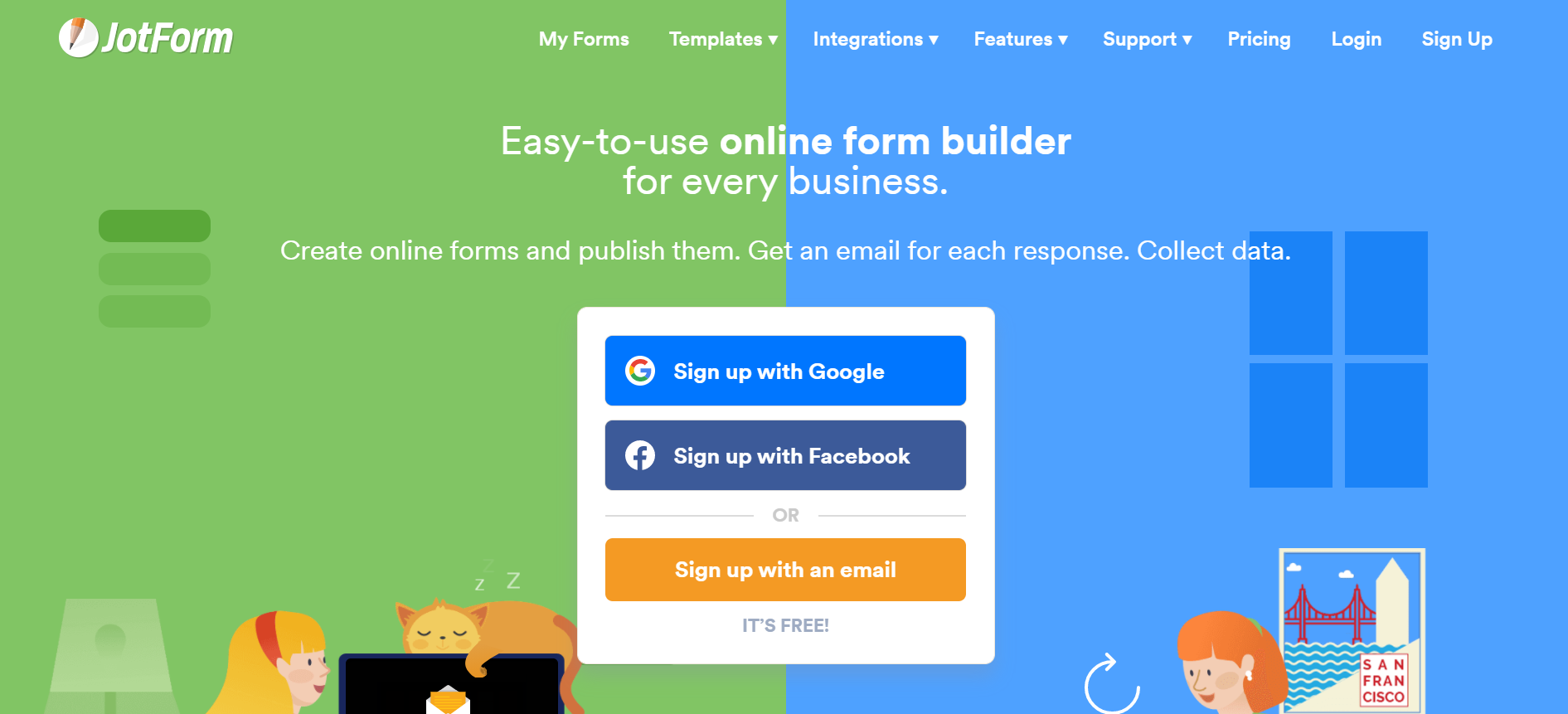 JotForm is a user-friendly and intuitive online form builder perfect for your company! You can now design personalized and creative forms using JotForm via a simple drag and drop mechanism. You can even use this application in offline mode.
JotForm also allows you to collaborate with your colleagues while creating a form. Hence, several inputs can be accommodated in the same form.
It is effortless to use, and changes you make to a form are automatically synced. To make your work easier, JotForm also facilitates integration with over 100 third-party applications.
You can import and export data from these applications directly to JotForm. Some applications include Google Drive, Dropbox, Salesforce, PayPal, oho CRM, Egnyte, Freshbooks, Stripe, AWeber, etc.
While creating a form, several modifications are made to arrive at the final version. JotForm saves each version inconsequential order in case you need to refer to any in the future.
JotForm can be used on the web as well as mobile. It is supported in both the Android and iOS versions.  
Pricing – The free version of JotForm called Starter has a 5-form limit and 100 monthly submissions. JotForm also offers a Bronze Plan for $29 per month, a Silver Plan for $39 per month, and a Gold Plan for $99 per month.
Microsoft Lists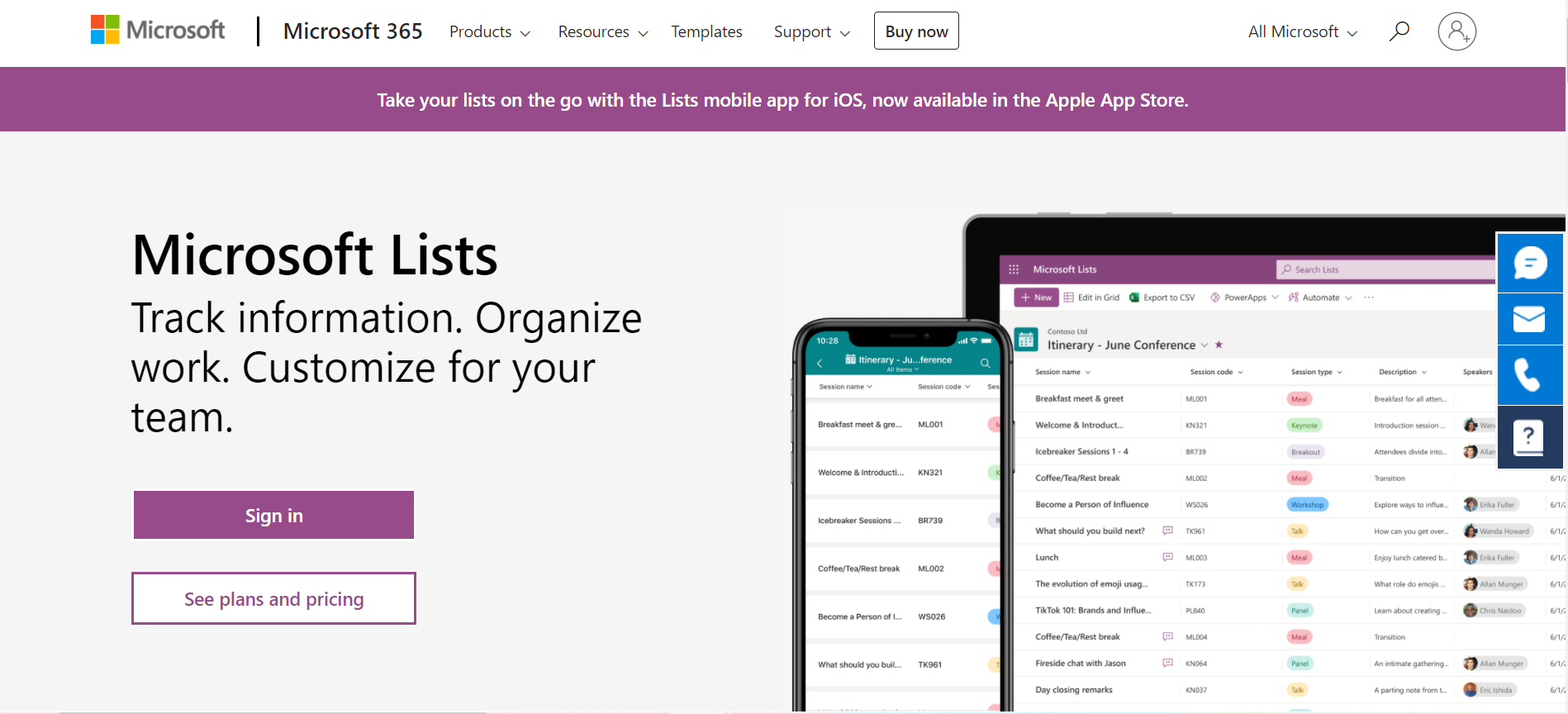 Microsoft Lists is the go-to application to track your organization's information and organize your work in a structured manner. It is accessible via the Teams App. It offers a wide range of templates to enable its users to track information relevant to their projects and tasks.
Using Microsoft Lists, companies will build lists, manage agendas, track inventory, and record information. This application is highly secure. The information stored here is protected by Microsoft's data protection and security mechanism.
Microsoft Lists can be integrated with other Microsoft applications such as Excel, SharePoint, Power BI, Power Automate, etc. This allows seamless transfer of information and data from one application to another.
It offers four different views to track your work. These include List, Grid, Gallery, and Calendar.
You can also set timely alerts and reminders to ensure that the work is completed on time. This application is available in both web and mobile formats. Lists can ensure a smooth onboarding process for new employees and even organize your company event itineraries.
Microsoft Lists is a simple, innovative, and flexible tool that allows you to create lists, collaborate with team members, and customize the process according to your requirements.
Pricing – Microsoft List is a part of the Microsoft 365 package.
Google Tables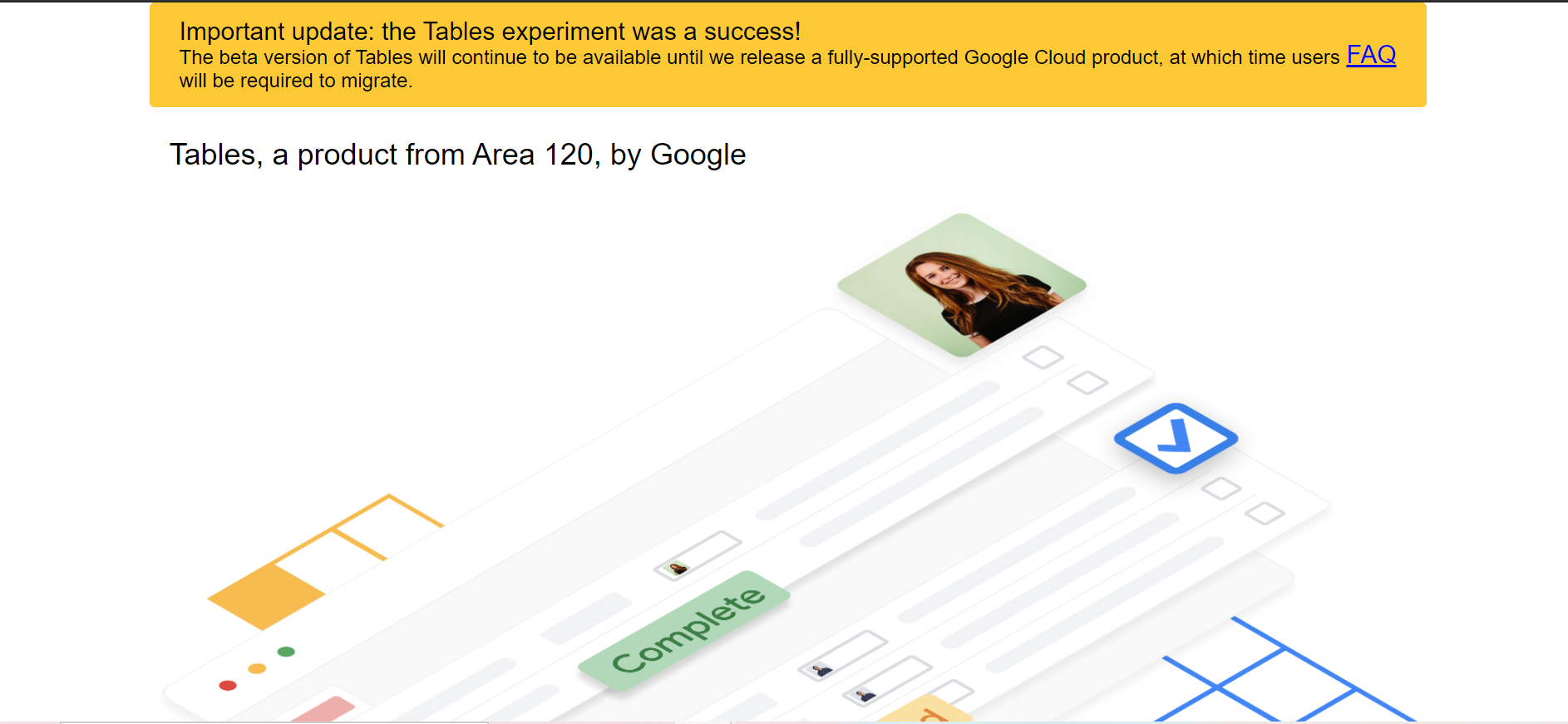 Google Tables is a workflow automation tool used by companies worldwide!
It combines the flexibility of a spreadsheet with the power of a database. Google Tables allows users to organize and manage their projects and tasks. It represents your data in a visually appealing format.
You can even group and link your multiple tables and create an entire workflow for your team. Workspaces are groups of tables organized for a particular purpose.
Google Tables can be customized to automate any repetitive tasks and save your time for important work.
The Views feature of Google Tables allows you to store multiple versions of the same table with data shown in different formats. The kanban feature of Google Tables is best suited for analyzing project status.
You do not need any coding experience to be able to work on Google Tables. Newcomers and professional users can use this data management and visualization tool.
To summarize, Google Tables has four distinct features – Tables, Workspaces, Columns, and Views. Tables allow you to store data in a structured manner, while Columns are predefined data types in each table. Workspaces are a collection of tables, and the Views features have been explained above.
Pricing – Google Tables offers a free trial period to its users. It has a free version with limited capabilities, while the paid version costs $10 per user per month.
Zoho Sheets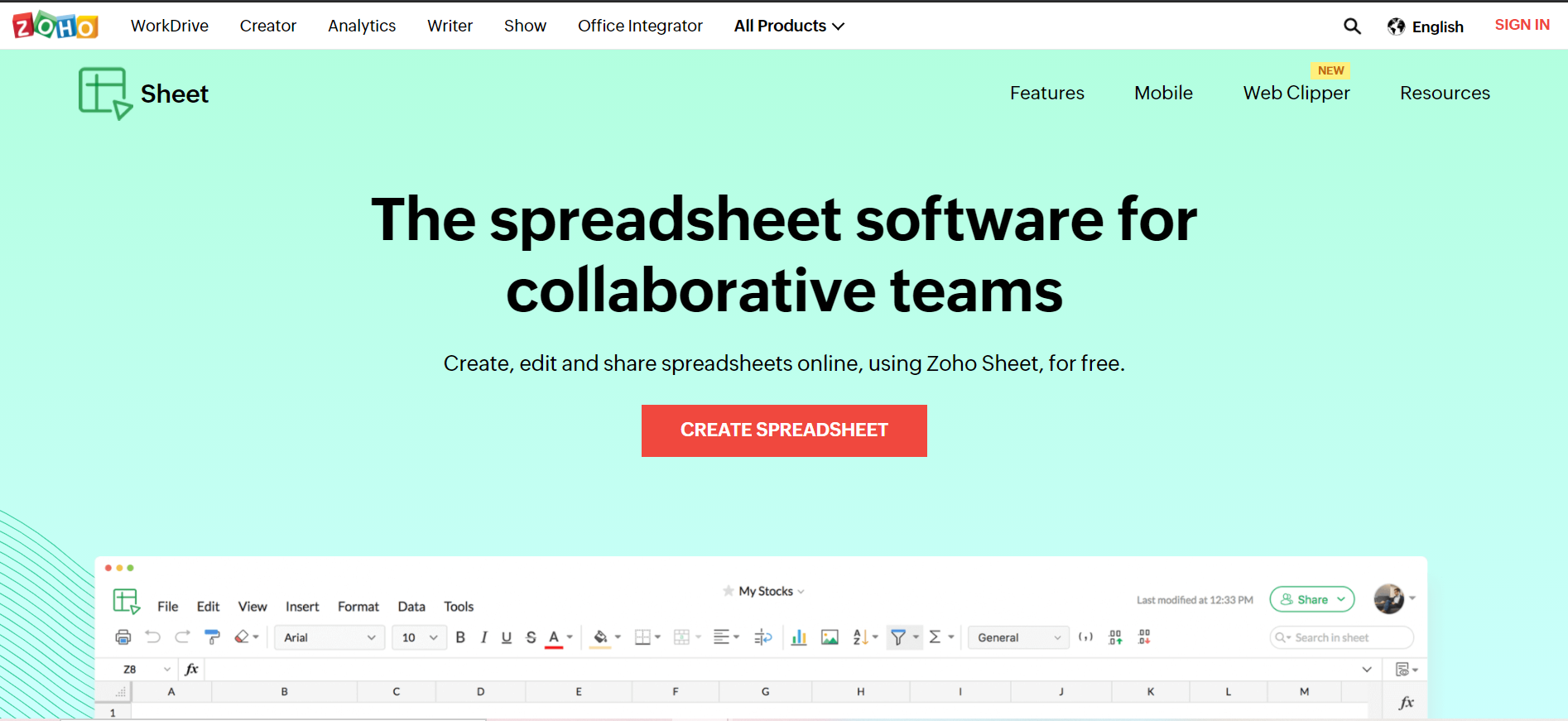 Zoho Sheets is an online spreadsheet application where you can create, edit, share, and collaborate with your team members in real-time. It allows multiple users to work together, discuss, and edit the spreadsheet at the same time.
Zoho Sheet spreadsheets can be easily modified and shared with other members to facilitate easier access. It allows you to filter your data, use formulas and functions to analyze information, and produce relevant results to make crucial decisions.
Zoho comes equipped with an AI-powered analytic assistant called Zia to carry out instant data analysis and visualization. You can also prevent and analyze changes to your file via user-level locks and audit trails.
It offers 35+ chart types and pivot tables to allow you to represent your data in a meaningful format. You can directly import and export data from Google Drive, OneDrive, and Dropbox to Zoho Sheet.
It also enables you to shift from one platform to another; that is, it allows you to navigate between .xlsx, .xls, .csv, and .ods formats. Its intelligent cleaning tool helps users get rid of duplicate data, inconsistencies, and missing values. Zoho Sheets is available in both iOS and Android versions to allow easy access.
Pricing – This interactive and intelligent application is available for free!
Smartsheet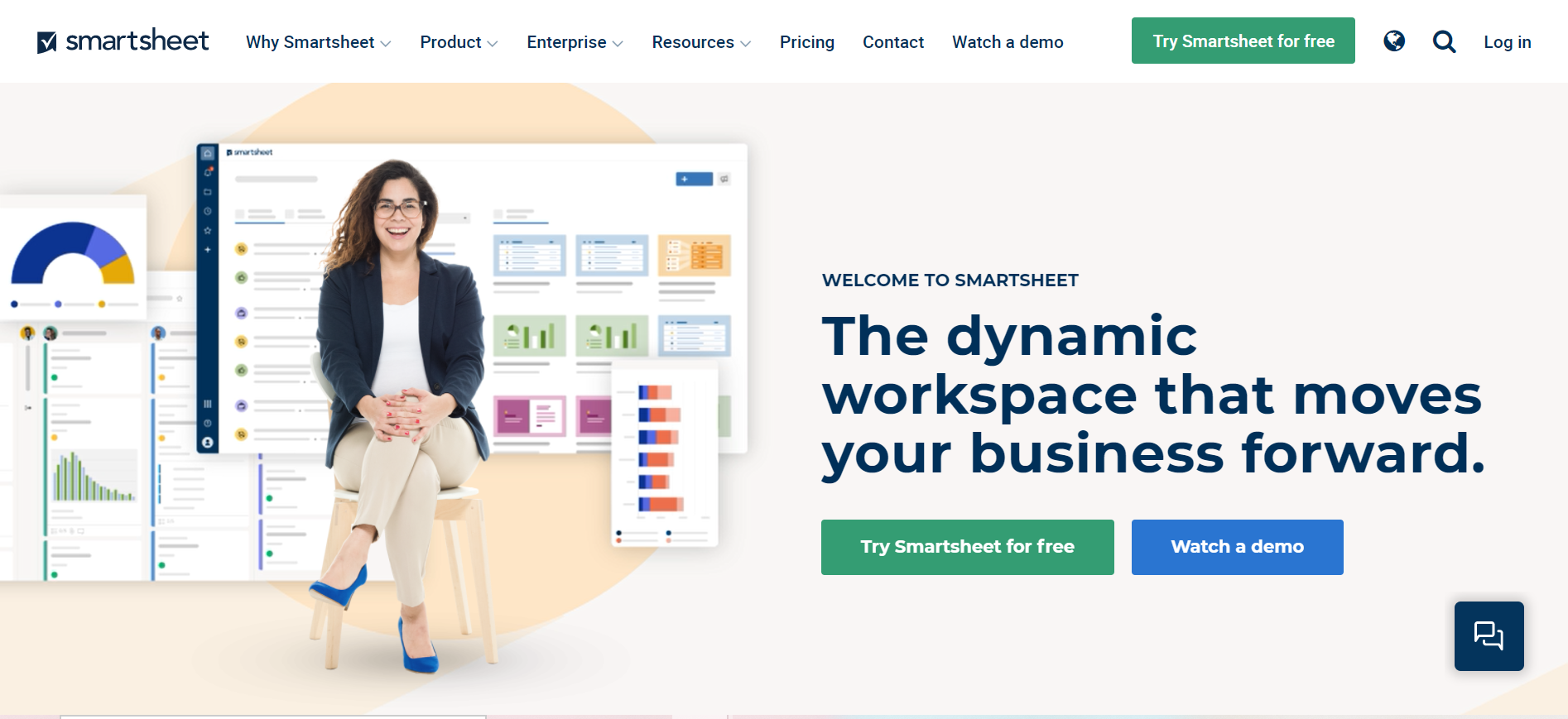 Smartsheet is a cloud-based application that uses spreadsheets to organize projects and streamline tasks. It enables its users to plan, capture, track, automate, and report on work. It is a flexible tool that facilitates seamless collaboration among the members of a team. It has a desktop as well as an Android/ iOS version.
Smartsheet can be customized to automate repetitive processes by sending alerts, requesting approvals, and updates. The Dashboard gives users, stakeholders, and clients a clear and real-time overview of the project status.
It also comes equipped with customizable in-built forms that can be used to collect and record data from internal and external stakeholders. These forms will automatically map to the columns of your spreadsheet.
To facilitate smooth workflow, Smartsheet allows integration with all the top cloud productivity suites and messaging applications. This includes G Suite, Microsoft Office 365, Dropbox, Workplace Chat, DocuSign, Adobe Creative Cloud, Slack, Microsoft Teams, Google Hangouts, Skype, Gmail, Outlook, etc.
Pricing – Smartsheet offers two different sets of plans, namely Standard and Enterprise. Under the former, it provides an Individual Plan for $14 per month and Business Plan for $25 per user per month. On the other hand, it also offers an Enterprise Plan and Premier Plan.
Autodesk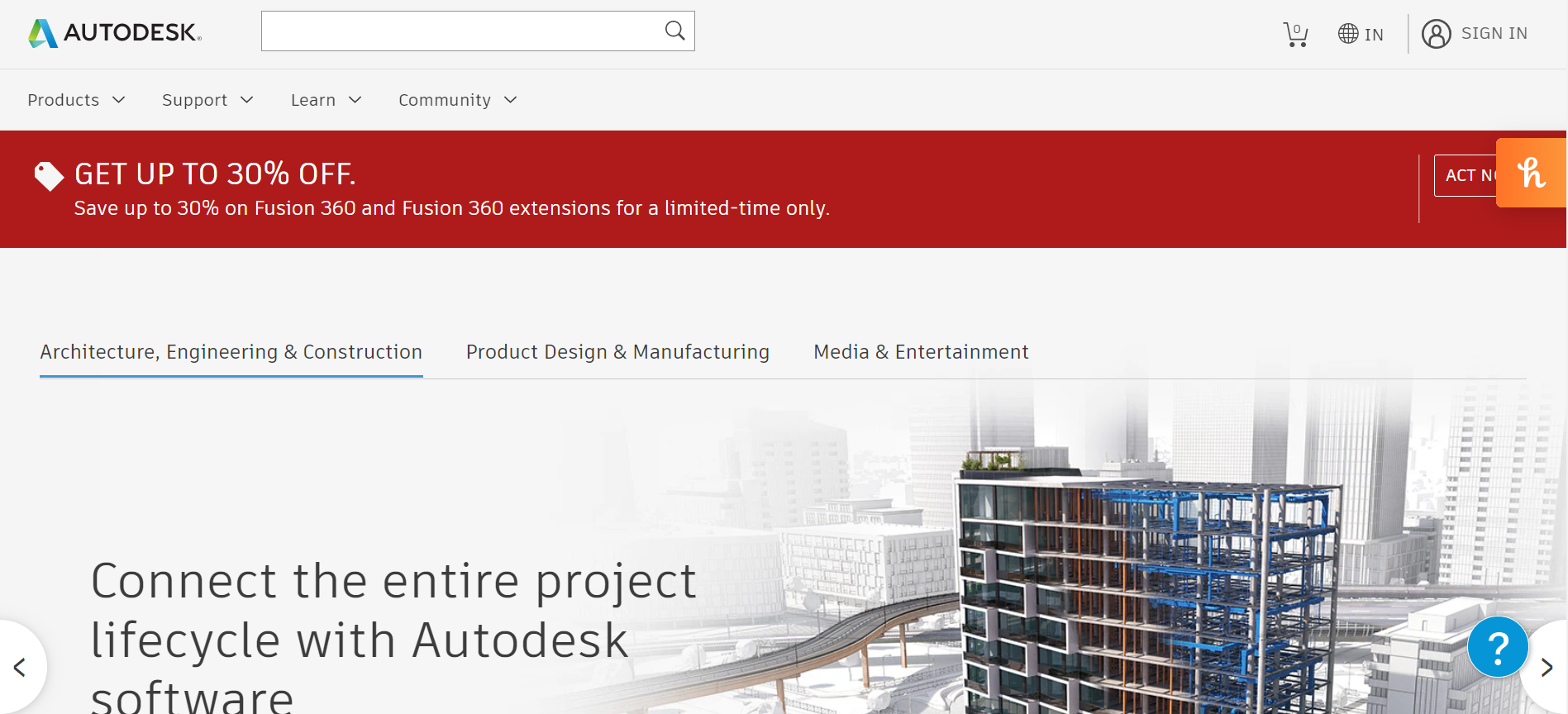 Autodesk is spreadsheet software that allows you to import, transform, and analyze data in one go.
This workflow automation application is web-based and is known for its powerful automation capabilities. With almost a zero-learning curve, Autodesk can be used by anyone regardless of prior experience.
Using Autodesk, you can view your data in the raw format or apply filters to extract the information you need. You can also add columns and carry out computations on the spreadsheet. Autodesk supports a wide range of functions and formulas.
The software can be used even if your data is spread over several databases.
You can refer to the Lookup feature to source data from multiple sources. The imported data can be updated with the click of a single button. You can connect Autodesk to SQL, Airtable, HubSpot, Stripe, Intercom, and many other external applications.
Pricing – Autodesk offers multiple plans with a wide range of features to meet your requirements. Before starting, you can also sign up for the free trial. Its Starter Plan is entirely free for all. It also offers a Professional Plan for $150 per month, a Business Plan for $350 per month, and an Enterprise Plan for $1500 per month.
Quip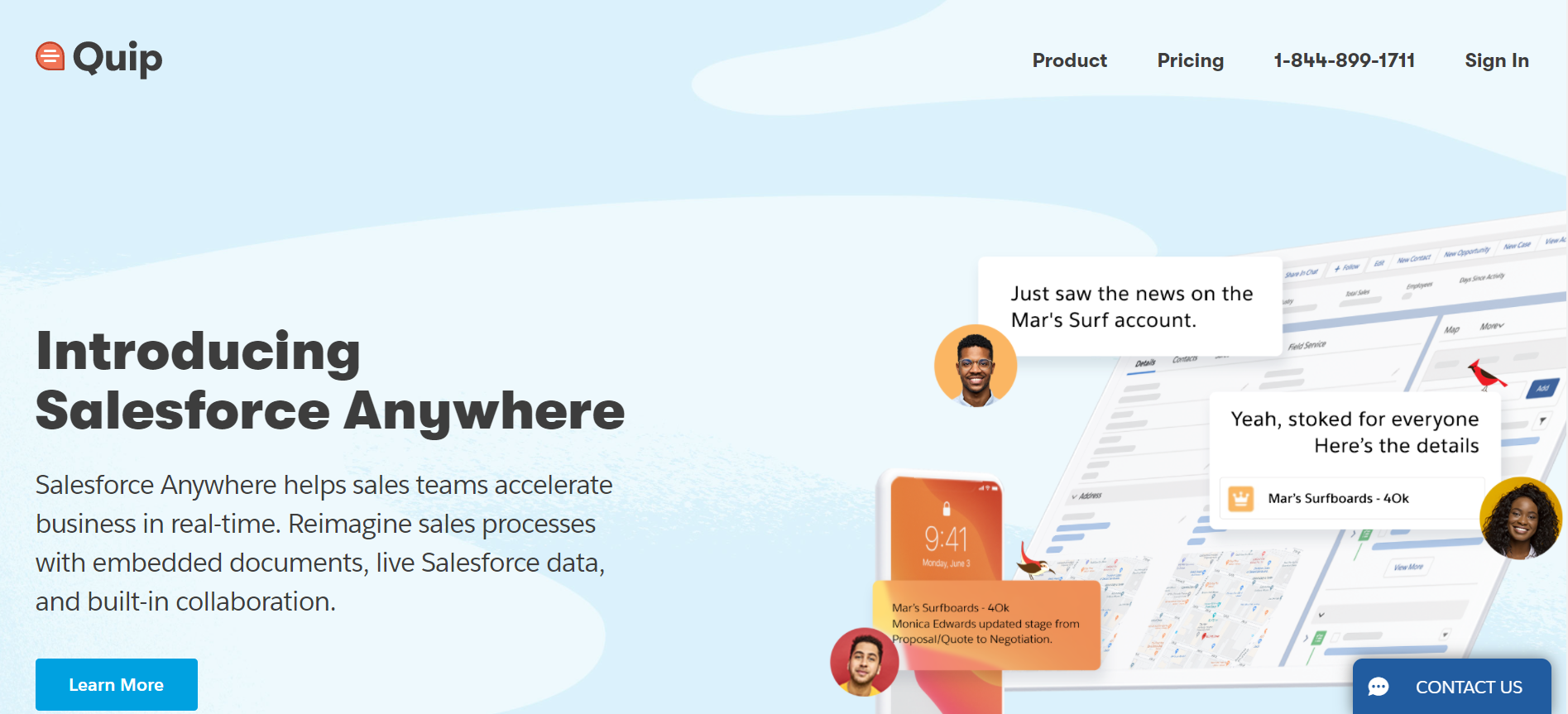 Quip is a team collaboration application that combines document and spreadsheet creation benefits to simplify your work.
Using this software, you can create spreadsheets where numbers can be converted into meaningful information. Quip documents allow you to work together with your team and combine the work done in one place.
You can set your documents as public or private depending on your requirements. Quip also provides you with a version history of your document. This is especially useful when multiple users are working on the same file. The version history gives you an overview of who changed what in the document.
Quip can use used to create to-do lists and assign tasks to team members. You can also set reminders and deadlines to track the progress made by your team.
Quip is available in desktop and mobile versions. It can be used by both Android and iOS supporting phones.
Pricing – Quip offers multiple plans with a different collection of features depending on the price. It offers Quip Starter for $10 per user per month, Quip Plus for $25 per user per month, and Sales Advanced for $75 per user per month. Its services are billed annually, and it also offers a free trial.
Airtable
Airtable is a cloud-based spreadsheet-database hybrid. This collaboration software can be used and adapted to any business type.
It has a centralized database that allows multiple users to work together on the same project. You can use it to organize, track, and manage your project work.
You can customize the application to suit your requirements. It allows you to filter, sort, and group data and choose from a wide range of pre-built templates.
To save your time and help you focus on meaningful work, Airtable can also be used to automate redundant tasks and orchestrate work via integrations.
You can edit, comment, collaborate, and communicate with your team members in real-time via Airtable. It offers a storage space of up to 1000 GB, depending on the pricing plan.
Airtable can also be integrated with third-party applications. They are referred to as Blocks here. An example is Google Drive. Other Blocks include Slack, GitHub, WordPress, and Stripe.
Pricing – Airtable has a customizable interface that any company or business can use. Airtable offers a free version to its users with several features. It also offers a Plus Plan for $10 per user per month and Pro Plan for $20 per user per month.
Wrapping it Up!