Top 7 Free Database Software in 2023 (Features, Pricing)
A good database software helps you organize your team's workflows and helps you make data driven decisions. Learn about top 7 database software for 2023 & beyond.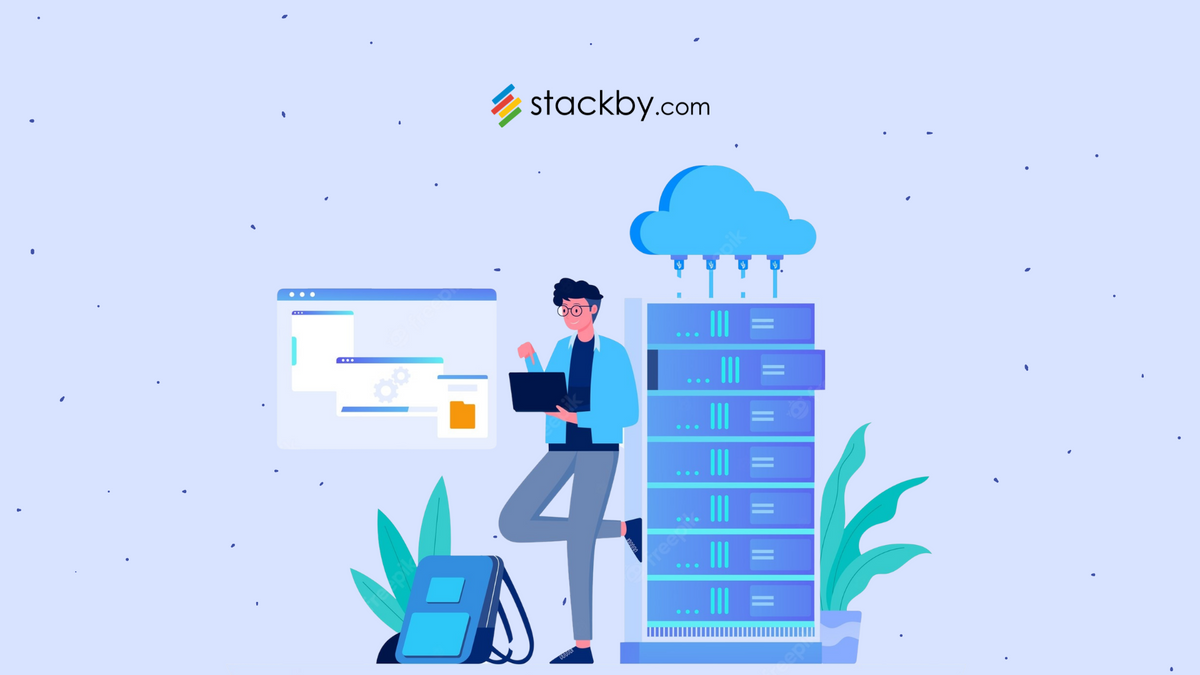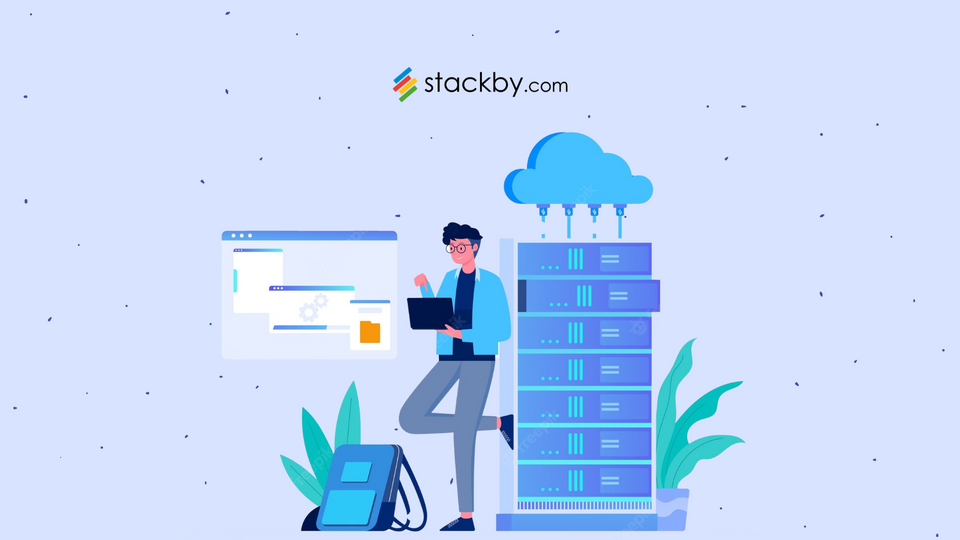 Before diving right into the topic let's first understand the basics and use of Database Software. A software application or tool called database software is used to build, update, and manage database files and records. This kind of software enables users to save data as organized fields, tables, and columns that can later be accessed manually or automatically.
Although these names are not exactly synonymous, database software is also referred to as database management software (DBMS).
How to choose the best Database Software?
There is no "this tool is better than that" when selecting database software. What you choose will rely on your company's needs.
A number of things need to be taken into account, especially when choosing database software to design apps. This entails determining what you want to do with your apps, knowing the correct questions to ask about a software's capabilities, and deciding whether to invest in learning a new database.
Also remember, that databases are different from spreadsheets. So if you're using spreadsheets to organize your data and work, think beyond it.
There are several free database solutions, categorized into relational and non-relational databases if you don't wish to pay. Here are a few things to think about if you haven't chosen the database software (paid or free) you wish to use:
Complexity: Some database software can be rather complicated and call for technical expertise. On the other hand, certain project management software makes it easier to handle data for projects.
Data Security: No one wants their information to end up in the wrong hands. It's crucial to select software that implements cutting-edge data security methods.
Integrations: Users may manage data across several programmes, such as CRM software or messaging apps, thanks to software integrations.
Price: As we look at some of the best free database programmes, we'll see that some of them offer premium plans with additional functionality, storage space, and other benefits. So, pick a database management system that delivers the most financial value.
Even though these features are important there are some other factors that you will need to consider before you make a decision. So, let's understand other criteria to choose the best database software.
When you select a database software you need to consider if the software meets your needs. If you are a team working in marketing, sales, HR, product management, project management, advertising & creatives, etc. then make sure the software meets the following requirement:
● Relational database features
● Custom spreadsheet-like UI & data storage
● Easy Import and Export
● Solid Backup of data
● Quality User Interface
● Easy to Setup Field types
● Great Customer Support
Relational V/s Non-Relational Database
The subject of database needs will frequently come up while developing a new project or application. Which kind of database should be utilized? What distinguishes relational databases from others that are not?
In order to assist you to make an educated choice, we will now address those questions by defining them and highlighting how they vary.
Relational Database
Data is stored in the form of tables in relational databases or relational database management systems (RDBMS). In a relational database, the rows and columns that make up the table are referred to as records and fields, respectively. E.F. Codd at IBM initially used the word relational database in the 1970s. Later, in 1974, Donald D. Chamberlin and Raymond F. Boyce published Standard Query Language, which enables users to communicate with relational database systems.
Non- Relational Database
No-SQL databases, which do not require any tables, fields, or records, are another name for non-relational databases. The phrase "No-SQL" was first used in the late 1990s and early 2000s, but this form of the database has been around since the 1960s.
It comprises files within different directories rather than tables. They are capable of holding any type of data, including JSON, XML, etc. So, Non-Relational Database makes it simple and quick to create and manage data.
The table below will give you an easy understanding of the major differences between Relational and Non-Relational Databases.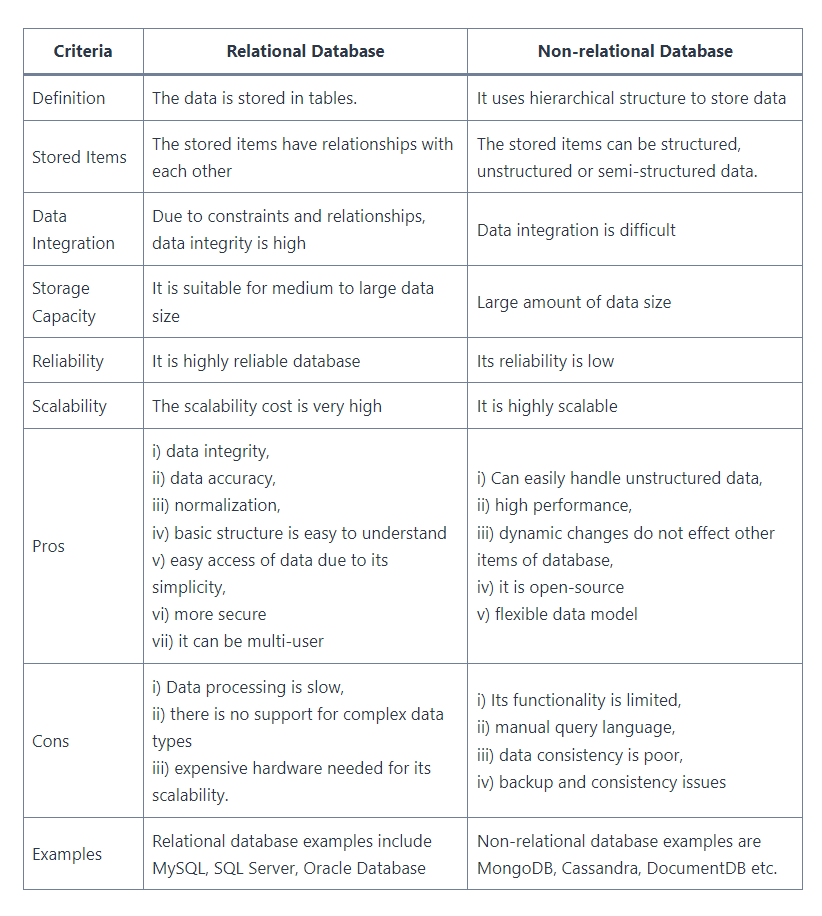 Top 7 Free Database Systems
Here is a list of the top 7 best free database systems along with their features, prices & more.
1) Stackby - All-in-one database software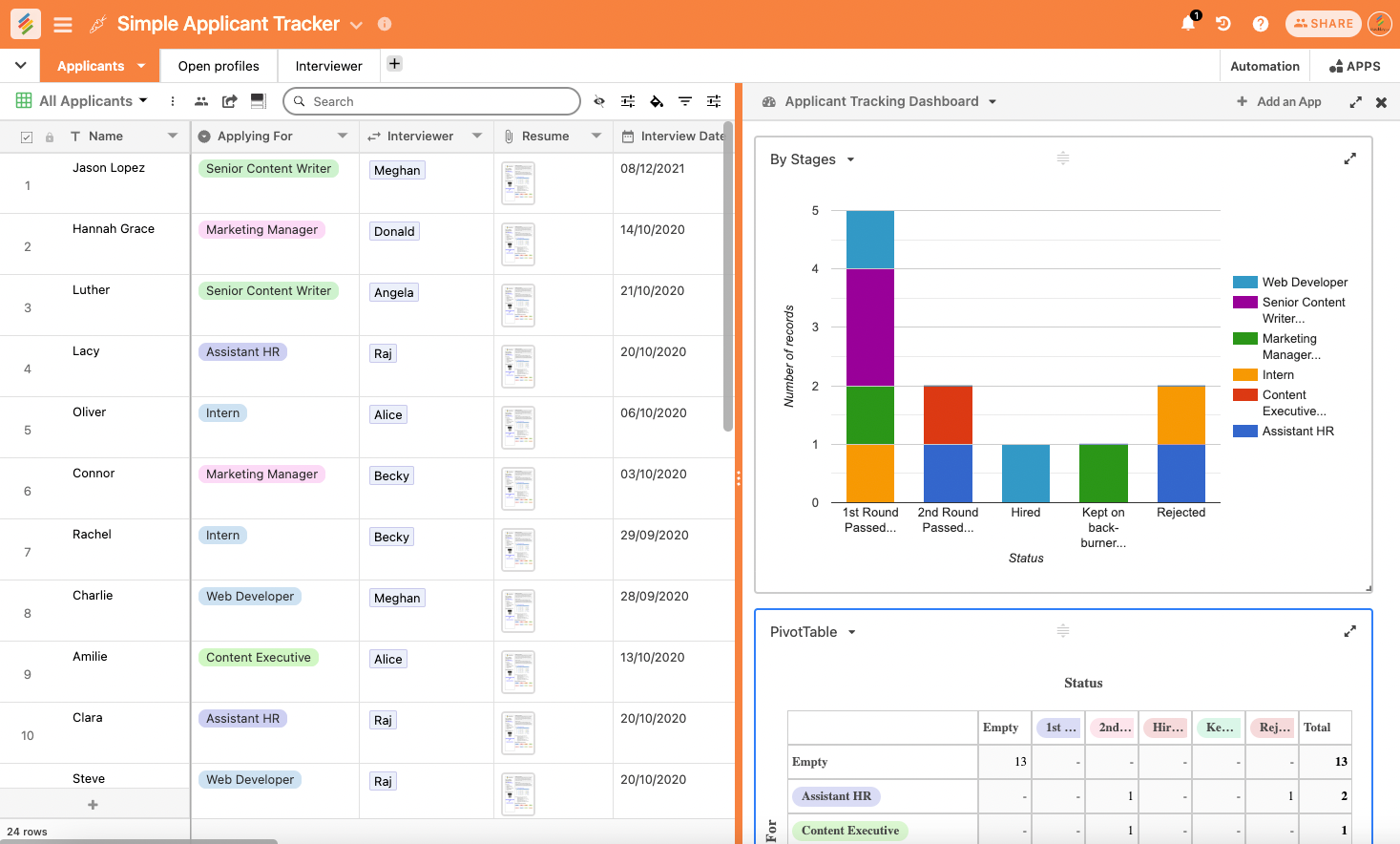 ● Stackby is cloud based database software that is easy to use as a spreadsheet, has relational database features (with 25+ unique column types), data visualization with 6 views - Kanban, Calendar, Forms, Gallery, pre-built API connectors, 300+ templates, no-code custom dashboards with Charts, Pivot Tables and more.
It enables individuals to companies and teams organize data, manage & automate entire workflows, collaborate with the team and build anything, your way.
● By importing data from pre-existing files in the CSV or XLS format, administrators may establish online databases that take the shape of editable spreadsheets.
● Managers may talk with team members using Stackby, create checklists, and schedule reminders to work together on projects.
●  Data may also be displayed by teams in Grid (Table), Kanban boards, Calendars, Galleries, or Custom Forms.
● Integration with 2000+ third party platforms, like Google Sheets, Google Forms, Facebook Lead Ads, Google Ads, Instagram, Google Analytics, and others, is made easier by Stackby.
Pricing
Price starts at $5 a month for individuals, $9/user/month for teams, and $18/user/month for businesses.
Limited time annual plans for teams with discounts of more than 70% are available.
Trial offer - 14 days free business trial; post which you move to free forever plan.
Free version - offered.
Rating
Overall review G2 & Capterra - 4.8/5 (150+ reviews)
2) MySQL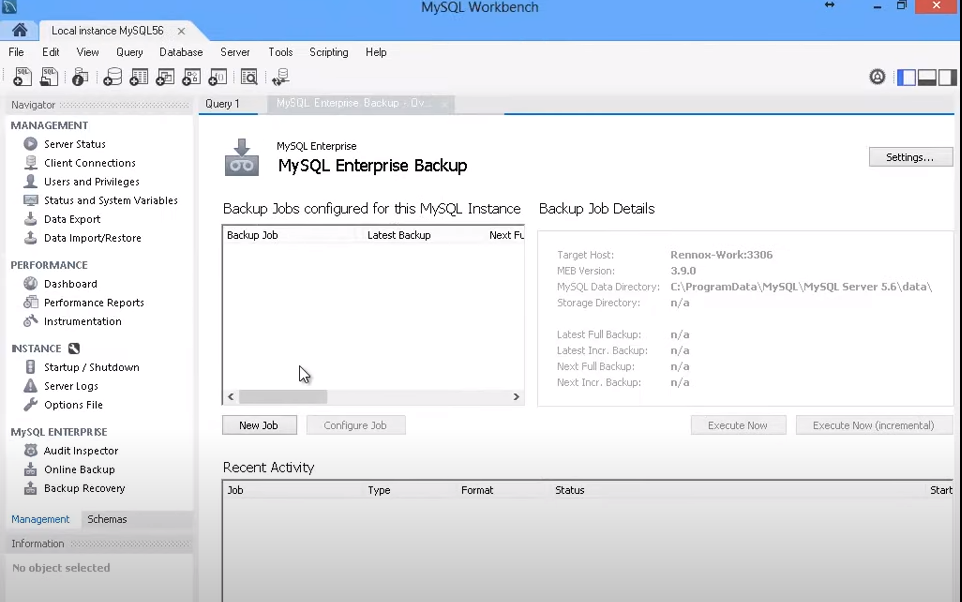 ● MySQL, a cloud-based, scalable database management system that works in accordance with GDPR, PCI, HIPAA, and other regulatory regulations.
● Data masking, audit, de-identification, real-time monitoring and authentication are some of the features.
● Professionals can model databases, create queries, configure servers, migrate databases, and manage backup and recovery using MySQL Workbench.
● Administrators may stop SQL injection attacks and stop data loss by using the Enterprise Firewalls intrusion detection capability.
Pricing
A brief overview of some of this open source database tool's price options:
Free - MySQL Workbench,
Transactional Data Dictionary,
Performance Schema and more are included with the Community Edition.
($2000) - MySQL Standard Edition
Oracle Product Certifications,
MySQL Database Server Knowledge (apart from features in the free edition)
Ratings
Overall Ratings G2 - 4.4/5 (1480+ reviews)
3) MSSQL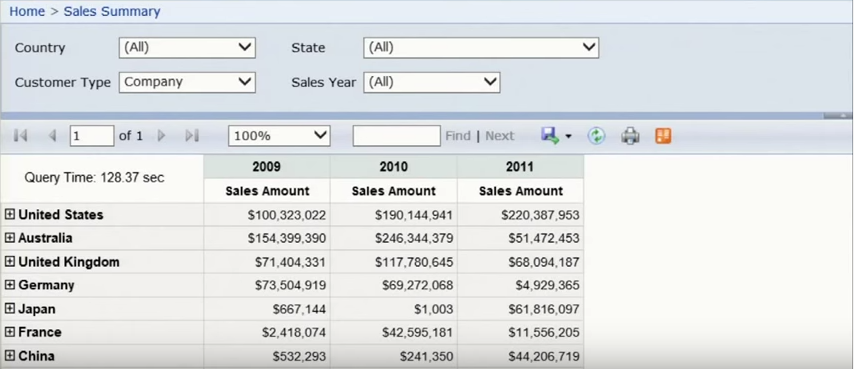 ● For businesses of all sizes, Microsoft SQL Server Business Intelligence (BI) Edition is a database management and BI software solution.
● Relational database management is a feature of the system that enables users to access corporate data using a structured query language.
● "In-memory analytics" is a feature of Microsoft SQL Server that enables users to do queries and analyses while the data is still in RAM, speeding up access.
● Management may make better informed decisions thanks to the software's scalable and corporate reporting tools.
Pricing
Starting price: $931.00 one time
Free trial: Available
Free version: Available
Rating
Overall rating G2 - 4.2/5 (20+reviews)
4) Airtable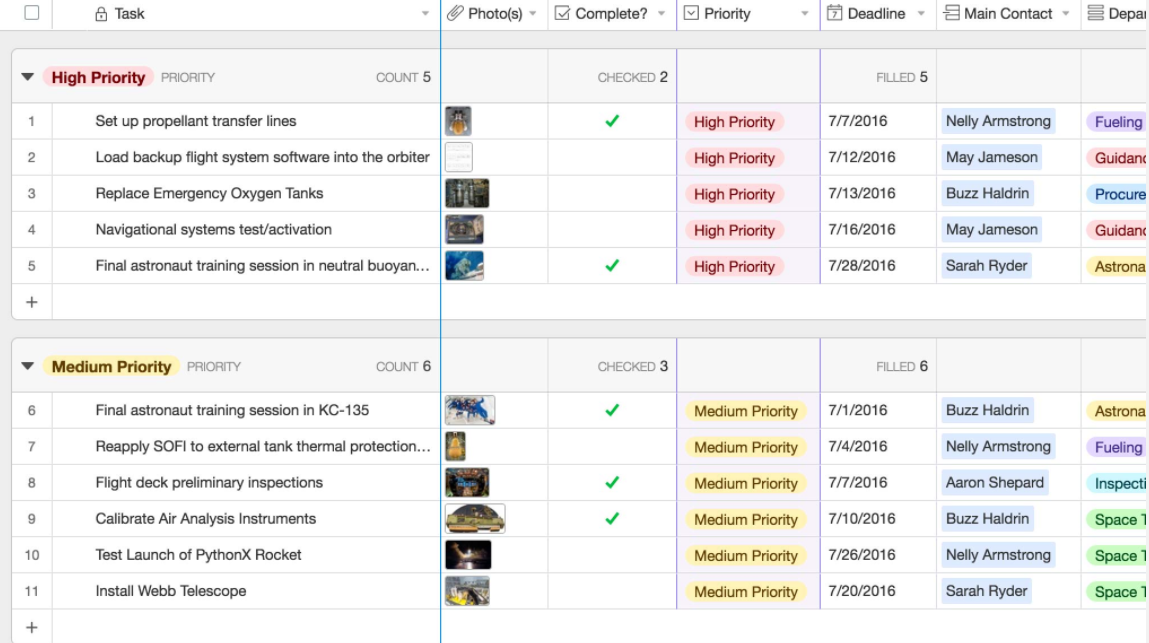 ● Airtable is a cloud-based project management tool aimed at small and medium enterprises as well as divisions of bigger organizations
● The system arranges data in a spreadsheet fashion. Data that are related to one another can be connected together; for instance, contacts and firms can be linked as inventory items and vendors.
● Users can view data as tappable cards on mobile devices as opposed to spreadsheets on desktop PCs.
● Users may also add and remove data, attach files, and share tables on both devices.
Pricing
Starting cost: $12.50/user/month for Plus plans, $24/user/month for Pro plans
Free trial: Available
Free version: Available
Ratings
Overall rating G2 - 4.6/5 (960+ reviews)
5) MongoDB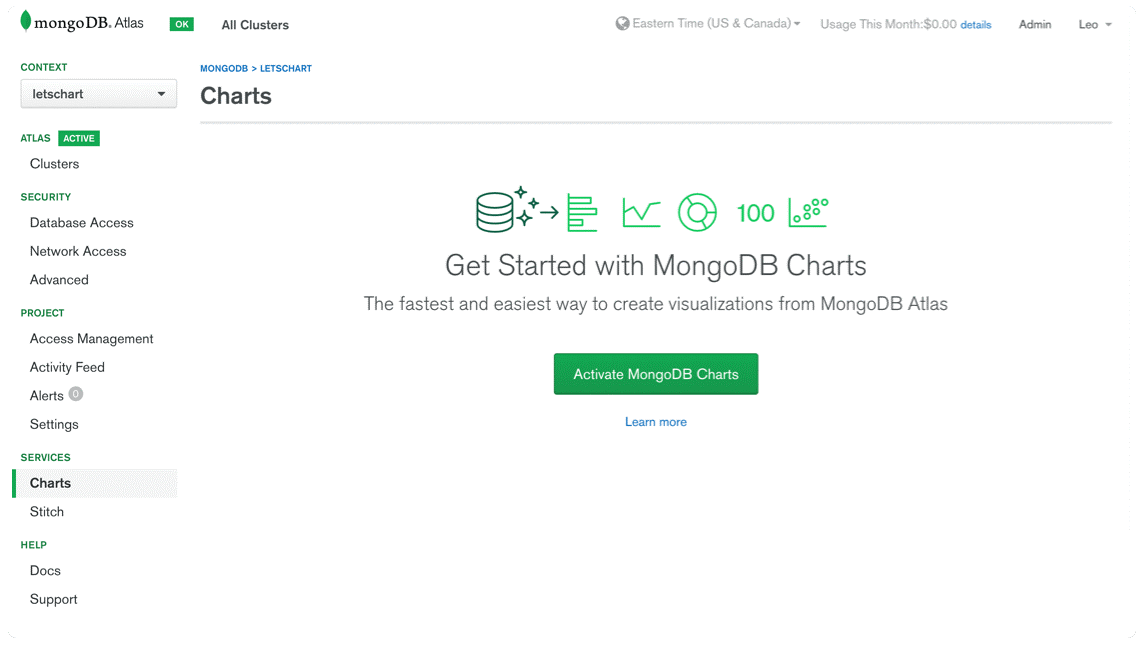 ● Sharding, replication, data visualization, collaboration, text/geo-based search, and backup management are among the features.
● The platform enables developers to access and analyze data via real-time data aggregation, indexing, and ad hoc searches.
● Professionals can manage and restore installations across several cloud platforms, including AWS, Azure, and more, using MongoDB Atlas.
● Based on the use of resources, businesses can modify the size, memory, or storage capacity of database clusters.
● By using event-driven triggers, it also enables developers to react to document inserts, updates, replacements, and deletes.`
Pricing
Free plan - Upto 512MB Storage space for small application
For the paid version, you need to contact support.
Rating
Overall rating G2 - 4.2/5 (380+ reviews)
6) SmartSheet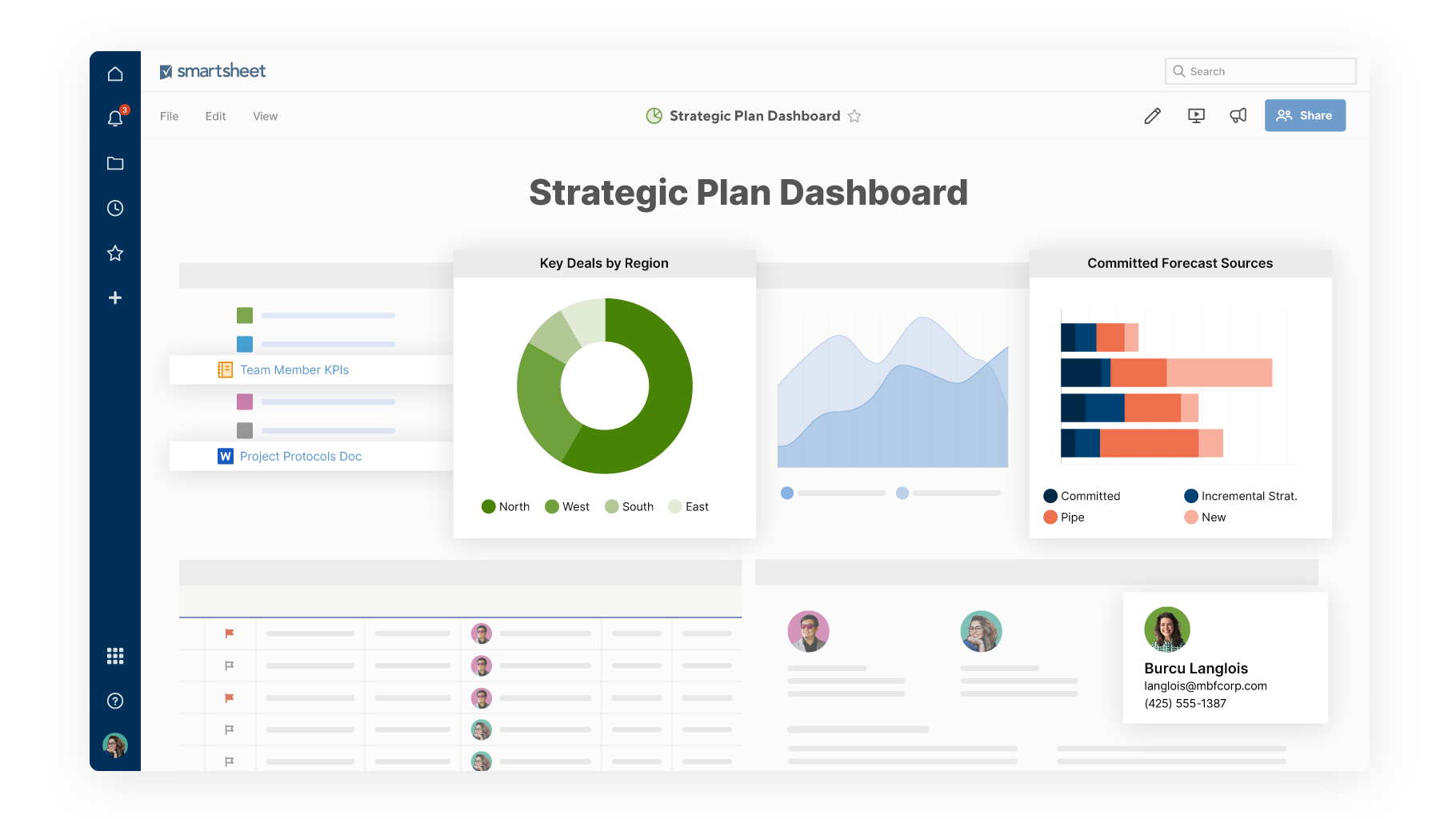 ● Teams can plan, track, and manage projects in real-time with Smartsheet, a work execution platform and collaboration tool with a familiar spreadsheet-like interface.
● Project management capabilities including document and resource management, project reporting, task management, file sharing, and schedule monitoring are among the features of Smartsheet.
● With automated workflow choices that suit individual work preferences, Smartsheet may assist teams in standardizing a project process, maximizing efficiency, and improving cooperation.
● Data may be sorted using card, grid, Gantt chart, and calendar views inside the platform's project management features.
● Teams may manage resources, assign tasks, and check project status using a real-time dashboard to increase visibility and productivity.
Pricing
Starting price: $7.00 per month
Free trial: Available
Free version: Not Available
Rating
Overall Rating G2- 4.4/5 (9000+ reviews)
7) NinoxDB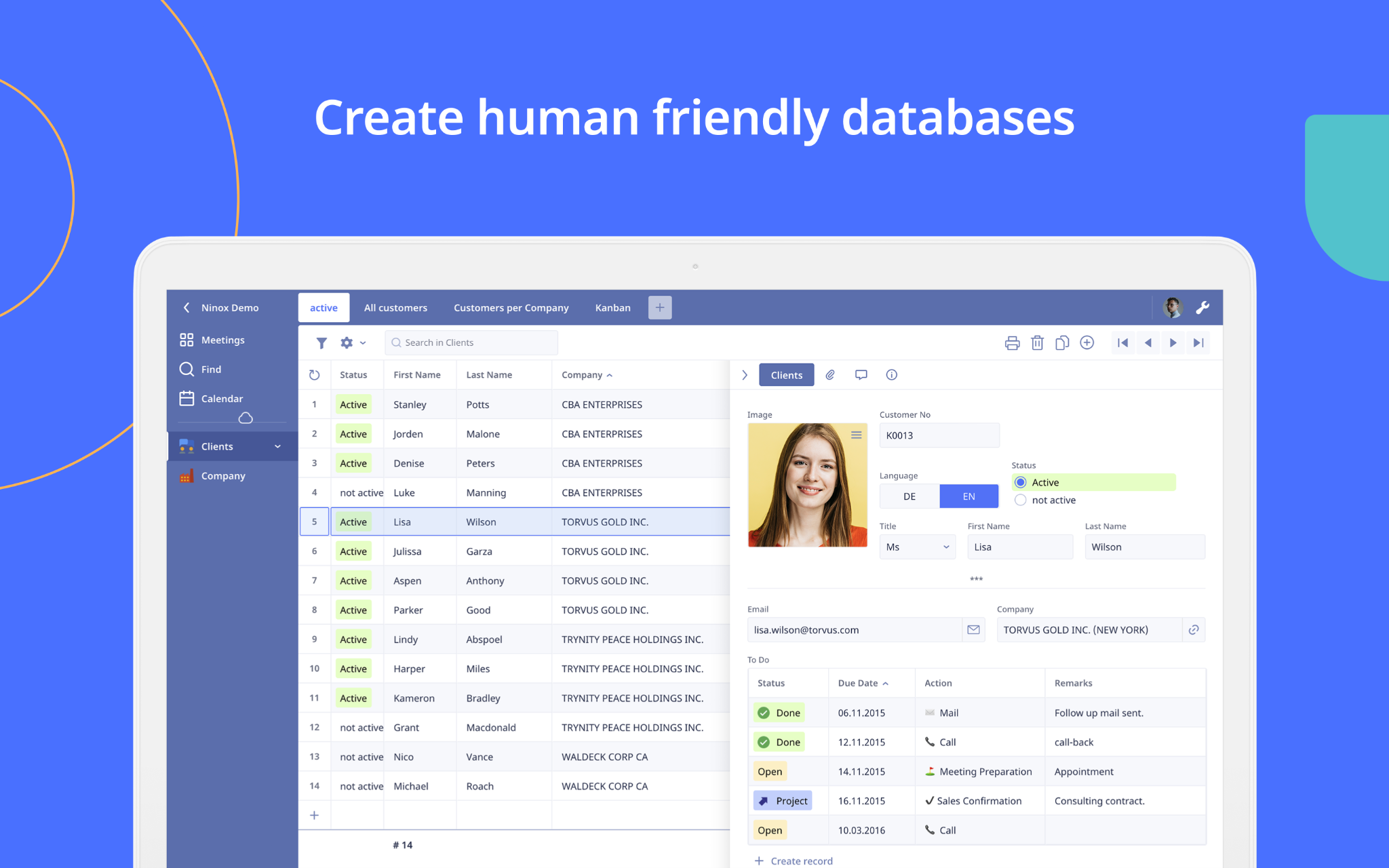 ● Ninox is used by small and midsize companies.
● Both on-site and cloud storage options are available for the database.
● Ninox also enables users to design unique forms and fields. Users of the system may make:
Data entry templates for timesheets
Project management
Property management
Accounts management
Customer relationship management
● Role-based access control and real-time data synchronization between devices are other characteristics of the system. Additionally, the system offers automatic data backups.
Pricing
Starter €10.00
1 license Per Month - Free Trial
Professional €20.00
1 license Per Month- Free Trial
1 license Per Month - Contact Support
Rating
Overall Rating G2 - 4.7/5 (300+ reviews)
Conclusion
You need database management software to store and manage all that precious data for your teams and workflows, whether you're building new products or running marketing campaigns. Even though we've discussed 7 excellent pieces of free database software to assist you, your needs will ultimately determine what you need.
If you're looking for a solid database software, try out Stackby for free.