Stackby Partners with Startup India
We are now a resource partner on Startup India. Check out how you can use Stackby.com to scale up your startup.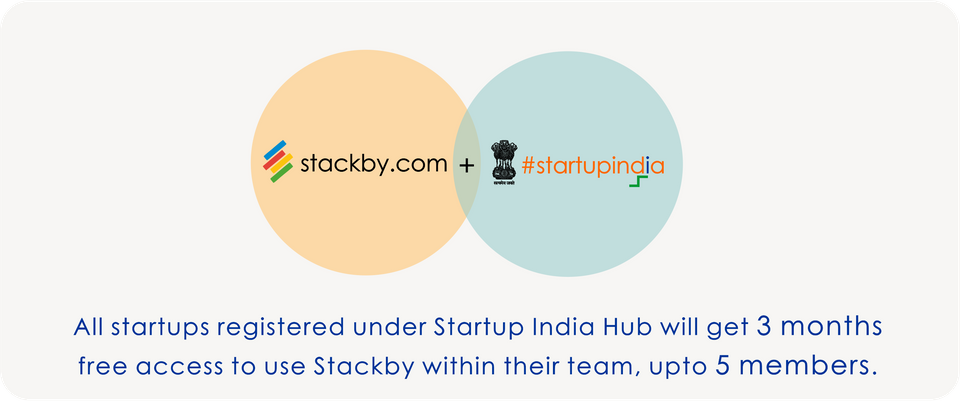 We're super excited to announce our partnership with Startup India.
Yes, we are in on the Government's vision to transforming India into a country of job creators. Being a startup, we have been there and done that. Today, we love that we can contribute to the startup ecosystem in the best way possible – by being there to handhold your startup with Stackby.com.
For most startups, growing pains are as painful as the birthing one. We know that – we are a startup too. Ideas galore, but it is the keeping track of data, processes and collaborating that makes it painful. Being new to the scenario means that you may stumble more often due to unseen hurdles. That is where we can help you. We are ideal for any team agnostic of your industry, looking for a viable solution to manage their workflows and databases on a single platform. What's more? Understanding this software requires minimal training – you and your team can easily work on Stackby.com with your spreadsheet skills.
Pre-requisties:
If you are a DIPP registered startup and have a startup recognition from the Govt. of India, just apply here and send in your details. We'll get your account setup for you.
Program Details:
Free access to Stackby for 3 months on our Economy Plan
Up-to 5 members per team
We know starting something new is not easy and it does take some time figuring out things. That is why we have these templates for you.  Go ahead, kick-start each of your processes with our 70+ templates (from marketing to sales and CRM – we have it all). Plan and track your growth-hacking experiments (yeah, we have a template for that too). Reach out to more people with our automation-enabled templates for lead generation.  Bring your team as well on Stackby and collaborate in real time with them.
Let's grow together!