5 Event Planning Templates for the Event Manager in you
No more planning an event on a spreadsheet. Plan your complete event, create checklists, collaborate with your team, assign tasks, set auto reminders, manage vendors, collect RSVPs and more - all from a single place.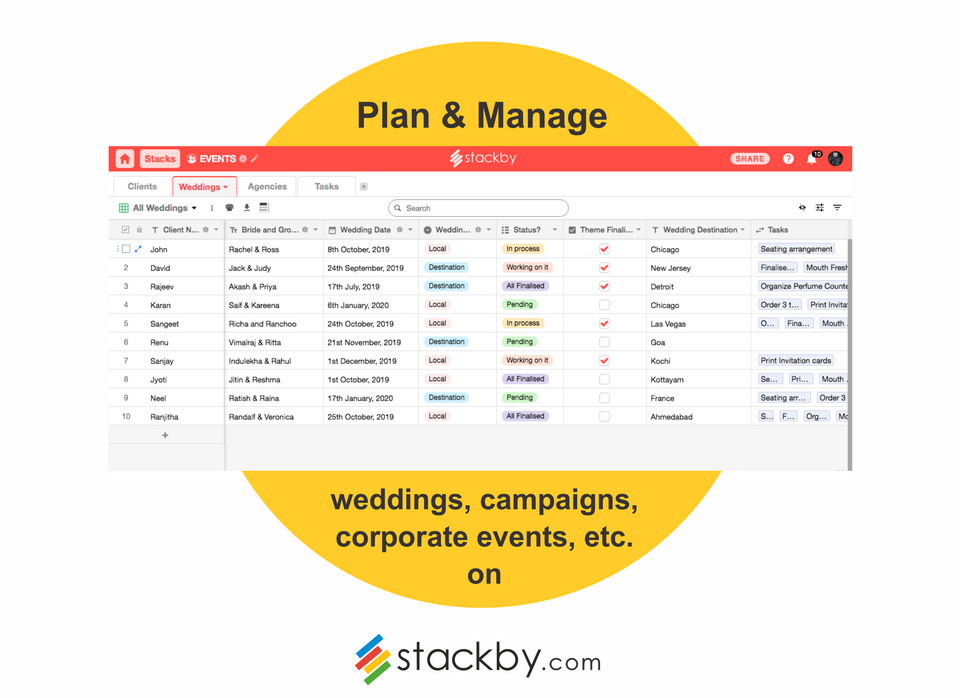 Easier said than done. That fits most events. More than the actual event, what causes the stress is the planning that goes into it. Thank God for all those event managers and event planners out there! They have a way of managing the A-Z of events. So much that they make you a guest at your event. How good that feels!
Ask an Event Planner as to what is the most stressful thing they experience when managing events and they will tell us it is all that coordinating they do -- tasks and activities, teams and vendors, and keeping track of everything. They rely on different spreadsheets or some inflexible softwares that only ends up complicating stuff. Moreover, it requires lots of training on the go, which most event management companies can ill afford due to lack of time. But totally stress-free event management is possible. Not just for individuals but for event planning companies and firms as well. How? Well, Stackby simply takes away the stress from your event planning.
No more planning an event on a spreadsheet. Plan your event, create checklists, collaborate with your team, assign tasks, manage event data, setup reminders, manage vendors, collect RSVPs and more - all from a single place.
Use this amazing time-saving templates that you could simply use and adapt to manage your events.
Template #1: Conference Event Planning
Stackby's Conference Event Planning Template has everything in it that you need to manage your Event.

Here is why you should be using this template:
Whether you are a tech event organizer, music conference producer, newbie event planner or anyone - you can easily use it
You can plan your event sequences, speakers, sponsors, the team in charge, the entire program and even the budget in a single place
Visualize the entire event sequence the way you want it - either as a Grid or as a Calendar view
You don't need to manage different data sheets - bring your entire data on to a single table using our link, lookup and aggregate column types
Collect RSVPs via in-built custom forms that you can share with anyone or embed to your website.
Template #2: Wedding Planning
Just like the Event Planning template, the Wedding Planning Template is also an easy-to-use template that both wedding planners and individuals can use. So, if you are planning a wedding here is why you should opt to plan the wedding on this template:
Super easy to use, understand and maintain.
Keep track of all your clients and collect their specific requirements easily via custom forms.
Keep track of agencies and coordinate agencies to clients and requirements
Add in photos, invoices, PDFs, layout plans etc.
Create checklists, setup reminders, assign tasks to your team, see it in a calendar and do much more.
Share with your clients to give them real-time visibility of their wedding planning.
Template #3: Event Marketing
Marketing your event is never easy, but with Stackby's Event Marketing template you can easily do that. You can:
Plan the A-Z of your event marketing activities here
Keep all your marketing collaterals and assets in a single place.
Helps you plan the marketing event better and faster and bring about a faster turnaround time
Template #4: Company Event Planning
The Stackby Company Event Planning template helps you:
Keep track of and manage everything from events to budget to tasks to the team that manages it
Create a company event calendar and share it with all your team members.
Collect RSVPs from your employees for better engagement.
Template #5: Exhibition Management
Can exhibitions be far away when we talk about event planning? Use Stackby's Exhibition Planning Template to:
Plan each exhibition separately and keep track of each aspect related to the exhibition
From managing inquiries, to booth layouts and specifications to sponsorship to creating marketing strategies, do it all on this template
Make your exhibition a grand success for you and your partners.
These are the 5 templates in the event planning and management space that you can use and adapt to plan and make your events stand out. Feel free to try and add in more tables and data if needed -- Stackby is completely flexible and allows you to make changes easily. Go ahead, make your events come alive! Be the toast of the town when it comes to planning and managing events with Stackby. Let Stackby do all the work for you while you take the credit.
Get a first-hand feel of how Stackby could work for your event planning strategies as well as your internal operations by signing up for a free trial.

Happy Event Planning.
Want to know what other templates we have that you can use for your company? Check out our list of templates here.