How to Scale Your Content Production with Limited Resources In 2021?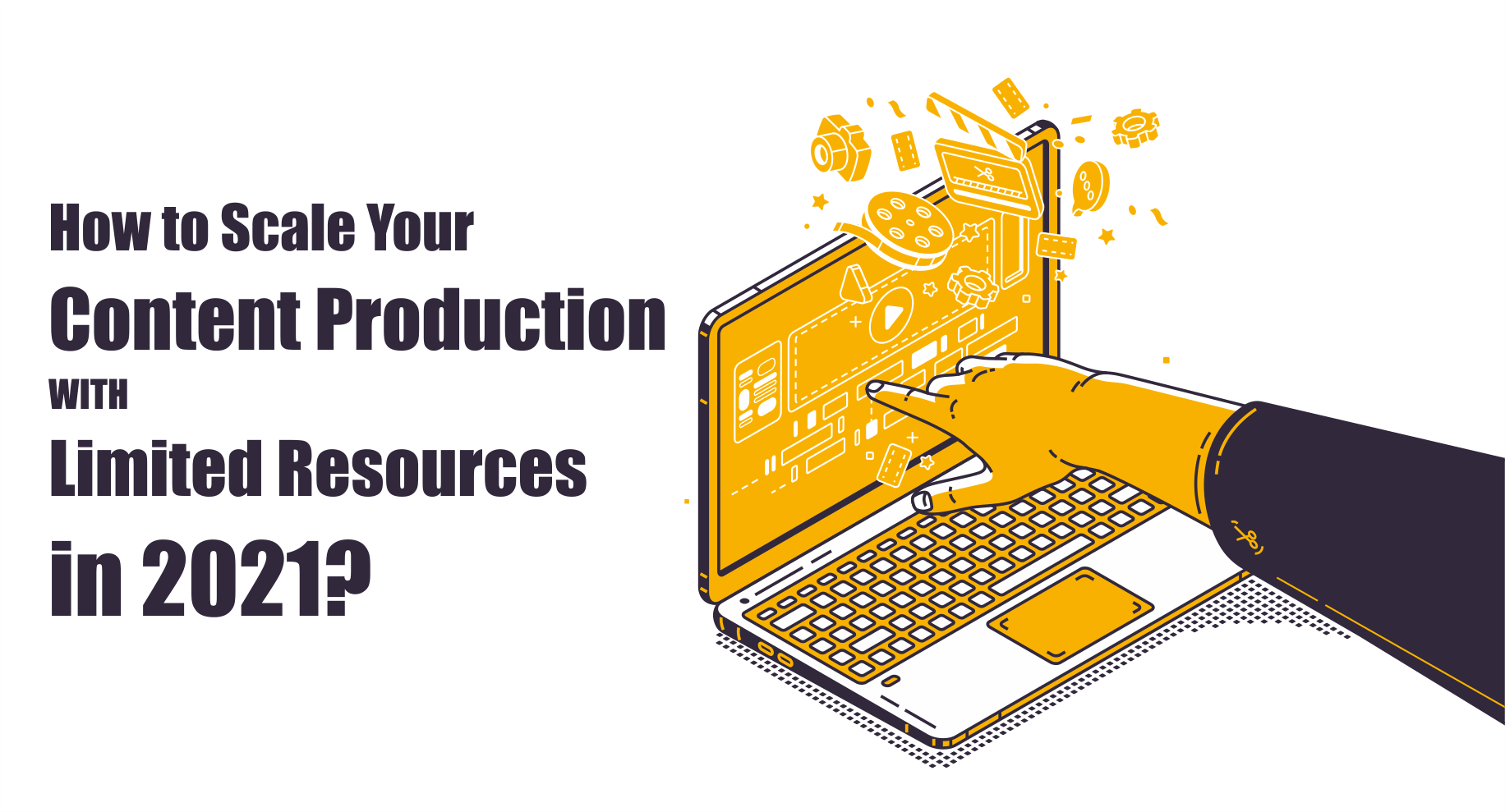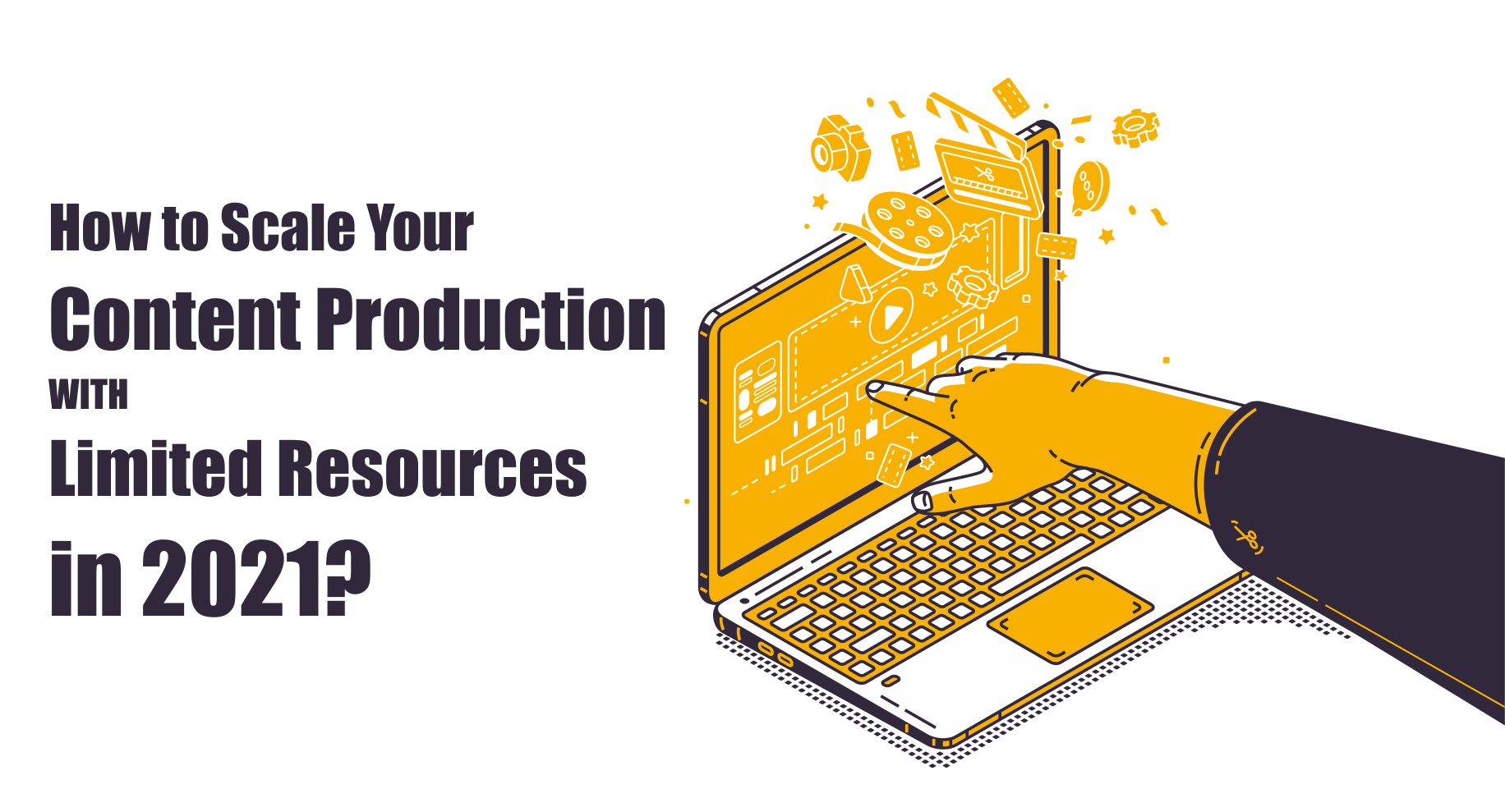 The changing global scenario, the adoption of new technologies, and modern consumer behavior have altered a company's marketing approach.
In the current market, a company's success is intricately linked to its digital marketing plans. The content you create is, without a doubt, the most crucial aspect of this marketing strategy.
According to the Content Marketing Institute, 91% of B2B marketers use content marketing to reach customers.
Approximately 64% of marketers want to learn how to build a better content strategy.
Why is the content so important?
The right content will help you build trust and foster a significant level of confidence with your audience. Put in simple words, it is the foundation for a company to build a strong and effective marketing strategy and plan.
High quality and rich content also increases the visibility of your company on the online platform. It helps drive traffic to your company's website and increases brand awareness to a significant extent.
However, the content you create and post should not be haphazard or vague. You need to have a clear picture of what you want to accomplish and plan your content production accordingly.
This process of content production should be closely linked to your digital marketing goals and objectives. The content must be clearly defined and convey all the required information to the audience. In addition to this, it should also be interactive, engaging, and have a lasting impression on the audience.
The target audience of the content is never unformed. As a result, your content strategy should be customized according to the audience's nature and preference.
The content must be relevant, uniform, and have consistently high standards.
This is the art of scaling content. Merely increasing the amount or volume of content is not enough. The key is to increase the impact of your content.
Too much, isn't it? Well, it is not that easy.
With limited time and resources, planning and successfully implementing a content production plan can be daunting.
Here are six marketing tips to help you scale your content production with limited resources:

Find the Right Team
The success of any plan rests mostly on the team that is working on it. If you invest a certain amount of time in hiring the right people for your content production work, you will benefit in the long run.
The goal here is to create high quality, relevant content. To accomplish this, you require talented, experienced content writers who are dedicated to their work.
It is also vital that you look for writers who have a certain level of expertise in the content's subject matter. This will add a level of authenticity to the content creation work.
Make sure that every member of the team is clear about their roles and responsibilities. This will ensure that the team members stick to their part and get the work done on time.
However, hiring expert content writers can put a dent in your budget. The solution to this can be outsourcing.
According to CMI's 2020 reports, around 84% outsource content creation
To save time as well as reduce costs, you can outsource your content production work. This is not a novel concept. In fact, out of all the activities under content marketing (content creation, content distribution, content strategy, content technology, etc.), content creation and production are outsourced the most.
Outsourcing the work to freelance writers will help you with your content production without compromising the work's quality. It will also free up time to focus on coming up with new ideas about your content marketing strategy.
However, this strategy's success lies in your ability to find the right writers to do the work.
To add value to the process of content production, you can also appoint an internal editor or content manager. This manager will be responsible for ensuring that the content is up to the required standard and conveys the message that was decided upon. This internal editor will put in extra effort to ensure that the content has a positive and long-lasting impact on the audience.
The right editor to writer ratio is the key to the success of your strategy. You can even consider contracting out content projects to Subject-Matter Expert (SME) copywriters. You can invite guest bloggers to share their knowledge and expertise with you.
In some situations, it is advisable to outsource strategizing work to a content marketing agency. They have the required skill set to craft strategic marketing articles and increase your content's visibility on multiple platforms.
These are a few tips you could refer to while building or recalibrating your content production team.
Know Your Audience
Before you start your content production process, it is essential to know your target audience.
In addition to being well written, high-quality content should also speak to the target audience. Here, you have to keep in mind that your audience is not uniform. A different section might not prefer content that speaks to one section of the audience.
This is where the market segmentation process is useful.
It has been found that 74% of the customers feel frustrated when the website content is not personalized.
You could be losing out on traffic, engagement, and conversions if your content is not personalized enough.
In market segmentation, you group people who share certain traits or needs and supply them with personalized content.
You can also create a profile or buyer persona for your target group to get a better overview of their likes, dislikes, preferences, triggers, etc.
The content you create should also answer all the potential questions a user might have in mind. You can work with your sales and customer service departments to document common questions, comments, and concerns of prospects and existing clients.
Segmentation will also help you conduct a side-by-side comparison of the content created for different target groups.
Repurposing the Most Successful Content
There is a good chance that you've already created highly successful content. Why not use it to your advantage?
You can improve the company's chances of high ROI and conversions by repurposing and reusing your most popular and engaging content into different formats across multiple platforms.
The key to this process is to be strategic, particular, focused, and purposeful when deciding which content to recycle and how. You need to conduct an in-depth audit of the content you have created to understand better which content was well-received by the audience.
This process may help you realize that particular content can be converted and repurposed into a different format and reused to attract more users or clients.
For example, you can turn a successful article with engaging content into a video or infographic, or the opposite can also be done. A post you created with several tips can be broken down into a series of multiple posts to give the audience an in-depth understanding of the topic. Certain thematic blog posts can be converted into a podcast or webinar series.
You can even combine a collection of thematically or topically consistent content for a broader take on the subject matter. To attract an audience to your blog or podcast, you can post a photo on Instagram with a catchy quote from your blog. This can be accompanied by an Instagram story with a link to your blog post.
When everything is changing rapidly, content can go out of date very fast. You need to keep updating your older content to ensure that it remains relevant and useful to the audience. Add new tips and update relevant statistics as and when required.
Your best content might slip through the cracks if not appropriately distributed. To prevent this, keep resharing the blog post or video with your audience every once in a while.
Repurposing content also contributes to your company's SEO strategy as several posts centered around the same topic give your team more chances to target preferred keywords.
There are many upsides to reusing your best content across different platforms. It will enable you to reach a wider audience and attract more clients and customers. Formulate a strategic plan for your repurposing work and carry forward from there.
Creating Your Customized Content
Templates are an economical and practical method to advance and improve content production. Creating customized and templated content enhances its recognition among your audience and provides them with a distinct, easy-to-relate, and identifying format.
Have a look at our SEO templates and optimize your content for better reach now!
Develop content that is different from the regular formats used by companies everywhere. The extra effort you put in will create a long-lasting impression on the audience.
How can you improve your content format?
Start by setting relatable and informative titles to content articles and ensure that it is rich with keywords. This will increase its visibility on search engine results and increase the chances of a user clicking on it.
Do not complicate the content. Keep in mind that your users will prefer simple, to-the-point material with all the relevant information in a concise format.
Templated content will allow you to guide new writers, freelance workers, editors, etc., by providing a well-defined blueprint for content writing.
Diversify Content Production: User-Generated Content, Crowdfunding, and Influencer Marketing
The best critic for your content is the audience. They know what they're looking for and, as a result, are best suited to guide you in the content production process. You can use their ideas and feedback to step up your content work.
You can go through social media posts and reviews to list the questions being posed by readers. Addressing these questions in your content will improve its quality and attract more readers.
As already described above, understand your audience. This will allow you to create content that is tailor-made for each type of reader.
The audience wants to feel heard. You can repurpose comments as testimonials or quotes and propose collaborations with your highest engaging participants who can write for you.
One of the main advantages of user-generated content is that it serves as social proof. Content generated by actual customers of your company increases the credibility of your work and adds a level of authenticity to it.
Put in simple words, UGC is a vote of confidence. Instead of marketing to your audience, you are now marketing with them. You can now improve your content production with limited resources without compromising on quality.
UGC is also more trustworthy. This is because it's created by people who have experience with your brand or product. Your audience will also prefer content that has a UGC section to it.
You can also improve your presence on social media platforms by inviting influencers with a large following on these platforms. They can participate with questions, live Q&A sessions, surveys, and contests to boost your credibility.
Scale content promotion alongside production
Leverage the dual benefit of content promotion alongside content production.
In the process of ramping up content production, there is a chance that you might end up compromising or completely neglecting your content promotion work.
The hard work you put into the content creation process will be in vain if you do not invest your time and energy in promoting the same content.
However, this content promotion process cannot be haphazard or limited. You have to create a strategy that will bring in the maximum ROI.
Instead of promoting one piece of content just once and moving on to the next, you should invest in targeted, scaled promotion.
To accomplish this, you can start by redefining your content metrics and key performance indicators to serve as benchmarks in new content production objectives. These metrics and KPIs can be in terms of the number of shares, comments, likes, backlinks, subscriptions, etc.
You can even explore the possibility of a paid promotion plan if you have the required resources and funding. Increase the lifespan of your content by adding targeted Facebook posts or creating a drip-email campaign.
Create a content calendar to not only keep a regular track of the performance of your content, but also to plan your content beforehand to avoid any confusion. You can go ahead and use our Content Calendar template to manage all your content related tasks at one place!
You can even set up a daily review to ensure that you are up to date with your content issues. The key is to change and adapt to new updates. You must continue to adjust and recalibrate based on your findings.
Final Thoughts
Scaling your content production process is not merely about increasing the volume of the content. It's about authentic messaging and content quality. This is what will attract more clients and customers to your company.
Follow these six content production strategy tips to scale up your content production process with limited resources in 2021. This will allow you to create the content you want without compromising on its quality.