7 Things All Small Businesses Should Automate [Updated 2023]
Business automation is becoming a necessity more than a choice. If you are thinking of automating your small business, this is the right time to take your first step. But where to begin? This article gives you 7 aspects of a business that must be automated.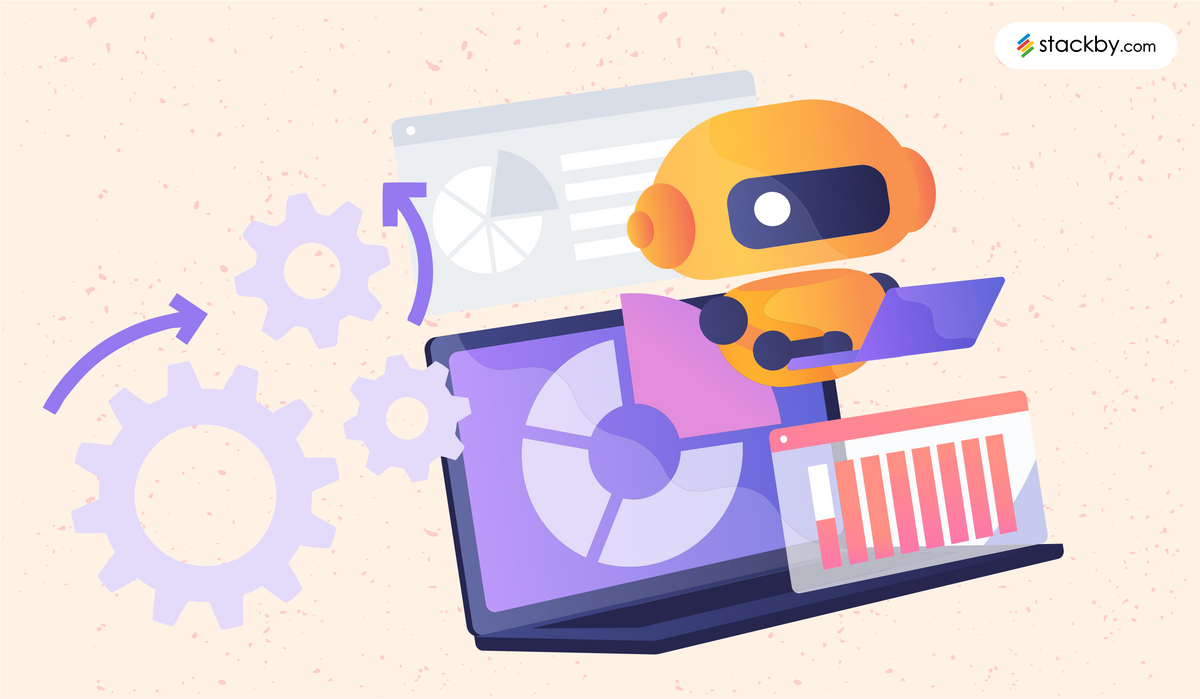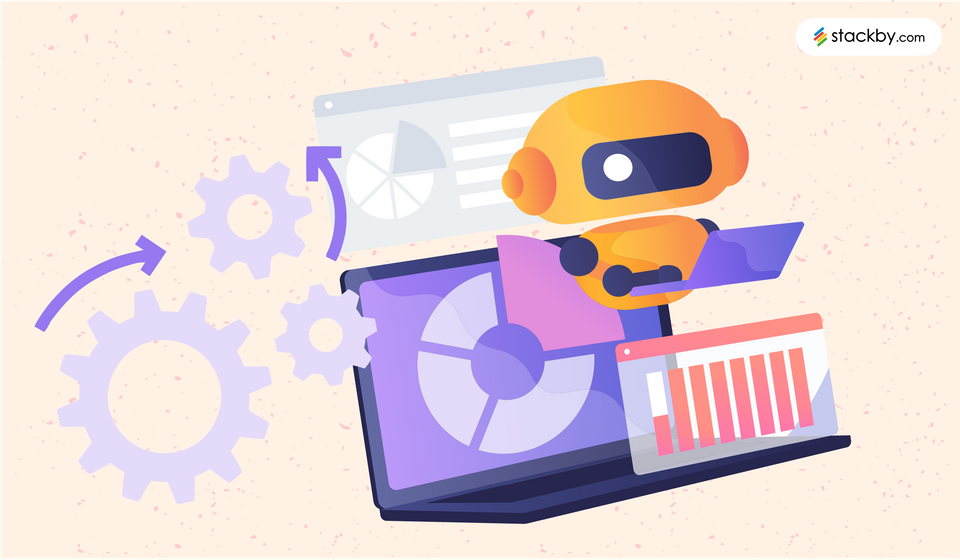 Every organization today is leveraging automation to expand its business. Although the concept of automation has gained momentum in recent years, its history goes back to 1970. In those times, German-based SAP developed the first manufacturing resource planning software to standardize business practices by molding pre-built processes for better efficiency. Then, slowly some businesses began using rudimentary automation to delegate monotonous tasks to machines.
Today, 31% of businesses have fully automated at least one function. It is predicted that within 2 years 72% of organizations will work with RPA (Robotic Process Automation) and within 5 years the adoption of RPA will reach almost all companies that will use the technology in some way. In other words, business automation is a boon today and can play a key role in the success and growth of businesses.
Now, let us look at business automation with a special focus on small businesses. Stackby has been on a continuous mission where we are making it possible for businesses in automating their workflows. From Marketing to Recruitment, Project management, and Sales, Stackby is helping businesses automate all aspects of their workflows.
Here are 7 things all small businesses should automate to enhance their productivity and efficiency, right away.
1. Recruitment
Hiring the right people is important for every small business. But it doesn't have to consume all of their time. A business can attract great talent without working overtime if it works upon automating the process. Here's what you should do to streamline your recruitment efforts.
Automate the hiring process by using an Applicant tracker. With an applicant tracker, you can first create a custom applicant tracking form in Stackby, embed it on your website, and bring responses directly to your tables. You can then monitor the current open positions in your company, track the number of vacancies, record the details of the manager who is handling the recruitment process of a position, and store the details of the candidates.
The applicant tracker even lets you store the resumes of the candidates and include their ratings based on their interviews. Stackby's pre-built Applicant Tracker Template allows a complete Human Resource team to collaborate in one place and unleash all these benefits of recruitment automation.
This is just one of the many sides of business automation using Stackby. We have got many pre-built HR and Recruiting Templates that will not only save your time in the hiring process but will also improve the hiring quality, speed up the recruitment cycle and provide better screening of candidates.
Learn how to build an applicant tracker with this simple video.
2. Email Marketing
Email is by far the most effective channel for business communication. It plays a crucial role in the complete customer lifecycle. Hence, it's very important to effectively use it in your business.
Email Marketing Automation can greatly help your business make the most of it. It lets you send promotional and marketing emails automatically depending upon certain conditions. With Stackby, you can update and store everything about your email marketing campaign on a single platform. We provide a pre-built Email Marketing Template that allows you to keep a detailed record of the campaign.
You can plan and organize all your email campaigns
Add the graphics that you want to include in a campaign.
Create segments based on your target groups such as blog subscribers, newsletter subscribers, etc., and track the number of subscribers for each segment.
Keep a record of when the email campaign started and ended, how many sign-ups were done, and how many users paid.
Connect a column to MailChimp API and track how many emails were sent in the campaign, how many were opened or clicked.
Update every detail about your email campaigns and do a lot more.
Learn how to plan, manage and track email campaigns with Stackby + MailChimp with this video.
Stackby also enables businesses to connect with third-party applications like MailChimp, Hunter.io, SendFox, Clearout etc. to help them carry out different email automation activities without any hassle.
With Stackby, you can integrate these applications into your Stack tables using an API column. Then, you can easily bring email campaign metrics from these third-party applications to your Stack and keep a track of them.  
3. Social Media
According to Statista, an estimated 2.95 billion people were using social media worldwide in 2019. This number is projected to increase to almost 3.43 billion in 2023. Hence it's only obvious to promote your product and engage with your customers on social media.
However, one of the reasons why businesses are not consistent on social media is that it requires planning and management to post regularly at the right time. So, this is where social media automation comes into play. Stackby provides a unified platform to plan, design, and manage your social media marketing along with an array of customization options.
Our pre-built Social Media Management Template helps businesses manage their social media campaigns easily. With this template, the social media management team can collaborate in real-time, brainstorm ideas, access posts on social media via their URLs, attach images, track the social media metrics, and more.
Stackby also includes a pre-built Social Media Planning Template that allows businesses to maximize their social media efforts by tracking their business objectives and ensuring that everything that they post on social media is according to their business requirements.
With Stackby you can even schedule your social media posts and automate social media posting. To do that, we use an automation tool called Zapier. With Zapier you can send information between social media platforms such as Facebook and Stackby.
Here's how you can upload a photo to your Facebook Page and post it to the stream whenever a new row is created in your Stack.
First, you must create a Zapier account and connect it with Stackby. To do that just follow these steps:
Login to your Zapier Account -> Navigate to My Apps -> Create a New Account -> Search Stackby -> Connect Zapier to Stackby
Then, you need to create automation through Zapier (which is known as Zap) and select the required Trigger and Action. A trigger is an event that starts the automation process. In this case, our trigger would be "New Row". Action is the event that happens once the trigger occurs. In this case, our action would be "Create Page Photo".
Now, you have to select the data that you need to send from Stackby to Facebook via Zapier. In this case, you will have to add your Stackby account to Zap, select the Workspace, Slack, Table, and View from which data should be fetched. Similarly, you also have to attach your Facebook account to Zap. You can also customize your post in the Zap.
The following video will take you through the process step-by-step so that you do not miss any detail.
Well, there's more. Stackby also provides two interesting pre-built templates that will help you in tracking your Instagram and Facebook posts. Both of these templates are easy to use and can be customized according to your business requirements.
4. Marketing Campaigns
(Facebook Ads & Google Ads)
If you've used Facebook ads or Google ads before you would know after a certain point in time, it becomes time-consuming and impossible to manage different campaigns and ad sets. The only solution to this is using automation to track all the campaign metrics in a single platform without copying and pasting in spreadsheets.
Using a platform like Stackby you can plan & manage all your ad campaigns and track all your Facebook ad insights or Google ads insights on a single platform. By just entering the ad id you can track details like Clicks, CPM, CPC, etc. This way you can also manage multiple ad accounts on a single platform.
You can get started with managing Facebook Ads using the pre-built Facebook Ad Campaigns Template by Stackby. This template helps you manage the Campaigns, Ad sets, and Ads in a single place via bringing data from the respective APIs directly to your table. You can keep track of all your campaigns, check their status, bring your key campaign statistics, track your campaign performance and do much more!
Our Google Adwords Reports Template makes Google ads management much easier for businesses. It allows you to track each ad using its View Id. You can record the data related to CPM, CPC, ad cost, and cost per conversion for each ad. You can track the number of ad clicks and impressions and do much more! Last but not least, you can also integrate your google ads account with this template using the Adwords API and it will automatically import the data you need.  
Now, let us take a step further and show you how you can automatically bring Facebook Ads data to your Stack.
For this, we have to connect the Facebook Ads API to the Stack. We will be using the API Column Type in this case. Don't worry, it would not need any code!
Just go to the Stack -> Create a New Column -> Select Connect to an API or Service -> Choose a third-party provider as Facebook Ads ->  Select Facebook Ads API from your Account -> Select a Facebook Ads API service -> Choose a reference column -> Click Apply
It will pull all the metrics like CPC, CPM, Clicks, Impressions from your Facebook Ads Campaigns & Ads directly to your table.
5. Lead Automation and Segmentation
Do you segment your leads? If you don't, you should be doing it right away. The value of each might not be the same. Hence it's important to prioritize each lead depending upon its value to your business.
You can prioritize a lead depending on a lot of parameters such as their position, size of the company, industry, and more. But a lot of times you might not ask for these parameters in your signup form. But don't worry by using tools such as Clearbit you can easily get this information by just entering the email id.
The best part is that all this data can be directly fed to your CRM by a simple API integration. You can also use our Company Data Enrichment Template to accomplish this.
This template can help businesses in many ways. You can keep a track of all the records of your customers, you can add descriptions about each company like when they were established, the number of employees, global site rank, etc and you can also bring in data from a third-party API such as Hunter to your database. You can also automate and send this directly to your CRM via Zapier or Integromat.
We will be using the same method to connect a third-party API to a column of your Stack as explained in the above point. Here's a small video to take you through the process step-by-step.
6. Cold Emails
Do you use cold email to generate leads? If yes, then you'll love this business automation technique. We hope that you have noticed that a major part of your cold outreach efforts goes into preparing a prospect list.
But to scale your efforts, you should at least automate the contact filling process so that you can focus on other important aspects. Here's where Stackby automation can help you.
Stackby lets you connect with third-party apps like Hunter without using any code. You can fetch all your data from Hunter and track it using the Stackby database. Now you can build your email lists automatically, add verified leads to your CRM, and automate your end-to-end lead generation.
7. Product Competitor Analysis
Competitor Analysis is a crucial part of any business strategy. It allows you to determine the pros and cons of your competitors within the market. This way you can change your messaging features to get an advantage.
For example, if people are unhappy with your competitor's support you should ensure to provide excellent customer service. This will act as a differentiator for your brand. Similarly, if they are not using Facebook ads for lead generation, you should leverage it.
But doing competitor analysis takes a lot of time and effort. Hence, automating parts of your research can be greatly helpful. With Stackby you can do that by directly integrating with Zapier, Clearbit, or SerpStat. Stackby enables you to pull various data from these platforms to automate your analysis.
You can either create a template or use Stackby's pre-built Product Competitor Analysis Template. Our product competitor analysis template enables businesses to record detailed information about their competitors like their website, the number of products, names of products, average price, marketing strategy, strengths, weaknesses, and popularity. One can easily analyze the features of products launched by their competitors and use that information to benefit their businesses. Last, but not least, you can monitor, track and update these details at any time. You can also do SEO Competitor tracking.
Other ways you can keep a track of how your competitors are doing using Stackby:
SEO Competitor Analysis for Keywords
Keywords are a crucial aspect of SEO. So, every business, small or large, must conduct keyword research to check the competition. Stackby helps you keep track of the trending keywords in your niche that your competitors are using by allowing you to connect with applications like Serpstat or any other tool of your choice. Use our pre-defined Keyword Research Template to track your competitors for total traffic, number of keywords, number of ads, etc.
SEO Competitor Analysis for Backlinks
A significant number of backlinks from relevant sites can help your website gain a better rank in the search engines. So why not prepare yourself for the best? With Stackby you can analyze and study your competitors' backlinks to understand how much traffic they are gaining from which websites and why. You can thereby explore backlink opportunities and determine where your website backlinks are falling short. Use our premade Competitor Backlink Analysis Template and get your work done in minutes.
SEO Competitor Analysis for Traffic
How are your competitors performing? How many page views do they receive? What is their website's rank on search engines? Keep a track of your competitors' website traffic by integrating your Stackby table with Alexa API. Every business needs to determine how they are doing against their competitors. Use our pre-built Web Analytics Report Template and keep yourself ahead in the competition.
Over To You!
Hope you were able to learn from the above strategies how important it is for a small business to automate their workflows. Stackby will definitely prove to be a great option to save your team's time and enhance their productivity. Automation is still a very underrated method of doing certain tasks. But once you start & setup once with Stackby, you'll see the benefits accrue. Sign up to Stackby for free to get started with your small business automation today.