Jotform Review 2023 - Features, Pricing and Alternatives
Looking for an online form builder for your work? Check out our honest Jotform review with key features, pros, cons and suggested alternatives.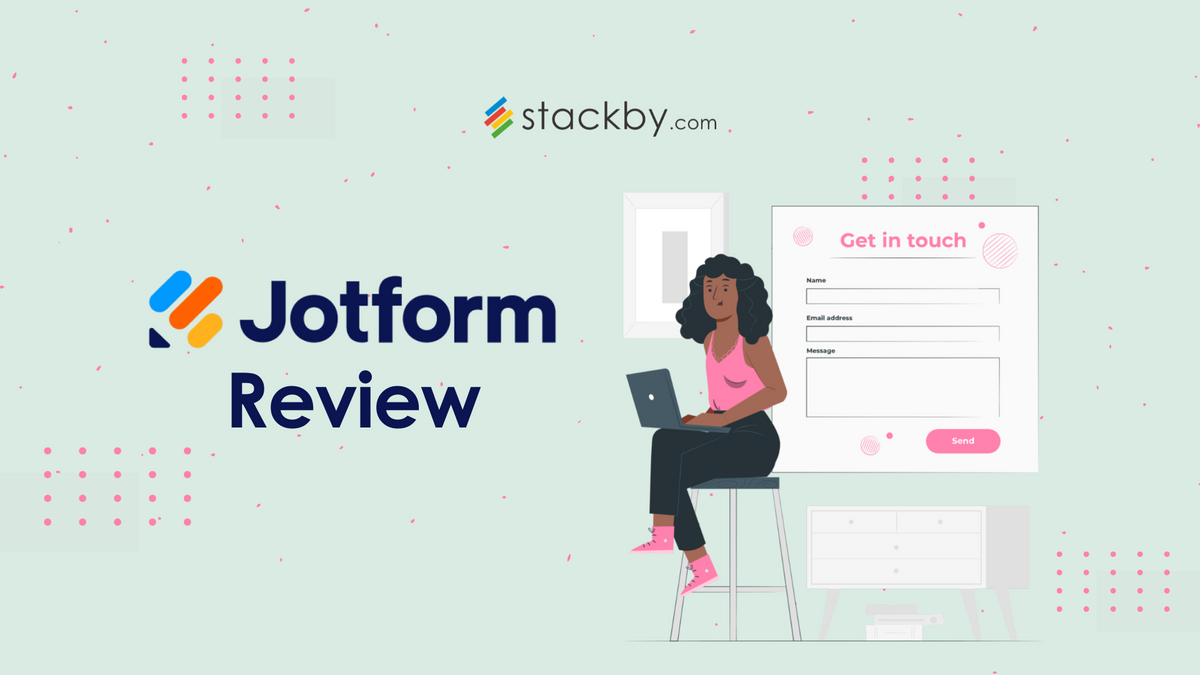 Overview
Jotform is an intuitive online form builder launched in 2006 that has made a significant impact on the cloud-based database industry. With millions of users, it holds its ground as a leading form builder solution in the market. Jotform has made it easier for users to create custom, seamless online forms with little to no coding experience.
In this review, we will take an in-depth look at Jotform's key features, pros and cons, pricing tiers, best use cases, and compare it with an alternative solution, Stackby Forms.
What is Jotform?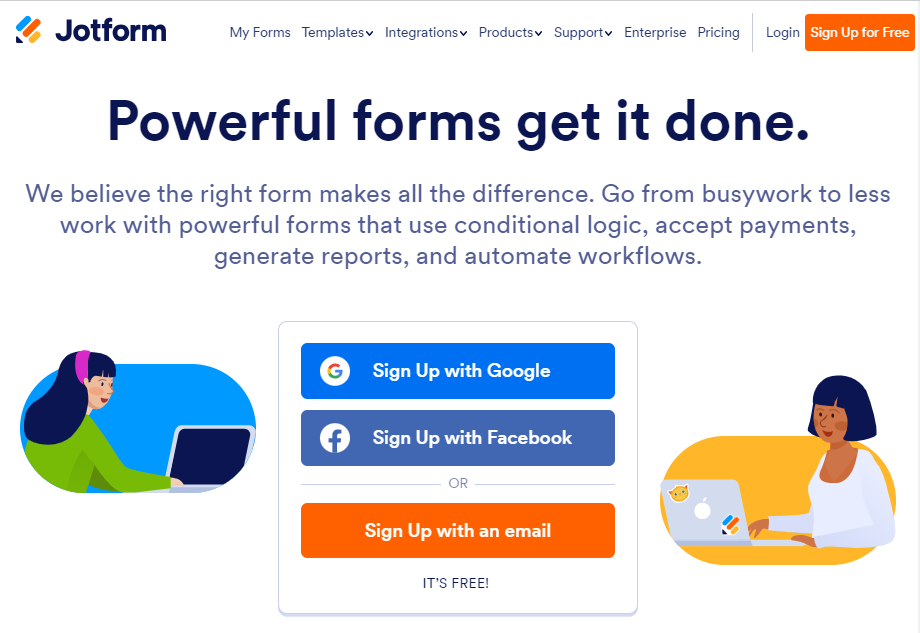 Jotform is a cloud-based, no-code solution for database and form building with an easy to use interface and collaboration features. It is a web/app-based software that allows users to create custom forms by dragging and dropping elements from a variety of form fields. It also offers a mobile app builder and widgets like a PDF editor, electronic signature collection services, geolocation, etc..These forms can be used to collect payments, surveys, questionnaires, manage applications and generate leads.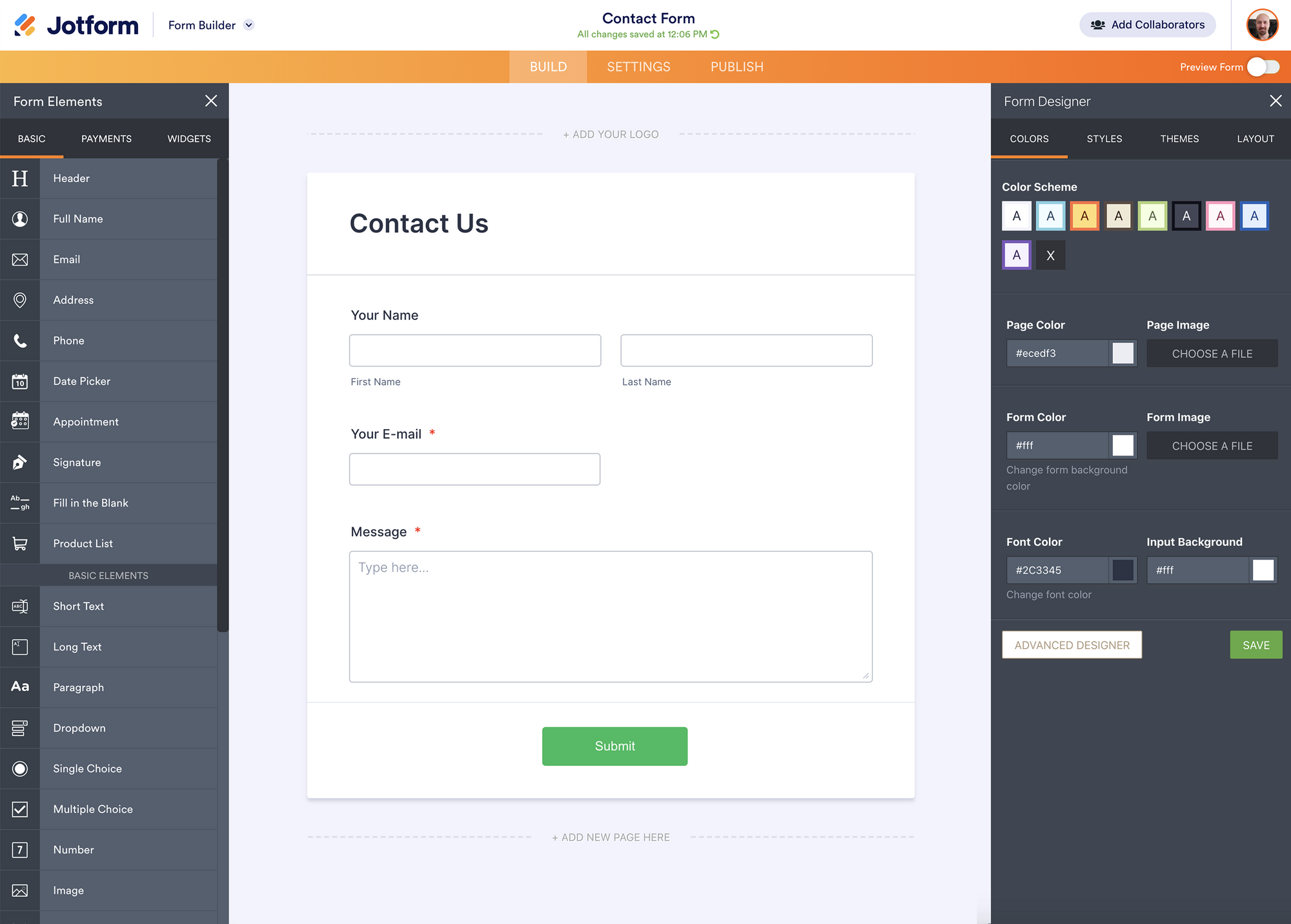 Jotform also comes equipped with a range of automation tools, enabling users to streamline their form submission process. It has form widgets and integrations that allow users to connect to a host of third-party applications such as MailChimp, Google Sheets, and Salesforce, amongst others.
Key Features of Jotform
Drag-and-Drop Form Builder: Jotform's form builder comes with an extensive library of customizable form templates and elements that can be easily dragged and dropped to create the desired format.
Payment processing: Jotform enables users to collect payments through multiple payment gateways like PayPal, Square, and Stripe, without leaving the form. This feature makes it a popular choice for eCommerce businesses and non-profits.
Integrations: Jotform has a wide range of integrations and add-ons with third-party tools like Zapier, Salesforce, Slack, Gmail, etc. Users can create automated workflows for a streamlined data collection process.
Widgets: Jotform offers 100+ widgets like E signature, Email validator, date reservation, and more that adds additional value to the forms.
Conditional Logic: This feature allows users to build smart forms that utilizes "if-then" conditions to show specific fields based on user responses. It saves users from answering questions that don't apply to them.
Collaboration: Jotform has a range of collaborative and sharing options that allow team members to work together on forms and view form submissions and analytics. They can add collaborators and sub-users, send shareable links, embed forms in any webpage, and generate PDF reports.
Analytics: with Jotform's form analytics feature, teams can analyze traffic, understand user behavior and statistics, and get critical data insights via reports and charts.
Security: Jotform provides high level security to protect sensitive data. It offers HIPAA Compliance Features, Service Level Agreements (SLA), Single Sign-On (SSO), PCI and GDPR Compliance.
Pros and cons of Jotform
Pros:
Easy to use: The drag-and-drop interface makes it an easy tool to use, even without prior technical knowledge.
Form Designer: Forms designer can be used to add an aesthetic feel to the form either by adding colors and cover image or by choosing from already designed themes.
Customization: Jotform offers a range of templates and elements that can be customized to fit the user's needs.
Mobile responsiveness: All forms created using Jotform are optimized for mobile viewing, ensuring that forms display seamlessly across all devices. You can even build and edit forms on mobile and tablet.
Cons:
Lacks database features for form responses: Only basic table available for forms, lacks relational database features for form responses.
Limited branding options: Jotform branding is visible on all free plans and hard to remove on paid plans.
Limited export options: Jotform has limited export options, which can impact form data accessibility.
Limited form submissions: Jotform limits form submissions on free plans, which might be restrictive for businesses with high form submission volumes.
Pricing: JotForm offers great features, but its pricing is relatively high compared to other tools available with similar features.
Jotform Pricing Plans
Starting with Jotform's free plan which offers basic features and limited form submissions. Its paid plans start from $34 a month and offer more advanced features and increased form submission volume allowances. Here are the pricing tiers and its features:
Starter: This is a free plan that offers 5 forms, 100 monthly submissions, 100 MB storage and limited form fields and payment limits. It's well suited for small teams and individuals who do not need higher functionalities or have a budget.

Bronze: Bronze plan is priced at $34/month per user and offers 25 forms, 1000 monthly submissions, 1 GB storage and advanced features like more form views, form fields and no jotform branding. This one is ideal for growing businesses.

Silver: Silver plan is priced at $39/month per user and offers the best value for money plan with 50 form limit, 10 GB storage, 2500 monthly submissions and additional views and fields.

Gold: This plan is priced at $99/month per user with extensive form features like 100 forms, 100 GB storage, 100,000 monthly submissions and further higher form views and fields.

Platinum: Platinum or Enterprise plan is for large scale organizations which are customized as per their requirements. It offers unlimited everything as well as high data security.
Jotform Applications
Jotform's ease of use and range of features make it a popular solution for various industries. Here are some of the best use cases and real-world applications:
Online order forms for eCommerce businesses
Job applications for recruitment agencies
Surveys for market research companies
Volunteer sign-ups for non-profits
Event registration and ticket selling
Introducing Stackby Forms: an Alternative to Jotform
Stackby is a cloud-based work management software that comes equipped with customizable databases, project management tools, and automation features. It offers an alternative solution to Jotform with its Stackby Forms feature.
Stackby Forms is a no-code, drag-and-drop form builder that allows users to create custom forms and collect data efficiently. They can be used for surveys, feedback, lead generation, registrations, update inventory, requests, report submission, and more.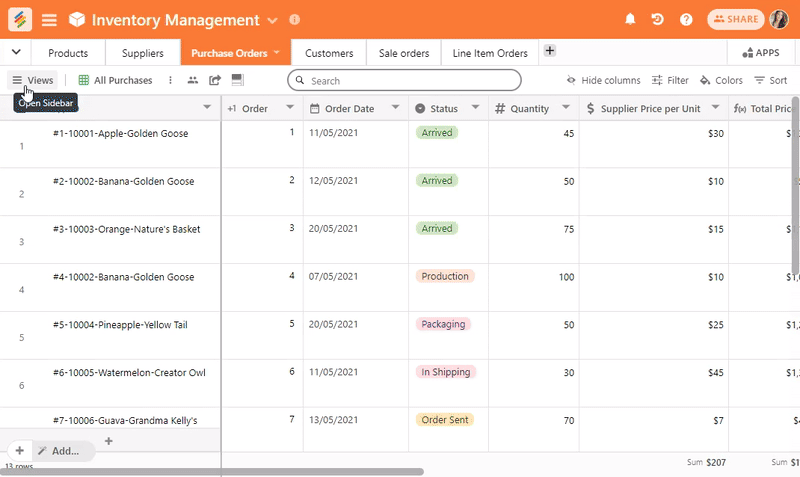 Here are some key features of Stackby Forms:
Customization: Stackby Forms provides numerous customization options from 25+ field types to adding logo, cover images, background, etc.
Conditional Logic: Create dynamic forms that show form fields based on previous responses.
Pre-built form templates: Stackby has numerous pre-built form templates for users to customize it as per their requirements.
Updatable forms and prefill: Updatable forms can be used by internal teams to edit/update existing responses. They can also prefill the form URL to prefill specific columns in the form.
Share and Embed: Teams can generate a preview and embed links to share forms anywhere and can also password protect the forms for added security.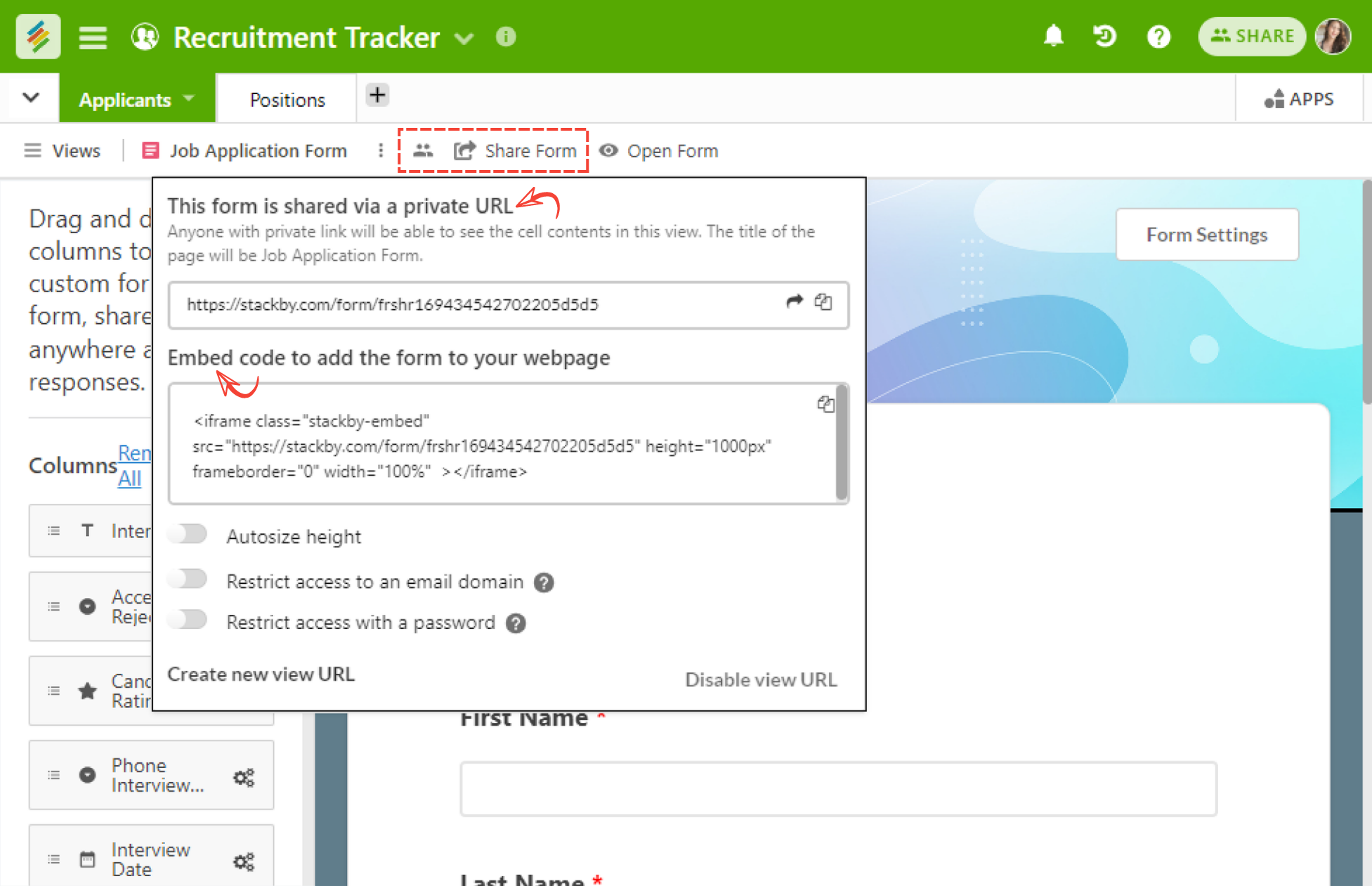 Integration and Automation: Stackby seamlessly integrates with a wide range of API services and apps like Zapier, Integromat, Facebook, etc., and automates actions like sending emails and reminders.
Reporting Dashboards: Generate real-time reports on collected data to get useful insights with Stackby Apps like charts, pivot tables, summary boxes, URL preview, etc.
Stackby eliminates the need to depend on multiple platforms by offering advanced forms, automatic data collection in the table, data management, and real-time reporting in a single interface.
Here's how Jotform compares to Stackby Forms:
Similarities:
Both have a drag-and-drop interface to create forms with no coding required.
Both offer integrations with popular third-party software.
Both offer conditional logic.
Differences:
Jotform offers customizable widgets like signature fields, approval workflows, and more.
Stackby Forms offers advanced automation features like email automation, task creation, and more.
Stackby (which includes Stackby Forms) has better pricing plans that are significantly cheaper than Jotform and comes with relational databases to store form responses and act on them.
Let's take a closer look with a side-by-side comparison:
Conclusion
Jotform is a powerful form builder solution that offers a range of features and integrations. It's a popular choice with good reason. However, Stackby Forms offers an alternative with more affordable pricing plans, customizable widgets, and advanced automation features.
Stackby Forms is part of a larger software suite that offers task management, collaboration, real-time reporting on data and more, making it a powerful platform for businesses of all sizes.
Sign up with Stackby and avail a 14 days free business trial.