25 Short-Term Goals To Improve Your Personal And Work Life
Bookmark this article and fix your short terms goals, today!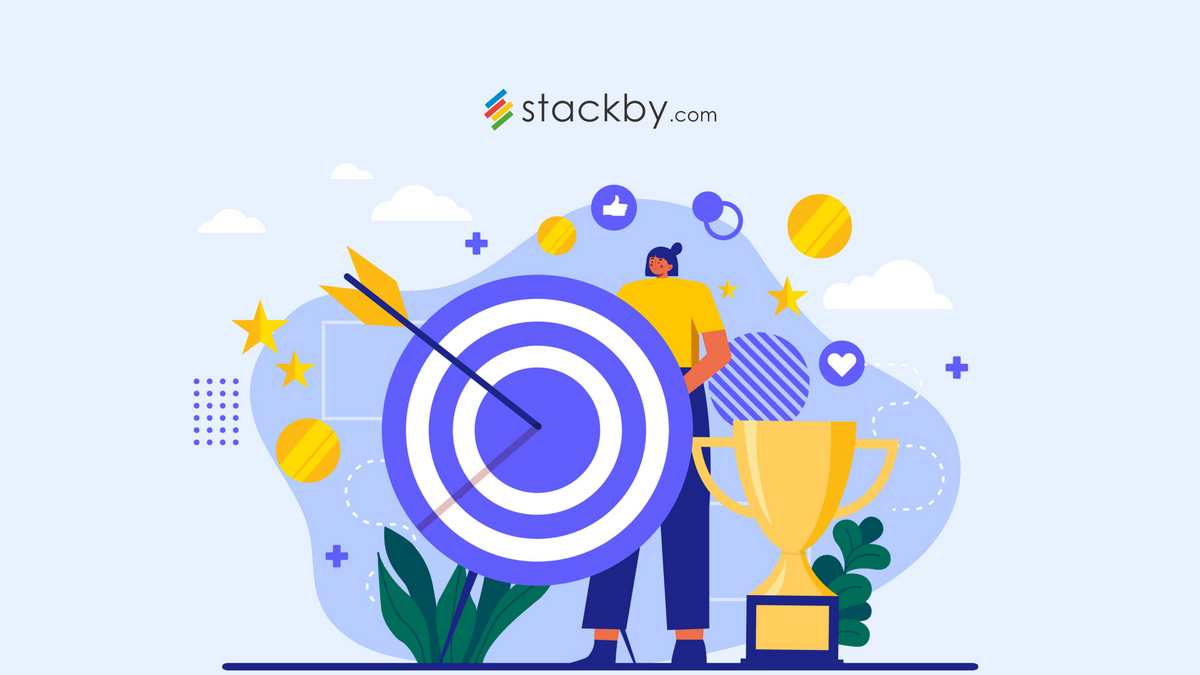 Establishing goals that will enhance your personal and professional lives in today's fast-paced world is critical. Short-term goals are often the most successful since they give a sense of accomplishment and development right away. Setting goals is also supported by using a SMART goals.
SMART, or Specific, Measurable, Achievable, Realistic, and Timely, is an acronym. According to a recent study, just 3% of adults have clear, quantifiable, time-bound goals, yet those who do achieve 10 times more than those who don't. We'll provide 25 short-term goals in this blog that you can consider implementing.
What are SMART Goals?
A best practice framework for goal-setting is SMART. A SMART objective should be time-bound, specified, measurable, achievable, and reasonable. An individual creates a road plan for a particular destination by developing goals. Research shows that 76% of people who write their goals are successful, which is more than the 33% of people who do not write their goals. The framework's components work together to produce a goal that is intentionally and carefully thought out, executable, and trackable. With the help of our template for smart objectives, you can:
Create SMART objectives and monitor them using a single interface.
Put a value on each objective.
Keep track of the metrics connected to each objective.
Keep an eye on the goal's due date.
Follow the progress of the goal metrics right now.
You can periodically monitor your progress using the smart objectives template.
Modify the data as necessary.
Now with Stackby's Goal Tracker, you can keep track of your goals effectively.
Short-term professional goals
1) Finish an online course.
You can significantly improve your knowledge and abilities by taking online classes. Establish a short-term objective to finish the course by a specific date. Not only will this assist you in learning new talents, but it will also increase your marketability to future employers.
Make course planning easier by organizing your daily schedule, and managing the courses you want to take and the course material with Stackby's Course Planning and Scheduling Template.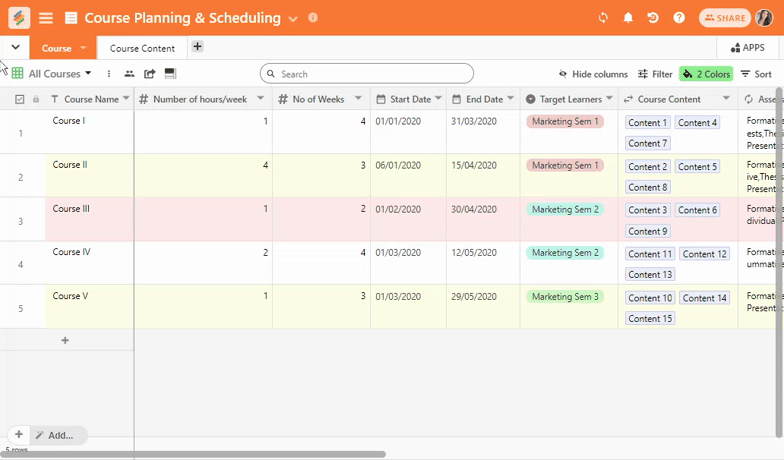 2) Set a quarterly performance goal.
Setting quarterly performance goals might help you stay motivated and concentrated throughout the year. These goals may be connected to sales, customer satisfaction surveys, or other critical performance indicators. Ensure they are specific, measurable, and attainable within the allotted time.
3) Improve one soft skill.
Communication, teamwork, and time management are crucial for workplace success. Set short-term goals to work on the one ability you wish to improve.
4) Connect with other industry professionals.
In any industry, networking is essential. Have a short-term objective to connect with several industry professionals each month. Attending events, engaging on social media, or joining a professional association could all be part of this.
5) Increase your visibility.
Make it a point to become more visible inside your organization or sector. Take on high-profile projects or presentations as a volunteer, or look for chances to write for or present at conferences or magazines for your field. You can use Stackby's Interview Questions Template to prepare for your interviews.
6) Evaluate your present job.
It's crucial to regularly assess your current position to make sure you're happy and content in it. Establish a short-term goal to determine your employment duties, workplace, and salary package. If needed, make it a goal to update your resume or begin your job hunt. Remember that it's acceptable to look into new options and make adjustments to align with your job goals. So you can use Stackby's Job Search Template to hunt for a better position.
Short-term personal goals
7) Create a savings plan.
Even though saving money can be challenging, having a savings plan for your short-term goal will help you achieve your financial goals. Decide how much you want to keep, set a budget, and give yourself a deadline to reach your goal with Stackby's Personal Budget Template.
8) Improve productivity.
Success on both a personal and professional level depends on productivity. Decide on a short-term objective to increase productivity by identifying your most productive times, making a to-do list, and eliminating distractions. To preserve your energy and focus, prioritize self-care and frequent breaks.
9) Create a morning routine.
Establishing a routine, you'll enjoy that gives you the most advantages is the goal. Drinking a glass of water, doing some moderate exercise, having a healthy breakfast, listening to motivating music to lift your spirits, or reading the news are some morning activities you might want to try.
10) Improve personal relationships.
Having relationships with other people is crucial for enjoyment and well-being. Make it one of your short-term goals to improve your interpersonal connections by staying in touch with friends and family, setting up regular catch-ups, or going to social gatherings. Be present, mindful, and always grateful for the people in your life. Furthermore, you can incorporate trivia quizzes into your gatherings which will add a fun and interactive element that encourages bonding and shared enjoyment.
11) Get out of your comfort zone.
Leaving your comfort zone may be both a terrifying and rewarding experience. Make a short-term goal to try something new, such as enrolling in a dance class, traveling, or speaking up in a meeting. Remember that progress comes from taking risks and challenging oneself.
12) Reduce stress.
Make a goal to lower your stress levels by engaging in relaxation exercises like yoga, meditation, or deep breathing. Stress can be harmful to both your physical and mental health.
13) Learn a new form of art.
Set a goal to learn a new art form, such as painting, pottery, or sculpture. This can help you express yourself creatively, thus developing a new skill and reducing stress.
Short-term learning goals
14) Watch Good Movies.
Watching is an excellent method to broaden your horizons and creativity and discover new things. Create a reading list/watch list using Stackby's Favorite Movies Template, allot time daily or each week for watching, and keep track of your progress to make a short-term goal of watching excellent movies.
15) Sign up for a newsletter.
Newsletters are a terrific way to receive weekly or monthly digests of the most important and intriguing topics, whether you want to be better informed about the news in your business or have a hobby or interest you appreciate reading about.
16) Learn a New Language.
By signing up for a course, using language-learning apps, or practicing with a language partner, establish one of the primary short-term goals: learning new languages. Your horizons can be expanded, your cognitive abilities can be improved, and your professional possibilities can be improved by learning a new language.
17) Develop One Good Habit.
Proper habits can improve the quality of our lives. Having a short-term objective to create one positive habit, such as going to the gym frequently, being grateful, or reading a good book, can help you change your personality. You can use the Habit Tracker Template by Stackby to track your new habits closely.
18) Take up a Task.
Tasks are a great way to challenge yourself, discover new interests, and develop your creativity. Pick a short-term objective to start a new pastime. Do your homework, try out a few things, and commit to practicing regularly.
19) Attend a workshop or seminar.
Identify a workshop or seminar related to your interests or career and set a goal to attend it. You can learn new skills, network with other professionals, and gain insights from expert speakers.
Short-term health goals
20) Exercise regularly.
Start by setting a specific goal for how often you want to exercise each week. Aim for a manageable number of weekly workouts, such as three or four. Choose activities that you enjoy, such as jogging, cycling, or dancing, and mix up your routine to keep things interesting.
21) Drink more water.
Set a goal to drink a specific amount of water each day. This could be eight glasses or more, depending on your weight and activity level. Carry a reusable water bottle with you to make staying hydrated throughout the day easier. You can use the To-Do List Template by Stackby to keep in check your daily habits.
22) Walk more.
Aim to take more steps each day. Start by setting a goal to take 10,000 steps daily, which is the recommended daily amount for good health. You could also take the stairs instead of the elevator or walk to nearby places instead of driving.
23) Eat more healthily.
Make it a point to consume more whole grains, lean proteins, fruits, and veggies. Create a weekly meal plan to keep you on track and avoid bad choices. Limit your consumption of processed foods and sugary snacks, and try to cook more at home. It is one of the most beneficial short-term goals you can opt for! You can use Stackby's Meal Planner Template to keep in mind the same.
24) Reduce alcohol intake.
Decide how many drinks you want to have each week, then stick to it. When socializing, pick low-alcohol selections or switch to non-alcoholic beverages. Other methods of relaxation and stress relief include bathing or meditation.
25) Try a new stress-reducing activity.
Try learning various stress-relieving practices like Tai Chi, yoga, or meditation. Engaging in these hobbies could improve your physical and mental health and reduce stress.
Ready to achieve your short-term goals? With Stackby's customizable templates for health, fitness, learning, personal, and professional goals, you can stay organized, motivated, and on track. Because it has an easy-to-use UI and adjustable templates for various goal kinds, Stackby is a great tool to utilize for short-term goals.
Stackby provides templates that can help you get started fast and effortlessly, whether you want to set short-term objectives for your health, fitness, learning, personal, or professional life. In addition, Stackby offers a central spot where you can monitor your progress, create reminders, and work with others to accomplish your objectives.
So give Stackby a try today!