9 Best Event Planning Software to Manage your End-to-End Events
Managing events for your company or your clients? Skim through the best event planning software to manage and deliver kickass events.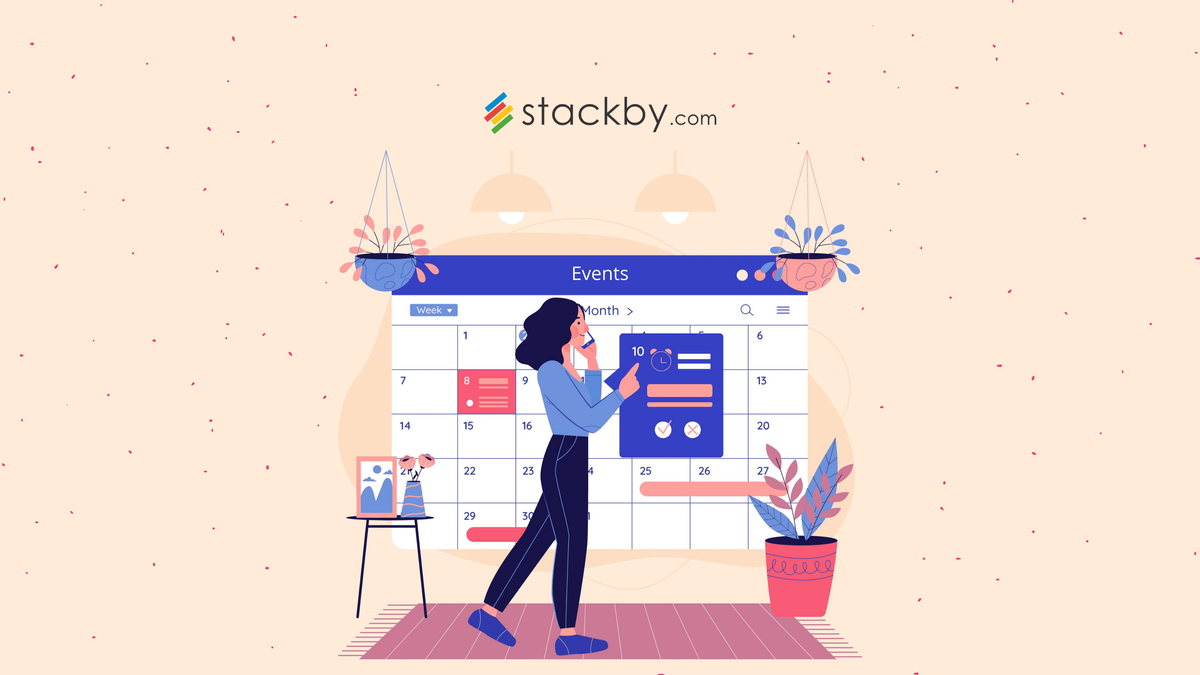 Table of Contents
Introduction
Why are event management tools a hot topic?
What is event planning software?  
Benefits of using event management software
Choosing the right event planning software
9 Best Event Management Tools
Conclusion
Introduction
In today's busy world, event planning has become more complex and challenging than ever before. As beneficial as event planning is, it can also be exhausting. In fact, event coordination is one of the top 5 most stressful jobs, with some organizers working up to 20 hours/ day. That said, you probably know what it's like to lose sleep making sure everything comes together!
To make the process easier, more efficient and effective, event planners use event planning software. Event planning software is a digital solution designed to streamline the planning process, automate tasks, and improve communication and collaboration between team members. This article takes a closer look at event planning software and its benefits for event planners.
Why are event management tools a hot topic?
Event management tools are a topic we love to talk about. Mainly because expert marketing statistics show that using event management software increases attendance by 20%, productivity by 27%, and profit margins by an average of 20-30%.
And with so many free event management tools online these days, it's no wonder why more and more event planners are exploring what's available. The right setup software can make a world of difference. Just like a superhero needs his trusted sidekick, you need event management tools to save time on logistics so you can make your event more productive and create the best experiences.
We've curated the list of best event planning tools based on reviews from real users and their unique features that we know event planners love. But before we dive in, here's some more information on choosing event management software for your next big project.
What is event planning software?  
Event planning software is a digital solution that helps event planners manage all aspects of the planning process. Event planning software offers a complete solution for planning and executing successful events, from venue selection and budget management to registration and attendee management.
As new technology and software evolve, it's becoming clear that event planners need to start using some type of software at their events to stay on top of the trends and keep attendees coming back year after year.
Event management software has grown significantly in popularity over the past five years, with a global market value of $11.06 billion in 2022, up from $6.38 billion in 2017. 89% of companies using event technology save approximately 200 hours per year, 20% save 360 hours a year, and 92% of marketers believe that event software makes it easier to achieve business results. In addition to the time saving mentioned above, there are many benefits to using event management software. With the event management system, you can:
Reduce the administrative burden
Avoid disconnection
Digitize the way you organize your event
Maximize flexibility
Save time planning events
Access to in-depth reports and analysis
Customize to fit your unique brand
Learn quickly with a simple interface
Benefits of using event management software
Let's take a look at some of the key benefits you get when you use purpose-built event management software.
1. Easier event management
Our event platform makes it easy to manage the entire event. From interacting with attendees before and after the event to managing sessions, it all happens in one place. Your entire online event management team can use the platform for collaboration, engagement tracking, outreach, and all other small tasks related to your event. That way you don't have to buy multiple endpoint solutions that only handle one task and keep everyone on the same page.
2. Saves time
By consolidating all your responsibilities and tasks into one virtual event platform, you save valuable time for yourself, your team, and your attendees. Instead of wasting time switching between registration apps, email marketing, and conferencing tools, your entire event is hosted in the event software. In addition, you save even more time because you do not have to look for several solutions for each stage of your event.  
3. Cut costs
Managing your event budget and tracking income and expenses can be difficult without the right software. You can maximize the ROI of your event by using a central platform that helps you track every dollar coming in and going out, compare adherence to costs and visually track your costs to impact your ROI.
4. Increase Engagement
Audience engagement is important before, during, and after the event. Event planning software includes audience engagement tools at every stage of your event. Automatically send emails to attendees as soon as they register and get excited before the event. Use interactive tools to collect questions, survey responses, or shoutouts during a meeting or conference call. From live streams to workshops, an engaged audience is more likely to take something away from your event.  And when the event is over, your event management software can continue the conversation. By tracking and analyzing participants, you can adjust your targeting to maximize responses.
5. Analyze and improve
Speaking of improvements, event planning software helps you decide which events to change based on data, not guesswork. It analyzes audience behavior and engagement metrics in real-time and at scale. That way you can continue to add value to future events in ways that matter to your audience.
Choosing the right event planning software
When choosing event planning software, it's important to consider your specific needs and budget. Some software is designed for large and complex events, while others are better suited for smaller and simpler events. Additionally, some programs may be cloud-based, while others are installed locally on your computer. Remember to research and compare different options before making a decision.
Before we get to the list of event planning tools, you need to know what you are looking for in an event planning tool or software solution.  Here are some questions you can ask yourself to help you make the right choice.
Does this event software allow you to collaborate with multiple event stakeholders such as attendees, sponsors, and vendors?
Is this event technology right for an in-person event, a virtual event, or both?
Should your event planning have built-in marketing tools to help you or your show attract more visitors?
Is the event planning software easy to use for all levels of organizers?
Does the software help you track your progress and achievements?
Does the app support social media integration or other forms of social media marketing?
And most importantly, is it an all-in-one event management tool that can bring event-related information under one roof?
9 Best Event Management Tools
Without further ado, let's take a look at the 10 best event management tools to take your event from idea to execution in just a few clicks.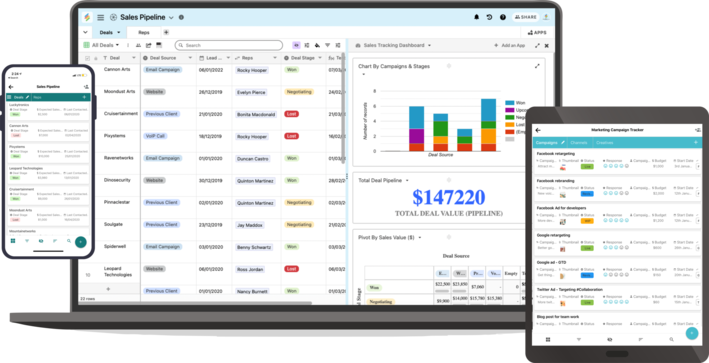 Company events require a lot of thought and planning so that they can be carried out without a hitch. Whether you're planning, organizing, or creating an event, Stackby's event planning templates are handy for any situation.
How does the Stackby model help you plan corporate events?
Stackby templates provide an overview of all scheduled events with their start and end dates.
Budgeting can be done effectively using the budget planning feature to ensure that there are no losses incurred while also ensuring that the event does not suffer from shortcomings.
The template can be used to store the information of the members working at the event as well as the necessary reservations and schedules.
A company event planning template is essential for a company to keep track of its attendees.
Guests who appear at events add value to the business relationship; a company event planning template helps you keep track of them through the guest list.
The company event planning model organizes vendor information with provisions for accessing it when needed.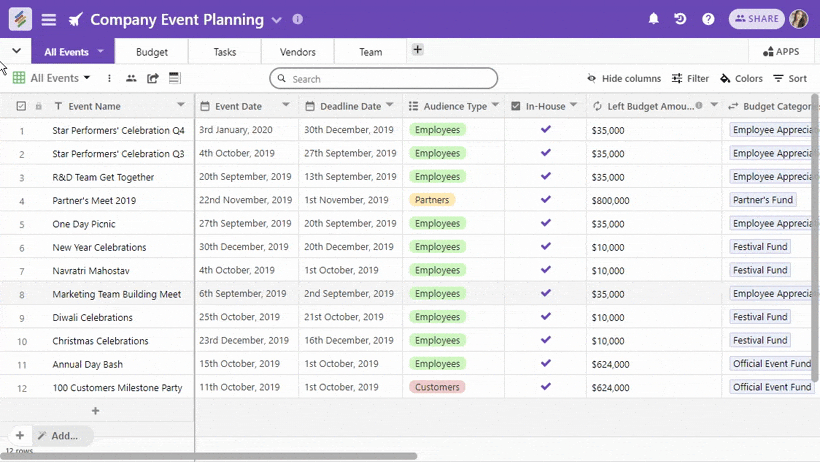 This is how Stackby can be used as an event planning software.
Venue management: Stackby allows you to track all information related to your venue, including contact information, rental fees, availability, and capacity. With Stackby, you can also manage site contracts.

Guest List Management: Stackby allows you to create and manage your event guest list, including RSVPs, dietary restrictions, and seating arrangements. The platform also allows you to send invitations and track responses.

Budget Tracking: Stackby helps you stay on top of your event budget by tracking expenses, payments, and invoices. The platform also allows you to create a budget plan and track your expenses in real-time.

Schedule management: Stackby allows you to create and manage your event schedule, including sessions, speakers, and activities. You can also use the platform to coordinate with vendors, employees, and volunteers.

Marketing and Promotion: Stackby allows you to plan and execute marketing campaigns for your events, including social media, email marketing, and advertising. You can also use the platform to track marketing metrics and measure ROI.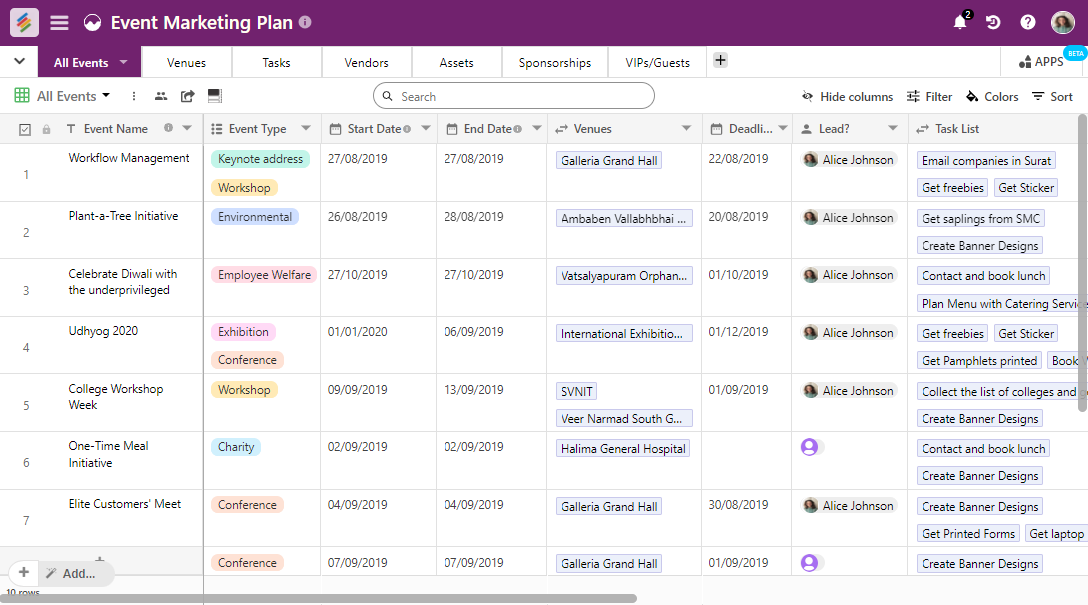 Overall, Stackby is a powerful event planner that can help you streamline your workflow, improve collaboration, and ensure your event is a success.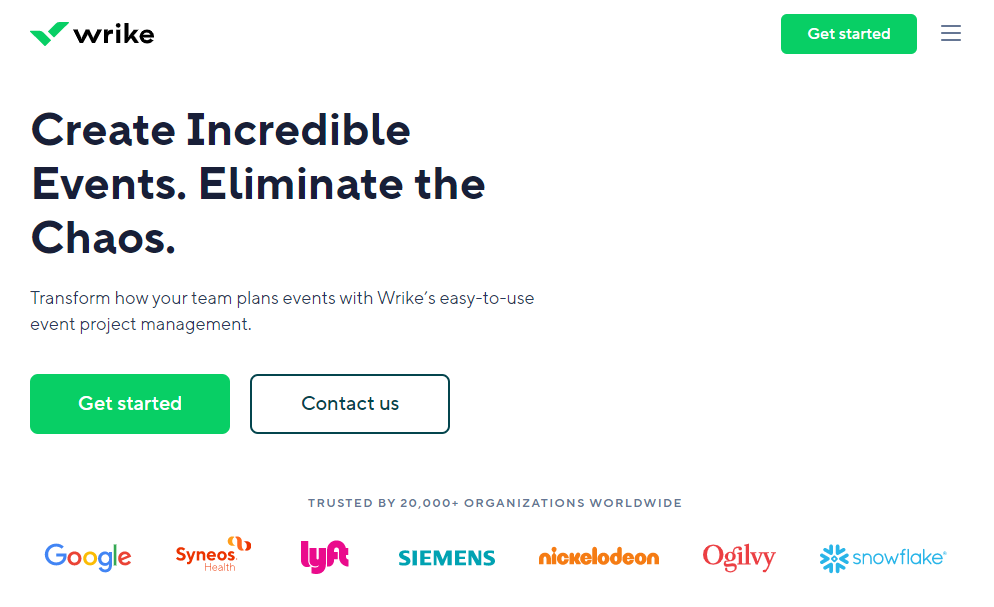 Have you ever felt like one part of your event team is stuck and another is questionably effective? With Wrike's resource management tools, you can distribute tasks evenly as the event approaches. With both Gantt-like and Kanban board viewing options, you can choose the most convenient and efficient way to view your events (and even change your mind halfway through).
Highlights of Wrike's event planning software:
Use event planning models to optimize processes.
Track progress towards upcoming events with real-time data.
Use calendar integration to keep all team members up to date on remaining tasks and deadlines.
Manage and edit tasks while accounting for design changes and define custom workflows for different groups.
Track the time each team or employee spends on different tasks.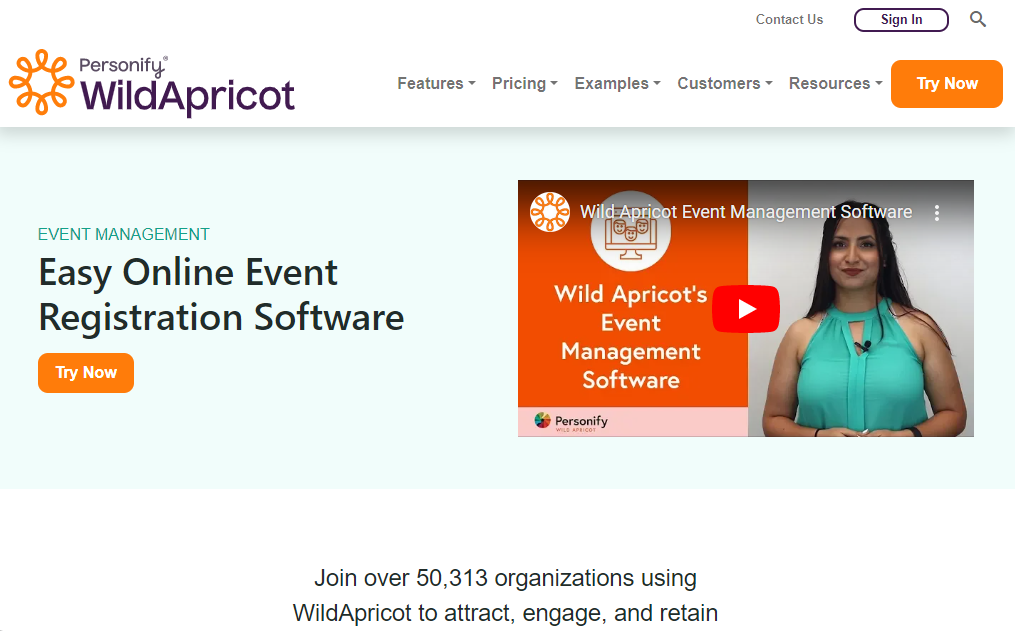 If you are looking for a complete solution to manage all aspects of your membership organization, not just events, then WildApricot is for you. It is one of the most popular membership and event management software used by over 20,000 organizations.
In addition to event management, WildApricot offers a fully comprehensive website building platform with online registration and payment processing, a fully searchable contact database, mobile event registration with a free app, and an email system with a professionally designed email and newsletter.
Key features include:
Access Controls/Permissions
Accounting Integration
Activity Dashboard
Ad hoc Reporting
Alerts/Notifications
Application Management
Attendance Tracking.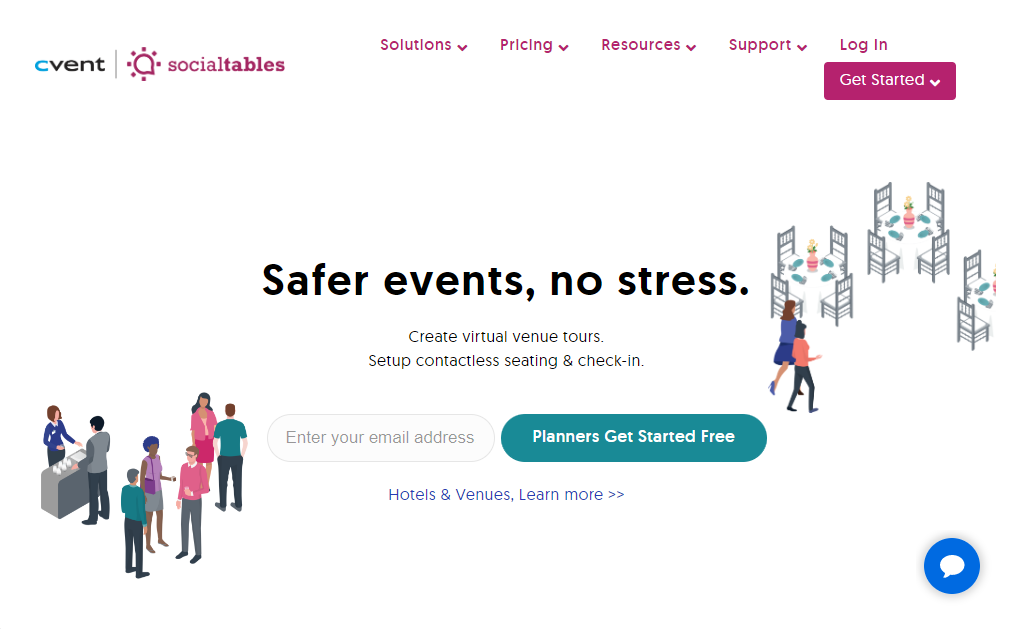 This event planning application gives you the ability to ensure that the needs of each attendee are taken into account. Drag guests to seats, manage food requests and VIP services, check-in guests on arrival, and more. Keep your catering team informed every step of the way and use handy spreadsheet reports to set them up for success.
Some of its features are:
Creates custom diagrams fast.
Keeps events data clean.
Collaborate in real-time.
Keep everything in one place.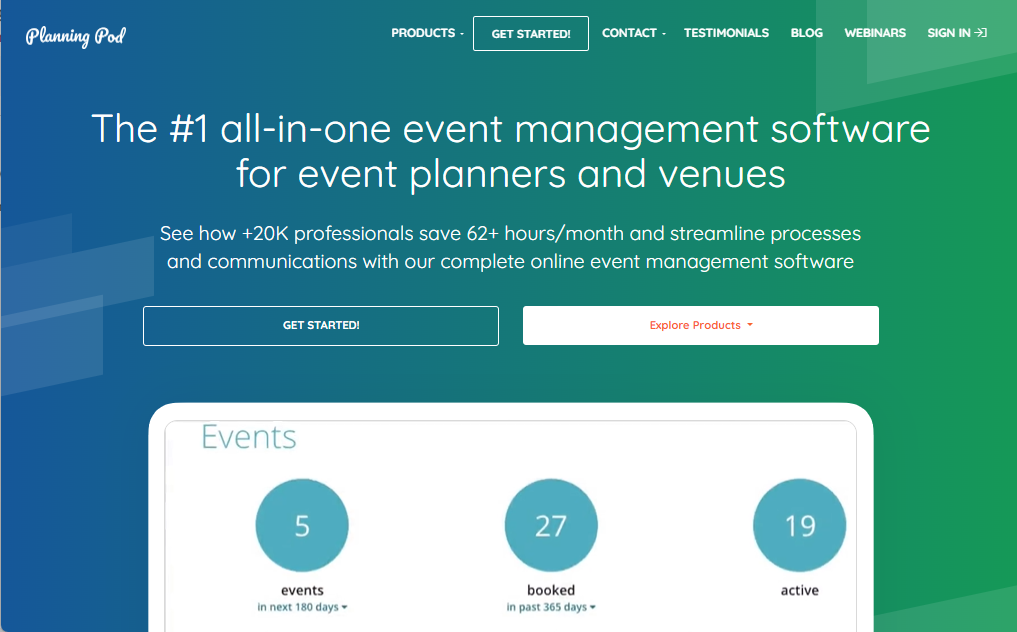 Planning Pod is a web-based event management platform designed for event professionals, hotels, venues, conferences, and other similar hospitality businesses.
Designed to simplify event planning, increase revenue and improve collaboration, it combines the tools of event or meeting planners in a single dashboard. This dashboard allows teams to track event details, schedules, bookings, and more.
Planning Pod tools help you complete routine tasks, complete complex tasks, and create time-saving processes for manual or repetitive work.
Benefits of using it:
Comprehensive panel
Emails can be read and sent from within PlanningSuite
Event website tool
Simple user interface
Event space details, such as the floor plan tool
Copy past events easily
The web-based software can be used on most devices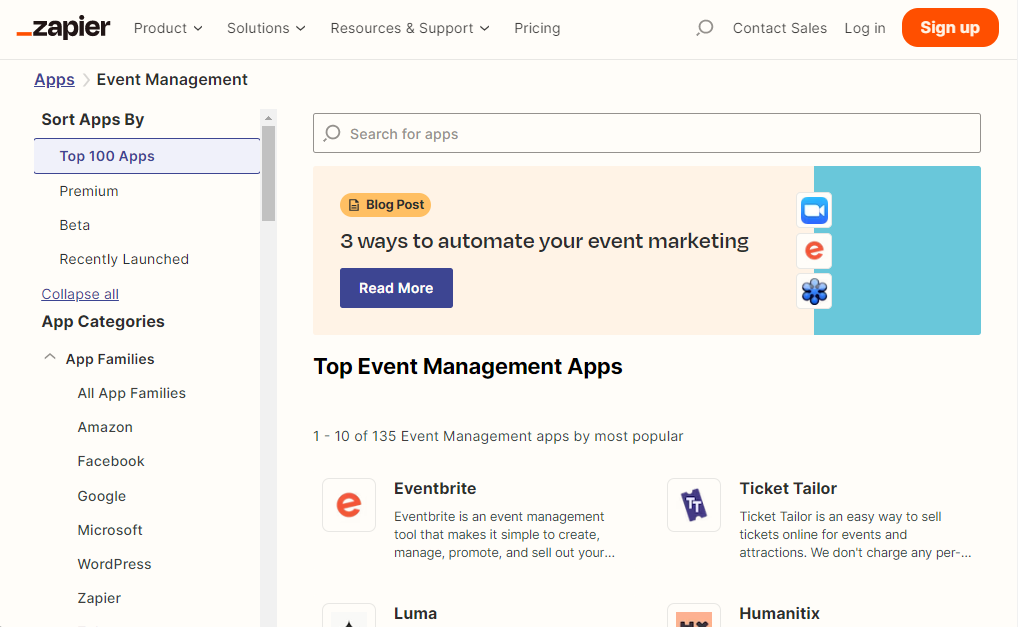 Zapier is not specifically event planning software, but a web-based automation tool that allows users to connect different apps and services and create workflows to automate repetitive tasks.
However, Zapier can certainly be used to streamline various processes in event planning, such as sending invitations, creating schedules, and managing attendee information.
Here are some examples of using Zapier for organizing:
Send automated emails Collect and manage participant data.
Zapier can be used to collect and manage participant data from various sources, such as registration forms, surveys, and social media.
Create schedules and agendas.
Zapier can be a useful tool for event planners who want to automate repetitive tasks and streamline their event planning processes. By combining different applications and services, you can create custom workflows that meet your needs and improve your event planning.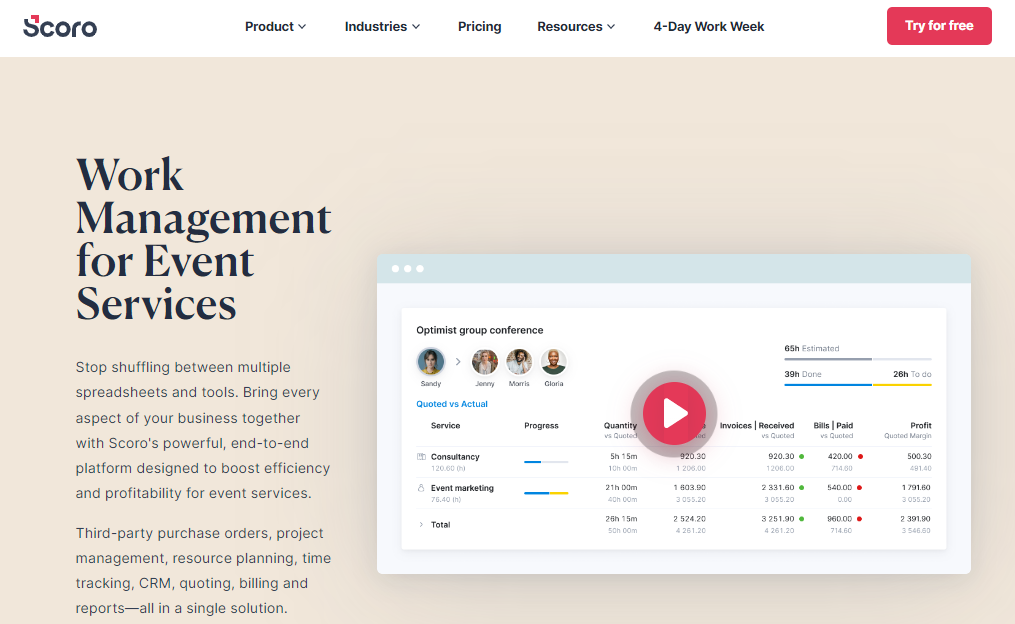 Scoro offers a complete event planning and management solution with its wide range of tools. Scoro ensures smooth event planning and management from the first proposal to the final invoice. Scoro's work management software simplifies operations and increases efficiency by keeping you organized and up-to-date.
In addition to event management tools, Scoro offers several features such as invoicing and time tracking and offers to help you manage your business from every angle.
Main features:
Management of tasks and project timing.
Time tracking.
File sharing.
Budget tools.
Team collaboration.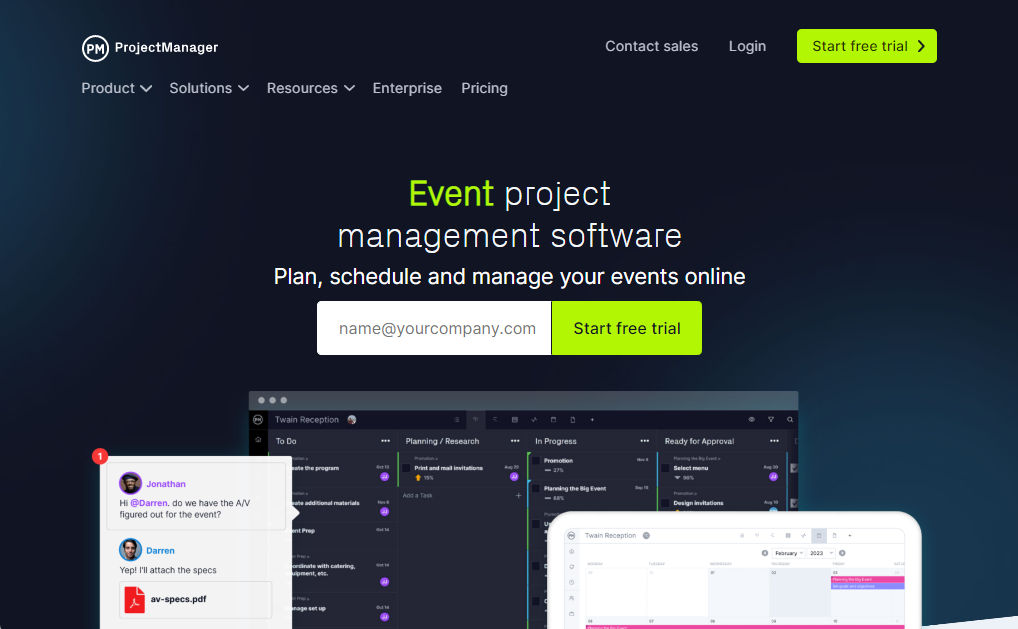 This event project management software has the features you need to plan every aspect of your event. Manage all your event planning tasks, such as choosing a venue, creating a marketing campaign, assembling teams, organizing promotions, and more.
You can access their online software from anywhere, so you can always update your event plans and make last minute changes. Plus, it's easy to structure your entire team so everyone has access to task alerts, email alerts, and progress updates. ProjectManager has the planning and collaboration features needed to seamlessly manage events.
With this software, you can:
Plan, schedule, and define each task and link task dependencies.
Set up email notifications to notify you of upcoming deadlines.
Balance the workload of event staff and volunteers.
Track hours with time sheets for easy billing.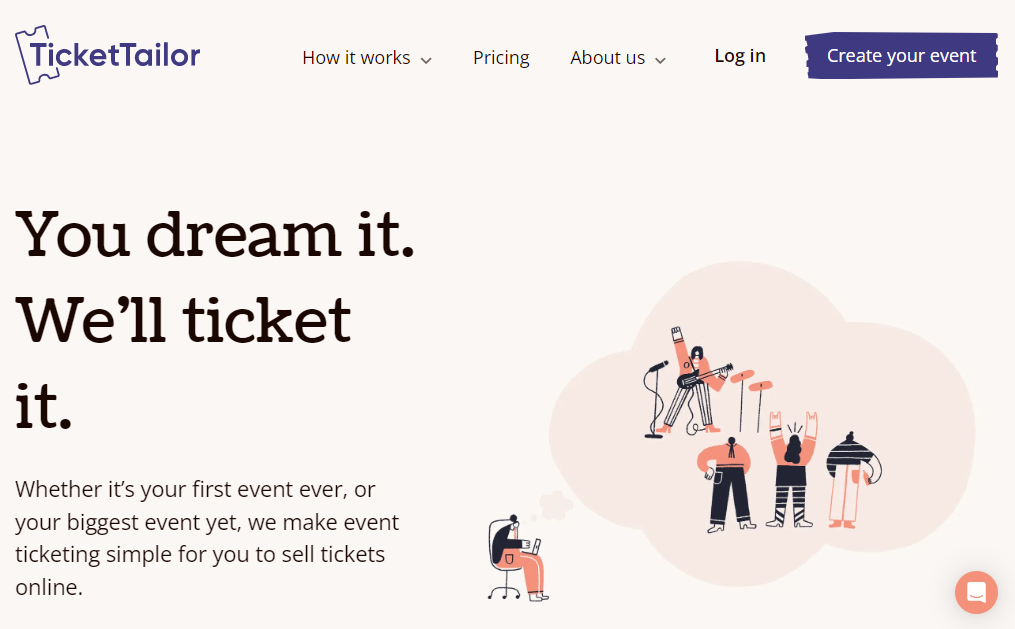 TicketTailor aims to provide event planners with an online ticketing portal that empowers them to manage their information, purchasing process, and embedded customizable ticketing experience. With TicketTailor, organizers take payment directly instead of waiting for payment from the platform.
Its features are:
Flexible box office
Payment abilities
Check-in features
Integrations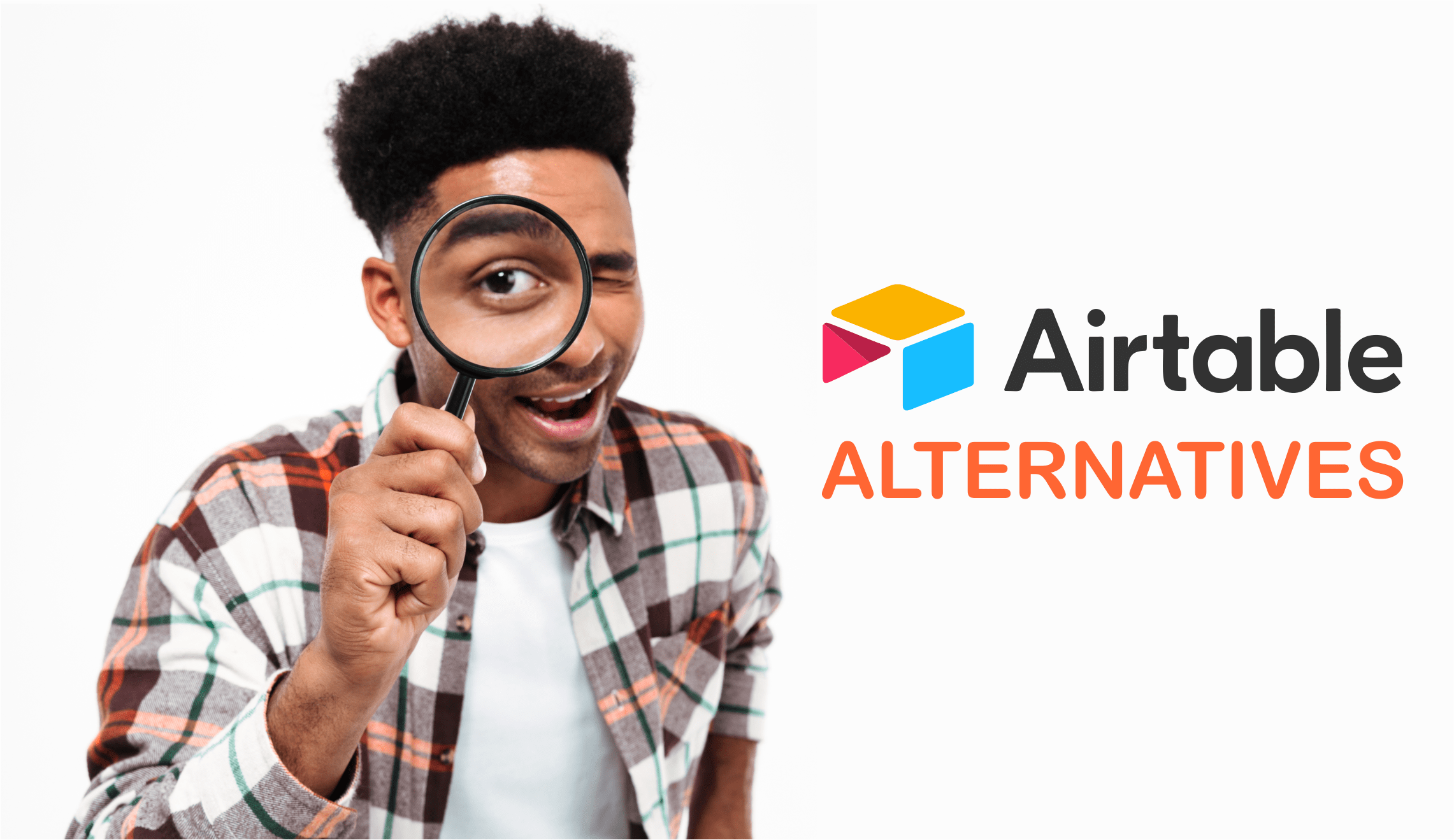 Conclusion
In short, event planning software is an essential tool to simplify the work of event planners, automate repetitive tasks and more effectively manage all aspects of event planning. With so many options on the market, choosing the right software for your needs can be overwhelming.
Before choosing event planning software, it is important to determine your business requirements, budget, and desired features such as registration management, event marketing, attendee, and analytics. You should also consider the software's ease of use, integration features, customer support, and data security.  
Some of the popular event planning software available in the market like Stackby software has unique features, benefits, and pricing models to manage your end-to-end event. It's a one-stop solution that makes event planning and managing a breeze. Try Stackby for free today!