3 Social Media Calendar Templates for efficient Social Media Planning & Tracking [2023]
Want to save time to manage your social media and content? Keep reading on.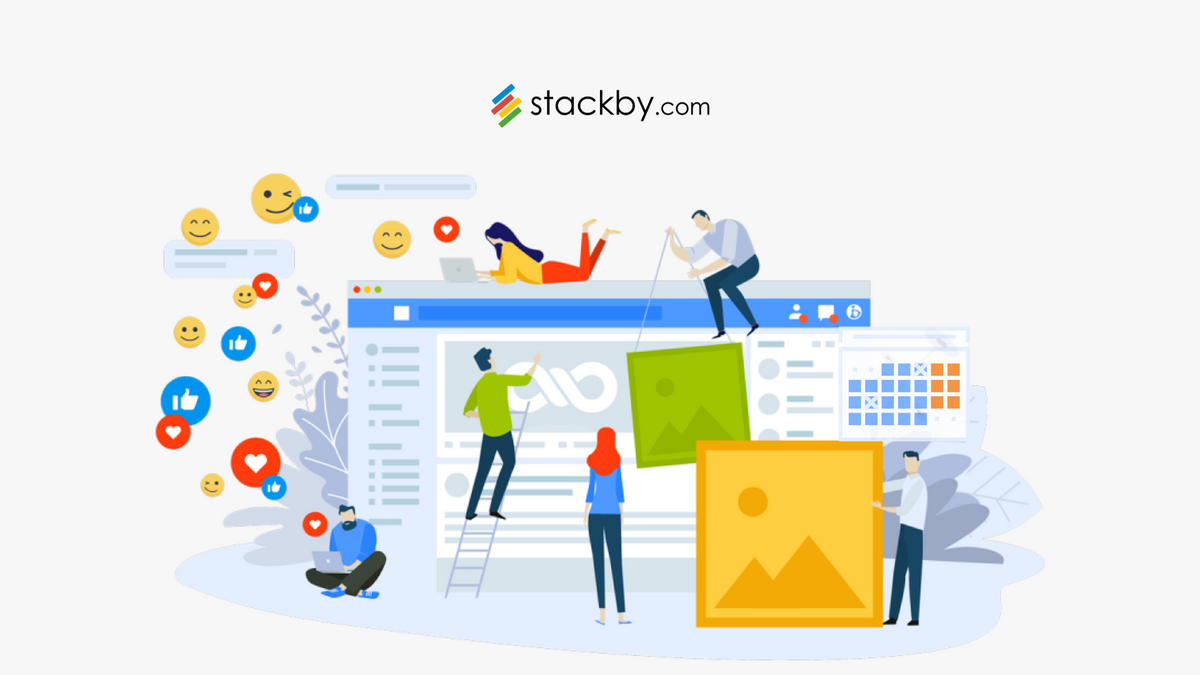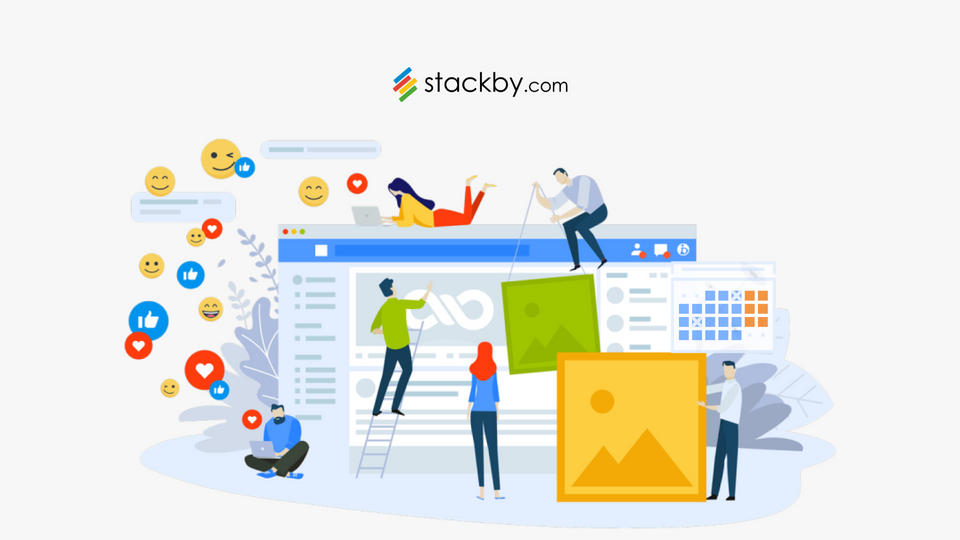 Effective social media marketing may help your company achieve extraordinary success by generating loyal brand supporters, leads, and even purchases.
Connecting with the audience by constantly posting engaging posts, and creating relevant yet interesting content has become fundamentally important.
But unplanned and disorganized social media marketing can turn the intent of online branding upside down. To avoid any future disasters you plan and organize accordingly.
Benefits of using a Social Media Calendar
Using Social media calendar has many benefits, like:
Saves time & Improves Posting Consistency
Ability to look at the bigger picture.
Enhance performance tracking and analysis
Saves time & Improves Posting Consistency
When you know when everything is supposed to go out, you can use a calendar to plan ahead and develop content. And by enabling you to check the text beforehand, this can help you reduce the likelihood of errors.
If you're giving your audience relevant and interesting content, the sharing frequency can help you enhance traffic and audience engagement.
Ability to look at the bigger picture
A calendar assists in developing a broad perspective and identifying social media strategies that your team should carry out. You may plan a thorough campaign if you are aware of a significant corporate event that will take place soon or a product launch that will happen in a few months.
Calendars are essential for managing campaigns.
Enhance performance tracking and analysis
You can track post- and campaign performance with the use of a calendar. You can learn a lot about your audience's preferences by tracking and examining their interaction and comments, which you can then use to improve your content.
Analyzing the effectiveness of your material might also highlight areas where you should step up your efforts or abandon them altogether.
Create a Social Media Calendar keeping long term success in mind
A social media schedule that is well-planned may help you and your team succeed over the long run, but it also doesn't have to inhibit your creativity. Consider using a calendar as a way to build up processes so you will have plenty of time in the future to come up with brilliant new ideas. However, before you start daydreaming about your perfect calendar let's first learn how to create one!
Identify your social media platforms
Take a step back with your social media team & find the answer to the following queries.
Does your audience respond better to a certain platform than others? In contrast, is there a platform that is well-liked by your target audience?
Audit your social media accounts
It's beneficial to have a starting point in mind when building a social media content schedule since one benefit is reporting on progress.
● Your most popular article by channel
● What kinds of postings are most popular
● When your audience is at its busiest
● Demographics of the audience on social media sites etc.
Determine the metrics you want your social media content calendar to capture
It's time to create your social media content calendar now that you know which channels to prioritize and how well your posts are performing right now.
Use the metadata in your social media calendar tool to keep track of extra information, such as the hashtags you're using, the channels you're posting on, the precise time the posts will go live, the audience you're aiming for, pertinent @mentions, and more.
Plan out your publishing schedule
Decide how often you'll publish and how far in advance you want to compose your posts as you plan up your postings. Your capacity may be determined and your content development process will be optimized if you are aware of your cadence.
If you work with a design team, setting up your posting cadence might assist you make requests in advance rather than bombarding them with work.
Create a review schedule
Spend some time now with your social team brainstorming and agreeing on a review cadence. When and who should evaluate posts?
Do the brand or legal teams need to approve any of your posts? Your social schedule is there to aid in the development of your procedures. Additionally, it's a terrific method to manage all of your content evaluations in one location.
A calendar template of your choice
You can use a calendar template for either a sheet or database but a typical spreadsheet has a lot of limitations and if you are a growing company database might suit your future needs.
For instance, spreadsheets can help you create a list of assets, but it will be challenging to see hundreds of tweets and get a sense of the overall picture.
Your team might also struggle to access accurate data from the sheet overtime.
On the other hand, a database loads faster, has a backup, is more secure and easy to access.
Choose a Social Media Calendar Template
Based on the channels your team posts on, how frequently you publish, the data you're collecting, and the workflows your team values the most, each social media content schedule is a little bit different.
You need to find a template for a social media calendar that enables you to:
● View a list of all postings, but you can also filter them by campaign, category, subject, or social network.
● Assign responsibility for certain tasks to certain individuals.
● Make a workflow, follow it, and make changes to it over time.
Let us see 3 popular social media calendar templates that Stackby has to offer.
1) Social Media Calendar Template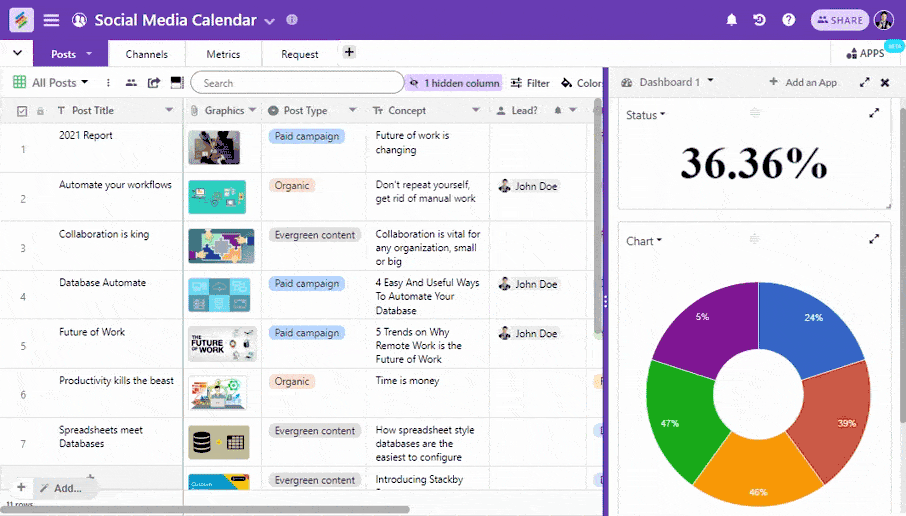 This is a good place to start if you're looking for a general-purpose social networking template. This template not only aids in the strategic planning of your content, but also in the measurement of your outcomes.
In Stackby you may use this template to utilize a calendar view to schedule the creation of social content for forthcoming campaigns and important periods of the year. With Stackby's Social media calendar template, you can also:
● Track: Keep a check on what is and is not effective for your social media platforms. Maintain your consistency and quality.
● Regularize: Avoid publishing too frequently or seldom on social media, and never again forget to schedule a post.
● Manage: Control all of your social media accounts from a single location to avoid spamming one network while ignoring others.
● Research: Don't ever publish a piece that is not well-written or well-researched. Instantly check punchlines, punctuation, and spelling.
Stackby's social media calendar template can be used by Marketing teams, Media organizations working to promote the social media accounts of their clients, Bloggers who manage their social media channels, Business owners, Social media influencers, and more.
2) Social Media Planning and Design Template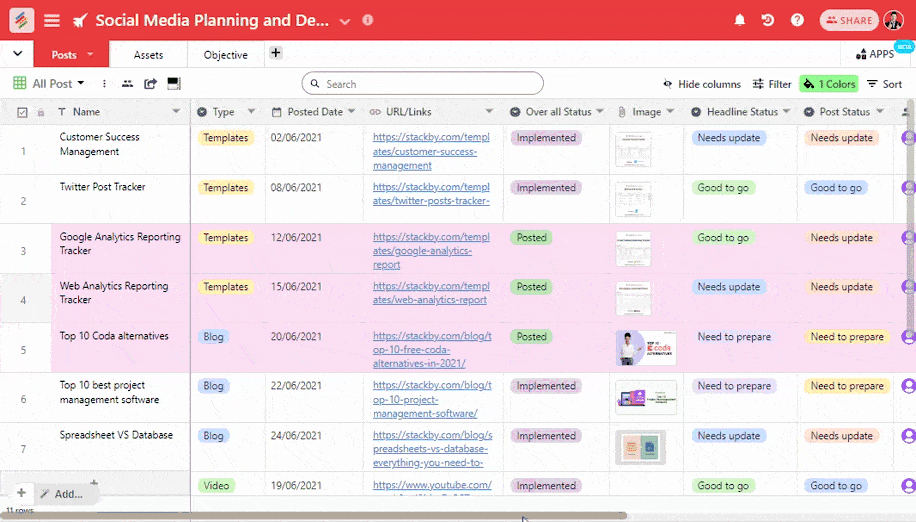 A social media planner, unlike a calendar, considers more than simply where and when to post. It's about developing a system that considers every facet of your branding, including the language and the way it interacts with the picture.
This template will be very helpful for marketing and SEO companies who base their advertising on social media as:
● You can create other ads for maximum outreach using the features that let you post your commercials in accordance with the needs of your business.
● The data on the likes and comments the content generates may also be used to enhance it.
● The ability to modify the template in accordance with the volume and form of engagement is its most advantageous feature.
● With the data management feature, business objectives may be tracked and achieved, providing you with precise insight into the metrics.
3) Marketing Content Promotion Tracker Template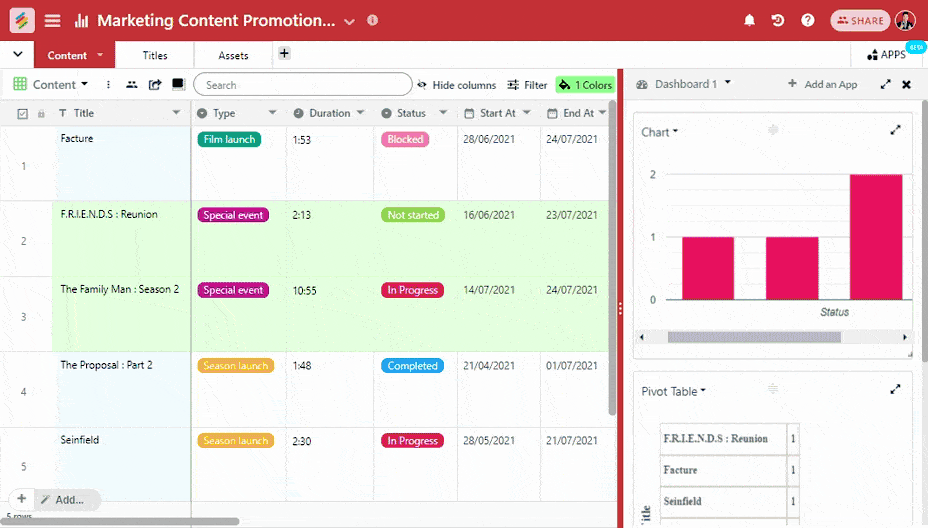 To reach and attract viewers, a product has to be well advertised. Advertising thus becomes an essential component of the marketing strategy that aids in driving sales. With the help of the Marketing Promotion Template from Stackby, this process may be made simpler, helping you to increase your sales.
This template will be especially helpful to freelancers, marketing agencies, content marketers, and hospitality enterprises. Some of the key features of this template are:
● This template has elements that let you keep track of all the marketing events' specifics.
● The template aids in classifying the events based on their length, status, and start and end dates.
● The titles of the marketing programmes, their formats, descriptions, producers, and the previously uploaded attachment picture may all be viewed using this template.
● Additionally, you may see the assets' work status, due dates, and release dates.
● The kind of promoted material is kept track of and may be arranged based on the kind, star rating, and creator.
● This template makes it easier for you to manage all of your marketing content promotion initiatives by keeping track of their numbers, owners, names, and assets.
Conclusion
An overview of everything you want to do and want to accomplish on social media is a social media marketing strategy. It directs your behavior and informs you of your success or failure.
Choosing a social media template is just the beginning of it. The rest of the tasks follow up later. With 100's of free content and social media templates, you can start your journey to effective content management with Stackby.
Stackby is easy to understand as a spreadsheet, has a user-friendly interface, and available to use for free for your teams. Sign up for free today.