16 Best Task Management Software To Get Things Done [2023 Guide]
Managing your team's tasks and activities and looking for the best task management tool. Check out the top 15+ task management software in this comprehensive guide.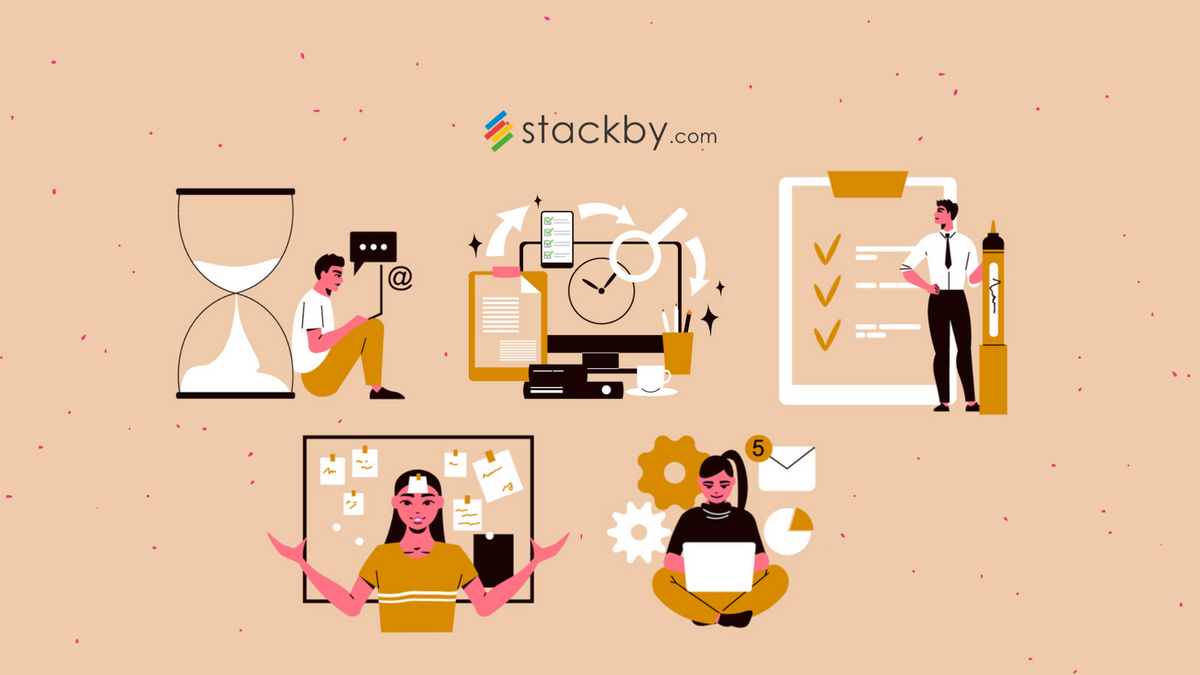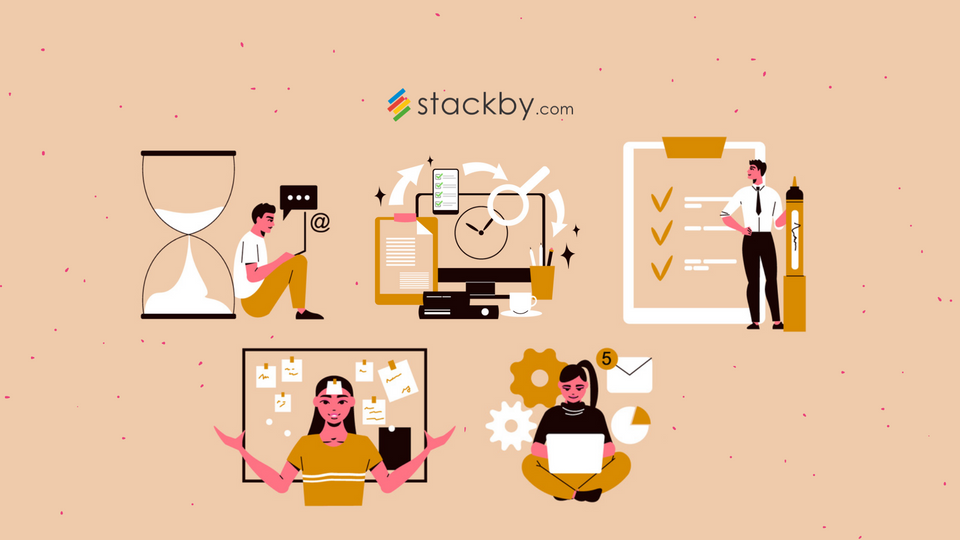 Introduction
Being the CEO of a startup is not easy. The persistent hammer of uncertainty further heightens the strains already brought on by a tight budget and scant resources. Every week, as a startup's business expands, so do the difficulties that come with it.
As a project manager, you are only able to manage team cooperation, keep track of deadlines, and evaluate the state of your projects. Most companies use a handy task management application to promote an orderly workflow. Because you have a wide range of automated buddies to share your burden, why let everything fall on your mortal human shoulders?
What is task management software?
Using task management software, you may plan, organize, and prioritize your tasks so that you can finish them quickly and within the allocated time limit. Such technologies are specially made to meet the needs of project leads and eliminate the possibility of missing objectives and going over budget. In essence, task management software can help individuals reach their objectives or teams of individuals work together to accomplish shared objectives.
What Are The Key Features of Task Management Software?
The purpose of task management software is to assist teams and individuals in keeping track of their assignments and projects, ensuring that they are finished on schedule and to the needed standard. The key features of using task management software include:
Task creation and assignment
Task prioritization
Task tracking
Task progress monitoring
Collaboration
Communication
Reminders and notifications
Customization
Individuals and teams can benefit from task management software to stay organized, focused, and productive, as well as to ensure that projects are completed successfully and on time.
Why Would You Use Task Management Software?
Let's briefly go through the features of why your startup firm can benefit from using one before we help you select the best task management software.
1. Organize team communication and workflow on a single platform.
2. With a few clicks, you can easily maintain and track team accountability for a variety of duties.
3. Utilize an automated system to track each team member's productive time at all times.
4. Make a central location where documents may be stored, shared, and retrieved.
5. Avoid wasting time manually organizing and updating the project schedule.
6. Virtual meetings can be scheduled and attended from anywhere in the world.
You will be faced with a bottomless sea of software options if you have never utilized a task management program. This also implies that you are equally likely to invest in the incorrect software, which may first seem like a fantastic idea but would end up being a major source of disappointment.
Pros and Cons of Using Task Management Software
Task management software is a valuable tool for individuals and teams looking to improve productivity, collaboration, organization, and accountability, while also saving time and enhancing decision-making capabilities.
While task management software can bring many benefits to users, there are also some potential drawbacks to consider. It is important to weigh the potential drawbacks, including the learning curve, technical issues, cost, overreliance, distraction, privacy concerns, and lack of personal touch, before deciding to use such tools.
Statistics of people using task management software
As we reach the first half of 2023, project management statistics reveal an important piece of information about recent developments in this fast-growing industry. Project managers and organizations should refer to these accurate statistics while implementing strategies and making important decisions in projects.
Using efficient task management and team collaboration software can enhance your chances of project success by streamlining your workflow and organizing all your work in a centralized location.
Stackby is one such tool that can enable you and your project team to achieve enhanced productivity and collaboration in the most simple way possible.
List of Task Management Software
A complete cloud-based task management software is Stackby. It is as easy to use as a spreadsheet, works like a database, and connects quickly to other apps and services. No training needed to begin.
It is a versatile platform that offers several features for task management like chat, recurring checklists, reminders, email notifications on each record. You can also add status, checkboxes, collaborators and progress bar column types in your tables to get things done. You can visualize your data in a table, kanban board, calendar or even a gallery view.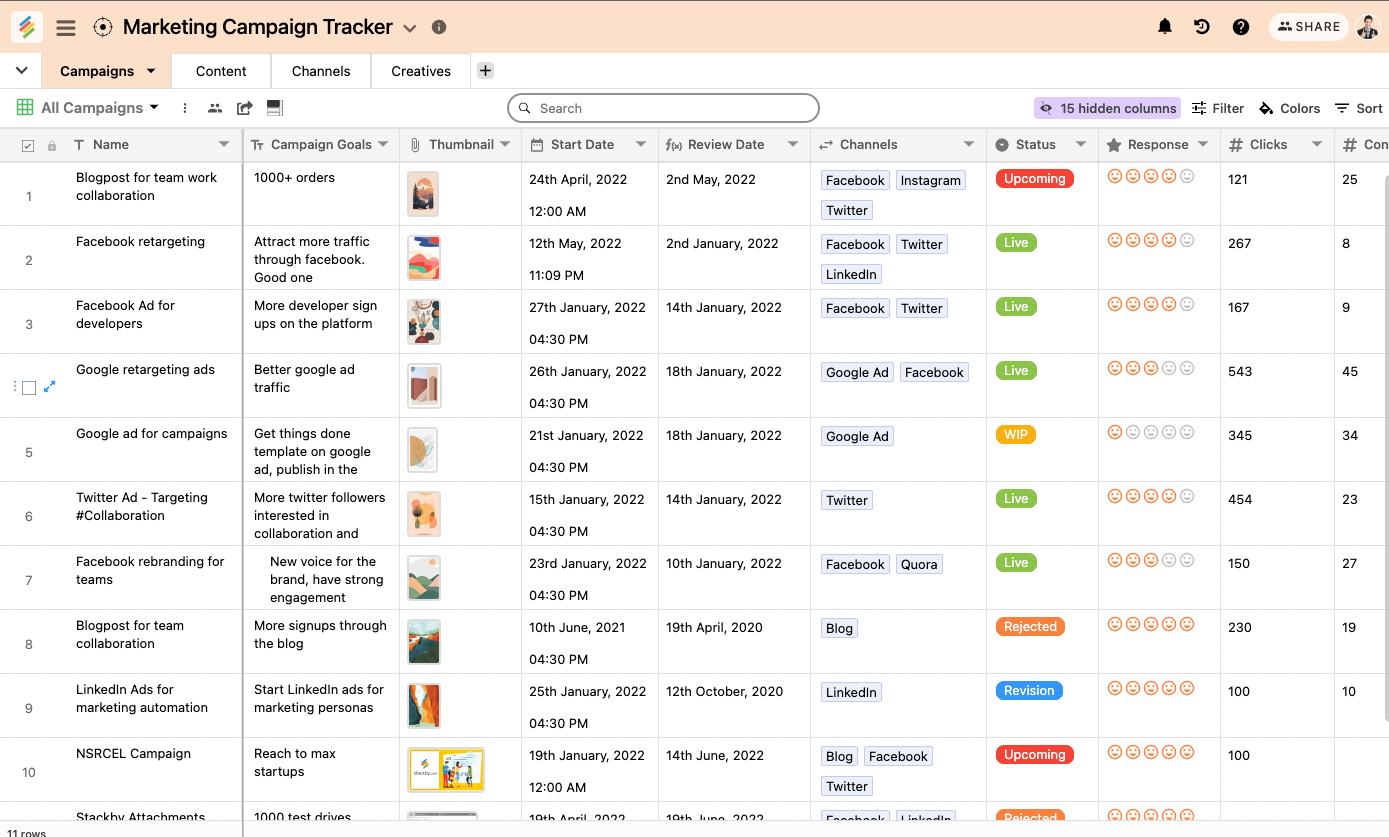 It allows you to create customizable databases, spreadsheets, and forms to manage your tasks, projects, and workflows.
Teams from different kinds of departments, including marketing, sales, human resources, product management, project management, advertising & creatives, etc. To manage and automate their work in their unique ways, more than 20,000 firms use Stackby globally.
Stackby has a strong focus on integrations like Slack, Microsoft teams, Google Drive etc., so if there's an app you love, chances are Stackby works with it.
Manage all your tasks for free in Stackby today & check out the free task management template for your teams.
Asana, a task management software, has built a name for itself as one of the best task management software available on the market. You may create and manage tasks individually, include them in projects, and keep track of them using a variety of devices. Through choices for comments, likes, and following, team members may quickly communicate with one another and work together on the task at hand. Additionally, Asana makes it simple to share documents and other types of data. You can collaborate without using email or other external add-ons thanks to Asana.
Trello, one of the great task management software, doesn't need an introduction because it embodies fundamental task management. Trello's unique selling point is its straightforward interactive Kanban boards, which make it simple to drag and drop jobs from one column to another. Trello has won a special place in the hearts of small setups and has established itself as a must-have in the manager tools area because of its extraordinarily generous Free plan, which allows unlimited members, boards, and checklists.
Nifty is primarily a project management tool and a straightforward task management tool, but it is gradually building a solid reputation in this congested task management tool industry. It offers customers a wide range of capabilities that help with project management and team communication. For small teams looking to invest in something affordable to increase team productivity, Nifty's modest pricing structure is for the big seller. It also wins hands down in the manager tools category.
The workspace at ClickUp is excellent and has many features, including task management. It has the features and capabilities needed to swiftly organize tasks and make adjustments. You can globally sort the jobs using this. Finding the tasks is made simpler by the use of filters and search engines. For every scenario that can be imagined, including recurrent duties, ClickUp provides a functional solution.
Paymo is the only system you need to consider if you want a project management tool that can handle everything. This project management system includes common collaboration, task management, accounting, and scheduling capabilities as well as customized add-ons and connections to streamline your workflow. It's one of the most affordable systems, especially in light of the variety of tools it includes. Paymo offers capabilities for invoicing, accounting and reporting in addition to task and team management.
Basecamp might be the next-best task management software for you because it has a concentrated but potent set of features that can help you streamline your task management operations and is reasonably priced. Additionally, Basecamp provides you straightforward pricing if you choose to maintain the payment plan hassle-free, at a single standard charge, independent of the team size, as opposed to navigating between numerous payment plans.
The Monday work feelings are already here! One of the most user-friendly project management tools, Monday can undoubtedly save your job thanks to its cutting-edge features and highly dynamic layout. Due to its simplicity, use, and visually intuitive layouts, this tool is regarded as one of the best task management tools available and is ideal for teamwork & job management. Both mid-sized and large teams can benefit from using it.
Flow may be among the top task management software for startups if you're searching for a simple yet comprehensive task organizer. Task management software is made even more enjoyable by Flow because of its aesthetically pleasing and simple user interface. You can rapidly organize the upcoming tasks using the timeframes and arrange each person's responsibilities on your timetable using the simple drag-and-drop method.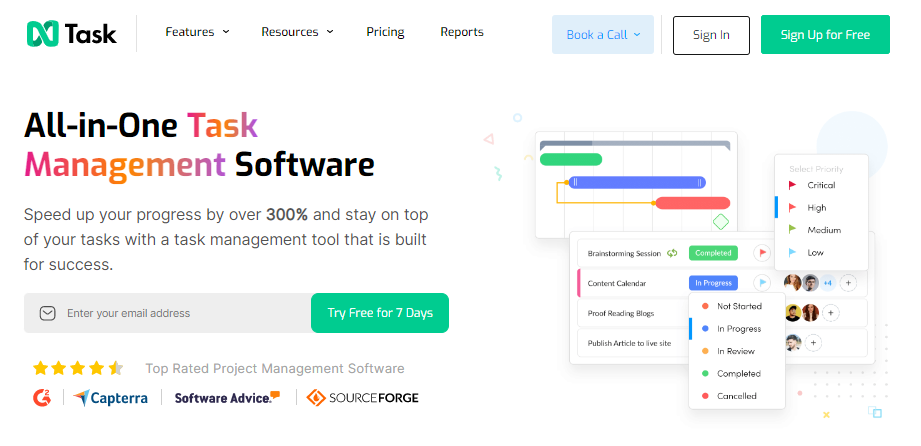 Different teams use the simple and reactive work management tool nTask for small firms and individuals. No matter if the project is for personal or business use, it can be managed alone or in groups. You can make as many teams and workspaces as you need for various projects, work goals, or even for various departments within your company. With the task application, you can undoubtedly do more in less time, but just so you know, you won't have access to a Kanban board or reporting insights.
Wrike is one of the top task management apps for teams of all sizes in all industries. It is a complete project and task management app with a steadily increasing subscriber base. This application is one of the all-in-one solutions, providing a wide range of features with a slick interface to manage projects with complexity ranging from basic to enterprise. Wrike makes it simple to remain on top of your projects with minimum effort, starting with numerous pane views for viewing and monitoring information from various angles.
Todoist makes a mark by offering some reliable task management features for you and your team. Todoist includes native project templates just like some of the top task management programmes, which saves you the trouble of having to start comparable projects from scratch. Use the quick add feature to record any ideas that come to mind right away. You can further arrange your tasks any way you like and follow your priorities using the colour labels, tags, and themes.
A complete project management solution is Zoho Projects. With built-in Gantt chart reports, Kanban boards, forums, social feeds, resource utilization charts, templates, timers, chat, and much more included in one package at no extra cost, teams can plan, track, and interact online successfully. The most recent enhancements to Zoho Projects allow task automation with Blueprint and addressing groups of users as teams.
ProofHub unifies all employees in one empowered workplace. Utilize it to establish projects, allocate work, cooperate, adhere to deadlines, produce insight, and go above and beyond expectations. several features, add-ons, integrations, and support options, such as white labeling, languages, and the enduringly well-liked "Me-view."
Do you know the sensation you experience when you have a tonne of work to do but aren't sure how to do it all?
SmartTask can help in this situation. SmartTask allows you to efficiently arrange your work with a stunning UI and robust capabilities. You may easily make repeating tasks, subtasks, task dependencies, and other things with its help. To ensure that things are done, you can even auto-schedule them.
One of the task management software created particularly for client work is Teamwork.com. Deliver work on schedule and within budget; remove client confusion; and comprehend profitability on a single platform. Customers of Teamwork may track and manage their projects using a variety of integrated tools, including add-ons for collaboration, knowledge sharing, helpdesk, and customer relationship management, making it a go-to resource for business owners.
Conclusion
Task management software is crucial for you if your job requires you to assign tasks to your larger team. The most well-liked open-source, free task management software such as Stackby, are provided in this article. Before choosing the finest task management for your project, you may test these out. Although every project has a different set of requirements, all task management solutions have the same overall objective.
Sign up for free with Stackby and manage and streamline your task management process today.