The 8-Step Client Onboarding Checklist (with free templates)
Managing clients as an agency or a firm? Here's your to the point 8-step client onboarding checklist to adopt and make your client onboarding process a breeze.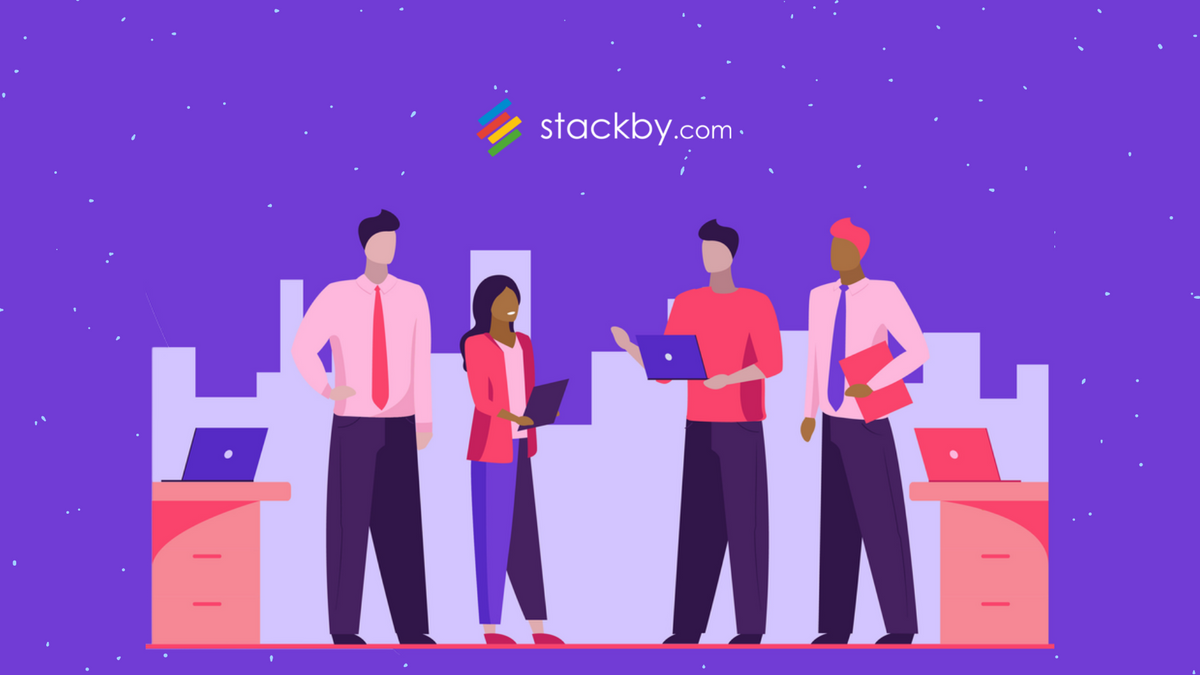 Congratulations on securing yet another client! You must be on cloud 9 right now, and rightly so. Not to be a buzzkill here, but what if I tell you there is an actual chance for your client to change their mind in these first few days? So does this mean you cannot relax until the project with the client is completed? No. But the first few days are crucial in solidifying your relationship with the client and showing them what you are made of. This is why client onboarding is so very important for their retention.
In this article, we will discuss in detail what client onboarding is and how you can effectively conduct the process to secure the client finally.
What is Client Onboarding?
In plain and simple terms, client onboarding means properly introducing your company and your offerings to the client and creating a positive impression on them. We all know how important first impressions are in personal or professional life. They are basically the founding layers of a long and healthy client relationship.
Client onboarding must be done in a step-by-step manner, carefully planning each step so that everything goes perfectly. Let the client meet your team and get familiarized with the tools you use. Make them comfortable with your company and feel confident in their decision of choosing you.
Why is Client Onboarding Important?
Many businesses still skip the client onboarding process, mostly because they are unable to see the far-fetching impact of it. Invest some time and effort in coming up with a good client onboarding plan and see the compounding benefit of this single action. Let us look at some of the many benefits of a client onboarding process:
It increases client engagement: By conducting client onboarding, the client builds a connection with the company and its team. They feel more involved in the project, increasing their engagement in it.
Makes the client more satisfied: Through client onboarding, both the client and the company get a chance to set clear expectations and have a clearer idea of the output. It helps the company make a much more personalized output which in turn increases client satisfaction.
Helps build a good relationship with the client: In order to make sure that you build a strong relationship with the client and make them come back for your service again and again, a good client onboarding process is crucial.
3 Things to look for in Client Onboarding Tool
A client onboarding tool helps companies manage the possess more efficiently and automate tasks wherever necessary. Consider it as a helping hand to support you during one of the most crucial interactions with your clients. Let us look at the top three features you must look for in a client onboarding tool:
1. A user-friendly interface: If your client onboarding tool is way too complex to handle, it might ruin the entire client onboarding experience. A clumsy and cluttered portal could create an impression of unprofessionalism. So choose a tool that is easy to use, has an easy learning curve, and is handy.
2. Customizability: Even though you can choose a client onboarding tool that is somewhat aligned with your needs, you cannot find everything the way you expected it to be. This is why you should look for the level of customization the company provides. It helps you personalize the process for a better client experience.
3. Performance trackers and reports: In order to correctly track the progress of the process and the direction in which the client onboarding is going, it is necessary for an onboarding tool to have performance reports and in-depth reports in them.
A Step-by-Step Guide to Client Onboarding
Still confused about creating a client onboarding process of your own? Use the following guide as a template and create an efficient client onboarding plan to build better client relationships and a successful business empire.
Step 1: Set clear expectations and goals
What do you have in mind? What does your client have in mind? Do both of these match? This is what we will deal with in the first stage of the client onboarding process.
Ask the client to clearly communicate their needs and provide an in-depth report of what you are planning to produce for them. Ask the client to send in any necessary documents needed to get a better idea of the project like work samples or blueprints.
Build a clear foundation by being on the same page with the client.
Step 2: Design a client onboarding questionnaire form
It's time to examine things more closely and understand the specific needs of the client. In order to do so, it would be beneficial to create a client onboarding questionnaire. If you are worried about creating a questionnaire all by yourself do not worry.
Stackby is a great tool that can help you create a questionnaire or form to send to your client. Once they fill it up and send it back, you'll get a much clearer idea of what you're dealing with. That way, you can plan the next steps of your onboarding process with more confidence. Pretty neat, right?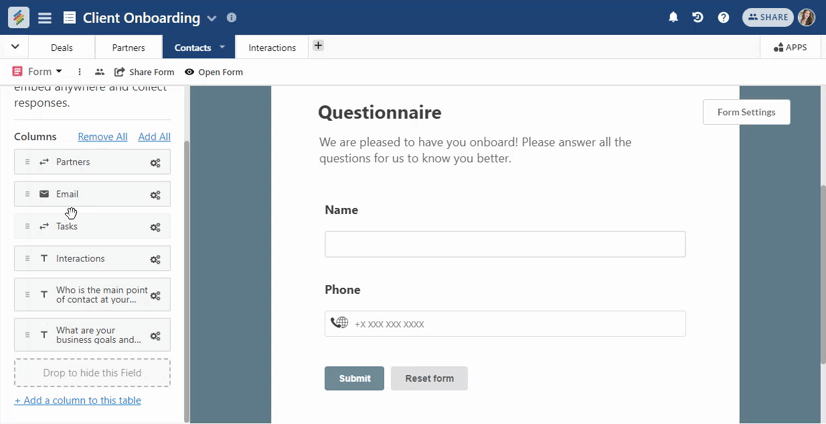 With Stackby's Form View, you can collect form (questionnaire) responses right inside your tables by embedding or sharing the form link.
Step 3: Execute and store contract documents
Having trust in your clients is awesome, right? It's a two-way street - you trust them and they trust you. However, if you want to make your relationship more professional and rock-solid, you should consider getting some paperwork done.
Like, have you heard of NDA and service-level agreements? They're important documents that you and your clients should sign. That way, everyone knows what to expect and you can avoid misunderstandings down the line. It can specify the milestones to be achieved by the project, the dates on which these milestones have to be met, the final date of submission of the project, and anything else you find important to get down in writing.
With Stackby's Business Contract Management Template, you can manage and store all the contracts and agreements. Use this pre-built template and customize it as per our needs.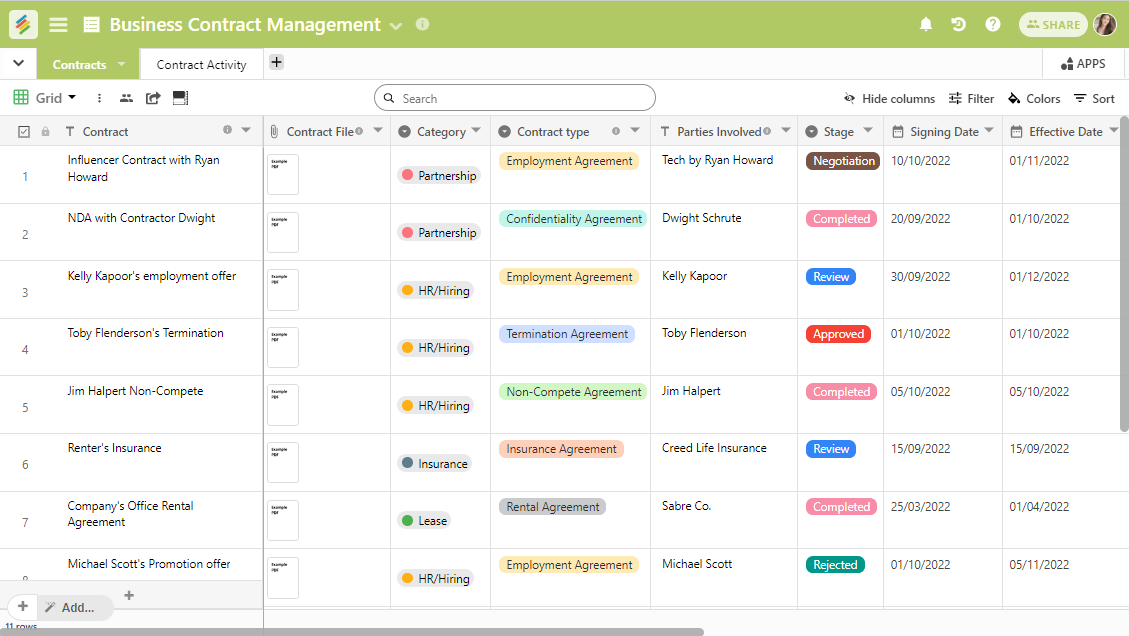 Step 4: Setup your project plan
Create a detailed plan on how you intend to execute the project. Start by dividing the project into smaller parts and assigning employees to these tasks. Set a due date for each of these tasks.
It would be beneficial for you to invest in a project management app like Stackby which would make this step much easier for you.
Project Planning Template by Stackby can let you store all the necessary information related to the project's tasks and the people assigned to every activity. Set deadlines, prioritize tasks, add notes and collaborate with your team in real-time.
Once you are all set with the project plan, add your client to it so that they can see the real-time progress of the project.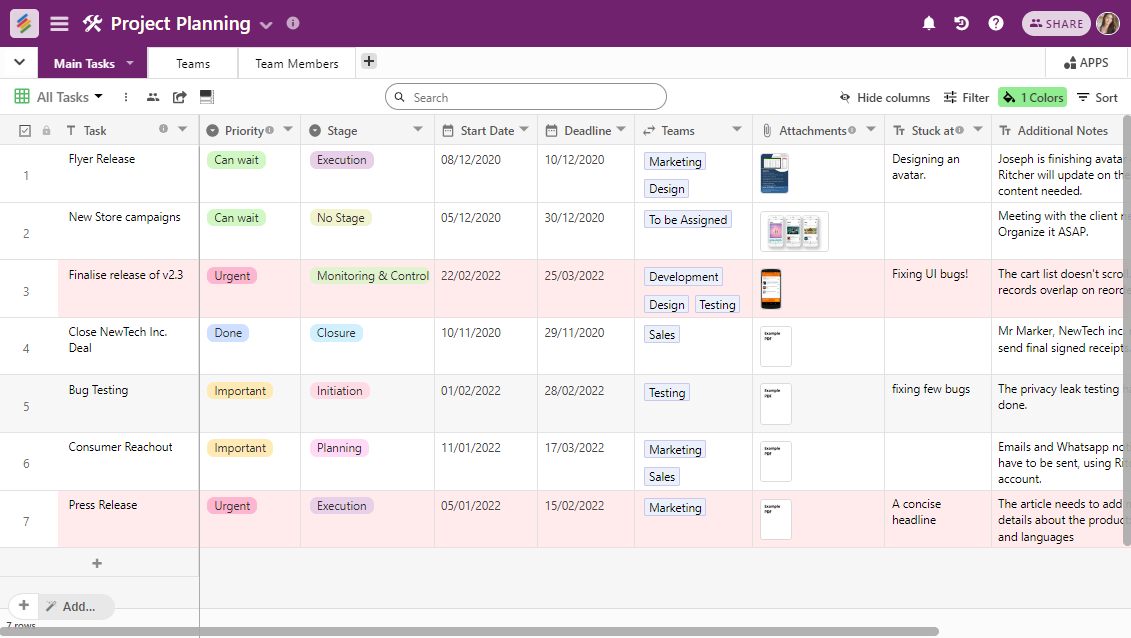 Step 5: Host project kickoff meetings
Conduct an official meeting to formally kickstart the project. You can include the client, employees working on the project, and anyone else you feel is important to the project in the meeting.
With Stackby, you won't have to worry about forgetting the meeting time. It automatically sets reminders for any meeting and event you wish to get notified on.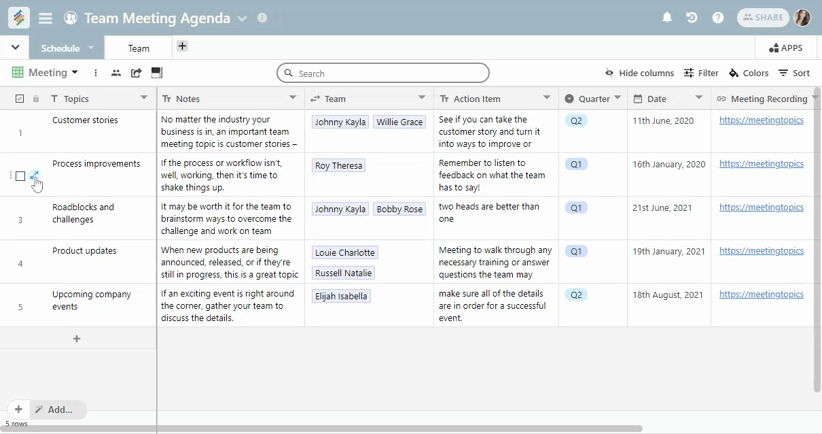 Step 6: Plan routine follow-ups
Even when the project has been kicked off and things have picked up pace it is crucial to keep the client in the loop. Merely adding them to the project management app won't do. Hold routine follow-up meetings or send them a weekly mail detailing the progress of the project.
Step 7: Share your masterpiece
With Stackby as your project management tool, you can see the comments, views, or feedback of clients on the progress of your work. In addition, if you're looking for an alternative to Clickup, Stackby offers a comprehensive dashboard provides an overall image of the real-time position of the project as well.
Step 8: Optimize your onboarding experience
If you still feel like you could do an even better job and exceed the expectations of the client, you can send them a questionnaire or feedback form to fill up. Questions can be more specific this time since the project has moved some distance. It helps you correctly gauge the level of satisfaction of the client and what they wish to see as the output.
Stackby's Pre-built User Feedback Tracker Template enables you to collect feedback forms from your internal and external clients. Customize it the way you want by categorizing data, adding questions and more.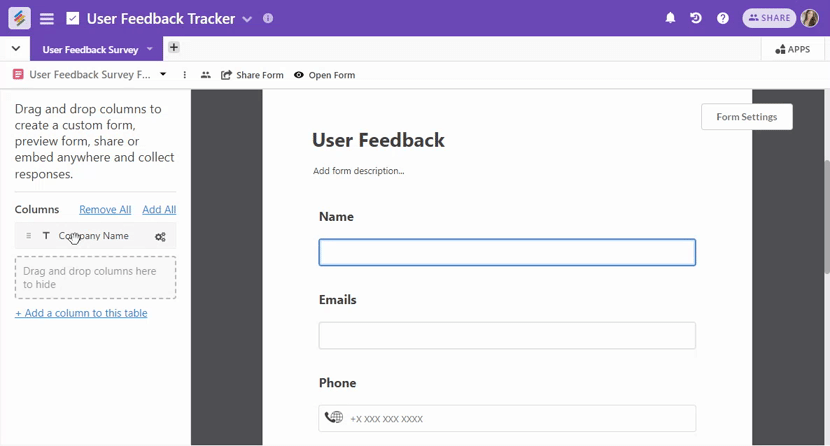 Conclusion
A client onboarding process done well can help you go a long way in building a good relationship with the client. It also helps your company and your employees have a crystal clear understanding of what the client expects from them and in what time frame they have to deliver the results. It removes any obstacles from the process and sets smooth sailing.
So make it a priority to invest in a good project management app like Stackby and make your client onboarding possess that much smoother. Sign up for free to get started.