Your Ultimate Guide to Project Management in 2023
Learn everything about project management in this complete project management guide for 2023 & beyond.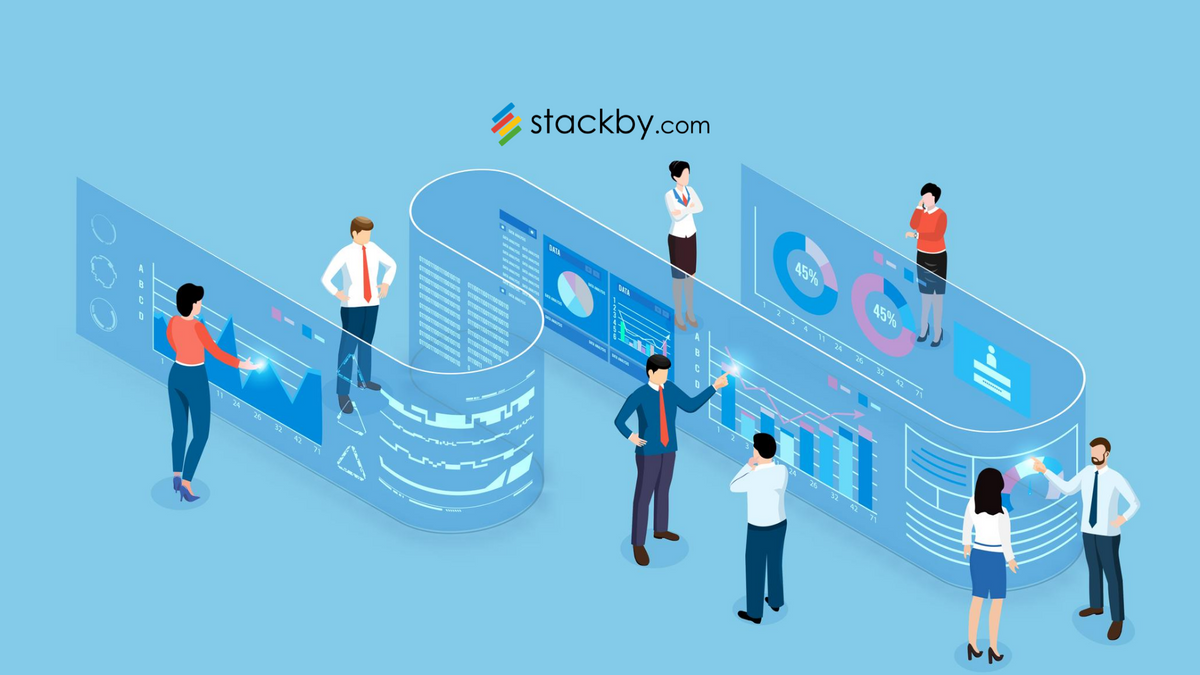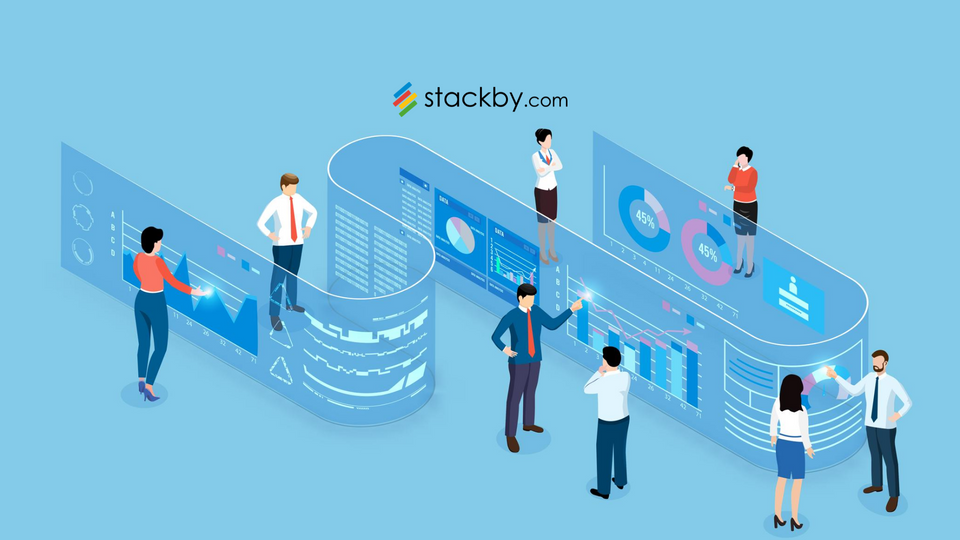 Index
Introduction
What is Project Management?
Why is it important to manage projects?
History of Project Management
5 phases of Project Management (KW: project management process)
Popular approaches to project management
4 frameworks for Project management
Main reasons for project failure
How to streamline your projects effectively?
10 areas of Project Management (as per PMI)
Roles & Responsibilities of a Project Manager
6 steps to get the most out of project management software
Why use Stackby for project management?

Introduction
Being able to manage and complete a project on time and within budget is not simple, regardless of how much expertise you have in project management. Each project is unique and has its own set of project management difficulties.
No matter what kind of project you are working on, there are undoubtedly strict deadlines and high expectations.
In project management, everything is done by a set of rules. In contrast to other areas, you cannot learn from experiments trying things out can only lead to failure. To succeed, you must adhere completely to the regulations.
That's where this ultimate guide will be helpful for you. So let's start with -
What is Project Management?
The planning and coordination of a company's resources to advance the completion of a certain work, event, or responsibility is known as project management.
The resources handled include people, money, technology, and intellectual property, and it may entail a one-time project or continuing work.
Utilize 25 Project Management Templates for free
Project management is frequently connected to industries like engineering, building, and, more recently, healthcare and information technology (IT), which frequently need the completion of a complicated collection of components and their precise assembly to produce a finished product.
Regardless of the industry, the project manager's duties typically include determining when and by whom the different project components are to be completed as well as helping to establish the project's goals and objectives.

Planning, initiation, execution, monitoring, and closing are the general stages of the project management process.
Every project typically has a spending limit and a deadline. Everything stays on schedule, under budget, and moving smoothly thanks to project management.
This implies that when the project's timeline approaches, the project manager may continue to work with the entire team to complete it on time.
Why is it important to manage projects?
Clients occasionally ask an intriguing question: "Why is project management important?" They will inquire: "Can't we just oversee and brief the team executing the work? You'll save a tonne of money.
On paper, project management appears to be a superfluous cost and tax since they seldom provide anything and frequently stand in the way of what they want the team to accomplish.
If all of that is true, then why is project management important?

Running projects without effective project management is, in reality, a false economy. It may be expensive—up to 20% of the total project budget—and is frequently perceived as a needless drain on resources.
But could you function without project management?
What would keep the client and team together without it? And without it, who is left to steer projects through their ups and downs, conflicts, and disasters?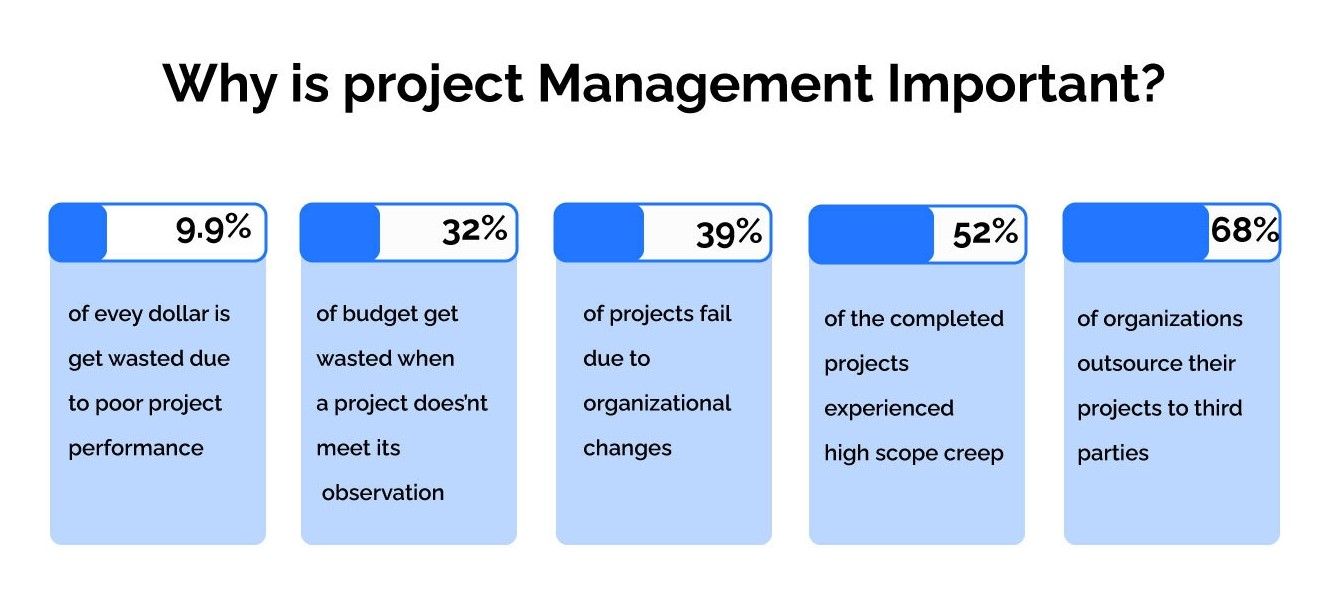 Good project management entails much more than ensuring that the project is delivered on time, within budget, and in accordance with the project scope. It also involves bringing clients and teams together and establishing a vision for the project's success.  When projects are run well, the benefits extend far beyond the actual delivery of the things. Check out the list:
Leadership
Clear Focus & Objectives
Realistic Project Planning
Quality Control
Risk Management
Orderly Process
Continuous Oversight
Subject Matter Expertise
Managing and Learning from Success and Failure
History of Project Management
Although project management has been used for thousands of years, dating back to the Egyptian era, corporations have only recently begun using systematic project management tools and procedures for challenging tasks.
Modern project management techniques were used by the Navy in the Polaris project in the 1950s.
The Department of Defense, NASA, and sizable engineering and construction firms all used project management ideas and techniques to handle big-budget, time-sensitive projects during the 1960s and 1970s.
The manufacturing and software development industries began to embrace and use sophisticated project management techniques in the 1980s.
By the 1990s, several businesses and organizations had adopted project management ideas, tools, and processes.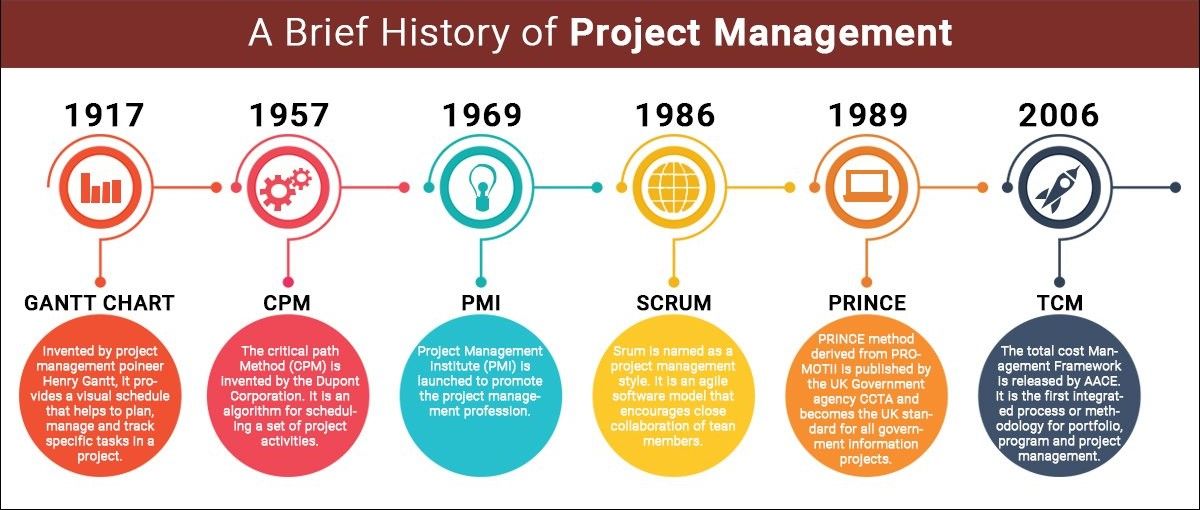 Since Fredric Taylor published The Principles of Scientific Management in 1911, approaches have been established, leading to a refinement of the profession during the past century.
In 1917, Henry Gantt created the first Gantt charts. In the 1950s, Taiichi Ohno of Toyota introduced a crude version of Kanban and Lean in their production facilities.
Five phases of Project Management
A project phase is a group of interrelated project management tasks. In the project life cycle, the stages are frequently related in a timely order, and the completion of one or more project deliverables marks the end of each phase.
Following are the five project management phases:
Project Initiation
Project Planning
Project Execution
Project Monitoring & Control
Project Closure
Project Initiation
The project initiation phase establishes high-level expectations, such as why a project is necessary, if it is possible, and what is required to execute the project.
The project needs documentation (business case), an initial list of stakeholders, an estimation of the time and resources needed to accomplish the project (project charter), and any necessary stakeholder approvals are outputs of this phase.
Project Planning
Project managers describe the project's scope, schedule, and dangers at the planning stage. A successful project plan is made up mostly of completeness and continuity.
A thorough project plan, a project communication strategy (if there is no project plan), a baseline budget, a project schedule, individual project goals, a scope document, and an updated stakeholder register are all products of this phase.
Project Execution
The project team members are coordinated and led during the project execution phase through effective project communication to complete the job as outlined in the approved project management plan.
This phase also addresses the efficient distribution and administration of other project resources, including money and materials. The end result of the execution phase is the project deliverables.
Project Monitoring & Control
The time, cost, and performance of the project are compared at every level of the project monitoring and controlling phase, and any required changes are made to the project activities, resources, and plans to keep things on track.
Project status reports and other communications that guarantee adherence to project goals, avoid missing major milestones, and meet deadlines are among the results of this phase.
Project Closure
In a project management life cycle, the process of wrapping up the project, assessing the project deliverables, and handing them off to the business executives is referred to as project closure.
Time is available at this point for both celebration and introspection. This project management phase produces outcomes that have been accepted for the project as well as lessons learned that may be used on future projects of a similar nature.
Popular approaches to Project Management
In order to manage and complete project activities, project management approaches provide a set of procedures, techniques, and tools. They guarantee consistency, deconstruct complexity, cut expenses, and lessen hazards.
There are several tried-and-true project management techniques available. Listed below are some of the most popular types of project management approaches:
Phased approach in project management
Lean project management
Iterative and incremental project management
Critical chain project management
Product-based planning
Process-based management
Project production management
Phased project management approach
The greatest option for large, complicated projects that must be completed in phases owing to outside project restrictions is a phased strategy. Each phase in this method runs from commencement to closure via all five process domains. All work is evaluated and sequentially transferred to the following step at the conclusion of each phase.
The phased strategy is often known as a waterfall or classical model. For straightforward, compact jobs, it is the best option. With increasing project complexity and magnitude, there are more uncertainties and hazards associated.
Lean project management
Lean project management is a data-driven methodology that emphasizes process improvement and waste reduction via the effective use of resources (cost, time, and people). This project management strategy includes thorough planning, visually appealing documentation, ongoing analysis, and regular process improvements.
If a project adheres to the fundamental lean principles, it is deemed to be lean. Lean project management techniques include the Deming Cycle (PDCA), Lean Six Sigma (DMEDI), Value Stream Mapping (VSM), and kanban methodology.
Value stream mapping is preferred by most organizations since it gives them an accurate and thorough representation of every stage of the project.
A lean transition is documented and guided using the potent, two-dimensional technique known as value stream mapping (VSM). In addition to showing individual lead times and cycle times, it also enables firms to clearly identify wastes that impede project progress.
Organizations may cut administrative processing times, remove lean wastes, and consistently fulfill project deadlines and goals by watching and comprehending the visual flow of a project.
Iterative and incremental project management
To manage change and lessen inherent project risks, the iterative and incremental approach is a change-driven project management methodology. A large-scale, multi-company project with uncertain criteria and a high level of risk is ideal for this project management style. For the creation of software, it is frequently utilized.
The incremental and iterative method gave rise to a wide range of project management techniques, including Agile project management, Extreme project management, and others.
Critical chain project management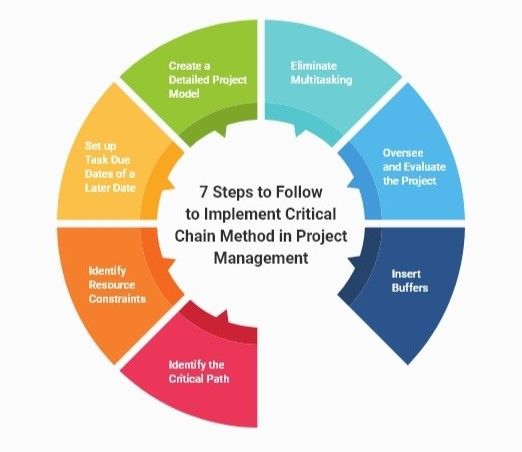 Projects are planned and managed using critical chain project management (CCPM), which takes into account resource limitations (personnel, equipment, and more). The theory of constraints (TOC), which holds that a chain is only as strong as its weakest link, serves as the foundation for it.
By including buffers to the built-in resource and project task dependencies, CCPM prevents project delays.
PRINCE2 product-based planning approach
Contrary to conventional techniques, which place more emphasis on activities and tasks, product-based planning is a structured approach to project management that places more emphasis on outputs and project deliverables (including intermediate products).
Deliverables are much easier to describe and organize logically because there are significantly fewer of them than tasks. The method most frequently used to apply this strategy is PRINCE2.
Process-based project management
Project managers can establish, manage, and enhance projects that are in line with a company's vision, purpose, and fundamental values thanks to process-based project management. The most crucial organizational objectives are achieved through the accomplishment of all project activities and objectives.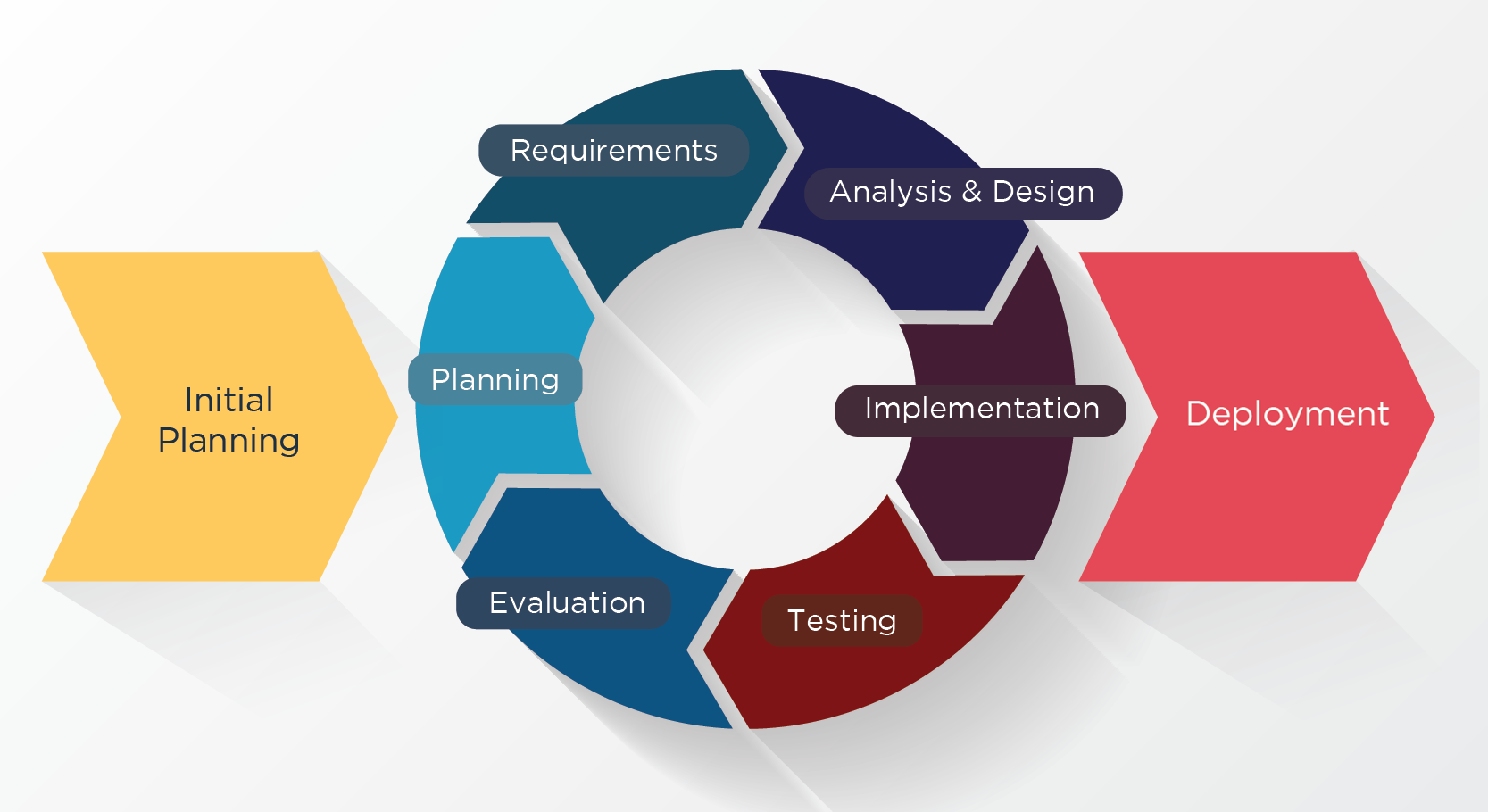 Project production management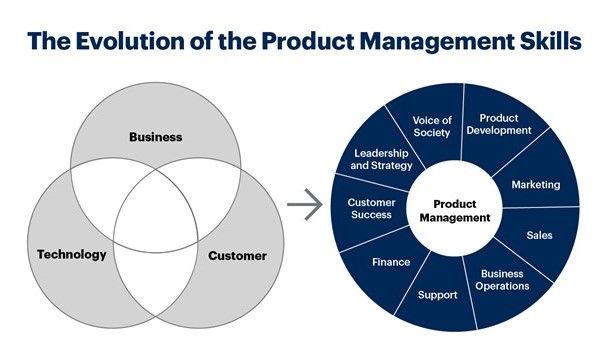 To better comprehend and maximize project delivery, project production management (PPM) is a strategic strategy that integrates operations science ideas and concepts.
PPM is distinct in that it provides predictions about boundaries and determines what can really be accomplished using data from project activities. Additionally, it aids in creating the right control mechanisms to reduce unpredictability.
4 frameworks for Project management
Choosing a framework is one of the most important project management decisions you'll make since it determines how you organize your team and how you plan and monitor your projects.
Here are high-level explanations of the top project management frameworks
Waterfall project management
Selecting a framework is one of the most important decisions you'll make in project management since it determines how you'll organize your team and how you'll plan and manage your projects.
As promised, the following are high-level summaries of the most popular project management frameworks
Kanban project management
Continual improvement is the main focus of Kanban project management, as opposed to the Waterfall paradigm. Your team decides how to enhance goods, marketing, or procedures using a Kanban board like the one shown above.
Who ought to employ Kanban? You may reduce your work-in-progress (WIP) and swiftly shift tasks from "Working" to "Finished" by using a kanban system. For teams that get plenty of inbound requests, Kanban is fantastic.
Scrum project management
The most well-liked method for putting Agile project management into practice is the Scrum framework. It breaks up longer projects into small sprints of 1-4 weeks that can change to meet demands as the project progresses.
It also specifies guidelines for team composition, team responsibilities, planning, meetings, deliverables, and other issues. It's well-liked among software engineers, but it's also excellent for teams who want to deliver working pieces of their work over the course of a project. For marketing campaigns, product design, or other artistic endeavors, as an illustration.
Agile project management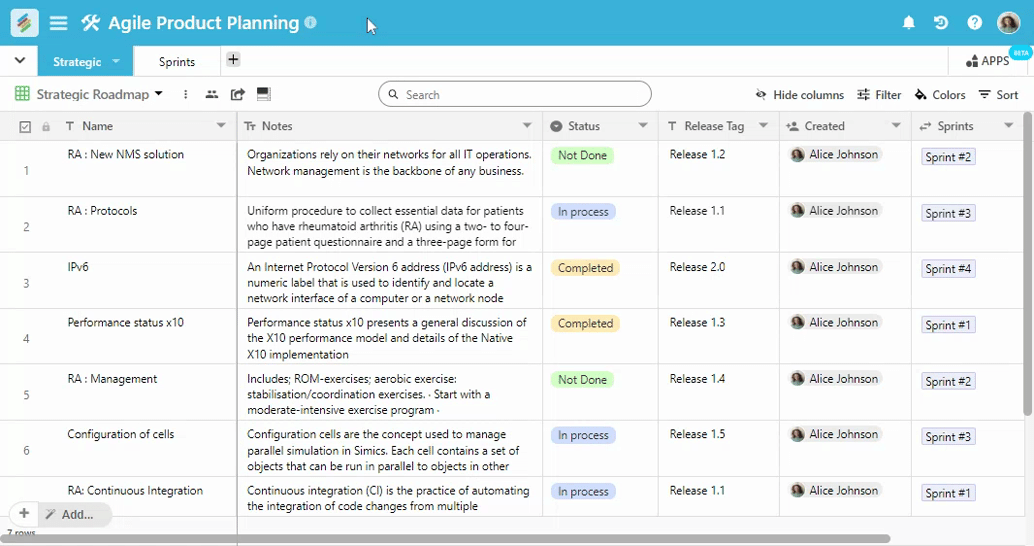 Agile is a buzzword in project management and is frequently suggested as a general remedy for unproductive businesses. However, it has certain distinct flaws of its own, such as the following.
Scrum and other agile frameworks are made to allow for errors, trial and error, and unforeseen developments. In other words, don't expect your operations to function smoothly if you choose an Agile methodology. It may also be challenging to grow beyond the level of a small team. On the other hand, many teams find that their ability to modify project plans as needed is essential to their ability to complete the project at all.
Main reasons why projects fail
Any feasible endeavor is vulnerable to failure for one of the following five reasons:
A lack of resources prevents the project from being finished.
Lack of time allows for difficulty finishing the job on time.
Uncertain aims might provide improper results due to a lack of thorough documentation.
Poorly managed stakeholder expectations lead to project scope adjustments that stakeholders do not agree to, which results in conflicting opinions on quality, timeliness, and budget.
Poor risk management can lead to project failure because the risk involved in each project is not identified.
Nobody begins a project with the expectation that it would fail, yet most projects do so because their project managers fail to see the necessity of streamlining their project management processes.
How to streamline the Projects Effectively
Process simplification avoids needless complexities in initiatives. Of course, one of the major challenges to finishing a project on schedule and within budget is excessive complexity.
Even initiatives with a clear strategy and objectives can spiral out of control and turn into something they were never intended to be.
Fortunately, there are a few approaches you may utilize to simplify project procedures while maintaining an emphasis on the final objectives.
Keeping an eye on the big picture
Like a jigsaw puzzle, project management requires you to use the image on the box cover as a guide to putting the pieces together.
If you become preoccupied with one or two components and fail to see the overall picture, the project may come to an end.
Individual actions are frequently planned with the doing rather than the final or interim results in mind.
By doing this, the emphasis switches from organizing the activity to organizing project activities according to the goals. That's a whole other tale.
Use inspiration from or adhere to established procedures
Don't be hesitant to use techniques that have been successful in the past while drafting a project plan and usually throughout the project's life cycle.
You can either take a cue or completely imitate a procedure that another team has successfully created to finish jobs of a similar nature.
Best practices are a repository of useful tools that may be shared with other teams and used for different projects.
Give them names, dates, and consequences.
It's not always necessary to take action to simplify things. Clarity is sometimes necessary!
Example? Saying someone is in charge of this or that and letting them organize a task is frequently insufficient.
In most circumstances, the project manager is required to specify an activity, its due date, and any potential repercussions of not meeting those deadlines.
This does not include threatening the team with dismissal, but rather informing them of the responsibilities that are more important than this specific job and the possible expense or impact of a delay.
In many instances, the parties involved only get one piece of the puzzle and are unable to view the whole result picture.
Because of this, they might not be aware of the other factors at play. By explaining what is involved, you can help them grasp the significance of their actions and prevent them from using ignorance as an excuse.
Use project management tools
With the aid of project management software, you can centralize all the project's data and keep track of its progress at all times.
We make sure that the project manager and the entire team are on the same page, even while working remotely, by selecting project management software.
Additionally, daily, weekly, or monthly reminders from this kind of software are useful for managing priorities, keeping work on track, and reminding you of deadlines and due dates.
Team members will have more mental resources to concentrate on more complex "non-automated" duties if they are relieved of the burden of having to recall their daily chores.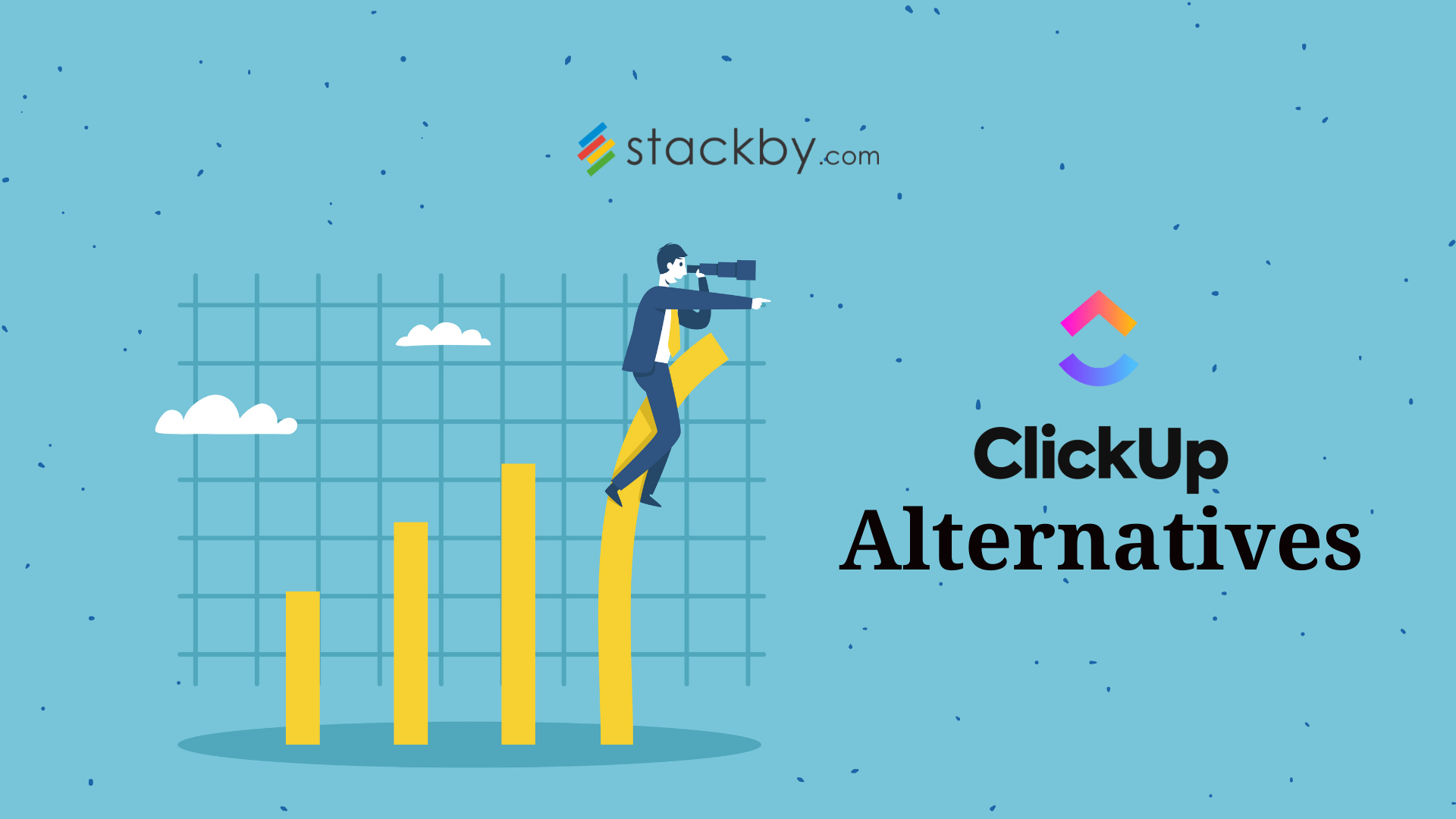 Stay organized
The project manager is in charge of overseeing every aspect necessary for a project to advance smoothly.
Tracking allocated and completed tasks are one of these specifics.
You must establish the following procedures as a standard operating procedure in order to maintain control over the project:
Regularly and often update the task status in project management software.
When an activity is complete, tick it off.
To prevent decreased performance, distribute responsibilities to team members at regular intervals but avoid overwhelming them.
Orderly operations and constant monitoring of team members' workloads contribute to good employee productivity and morale.
Reduce job size and manage priorities
It's crucial to manage priorities and pick a work order that complies with the law of diminishing returns, especially when several projects are being worked on at once.
Plans fall through and projects are not finished as swiftly or efficiently as they may be when this doesn't happen.
When managing limited resources, the project manager should focus more on a select few projects than on engaging all of them in order to streamline the process.
If you are engaged in more than one activity at once, the same rules still apply.
10 areas of Project Management as per PMI
Planning, communicating, and task management are necessary for effective project management. However, are you familiar with all of the key project management knowledge domains and how they interrelate?
You will acquire the necessary knowledge and skill sets from these 10 project management knowledge areas, enabling you to manage projects more successfully, please your stakeholders, and put out fewer fires.
Project integration management
All other project management knowledge areas fall under the aegis of project integration management. It combines several procedures and jobs into a project with clear objectives and outputs.
Project scope management
How often have you begun a project just to have unplanned duties sneak in, lengthening the time it takes to complete it? Because of this, the project's scope needs to be clearly established and upheld throughout.
Project time management
Almost all undertakings rely on several timetables and multiple people's schedules. In order to give themselves wiggle room and avoid feeling rushed, some team members may overestimate the time it would take to finish a job.
The time of others could be overestimated. Of course, unanticipated issues will delay your schedule as well. But it is precisely because of these factors that efficient time management is so important.
Project cost management
Whether you have a budget or not, your project will be expensive. A crucial component of demonstrating ROI on a project is to keep expenses low, or at the very least at an expected or fair level. After all, how can you measure if you've earned any money if you can't clearly specify how much a project will cost?
Project quality management
Quality in project management differs from perfection. Spending the time and money to complete a job perfectly is not realistic and is sometimes not even possible. Having uniformity across all of your projects is the aim of project quality management.
Project resource management
You chose project management in part because you like working with people, right? Creating cohesive teams and assisting each team member in developing their skills and learning new duties is one of the most satisfying aspects of this process. This knowledge area in project management encompasses more than simply scheduling and work distribution.
Project communications management
How frequently has the command "Keep me in the loop" been used? Nevertheless, perhaps significant stakeholders were excluded when adjustments were made?
Between inadequate and excessive communication, there is a delicate line. Prior to the commencement of your project, your communications management strategy will be essential in determining who needs to know what and when.
Project risk management
No venture, in actuality, runs without a hitch. Furthermore, assuming that a project would go without any problems is naïve.
Your team and the project requesters will be ready and more understanding when problems in a project arise if you can manage your firefighting by identifying important project risks and the mitigation methods connected with them. Additionally, you'll save time and effort up front rather than attempting to troubleshoot while your team is under pressure and running out of time.
Project procurement management
It's possible that you won't have the team members or resources on hand to finish a task in some situations or parts of a project. You should look for individuals that can integrate into the team easily if you recruit vendors or contractors to handle certain duties.
This knowledge area in project management gives the guidelines for what jobs or services will be carried out by outside contractors. Additionally, it constructs and arranges the coordination procedure and legal documents in advance. Although you might not utilize this body of information much or perhaps at all, it is tremendously helpful when you do.
Stakeholder project management
In the end, whether a project is successful or unsuccessful relies on how it is presented to the stakeholders. Who are your stakeholders, though?
Stakeholders include various individuals both inside and outside of the business, in addition to the person who requested the project. They also include team members who have worked on the project, contractors, suppliers, consumers, or the general public. In the project's view, not every stakeholder is on an equal footing.

Roles & Responsibilities of a Project Manager
Due to its broad definition, "project manager" can refer to a variety of activities and have different connotations to different individuals. So what does a project manager's usual job description entail? A project manager is in charge of managing it from beginning to end. An example of a project manager's duties is:
Planning the project
Creating a schedule and timeline
Executing each phase
Managing the budget
Serving as the liaison among all stakeholders
Troubleshooting and maintenance
Since they are in charge of directing the team and interacting with all necessary stakeholders on a daily basis, project managers must be extremely organized, meticulous, and people-oriented.
A good project manager delivers a final product that is on time, on budget, and meets or exceeds the expectations of the stakeholders or clients. Tying projects back to business goals is becoming increasingly necessary for project managers. It's essential to communicate with stakeholders at the beginning to ensure the project is strategically impacting the business's needs.
Qualities that make a successful project manager are organizational prowess, acute attention to detail coupled with the ability to see the big picture, resourcefulness, risk-management capabilities, critical thinking skills, excellent communication skills, a can-do attitude, and the ability to inspire and motivate. The Project Management Institute also suggests that openness to self-assessment and re-evaluation can make a project manager successful.
6 steps to get the most of out of project management software
While extremely small and basic projects may get by with spreadsheets, email, and whiteboards, large and complicated projects need a strong project management platform to thrive.
1. Utilize project documentation to hasten the adoption of frameworks
Making documentation clear and intelligible for everyone is crucial if you're bringing different teams together according to a certain project approach.
2. Make a high-level project plan and road map.
A project roadmap is a graphic, high-level summary of the objectives and products that make up the project, arranged on a timetable.
This is a very helpful tool for sharing goals and allocating resources with other teams as well as for managing stakeholder expectations.
3. Create a fantastic workflow
This is essential because it makes it simple and natural for your team members to carry out their tasks and for project managers to keep an eye on and oversee the development of the project.
4. Promote ownership
These columns provide people and project managers the authority to delegate and complete tasks.
Even better, you may use automations to notify task owners when a stage of the project is finished.
Giving each team member straightforward tasks like reporting on progress at status meetings and identifying their own impediments is a smart idea in addition to giving task owners. This creates momentum and sustains a culture of openness.
5. Commit yourself to making decisions based on data.
Achieve more success with your initiatives by using practical ideas. Depending on the solution you select, the following capabilities will assist you in making the most of your data:
Teams can observe how long tasks take thanks to time tracking.
Customizable statuses allow every stakeholder to view the areas where your projects are most frequently delayed.
Setting deadlines makes each team member responsible for the project's success.
6. Using automation will hasten project management
Your process may be sped up using automations for more effective project management. For instance, you may automatically alert managers when deadlines have passed, add a new work item each week, and more.
Why use Stackby for Project Management
Stackby is a flexible project management software that fits your needs. Teams use Stackby for managing basic to complex projects and to keep moving their work forward. Customize it according to your needs to plan, manage, automate and report - all in a single place.
Here are the reasons why you should prefer Stackby over other Project Management tools, Stackby lets you
1. Create your way
Whether you're managing your internal project, a client's project or handling an agency, you can create your custom project tracker from scratch, import your existing data from excel or google sheets or even choose from one of the pre-built project management templates.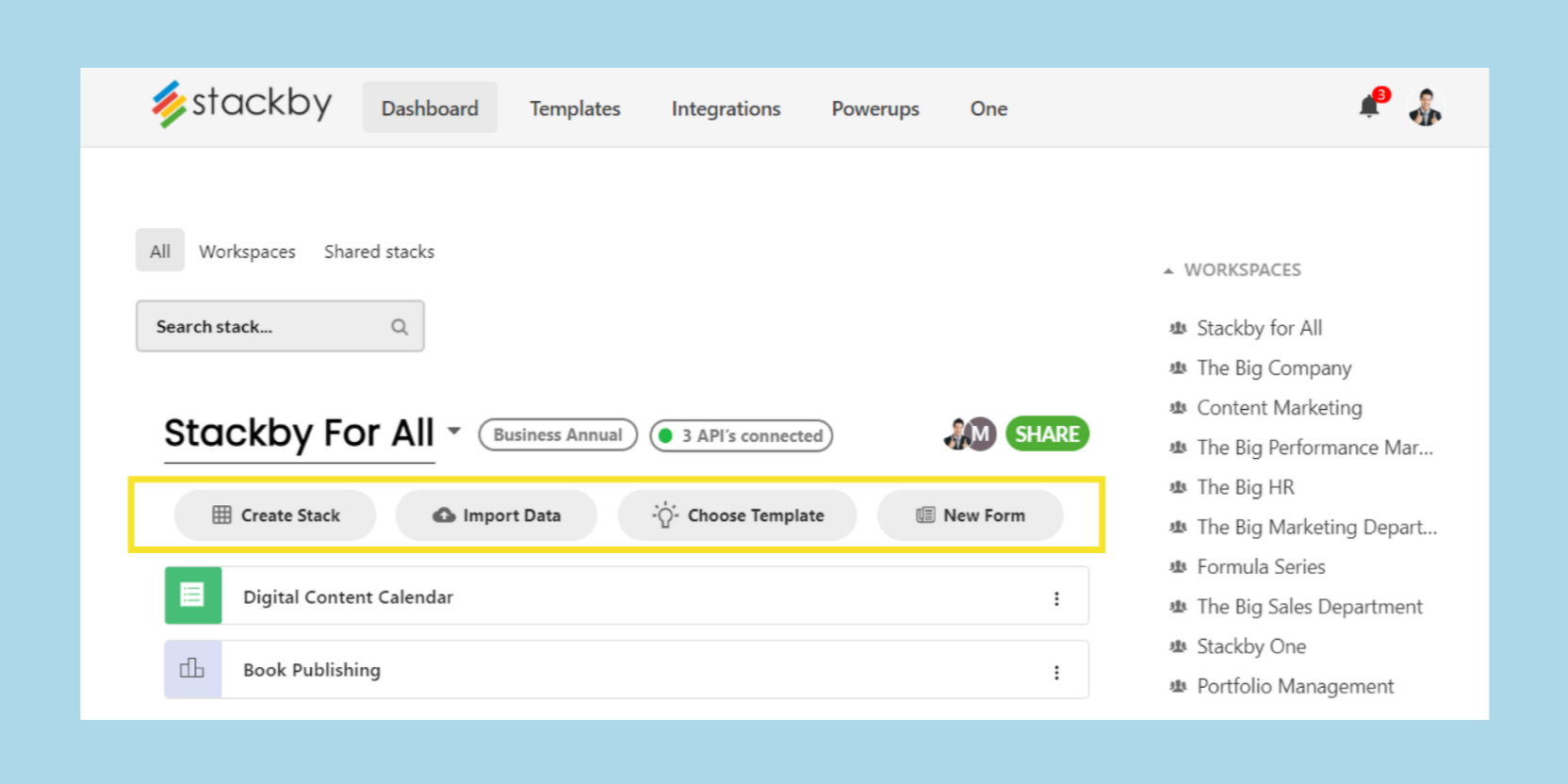 2. Keep your project moving
Choose from 25+ unique column types - like dropdown, attachments, ratings, collaborators, buttons and more to create your custom project workflow.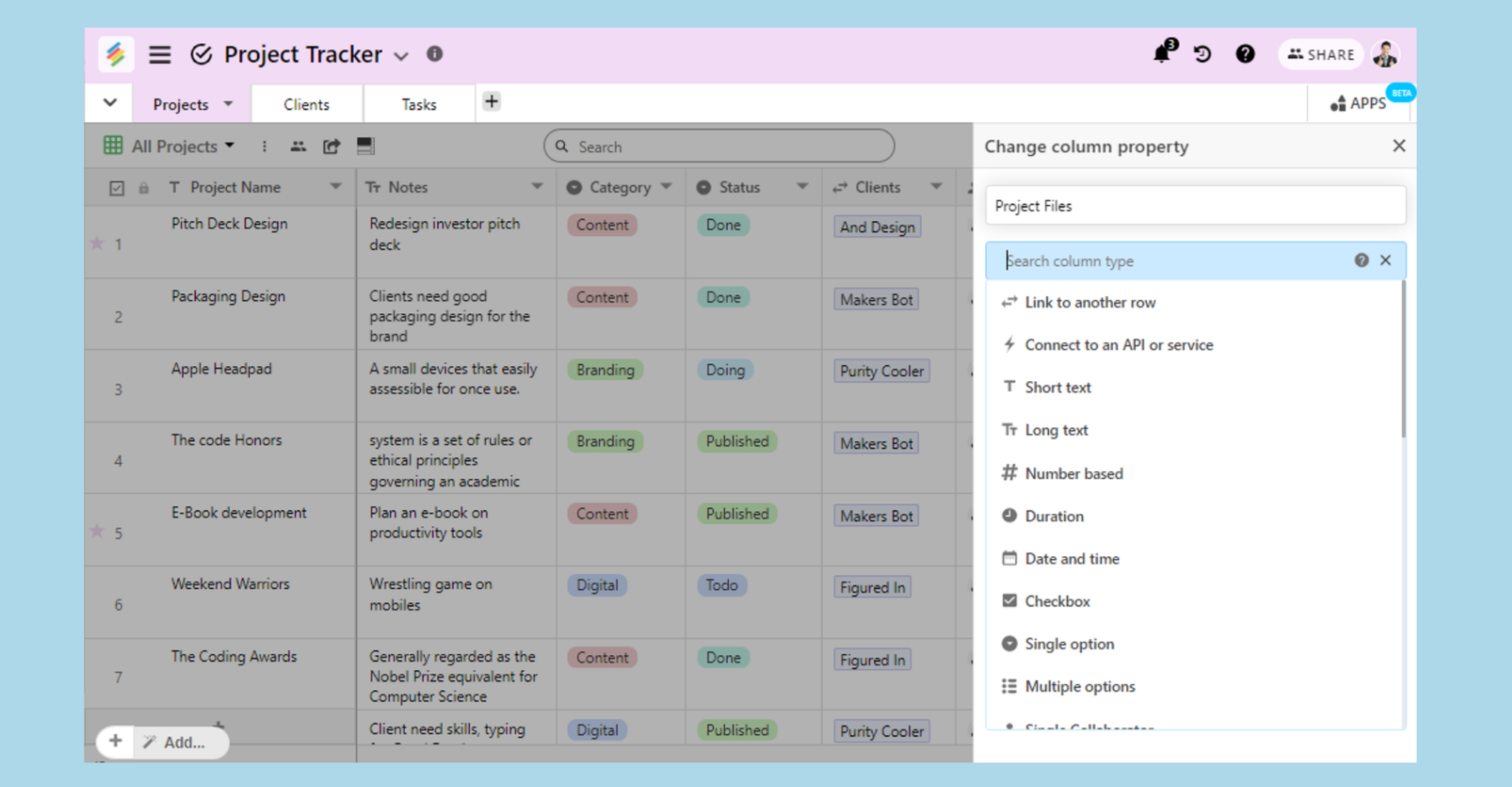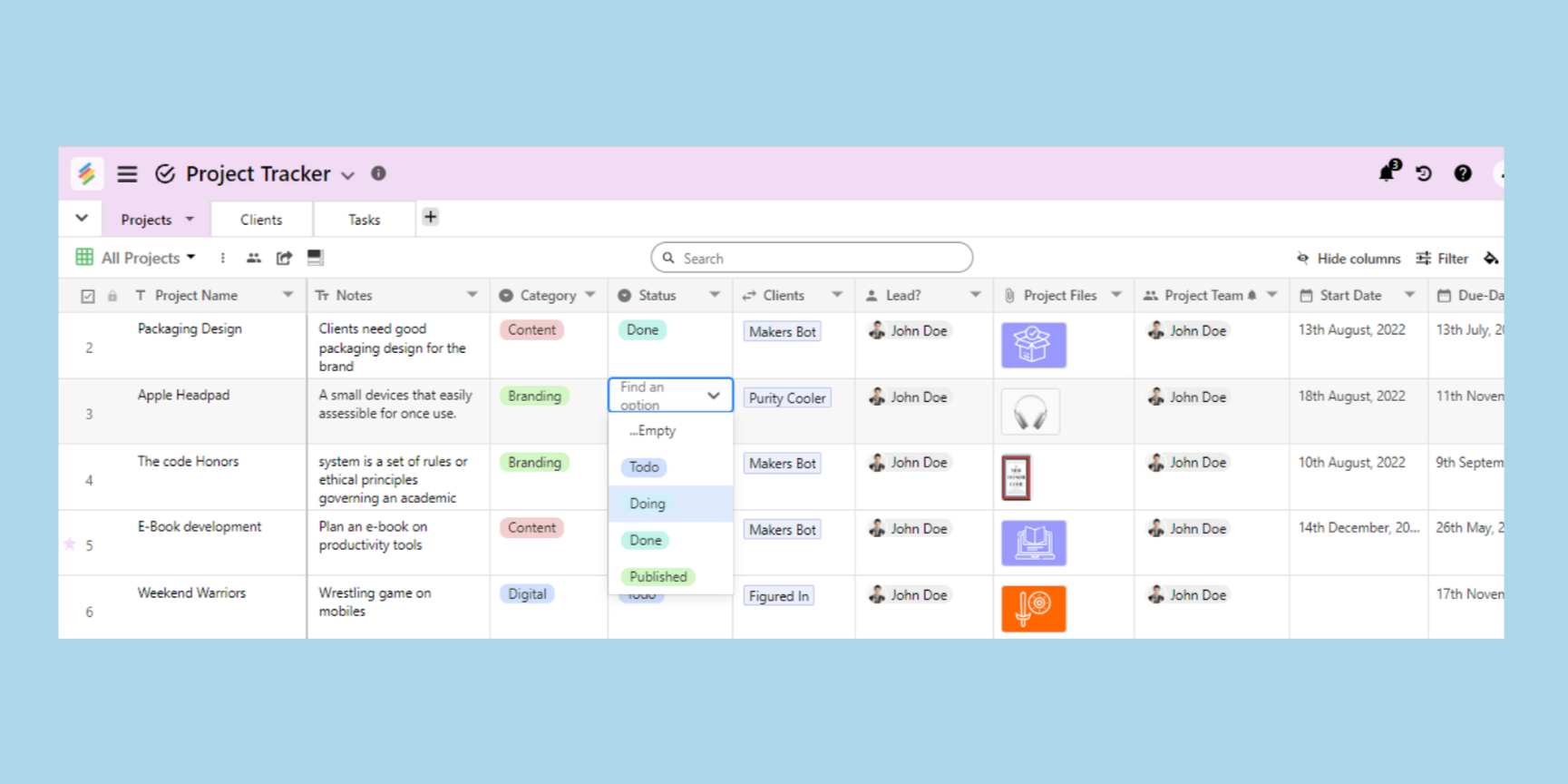 3. Collaborate seamlessly & stay on track
Collaborate with your team in real-time by adding comments, checklists, reminders and more on each record.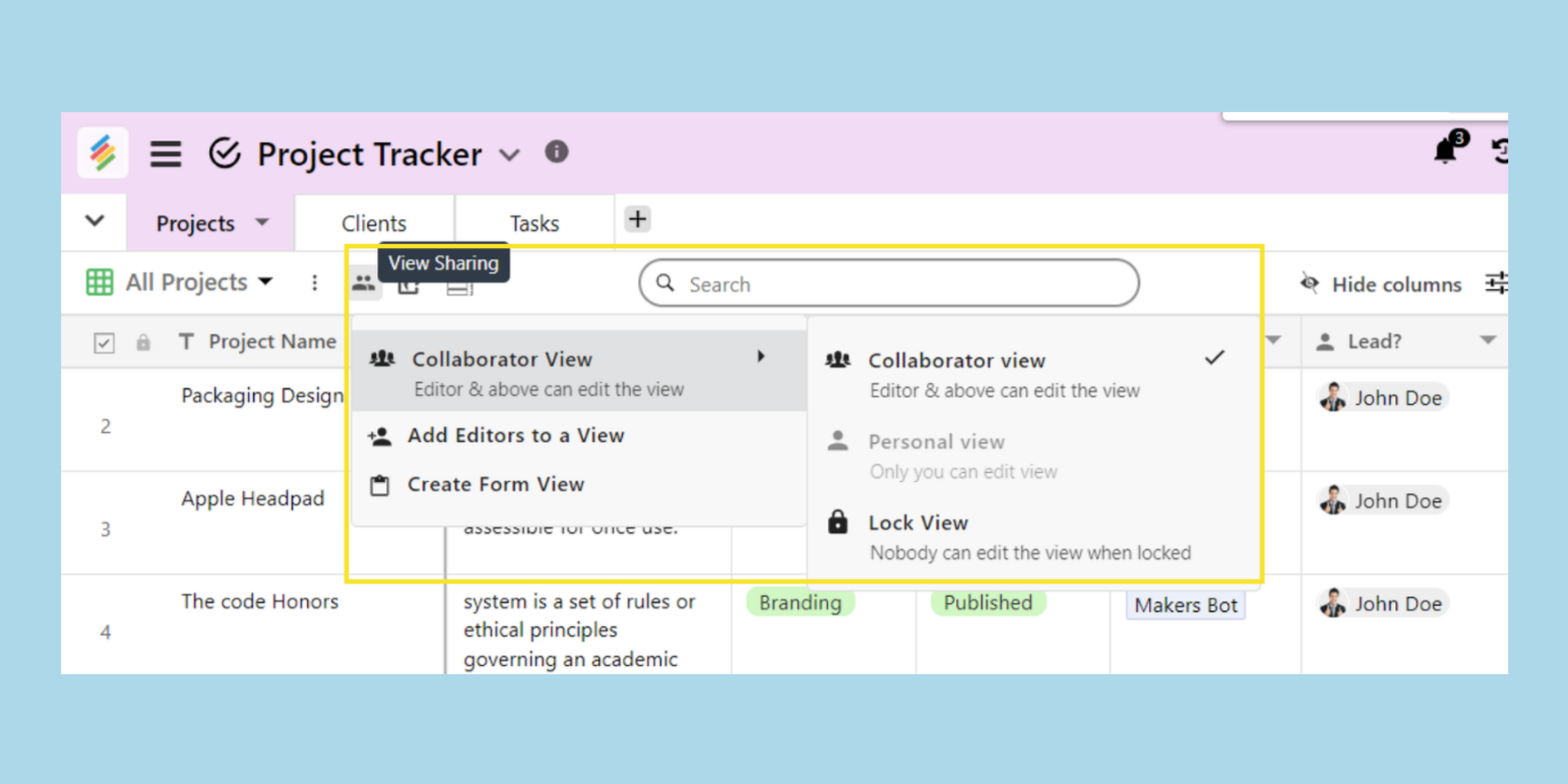 4. Ensure effective use of project resources
Manage all your tasks, projects, resources for different clients or internal modules/collections in a single place.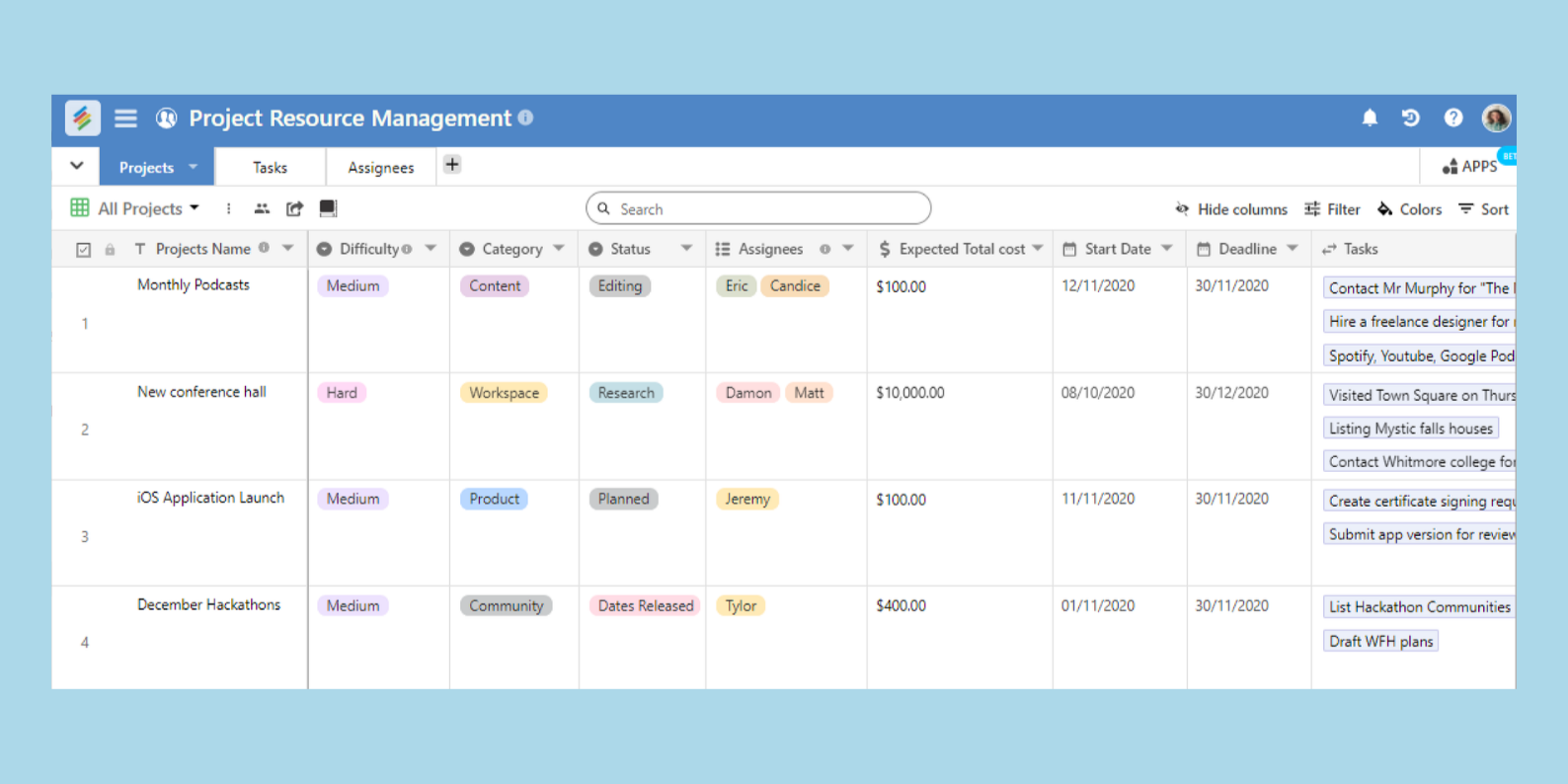 5. Analyze progress with right reporting
Build custom project reporting & resource dashboards with charts, pivot tables, time tracker, goal trackers and more, with Stackby Apps Marketplace.
6. Integrate with Your Favorite Apps and Manage Projects
Connect Stackby to over 3000+ apps via Zapier, Make.com, Pabbly Connect, Integrately, n8n.io and more to automate your project workflows.
You can also integrate natively with Slack, Microsoft Teams, Google Sheets and 50+ other column linked API connectors.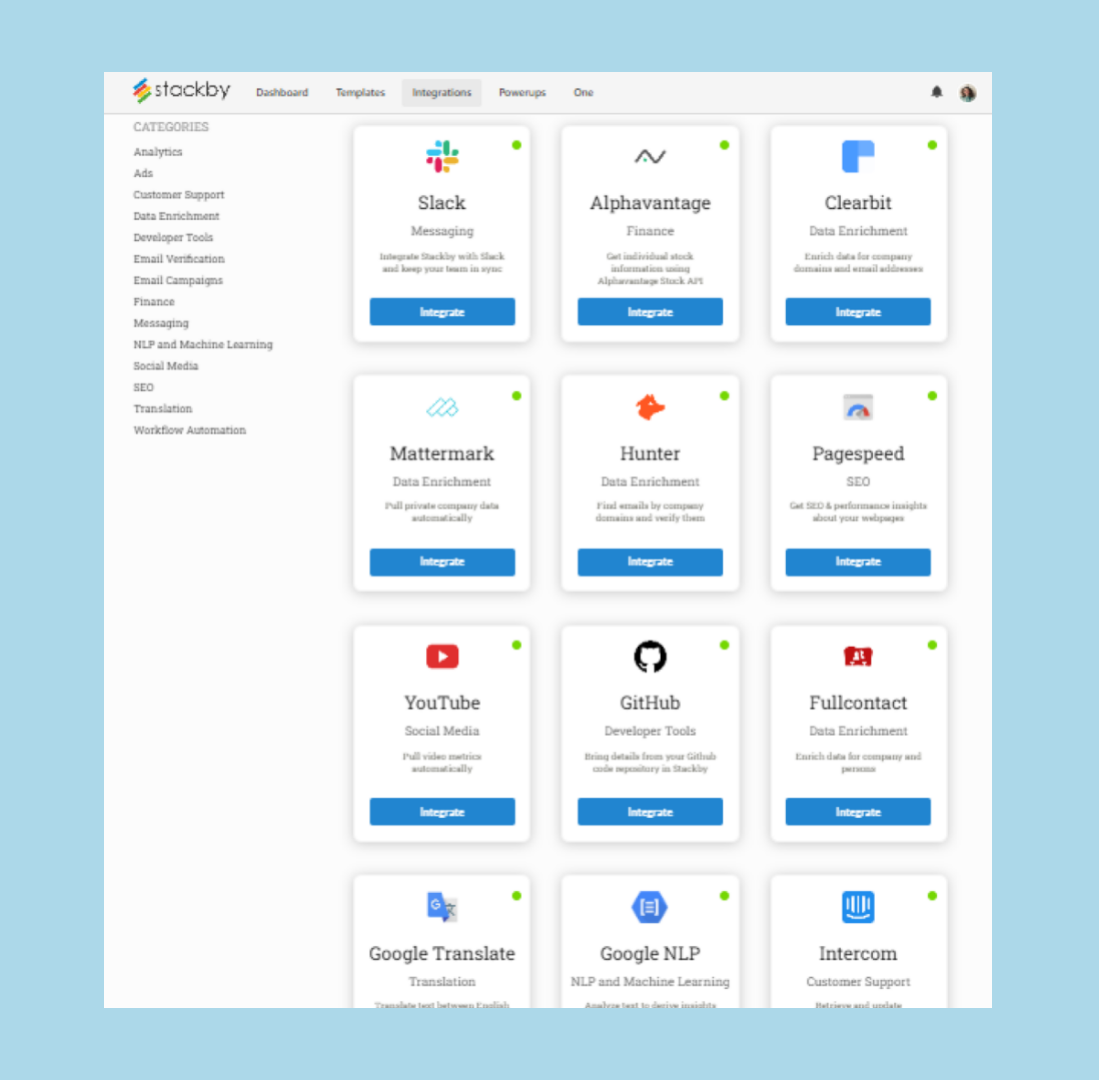 We are trusted by over 20,000 companies globally. Apart from this Stackby is rated the best on G2 and Capterra. We have been rated the following:
Ease of Use: 91%
Quality of Support: 93%
Ease of Setup: 96%
Meet Requirements: 90%