10 Point Project Management Checklist for Managers
Learn more about the project management checklist you'll ever need as a manager.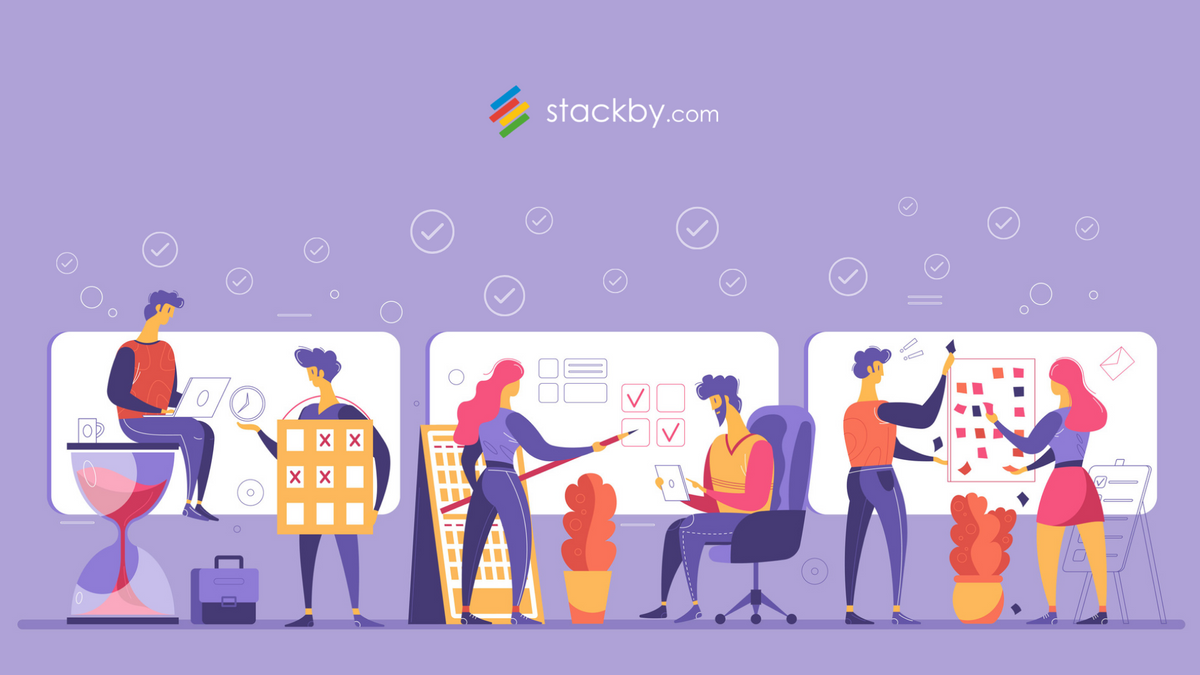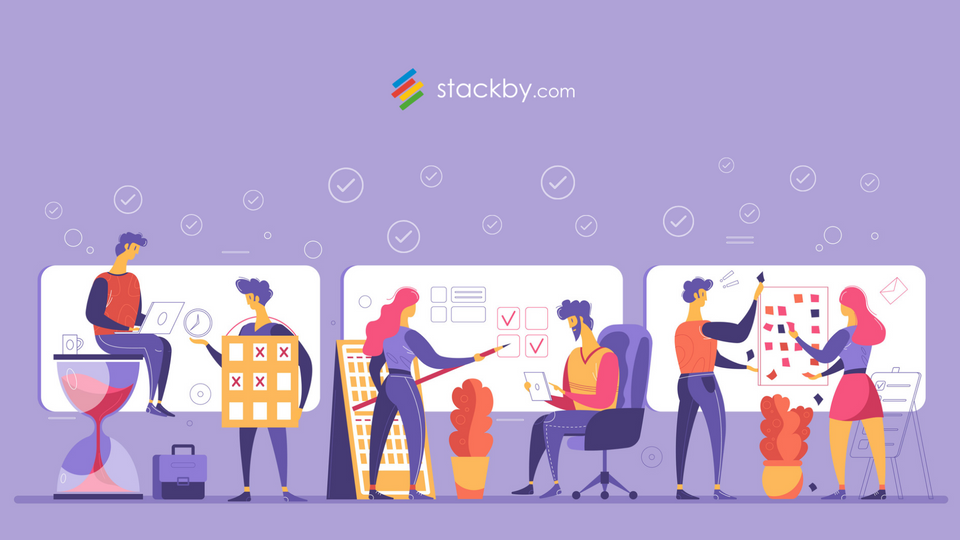 A project management checklist helps project managers and teams ensure that all necessary tasks are completed, risks are managed, and stakeholders are informed throughout the project lifecycle. This can help minimize delays, errors, and costs and ensure the successful completion of projects.
A checklist is a tool used by project managers to help them keep organized.
Project managers can use checklists to maintain track of project responsibilities, criteria, milestones, and deadlines.
Checklists are created by project managers with feedback from their team and project sponsors.
A good checklist should be as quick as feasible while yet being thorough. It should also be simple to adapt to the demands of every project.
In this article, you will learn to create a checklist that will make your work easier & you will spend your time more productively.
Let's get started.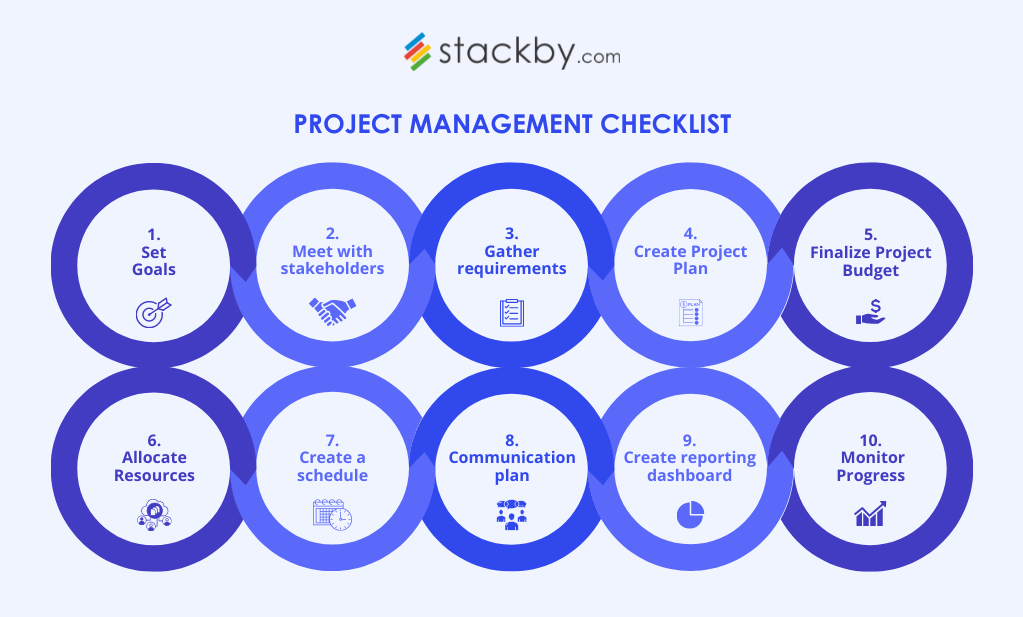 1. Set project goals and objectives
Anyone even slightly involved in project management would acknowledge that having a defined vision statement is essential. You must ensure that the vision statement or project charter binds the entire project together.
You can also set what most Project Managers call "SMART Goals".
SMART Goals are an ideal way to set milestones that can be easily achieved. As most of the Project Managers define it, SMART stands for
Specific
Measurable
Achievable
Realistic
Time-bound
You may create a vision statement and determine the number of resources necessary for the team to fulfill it so that customers and workers are on board. Goals also assist everyone in understanding what the project is capable of.
Make a point of including questions like the following:
Who will be influenced the most by this project?
What tools, technology, and other resources will be used to finish this project?
How is the initiative 'in sync' with the organization's principles and mission?
What is the anticipated outcome of the project?
2. Meet with stakeholders
Making a resource strategy is critical since you will seldom have infinite resources for your project. You'll need to determine the individuals, equipment, and software required to complete your project.
You must ensure that each resource is correctly divided and that your project team members are not overburdened, which may lead to project burnout. It is the process of identifying individuals or groups interested or affected by a project or organization and assessing their needs, expectations, interests, and impact on the project or organization.
Stakeholders can be individuals, groups, or organizations that can influence the project or organization, or that can be influenced or feel that they influence the project or organization.  The purpose of stakeholder identification and analysis is to develop a clear understanding of stakeholder requirements, expectations, and potential impacts on the project so that project managers can create and implement strategies to address these issues and ensure project success.
Also, make sure you meet the stakeholders personally and understand their requirements. These are the folks who directly invested in the project.
They have expectations for project planning methodologies, and it is your responsibility as the project manager to match those expectations.
Project stakeholders may include:
The project manager
The customer
Team members within the performing organization
Sponsor
3. Gather requirements
Once you've determined your objectives and intended deliverables, you'll need to brainstorm the resources required to make them a reality.
Non-monetary resources commonly include:
People! (refer back to your stakeholders) (refer back to your stakeholders)
Equipment and supplies (think: software)
Time-based assets (such as schedules or plans)
Your resources will have a direct impact on your budget. You'll need to do your study here to justify how much money you'll need to invest to achieve the results you want.
What software options, for example, are available? Do you truly require a third-party strategy or report before starting your project?
In general, your specifications and requirements should incorporate the following outcome-oriented criteria:
Factors influencing project success (How do you know whether this build was satisfactory?).
Specifications for tests (such as how the test will be administered).
Reports on the test and the variables that contributed to its success.
Factors that contribute to project failure (How can you determine whether this build was inadequate?).
4. Create Project Plan
A project plan is a compilation of formal papers that specify the project's execution and control stages.
The plan incorporates risk management, resource management, and communication concerns, as well as scope, cost, and schedule baselines.
Project managers utilize project planning software to ensure that their plans are complete and resilient.
Taking Dependencies into Account When Planning Projects
Consider the dependencies as well as which activities must be accomplished before additional tasks can begin.
You may connect any two activities in a project to demonstrate their relationship (also called task dependency). The project schedule is driven by dependencies – once the tasks are linked, any changes made to the predecessor affect the successor, which affects the subsequent one, and so on.
With Stackby you can create task dependencies that link two columns in the same as well as different tables.
To manage milestones and save time, organize your activities, and create task dependencies you need to create thorough project plans using alternatives to clickup project management tools like Stackby.
It helps you create task dependencies, resource hours, labor costs, milestones, and other information so that the journey becomes a whole lot easier for yourself and everyone else involved.
Check out how Carter Surach is using Stackby as a Project Management tool to create a customer journey map.
5. Finalize Project Budget
Effective resource management is critical to ensuring the success of your initiatives. This includes not just finishing your assignment but also staying within your budget.
Remember to include the following items in your budget:
Direct expenses (such as the resources noted above like equipment or supplies)
Indirect expenses (such as insurance or advertising costs)
The time that can be billed (especially as it pertains to personnel related to the project)
A clear, well-thought-out budget is essential for having your project approved. Estimate as accurately as possible, and consider additional expenditures that may occur after the fact.
6. Allocate Resources
The practice of assigning the best available resources to tasks and projects is known as resource allocation.
Workloads are managed by resource allocation to avoid under or overutilization.
People are then reallocated as needed depending on current resource availability and project timeframes. It is inextricably linked to capacity planning.
Aside from staff, you may need to consider scheduling and equipment. It could be an extra space you want to rent or software you might have to buy.
These factors are taken into account while allocating resources.
7. Create a schedule
A project schedule gives a high-level picture of your project, including the timetable, project tasks, dependencies, and team members allocated.
A project schedule, in essence, should be able to tell you all you need to know about your project at a look.
By detailing all of your project's high-level elements and components, you can follow project progress in real-time and verify that you're on pace for success.
Creating a schedule with Stackby is so easy to create & comprehend. Stackby provides you with features like,
8. Finalize a communication plan in your team
We've experienced personally how important communication is in completing projects effectively.
Collaboration is essential for project management and getting things done on schedule. Effective communication allows your staff to perform more efficiently while avoiding fatigue.
Simply, your communication strategy should include the following elements:
How frequently will you meet with stakeholders and check in with them?
Communication mode(s) of preference (think: emails, live chats, face-to-face, video meetings, board updates)
Who controls and administers stakeholder meetings?
Communication with Stackby
The benefit of adopting a platform like Stackby is that you can centralize all of your project communication. This contains Kanban board updates as well.
You may register your changes, milestones, and day-to-day interactions on the same platform rather than switching between them. This reduces endless email chains and notification spam in the long run.
Direct cooperation through file-sharing and chat gives you real-time access to stockholders who are also available. Because of their ability to communicate so smoothly, no one is ever left hanging or wondering, "What's next?"
9. Create a project reporting dashboard
Documentation is important for accountability and adhering to the overall project strategy. The ability to review your process step by step is also useful for evaluating how a project went after the fact.
What if a higher-up wanted to know why a project took longer than anticipated? What if you wanted to give someone credit for completely completing their tasks?
Documentation should take place in real-time rather than being something you have to do all the time.
With Stackby, project members can directly report on the dashboard about the progress of the work. So that you as a project manager don't have to keep in touch with every single member to ask for updates about the work.
10. Execute and monitor progress
When you've finished planning and launched your project, it's time for your team to start working on their individual tasks.
As the project manager, it is your role to keep the project on track by assigning and overseeing work, delivering regular updates to stakeholders, and arranging meetings based on your communication plan.
Also, it's critical to take precautions to reduce and eliminate hazards and to maintain project status information current and available at all times.
The final stage is to transfer ownership or shut it down. Close out any essential contracts with clients or vendors, or transfer them to the individuals who will be in charge of them. Collect information about the project's lessons learned, then host a meeting to discuss them with the team and other stakeholders.
Write a project closure report and agree with the sponsor on all project findings and deliverables. Before starting your next project, keep the information for future use.
Conclusion
A project requires careful planning. And a checklist like this might help you focus on the specifics of your strategy that are most important.
Following these guidelines will guarantee that your project is a success from start to finish. If you haven't already, use our project management checklist template right now.
Oh, and don't forget to use Stackby's excellent collaboration capabilities to empower your team throughout your next project. Sign up on Stackby for free and power your project.