Plan Your Marketing Calendar (15 Free Marketing Calendar Templates)
If you're content or a marketing manager, check out these 15 free marketing calendar templates in Excel and Stackby!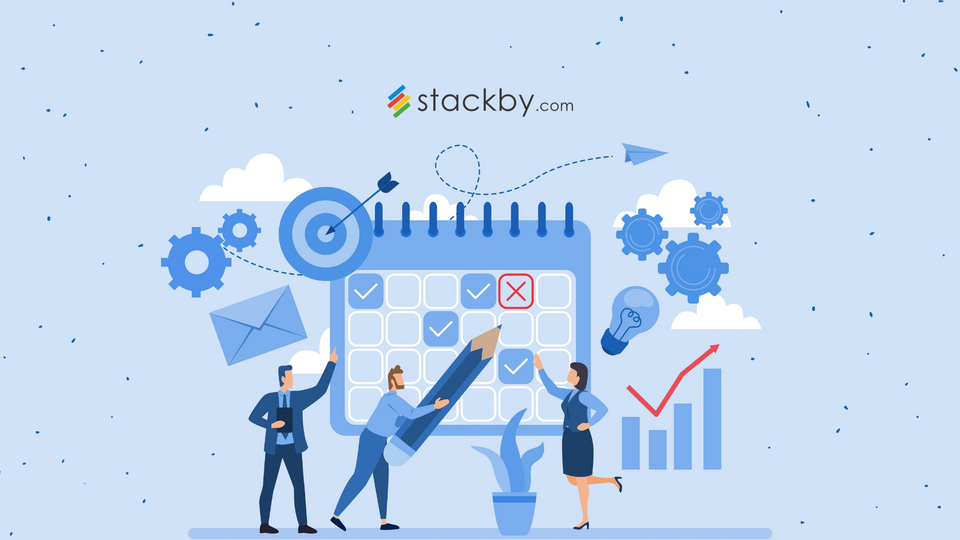 A marketing campaign requires a lot of planning. There are many tasks to complete, deadlines to meet, and teams to manage to launch a marketing campaign successfully.
Whether you're doing email marketing, content development, or other media, you must see your entire campaign on one page, with deadlines, length, and more.
Free marketing calendar templates allow you to easily record all the important details of your marketing calendar, whether it's a month, a quarter, or an entire year.
Let's get started!
1) Marketing Budget Template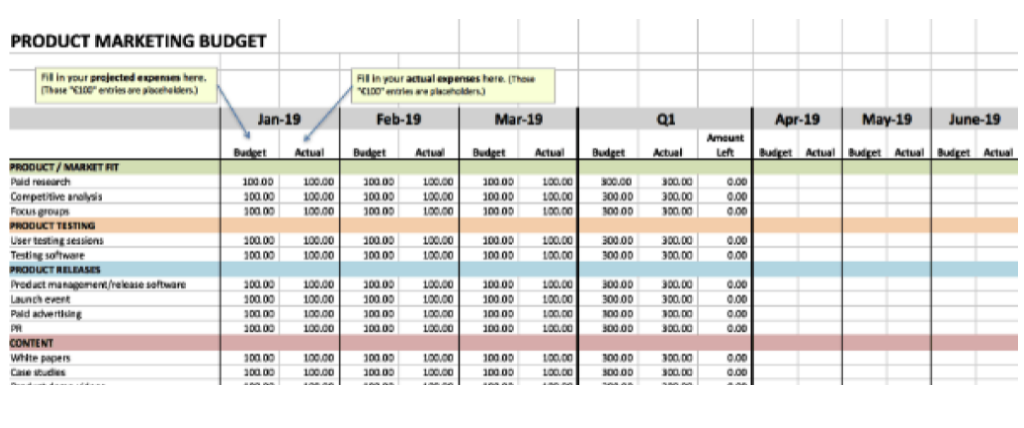 To reach your audience with the most bang for your buck, while getting the return on investment demanded by your client, you need a marketing budget. Creating a marketing budget involves outlining all the potential costs to make sure you stay within the budget approved by the client.
2) Monthly Marketing Reporting Template
Are you looking to create engaging, effective, and insightful marketing reports in Excel? Well, look no more…
It is an intuitive, fast, and convenient tool that brings your data from all the major marketing platforms, like Facebook, Google Ads, Google Analytics, Instagram, and more, into Excel in just a few clicks.
3) On-Page SEO Template
For marketers to realize success with SEO, there are several things to keep in mind. In other words, there are many things that marketers overlook. Save time with content material making plans and rank better on Google with the assistance of this beginner-pleasant Search Engine Optimization template.
4) Leads and Traffic Goal Calculator
A leads and traffic goal calculator is a tool that helps businesses set realistic goals for their website traffic and lead generation efforts. The calculator typically uses data from the business's website, such as the total monthly website traffic and the total monthly leads generated, to determine the required monthly traffic and lead generation needed to reach specific goals.
5) Essential KPI Tracker
Businesses can use a KPI tracker to identify areas of strength and weakness, track progress towards their goals, and make informed decisions to improve performance. The KPI tracker can help businesses optimize their operations, improve customer satisfaction, and ultimately achieve their desired outcomes.
With the help of this template, you can designate individual staff for each KPI, specify how frequently you'll check each KPIs performance, and give each KPI a color that corresponds to how well it performed.
6) Simple Marketing Calendar Template
Keep track of all your marketing tasks with this simple marketing calendar template. The template includes one form section and deadlines for each month.
The calendar lets you plan and track each marketing event and assign that task to the owner. This all-in-one marketing calendar helps keep your team on top of your marketing lifecycle and helps you meet important deadlines and milestones.
7) Monthly Marketing Metrics Calendar Template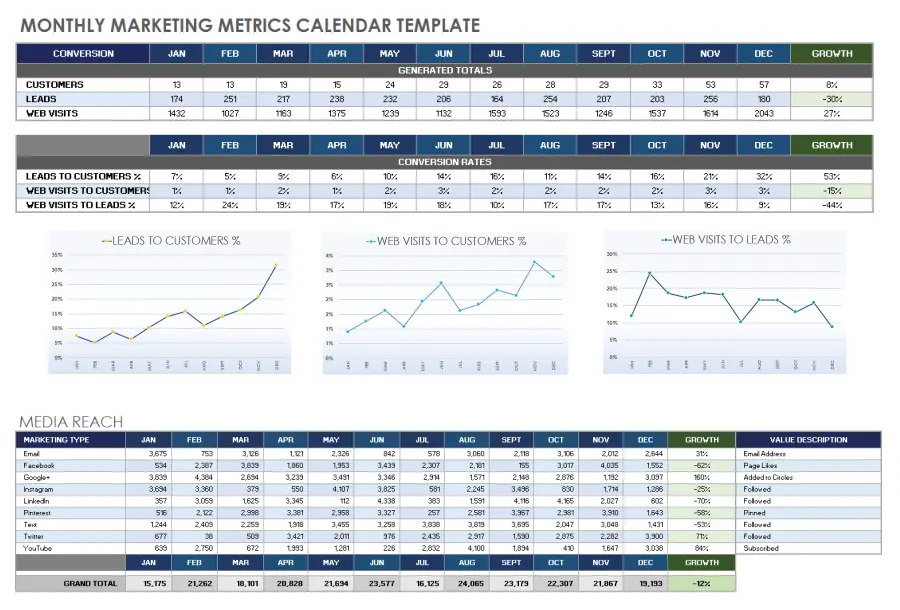 By using a monthly marketing metrics calendar for Google Sheets, businesses can track and analyze key marketing metrics on a regular basis, identify areas for improvement, and make data-driven decisions to optimize their marketing strategies.
8) Annual Marketing Calendar Template
By using an annual marketing calendar for Google Sheets, businesses can plan and execute their marketing activities effectively, track their progress towards their goals, and make data-driven decisions to optimize their marketing strategies.
The calendar can also help ensure that all team members are aligned and aware of their responsibilities and that the budget is managed efficiently.
9) Email Marketing Calendar Template
Using the Google Sheets email marketing calendar, businesses can effectively plan and execute their email campaigns, track the achievement of their goals, and make informed decisions to optimize their email marketing strategies.
A calendar can also help ensure that all team members are on an equal footing and aware of their responsibilities and that the mailing list is managed effectively.
10) Marketing Project Calendar Template
This detailed calendar template will help you stay organized, on track, and focused on achieving your marketing goals.
Give each task a name, a subtask, a status, a team member who is in charge of it, a start date, an end date, and a warning sign for its potential non-completion.
Any team member or stakeholder may quickly comprehend project progress by looking at a color-coded horizontal bar chart that represents project task data in a visually appealing manner.
11) Marketing Calendar Template by Stackby
This amazing Marketing Calendar Template by Stackby can do wonders for you. This template gives you an overall view of the ongoing projects so that you are always a step ahead in the game.
The time-frame column gives you a fair idea to prioritize projects depending on the delivery date. This template comes with two additional sheets.
Under 'Programs', you can find all the details of the ongoing projects, whereas under 'Projects' you can mention all the details about your next leads.
With this template, you improve your efficiency and productivity. You won't fall back either in generating new leads or in delivering your current projects on time.
12) Social Media Calendar Template by Stackby
Our social media calendar template is made to make social media administration easier overall.
There is literally nothing that you cannot do with this template. Following is a list of some of the many things you can achieve with this free template.
Save the graphics and pictures associated with each post.
Keep an eye on the posts you write for each social media platform (paid campaign, organic, evergreen content, etc.)
Monitor the leads connected to each social media post.
Monitor the publication date and status of social media posts.
On a single platform, manage all of your social media accounts (number of posts, post titles, likes, etc.)
Monitor social media analytics for each channel (likes, shares or retweets, impressions, engagements, engagement rates, spending, cost per engagement, etc.)
13) Blog Editorial Calendar Template by Stackby
You may plan everything with Stackby's Blog Content Calendar Template's one UI!
With the help of our blog content calendar template, you can:
Plan and oversee all of your content writing projects for many clients in one location.
The template's built-in calendar will help you keep track of your daily, weekly, and monthly agenda and deadlines.
Keep an eye on the blogs you and your group are working on right now and their difficulty level.
Keep track of each article's average CPC.
Store the designer's name together with the images that go with each blog post.
To make sure that the blog material fulfills the client's expectations, attach the target persona of each piece.
You can plan and optimize your content writing approach with the least amount of work and gain the most from using Stackby's blog content calendar template!
To further your content marketing processes, combine it with the automated keyword research template and the content marketing distribution template.
14) Video Production Management Template by Stackby
Making videos will be a breeze for you thanks to our cutting-edge video production management template!
You can organize and track all of your video projects in one location with the aid of our innovative and user-friendly tool.
This video production management template helps you to: Keep thorough records of your movies and clients;
Each agency's videos should be tracked.
Keep track of the video's progress (script creation, pre-production, editing, and live status).
Keep track of each video's length, platform, and category.
Keep track of the video's release date.
Check the budget that was given to each video and the amount that was spent on it. This guarantees that the video is made within the allocated budget.
Keep a record of the agency contacts to make communication easier.
15) B2B Content Calendar Template by Stackby
A B2B calendar is necessary to stay organized and successful in every content writing task. Yet, putting together the perfect content calendar for your team could be a daunting task.
We recommend that you start small and then keep adding comprehensive details to your content calendar.
With the B2B calendar by Stackby, you can easily do the following,
Track Company Details
Manage Content Types
Track Content Leads and Team Members
Other benefits you get with Stackby's B2B Content Calendar Template
Visualize content pipeline using Kanban View
Use Calendar View to track your content schedule
Use the Content Request Form to collect content requests from different businesses
Track all assets using Gallery View
How to Plan a Marketing Calendar?
A marketing calendar can help you keep organized and on top of your marketing techniques if you are spending money on marketing initiatives.
However, you can find it difficult to use a marketing calendar effectively if you don't know how to plan one.
You need to decide your goals before getting too deep into your schedule. You must clearly state your objectives if you want to know what you're aiming towards. Your objectives should be centered on what you hope to accomplish through your efforts.
a) Plan your schedule up to a year in advance.
Make a master calendar as a guide and make changes as necessary.
Having a yearly overview will simplify coordinating your marketing activities, preparing for holidays and significant events, and ensuring that your content is in line with your marketing objectives.
You may wish to design a more specific schedule for each week or month.
Learn more: Create a Marketing Calendar in Stackby
b) Look for keywords to improve your content.
The use of search engine optimization (SEO) best practices can help your content reach a larger audience.
Use a keyword research tool to find out what words people are using to search for themes similar to yours.
Add these details to your schedule, meta descriptions, and other SEO strategies.
c) Together with your editing team, plan your content.
Determine who is in charge of what material and how much you can generate. Planning more than you can manage serves no use.
If you work with others, use your team to develop ideas for subjects and themes.
d) Choose your target market
Modify your marketing tactics to suit its shifting demands. Creating a marketing strategy can offer some guidance, but everything is just speculation unless a plan is put into action.
As you get information from your consumers, be prepared to modify your strategy.
Excel Spreadsheet Templates for Marketing
The templates shown here can be used if you're just starting out and want to experiment; they are accessible in Microsoft Excel format and are free to download.
To choose the ideal template for you, browse the marketing calendar examples and adjust it if necessary.
However, Stackby, a real-time work execution platform that enables you to manage better and track marketing calendars, meet deadlines, and maintain consistency across several marketing campaigns, is a good option if you're searching for a marketing calendar with more features and teamwork.
Conclusion
With Stackby, your team can be more productive and complete more work by making it simple to plan, collect, manage, and report on work from anywhere.
Platforms like Stackby are essential tools for marketing and business today, regardless of your role. They are incorporated into many aspects of companies; from advanced calculations for budget forecasts, reviewing marketing KPIs, or even making a drinks preference list for staff.
With roll-up reports, dashboards, and automated processes designed to keep your team connected and informed, you can report on critical metrics and gain real-time visibility into work as it is being done.
The most successful marketing teams understand the value of consistent creative operations and efficient campaign management. Stackby lets you deliver it easily to be more productive and accomplish more. So sign-up with Stackby for free today!