7 Top Tools for Digital Marketing Agency Professionals in 2023 (with free Templates)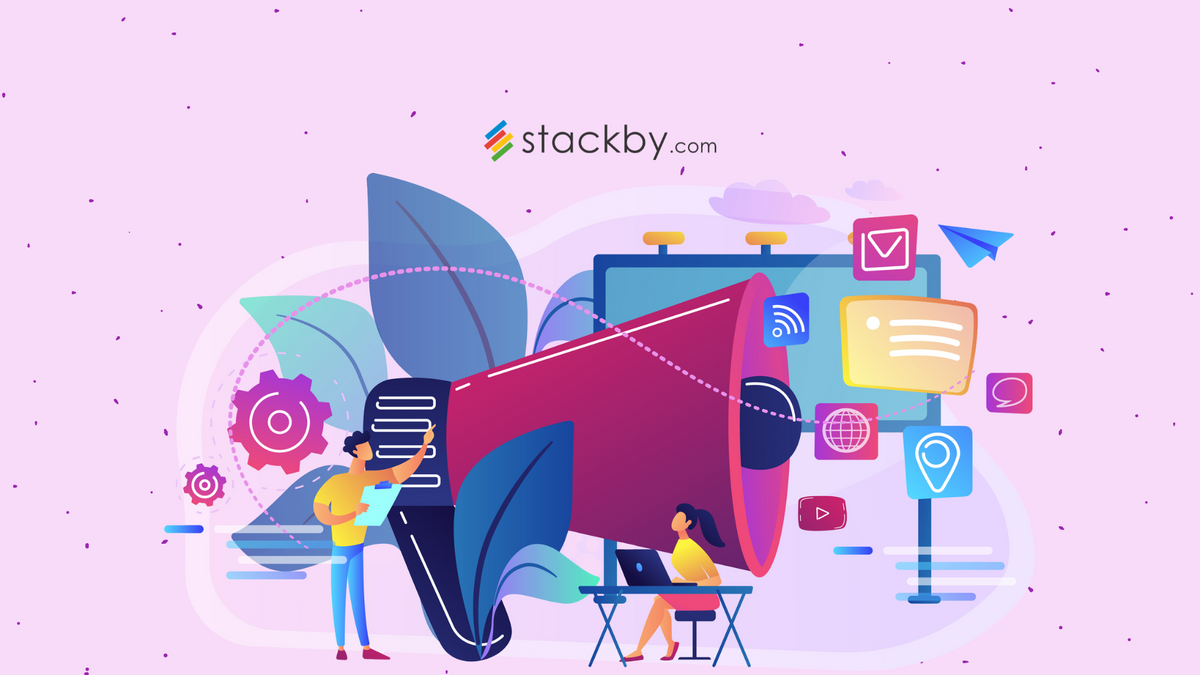 Marketing agency employees must stay up to date on the newest tools and technology to be competitive as the digital marketing sector expands.
Choosing one of the many tools offered to digital marketing agencies might be intimidating.
But you have nothing to worry about as we'll look at some of the best tools used by marketing agencies in this post, to help you streamline and improve your digital marketing efforts.
7 top tools if you're a digital marketing agency professional
A variety of technologies are needed by digital marketing agencies in order to efficiently design, carry out, and monitor their client's campaigns. The following are some of the most crucial tools that may aid digital marketing companies in achieving their objectives: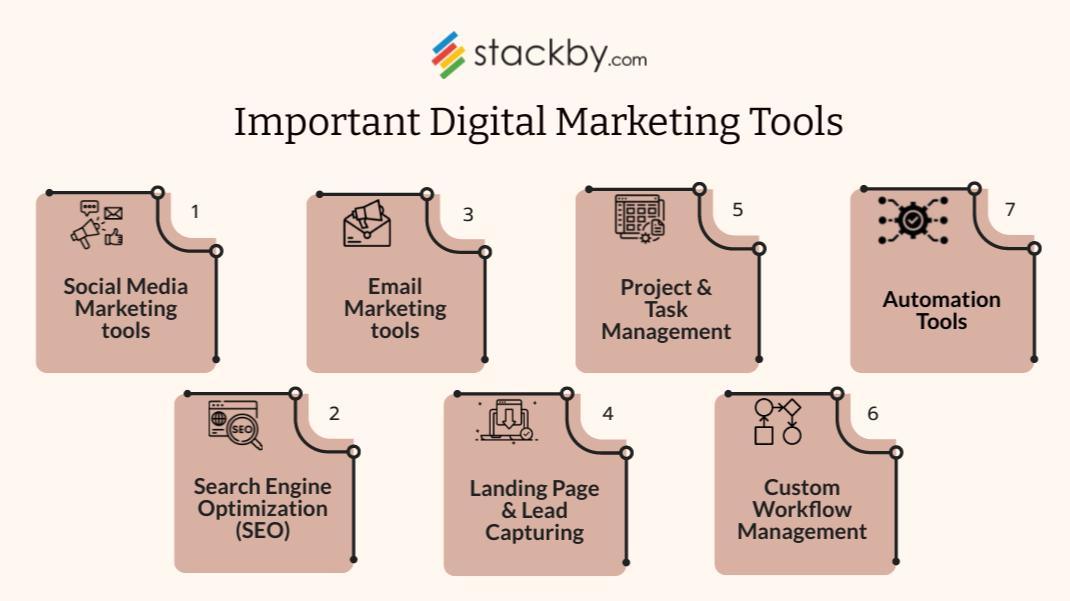 | Read more : Top 18 marketing tools every small business should consider
1) Social Media Marketing tools
Digital marketing firms need social media marketing tools because they make it easier to create, schedule, and post social media content across a variety of channels.
These solutions give businesses the ability to control many social media profiles from a single dashboard, making it easier to track engagement metrics and collect insightful data for analytics.
Social media marketing tools give businesses the ability to develop more successful and efficient social media marketing strategies with capabilities like social listening, content production, scheduling, collaboration, and reporting.
Example tools: HootSuite, Publer, SocialBee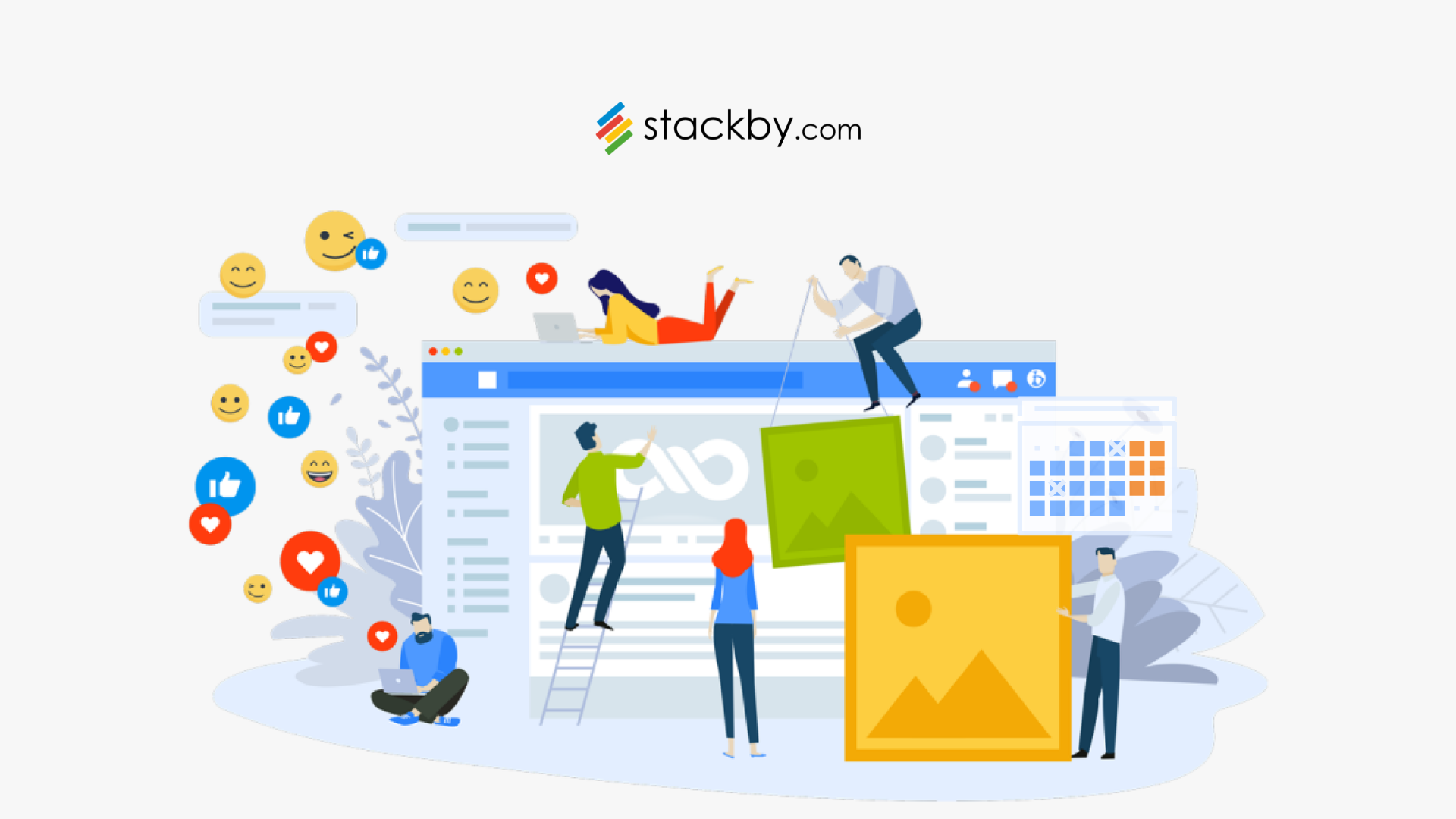 2) SEO
One important digital marketing tactic is SEO (search engine optimization), which may help you increase your client's online presence and drive more natural traffic to your website.
SEO tries to increase the website's ranking on search engines like Google by optimizing the website's structure, content, and technological components.
Doing keyword research, optimizing website content, generating backlinks, enhancing website speed and mobile friendliness, and other tasks are all part of this process.
You may assist your clients in generating more quality leads, increasing conversions, and boosting brand recognition by putting efficient SEO tactics into practice.
Example tools: Ahrefs, SEMRush, Ubersuggest
3) Email Marketing tools
Digital marketing companies may use email marketing software, which is a very effective method, to forge lasting connections with their customers' target markets and increase conversion rates.
Agencies can build, manage, and measure email campaigns with the help of email marketing platforms like Stackby. We provide a range of capabilities, such as analytics, segmentation, personalization, and email automation.
Digital marketing companies like yours may create highly targeted and customized email campaigns that are tailored to the particular wants and interests of the customers of your clients with the aid of email marketing technologies.
Example tools: MailChimp, ActiveCampaign
4) Landing Page & Lead Capturing
For digital marketing companies, landing pages and lead capture are crucial tools since they aid in converting website visitors into leads and, eventually, customers.
A landing page is a specific web page created to persuade users to carry out a certain activity, like completing a form, subscribing to a newsletter, or making a purchase.
Your chances of turning visitors into leads can be improved by sending them to a landing page with a clear call-to-action (CTA).
Moreover, lead capturing technologies like lead forms, pop-ups, and chatbots assist businesses in gathering visitor data like names and email addresses in order to compile a database of prospective clients.
Example tools: Wordpress, WebFlow
5) Project & Task Management
For digital marketing businesses, project and task management solutions are crucial because they facilitate workflow optimization, enhance teamwork, and boost output.
Teams have a central area to coordinate their tasks and projects, allocate roles, and monitor progress thanks to tools like Stackby.
Digital marketing businesses can effortlessly manage many projects, keep track of deadlines, and make sure that everyone is working towards the same goals with the top-notch tools that Stackby offers.
Example tools: Stackby, ClickUp, Asana
6) Custom Workflow Management
Digital marketing businesses may greatly benefit from using customized workflow management software since they can automate and improve their internal operations, boosting productivity and efficiency.
You may program particular triggers, rules, and conditions to automate recurring processes, such as sending email reminders, assigning tasks, and updating project status, using bespoke workflow management tools.
You may enhance project management, decrease mistakes, enhance cooperation, and ultimately provide high-quality work to your clients more effectively and efficiently by putting in place a personalized workflow management system.
Example tools: Stackby
7) Automation Tools
Software applications called automation tools are created to automate repetitive chores and streamline company procedures.
By minimizing human labor and removing mistakes, automation solutions can enhance efficiency, productivity, and accuracy in the context of digital marketing companies.
Lead generation, social media management, email marketing, and other duties may all be automated using technologies.
Zapier is a well-liked automation solution for digital marketing businesses. With the help of the web-based platform Zapier, businesses can link several apps and streamline operations across them.
Digital marketing businesses may use Zapier to build specialized workflows that automate processes like posting to social media, sending emails, and adding leads to a CRM.
Example tools: Zapier, Make.com, Pabbly Connect
Check out this video: Automate Social Media Posts (Stackby & Zapier)
Related templates
To save more time and to be more efficient and productive use templates that will reduce your workload and time. Stackby has 300s+ templates created just for you. You can customize it to your needs too!
1) Marketing Campaign Tracker Template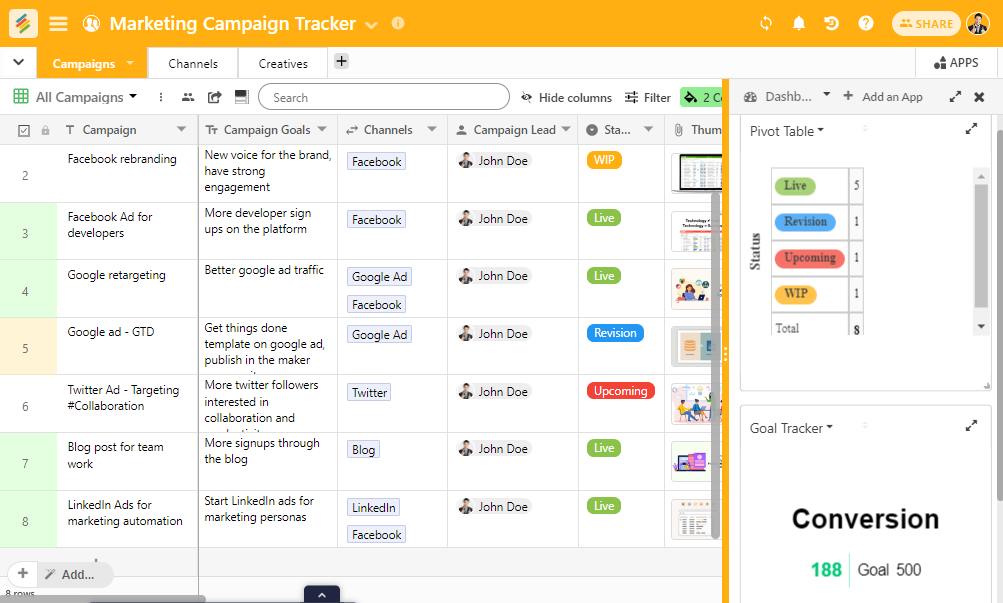 This template is ideal for SMEs, new enterprises, SEO firms, and marketers. The campaign management template may be very useful for all sectors that do marketing-related activities.
You may select from a variety of platforms, appoint campaign leaders, and set campaign objectives. Using our campaign management template will make your work easier because it gives you the ability to:
Monitor the development of each of your marketing initiatives separately.
Check the sum spent so far on each campaign to make sure you remain within your budget.
Keep track of the number of clicks.
Both conversion volumes and rates should be monitored. A conversion status is assigned to every campaign.
You may select the system and strategy that are most effective for your company.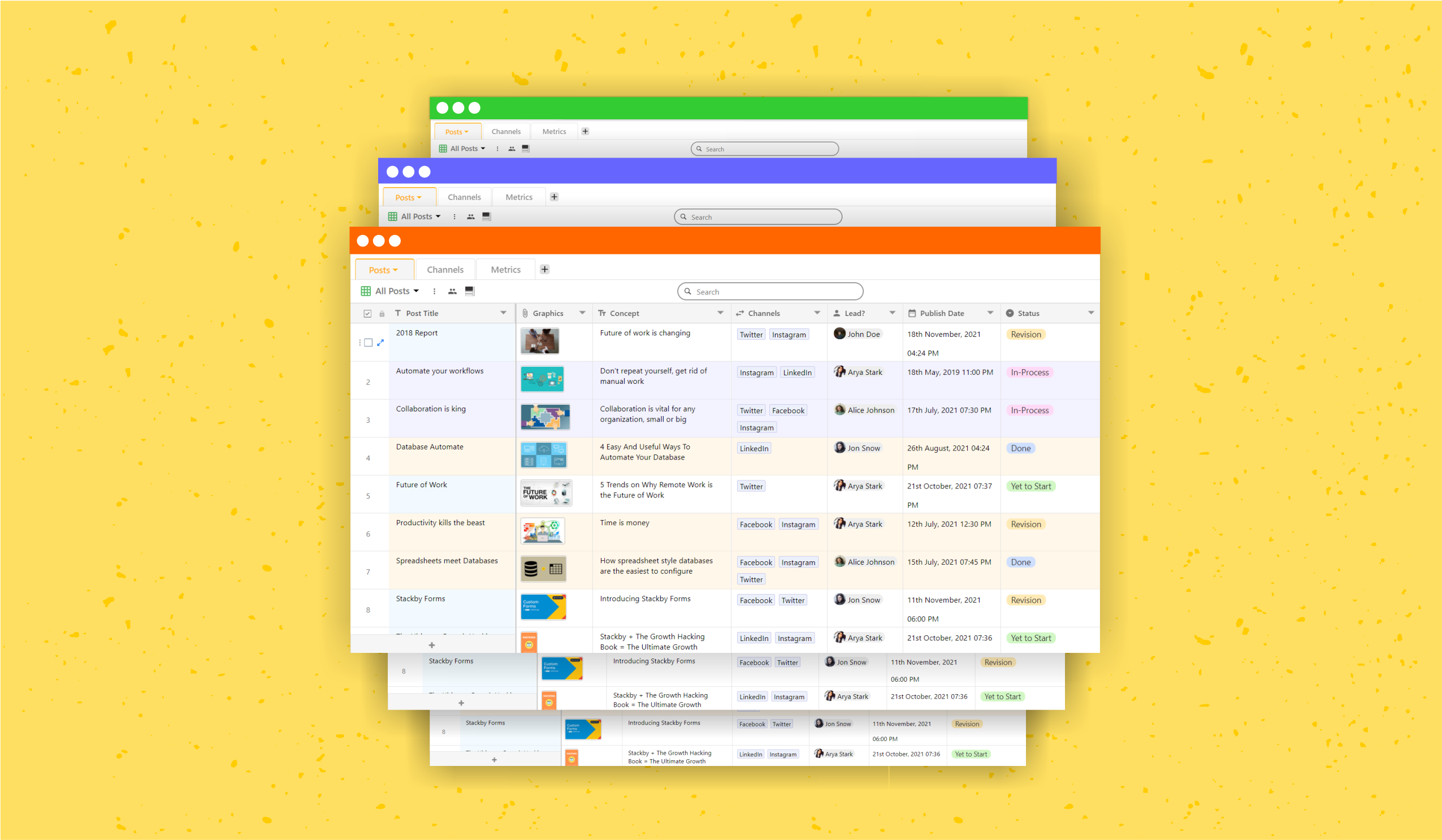 2) HR Team Project Tracker Template
Coordinate all of your HR tasks and initiatives in one location to efficiently manage HR operations within your organization.
The HR team project tracker template from Stackby is a useful tool that might improve workflow and project management for HR teams. The template helps HR professionals to monitor the progress of various projects, assign tasks to team members, and keep track of deadlines.
The HR team can maintain organization and make sure that all tasks and projects are completed on time with the aid of this template. Also, they could monitor the overall progress of each project and make adjustments as required.
As an agency, you can also track your applicants & automate your recruitment pipeline with a custom applicant tracking template.
3) Marketing Calendar Template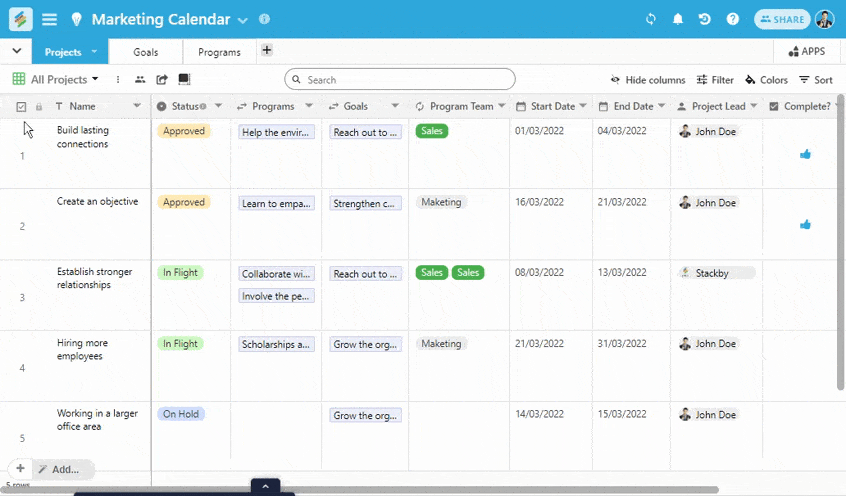 A potent tool that may make it easier for marketing teams to manage, plan, and carry out their campaigns is the Stackby Marketing Calendar.
With the help of this template, marketers may set up a central calendar on which they can keep tabs on all of their marketing initiatives and campaigns.
Also, the Marketing Calendar by Stackby may assist marketing teams in preventing conflicts or campaign overlap, ensuring that each campaign is carried out on schedule and in an orderly fashion.
The calendar may be used to keep an eye on their marketing spending and make sure they are adhering to their budgetary restrictions.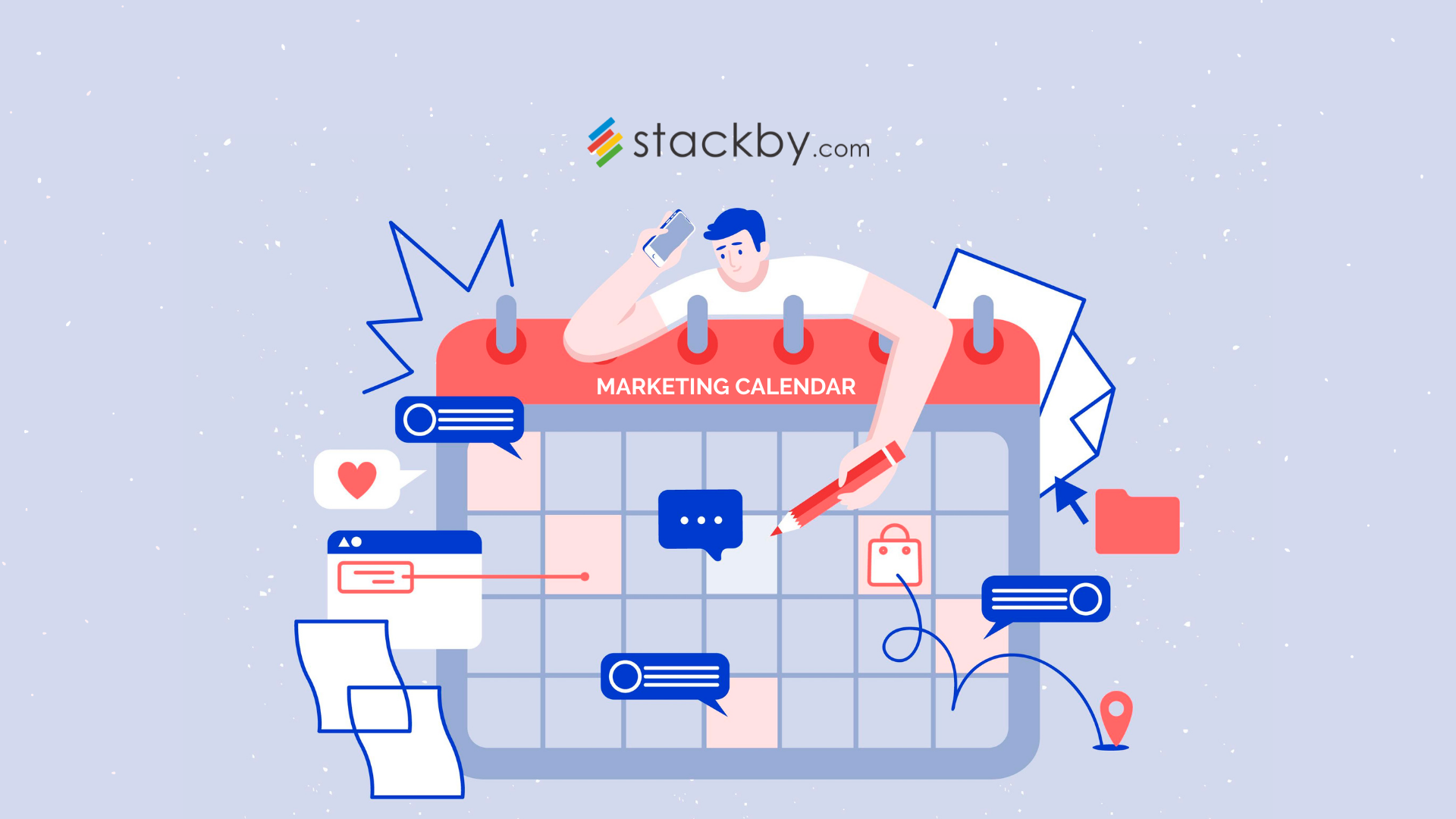 4) Content Calendar Template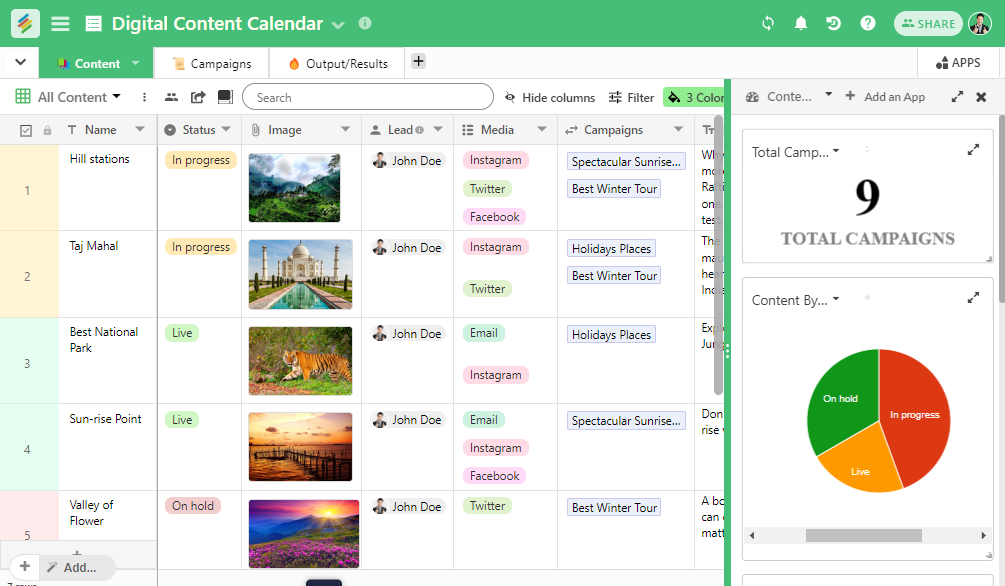 Use of Stackby's content calendar template is recommended for content management teams, content marketing people, content creators, editors, content experts, blogs, entrepreneurs, graphic artists, publishing houses, social media experts, outreach consultants, and anyone else involved in the creation, editing, publishing, and marketing of content.
Our content calendar template comes with three tables for tracking your content, marketing, and output or results.
Depending on the state of the content and the status of the authors, it also provides a Kanban view of the content calendar.
Moreover, you may browse the content calendar built around images in Gallery view. The following are some things you can do with this template:
Track the development of each piece of content the team is creating (in progress, live, on hold, etc.)
Maintain a record of the URLs, headlines, subheadlines, and image attachments for each item of material.
Keep track of the overall number of content campaigns associated with each piece of content as well as its due date.
Maintain tabs on the budgets, assets, leads, content authors, and content marketing initiatives progress.
5) Google Analytics Report Template
An essential tool for digital marketers today, a Google Analytics report reveals what is effective for your company/clients and what needs to be changed.
You may track KPIs automatically without manually entering data using the automated Google Sheets Analytics report template from Stackby, which takes care of all the tedious reporting duties. You can analyze how your campaigns are performing in real-time.
You can track user, sessions, traffic and more data from all of your marketing platforms using Stackby's Google Analytics Report template based on the View ID. With your API key, you may communicate with your (or client's) Google Analytics account using the three provided API columns.
Conclusion
To sum up, the Top 7 Tools for Digital Marketing Agencies are a fantastic resource to manage your entire agency's operations.
You can better plan, keep track of, and improve your efforts by using them, which will eventually result in higher success for you and your customers.
With the help of these tools, you can manage your social media accounts, simplify your reporting procedures, or improve your SEO rankings. Try them out and see whether they can help your agency's digital marketing efforts.

Stackby's marketing templates let you customize and automate all your marketing campaign workflows from start to end. So sign up for free today and boost your agency team's productivity.
| Read more : Top 15 Free Marketing Calendar Templates
| Read more : 10 Free Event Planning Templates
| Read more : How to find the Right Marketing Plan Template
| Read more : Top 5 PR Tracker Templates