How to Build an Effective Marketing Operations Process
The success of your marketing campaigns depends upon how well your marketing operations team functions. Stackby gives one tool to manage all your marketing operations processes in one place.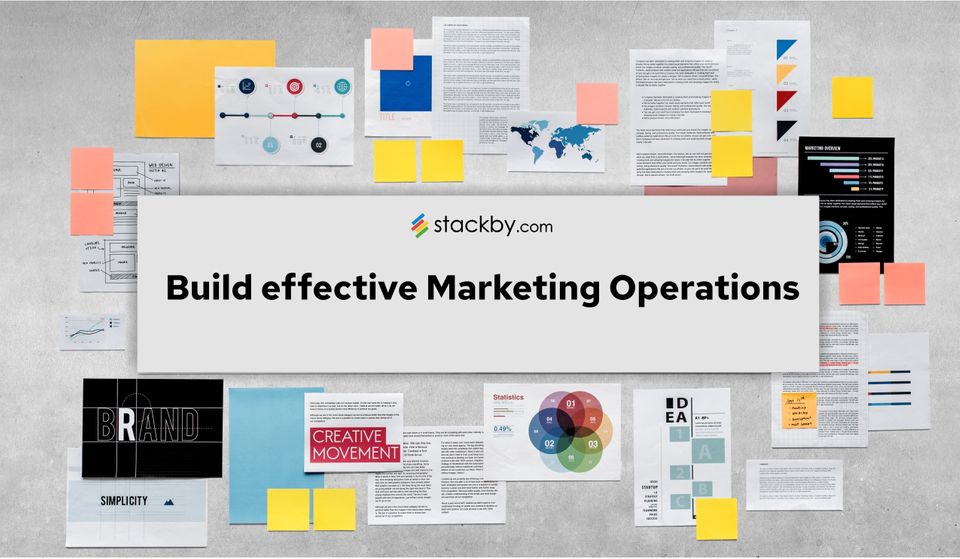 Do you have a marketing operations team on board yet? Are your project managers juggling content management, demand generation, and performance management?
A few years back, few business owners knew about marketing operations. Now, the marketing operations team is an essential part of many online businesses. According to Gartner, 49% of marketers have a marketing operations leader in at least one team.
Let us discover what marketing operations are and how one can build an effective marketing operations process in your organization
What is Marketing Operations?
Marketing operations is a broad term that encompasses all the functions that help run your marketing team. It comprises people, processes, and technology. Marketing operations people ensure collaboration, data analysis, and reporting. Marketing operations processes ensure the smooth running of marketing campaigns. Marketing operations technology ensures marketers use the latest tools to manage marketing campaigns.
The marketing operations team might include a marketing technology specialist. This person handles different marketing software and data management tools. Some businesses also hire data analysts to manage, interpret and analyze data.
Some businesses hire content specialists who oversee the content generation and maintenance process. Others also hire demand generation specialists who find the right target audience for the business.
Why is Marketing Operations important?
The answer to this question is straightforward. Marketing operations are important in any business so marketing teams can run smoothly. A marketing operations team is required to ensure that your marketing processes are running as required. It ensures that there are no delays, every marketing opportunity is ceased, and every goal is achieved.
Here are some key roles of marketing operations:
1. Content generation and maintenance: Content is the heart of the marketing process. But, managing content can become havoc for a project manager alone. So, marketing operations people take the responsibility. They help in the generation, publishing, maintenance, and monitoring of all kinds of marketing content. This includes marketing copies, images, videos, and other graphics.
Read more: How to Scale Your Content Production with Limited Resources?
2. Demand generation: The marketing operations team handles creating awareness amongst the existing and new customers about your products and services. This includes running email marketing campaigns, identification of target audience, etc.
Read more: How to Manage all Your Marketing Campaigns Like a Pro in 2022?
3. Performance measurement: The marketing operations team tracks important marketing KPIs (Key Performance Indicators). This ensures the continued success of marketing campaigns.
Read more: (How to) Create your Custom & Automated Marketing KPI Tracker
4. Building a marketing funnel: The marketing operations team works in finding the right target audience and builds the different stages of the marketing funnel such as bringing awareness amongst the audience and ensuring conversions.
Read more: How to track your marketing team's productivity with Stackby?
Let us see how you can build an effective marketing operations process and achieve all the benefits.
7 pillars of building and running effective marketing operations
1. Marketing Project Planning
The marketing operations team should be an essential part of marketing project planning. It ensures different aspects of marketing such as social media marketing, email marketing, events marketing, etc are in coordination. Whether you are setting the budget of your marketing campaign or deciding which tools you will use for measuring your campaign performance, you must involve your marketing operations team.
Whether it is content generation, social media marketing, or search engine optimization, every marketing process involves a series of steps. A marketing operations team can help manage those steps. It ensures efficient implementation of the marketing process. For example, maintaining social media calendars, content calendars, or searching keywords and trends.
3. Creative Process Management
Every marketing campaign involves a creative process. It includes establishing goals and objectives of the marketing campaign, conducting market research, determining the target audience, brainstorming the creatives, and tracking the performance. A marketing operations team can help meet the goals at every stage of the creative process: from collecting creative requests via forms to executing and publishing them
4. Workflow Automation
The role of marketing operations is not only to carry out the operational tasks but also to manage the creative processes. The marketing operations team automates the redundant tasks for better productivity of the team. From simplifying document management to scheduling auto follow-up with leads, the marketing operations team can autopilot the complete marketing campaign.
For instance, you can use automation tools like Zapier with Stackby and connect your tables with third-party applications like Google Contacts, MailChimp, Google Calendar, Slack, etc. Now, you can automatically send data to and fro between these applications and Stackby and automate your manual tasks like:
Posting on Social media platforms all at once
Content distribution once content is published
Send notifications to Slack, MS teams to keep teams on track
Lead Management once leads are automatically generated via your campaigns

Read more: How To Track YouTube Brand Mentions Automatically using Stackby and Zapier
5. Collaboration to get things done
An essential aspect of a marketing operations process is that it must bring together the various marketing teams together and ensure a smooth marketing workflow. For example, ensuring that the different marketing teams are using the same playbook, a smooth delegation of tasks from one department to another, complete transparency in the marketing workflows, etc.

6. Marketing Data and Analytics
Data is the heart of every marketing campaign. As we said earlier, the marketing operations team can help track the KPIs for your marketing campaign. It can bring data from various analytics software like Google Analytics, Facebook Ads, LinkedIn Ads, YouTube Analytics, Google Search Console, etc, and make it easier for project managers to analyze marketing data and performance for the campaigns.
7. Reporting
Data reporting is essential in marketing. It brings clarity on how the marketing strategies are performing in real-time. Most decision-making in marketing relies on these reports. The marketing operations team takes the responsibility of generating real-time reports to track marketing campaigns. These real-time reports also help in measuring the success of existing marketing strategies by monitoring the required marketing KPIs from Google Analytics, Facebook Ads, Google Ads, LinkedIn Ads etc with KPIs like CPC: Cost per Click, CTR: Click-Through Rate, CPM: cost-per-thousand-impressions, RPC: Revenue-per-click, Ad Cost, Impressions, Ad Clicks, Cost per conversion and so on.

Read more: (How to) Build your Custom Google Ads Reporting Tool For Your Brand or Clients
Ensure smooth marketing campaigns with marketing operations process
Digital marketing is here for the long haul. So, you must prepare your team accordingly and that can help you utilize your marketing data in a better way.
Stackby can be your ultimate tool to get started with effective end-to-end marketing operations processes. Use our pre-built marketing and operations templates and create automated workflows to carry out different marketing operations. Our 25+ column types will help you organize your data as required. We recently introduced the button column type that can post tweets, send emails, create Google events, etc automatically right from your tables
Get started with Stackby for free and manage all your marketing operations processes smoothly.
Enjoying these posts? Subscribe for more