What Must Go in Your SEO Audit Report? 12 Checklists You Can't Miss!
In this article, we will discuss what is an SEO audit, and why is it important? And give you an ultimate SEO Audit checklist with free templates to make your work easier. Read on to find more!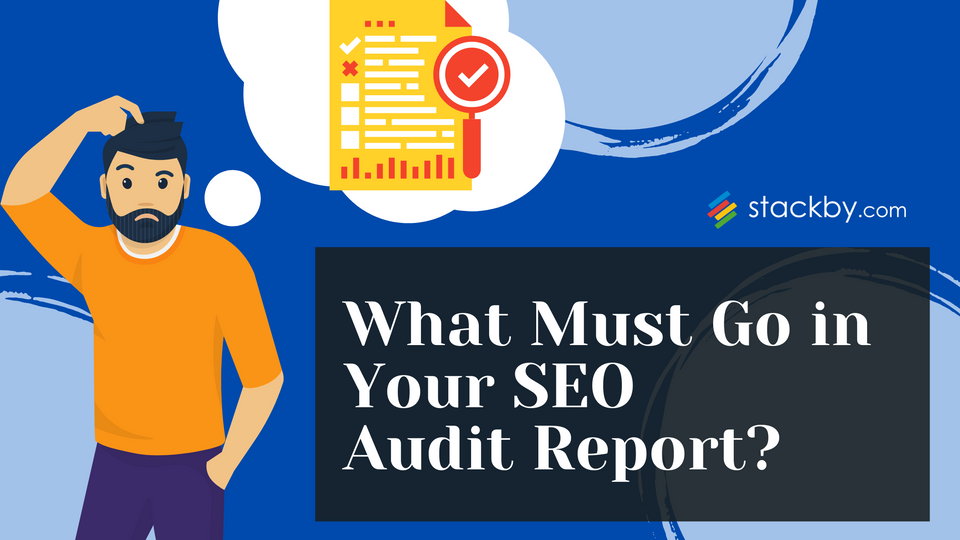 Does your website match or exceed the minimum required SEO Criteria to start ranking? Are there some technical SEO problems that might be hindering your website's ranking and causing you potential loss?
These are typical questions that you need to ask yourself regularly regarding your website's ranking and performance. If your website is not ranking even after consistent efforts, there are high chances that you might be overlooking some potential SEO aspects here!
This simply calls for an SEO Audit of your website. But, where to start? What to cover? And will it matter?
SEO audit is an integral part of a webmaster's work. It provides the data needed to make strategic decisions for optimizing a website's content and structure, increasing traffic and conversions in many different ways. With the help of a tool, this process can be easier and more productive.
In this article, we will discuss what is an SEO audit, and why is it important? And give you an ultimate SEO Audit checklist with free templates to make your work easier. Read on to find more!
What is an SEO Audit?
Simply putting, SEO Audit is a method in which website owners assess the current performance of their website. It involves a series of checks, reviews and other processes to provide suggestions for improvement.
The whole aim of an SEO audit is to help rank a website. It serves as a roadmap for the ranking process. Let's say your text isn't visible because of its size. This can be because your website won't be getting traffic. Hence, an audit will point this out. SEO audits vary from website to website. Hence each audit must be customized as per the requirements of a website.
Why is SEO Audit important?
SEO audit is important because it helps you see through the problems in your website that prevent you from ranking. The breakdown steps offered by an SEO audit is quite useful to improve the conversion rate optimization of your website. Moreover, these procedures are also helpful to migrate lost traffic.
Recommended: Website Performance Management Template
12 Checklists for A Perfect SEO Audit
Website Speed
The first to come in this SEO audit checklist is Website loading speed. This might not seem like a big deal, but website loading speed can make or break your website. Website pages that load in five seconds see a bounce rate of 38%, whereas pages that load within two seconds see a much lower bounce rate of 9%.
Back in 2010, Google counted website speed as a Ranking factor but it was 'focused more on desktop searches.'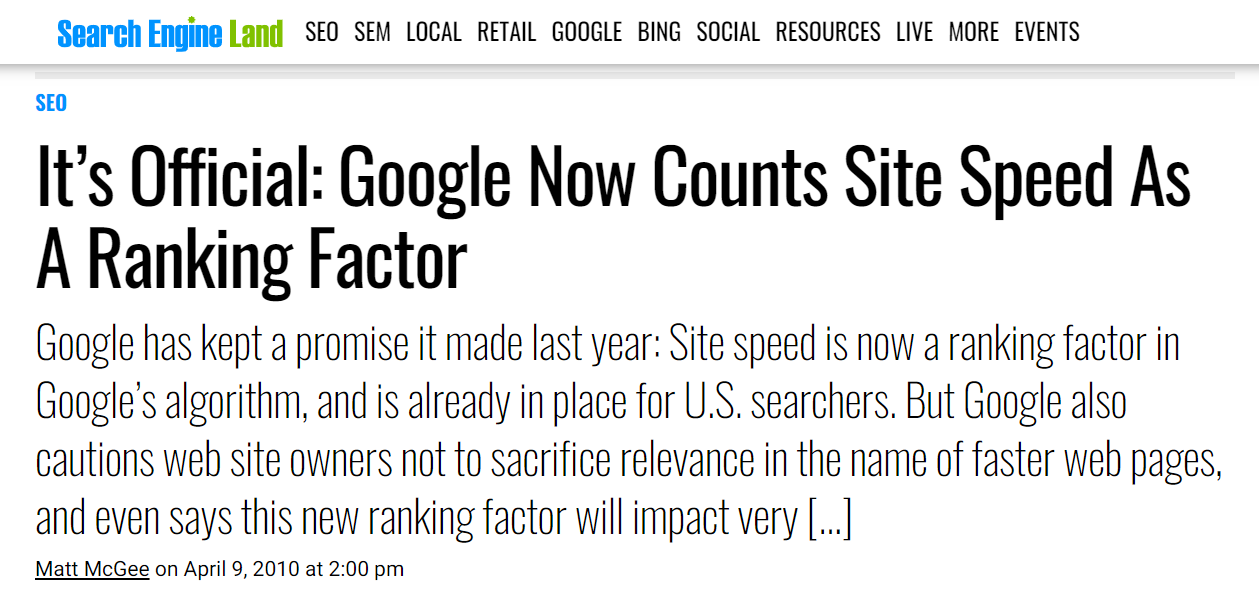 And in 2018, they also rolled out a new update telling that Google will also use your website's Mobile Website Loading Speed as a ranking factor.
There are many factors involved with how fast the webpage loads. So, once you have found out what slows download time for your web pages, try improving them.
Some factors that affect page load speed or website speed are:
Unoptimized images
Slow Response Time of the server
Long redirects chain
Uncompressed HTML, CSS and JavaScript
Mobile-Friendliness
According to research, 52.2% of worldwide traffic comes from Mobiles all around the world.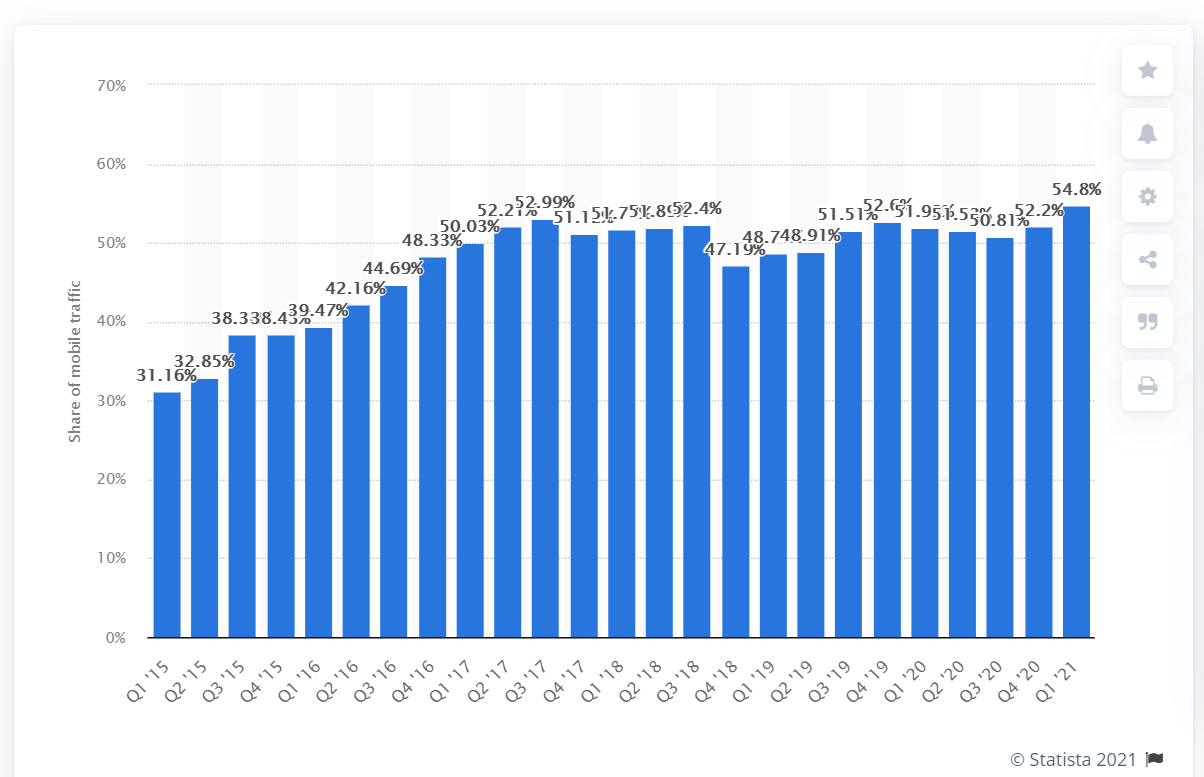 Millions of users around the world rely solely on mobiles for accessing web pages. Hence, optimizing your website with best practices is critical in ensuring that you don't lose your audience. Moreover, Google has made it very clear that if your website is still not mobile-friendly, you better work on it as it is one of the important ranking factors in SEO.
You can check your website's mobile friendliness with Google's Mobile-Friendly Testing Tool.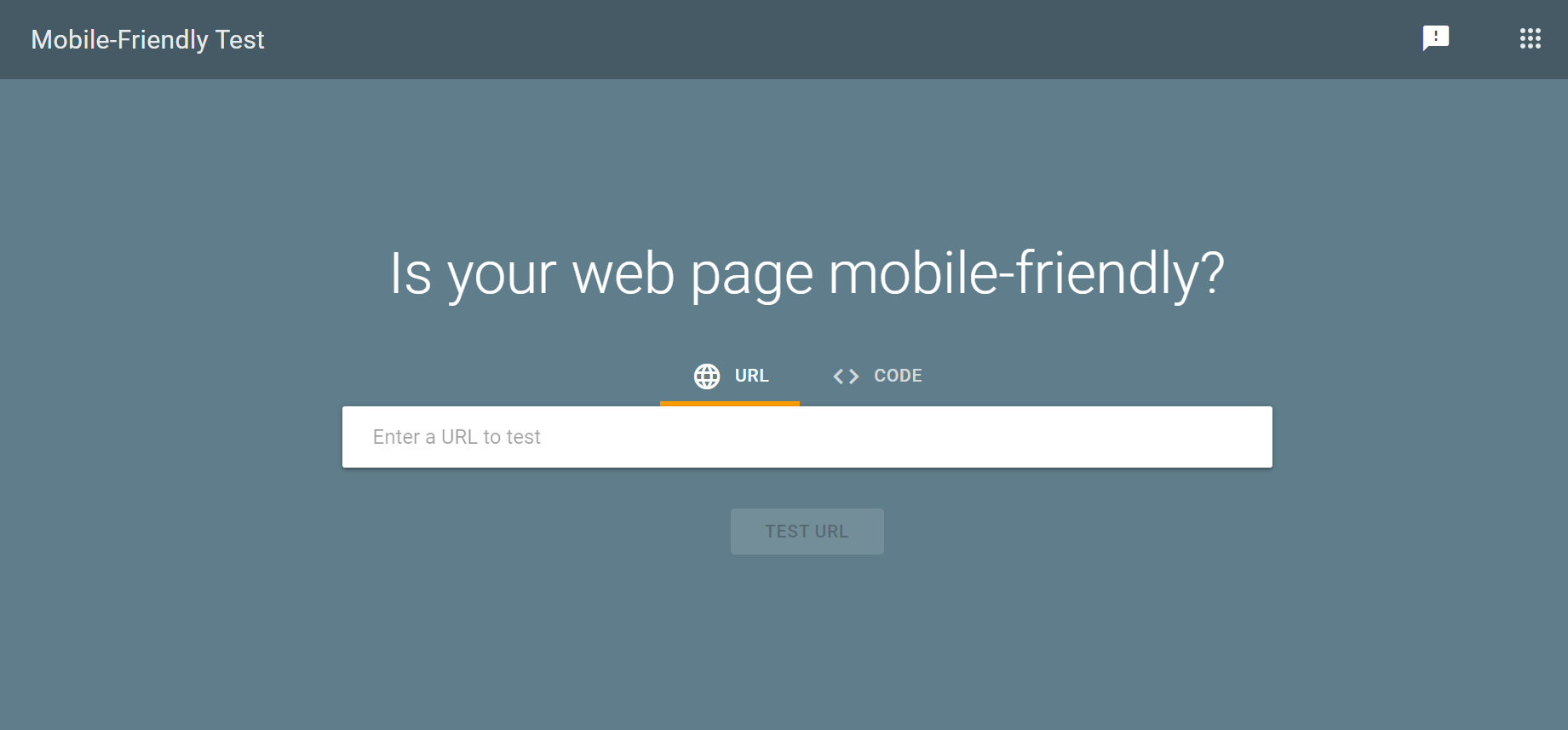 Just enter your website in the tool..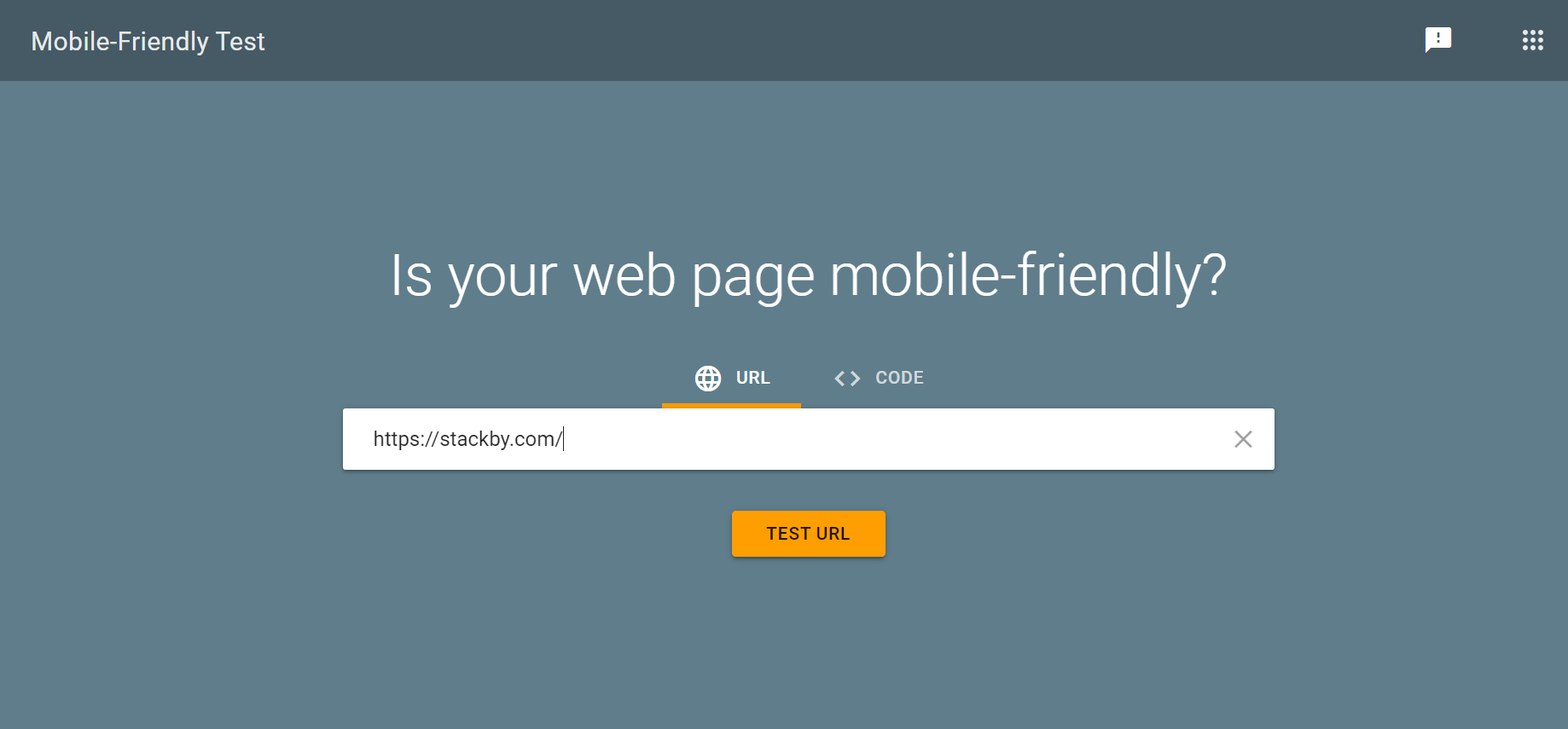 And you will get the result: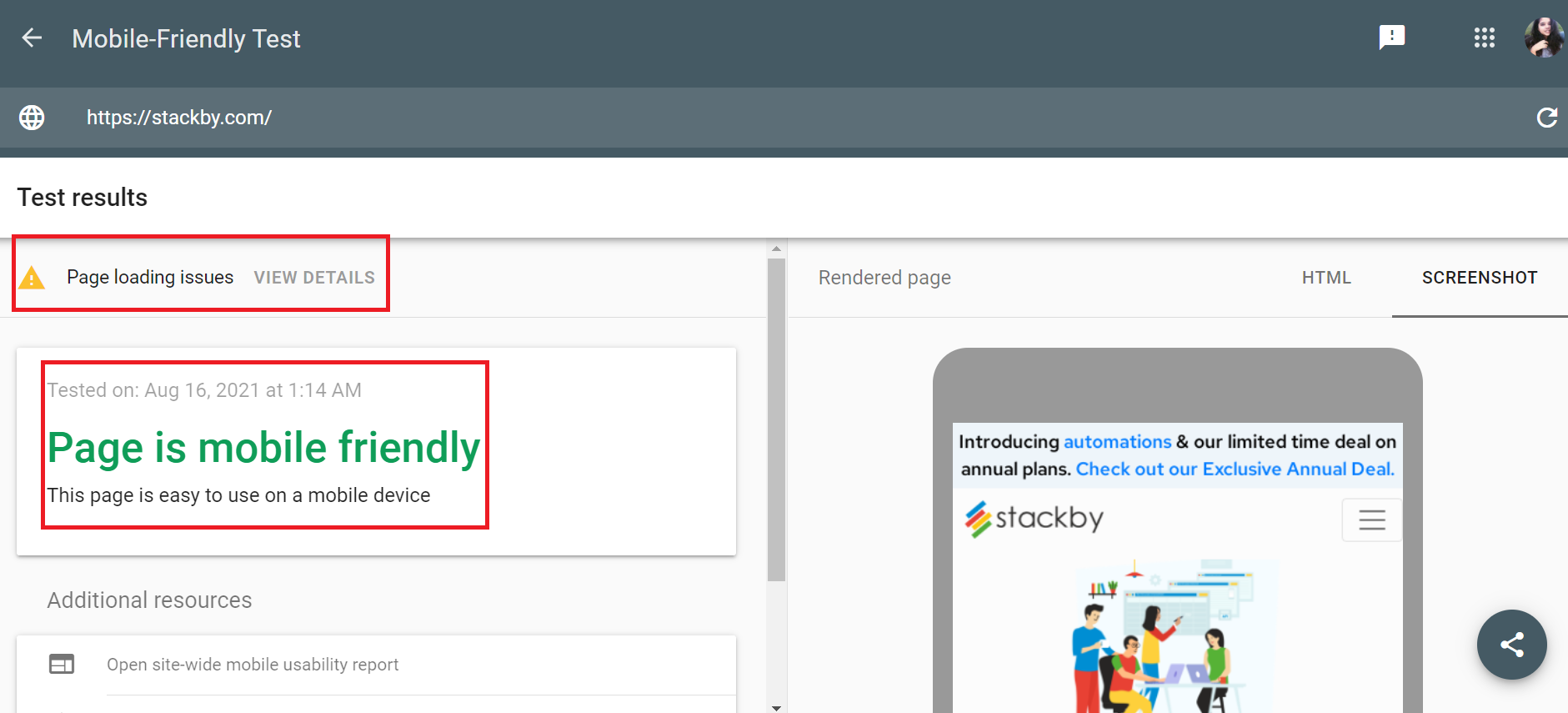 And you will get to know if your website is Mobile Optimized now or not.
You can also check if there are any page loading issues, and what are they.
Here are also certain things to include to make your website mobile-friendly:
Responsive design optimized according to mobile search
Website loading speed
Metadata
Voice search
Dynamic serving
Indexing Errors
Google doesn't just crawl your site; it rules the web. But, make sure you are not blocking them by accident with indexing errors or any other technical issue that prevents Google bots from accessing all the pages on your website. You can easily check out your indexing errors by entering this command in Google:
site:website.com
For example:

Google will tell you how many pages are indexed. You can also use Google Console to search for the same.
Redirects
When Google crawlers are not instructed on the main version of your website, they index several versions as separate sites. You can have four versions of your website:
http://mywebsite.com
http://www.mywebsite.com
https://www.mywebsite.com
https://mywebsite.com  
If you don't instruct Google where to redirect, though, it can redirect your website to any other version other than these four. This can lead to less traffic and loss of potential customers.  
You should be able to redirect them back to the original page where they clicked from to be indexed by Google's search engine bots again.

Thankfully, implementing 301 Redirects will ensure that every visitor ends up on the URL they wanted to reach.
Security
Google wants you to feel safe browsing the web, so it favors all sites that encrypt data and provide full security. All websites should have SSL certificates implemented.
If your website has a SSL certificate, this is what it will look like: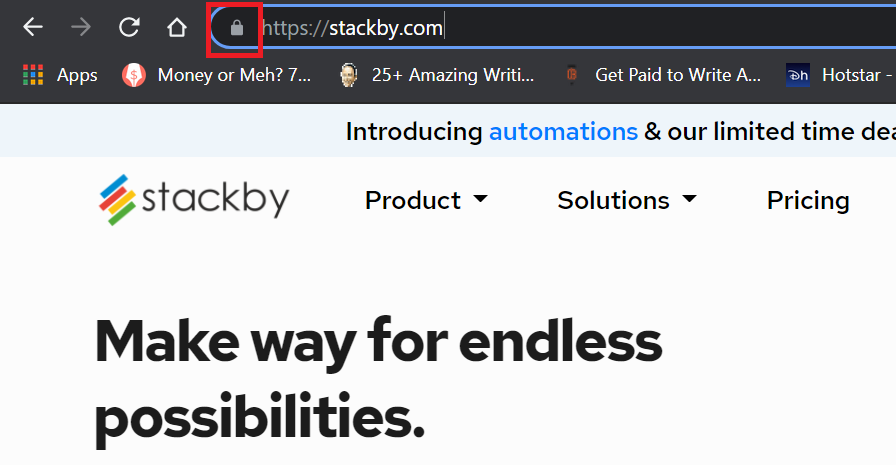 But if you haven't done it best, make sure to switch over as soon as possible. Google has also confirmed HTTPS protocol matters for ranking in search results.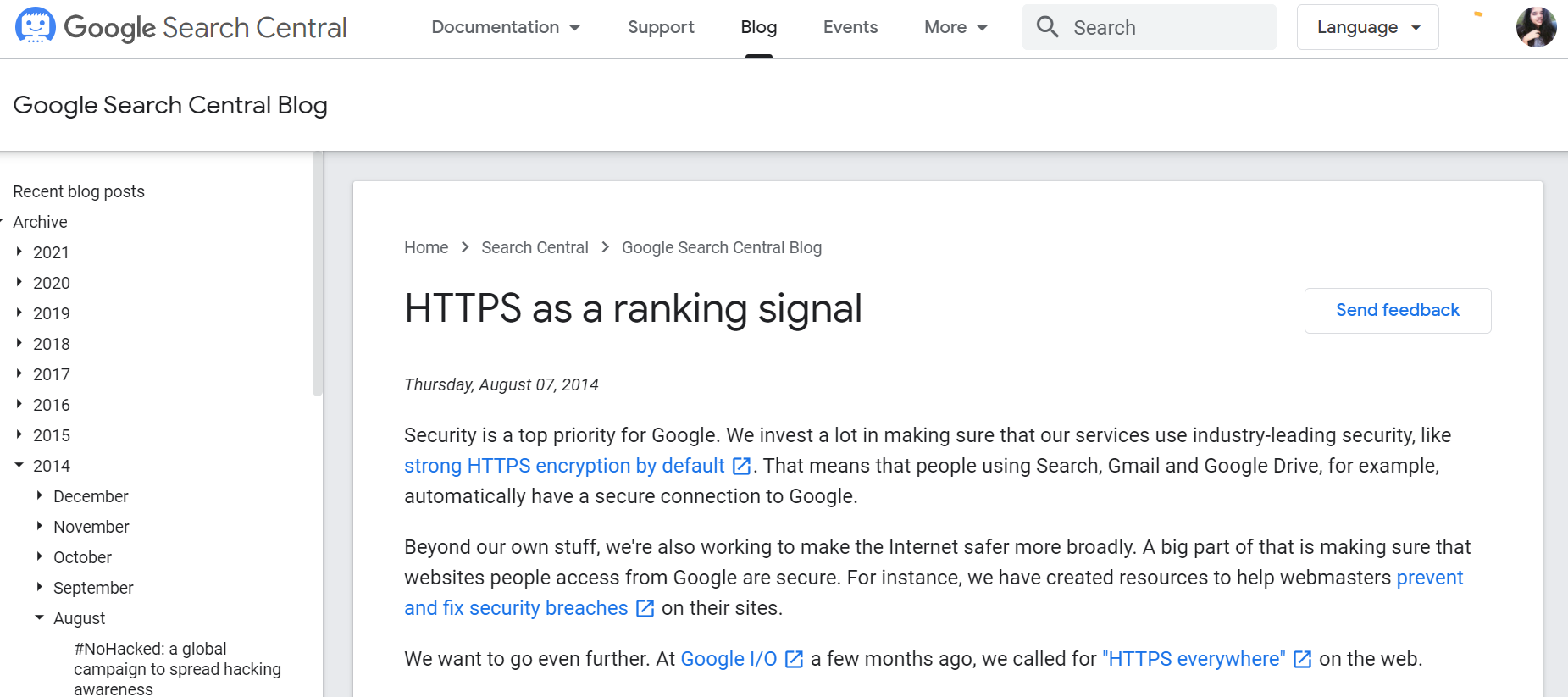 Sitemap XML
A sitemap is a file that contains all of the pages within your site, which Google recognizes as one of the many ranking factors. If you want to boost your SEO, ensure that it shows crawlers where each page should be and how they are connected when creating this document. When running multiple languages on your website simultaneously, create separate files, so there's no confusion between them later down the line.
Structured Data  
Google is always looking for ways to make your website more appealing and easier to understand. Implementing structured data into your site gives Google the power it needs to read what's most important about you. For example, products or recipes on a food blog, movies or TV shows on a film blog, etc.
Structured data can be implemented by using specific schemas according to each type of content they describe. They can be like product schema for an online store with goods available at different prices, recipe schema if this is one feature offered through their cooking posts, movie/TV show schema when posting popular titles from Netflix streaming service, etcetera. Make sure every piece of information entered has been done accurately, so there aren't any errors.
Google also has an article to introduce you about how structured data works. You can also check that out!
On-Page Optimization
The effectiveness of your SEO campaign largely depends on the quality and suitability of each page. It's important to have an understanding of how Google ranks pages. This way, you can produce as many high-quality, well-suited ones as possible to rank higher than your competition.
Search engines are always changing their algorithms, so it is difficult or impossible from one moment until the next to say which factors will be most influential when ranking websites. However, there are a few basic elements that will help improve rankings:
Webpage content/navigation structure
Site design (ease of use)
Load speed time & mobile optimization
Backlinks
Social media presence
The most important on-page aspects you need to optimize:
Heading structure
Meta Description
URL structure
Html emphasis tags (<strong>)
Images alt tag
Internal and external linking.
Check out this On-Page SEO Reporting Template
Broken Links
88% online customers are less likely to return to a website after a bad user experience. And broken links can be one of the major reasons for a bad user experience.
Back in 2014 only, Google stated that 'GoogleBot doesn't loose sleep over broken links.'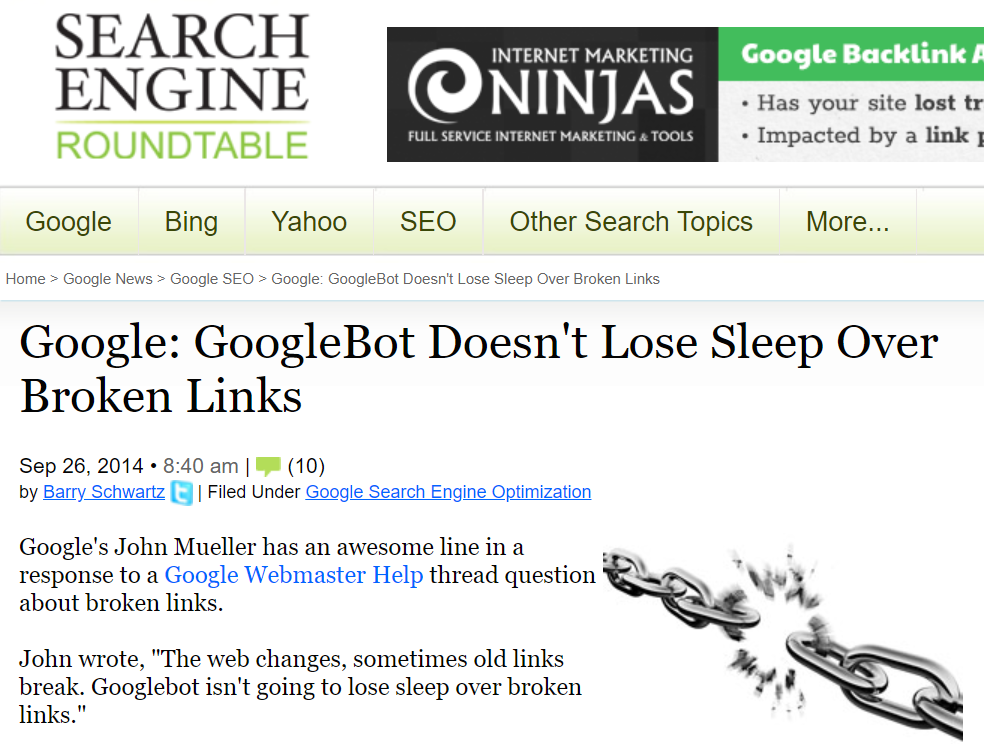 But again, broken links are BAD for user experience, which can hurt your SEO efforts. As mentioned, one element of on-page SEO is optimizing both internal and external linking. But it is worth paying more attention to this issue.
You need to ensure that all the links, whether they lead internally or externally elsewhere online, are introduced correctly. This is so as not to harm your reputation with Google's robots.
You can identify the broken links by using Google Search Console's 'Index Report.'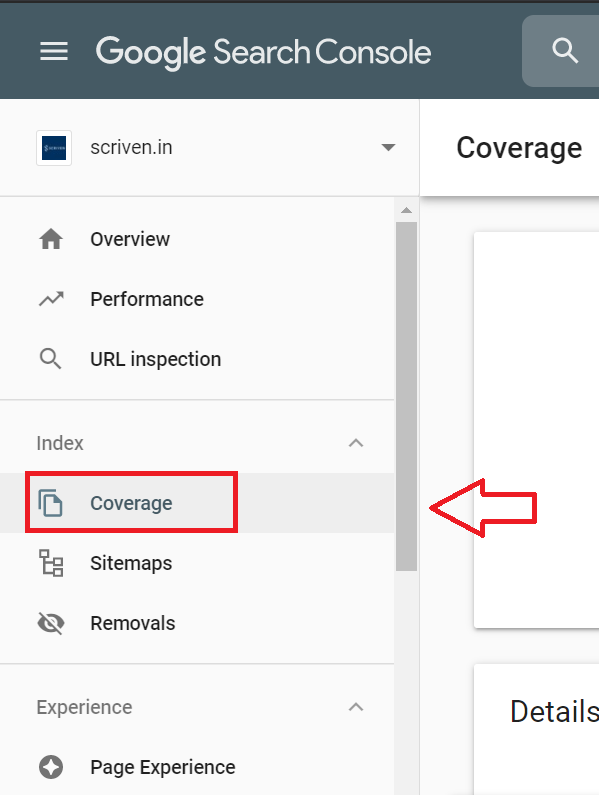 Backlinks
Link building is vital for any website. Without backlinks, you won't achieve the success that Google wants to see from your site, and it will be penalized accordingly in its search results rankings. However, link building comes with some challenges- making sure they're natural links, and diverse types of different anchor text vs naked URLs are just a few examples.
Competitive Analysis
You can't stay behind your competitors. That's why competitive analysis and research is some of the most important elements of an SEO audit. When conducting a competitive analysis, you should:
Find your strongest competitors
Compare site performance
Site quality
Number of backlinks and referring domains
Alexa rank
Web traffic
The number of keywords found on search results from major engines like Yahoo or Bing
Number indexed pages within their domain name.
Additionally, compare the competition with metrics that help assess business viability, such as Business Insider's BizVektor Index for revenue potential.
Content Analysis
What's content pruning? It's when you find pages with low-quality content and remove them from the website. Google values quality, informative, substantive data that respond to user needs. So, sometimes it can be good for your business to clean up by removing any old or irrelevant pages on your site that don't drive web traffic.
When analyzing the current state of your company's blog or website, ask yourself these questions:
Is my page 100% unique?
Does this article provide information I want people to read?
Do they learn anything new after reading all the paragraphs?
Does my content have images to increase the interest of the audience?
Is my content too long or too short?
User Experience (UX) Signals
The best user experience boosts your SEO. Google has introduced a new algorithm, Page Experience, in May 2021 and from now on, user experience signals will be one of the ranking factors. So if you lack a great UX design, it can affect how well you rank for search results.
Recommended: Learn How to Create a Custom SEO Tracker?
How to Manage your SEO Audit Report with templates?
Now that you have an SEO Audit Report checklist, it is much easier to prepare the SEO report for your website. However, let me make your work a little easier. Here, I have two free SEO Audit report templates for you, by Stackby: Technical Audit Report template and Ahrefs Audit Report template.
Technical Audit Report template
Technical Audit Report Template is one of the best templates for your website's technical SEO audit. It helps you track all the SEO related issues on your website, broken links, social media analysis, URL analysis and duplicate content issues. You can keep track of everything you need to know about your site, including your on-page optimization issues, crawl efficiency score etc.
How will this template help you?
You can use this template to evaluate your website's performance and improve its SEO performance.
Inform you about duplicate, content-rich pages, URLs affected by Featured Snippet, etc.
Keep track of any changes in the Google Algorithm which can affect your site ranking or traffic stats.
You can use Google Pagespeed API to track all the required metrics of your website or your competitor's website in real-time.
You can also refer to this video to understand more about how this works:
Ahrefs Audit Report Template
You can use Ahrefs Audit Report Template to conduct your or your competitor's website's SEO Audit using Ahrefs. This template allows you to keep track of your competitors and their ranking positions. You can make use of this tool for keyword research and on-page optimization. You can connect this template with Ahrefs API in Stackby and import all the data in your template in real-time.
Conclusion
No matter if your website is new or old, an SEO audit is a must. With a proper audit, you can always boost your website ranking and maintain the rank. Always keep in mind the above checklist before doing your SEO Audit. Not only having an Audit in hand is important. It is not of any use if you do not implement the changes suggested in the audit. So, make sure you follow what is good for your website.