25 Free Project Management Templates (Excel, Google Sheet & Stackby) [2023]
Get these 25+ awesome project management templates you'd ever need.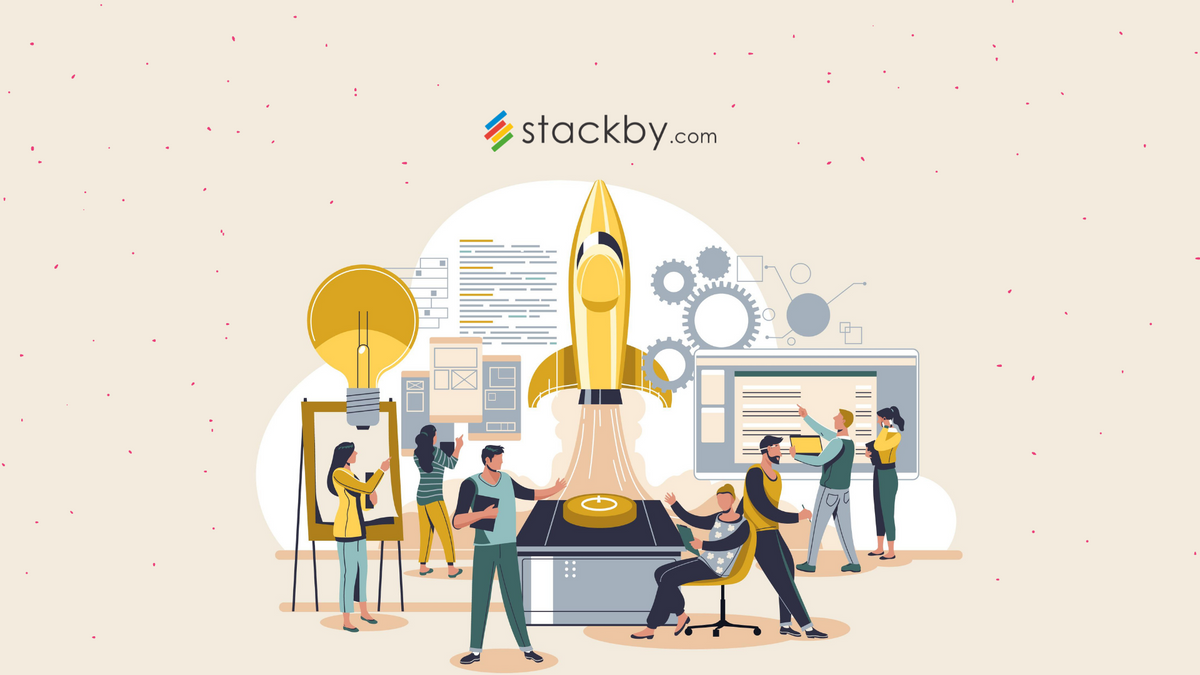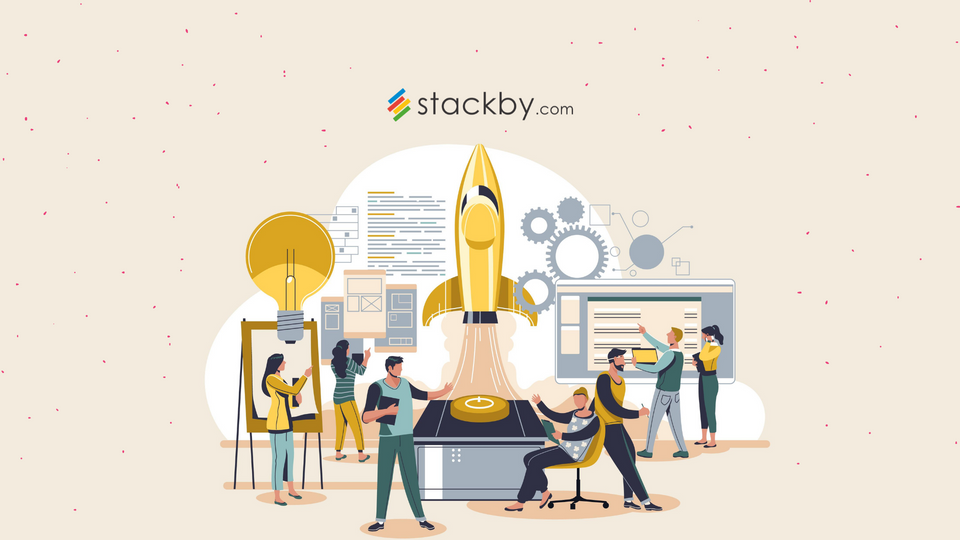 Beginning a new project, whether as a licensed project manager or not, may be stressful.
That is why it may be beneficial to use a pre-built template to get your project up and running quickly.
Finding the best free project management template entails examining the kind, size, and complexity of your project and seeking one that will assist your project to achieve the highest levels of transparency, efficiency, cooperation, and speed.
But, with so many template possibilities available, how do you determine which one is right for you?
There are several reasons why project management templates can be beneficial for managing projects:
Consistency: Project management templates provide a standardized approach to managing projects, which can help ensure consistency in processes, documentation, and communication across different projects and teams.
Efficiency: Templates save time and effort by providing a pre-designed structure for commonly used project management documents. This can help streamline the process of creating new project plans, schedules, budgets, and other project-related documents.
Best practices: Templates often include industry-standard best practices for managing projects. This can help ensure that key information is included and that the project is being managed in a way that maximizes the chances of success.
Communication: Templates can be used to facilitate communication among project stakeholders by providing a clear and consistent format for sharing project information, progress, and updates.
Risk management: Templates can be used to identify and manage risks associated with a project. They provide a structured approach for assessing potential risks, developing mitigation strategies, and monitoring risks throughout the project lifecycle.
Below is a collection of free Project Management Templates by Google Docs, Excel, and Stackby that will help project managers all around the world to effectively deliver projects.
This blog will define project management templates, explain why you need them, and showcase 25+ effective templates for various project management purposes. We'll also discuss how a project management application may assist you in efficiently managing one or several projects.
Top 10 SmartSuite Alternatives in 2023
What Is a Project Management Template?
Using project management models helps ensure that projects are completed on time, within budget, and in line with stakeholder expectations. They can also help standardize project processes across the organization, facilitating the sharing of knowledge and the transfer of best practices between projects.
Some common types of project management templates include:
Project Charter
Work Breakdown Structure (WBS)
Gantt Chart
Risk Management Plan
Communications Plan
Stakeholder Management Plan
Typically, the project manager lists the information based on the task.
As you have figured out what a project management template is, let's get on with the 25+ free project management templates.
1. Project Tracker Template by Stackby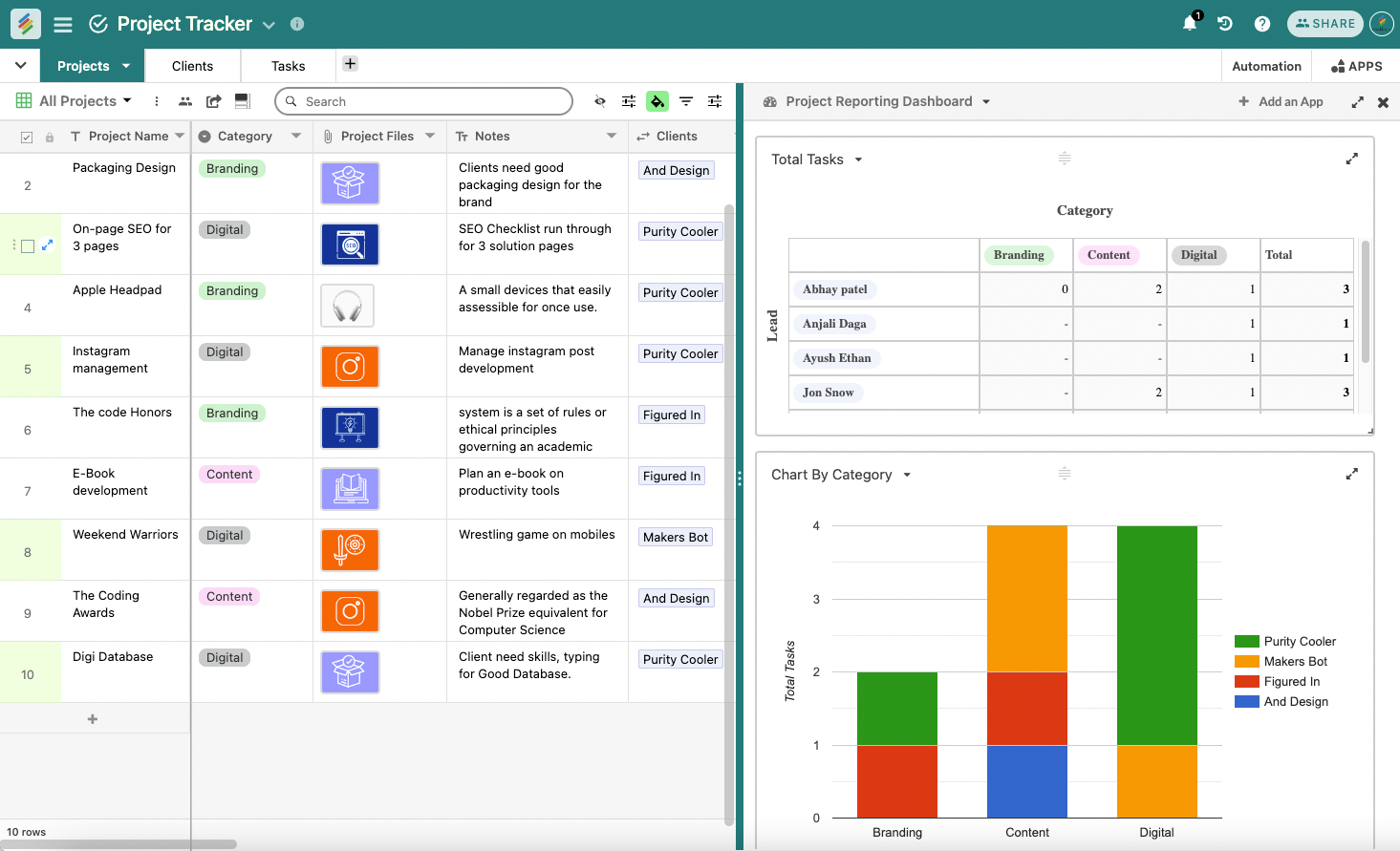 This is the only project tracker template you'd ever need if you're an agency or working internally in your team to manage your project activities.
Use this template to manage all your projects, assets, tasks, activities, clients and link those tables together to automate your KPIs and get things done in your team. Also, use statuses, categories, collaborators to make sure your projects are moving in the right direction.  
Build project tracker dashboards with charts and pivot tables, summarize key metrics with summary boxes & goal tracker, collaborate with your team in real-time and keep your projects moving.
2. Agile Project Plan Template for Google Docs
This is an excellent Google Sheets template, which will become your reliable additional tool in performing your tasks. The stylish design and great structure provide a wonderful user experience.
This Agile Project Plan template is intended to enable timely project delivery. It includes every component and information that agile teams require to design a project.
You may record the main elements of your project, divide huge tasks into smaller work items that you accomplish in sprints, and assign an owner to each job.
Using this Agile Project Plan Template for Google Docs can help you manage your Agile projects more effectively by providing a structured approach to planning, executing, and monitoring project activities.
Tasks can be assigned a status (for example, "On Hold," "Not Started," "In Progress," "Overdue," or "Complete") so that the project manager and other team members are aware of the overall progress of the project.
3. Excel Agile Project Plan Template
Use this project plan template to track your project progress if you're using an agile methodology and like working in Excel. This template is simple to use for each new project.
The steps to create an Agile Project Plan in Excel are:
Step 1: Identify all the Project Sprints.
Step 2: Identify all the Project Tasks of each Sprint.
Step 3: Estimate the Time Required to finish each task of the Project.
Step 4: Set the Start Date and Finish Date of each task based on the Project Start and End Date.
Using an Excel Agile Project Plan Template can provide several benefits for managing Agile projects, including:
Flexibility
Collaboration
Tracking
Visualization
Integration
3. Weekly Project Schedule for PDF and Excel
This is the simplest weekly project schedule template available online. It is simple but effective.
This is a seven-day schedule template that you can use to track your team's tasks.
Simply enter the date, time, and task that each team member will complete during the week.
Doesn't get much easier.
Example of a weekly project schedule that can be used in both PDF and Excel formats:
Project Information: Include basic information about the project, such as the project name, start date, end date, and project manager.
Task List: Create a list of all the tasks that need to be completed for the project. Each task should be listed with a description, start date, end date, and estimated duration.
Resource Allocation: Identify the resources needed for each task, such as personnel, equipment, or materials. Assign resources to each task and specify the amount of time each resource will be needed.
Gantt Chart: Create a Gantt chart to visualize the project schedule. Use the start and end dates for each task to plot the task on the chart, and use horizontal bars to show the duration of each task.
Critical Path: Identify the critical path of the project, which is the sequence of tasks that must be completed on time in order to meet the project deadline. Highlight the critical path tasks on the Gantt chart.
Weekly Schedule: Create a weekly schedule that shows the tasks that need to be completed each week, along with their start and end dates. Use color coding or shading to differentiate between different weeks or tasks.
Progress Tracking: Update the project schedule regularly to track progress and identify any delays or issues. Use the Gantt chart to compare the actual progress with the planned schedule and make adjustments as needed.
4. Excel Simple Gantt Chart Template
Create a project schedule and track your progress with this easy-to-use Excel Gantt chart template.  The  Gantt chart template for Excel breaks down a project by stage and task, indicating who is responsible, the task's start and end date, and the percentage of completion. Share the Gantt chart in Excel with your project team so they can review and edit it together. This Gantt chart template is perfect for business plans, project management, student assignments, or even home remodeling.
5. Project Budget for PDF & Excel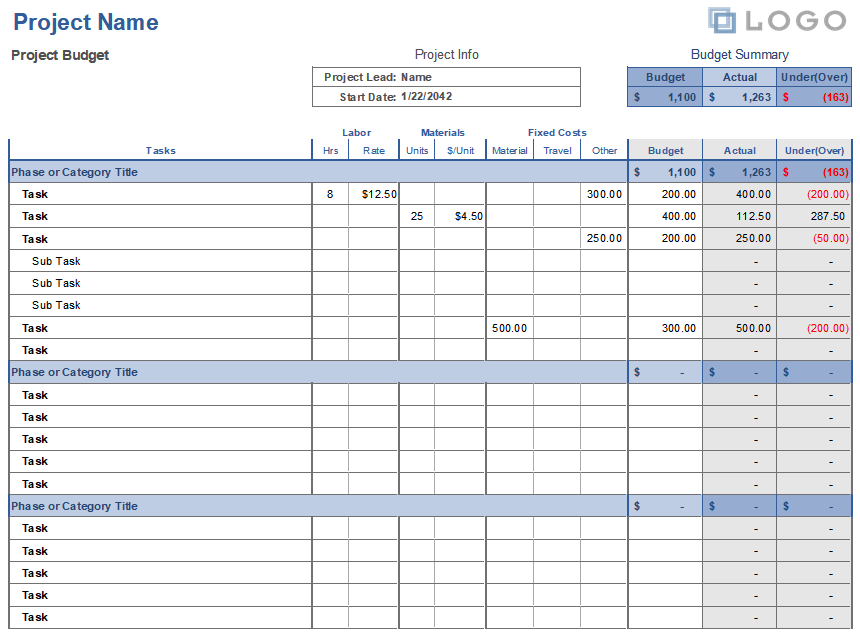 There are two primary reasons why project budgeting is critical. For starters, it creates a set of rules and procedures for allocating funds for projects.
Second, it keeps costs in line and prevents them from spiraling out of hand. A smart project budget also allows for unanticipated expenditures, so you don't run out of money halfway through the project.
Using a Project Budget for PDF and Excel can provide several benefits for managing projects, including:
Planning
Control
Communication
Transparency
Decision-making
Historical Data
A project budget contains the financial details of your project, including estimates of all project costs and the money you need to run a successful project, from resources to materials.
Track project costs with this Excel budget template. It even includes a color code to let you know when you're in the red! The budget is the lifeblood of your project, so you need to keep a close eye on it to avoid cost overruns. This is where this budget template project comes in handy.
6. Product Roadmap for PDF & Excel & Google Sheets
A roadmap is a high-level plan that defines how you expect to implement your strategy and create growth over the next year.
It's a powerful tool for communicating practically any type of strategic plan.
It outlines why you're creating your product, who it's for, where it's at now, and where it's going to go in the near future.
How do you create a product roadmap in Excel?
Open the Microsoft Excel Product Roadmap Template.
Add a Project Title.
Adjust Quarters and Dates for the Project Roadmap.
Add Task Names.
Add Work Streams.
Adjust Work Streams on the Excel Product Roadmap.
Change the Color of the Work Stream Bars.
Create a Legend or Status Key for the Product Roadmap.
7. Google Docs Multiple Project Roadmap Template
This Google Docs multi-project roadmap template will help you organize your tasks more efficiently when you and your team are working on multiple projects at once.
The advanced template is an excellent communication planning tool for companies where one product manager is responsible for several projects.
This is a visually dynamic model with built-in and color-coded status and risk rating keys for quick and easy status changes.
You can effortlessly drag and extend steps or jobs to fit every aspect of your project, keeping them all working at their peak.
8. Google Docs Project Management Timeline Template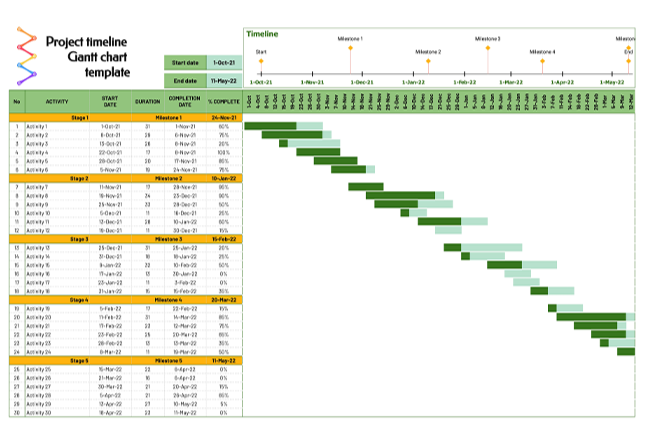 Timelines for project management are crucial for every project manager to ensure a successful project.
A project management timeline is often depicted as a horizontal bar chart with the start and finish dates of each activity.
It may be used to keep sponsors, team members, and other stakeholders informed of a project's due dates and progress.
How to make a timeline in Google Sheets
List your project milestones and dates in a table. Start a new Google Sheets spreadsheet by clicking on the Blank type from the Template Gallery. ...
Create a basic timeline by setting it up as a Bubble chart. ...
Format your graphic to ensure legibility. ...
Customize your timeline.
9. Google Sheets Project Timeline Template
This timeline project work plan template is designed similar to a Gantt chart in that it represents your project as a sequence of tasks. This template is used to describe the stages and details of a project. Project details are then displayed in a calendar view, allowing you to track their progress.
10. Project Tracking Google Sheets Template
Project tracking is a method of determining how far your project has progressed toward completion. It entails tracking the progress of several project parts and collecting that data in order to assess their efficacy.
To retain control over projects and their resources, modern project management approaches stress visibility and tracking.
You may manage your deliverables and estimated expenses, as well as establish task priority, using Google's Project Tracking template.
There's also a status key to keep your entire team up to date.
11. Excel Project Tracker Template
There are several benefits of using an Excel project tracker template to track the progress of a project:
Easy to Use
Real-time Tracking
Customizable
Data Analysis
Collaboration
Time-saving
In summary, an Excel project tracker template can help you track and manage your project effectively. It is easy to use, customizable and provides powerful data analysis tools. Additionally, by using Excel, you can collaborate with team members and track progress in real-time, saving time and increasing productivity.
12. Project Charter Google Sheets Template
A project charter is a critical document that defines the scope, objectives, and principles of a project.
It's used to get team members and project stakeholders on the same page about what needs to be done, why it needs to be done, who will do it, when they'll do it, how they'll do it, and what success criteria have been created.
Teams are more likely to succeed in their projects when they have a well-defined project charter.
Google Sheets Vs Excel: Which is better for you? [2023]
You'll be able to construct a project charter in minutes with our Project Charter Google Sheets Template.
It includes everything you need for efficient project management, such as project scope, stakeholders, priorities, constraints, project goals, problems and opportunities, and more.
13. Google Sheets Weekly Timesheet Template
The project charter is an important document that defines the scope, objectives, and principles of the project.
It is used to get team members and project stakeholders on the same page about what needs to be done, why it needs to be done, who will do it, when they will do it, how they will do it, and what success criteria were established.
Teams are more likely to succeed in their projects when they have a well-defined project charter.
Create a project charter in minutes with our Google Sheets Project Charter Template.
It contains everything you need for effective project management, such as project scope, stakeholders, priorities, constraints, project objectives, issues and opportunities, and more.
14. Google Docs Pre-Project Kickoff Checklist Template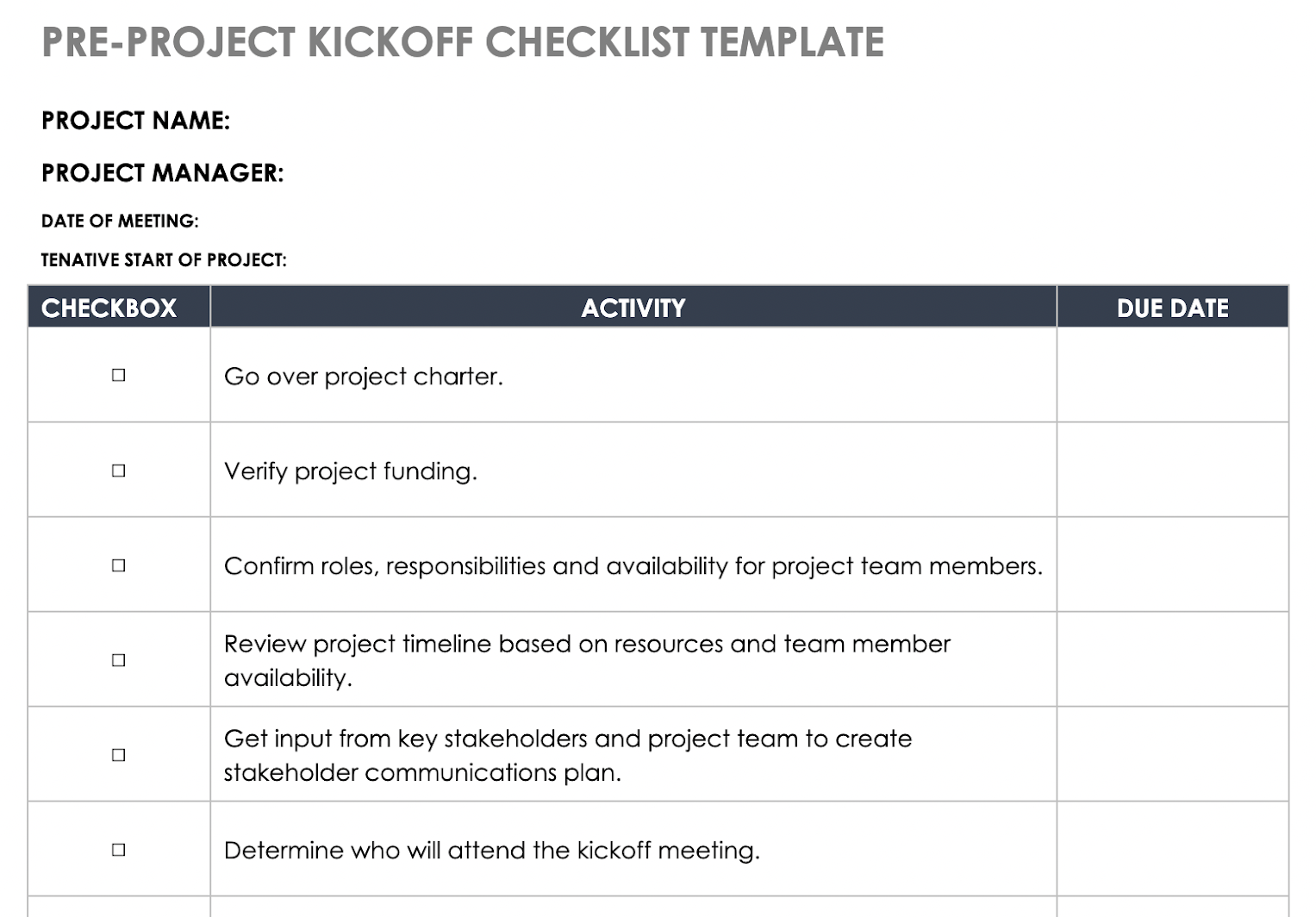 Project kickoff meetings are a huge opportunity to set a group of people working towards one goal on the right track (or careening down the wrong one). The best way to get everyone on the same page in this meeting? Start with a clear, concise project kickoff meeting agenda.
A pre-project kickoff checklist template in Google Docs can help ensure that all necessary steps are taken before the start of a project.
This Google Docs template is intended to serve as a checklist with sample actions for project managers to follow. Steps include "confirm duties and responsibilities," "check project funds," and "reserve meeting site."
However, you may always modify the template to meet the goals and objectives of your project.
15. Project status report for Word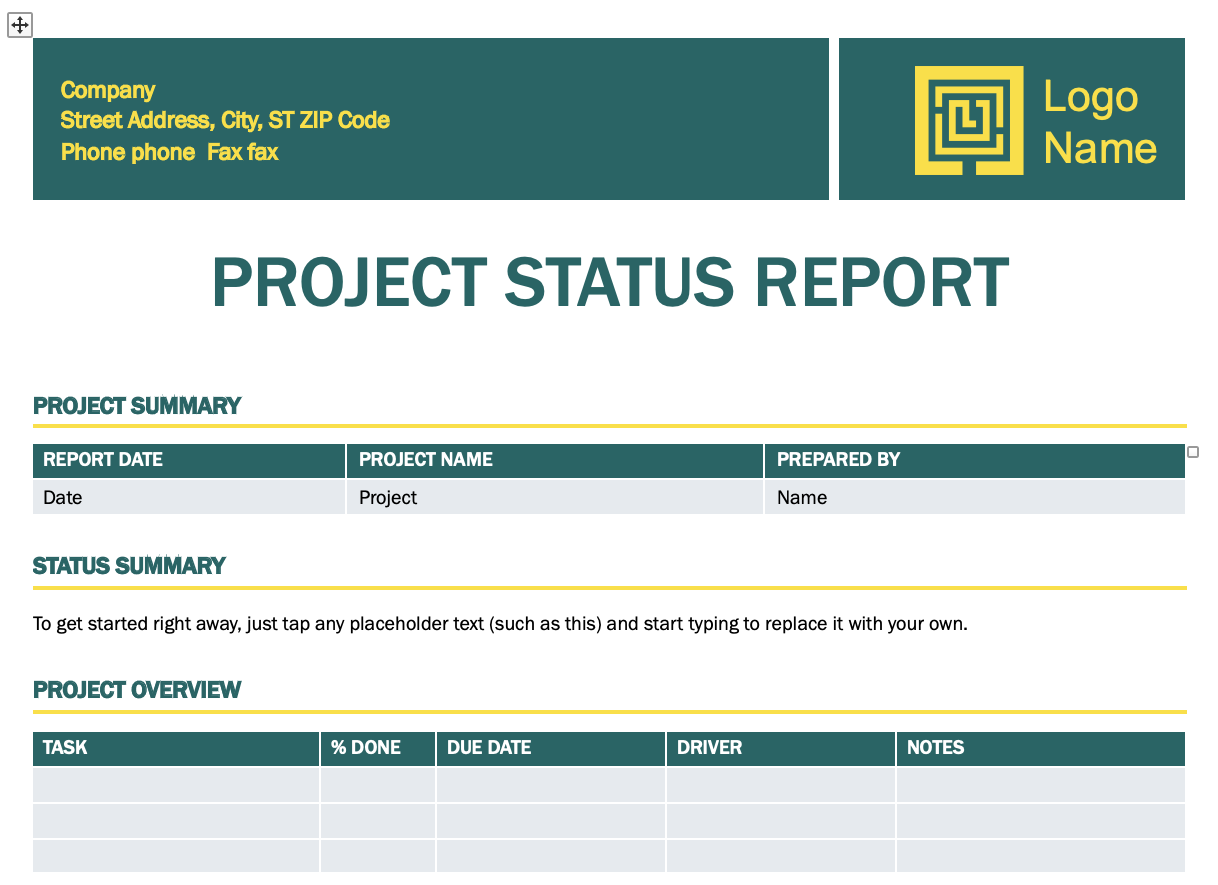 A project status report is a document that contains a summary of the current status of the project. It usually includes information such as project milestones, progress updates, issues or risks, budget, and schedule.
It is a template that can be used to create a project status report document in Microsoft Word. This template can be customized to include information specific to your project.
It is typically used to communicate progress, issues, and risks to stakeholders, such as project sponsors, executives, or team members. The report can include information such as:
Project Summary
Key Performance Indicators
Progress Update
Issues and Risks
Change Management
Next Steps
The project status report is an important communication tool that informs stakeholders of project progress and ensures that the project remains on schedule. The Word template allows project managers to save the time and effort of creating a report while being able to customize it to meet the specific needs of their project.
16. SMART Goals Template by Stackby
Tracking is a strong tool that is an important part of your workflow process. Several surveys and studies have repeatedly demonstrated that monitoring enhances the quality and productivity of your job!
You will be able to do the following with our smart goals template:
Set SMART goals and track their progress using a single interface.
Assign a monetary value to each goal.
Keep track of the metrics connected with each objective.
Keep track of the goal's deadline.
Keep an eye on the current status of the objective metrics & much more
This easy to use SMART goals template by Stackby will help you create, track and accomplish goals that are specific, measurable, achievable, relevant, and timely.
Get you on track to construct meaningful goals within a defined framework. Each letter stands for an attribute that will help you refine your goal. SMART goals don't just need to be work related; you can apply the same principles to set goals for anything you want to achieve in your life.
17. PR Agency Activity Tracker Template by Stackby
This template is useful for PR agencies or marketing agencies who are handling the public relations of different clients. This is to help you keep track of all the activities involving your agency teams and clients.
PR agencies may track the many PR tasks that are being implemented with Stackby's PR Agency Activity Tracker Template. They may keep track of which team members are in charge of particular tasks.
You will be able to perform the following with this PR Agency Activity Tracker template:
Track all of your public relations obligations in one location.
Keep track of who is in charge of which PR responsibilities.
Track the status of the PR task, whether it is finished or not, and save the invoice for each PR task & much more
Running a PR agency can be both challenging and rewarding, but it also involves many moving parts and tasks that must be managed effectively. Tracking client campaigns, media contacts and reporting results can be daunting without the right tools. This is where monitoring the performance of the PR office team comes in handy!
18. Project Schedule Template by Stackby
A project schedule template can be used by a company's top management to monitor many projects conducted by different team members.
This template would help them by providing a straightforward and quick way to organize projects and track their progress.
Stackby's Project Schedule Template may be used to:
Share information, utilize it in task communication, and keep any project information available to the project manager.
The status column can be used to determine if a project is finished, ongoing, or canceled.
The related task column shows you which tasks are linked with that given project & much more.
There is also a separate window where you can specifically see the tasks assigned to the projects.
Here you can see the tasks assigned to each project, any attachments related to the projects, the date the tasks are assigned, and their deadlines.
19. Sprint Planning Template by Stackby
Every agile development team has a single goal: to produce a product over a series of successful sprints.
Sprints improve collaboration, enable every team member to learn from experience, and result in high-quality output.
So, Stackby's Sprint Planning Template is a fantastic tool for planning effective sprints for your product development team.
Our Sprint Planning Stack comprises two tables: Sprints for tracking all sprints in one location and Tasks/ Issues for keeping track of any tasks or issues connected to each sprint.
You may use this template to perform the following:
Keep track of a sprint's start and end dates.
Track the progress of each sprint (completed, scheduled, ongoing)
Keep track of which members of the team are working on which tasks.
Use Kanban View, Calendar View, and other views to visualize the sprints & much more
20. Technical SEO Audit Template by Stackby
A technical SEO audit is a procedure that examines various technical aspects of a website to ensure that they adhere to search optimization best practices.
This refers to technical aspects of your website that are directly related to search engine ranking elements such as Google or Bing.
However, maintaining track of your site's technical SEO might be difficult. Not anymore, thanks to Stackby's Technical SEO Audit template!
Start tracking your website's on-page SEO in minutes by using this technical SEO audit template.
21. Project Portfolio Management Template by Stackby
A project portfolio management template can help you organize and keep track of each project or program and be in control of your company's project portfolio.
Analyzing and tracking all of the initiatives and programmes may be exhausting.
A project portfolio management template can assist you in staying updated and on track at all times.
This template may be used to analyze and manage a collection of current or proposed projects based on important features.
You can classify projects and tasks, as well as their completion status and the teams involved.
You will never be distracted and will always be aware of current or completed actions as well as the most recent changes.
It may also be accessed and modified in real-time by your team at any time and from any location.
22. RACI Matrix Template by Stackby
A RACI matrix is a graphic that identifies and specifies team members' roles and responsibilities in connection to project activities.
The letters R, A, C, and I are used in a RACI matrix to identify team duties. RACI is an acronym that stands for Responsible, Accountable, Consulted, and Informed.
You can now easily manage your initiatives with Stackby's RACI Matrix Template.
23. OKR Tracking Template by Stackby
This simple OKR template with editable columns is your go-to answer for any OKR-related problems. With our OKR template, you can eliminate many spreadsheets and track everything from one location!
You can now use Stackby's OKR tracking template to:
Make a list of your company's objectives.
Each objective should be assigned a priority status (High/Medium/Low).
Monitor the proportion of objectives completed and make comments on each as needed.
To simplify collaboration among team members and the organization, assign a lead team member to each target.
Keep track of the major outcomes related to each target & much more.
24. Gap Analysis Template by Stackby
A gap analysis approach enables businesses to decide the best way to fulfill their business objectives. It contrasts the existing situation with an ideal state or aims, highlighting flaws and areas for development.
Identify & track gaps in your marketing initiatives and projects with this easy-to-use gap analysis template.
25. Press Release Tracker Template by Stackby
In our simple Press Release Tracker, you can manage all of your brand's Press Releases. Use it for your brand or your clients if you're a public relations firm.
You may use it to:
Maintain a record of your press releases and assets.
Manage all of your publications and media lists in one place.
Keep track of your PR KPIs and objectives.
3 reasons why you shouldn't use Google docs/ Excel sheets for Project Management
Excel/Google docs is not a tool for communication. Teams must interact, which is why any good online project management platform includes collaboration features.
Excel/Google docs templates are difficult to customize. Any Project Management tools should make your work easier, not more complicated.
There is no automation to help with the time manual data entry.
Why do you need a Project Management Template?
When generating new projects, project management templates may save a project manager a lot of time.
Because they do not have to start from scratch, the template allows them to eliminate repeated, time-consuming labor.
There are hundreds of templates available in programmes such as Excel and project management software such as Stackby.
How can Project Management Software help you?
Project management software like Stackby gives you security, easy data transfer, 100's of free templates, easy communication, a good user interface, and much more.
A good Project Management software like Stackby will make things way easier and better for you and your team.
Conclusion
A free template will only get you so far. If you're dealing with several individuals, doing difficult activities, or working on high-stakes projects, an investment in excellent project management software is well worth it.
Stackby provides a comprehensive set of project management tools. It reduces complexity and increases visibility across the whole process.

Ready to get started? Try Stackby for free today!