Unlocking Possibilities: Top 6 No-Code App Builders Revealed
Looking to create custom applications but don't have the technical chops? Check out this blog to learn how you can get started with your no-code app building journey.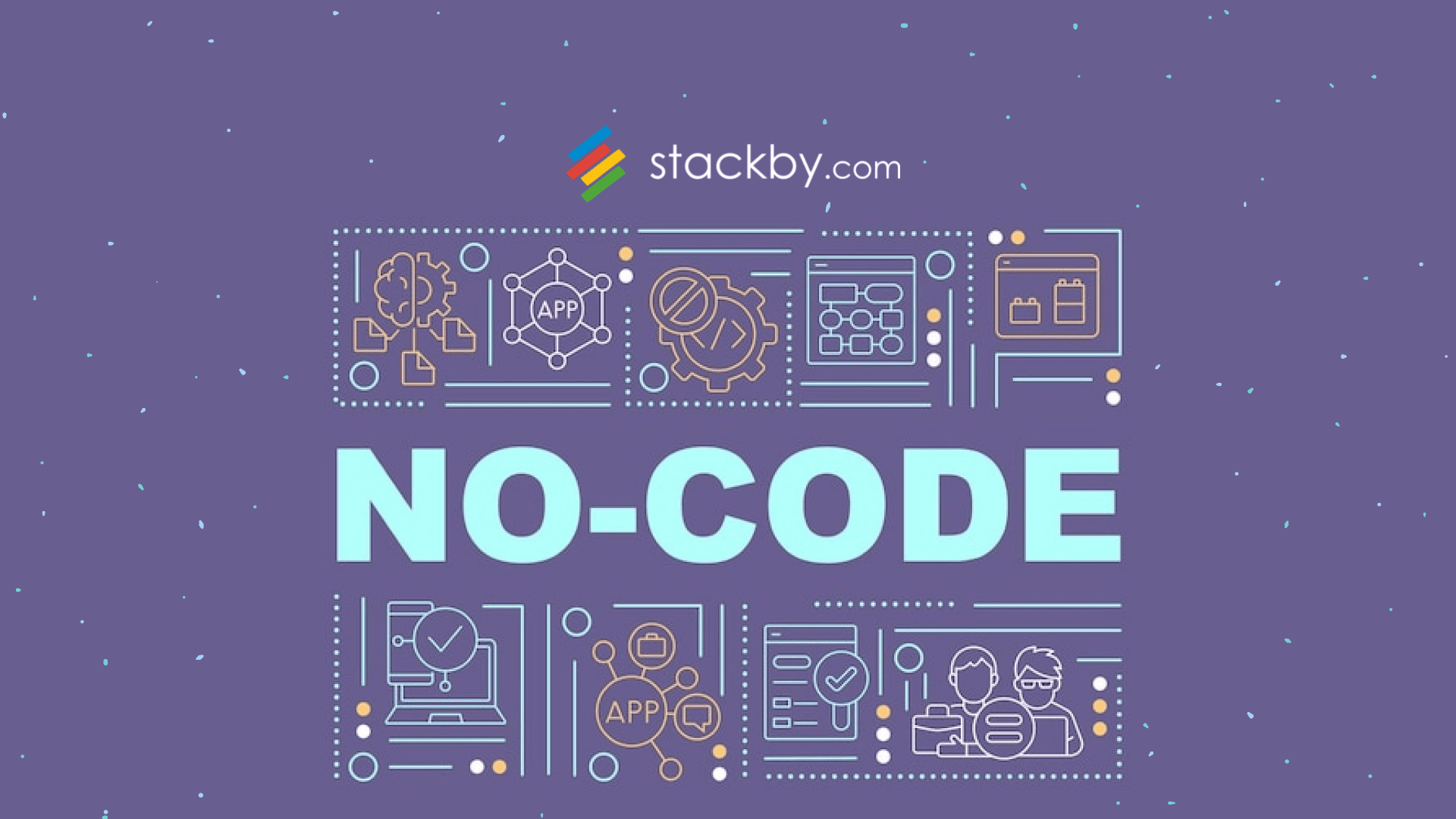 Are you tired of feeling like a fish out of water when it comes to app development? Wondering if there's an easier way to turn your brilliant ideas into functional applications?
Well, guess what? You don't need to be a coding wizard to make it happen! Sounds too good to be true? Think again!
Welcome to the world of no-code app builders, where innovation meets simplicity, and your ideas can come to life with just a few clicks.
By 2025, a whopping 70% of new business apps are expected to harness the power of low-code and no-code technologies.
Picture this: You're sitting on your couch, sipping your favorite beverage, and suddenly a genius app concept strikes you like a lightning bolt. But then, reality hits.
The coding complexities, the endless hours of debugging, and the fear of making a single typo that could bring your app crashing down—it's enough to make you question your sanity.
But fear not! In this detailed blog post, we're diving headfirst into the world of no-code app builders, where innovation meets simplicity.
We'll take you on a journey where coding nightmares turn into sweet dreams of drag-and-drop interfaces, pre-built templates, and much more.
"No-code development is the future of technology. It makes it easier for people to create the applications they need without having to learn complex coding languages." – Tim Cook, CEO of Apple Inc.
What are No-Code App Builders?
Before diving into the top no-code app builders, let's understand what exactly they are. No-code app builders are visual development platforms that allow you to create applications without requiring coding skills.
These intuitive tools provide a drag-and-drop interface, pre-built components, and templates to simplify the app development process.
No-code solutions consume 70% fewer resources when compared to conventional app-building platforms.
They democratize app creation, enabling individuals with diverse backgrounds and skill sets to build functional and professional-grade apps.
Key Benefits of No-Code Development
Gone are the days of banging your head against the keyboard, trying to decipher cryptic lines of code. With no-code app builders, you can save your forehead from unnecessary bruises and channel that energy into building something unique.
No-code and low-code platforms significantly reduce app development time by 90%.
No-code development opens a realm of possibilities for both businesses and individuals. By embracing the power of no-code app builders, you can reap many fantastic benefits, such as:
Accelerated development process
Increased agility and flexibility
Reduced costs and resources
Empowerment of non-technical users
Quick prototyping and iteration
Best No-Code App Builders in 2023
"No-code development is like a paintbrush for technology. It allows you to create something beautiful without having to be an artist." – Marc Benioff, CEO of Salesforce
After learning about the benefits of no-code development, it is time to look at the top no-code app builders available in the market, which can make your journey a breeze. Let's delve in:
1. Stackby: For Structuring Databases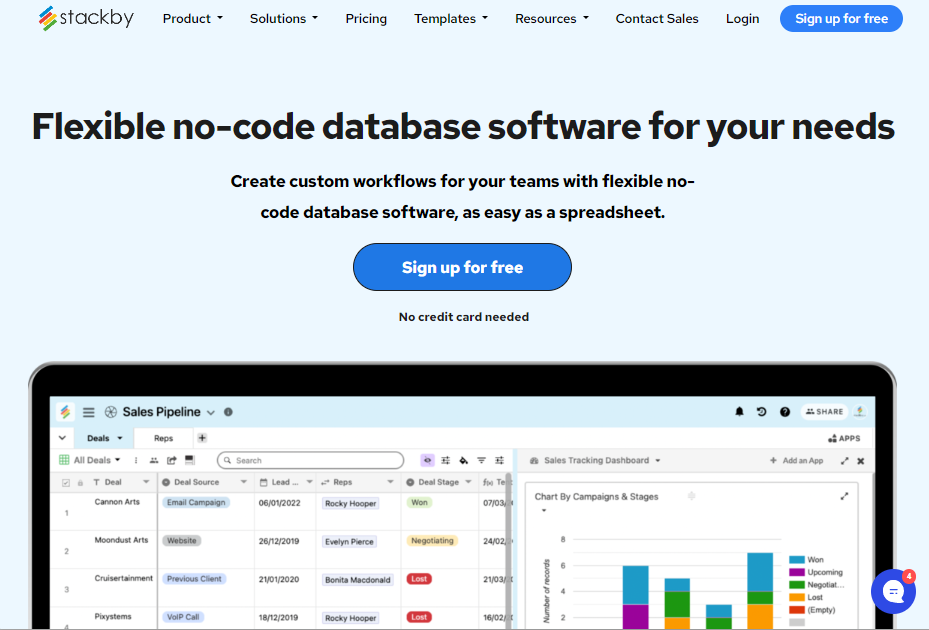 Once upon a time, managing databases meant diving into a world of confusing spreadsheets and never-ending rows of data. But not anymore!
Stackby is here to simplify the way you structure and organize your data. It's like having a personal assistant for your databases, ensuring everything is neat, tidy, and easily accessible.
Throughout the years, it has stood out as a reliable and robust no-code database. With Stackby, you can create custom databases, organize data efficiently, and collaborate seamlessly with your team.
Its user-friendly interface, extensive range of pre-built templates, and robust integrations make it a go-to tool for businesses of all sizes.
Whether you're managing projects, a marketing agency, or organizing customer data, this outstanding platform simplifies the process and enhances productivity.
Using Stackby is incredibly easy. Let's have a quick look at the steps to follow:
Process Box:
Step 1: Sign up for Stackby and create a new workspace.
Step 2: Define your database structure using Stackby's intuitive spreadsheet-like interface.
Step 3: Customize column types, add formulas, and set up relationships to organize your data efficiently.
Step 4: Collaborate with your team, share the database, and start building powerful applications.
Key Features and Capabilities
Spreadsheet-style interface with customizable columns and rows.
Integrations with popular tools like Google Sheets, Trello, and more.
Drag-and-drop functionality for effortless data organization.
Collaboration features, including real-time editing and commenting.
Workflow automation for streamlined processes.
Pro Tip: Use Stackby's API integration to connect your database with other tools and services, unlocking endless automation and data synchronization possibilities.
Pros
Intuitive interface for easy database creation
Wide variety of customizable templates
Smooth collaboration and team coordination
Seamless integrations with popular tools
Advanced column types
Powerful formula and automation capabilities
Cons
Limited advanced customization options compared to traditional coding
Steep learning curve for complex workflows
Use Cases and Examples
Here are a few scenarios where Stackby's prowess shines:
2. Glide: For Creating Simple Mobile Apps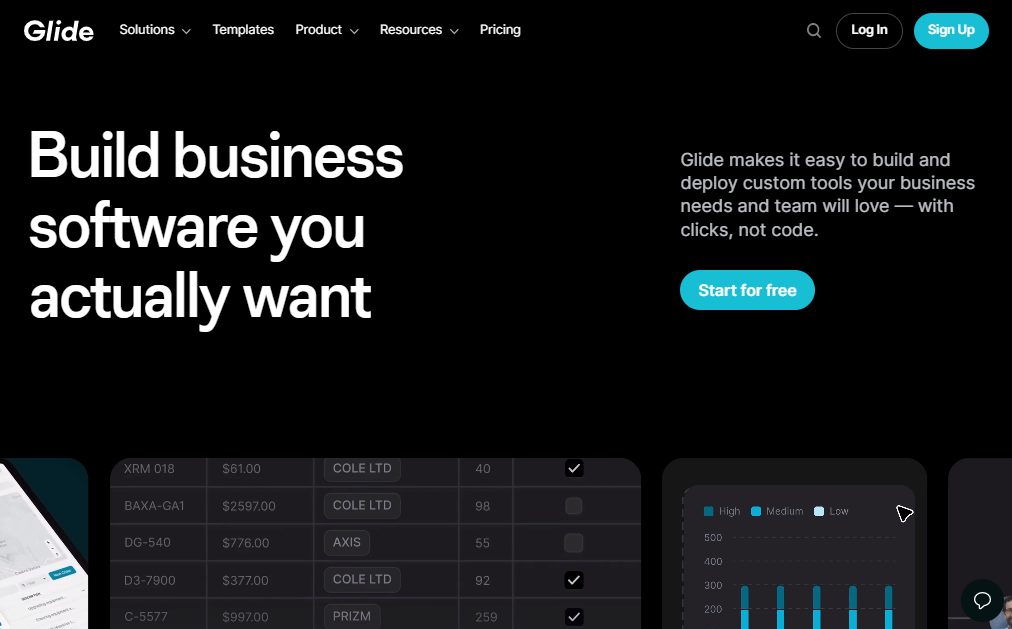 Glide is a no-code builder designed for creating elegant and functional mobile apps. With its intuitive interface and drag-and-drop functionality, you can build mobile apps directly from Google Sheets.
It offers a range of features, making it ideal for prototyping, internal tools, or even launching a minimal viable product.
Features and Functionality
Instant app deployment on iOS and Android devices.
Interactive components like forms, buttons, and lists.
Real-time data synchronization with Google Sheets.
Customizable design options and themes.
Pros
Easy integration with Google Sheets.
Simplified app creation process.
Real-time data synchronization.
Cons
Limited customization options for advanced users.
Reliance on Google Sheets for data storage.
3. Bubble: Low-Code Platform with Power and Ease of Use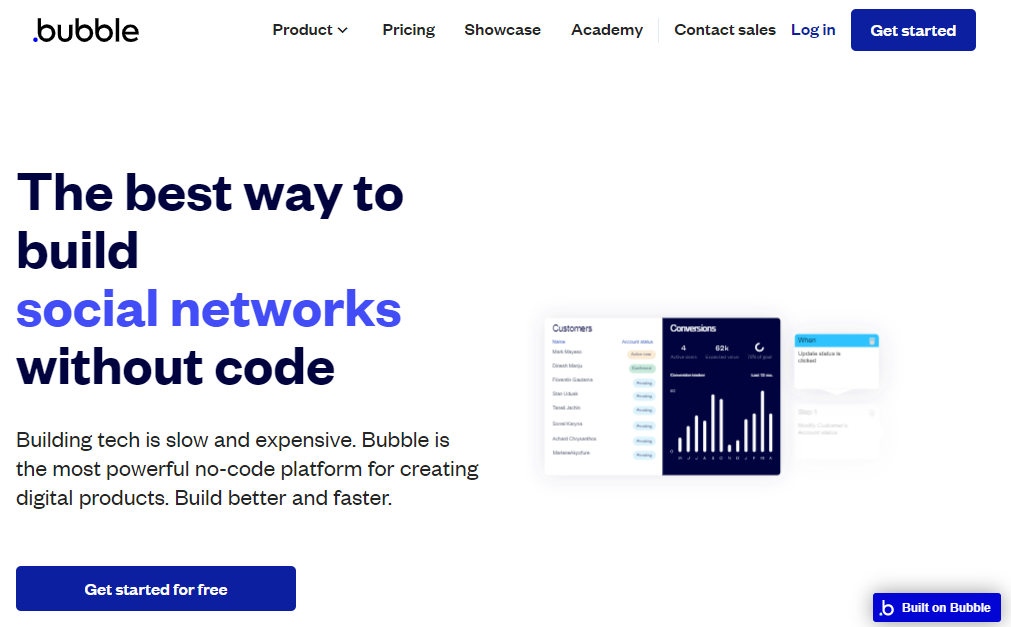 Bubble is a low-code platform that strikes a balance between ease of use and powerful functionality.
It empowers users to build complex web applications without writing code. With its aid, you can create interactive UIs, define workflows, and integrate external APIs effortlessly.
Notable Features
Drag-and-drop interface for effortless app design.
Backend workflow editor for advanced logic and automation.
Database connectivity for data-driven applications.
Responsive design for multi-device compatibility.
Pros
Visual interface for web application development.
Extensive plugin library for added functionality.
Robust and scalable platform.
Cons
Steeper learning curve for complex projects.
Limited customization options for UI design.
"No-code development is changing the world by making technology more accessible to everyone. It's an empowering movement that is creating a more equitable future." – Satya Nadella, CEO of Microsoft
4. Webflow: For Websites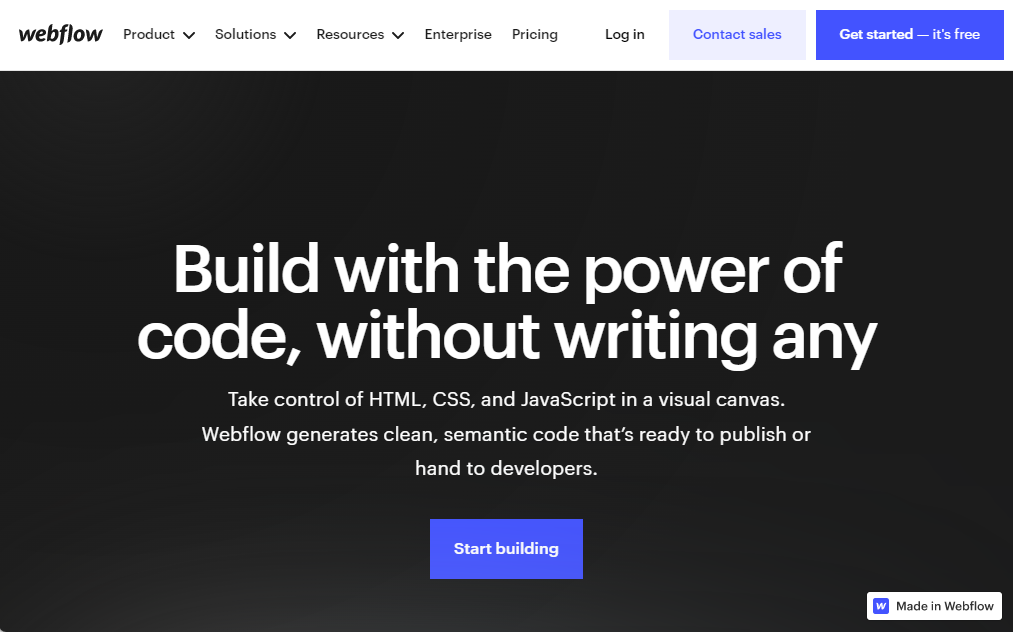 Webflow is a popular platform that empowers users to create professional and visually stunning no-code websites. It offers a comprehensive set of tools for building responsive websites visually.
The best part is that it provides a perfect combination of design flexibility, powerful functionality, and seamless deployment options, making it an ideal choice for those seeking a user-friendly website builder to make your work easy.
Key Features
Intuitive visual website builder with drag-and-drop functionality.
Customizable design options for complete creative control.
Responsive breakpoints for multi-device compatibility.
Interactions and animations for enhanced user experience.
Pros
Design freedom and flexibility for creating unique no-code websites.
Code export option for advanced customization.
Robust hosting and CMS features for efficient website management.
Cons
Learning curve for mastering the platform's advanced features.
Higher pricing plans for full access to all features.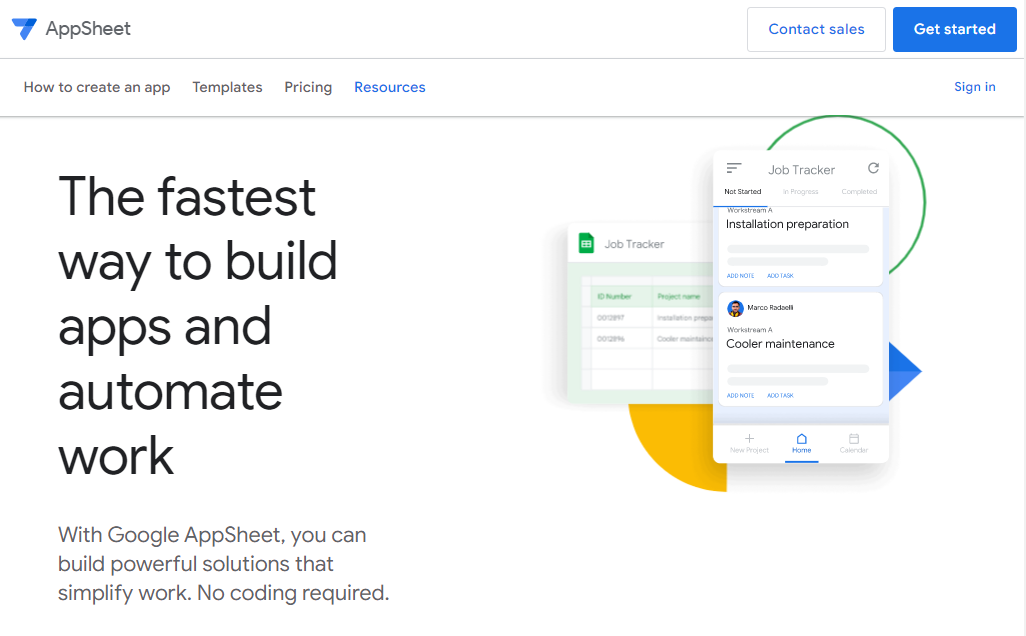 Google AppSheet combines the power of no-code development with artificial intelligence and automation capabilities. It allows users to create custom applications using spreadsheets as a data source.
With its aid, you can automate workflows, generate insights, and build smart applications that streamline your business processes.
Features
Natural language processing for intelligent data entry.
Machine learning models for predictive analysis.
Workflow automation through triggers and scripts.
Seamless integration with Google Workspace tools.
Pros
Seamless integration with Google Workspace.
AI and machine learning capabilities.
Real-time data synchronization.
Cons
Limited customization options compared to dedicated app builders.
Steep learning curve for complex automation.
6. Softr: For Web Portals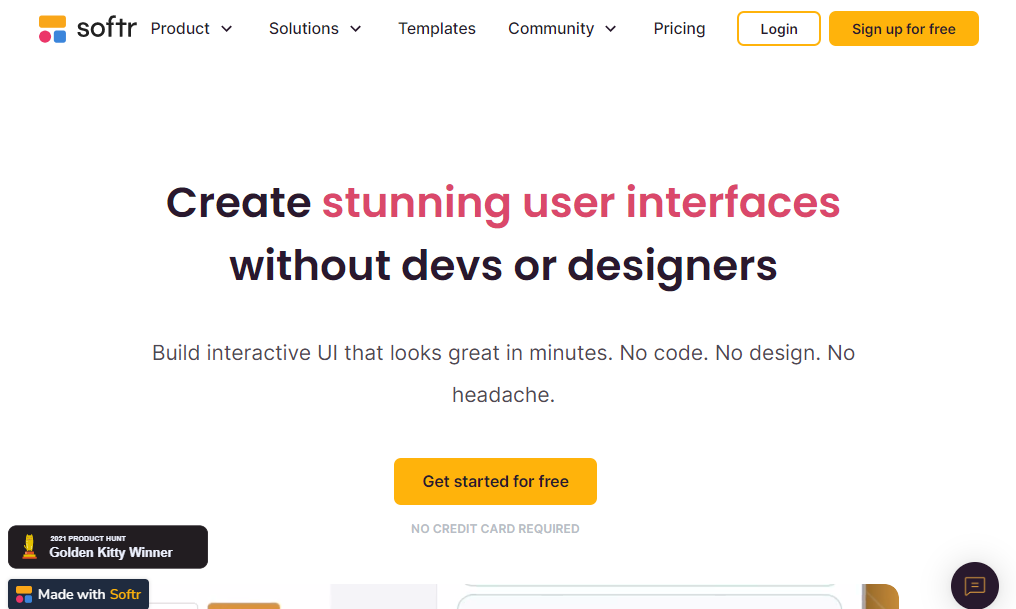 Softr is an intuitive no-code app builder that specializes in creating web portals. It enables users to build web portals, member sites, and client portals using no-code principles.
Its intuitive interface and powerful features make it popular for creating dynamic web experiences.
Important Features
Drag-and-drop editor for easy no-code websites customization.
Dynamic content display based on user roles and permissions.
Integration with external databases and APIs.
Membership management for gated access.
Pros
Easy creation of web portals without coding knowledge.
Flexibility in designing personalized user experiences.
Seamless integration with third-party services and databases.
Cons
Limited advanced customization options compared to traditional coding.
Reliance on Softr's hosting for deployment.
In a Nutshell
"No-code development has revolutionized the way we think about creating applications. It's no longer just for developers, it's for everyone." – Mark Zuckerberg, CEO of Facebook
As we conclude this journey through the top no-code app builders, one platform that consistently shines is Stackby. Its robust database structuring capabilities empower users to create custom solutions without writing a single line of code.
So, are you ready to take your ideas to the next level?
Explore Stackby now and witness the power of no-code app building firsthand!