How to build CRM in Excel (Steps & Templates)
If your company is outgrowing it's current system and you can't handle your leads effectively, here's how you can build a quick CRM in Excel with 6 easy steps + free templates inside.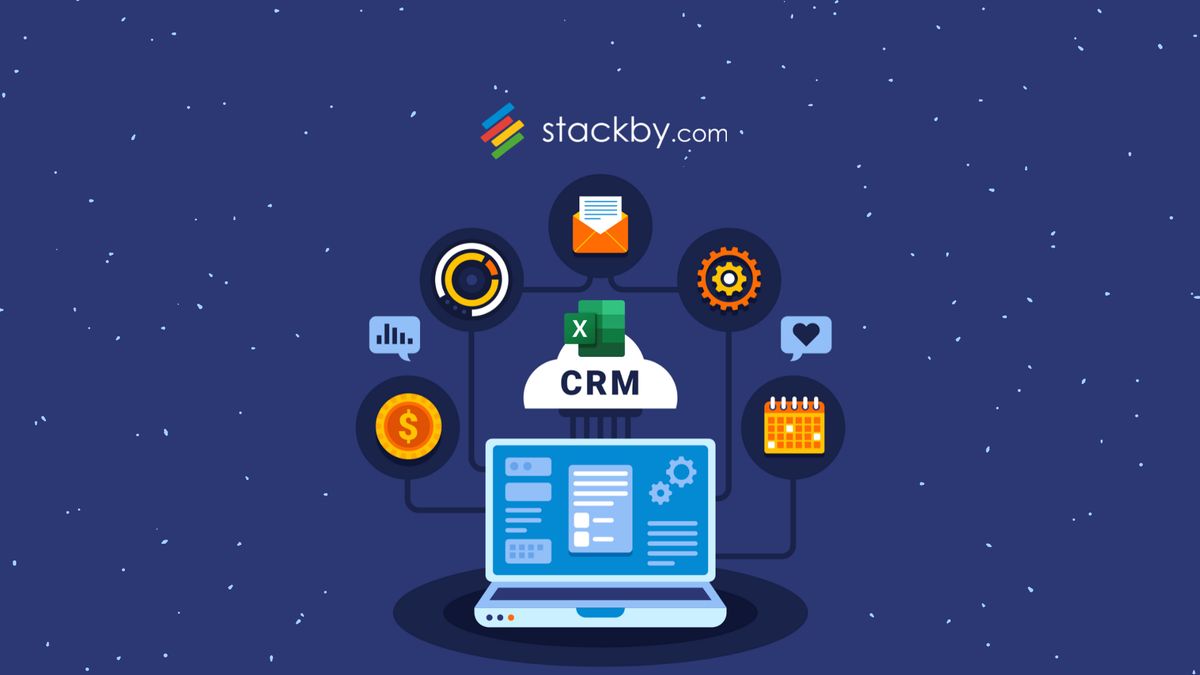 So, your company will begin to outgrow its current organizational system. It can happen in the blink of an eye. Suddenly you have more leads than your notebook system can handle. Important information starts to fall through the cracks and your customers are the ones who suffer.
Sound familiar? Then you're ready to upgrade.  
Using an Excel-based CRM can be a simple solution to a growing problem in your business. In this article, you will learn exactly how to use Excel as a CRM tool and whether it is really the solution your business needs.
Customer relationship management (CRM) is important for businesses of all sizes. It allows you to manage your customer interactions, track sales and track customer behavior to improve your overall sales strategy. Although there are many independent CRM software solutions available, many companies prefer to use Excel to manage their customer data. In this blog, we will cover how to create a CRM in Excel.
Overview
What is a CRM?
How the CRM platform works
Steps to create CRM in Excel
Advantages of creating a CRM system
Disadvantages of creating CRM in Excel
Stackby CRM
Tips for making the right use of Excel CRM
Is Excel CRM the right choice?
Final verdict
What is a CRM?
CRM stands for "Customer Relationship Management" and is a technology that allows business owners to easily track all communications and maintain relationships with leads and customers.
The result: organization, efficiency, better time management, and impressed customers.
It is a system by which businesses manage their interactions with customers and prospects. It is a strategy that helps organizations improve their relationships with customers by organizing, automating, and synchronizing customer interactions between different departments such as sales, marketing, and customer service.  
A CRM system is essential for companies that want to improve their customer experience and drive growth through more effective customer engagement.
How the CRM platform works
A good CRM is not limited to data collection; it helps you get the most out of all the information:
Get personal and send the right messages at the right time to leads and customers.
Focus sales teams on the hottest prospects.
Shorten the sales cycle.
Track, analyze, and improve results.
How to create a CRM in Excel? Easy steps to follow
You don't need to be a  Microsoft Excel pro to create a CRM for your business. Follow the steps below to create a CRM from scratch in Excel - no advanced formulas or pivot tables are required.
1. CRM Design:
Decide what information you want to track in your CRM (such as customer name, contact information, purchase history, and more).
Now open a new workbook in Excel and create a new spreadsheet. Rename it "Customer Information". Create column headings for each field you want to track.
2. Create a customer datasheet:
Begin entering customer data into the spreadsheet, filling out each row with information for each customer. Be sure to include any relevant information, such as customer name, contact information, purchase history, phone numbers, email addresses, and purchase dates.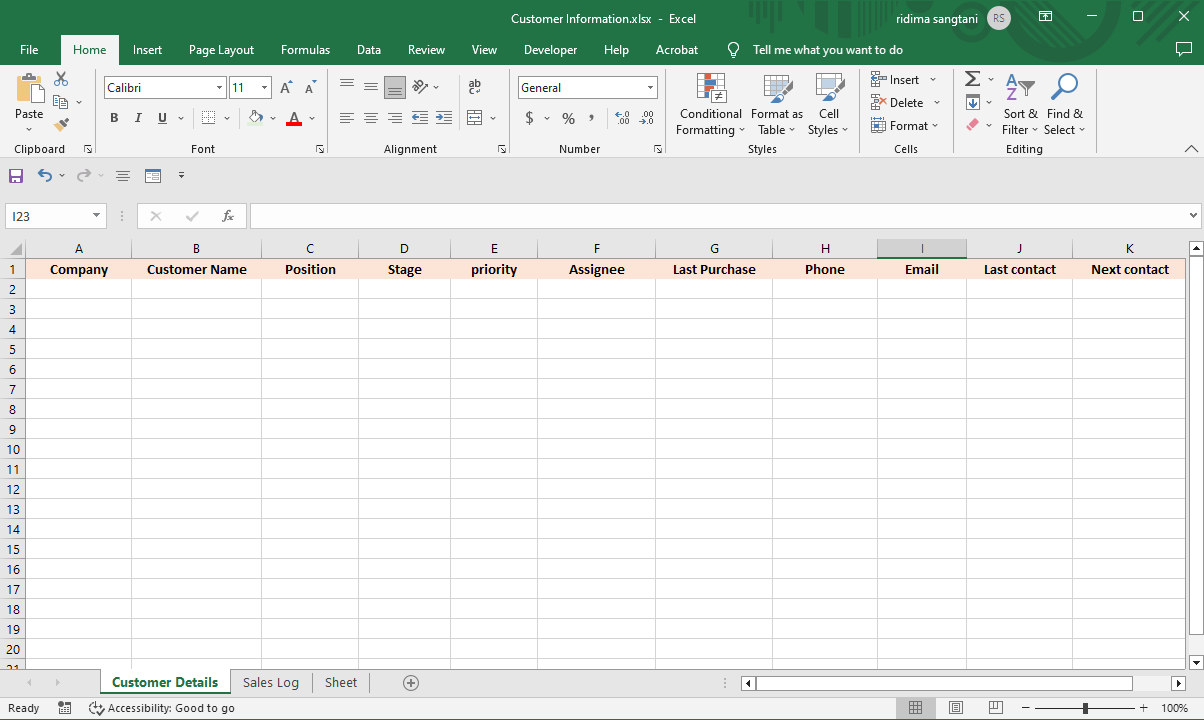 3. Data Entry Validation:
Use data entry validation to ensure that only valid data is entered in each column. For example, you can configure data validation to ensure that only valid options are entered into the stages column. Once you have entered your customer data, you can use Excel's sorting and filtering functions to organize the data by any category you choose. This will allow you to quickly find specific customer information or sort by specific criteria, such as purchase history.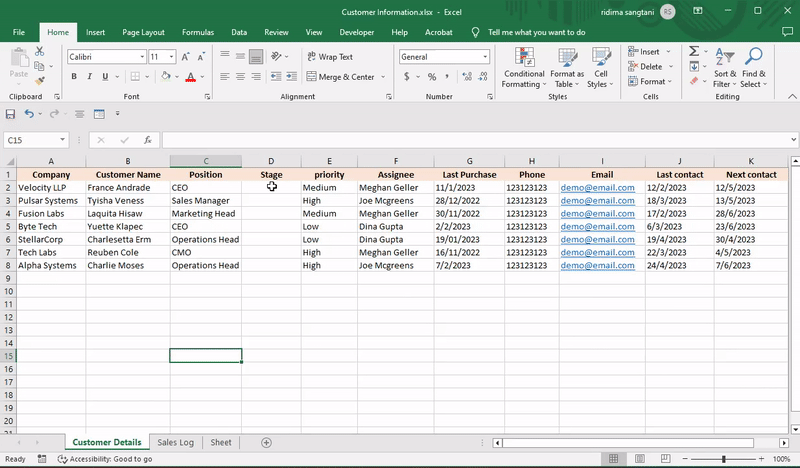 4. Create a Sales Tracker Spreadsheet:
Create a new spreadsheet and rename it  "Sales Log". Create columns for sale date, customer name, sales amount, and other relevant information. To create a simple customer dashboard, you can use Excel's chart and graph functions to create visual representations of your customer data. For example, you can create a bar chart that shows the total amount of purchases made by each customer.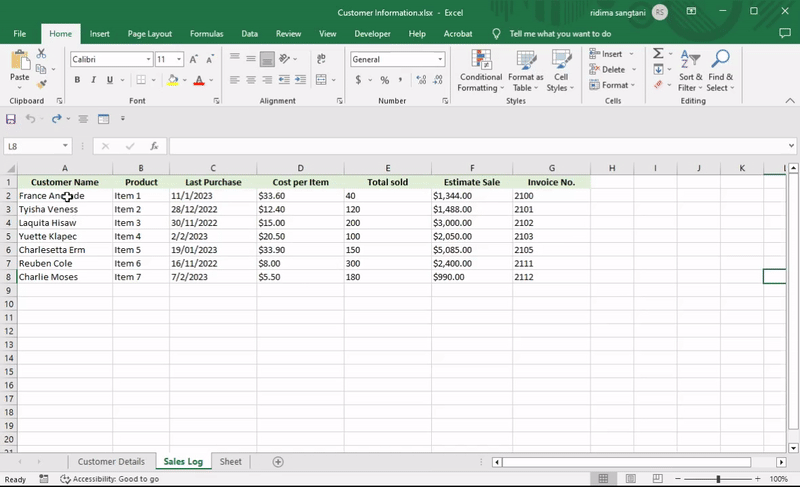 5. Use formulas and graphs:
Use formulas to calculate sales revenue by month, quarter, or year. Use charts to visualize your data and identify trends and patterns. To make your CRM more functional, you can add formulas and functions to automatically calculate important metrics, such as total sales revenue or customer retention rates. This will allow you to quickly and easily track your business's performance over time.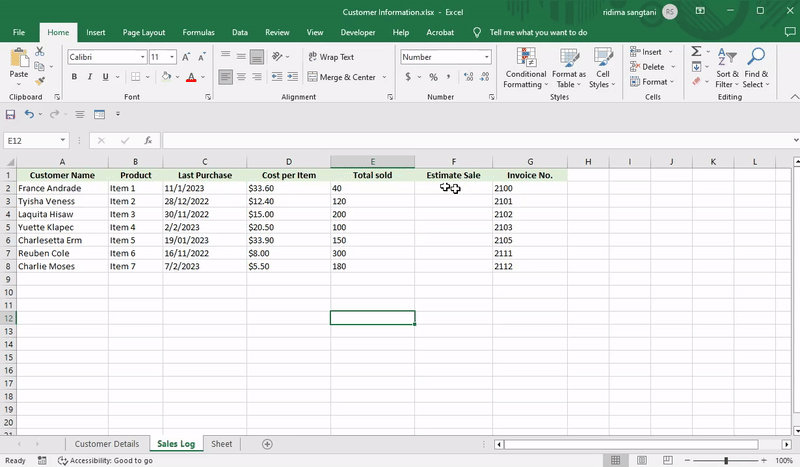 6. Linking customer data and sales table:
Use VLOOKUP or INDEX-MATCH  to join the two tables. This way you can easily access customer information from the sales tracker page.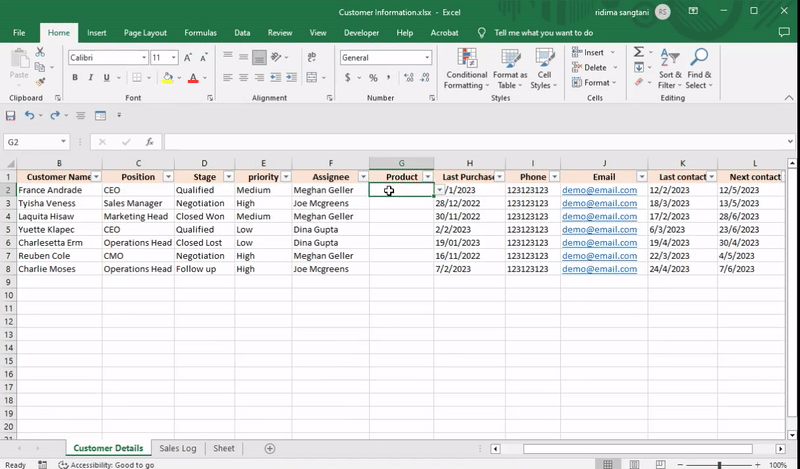 6. Automate processes:
You can use Excel macros to automate repetitive tasks such as data entry or generating reports.
You can create a basic CRM system in Excel by following these instructions.
Is this the best choice for every company?
Keep in mind that Excel may not be the best choice for larger companies or more complex CRM needs. Separate CRM software like Stackby may be more appropriate for these situations.
Five reasons why you should switch to CRM
1. Better leadership management
CRM is designed with lead management in mind and therefore offers a much better user experience. You can record detailed information about leads and customers, their name and email address, qualification level, products/services they are interested in, interactions, and more. Sales teams and managers also gain a clearer understanding of who is following up on specific leads, back-and-forth communication paths, and even automate reminders so no follow-up is missed.
2. Better collaboration and use of data  
CRM brings all the information together and overcomes the above challenges. Users can view records simultaneously, changes made by one user are immediately visible to others, and information can be accessed from any device, which is a positive user experience.
3. Integrations
With a CRM solution, you can easily integrate other applications that allow information to flow without manual intervention. Additionally, an important feature of most CRM systems is email integration, which allows users to track and view customer emails. This gives your team a complete view of all correspondence, so you can see what was followed up on and what was said.
4. Improved data security
Using a CRM system improves your data protection by using secure credentials to log into the system. Security rights can also be set around certain elements, in which case access rights are granted only to those users who need them. Therefore, when a user leaves the company,  deactivate his account and trust the security of your data.
5. Improved reporting
Most CRM systems have built-in dashboards and reporting capabilities that allow you to examine your data in real-time. Additionally, some tools can be integrated into your CRM, such as Microsoft Power BI, that allow you to visualize large volumes of data in easy-to-read dashboards and graphs and drill down into the data to extract valuable insights.
Disadvantages of Excel CRM
While there are some advantages to creating a CRM system in Excel, there are also some potential disadvantages to keep in mind.
1. Limited functionality: Excel may not be able to handle more complex CRM needs, such as automating workflows, tracking multiple customer touch points, or managing large volumes of data.
2. Lack of security: Excel files can be vulnerable to security threats such as viruses or data breaches, especially if they are not properly secured or password protected.
3. Data Integrity: Excel files can easily get corrupted, leading to data loss or failures in your CRM system. In addition, manual data entry can increase the risk of errors or inconsistencies.
4. Time consuming: Creating and maintaining a CRM system in Excel can be time consuming, especially if there are many customers or sales transactions.  
5. Limited collaboration: Although Excel files can be shared and stored in the cloud, collaboration can be limited because multiple users may not be able to access and edit the same file at the same time.
Create Stackby CRM
So now that you know the advantages and disadvantages of CRM, let Stackby help you create one. Using Stackby is easy, simple, and fun. Moreover, it is free to use! You can create any CRM system in just a few clicks. If you already have some data stored in spreadsheets, you can import that to Stackby and synchronize all of it in one place.
Let us see how you can create a Sales CRM in Stackby from scratch! To help you understand better, we are taking the example of organizing and tracking all clients and relations.
Step 1: Copy your Stackby Sales CRM template.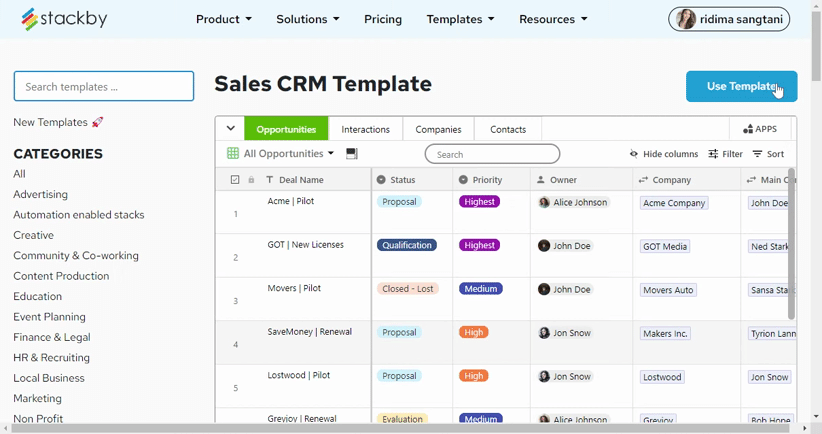 Step 2: Decide the tables and fields within each table of your CRM.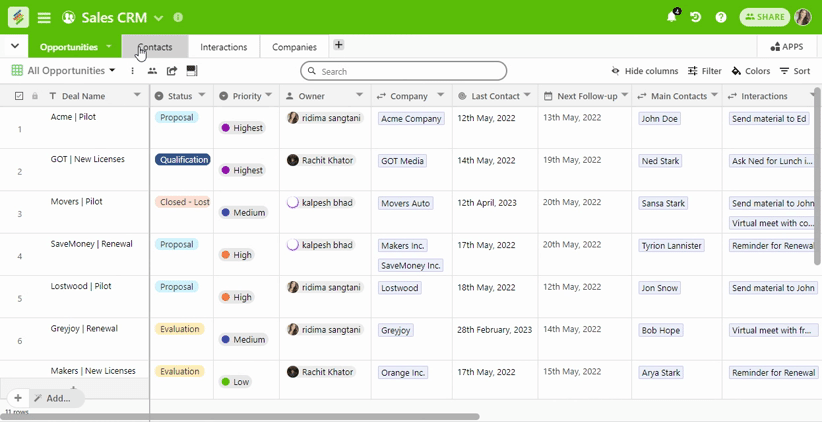 Step 3: Organize all your data and link tables together.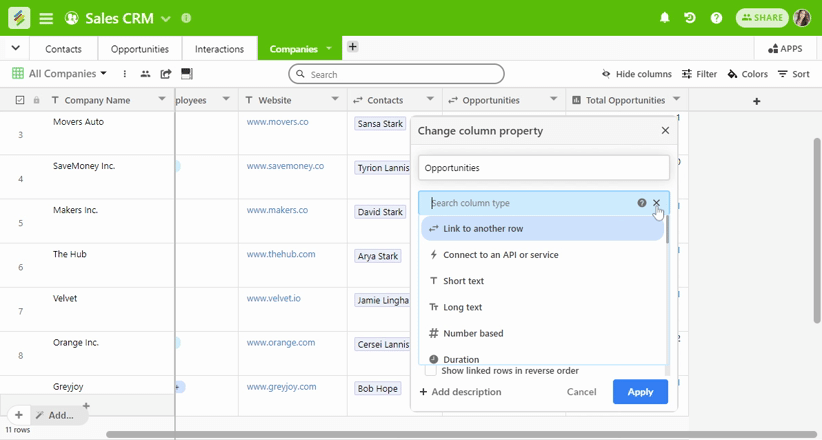 Step 4: Automate CRM leads via custom web forms and automatically bring them via other lead tools like Google Contacts (Zapier).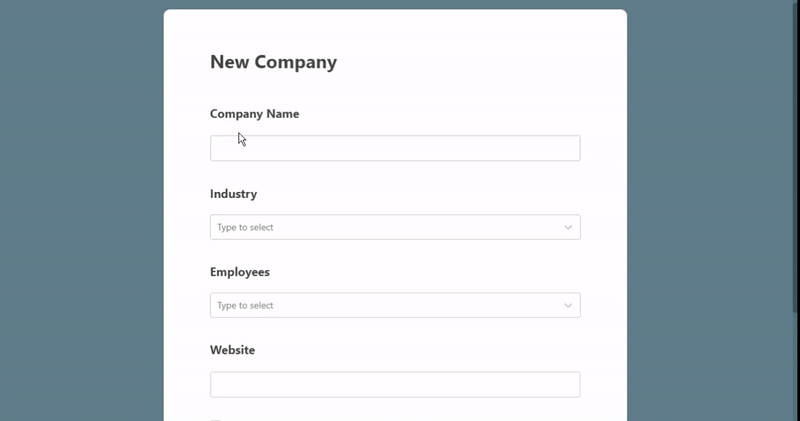 Step 5: Assign status, leads, priority, etc. and close more deals!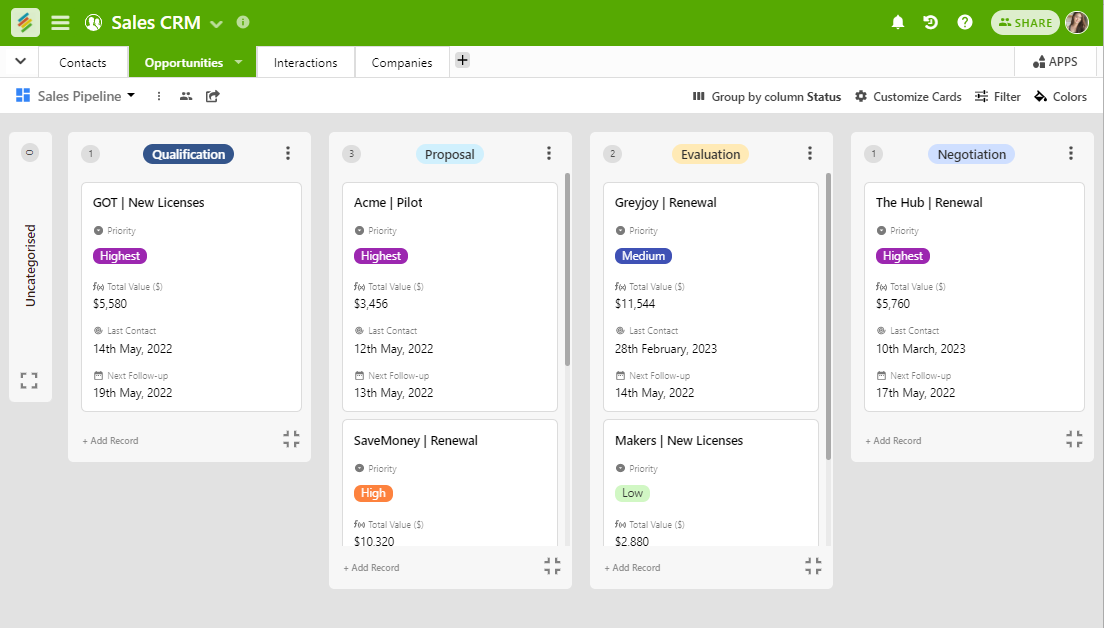 Stackby has multiple Sales and CRM templates if you're a real-estate company, a PR agency, a law firm, managing business development or partnerships, and more.
Tips for making the right use of Excel CRM
Once you've created your CRM in Excel, you need to manage it well to stay productive and keep your sales process running smoothly. Here are a few quick tips to get your CRM Excel spreadsheet in top shape.
Keep it simple: When designing Excel CRM, it is important to keep it simple and easy to use. Avoid using too many fields or complex formulas, as this can make it difficult for users to enter or use data.
Use data validation: Ensure that data is entered correctly by using data validation to limit the types of data that can be entered in each field. For example, you can set data verification to only allow valid email addresses or phone numbers.
Back up your data regularly: Excel files can be prone to data loss or corruption, so it is important to back up your data regularly to avoid data loss.
Using Pivot Tables and Charts: Excel has powerful data analysis tools like Pivot Tables and Charts that help you gain insight into your customer data and sales results.
Train employees: Make sure your employees are trained to use the Excel CRM system, including how to enter data, use formulas and create reports.
Regularly check and update your CRM: Regularly check and update your Excel CRM to make sure it is up-to-date and accurate. This can help you identify areas where you can improve customer engagement and sales.
Consider Upgrading to Dedicated CRM Software: As your business grows, you may need to consider upgrading to dedicated CRM software like Stackby that can better handle your growing customer base and more complex CRM.
Is Excel CRM the right choice?
The concept of Excel CRM  has been around for a long time, and it is undeniable that this popular spreadsheet makes it easier to manage people with all kinds of data. In most cases, using Excel as a CRM option is the choice of many small business owners who are just starting out with limited resources. The software provides basic functions for entering and tracking lead data, creating graphs and charts, and using formulas to perform quick calculations.
But as your business grows, you'll find you need more advanced features. Despite all the advantages that Excel CRM offers, simply relying on it soon reveals its limitations. Therefore, small business owners should consider adopting specialized software instead. Software that offers far more features and functions than Excel CRM could – enabling you to streamline daily tasks, work more productively and keep all your information in one easy-to-access place.
Why Stackby is Ideal as a CRM Software
Stackby is an all-in-one platform that provides users with the ability to create customized solutions to their business needs. One of the key areas where Stackby excels is in the realm of customer relationship management (CRM). It is an ideal CRM software for businesses of all sizes because of its superb end-user customizability, integration capabilities, collaboration features, automation options, and real-time dashboards. By using Stackby as their CRM software, businesses can streamline their customer relationship management workflows, improve customer interactions, and ultimately drive growth and success. An intuitive, user-friendly interface like a spreadsheet, with 25+ unique column types and pre-built CRM templates.
Stackby has flexible pricing plans for advanced features and a free plan that allows unlimited members and unlimited guests (read-only users) with limited rows and storage. Try it out for free and build your custom CRM on Stackby today.