ClickUp Review 2023 - Features, Pricing and Alternatives
Looking for a project management tool to manage your tasks and projects? Check out our honest ClickUp review with key features, pros, cons and suggested alternatives.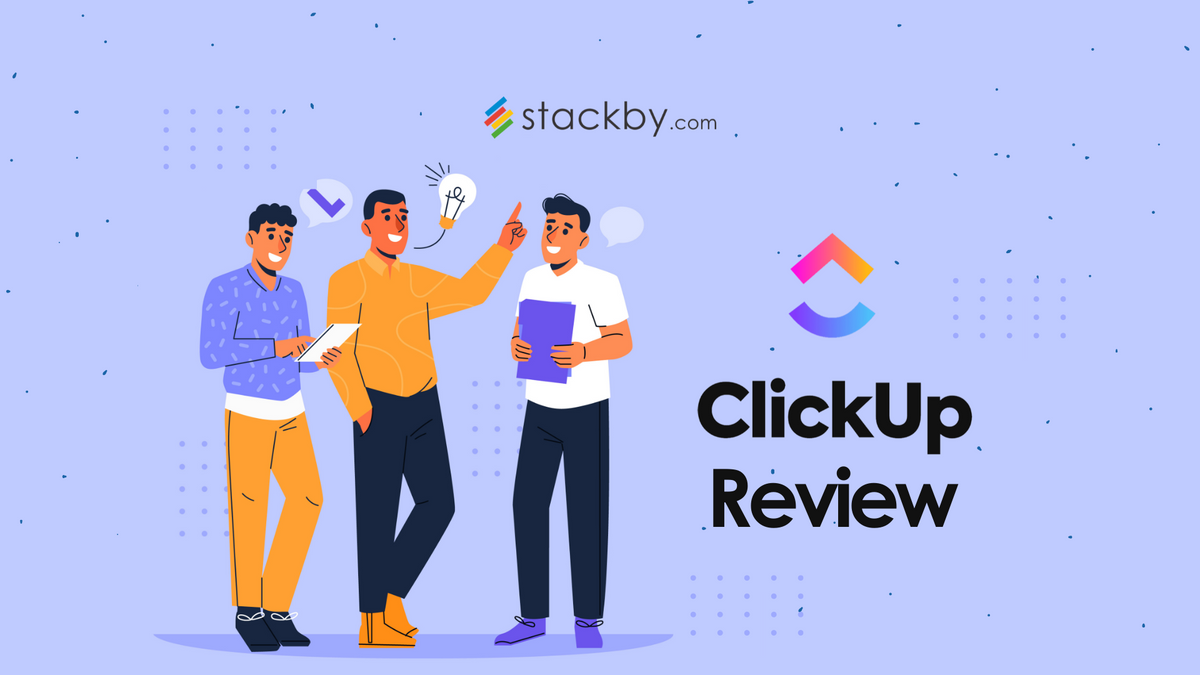 ClickUp, a cloud-based project management tool, was launched in 2017 and has quickly established itself as a leading player in the market. Over 800,000 teams and businesses rely on ClickUp for efficient project management and collaboration. With its innovative features and user-friendly interface, ClickUp has become a go-to solution for professionals across various industries. In this blog, we will take a deep dive into ClickUp, exploring its key features, pros and cons, pricing plans, and real-world applications.
What is ClickUp?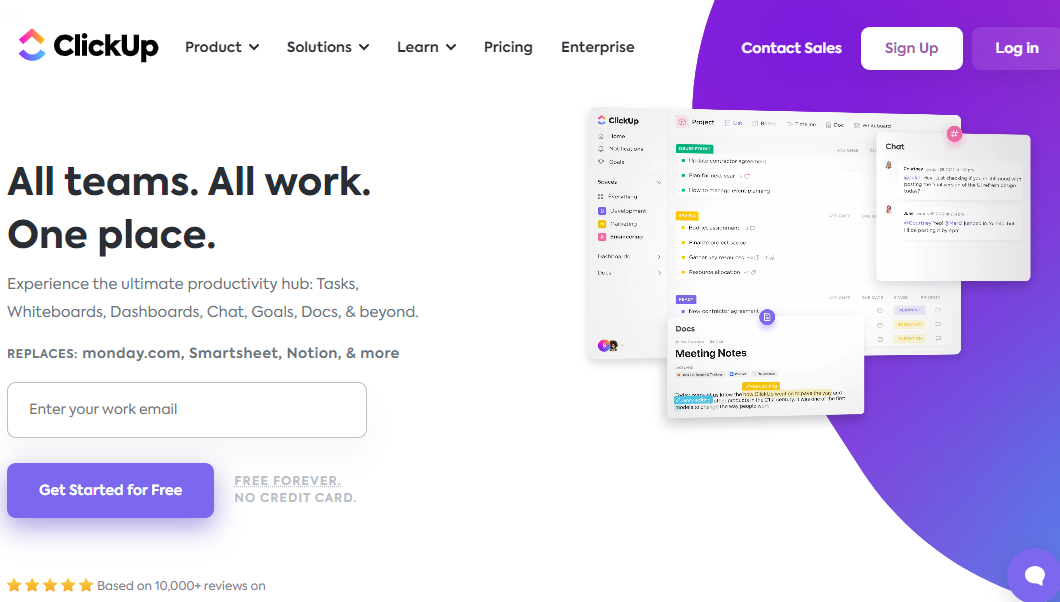 ClickUp is a cloud-based versatile project management tool designed to streamline productivity and collaboration. Its intuitive interface simplifies task management, allowing teams to stay organized and focused on their objectives.
Whether you are working on a marketing campaign, content creation, or a sales pipeline, ClickUp provides the tools necessary to plan, track, and execute all the tasks efficiently.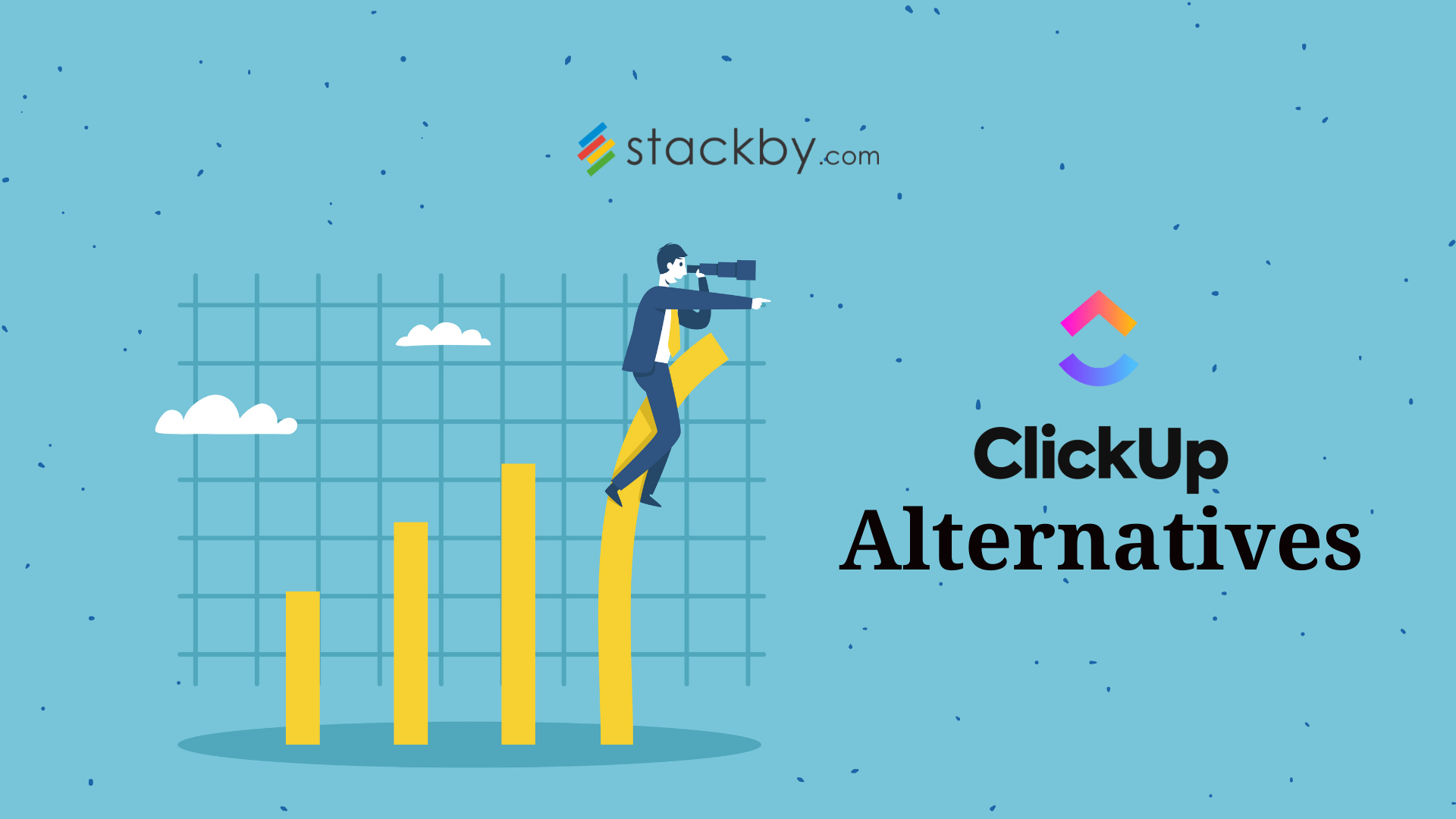 ClickUp's Key Features
Task Management: Teams can create and assign tasks, set due dates, and efficiently track progress.
Collaboration: ClickUp offers seamless communication and collaboration among team members with features like real-time chat, document sharing, commenting, and notification.
Customization: ClickUp has a highly customizable interface that lets users create tailored workflows as per their preferences. Users can choose from 50+ custom widgets to create their dashboards and overview their work.
Time Tracking: ClickUp offers native time tracking features that let users set deadlines, track time spent on tasks, add notes, and view reports.
Automation: ClickUp's automation feature keeps the team and workflow moving by automating recurring tasks with 50+ actions, triggers, and conditions. This not only reduces errors but also saves time. For example: add a comment when a custom field's status changes.
Integration: ClickUp integrates with over 1000+ popular applications like Google Drive, Slack, EverHour, and Github, ensuring no hopping between multiple tools and smooth data flow.
Visualization: ClickUp offers multiple views to visualize projects and timelines such as Gantt charts, Kanban, List, Board, Calendar, and more.
Reporting and Analytics: ClickUp's reporting feature allows users to analyze data and generate real-time reports, providing valuable insights into team performance or product success.
Pros and Cons of ClickUp
Pros:
Agile project management with sprint workflows and multiple views.
Intuitive and user-friendly interface.
High customizable workflows and extensive features like task and resource management, document sharing, templates, etc.
Excellent collaboration and communication features like comments, mentions, checklists, etc.
Real-time reporting and analytics capabilities to track project and team performance.
Seamless integration with popular 3rd party tools.
Cons:
A steep learning curve for beginners
Limited integrations and time tracking features compared to other similar tools.
Some advanced features require higher-tier pricing plans
Occasional performance issues during peak usage and or with larger teams.
Lack of live chat support.
ClickUp's Pricing Plans
ClickUp offers four pricing tiers, catering to the needs of individuals, small teams, and large organizations:
1. Free:
The free plan is suitable for beginners and small teams with basic project management requirements. It offers essential features, including task management, collaboration, and basic reporting, and 100 MB storage.
2. Unlimited:
This plan, priced at $7 per user per month, offers unlimited storage and advanced features like reporting, integrations, custom fields, and more.
3. Business:
The Business plan, priced at $12 per user per month, offers additional features such as time tracking, goals, workload charts, advanced security, and priority support.
4. Enterprise:
The Enterprise plan, designed for larger organizations, provides unlimited access to all of ClickUp's features like SSO, HIPAA Compliance, and custom branding. Pricing is available upon request.
ClickUp Applications
ClickUp finds applications in various industries and use cases, for example:
Marketing teams can use ClickUp to manage campaigns, track social media schedules, and collaborate with stakeholders.
Content creators can leverage ClickUp's task management and editorial calendar features to streamline content production.
Data analysts can benefit from ClickUp's reporting and analytics capabilities, enabling them to visualize data insights and make informed decisions.
Project managers can use ClickUp to plan and track project milestones, allocate resources, and collaborate with team members.
Sales teams can automate the sales pipeline and generate real-time reports on teams and deals.
Introducing Stackby: An Alternative to ClickUp
While ClickUp offers a comprehensive project management solution, Stackby, a no-code spreadsheet-style relational database, stands as a robust alternative to Clickup offering a wide range of data management and reporting features.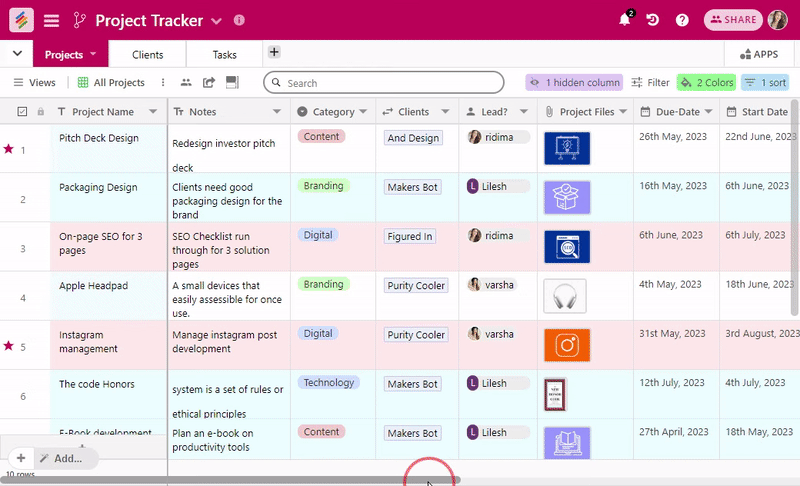 Stackby allows users to build custom workflows and databases tailored to their specific requirements, making it a versatile tool for managing projects, organizing data, and visualizing analytics. Here's a comparison of ClickUp and Stackby:
Conclusion
ClickUp is a powerful project management tool with a wide range of features and functionalities. Its intuitive interface, extensive customization options, and seamless collaboration capabilities make it an ideal choice for teams across industries. But it also comes with its set of limitations and complexity.
Stackby is a viable alternative for those seeking a no-code database and spreadsheet-based solution. With its focus on data management, visualization, and flexible pricing, Stackby empowers teams to customize workflows and efficiently manage projects and data.
Overall, ClickUp is a reliable project management software with advanced features, but it may require some time to master. For users who prioritize ease of use, customized solutions, and responsive support, Stackby presents a strong alternative. You can sign up on Stackby for free and avail a 14 days Business trial.
Ultimately, the choice between ClickUp and Stackby depends on the specific needs and preferences of your organization.