Top 10 Google Tables Alternatives in 2023 & Beyond
In this article we talk about spreadsheet database hybrid software, Google Tables and its top 10 alternatives. Read on to know more!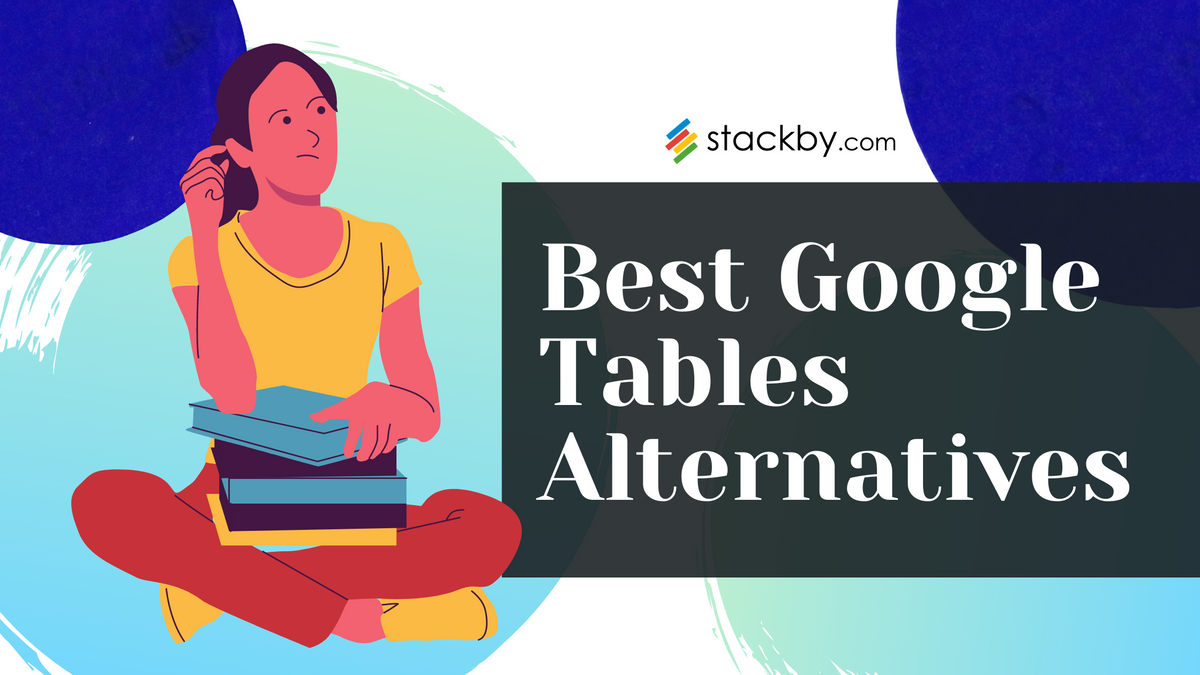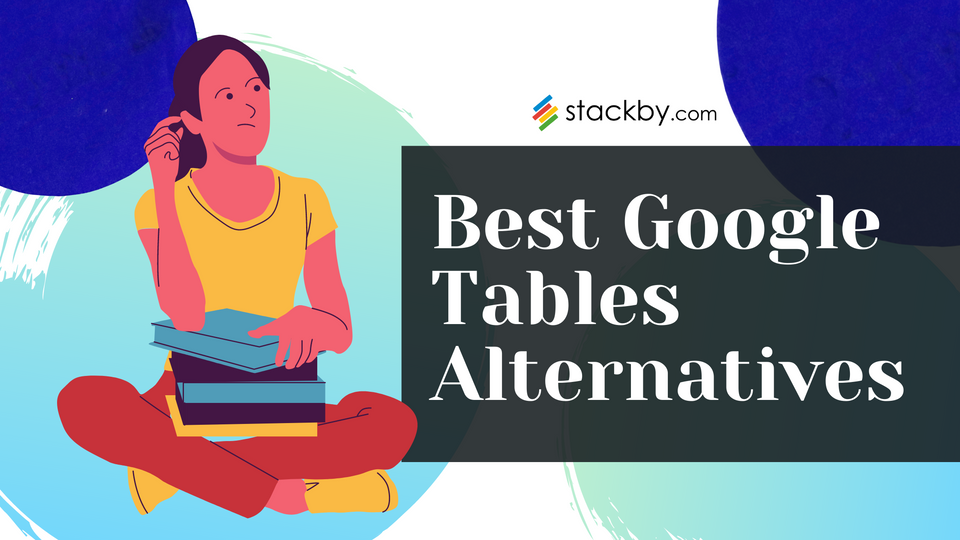 From the dawn of time, businesses have used Spreadsheets to organize their data. Whether to record inventory lists, analyze data, manage projects, create tasks, or other aspects, spreadsheets have always been a reliable resort for everyone, be it freelancers, entrepreneurs, or businesses.
Over 750 million people in the world use Microsoft Excel for analyzing and presenting data. This shows the heavy dependency and usage of everyone on spreadsheet software.
However, recently there has been a huge influx of spreadsheet-database hybrids in the marketplace. This hybrid software gives its users the ability to leverage database and spreadsheet technology without learning to code. They also reduce complexity and are easy to use as an application.
Google tables, launched by Google on September 22, 2020, is one of these types of software. Even though Google Tables is one of the better spreadsheet database software, new and better alternatives are already in the market.
This post will first explain what Google Tables exactly is and some of the best alternatives you can find to them today.
What Do You Need to Know About Google Tables?
Google Tables is a workflow automation tool, which helps you make your data more structured and manageable. It also has a well-known spreadsheet counterpart, Google Sheets. Similar to the counterpart, it is a tool for collaboration, which lets you work with other people and teams on the go.
It is split into 4 main sections: workspaces, templates, home, and tables. These sections help you with easy data visualization, management and give you easy access to your data. Templates give you easy access to set a foundation for some of your data management for your projects, which helps you skip a lot of foundational work.
However, Google Tables is new in the market and also in the beta phase. And there are some much better alternatives in the market. Without further ado let's have a look at the top 10 alternatives to Google Tables.
Top 10 Google Tables Alternatives in 2023
1.Stackby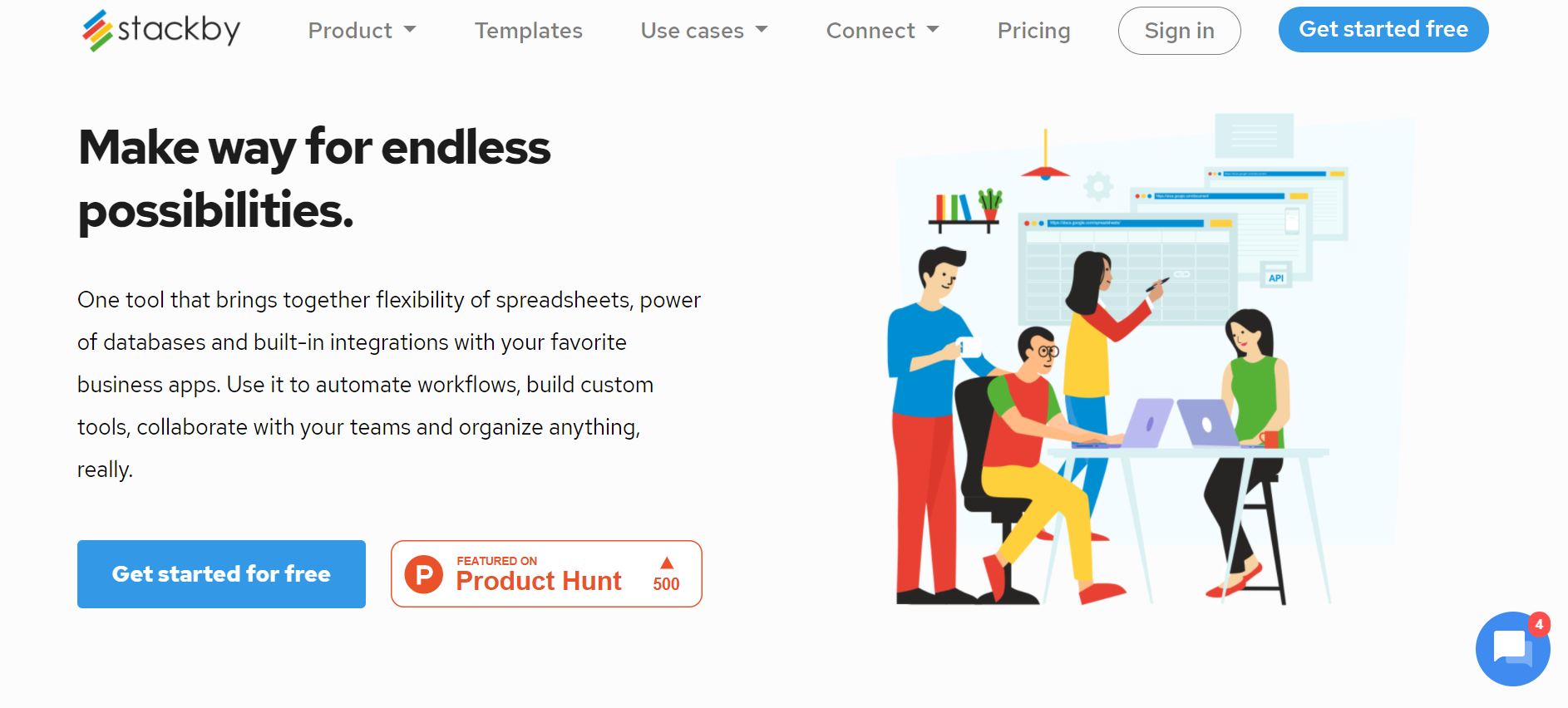 This spreadsheet-database hybrid application will simplify your job and streamline your entire work, making it one of the top alternatives to Google Tables. Again, similar to other spreadsheet-database software, Stackby can be used even if you have little to no coding experience.
Templates
This collaborative workflow management tool lets you organize your data and collaborate with other people in real-time. Stackby offers a wide range of in-built templates to its users, which helps you with the foundational work for any data or project management. Stackby also has a maker community to upload any templates you make, which you think will help others out!
Native Column-linked API Connectors
In addition to templates, Stackby also offers a column-level API connectors. It allows you to integrate with third-party services directly to your columns and bring data automatically in your tables in real-time. Stackby's API integration facility allows you to connect to various third-party platforms like Facebook Ads, Google Analytics, YouTube, Google Search Console, Intercom, MailChimp, PageSpeed, Google Ads, etc.
Relational database features
You can also perform computations on the data collected and merge data and records across multiple tables. Stackby enables you to collaborate with your team members, build checklists, set reminders, and track deadlines. You can automate your repetitive tasks, plan and organize daily and weekly work easily.
You can also use the column type link feature to link two tables via linking rows from two spreadsheets and make a perfect relational database. You can also use conditional look-up, count, and aggregation features to filter and get the data you are looking for.
Multiple Views
To allow you to view your project and data in different ways, Stackby offers you multiple views. This includes Grid, Kanban, Calendar, Gallery, and Forms. This software is also available on the web as well as an app. You can also find a chrome extension for Stackby.
Stackby offers you a free trial to its users for 7 days. It offers a personal plan for $5 per month, an Economy plan for $9 per month, and a Business Plan for $18 per user. It also has an Enterprise Plan with scalable pricing.
2. Zoho Sheet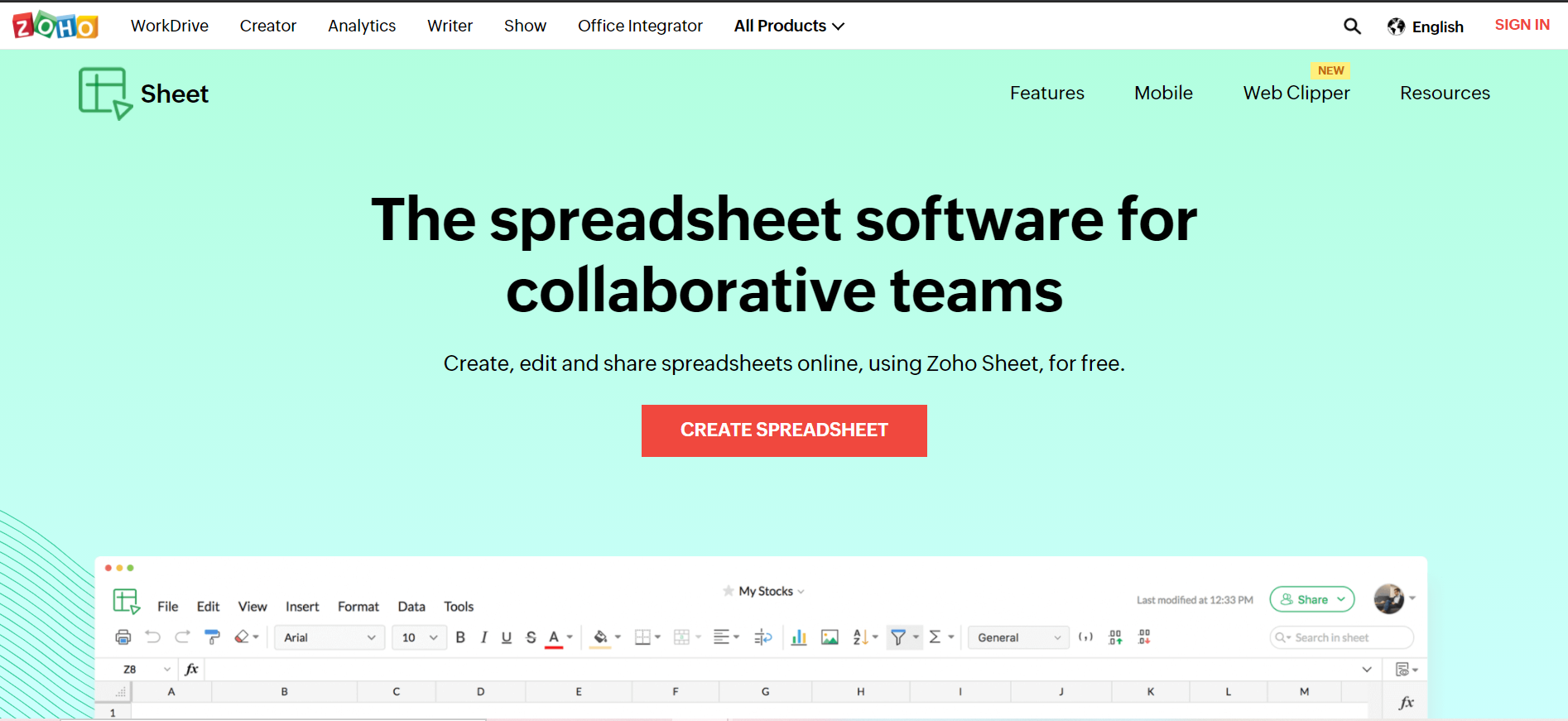 Zoho Sheet is a cloud-based spreadsheet platform perfect for your team! A widely-used alternative to Google Tables, Zoho Sheet allows you to create, edit, share spreadsheets and collaborate with your team in real-time.
It enables users to organize data, analyze the information collected, and report them to team members. It is available in both desktop and mobile versions. In the case of the latter, it is compatible with both iOS and Android.
Zoho Sheet spreadsheets can be easily modified and shared with other members to facilitate easier access. It allows you to filter your data, use formulas and functions to analyze information, and produce relevant results to make important decisions.
The above also enables you to shift from one platform to another; it allows you to navigate between .xlsx, .xls, .csv, and .ods formats. Its smart cleaning tool helps users get rid of duplicate data, inconsistencies, and missing values.
You can also create attractive charts and tables using Zoho Sheet. It allows you to analyze your data using pivot tables, images, and other tools. You can create checklists and use the group chat forum for communication purposes.
You can directly import and export data from Google Drive, OneDrive, and Dropbox to Zoho Sheet. To facilitate widespread use, Zoho Sheet is available in 23 languages worldwide.
3. Microsoft Excel Online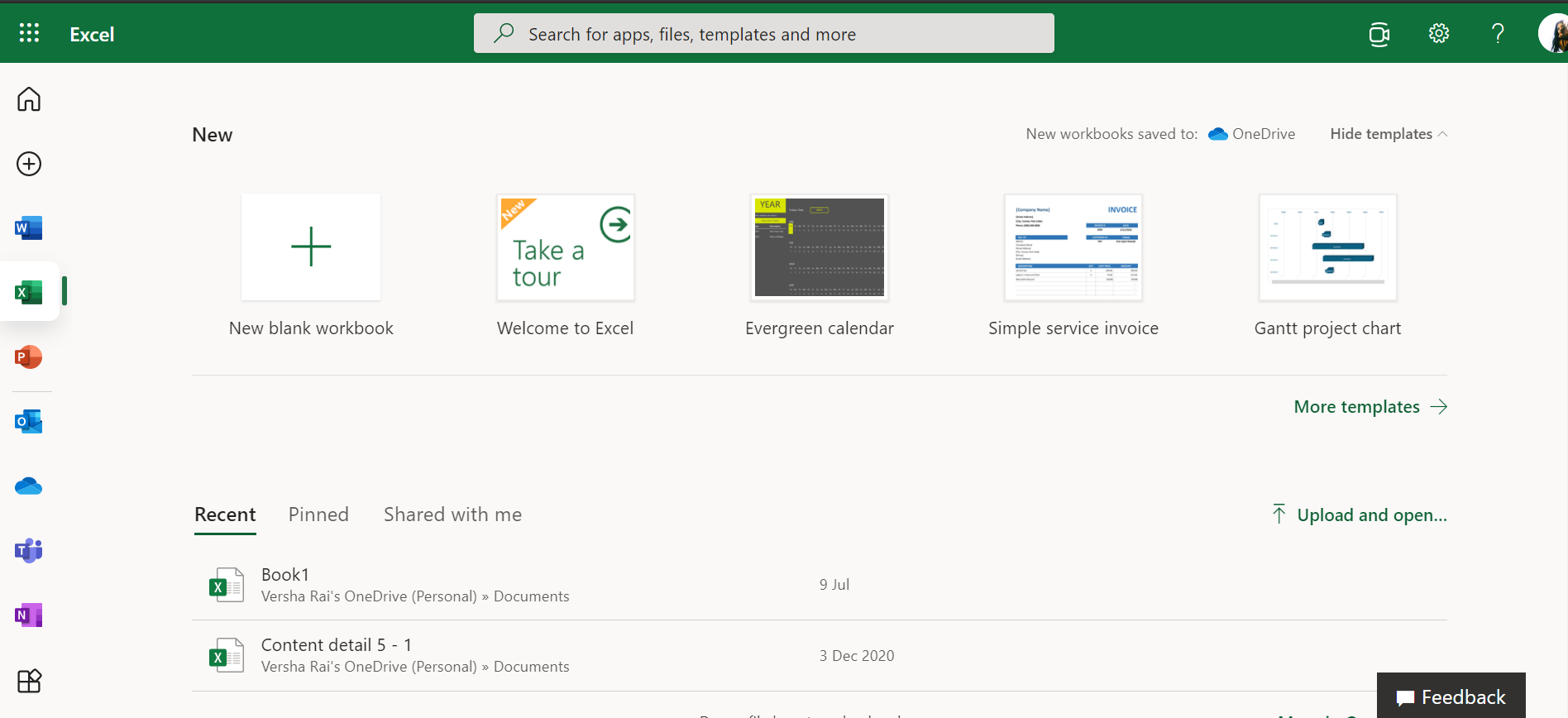 You will not find a single individual who has not used Microsoft Excel at least once in their lifetime! With Microsoft Excel, you can manage multiple projects at the same time. Microsoft Excel Online is completely free and extremely easy to use and understand.
You can also sync your Excel spreadsheets with other apps and import data whenever required. It allows you to collaborate with your colleagues in real-time.
Microsoft Excel Online offers tools, functions, and other in-built features to allow you to analyze your information. It offers almost all the same features as the offline desktop version of Excel. It has around 400 functions along with a range of customizable table options.
Excel Online also enables you to create your surveys and share your spreadsheet data with your team members with the click of a single button to simplify your work!
You can also attach comments to specific cells to clarify doubts or answer any queries your team members might have.
Excel Online also supports conditional formatting and allows you to sort and filter your data according to your requirements. There are several add-ons available for further data analysis.
Put simply, Microsoft Excel Online is an all-in-one application that serves multiple purposes and is easy to use!
4. Asana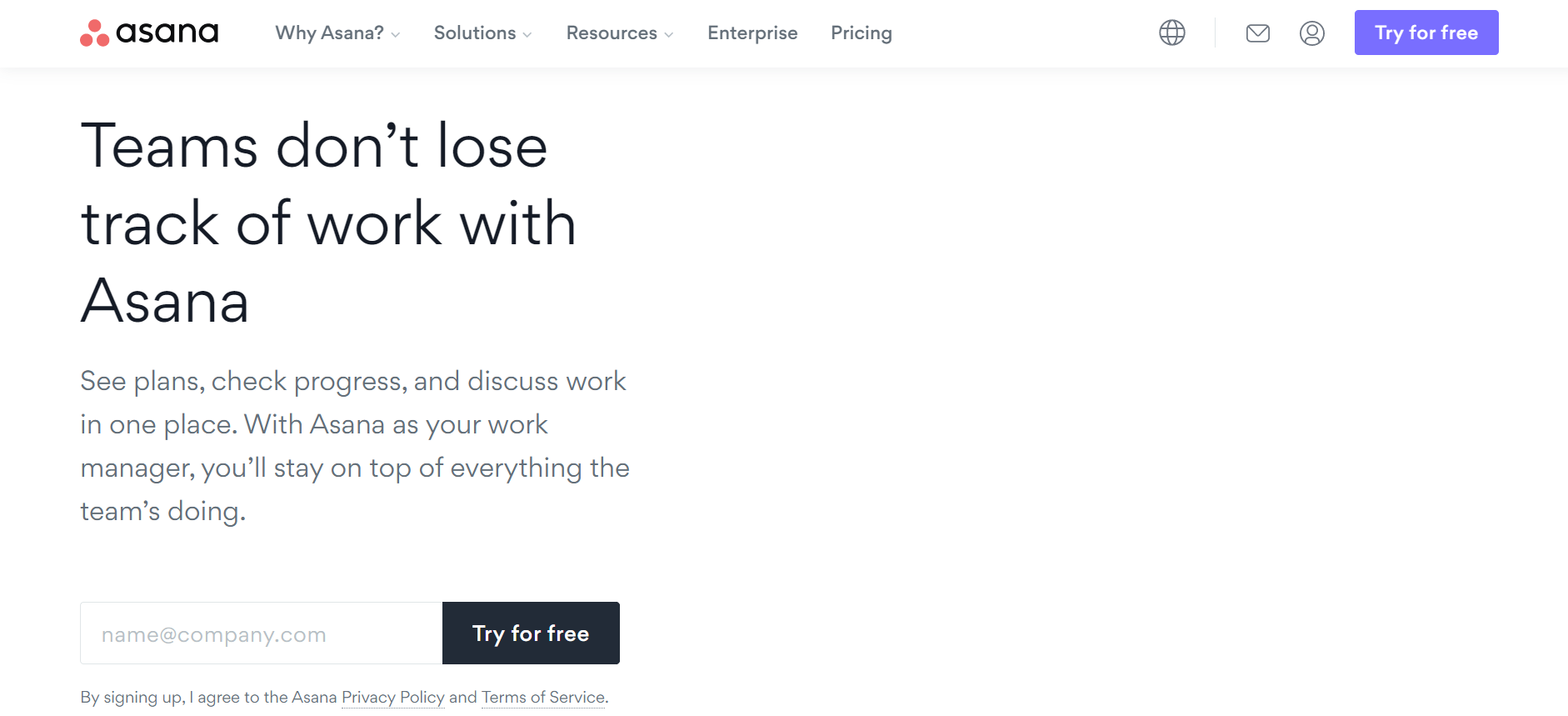 Looking for a tool to manage your team projects and tasks? Well, the solution is Asana! Asana enables you to break down your entire project into simpler tasks and organize all your work details on a single interface.
It has a Boards feature that can display your work like sticky notes allowing you to move it across sections. It gives you a complete overview of the current status of your projects and tasks.
Asana's Timeline features are perfect for time management. You can plan your project and set deadlines to ensure that the work is completed on time.
It also has an Automation feature. As the name suggests, it can be used to automate some of your repetitive tasks. You won't have to spend your time on manual work, and you can ensure that your team doesn't miss critical steps.
In addition to this, Asana offers standard forms that can be used to streamline your work intake process. The forms will allow the clients and the team to request work easily.
The in-built calendar view allows you to plan your schedule and avoid any overlaps in the same.
Asana offers a free trial period to its users. Its Basic Plan is completely free. The Premium Plan is for $10.99 per user per month, the Business Plan for $24.99 per user per month, and the Enterprise Plan is best suited for large organizations.
Prioritize your tasks and manage your workflow with this user-friendly application, Asana!
5. LibreOffice Calc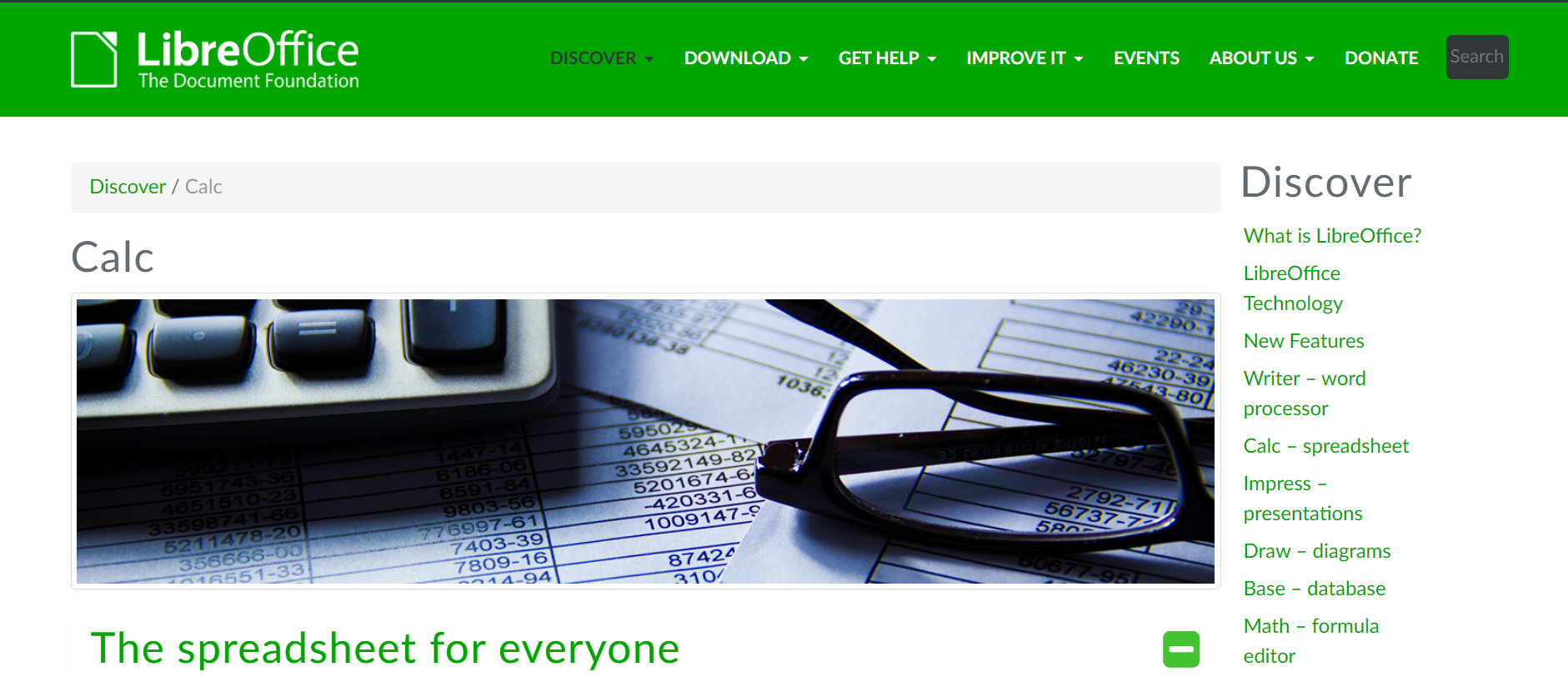 LibreOffice Calc is a part of the LibreOffice Software Package. It is the spreadsheet program that you've always needed! It offers a wide range of advanced functions and is easy to learn and use.
LibreOffice Calc can be used by newcomers as well as advanced professional data analysts.
The spreadsheets allow you to organize, analyze, and store your data in a structured format. You can use this data along with the in-built functions to solve problems and produce results.
Calc also provides its users with dynamic charts, including 2D and 3D. You can present your data in a graphical format to make it easily interpretable.
The Scenario Manager in Calc is used to carry off the What-If analysis with a single button click. You can also use Calc to solve optimization problems where a particular cell's optimum value must be calculated.
Calc's DataPilot technology makes it easy to import data from the company's multiple databases and convert it into meaningful information that can be used to make decisions. It also offers multiple user support allowing you to collaborate with your team in real-time.
LibreOffice is a free and open-source software allowing users to customize the same to meet their requirements.
6. Smartsheet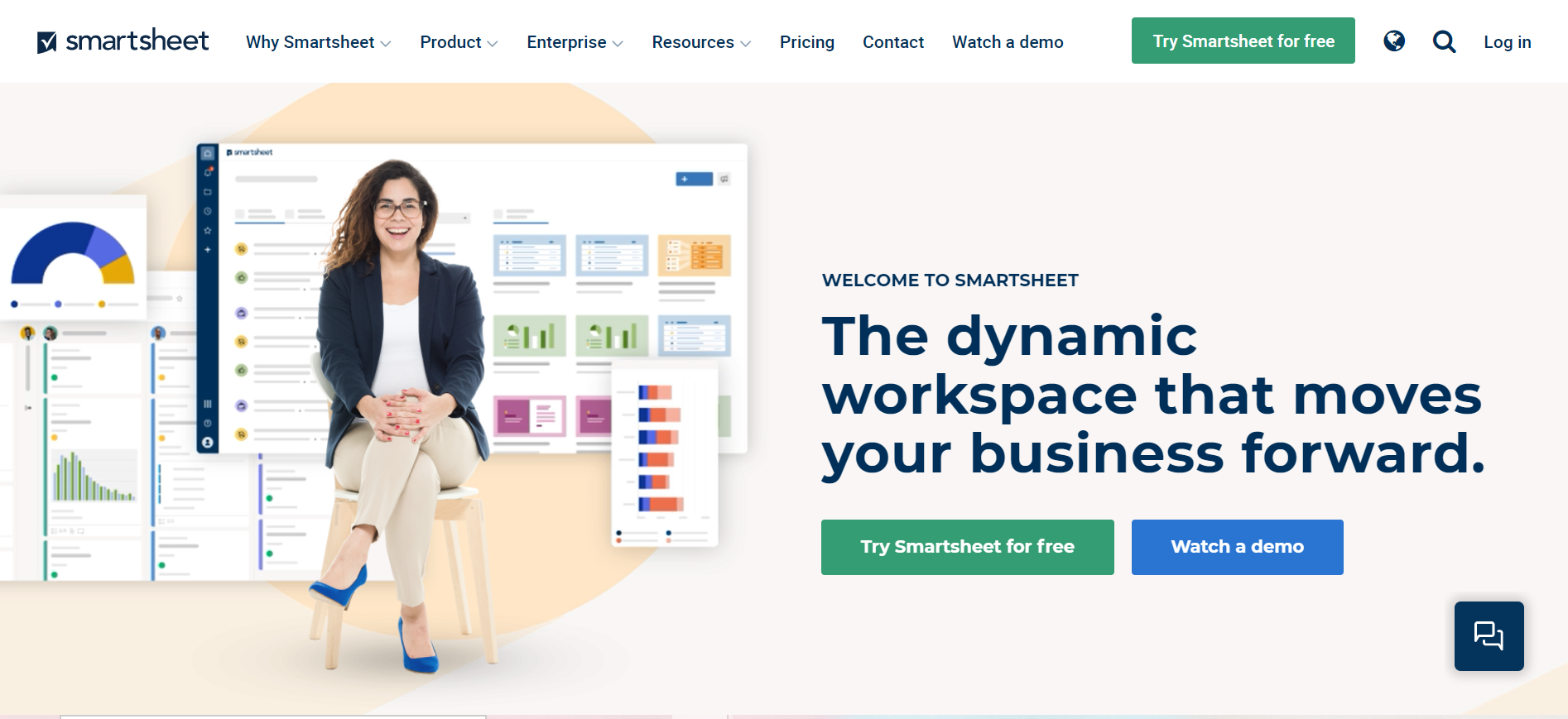 Smartsheet is another cloud-based application that allows you to organize your data using spreadsheets.
You can use Smartsheet to track and manage almost every aspect of your work, including team projects, task lists, customer information, sales pipeline, and event schedules.
It is a flexible tool that facilitates seamless collaboration among the members of a team. It has a desktop as well as an Android/ iOS version. You can also automate repetitive tasks using Smartsheet. The Activity Log allows you to track various aspects of your work.
It has an innovative design and engaging interface, making it more appealing to companies worldwide. You can view your project progress in the form of Gantt charts, Kanban boards, and Smartsheet calendars. It can also be used to store all your project-related files.
You can also create forms that will automatically map to the columns of your sheet. You can use these forms to collect data from internal and external stakeholders.
Smartsheet offers two different sets of plans, namely Standard and Enterprise. Under the former provides an Individual Plan for $14 per month and a Business Plan for $25 per user per month. On the other hand, it also offers an Enterprise Plan and Premier Plan.
7. Airtable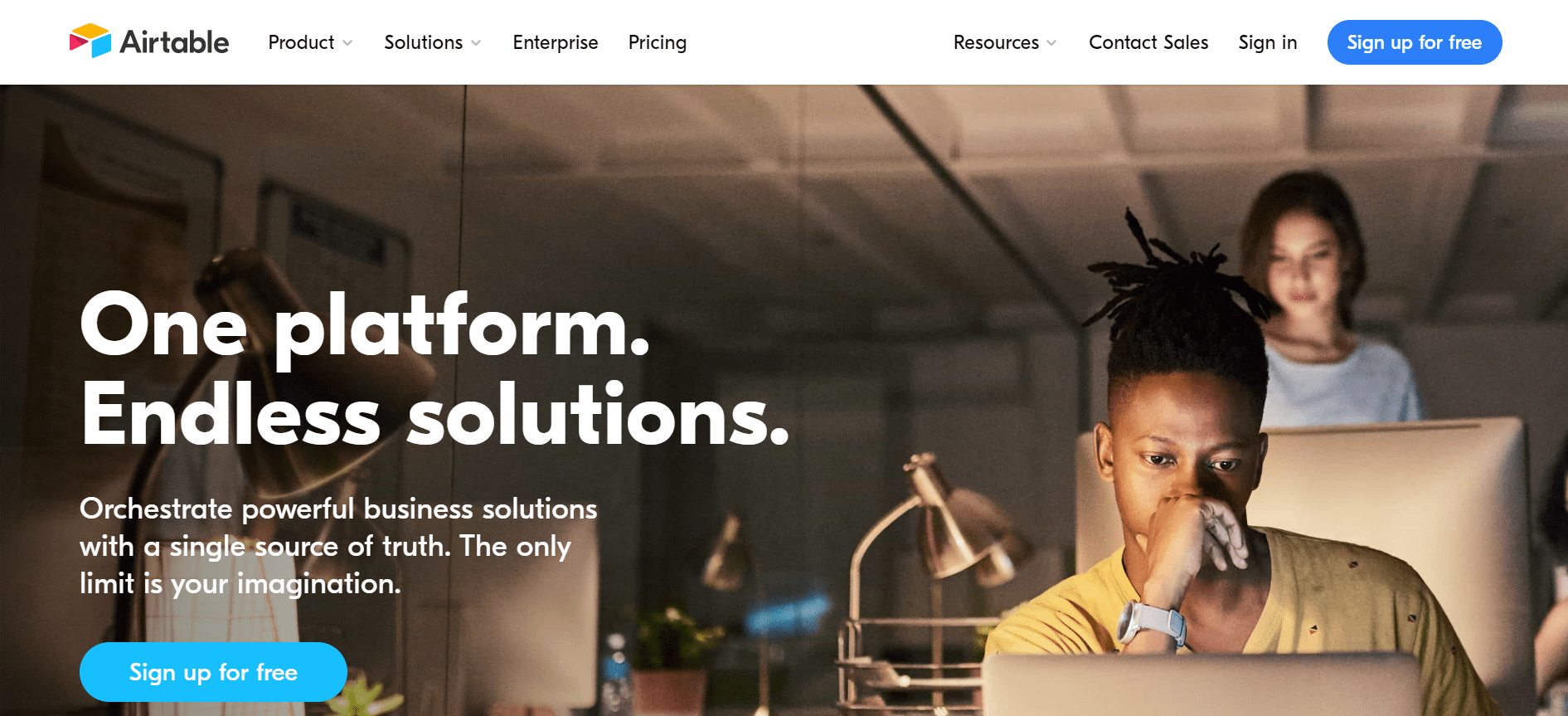 Airtable is a cloud collaboration service that is used for creating, maintaining, and sharing relational databases. It allows you to store information in a spreadsheet and build custom applications without any previous coding experience.
Airtable offers multiple views to its users to track and manage progress reports. This includes the classic spreadsheet view, the in-built calendar to manage schedules, gallery view, and the Kanban view.
It also allows you to store all your project-related documents in one place to facilitate easy access among your team members. It offers a storage space of up to 1000 GB, depending on the pricing plan.
You can use Airtable to divide your project into multiple tasks and track the progress of each task. You can also monitor the amount of time spent by your team on a particular task.
Airtable can also be integrated with third-party applications. They are referred to as Blocks here. An example is Google Drive. Other Blocks include Slack, GitHub, WordPress, and Stripe.
Airtable has a customizable interface that any company or business can use. Airtable offers a free version to its users with several features. It also offers a Plus Plan for $10 per user per month and a Pro Plan for $20 per month.
8. Quire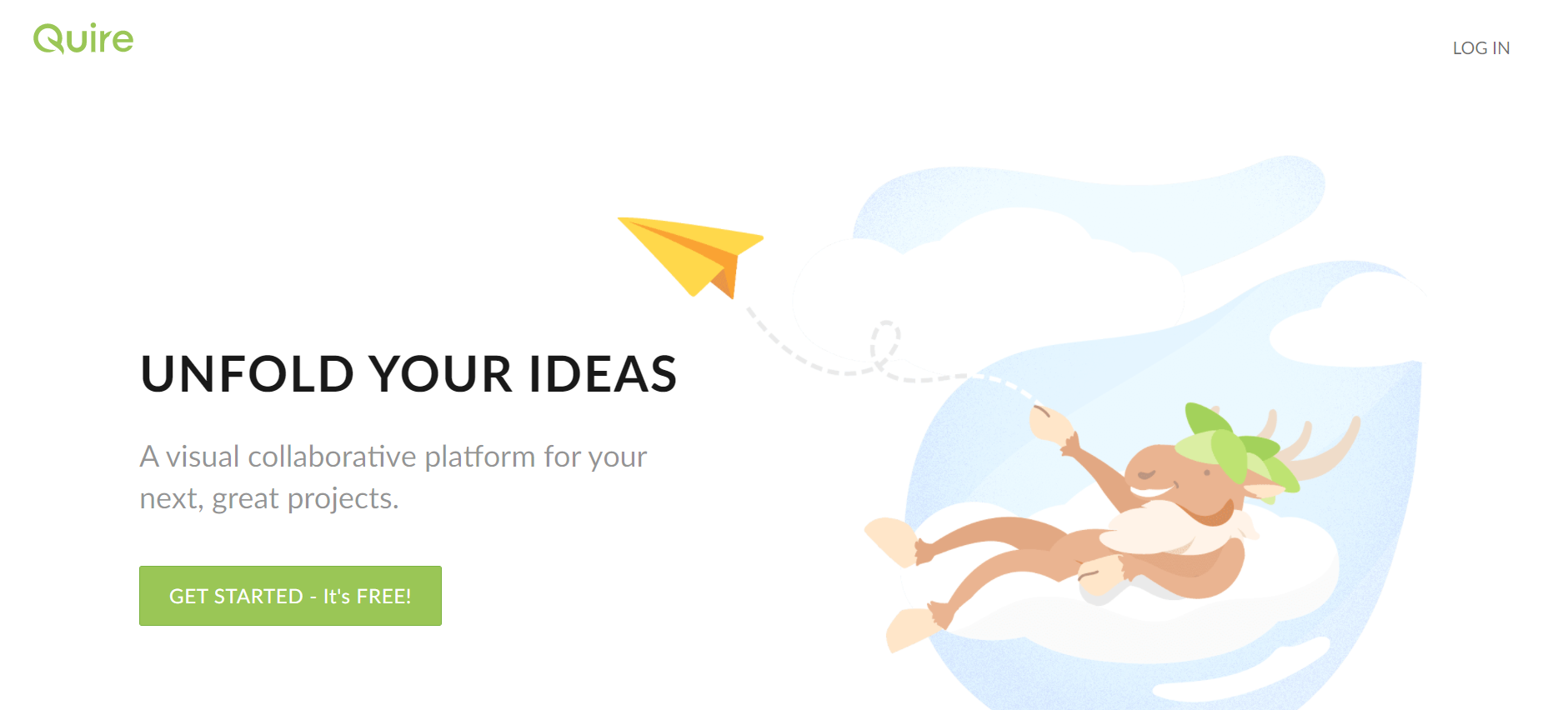 Quire is an easy-to-use, all-in-one workspace used by companies worldwide!
This web-based project management software is best suited for your task management needs. Quire offers a unique tree structure that allows you to break down your entire project into manageable tasks and track each aspect easily.
You can set deadlines and due dates to monitor your work's progress and ensure that your work is completed on time. You can collaborate with your team members seamlessly and track everything in real-time.
It also offers a kanban board view that allows you to visualize your work in the form of cards. Quire's Smart Folder feature allows you to organize your project documents in one place.
Instant messaging via Quire allows you to stay in touch with your colleagues. You can also use its Shared Links feature to collaborate with your clients. Your clients will be able to view their entire project via this unique feature. All you need to do is send them a link!
You can also sort and filter your project tasks according to the assignee, date, status, etc. This will allow you to focus on what matters.
Quire is completely free of charge right now! This free Quire account will work for 35 organizations, 80 projects, and upto 30 members per organization.
9. Quip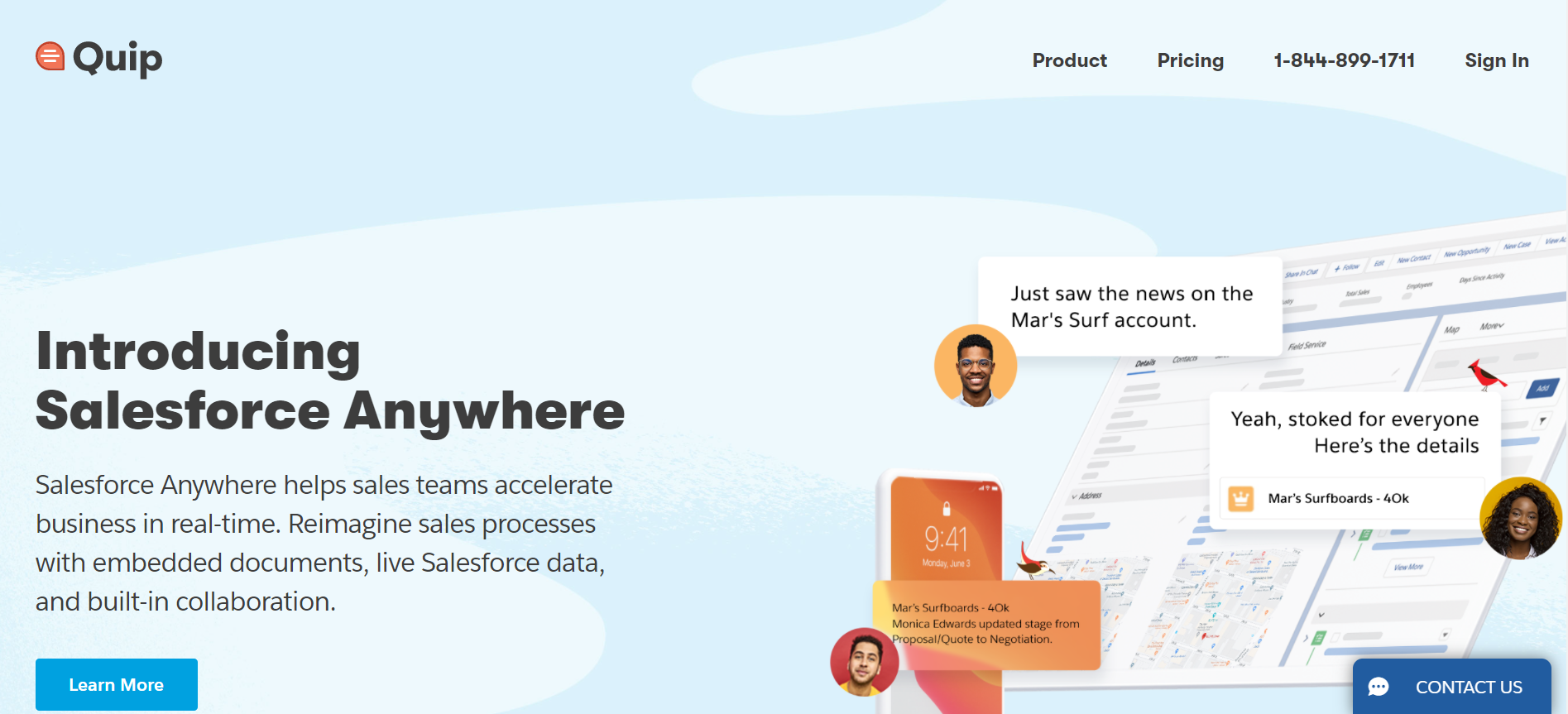 Quip is a team collaboration application that combines the benefits of document and spreadsheet creation to simplify your work.
Quip documents allow you to integrate and collect your team's work and organize everything in one place. The spreadsheets allow you to convert your raw data into meaningful information that will enable you to make crucial decisions regarding your company.
The in-built templates can be customized to meet your needs and requirements and completely transform your project work approach. Quip also offers API integration with third-party applications to allow you to import data directly to your template. It is available in both mobile and desktop versions.
It also comes with an in-built texting service that allows the members to collaborate in real-time to stay connected.
Quip bills its services on a yearly basis. It offers multiple plans, but it starts with a free trial. Three of its pricing plans are Quip Starter for $10/user per month, Quip Plus for $25 for every user every month, and Sales Advanced for $75 for each user each month.
10. Notion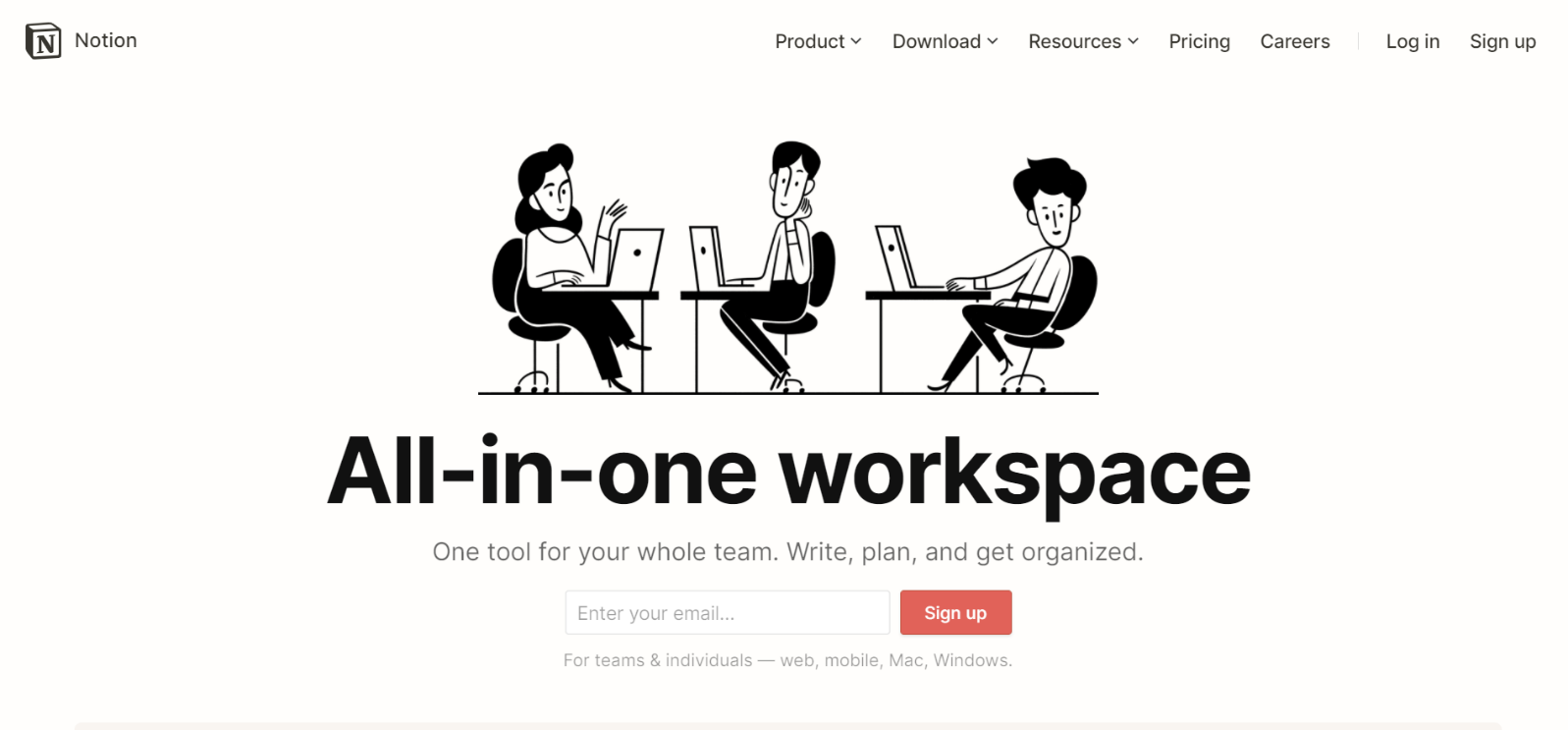 Known as one of the fastest-growing and highly preferred productivity applications globally, Notion allows you to write, plan, collaborate and get organized on a single interface.
It offers a state-of-the-art Kanban interface that will simplify creating, storing, and processing project documents.
Using Notion, you can take notes and track project work. You can create separate folders in case of multiple projects.
The notion also allows you to create a template to organize your data. Along with this, you can also integrate your Notion account to third-party applications to allow for smooth import and export of data. Some of the applications include Typeform, Google Calendar, Google Drive, etc.
The notion has four main features. First, the Notes and Docs feature allows you to take notes, make a to-do list, and embed links in documents. Second, the Knowledge Base is the storehouse of all your important information.
Third, the Tasks and Projects features include a Kanban board and calendar and help you stay on top of your plan. Fourth, Spreadsheets and Databases allow you to record and keep track of all your information.
The payment plan of Notions ranges from $0 for the Personal Plan, $4 per month for Personal Pro, and $8 per member per month for the Team Plan.
Conclusion
Even though Google Tables is a good application, it is still in its beta testing phase. And it might not be the best fit for everyone. So, we presented you with a list of 10 alternatives we think are top of the line. And I hope you found an alternative suitable to your requirements!