Unleashing Efficiency: Top 15 Business Management Software
Are you struggling with multiple spreadsheets, disjointed applications and manual processes in your business? Keep reading on and identify top business management software to unleash your team's efficiency.
Are you tired of drowning in a sea of spreadsheets, struggling to keep up with deadlines, and feeling like a circus performer juggling too many tasks simultaneously?
If yes, fear not anymore because we've got just the solution to transform your business management woes into a smooth-sailing ship of efficiency!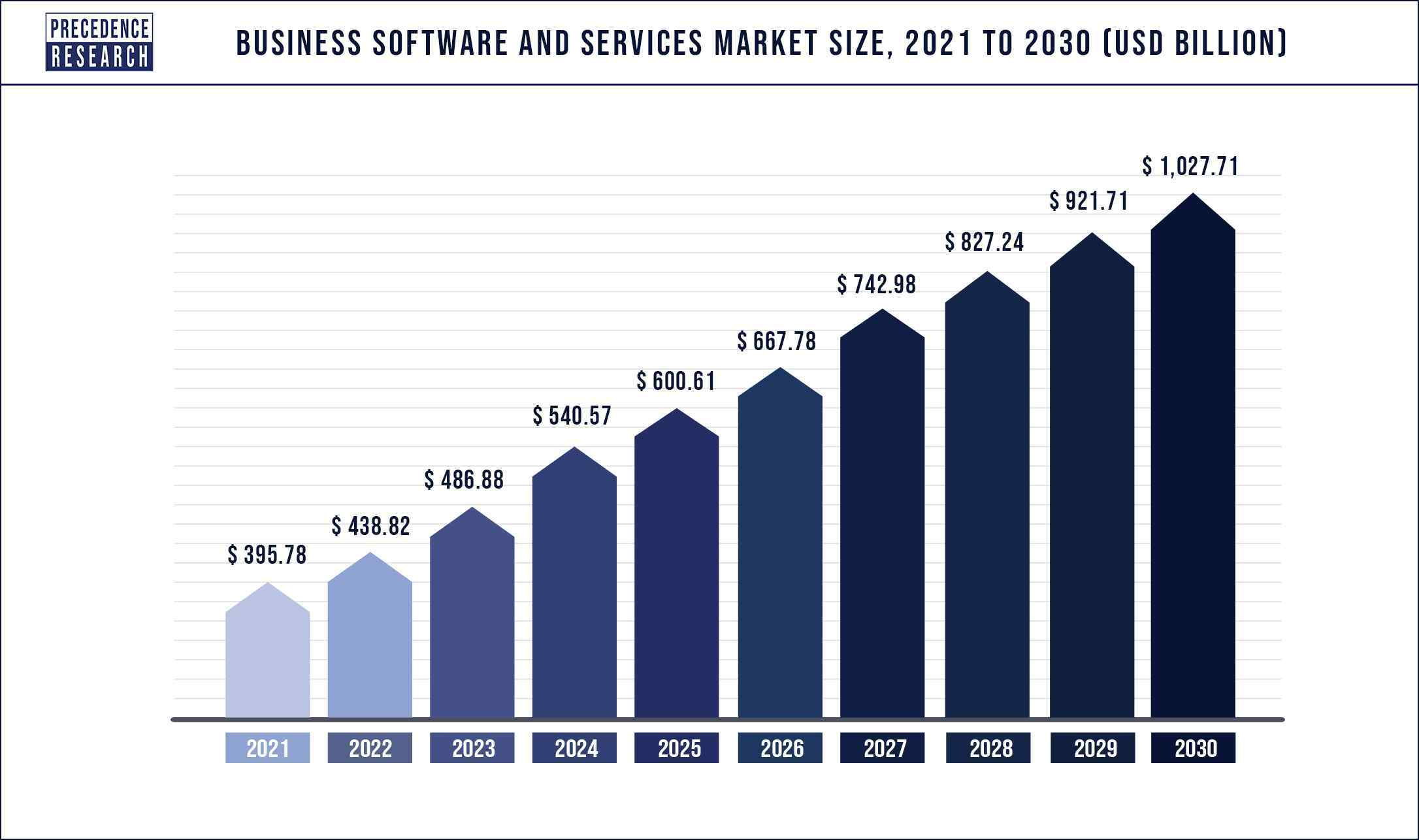 Gartner's forecast predicts that the worldwide market for financial management software will reach a valuation of $24.4 billion by 2026.
Picture this: You're attempting to balance multiple projects, emails flooding your inbox, and sticky notes competing for attention on your desk. It feels like you're stuck in a never-ending game of Tetris, trying to fit all the pieces together.
Well, it's time to swap those colorful blocks for sophisticated business management software to make your work life feel more like a walk in the park (without the risk of stepping on any ducklings).
In this definitive blog post, we'll explore the top 15 business management software solutions that will revolutionize how you work and empower your business for success.
So, whether you're an overwhelmed project manager, a frazzled sales executive, or a meticulous finance guru, get ready to discover the perfect software for business that will unlock new levels of efficiency. Let's dig in:
What is Business Management Software?
Before diving into the details of each software, let's start with a clear understanding of what business management software is.
It refers to a suite of applications and tools designed to automate and streamline various aspects of business operations.
From project management and collaboration to customer relationship management and accounting, business management software offers a centralized platform to handle multiple functions efficiently.
Key Advantages of Choosing Business Management Software
Below, we have listed the significant benefits that you would be able to reap by choosing the right business management software for your organization:
Streamlined Workflows: Business management software helps automate repetitive tasks, eliminating manual effort and saving time.
Enhanced Collaboration: These tools facilitate seamless communication and collaboration among team members, improving overall efficiency.
Centralized Data: These are known for providing a centralized database, allowing easy access to critical information, and eliminating data silos.
Improved Decision-Making: With real-time insights and analytics, these tools enable data-driven decision-making, leading to better outcomes.
Increased Productivity: By optimizing processes and minimizing administrative work, software for business boosts productivity levels.
Scalability and Flexibility: These software solutions can adapt to the changing needs of your business, accommodating growth and evolving requirements.
Cost and Time Saving: Business management software helps reduce costs and maximize resource utilization by automating tasks and streamlining operations.
List of the Best Business Management Software in 2023
"Every industry and every organization will have to transform itself in the next few years. What is coming at us is bigger than the original internet and you need to understand it, get on board with it, and figure out how to transform your business." — Tim O'Reilly, founder and CEO of O'Reilly Media
Now, it's time to unveil our carefully curated list of the top 15 business management software solutions for 2023. Each software on this list has been selected based on its features, capabilities, user-friendliness, and overall impact on business efficiency.
Let's explore these game-changers one by one:
1. Stackby: The All-in-One Business Management Solution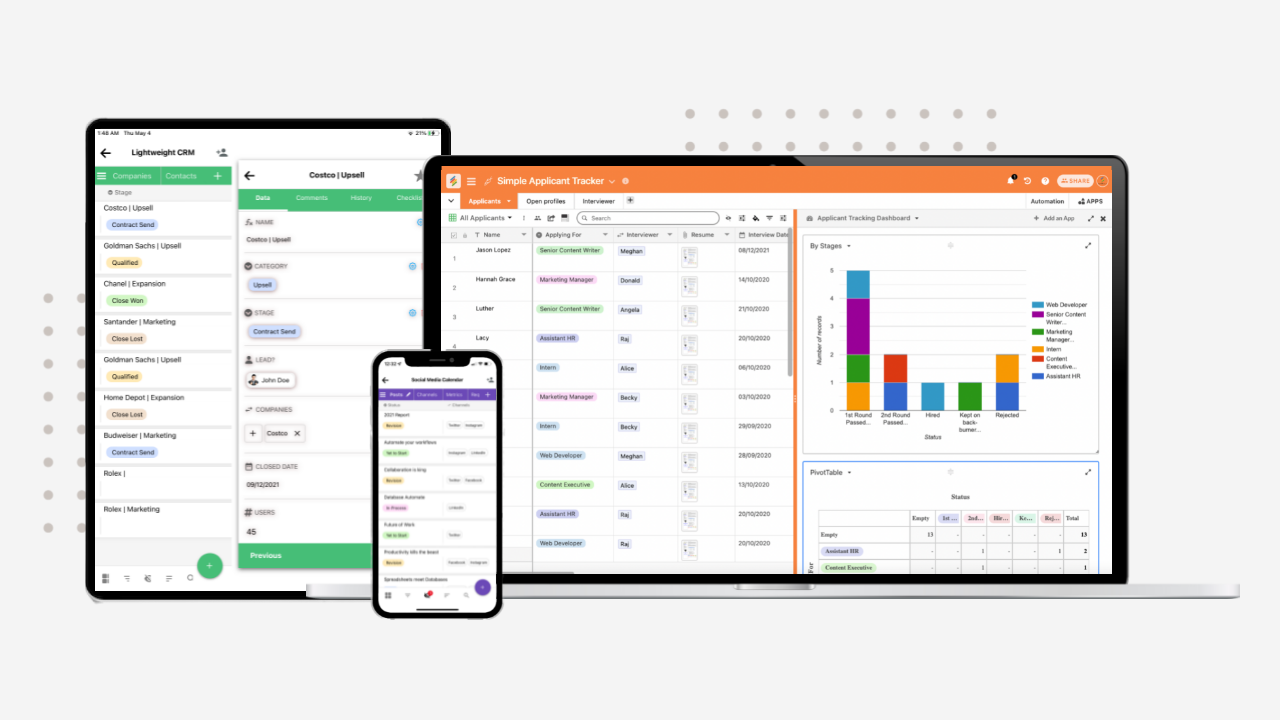 When it comes to comprehensive business management software, Stackby is a shining star in the vast galaxy of productivity tools. Designed to simplify complex workflows and boost efficiency, it offers seamless integration of powerful features and capabilities.
With its aid, you can bid farewell to the chaos of scattered data, inefficient processes, and endless email threads and embrace a centralized hub that brings together your data, processes, and team collaboration in one place.
This robust all-in-one platform effectively combines the functionalities of spreadsheets, databases, and APIs, offering a versatile solution for businesses of all sizes and industries.
It is where you can create customized workflows, automate tasks, and track your progress in real-time. From project management to CRM, inventory tracking, and content planning, Stackby offers a wide range of templates and integrations to cater to your business needs.
Steps to Get Started with Stackby
Step 1: Define your business management needs and goals.
Step 2: Explore Stackby's template library and select the most suitable template for your use case.
Step 3: Customize the template by adding columns, modifying field types, and organizing the data structure.
Step 4: Collaborate with your team by inviting members and assigning tasks within Stackby.
Step 5: Automate workflows and tasks to streamline your processes and save time.
Step 6: Continuously optimize your workflows and adapt Stackby to your evolving business needs.
Notable Features and Capabilities
Stackby boasts many features that cater to the diverse needs of businesses. Let's explore some of its standout features:
Spreadsheets Reinvented: With Stackby, you can create customizable databases, leveraging the familiar interface of spreadsheets while adding powerful functionalities such as file attachments, checkboxes, dropdowns, and more.
Say goodbye to unstructured rows and columns and hello to organized and structured data.
Integration Galore: It integrates seamlessly with popular tools such as Google Drive, Slack, Trello, and many more.
Sync your data across platforms, import and export information effortlessly, and supercharge your productivity with interconnected workflows.
Data Visualization: Whether it's a grid view for structured data, calendar view for time-based tasks, Kanban view for visualizing workflows, Gallery to see records as cards or Forms to collect responses, the versatility of Stackby views enhances your productivity.
You can also create real-time reports with charts, graphs, pivot tables, etc. to gain valuable insights at a glance and easily make data-driven decisions.
Smart Automation: Stackby's automation features lets you integrate with over 5000 apps to automate repetitive tasks and streamline workflows. From sending automatic email notifications to creating customized workflows, you can save valuable time and focus on what matters most.
Seamless Collaboration: Stackby enables you to collaborate with your team in real time, eliminating the need for countless email threads and confusing version control.
Assign tasks, set deadlines, and communicate effortlessly within the platform, ensuring everyone stays on the same page.
Pros
Easy-to-use interface with a shallow learning curve, making it accessible for users of all skill levels to navigate and utilize its features effectively.
Highly customizable to suit your business's unique requirements, ensuring a personalized experience.
A centralized platform that consolidates your data and processes, eliminating the need for multiple software applications.
Robust security measures, including data encryption and access controls, safeguard your sensitive information.
Responsive customer support team that is dedicated to addressing your queries and assisting you along your Stackby journey.
Flexible pricing options and a free forever plan for individuals and small teams getting started.
Cons
Advanced automation features may require some technical expertise.
Can have more use cases as templates.
"Spend time upfront to invest in systems and processes to make long-term growth sustainable." — Jeff Platt, CEO of Sky Zone
2. Trello: Simplify Your Workflow and Collaborate Effectively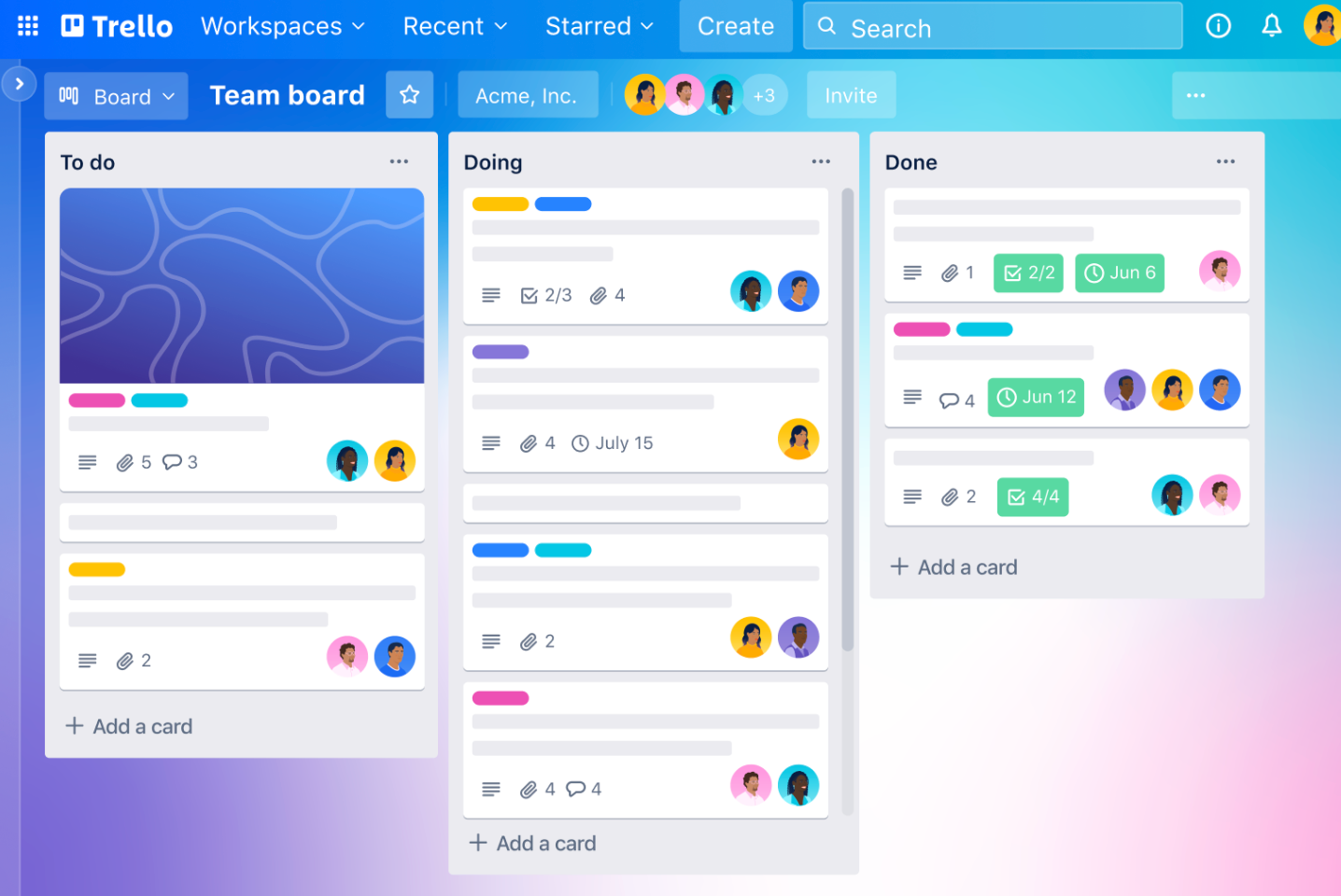 Trello is a popular project management tool that organizes tasks using a flexible board-based system. With a simple and intuitive interface, it helps teams visualize workflows, assign tasks, and collaborate effectively.
Key Features
Kanban-style boards for task management.
Card-based system for task details and collaboration.
Due dates, labels, and checklists for task organization.
Integration with third-party apps and services.
Pros
Easy-to-use interface and straightforward setup.
Visual and intuitive task management.
Integration with popular tools like Slack, Google Drive, and more.
Cons
Limited customization options for advanced project management needs.
Lack of advanced reporting and analytics features.
3. Bitrix24: Comprehensive Suite for Business Management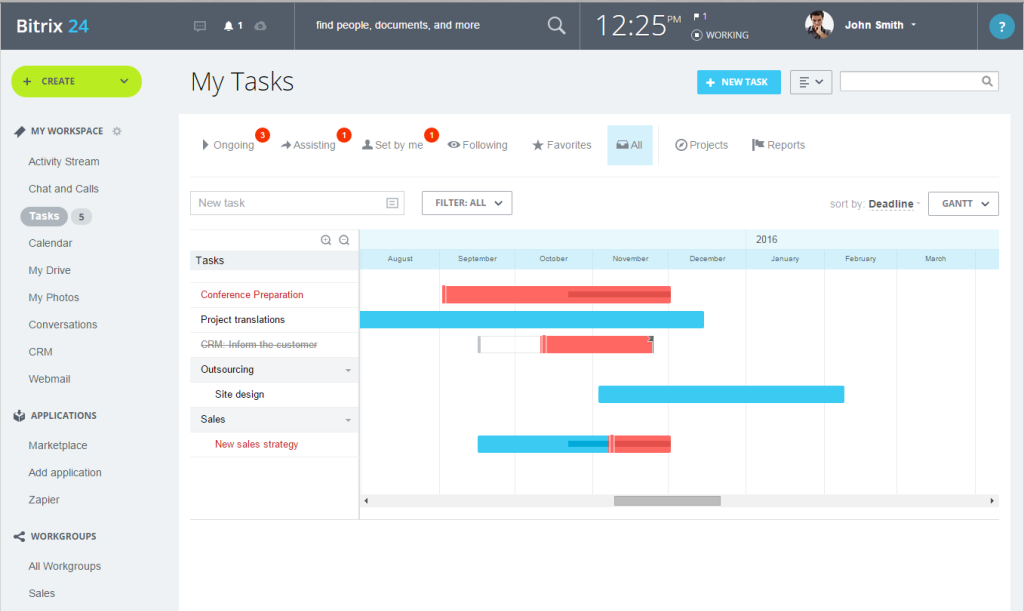 Bitrix24 is a comprehensive suite for business management that combines various tools and features to streamline communication, collaboration, and project management within an organization.
It offers a centralized platform for businesses to manage their tasks, projects, customer relationships, etc.
Important Features
CRM module for managing customer relationships and sales pipelines.
Project management tools with task tracking, Gantt charts, and time management.
Collaboration features, including document sharing, team chat, and video conferencing.
Intranet functionality for internal communication and knowledge sharing.
Pros
All-in-one suite with a wide diversity of features.
Powerful CRM capabilities.
Extensive collaboration and communication tools.
Cons
Steep learning curve for new users.
Some advanced features require premium plans.
4. HubSpot: Grow Your Business with Powerful CRM and Marketing Tools
HubSpot is a widely used software platform that offers a range of tools for CRM, marketing, sales, and customer service. It helps businesses attract, engage, and delight customers throughout their lifecycle.
Key Features
CRM module for managing customer data, deals, and pipelines.
Marketing automation tools for creating and executing campaigns.
Sales tools for lead tracking, email integration, and performance analytics.
Customer service features, including ticketing, live chat, and knowledge base.
Pros
Comprehensive suite for marketing and sales.
Robust CRM and lead management capabilities.
Cons
Advanced features are limited to higher-tier plans.
A steep learning curve for complex workflows.
5. Plutio: Manage Projects, Invoices, and Tasks Seamlessly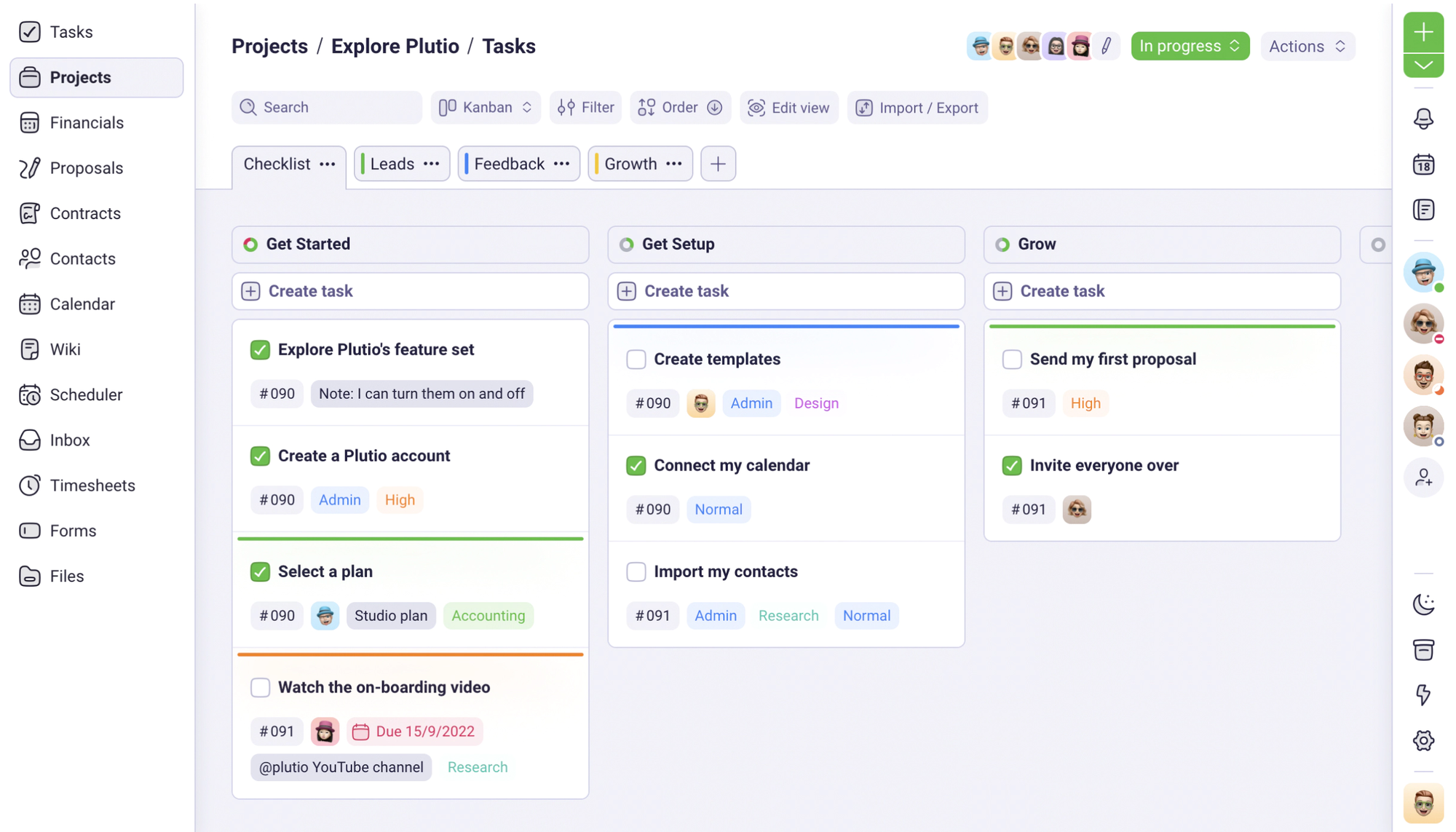 Plutio is a business management platform designed for freelancers, small businesses, and agencies. It offers features for project management, invoicing, time tracking, and task collaboration, all in one place.
Key Features
Project management tools with task lists, kanban boards, and progress tracking.
Invoicing and billing features, including customizable templates and payment integrations.
Time tracking functionality for accurate tracking of billable hours.
Task collaboration features, including file sharing, comments, and notifications.
Pros
Integrated invoicing and payment tracking.
Intuitive and visually appealing interface.
Cons
Limited scalability for larger organizations.
Some features may require third-party integrations.
6. Dubsado: Streamline Client Management and Automate Workflows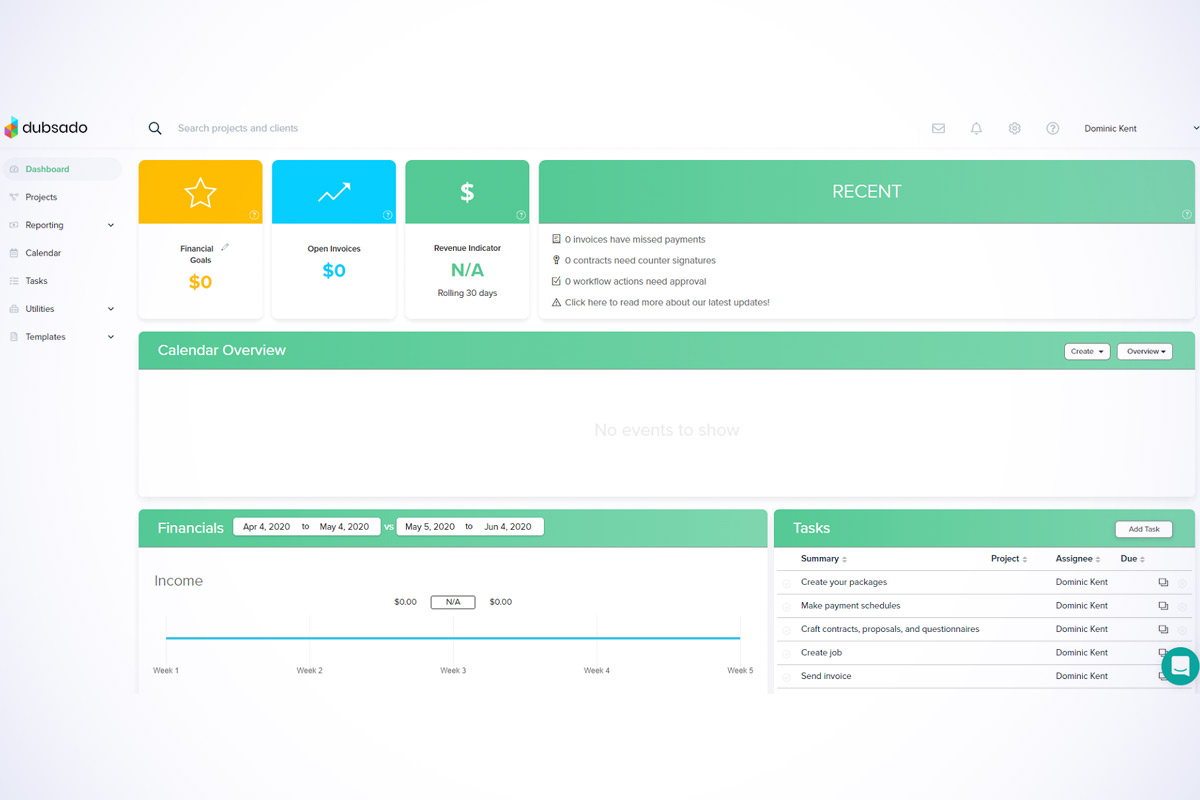 Dubsado is a client management software built specifically for service-based businesses and freelancers. It offers features for client onboarding, proposal creation, contract management, and automation of repetitive tasks.
Features
Client management tools for organizing client information, communication, and project details.
Proposal and contract creation with customizable templates and e-signature capabilities.
Invoicing and payment tracking features.
Pros
User-friendly interface with customizable branding options.
Efficient automation capabilities to save time and improve efficiency.
Cons
Not suitable for businesses with complex project management needs.
Some users may find the learning curve steep.
7. Pipedrive: Optimize Your Sales Processes and Drive Revenue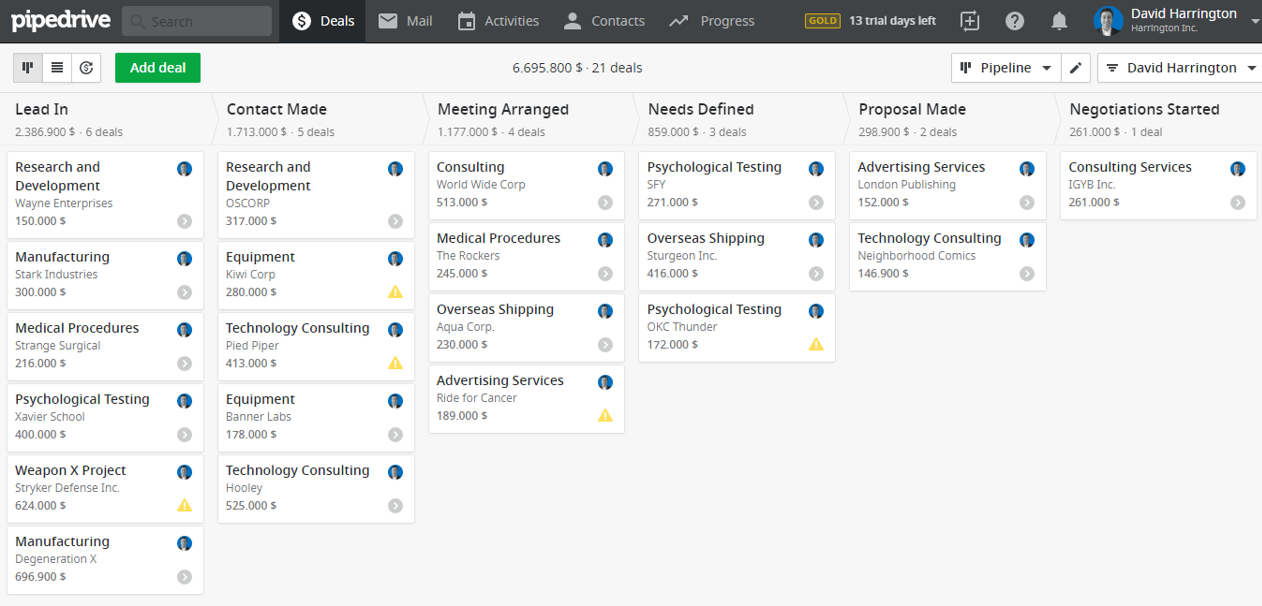 Pipedrive is a CRM and sales management software designed to help businesses optimize their sales processes, track leads, and close deals effectively.
Features
Sales pipeline management with visual representations of deals and stages.
Lead and contact management for organizing customer data.
Email integration and tracking to streamline communication.
Sales reporting and analytics for performance measurement.
Pros
User-friendly interface and intuitive sales pipeline management.
Provides valuable insights into sales performance and conversion rates.
Customizable sales processes and stages.
Cons
Require additional integrations for comprehensive business management.
Limited customization options beyond sales-related features.
8. nTask: Project Management and Task Collaboration Made Easy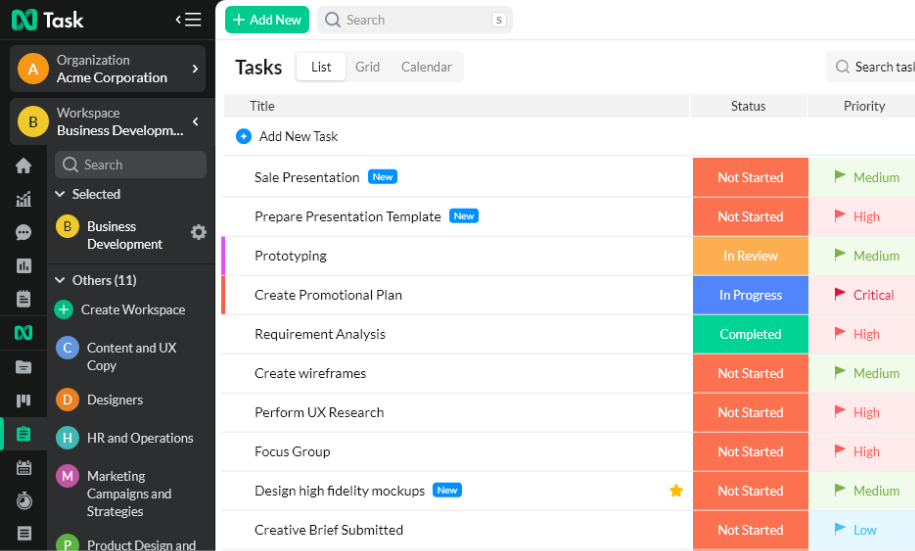 nTask is a project management software that offers task management, team collaboration, time tracking, and issue management features. It provides a simple and user-friendly interface for efficient project execution.
Important Features
Multiple task views, including list, board, and Gantt chart.
Meeting management and agenda creation tools.
Risk and issue management features.
Mobile apps for access on smartphones and tablets.
Pros
Intuitive and user-friendly interface.
Availability of cost-effective pricing plans with a free option.
Offers a comprehensive set of features for project management.
Cons
Advanced features and full functionality require a paid subscription.
Lack of advanced project management capabilities for larger teams or complex projects.
9. ProofHub: Centralize Communication and Project Management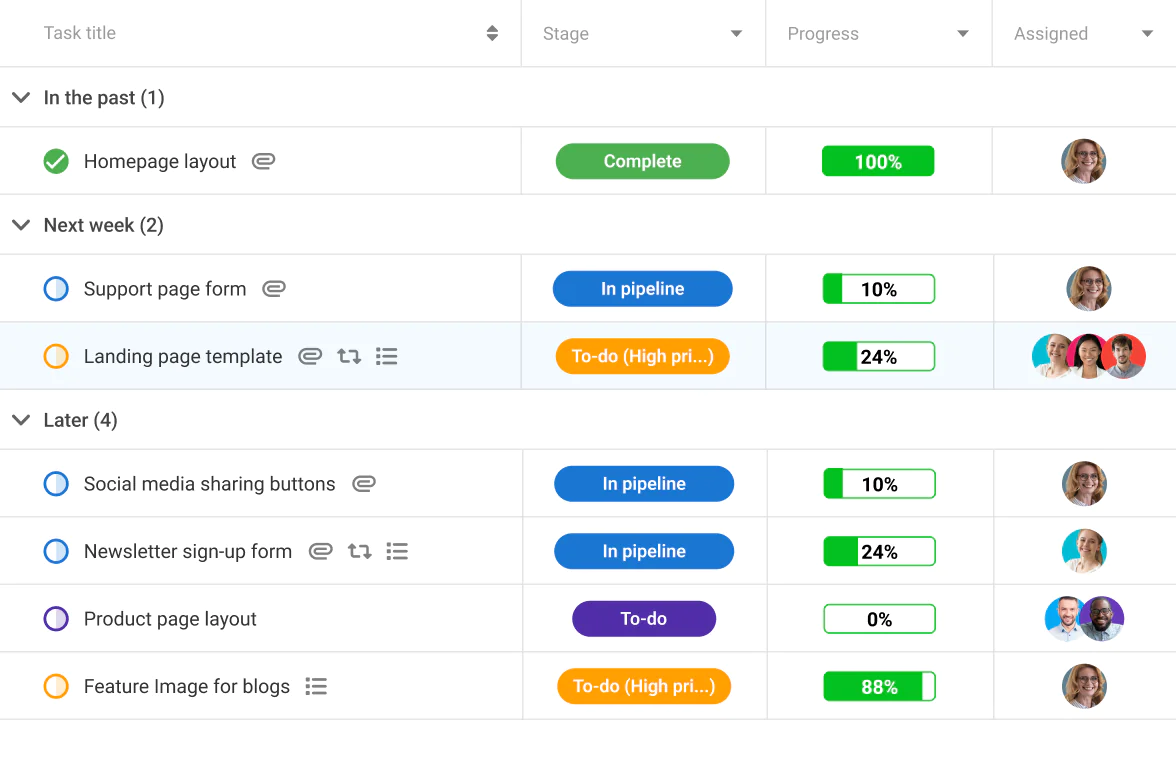 ProofHub is a project management and collaboration software that centralizes communication, task management, and project planning in one platform. It aims to simplify project execution and enhance team collaboration.
Features
Kanban boards for visual task management.
Calendar and scheduling tools for better project planning.
Customizable project roles and permissions.
Integration with popular tools like Google Drive and Dropbox.
Pros
Clean and user-friendly interface.
Provides a centralized platform for project management and team collaboration.
Excellent customer support and regular updates.
Cons
Limited customization options compared to more advanced project management tools.
Higher-tier pricing plans may be expensive for small businesses.
10. ClickUp: Versatile Business Management Platform for Teams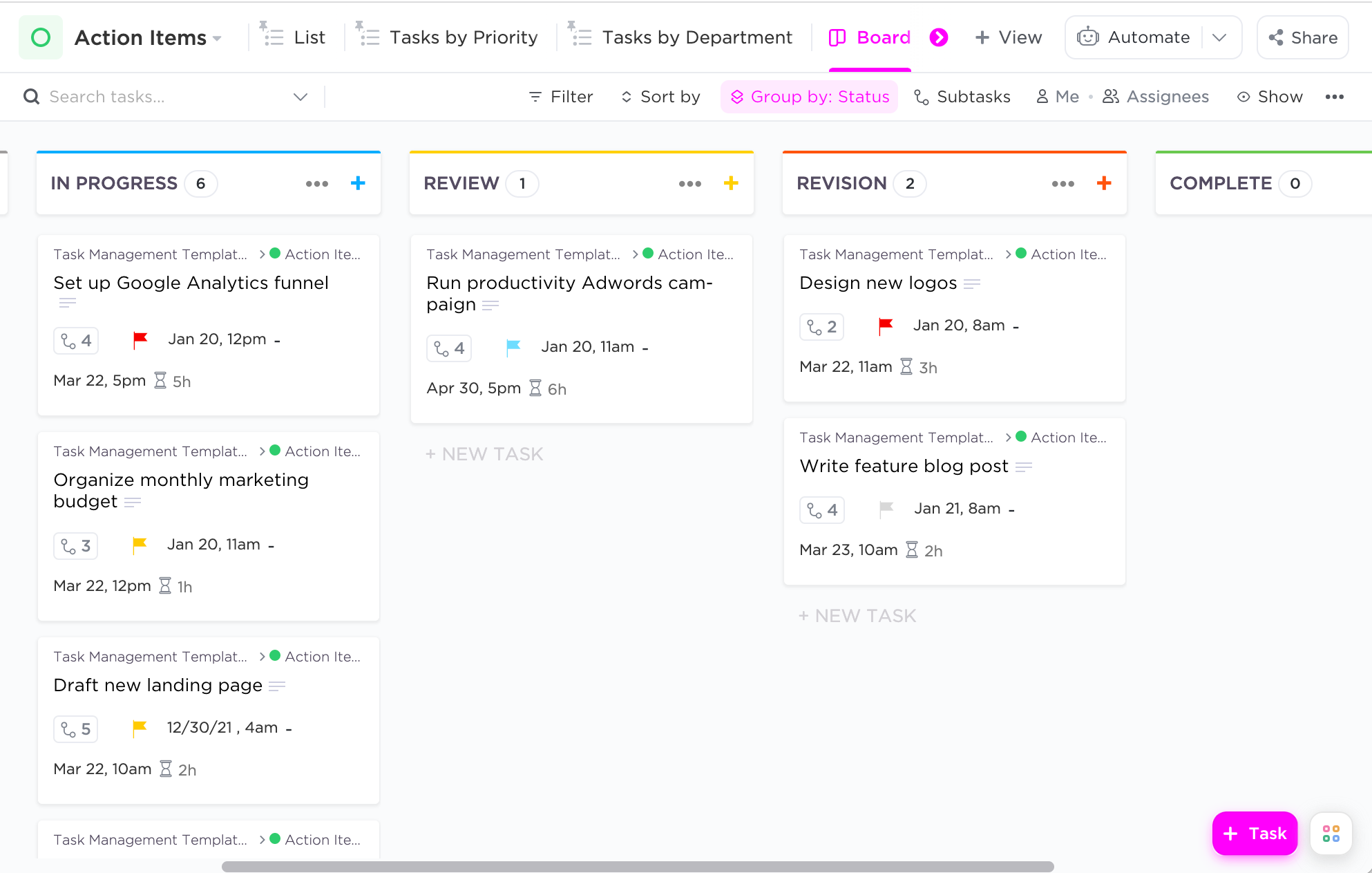 ClickUp is a versatile business management platform that combines project management, task management, and team collaboration features. It offers a wide range of functionalities to suit the needs of different teams and industries.
Key Features
Multiple task views, including list, board, and calendar.
Project templates and recurring tasks for efficiency.
Agile board view for project planning and execution.
Integration with popular tools like Slack, Google Drive, and Trello.
Pros
Highly customizable interface and task management options.
Offers a comprehensive set of features for project management and collaboration.
Suitable for teams of all sizes and industries.
Cons
Have a steeper learning curve for users new to project management software.
Some users may find the interface overwhelming due to the extensive customization options.
11. MS OneDrive: Store, Share, and Collaborate on Business Documents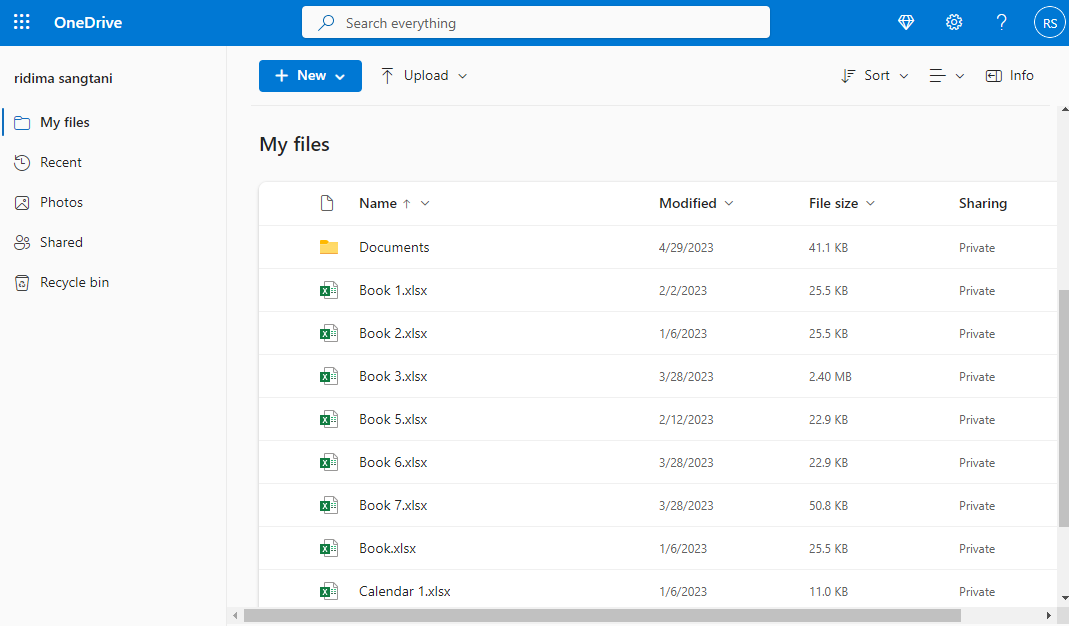 MS OneDrive is a cloud-based storage and file-sharing platform offered by Microsoft. It provides businesses a secure and convenient way to store, access, and collaborate on documents, presentations, and other files.
Features
File synchronization across devices for seamless access.
Online editing and co-authoring capabilities.
Integration with Microsoft Office 365 for enhanced productivity.
Robust security measures, including encryption and two-factor authentication.
Pros
Easy integration with other Microsoft tools and services.
Familiar interface for users already using Microsoft Office products.
Provides a generous amount of free storage.
Cons
Limited collaboration features compared to more dedicated collaboration tools.
Requires an active Microsoft Office subscription for advanced functionality.
12. Chanty: Enhance Team Communication and Collaboration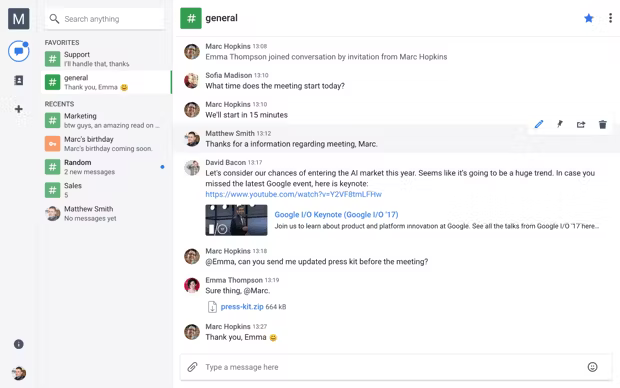 Chanty is a team communication and collaboration tool designed to improve internal communication and collaboration among team members. It offers team chat, task management, and file-sharing features.
Features and Functionality
Message threads for organized discussions.
Voice messaging and audio calls for quick communication.
Task management with due dates and assignments.
Search functionality for easy retrieval of messages and files.
Pros
Simple and intuitive interface suitable for small teams and startups.
Availability of affordable pricing plans with a free option.
Focus on team communication and collaboration.
Cons
Lack some advanced project management features.
Limited integration options.
13. Freshbooks: Simplify Accounting and Financial Management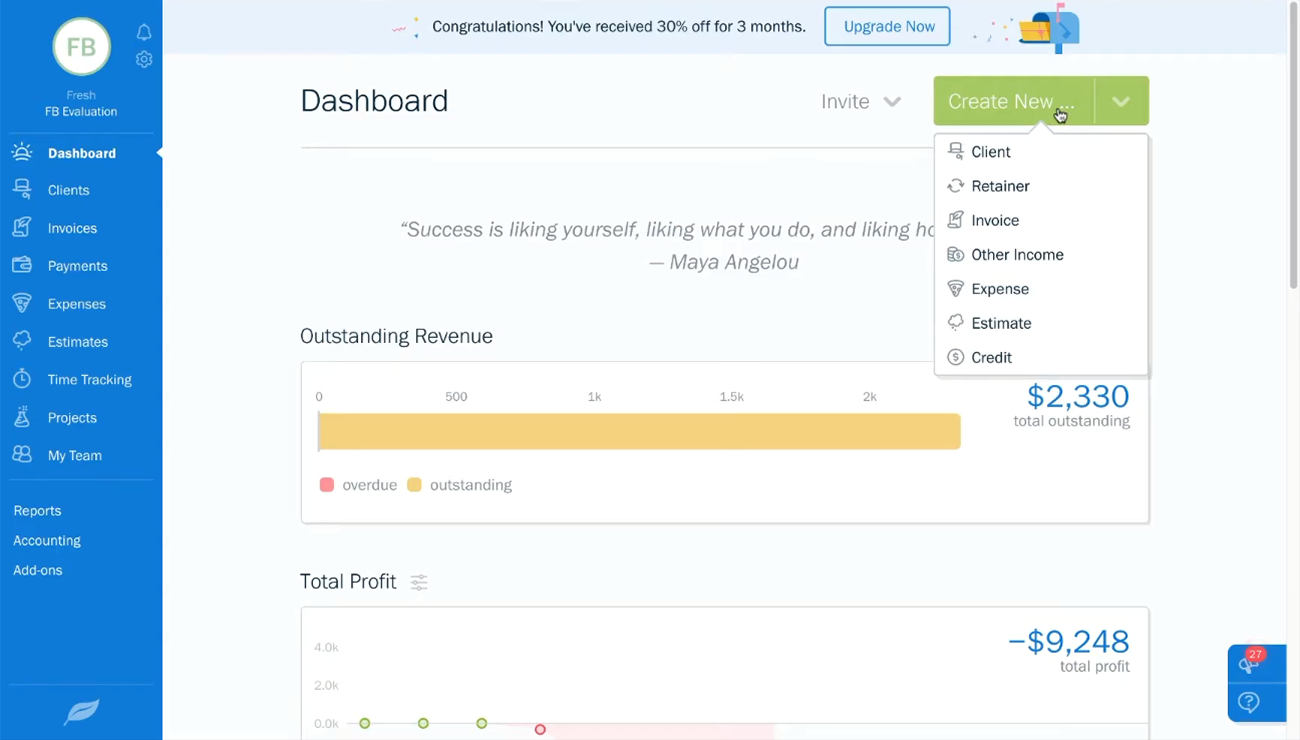 Freshbooks is an accounting and invoicing software designed for small businesses and freelancers. It offers features to simplify financial management, invoicing, and expense tracking.
Important Features
Automatic recurring billing for subscription-based businesses.
Client and project management features.
Expense categorization and receipt scanning.
Integration with popular tools like PayPal and Stripe.
Pros
User-friendly interface and intuitive invoicing workflow.
Provides a comprehensive set of features for small business accounting.
Robust invoicing and payment tracking capabilities.
Cons
Lack of some advanced accounting features required by larger businesses.
Limited customization options for invoicing templates.
14. Integrify: Automate Workflows and Streamline Business Processes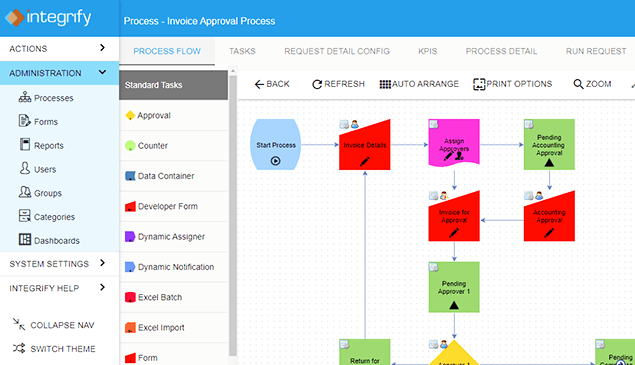 Integrify is a business process management software that enables businesses to automate workflows and streamline their internal processes. It offers features for workflow automation, approvals, and reporting.
Notable Features
A drag-and-drop workflow designer for easy process creation.
Visual dashboard for real-time monitoring and analytics.
Forms and data collection capabilities.
Integration with popular tools like SharePoint and Salesforce.
Pros
Provides powerful workflow automation capabilities.
Offers extensive customization options for workflow design.
Cons
Require technical expertise for advanced customization.
Pricing plans may be expensive for smaller businesses.
15. Netsuite: Comprehensive Business Management Suite for Enterprises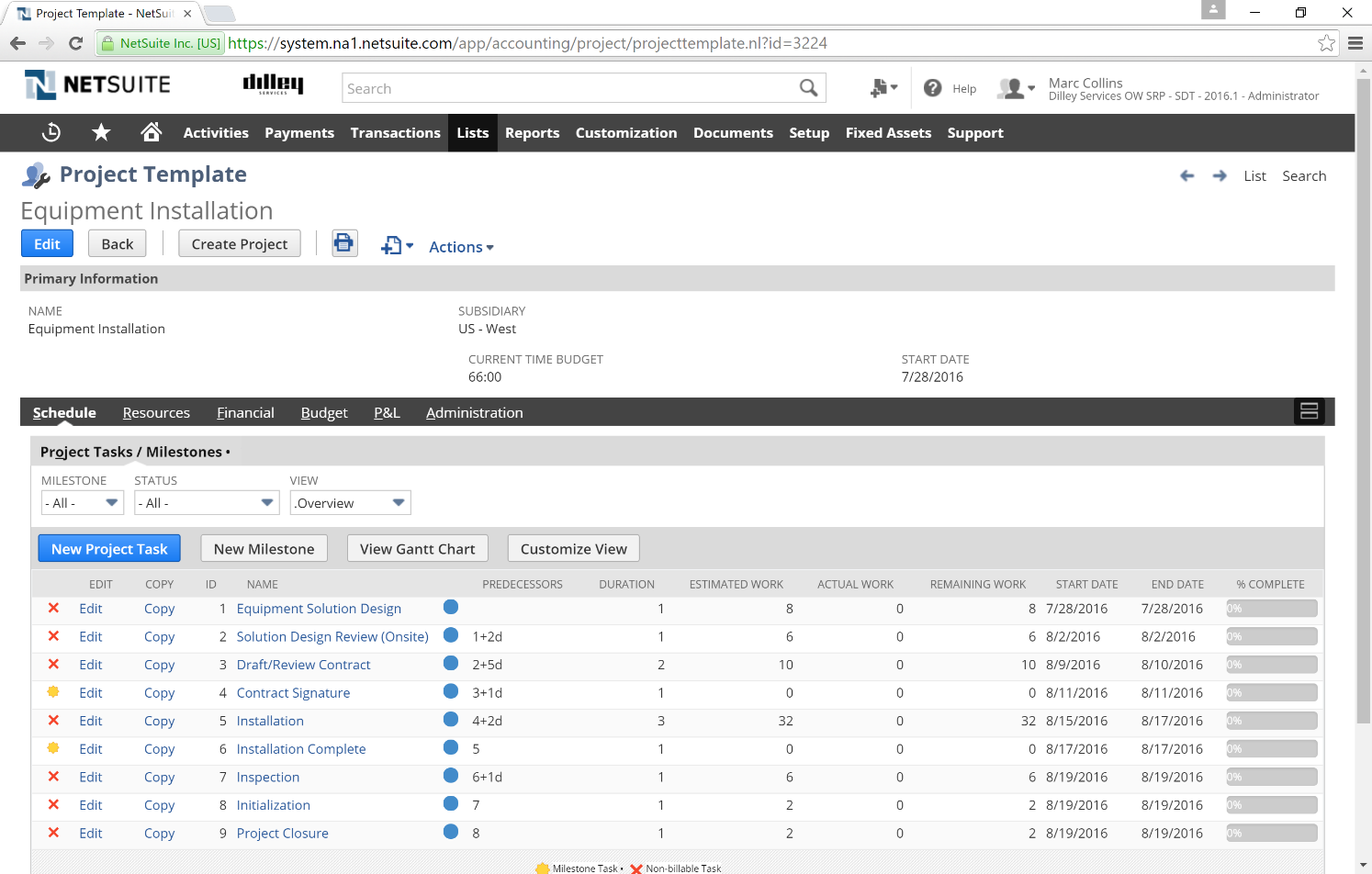 Netsuite is an enterprise-level business management suite offering a range of ERP modules (Enterprise Resource Planning), CRM, financial management, and e-commerce. It provides a comprehensive solution for managing various aspects of a business.
Key Features
Real-time visibility into business operations.
Inventory management and supply chain optimization.
Order management and fulfillment.
Customizable dashboards and reports.
Pros
Offers a comprehensive suite of modules for end-to-end business management.
Scalable solution that is suitable for large enterprises.
Provides real-time visibility into business operations.
Cons
Implementation and customization may require significant time and resources.
Pricing plans can be expensive, particularly for smaller businesses.
Wrapping Up
Let's face it, managing a business without the right tools can sometimes feel like herding cats wearing roller skates. So, it's time to regain control and unleash the efficiency you've been dreaming of by choosing the perfect business management software.
Among these options, Stackby stands out as an all-in-one business management solution that empowers organizations to excel.
Don't let the complexities of managing your business hold you back; let Stackby empower you to thrive in the ever-evolving corporate landscape today! Sign up for free.